Secretlab Titan chairs come with built-in lumbar support systems. You don't need extra lumbar support. But Secretlab memory foam lumbar pillows are one of the Titan's most popular add-ons. For Titan owners, these provide both sizing and usability advantages. For other gaming chair owners, these are a massive upgrade over stock pillows. These high-end pillows can also serve as a portable lumbar support for car, train, and bus seats. Learn how to support you back with plush, adaptive, colorful style.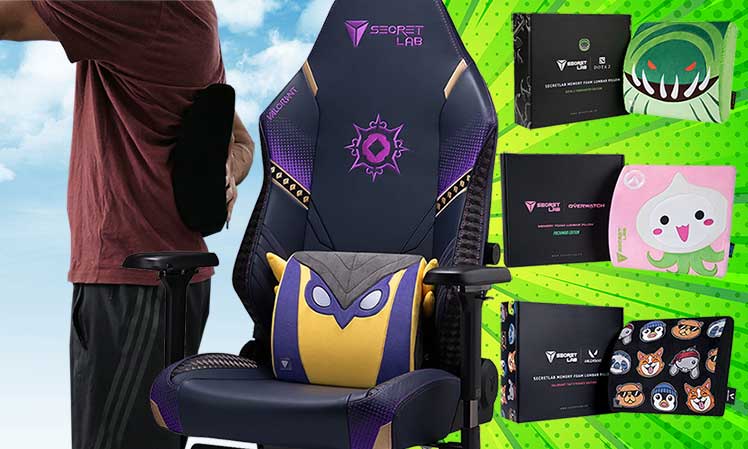 There are plenty of lumbar support pillows on Amazon, many with very high ratings. Almost all of them are large and very stiff. Instead of compressing against your body, they act like semi-solid blocks.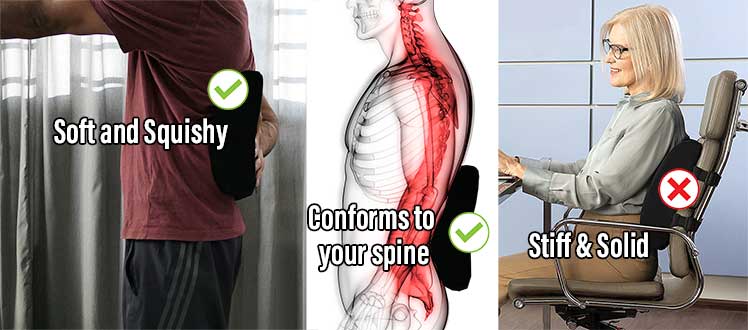 The problem is that a solid lumbar pillow leaves a massive gap between the backrest and your spine. Instead of full-back support, your spine floats naked, supported only by the lumbar pillow.
Secretlab's memory foam lumbar pillow is a lot squishier than Amazon pillows. This malleability makes it very easy to use. Simply toss it behind you, aim it above your beltline, and lean back.

The pillow will fill your lower back curve with mild pressure while compressing. That will let your spine make full contact with the backrest. This lets you enjoy perfect lumbar support in any type of gaming chair!
3 Available Pillow Types
Secretlab offers three different types of pillows. The original Omega pillows are 11.4″ x 11.4″ memory foam squares covered in black velour. Special edition pillows are the same as Omega pillows, with unique skins.
There's also a Lumbar Pillow Pro. It's a 15.6″ x 13.9″ slab that's specially designed to work in tandem with the Titan's integrated lumbar.
Browse All Secretlab Lumbar Pillows
Available from Secretlab in North America, the EU and UK, Australia, New Zealand, and Singapore.
Why Use a Secretlab Lumbar Pillow
Secretlab's memory foam lumbar pillows are useful with Secretlab gaming chairs and those from other brands.
Secretlab Lumbar Pillow Types
Secretlab currently offers 3 types of lumbar support pillow products:
Omega pillows: 29 cm x 29 cm (11.4″ x 11.4″) memory foam squares with black velour covers.
Lumbar Pillow Pro: 15.6″ x 13.9″; works in tandem with a Titan Evo's built-in lumbar system.
Special edition pillows: same as Omega pillows, but with colorful video game skins.
Special Edition Lumbar Pillows
These are the same as Omega pillows, with custom skins. Specs:
Size: 29 cm x 29 cm (11.4″ x 11.4″)
Thickness: 10 cm (4″) at its thickest point
Cover: machine-washable velour in various styles
Here are some of the best themed pillows available now:
See the Secretlab Special Edition Pillow Store for all themed pillows.
Conclusion
If you suffer lower back pain in a gaming chair, it's a sign that something is off with your configuration. Per our Gaming Chair Troubleshooting guide, improper lumbar support usage is common. If you have a gaming chair with a cheap, stiff pillow, a Secretlab chair is a fantastic upgrade.

Beyond functional advantages, these are also among the most striking lumbar pillows available. Add a brilliant splash of color to your workstation with soft, plush support for your lower back!
Browse All Secretlab Lumbar Pillows
Related: Best Secretlab Gaming Chairs Available To Buy in 2023