The video game industry is a money-making juggernaut. It generates billions in yearly sales from software, hardware — and branded merchandise. Few branded items enhance the video game experience like a video game-themed gaming chair. Find here the official gaming chairs of the world's most popular video games.
Some of the world's most popular video games have official gaming chairs. These models have dual appeal. From a practical standpoint, they're fully-loaded ergonomic chairs.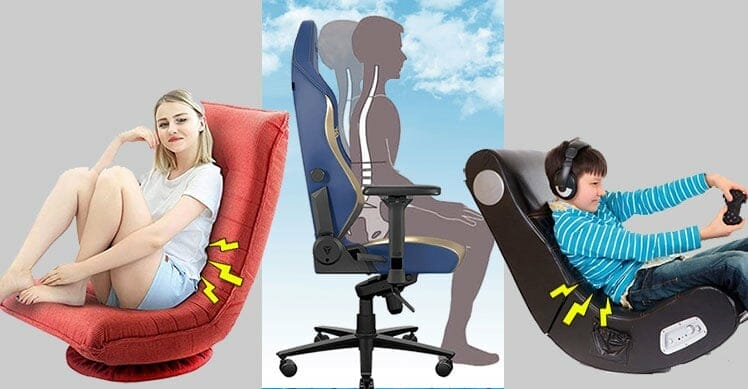 The primary purpose is to support good posture while you sit at a desk. With good posture, users gain more energy, sharper focus, and improved productivity.
But from an aesthetic standpoint, themed video game chairs give extra joy. Like vibrant video game worlds, these pop with crisp colors and rich details.
Official Chairs of Top Video Games
Here's a rundown of the themed video game chair scene. Secretlab dominates the list. Noblechairs comes second with a growing collection of its own. DXRacer has also jumped into the mix.
Games (and their official gaming chairs) are listed in alphabetical order.
Cyberpunk 2077: Secretlab Titan Evo 2022
CD Projekt Red's Cyberpunk 2077 video game was a letdown. Even so, it produced one of the few yellow gaming chairs on the market. Secretlab's Cyberpunk gaming chair is a stunner.
Last year, I spent a glorious six months using a Titan Cyberpunk chair. Before buying, I worried that the brilliant yellow might be too distracting. After trying, I found it electrifying.
On the front side, it's draped in rich yellow leatherette with intricate cyber embroidery. The back sets a more ominous tone with a crimson-embroidered Samurai logo (Johnny Silverhand's band) against a black background.
Cyberpunk Chair Features
The Cyberpunk edition has the same rich features as all Secretlab Titan Evo 2022 chairs. Chairs come in a choice of small, medium, or XL sizes.
Functionality is off the hook with plenty of highlights. The star is the world's only 4-way integrated gaming chair lumbar support. Dials on each side of the chair let you control both the height and depth of support.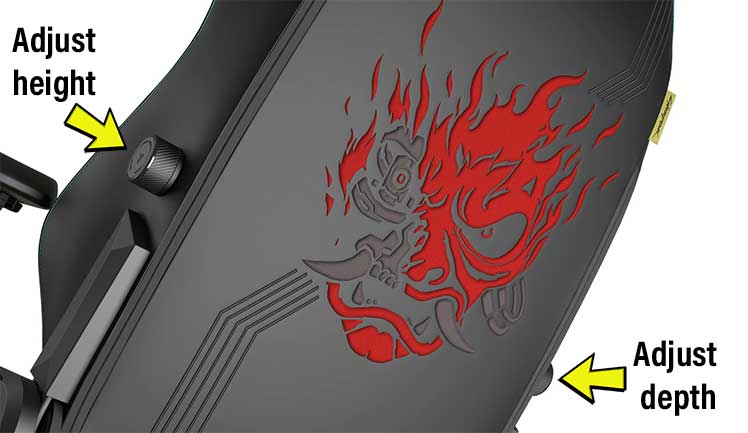 Another notable is the magnetic memory foam lumbar support pillow. Instead of straps like a traditional pillow, it uses a magnet system. That delivers a cleaner look and a larger adjustment range than other chair headrest pillows.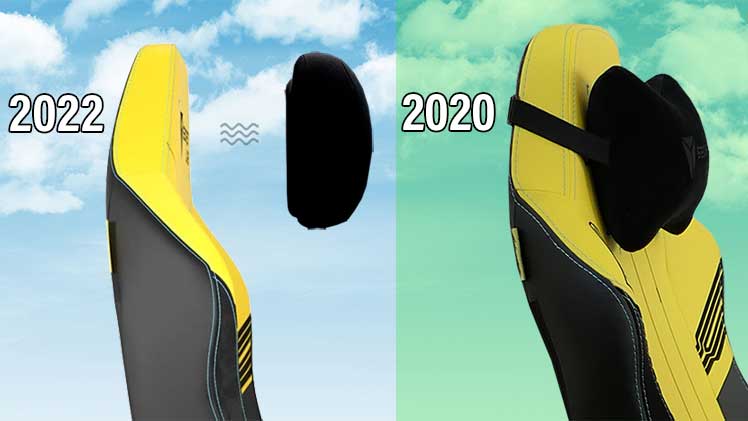 For a closer look at the technicals, see this Titan Evo 2022 Series Review. Summary of specifications:
Titan 2022 Features
Sizing
Functionality: 4D armrests; multifunction tilt-lock; recline from 85-165°.
New 2022 Series Features: integrated 3D-adjustable lumbar support; magnetic headrest pillow; pebble seat base with waterfall edge.
Sizing: small 4'11" to 5'6″; medium 5'7″ to 6'2″; XL 5'11" to 6'9″.
Warranty: five years.
| | | | |
| --- | --- | --- | --- |
| | Titan 2022 Small | Medium | XL |
| Seat | 17.7″ (W) x 18.9″ (D) | 18.5″ (W) x 19.3″ (D) | 19.3″ (W) x 19.7″ (D) |
| Backrest | 20″ (W) x 32.3″ (H) | 21″ (W) x 33.5″ (H) | 22″ (W) x 35″ (H) |
| Seat height | 17.7″ to 20.5″ | 17.7″ to 20.5″ | 18.1″ to 21.9″ |
| Size rating | 4'11" to 5'6″; 285 pounds | 5'7″ to 6'2″; 285 pounds | 5'11" to 6'9″; 395 pounds |
Hands-on Cyberpunk Chair Impressions
I used a Cyberpunk chair full-time for 6+ months. At first, the intense design psyched me up with every glance. After a month or so, the intense effect faded — but still made my heart flutter. Learn more: Hands-on Titan Cyberpunk Chair Review.
Titan Evo Cyberpunk (medium) $574
Cyberpunk Titan small $574 | Cyberpunk Titan XL $624
Available from Secretlab in North America, the EU and UK, Australia, New Zealand, Singapore, and Malaysia.
DOOM: Noblechairs Hero
First released in 1993, DOOM was one of the world's earliest first-person shooter (FPS) games. In 2016, developers id Software and publisher Bethesda Softworks rebooted the franchise. Then, DOOM released versions for PC, Xbox One, and PS4.
DOOM Eternal is the sequel to DOOM, released in 2020. Players take on the role of the Doom Slayer, an ancient warrior battling Hell's demons.
In August, 2020, German chair maker Noblechairs released the Hero DOOM Edition. This is an all-black chair with blood-red accents. The iconic mark of the DOOM Slayer is embroidered on the front of the chair. Embroidered on the back are DOOM rune markings.
Hero Chair Specifications
The Hero is the flagship gaming chair in the Noblechairs collection. It's a full-featured pro esports chair with integrated lumbar support and exquisite detailing.
At one time, the Hero's depth-adjustable integrated lumbar was a cutting-edge feature. It's since lost ground to the Titan Evo system, which lets you adjust depth and height.
Even so, if you fit within the recommended size range, all pieces should work to a premium level as you'd expect! For a closer look, see this Noblechairs Hero Review. Key specs:
Titan 2022 Features
Sizing
Unique feature: integrated lumbar support (no lumbar cushion needed, although one is provided).
Functionality: padded 4D armrests; recline with tilt lock to 125°.
Comfort: cold foam padding; removable neck and lumbar pillows included.
Upholstery: premium perforated PU leather.
Support: steel frame; powder-coated, corrosion resistant aluminium base; extra large PU casters.
Warranty: 2 years.
Seat width & depth: 20.5″ (W) x 21.7″ (D)
Backrest height & width: 22.5″ (W) x 35″ (H)
Seat height: 18.3-21.5″
Size rating: 5'5″ to 6'2 tall; up to 330 pounds
DOOM Gaming Chair Advice
The DOOM edition ranks as one of the most attractive video game chairs in the world. The ominous black with striking red accents has a strong presence within any type of decor.
The Rune effects on the front and back of the chair take the aesthetics to a higher level. Even if you're not a DOOM player, it's easy to be blown away by this design.
Sadly, there are downsides. For one thing, DOOM chairs have premium pricing (around $500 on Amazon), but with a cheap chair's 2-year warranty. Even worse, they're very often out of stock.
Since making their debut on Amazon earlier this year, they've been out of stock 60% of the time! That's partly because these striking designs are very popular. If you find one in stock, grab it while you can!
Dota 2: Titan Evo 2022
Dota 2 is the sequel to Defense of the Ancients (DotA). Released in 2013, this is a MOBA (Multiplayer Online Battle Arena) published by Valve. Valve is also the creator of the gaming platform Steam. Dota 2 is the second most popular game on the platform, trailing only CS:GO.
The Secretlab Titan Evo 2022 Dota 2 chair is a brooding steel-grey design with dark accents. Like all Titan Evo models, they've available in small, medium, and XL sizes.
The main premise of Dota 2 is the perpetual war between the Radiant and Dire ancients. Beyond bright red Dota 2 logos, the chair reflects the story with detailed embroidery.
Radiant forces are embroidered on the left side of the chair; Dire forces on the right. They meet in the middle at a bright red Dota 2 logo.
Dota 2 Design Appeal
This is one of several 'tweener' video game-themed chairs. From a distance, its grey leatherette and black accents give it the look of a premium executive chair.
The giveaway that it's a 'gaming' chair is its crimson Dota 2 logo. But as you get closer, the only details to emerge is the steady march of Radiant and Dire forces.
If you're looking for a conservative design with a subtle touch of character, the Dota 2 edition is a good fit!
Available from Secretlab in North America, the EU and UK, Australia, New Zealand, Singapore, and Malaysia.
Titan 2022 Dota 2 (medium) $574
The Dota2 edition is also available in an XL size for $624.
Elder Scrolls: Noblechairs Hero
In June 2021, Elder Scrolls Online Console Enhanced was released. That lets ESO run on powerful new PS5 and Xbox X|S hardware. To celebrate the launch, Noblechairs released the world's first Elder Scrolls gaming chair.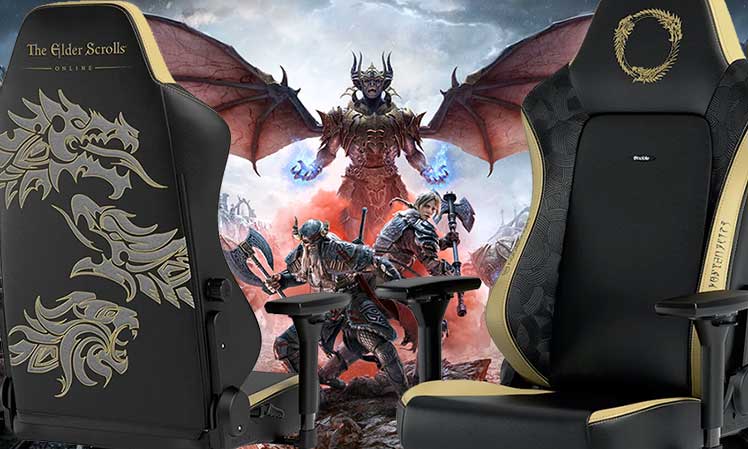 The Elder Scrolls Hero edition has the same dimensions and functionality as the Doom Hero chair. Like most Hero chairs, it has a dark PU leather base.
Golden embroidered accents add aesthetic pop. The Elder Scrolls logo is embroidered at the top of the headrest. On the back, a white dragon with gold flecks recalls the imagery from Elder Scrolls V: Skyrim.
This model is only available on the Noblechairs websites. Since its launch, it's been often out of stock in the USA store and sometimes available in the EU shop.
Fallout: Noblechairs Hero
In April, 2020, Noblechairs announced a partnership with Bethesda Softworks.
The Fallout Vault-Tec Edition is the first release from that partnership. It's a customized Noblechairs HERO. That is a large chair with internal lumbar support and pro ergonomic features.
This model comes in blue and yellow upholstery. Vault-Tec's mascot gives the thumbs-up on the front and back of the chair.
Expect more special edition Bethesda chairs from Noblechairs soon. Also planned are official chairs for Wolfenstein and RAGE. The Fallout chair is available on Amazon. But like the Doom edition, they're often out of stock!
That's a shame. The soothing color combination and vibrant detailing really pop. If these chairs had better availability, they'd be very popular. If you find one in stock, grab it while you can!
Hero Fallout chair on Amazon $659.00
To learn more about the HERO chair, check out our detailed Noblechairs HERO review.
Guild Wars 2: DXRacer Craft Series
The Guild Wars 2 gaming chair marks the debut of the DXRacer Craft Series. It's an upgraded version of the classic DXRacer Drifting Series.
The old version was a compact prosumer chair designed for executives. The upgraded version comes with similar dimensions and upgraded features. Beyond those, the chair boasts intricate detailing that pays tribute to the video game.
Craft Series Specifications
Here's a quick look at what the Craft Series offers under its brilliant skin:
Craft Series Features
Sizing
Functionality: 4D armrests, multifunction tilt-lock, 135° recline, integrated lumbar support.
Upholstery: high-density mold-shaping foam; black PU leather cover.
Extras: memory foam headrest with cooling gel inset.
Warranty: 2 years on parts; lifetime on the frame.
Seat: 20.4″ (W) x 22″ (D)
Backrest: 20.8″ (W) x 31.5″
Seat height: 17.3-20.8″
Size rating: 5'4″ to 6'2″; 250-pound weight capacity
Guild Wars 2 Gaming Chair Advice
Recently, DXRacer offered Guild Wars 2 chairs in a limited edition release. That sold out quickly! As a result, chairs are now available only as pre-orders — estimated shipping date March 2022!

There's a reason for the delay. Guild Wars 2: End of Dragons (the third expansion of the game) releases in Feb. 2022. Like the chair, it's also available for pre-purchase.
Bottom line: if you're a hardcore Guild Wars 2 gamer, pre-order both the game and the chair for a nice springtime treat!
League of Legends: Secretlab Titan Evo 2022
League of Legends (aka LoL) is a multiplayer online battle arena video game published by Riot Games. Inspired by Defense of the Ancients (Dota 1), the game was first released in 2009.
Games match players into groups of five. Each player chooses one of 138 "Champions" to play as for the duration. Teams work together to destroy the Nexus, the main building of the opposing team.

Secretlab has been partnered with Riot games for three years now. Over that time, they've built up a growing collection of League of Legends champion chairs. The most recent design is one of the most vibrant in the collection.
The Secretlab x League of Legends Jinx Chair makes a bold statement with a fun tri-color design. Against a black leatherette base are hot pink, candy-striped wings. Complementing those, embroidered teal clouds and spent shell casings lend stylish yet subtle chaos.
It's a fun, playful design with a clever color palette. The hot pink splashes get tempered by the black leatherette. That delivers a vivid aesthetic that's tasteful but not overwhelming.
Available from Secretlab in North America, the EU and UK, Oceania, Singapore, and Malaysia.
Titan Jinx Edition (medium) $574
Jinx Edition (small) $574 | Jinx Edition XL $624
Other League of Legends Chair Designs
Each LoL gaming chair comes in small, medium, and XL sizes. Here's a quick look at three popular models:
Viego the Ruined King
Viego is a malevolent power willing to do anything to resurrect his dead queen. He wields a shimmering green blade and controls the sinister Black Mist of the Shadow Isles.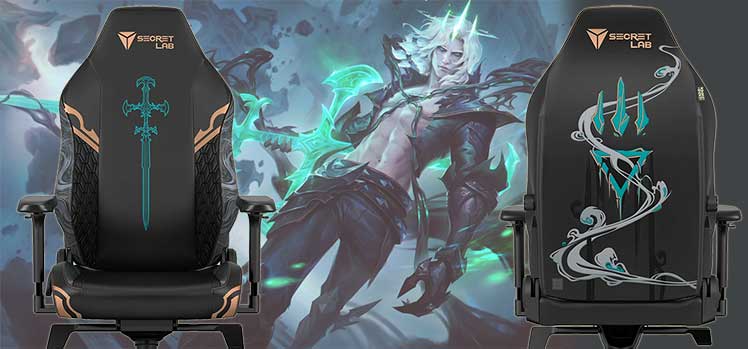 Secretlab's Viego gaming chair has a dark leatherette base with intricate detailing. The Blade of the Ruined King runs down the front of the chair in brilliant green embroidery. The backrest shows the Ruined King's crown against wisps of deadly black mist.
Titan Viego Edition (medium) $574
Viego Edition (small) $574 | Viego Edition XL $624
Miss Fortune Edition
The Miss Fortune gaming chair captures Sarah Fortune's pre-Ruination look. Draped in rich red leatherette, it shows Sarah's pistols ('Shock' and 'Awe') embroidered on the front.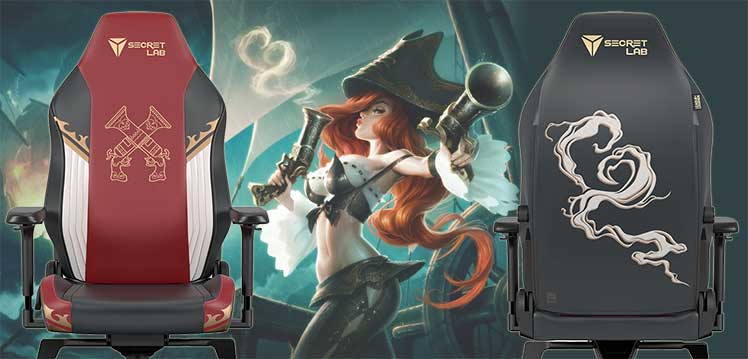 The back of the chair is more subdued. Embroidered wisps of revolver fire lay against a matte black leatherette base.
Titan Miss Fortune Edition (medium) $574
Miss Fortune Edition (small) $574 | Miss Fortune Edition XL $624
Yasuo Ionia Edition
Yasuo the Samurai slices through enemies with his katana. He also has a Steel Tempest power that sends out a whirlwind to inflict damage on his enemies.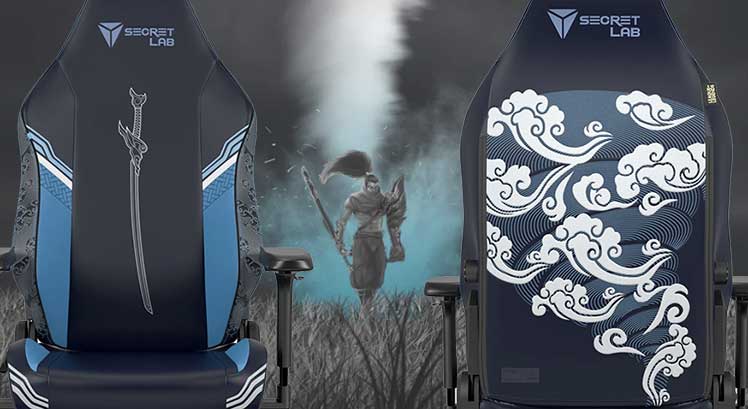 Secretlab brings these elements together with traditional Japanese styling in its Yasuo edition chair. It has a deep blue leatherette base with the champion's katana embroidered on the front.
On the back and sides of the chair, find embroidered depictions of Yasuo's Steel Tempest. These reflect the traditional ukiyo-e wind and cloud artwork of Yasuo's armor.
Titan EVO 2022 Yasuo (medium) $574
Yasuo Edition 2022 (small) $574 | Yasuo 2022 XL $624
For a close look at all available LoL designs, see this roundup:
Minecraft: Secretlab Titan Evo 2022
First released in 2009, Minecraft is widely regarded as one of the greatest video games of all time. Last year, it broke its own record by topping 141 million players per month. Soon after, Secretlab paid tribute with the most striking fabric gaming chair on the market today.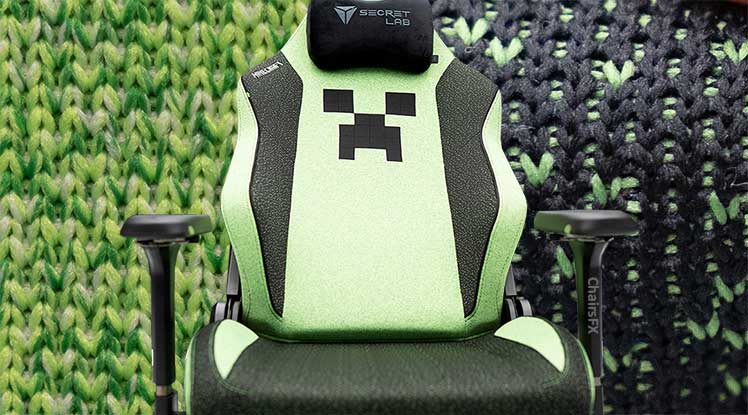 This is the world's only gaming chair that blends two types of fabric. The main part of the backrest is covered in a lime green fabric. Meanwhile, the seat and side wings come upholstered in black fabric with lime specks.
From a distance, the effect is surprisingly refreshing. To get a closer look from all angles, see this Hands-on Titan Minecraft Fabric Chair Review.
Available from Secretlab in North America, the EU and UK, Oceania, Singapore, and Malaysia.
Titan Minecraft Edition (medium) $594
Monster Hunter: Secretlab Titan Evo 2022
Monster Hunter is a Japanese fantasy role-playing video game published by Capcom. The first version came out in 2004. It was huge in Asia but didn't catch on in the west until recently. Monster Hunter: World (2018) became Capcom's best-selling console video game ever. It sold 20+ million copies (70% outside of Japan).
This year saw the franchise reach new heights. March saw the release of Monster Hunter Rise, the sixth series after Monster Hunter: World. In August, Netflix released the anime film Monster Hunter: Legends of the Guild. Adding to the hype, Secretlab released its Monster Hunter gaming chair in September.
It's a dark leatherette chair featuring the fire-breathing wyvern Rathalos. Red scales adorn the side wings. The front shows Rathalos in detail; the back shows a red silhouette of his skull. As a final touch, Ratahlos' poison talons run along the body and base of the chair.
In January, a PC version of the game finally came out. Using a Monster Hunter chair while trying the PC edition is a perfect fit!
Available from Secretlab in North America, the EU and UK, Australia, New Zealand, Singapore, and Malaysia.
Monster Hunter Titan (medium) $574
The Monster Hunter edition is also available in an XL size for $624.
Overwatch: Secretlab Titan 2022
Overwatch is a team-based multiplayer first-person shooter by Blizzard Entertainment. The game launched in 2016 to big acclaim. Critics and users raved about the diverse characters, accessible play, and cartoony style.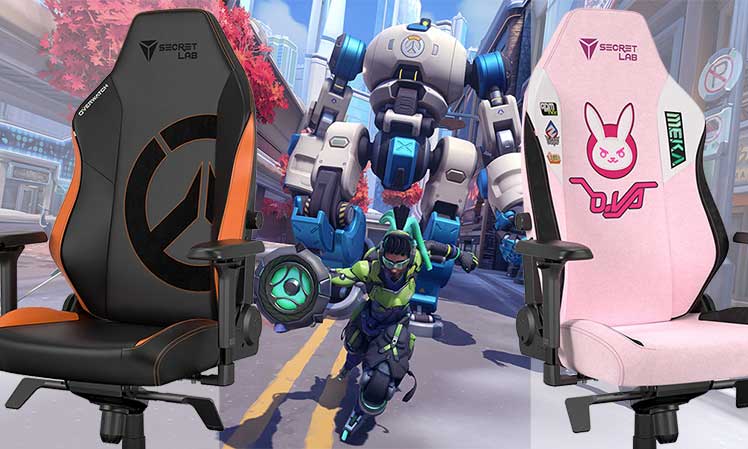 The game's lore is ultra-connective, making everybody feel like a hero. 20 years ago, a massive Omnic Colossus attacked South Korea. Rising from the East China Sea, it caused catastrophic damage.
In response, the South Korean government developed mechanized drone units called MEKA. But the only ones skilled enough to pilot them were pro gamers. Thus they gathered on the front lines of the great war to save the world.
Secretlab's Overwatch editions come in leatherette and fabric variants. Here's a look at both versions:
Overwatch Leatherette Editions
Secretlab's Overwatch leatherette edition was one of its first themed video game chairs. As such, it has a plainer design than others. That reflects Secretlab's more conservative styling in its earlier days.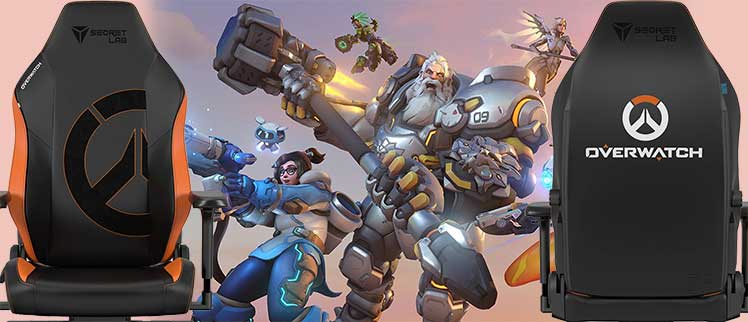 It's a dark leatherette chair with orange side accents and Overwatch logos on both sides. It has an executive feel with just enough styling tweaks to keep the mood light.
Titan 2022 Overwatch (medium) $574
Titan Overwatch small $574 | Titan Overwatch XL $624
Available from Secretlab in North America, the EU and UK, Australia, New Zealand, Singapore, and Malaysia.
Overwatch D.Va Softweave Chair
In striking contrast to its leatherette companion is the Overwatch D.Va chair. It's a vibrant blend of soothing pink SoftWeave fabric against hot pink accents.
In the Overwatch video game, D.Va is a South Korean pilot. Her mech Tokki comes equipped with booster rockets that barrel over enemies. At short range, it wields dual-fusion canons on autofire.
At present, this model comes in small and medium sizes. It's upholstered in a strawberry milkshake-colored pink fabric, with plenty of enhancements.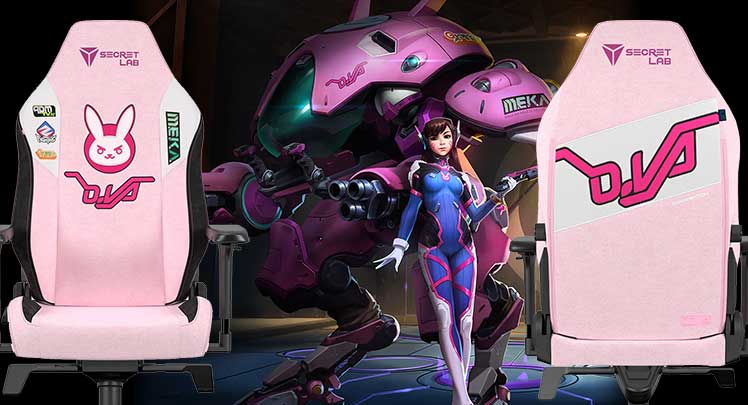 D.Va's pink bunny emblem and logo are embroidered on the front of the chair. The side wings show a collection of the D.Va's in-game decals. On the backside, her logo adorns a large strip of white leatherette.
For other fabric variations, see this review of Secretlab's eight SoftWeave gaming chair designs.
The small (4'11" to 5'6″) Pink Titan D.Va chair is also available for $594.
Pokémon: Secretlab Titan
On Jan. 28, Pokémon Legends: Arceus comes out for Nintendo Switch. It's part of the 8th generation of thePokémon video game series. This game takes us back to the earliest point in the series history to the Hisui region.
Your job is to explore the land and build the region's very first Pokedex. Find new Pokémon like Wyrdeer and new regional forms like Hisuian Growlithe. Catch, document, and expand the Pokedex.
Secretlab Pokémon Gaming Chairs
Secretlab recently came out with a pair of Pokémon gaming chairs. Released in collaboration with Capcom Asia, they're only available for sale in Japan.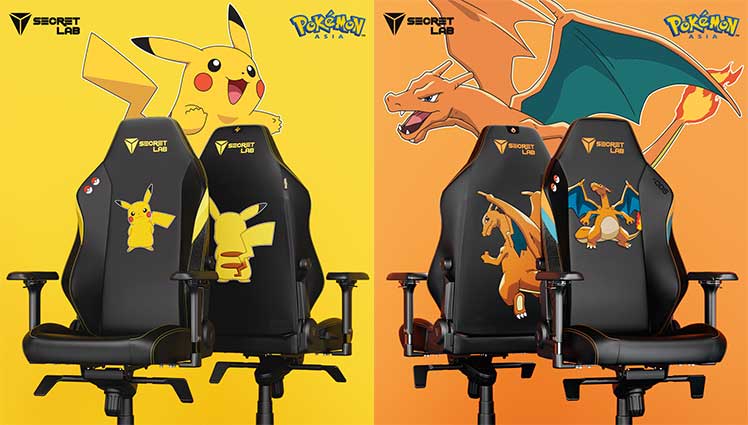 The Pokémon #025 edition pays homage to Pikachu; the #006 does Charizard. Both come upholstered in dark leatherette. The #025 edition has yellow color accents and embroidered Pikachu artwork. The #006 is more colorful, with intricate Charizard embroidery.
We're guessing that the Japan limitation has to do with regional licensing. Once Secretlab reaches terms with Capcom USA, we expect Pokémon chairs will become available in the west.
Witcher 3: Secretlab Titan
CD Projekt Red first released The Witcher 3: Wild Hunt in 2015. It's a gorgeous, beginner-friendly open-world game played from a third-person perspective. Players control Geralt of Rivia, a bounty-hunting monster known as a Witcher.
Before June 2022, Witcher 3: Wild Hunt – Complete Edition comes out in two parts. The first is a next-gen port for Xbox Series X and PS5. That will ensure a steady 60fps with faster loading times and ray tracing.
The second part is an updated PC version. That will feature new DLC inspired by the Netflix show. For instance, you'll be able to wear the armor Geralt uses in the Netflix series.
Secretlab Witcher Gaming Chairs
When Witcher 3 Complete Edition releases, it's likely to entice three types of gamers. Newbies will find it a great introduction to immersive open-world role-playing games. It's beginner-friendly, with a rich story and lush visuals. a deep game with a great story and lush visuals,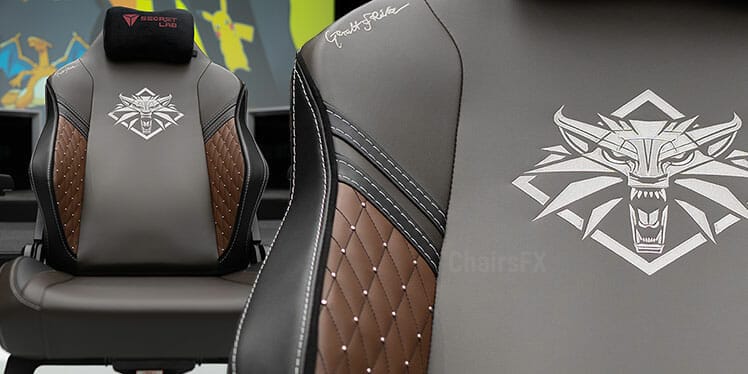 Long-time console fans will be able to relive the game with greater visual glory. As well, PC gamers can enjoy a refreshed experience with some new DLC tweaks.
In all cases, a Secretlab Witcher 3 gaming chair can sweeten your experience. Witcher 3 gaming chairs come clad in stealthy brown leatherette. As with all SL video game designs, there are plenty of embellishments.
Copper-colored diamond-pattern side wings recall Geralt's armor. An embroidered Witcher Wolf emblem decorates the front of the chair. On the back are his two swords set against a crimson swirl.
Available from Secretlab in North America, the EU and UK, Australia, New Zealand, Singapore, and Malaysia.
World of Warcraft: Secretlab Titan 2022
World of Warcraft (WOW) is the world's #1 MMORPG (massively multiplayer online role-playing game). WOW first came out in 2004. Over sixteen years, the game has had seven well-received expansions, with an eighth on the way. The franchise has generated over $9 billion in revenue.
Set in the fantasy world of Azeroth, there are two main factions in the game: the Alliance and the Horde. Among the Alliance are humans, dwarves, gnomes, night elves, and dranei. On the Horde side are orcs, undead, trolls, and blood elves.
Secretlab's WOW collection includes both Alliance and Horde editions. See our Titan Evo 2022 Warcraft Gaming Chair Reviews for an up-close look at both styles.
World of Warcraft Alliance Chair
The WOW Alliance chair comes in royal blue leatherette with luxurious gold accents. It has a cool look with a posh feel of royalty. Even if you don't know about Warcraft, the regal theme of this chair comes through.
The back of the chair takes the regal motif to an even higher level. It features a royal motif evoking the opulence of Stormwind City, the Alliance capital.
Titan 2022 Alliance (medium) $574
Titan Alliance small $574 | Titan Alliance XL $624
Available from Secretlab in North America, the EU and UK, Australia, New Zealand, Singapore, and Malaysia.
World of Warcraft Horde Chair
One of WOW's greatest lessons is not to judge by appearances only. The Horde lives in a hostile world where everyone hates them. Alliance forces slaughter them for sport. So orcs, forsaken, tauren, trolls, blood elves, and goblins banded together.
The Horde values strength and honor. They oppose all who threaten the ideals of freedom and hope. Fittingly, Secretlab's Horde chair isn't as sinister as its first appearance suggests.
Secretlab Horde edition chairs pay tribute to the misunderstood. It comes draped in rich red leatherette with black trim and embroidery. The proud banner of the Horde drapes over the rear of the backrest.
Barbed spikes embroidered around the banner depict the rooftops of Orgrimmar. For some, those have a sinister effect. For others, it's a pleasing reminder of home.
Titan 2022 Horde (medium) $574
Titan Horde small $574 | Titan Horde XL $624
Available from Secretlab in North America, the EU and UK, Australia, New Zealand, Singapore, and Malaysia.
Conclusion
If you enjoy playing video games, you spend long periods sitting. Over the years, doing so in a cheap, non-ergonomic chair can deform your spine.
As your spine deforms, life gradually changes. You become stiffer, fatter, and more lethargic. In brilliant contrast, a good gaming chair will put your spine into a healthy alignment.
When you sit with an aligned spine, your core muscles get stronger. Then, big benefits kick in. Expect a surge of energy, sharper focus, and deeper immersion into video games. If that sounds good, the chairs in this review are for you!
Official gaming chairs of popular video games are an emerging trend. Secretlab, Noblechairs, and DXRacer are all making deals with top video game publishers. Thus, we can expect many more official video game chairs released soon.
For now, 13 video games have official gaming chairs. Here's the current count: