The Secretlab Titan Cyberpunk chair offers spacious dimensions, sophisticated ergonomics, and jaw-dropping visuals. Stunning yellow leather meets soft dark suede, tied together with intricately embroidered color accents. Looking for high-end ergonomics with a vibrant, eye-popping design? This Titan Cyberpunk chair review summarizes one of the most popular designs of 2020.
Secretlab Titan chairs come in 36 style variants. Here at the ChairsFX HQ, I've got a Titan Stealth, Omega Softweave Black, and Titan Cyberpunk. The Titan Stealth and Omega Black chairs have conservative designs that connote executive power and sophistication.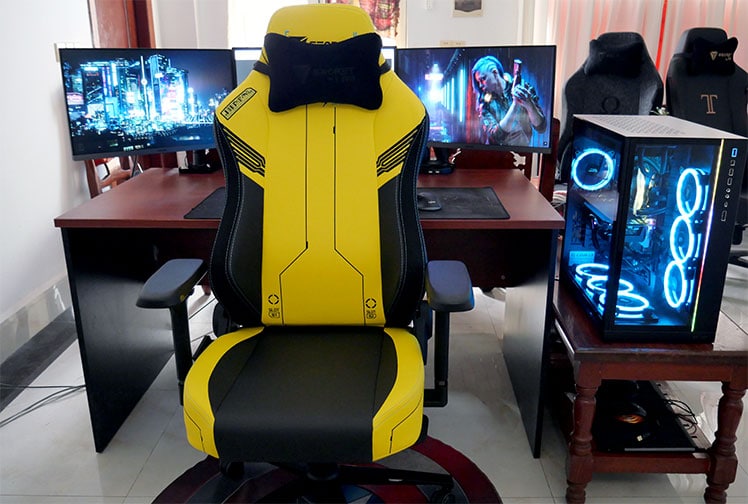 In contrast, the bright yellow leather on the Cyberpunk Titan chair lights up a room. It's a vivid display of how color psychology can influence a workstation.
Titan Cyberpunk from Secretlab USD $489
The Cyberpunk Titan chair is available in North America, Europe, the UK, Australia, Singapore, and South Korea. Click the button to access the right store for your location. Smaller sizes can buy the Omega CP edition for $449.
Color psychology at a workstation
The Feng Shui section of our home computing workstation setup guide notes that workstation colors influence the mood of a room. To optimize ambiance, it's possible for chair colors to enhance the type of work you focus on.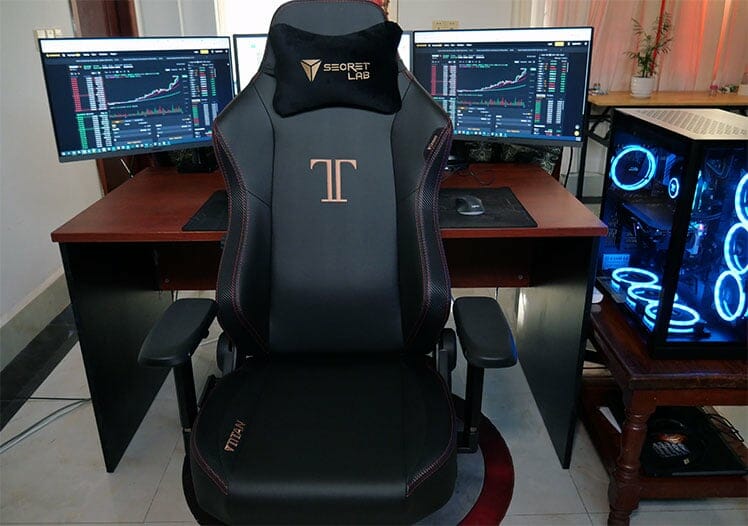 For example, the color black in feng shui is a water element that evokes calmness and power. In high fashion circles, black reflects both power and sophistication. Thus, dark-colored chairs have long been a favorite of office workers and ladder-climbing executives.
Bright yellow for creatives and gamers
Color psychologists regard yellow as lively, optimistic, and energetic. Its visual energies stimulate innovation. On paper, that makes yellow a good choice for creative professionals.
In my experience, the bright yellow does indeed bring vibrant energy into a workspace. As a content creator, having an energetic workspace ambiance has been very inspiring. It's also had a positive effect on my workspace habits and aesthetics.
The fun begins as soon as you crack open your boxed chair delivery. The chair looks more beautiful in person than in pictures. To learn more about the positive early impressions and effects, check out this feature:
Secretlab Titan Cyberpunk chair review
The Secretlab Titan Cyberpunk chair is a high-end aesthetic and ergonomic masterpiece. But it's not for everybody. Size-wise, the Titan's depth-adjustable internal lumbar support isn't height-adjustable. It only fits users taller than 5'9″ (175 cm).
Aesthetically, the Cyberpunk edition's bright cyber design is ideal for gamers and creatives. Conversely, the vibrant crackling yellow might feel be too distracting for accountants, administrators, and cubicle workers.
Design
The Cyberpunk Titan chair makes a big first impression with two bold elements. The matte yellow upholstery is smooth, soft, and very bright. On the backrest, the red embroidered Samurai logo pops with intensity.
Cyberpunk Titan chair up close
Beyond the striking good looks are superb tactile sensations. During my first few days with this chair, I took frequent standing breaks to appreciate its beauty. When I wasn't staring at it, I was touching it. Run your hands across the buttery smooth leather surfaces. Along the side backrest wings are soft suede accents with blue-accent sticking. Marvel at intricate and super-detailed Samurai logo on the back.
In summary, this chair crackles with energy. As a content creator, the design is close to perfection. It's attractive, inspiring, and energizing.
Titan Cyberpunk from Secretlab USD $489
The Cyberpunk Titan chair is available in North America, Europe, the UK, Australia, Singapore, and South Korea. Click the button to access the right store for your location. Smaller sizes can buy the Omega CP edition for $449.
Features
The Titan boasts high-end features that exceed the specs of most gaming chairs in a few ways. For a detailed breakdown, check our Titan chair technical overview. Below is a summary of the Cyberpunk Titan chair's highlights:
Depth-adjustable internal lumbar
The Cyberpunk Titan chair comes with a depth-adjustable lumbar support system. Turn the knob on the right side of the backrest to increase or decrease the depth.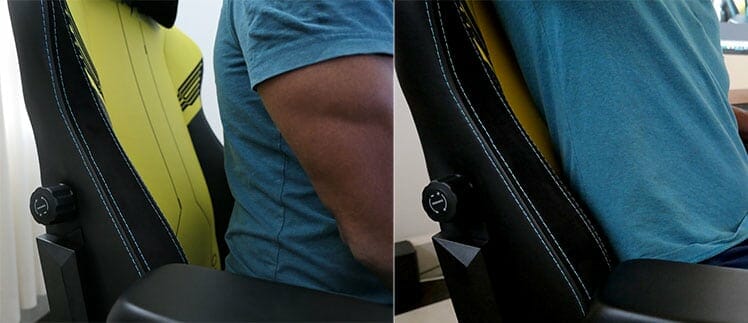 Once fully-extended, it provides around 2 inches of extra depth. For users 5'9″ and up, that should hit directly in the small of your back. That provides crucial support to keep the spine straight while sitting. Check out our lumbar support biomechanics explainer to learn more.
Multiple recline and tilt options
The Titan pairs a flat, wide seat with a tall padded backrest. COmbined, the resulting seat bucket offers a few opportunities to move while sitting.
Under the seat, there are two levers. Push the left one down to lock the seat in place. Flick it up to release the lock and enable the rocking function. When the seat is angled, push down again to lock it at that angle. You can also recline the backrest to 165-degrees, an ideal position for a posture-perfect power nap.
Summary of features
For a full explanation of all features, check out our detailed technical review of the Titan. Here are the highlights:
Functionality: integrated lumbar support; 4D armrests; recline from 85°-165°; multifunction tilt mechanism.
Upholstery: choice of premium PU leather, genuine leather or Softweave Fabric.
Comfort: patent-pending cold cure foam; memory foam head pillow with cooling gel insert.
Support: carbon steel frame; Class 4 KGS gas lift; aluminium base; XL PU caster wheels.
Warranty: 3 years, extendable to 5 years with a social share (details).
Titan Cyberpunk from Secretlab USD $489
The Cyberpunk Titan chair is available in North America, Europe, the UK, Australia, Singapore, and South Korea. Click the button to access the right store for your location. Smaller sizes can buy the Omega CP edition for $449.
Size specifications
The Titan is a spacious chair with a fixed-height lumbar that will only work for users taller than 5'9″ (175 cm). Shorter users will suffer lumbar support that hits too high, causing pain and discomfort. I stand a bit over 5'9″ (177 cm) and find that the lumbar support hits right where I need it to.
To test that, I had a 5'5″ (165 cm) teen try out the Titan. The basic dimensions fit him just fine. However, after I cranked the lumbar support to max depth and had him lean back, he reported slight discomfort.
That problem went away when I dialed down the internal lumbar pillow and gave him an Omega lumbar pillow to use instead. That gave him the proper support in his lumbar curve to enjoy a healthy upright sitting posture.
Bottom line: anyone 5'9″ (175 cm) or taller will enjoy a Titan chair. The flat, wide seat and spacious backrest offers plenty of room for moderately wide and tall users. Essential specs:
Seat width x depth: 20.5″ (W) x 19.7″ (D)
Backrest width x height: 21.7″ (W) x 33″ (W)
Seat height range: 18.7-22.4″
Chair height: 51.7-55.4″
Size rating: 5'9″ to 6'7″, up to 290 pounds
Titan Cyberpunk chair advice
This section gives buying advice for potential Cyberpunk chair users.
Should I choose a Titan or Omega edition?
The Cyberpunk chair comes in both Secretlab Omega and Titan variants. The former is a smaller chair with a traditional lumbar support pillow. Secretlab recommends the Omega for users between 5'3″ to 5'11" (160-180 cm). In comparison, Secretlab suggests the Titan for users from 5'9″ to 6'7″ (175-200 cm) tall.
I stand 5'9″ (177 cm) and fit well in both chairs. However, I prefer the Titan. Its internal lumbar support feels more potent, while the wide seat feels extra luxurious and comfortable. For a detailed breakdown of differences, check out this feature:
Who should buy a Cyberpunk chair?
The point of a gaming chair is to provide comfort and posture support over long periods of sitting. Any chair that meets basic ergonomic requirements can do this job. There are three essentials:
Adjustable lumbar support: provides crucial support to keep the spine upright (details).
Adjustable armrests: adjust these to sync with your desk. That spares the spine from having to support the arms.
Rocking and reclining: lets you work your hips, spine, and legs while sitting.
If the only thing you need is posture support, buying a Secretlab chair might be overkill. Check out the best gaming chairs under $200 for some popular cheap options. If you prefer more conservative options, check out the best office-style ergonomic chairs under $250.
Perfect for luxury-minded power users
The Secretlab Titan and Omega Cyberpunk chairs are luxury models for power users. Gamers on the custom PC bandwagon pay thousands to improve their computing performance and aesthetics. As a result, many enthusiasts also invest lavishly in workstation aesthetics. If you have a $3000 PC with custom lighting and like playing Cyberpunk, this model will make a fantastic addition to your workspace.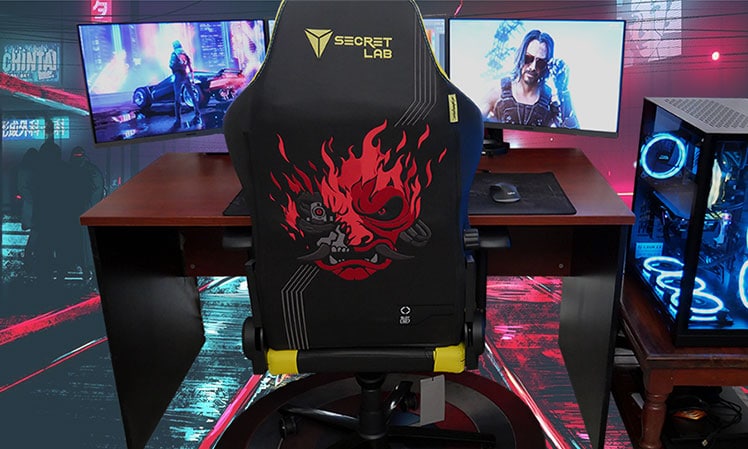 Based on my experience, this model is also a great fit for content creators. In fact, if you do creative work for a living, this chair will deliver more value than it will for gamers.
Aesthetic effects: the stunning good lucks will probably inspire an upgrade of your workstation aesthetics.
Psychological effects: the vivid yellow brilliantly complements a clean, well-maintained workstation.
Energizing effects: the bright colors, fresh ambiance, and ergonomically perfect workstation delivers a consistent buzz.
Do you have the budget to pay extra for luxury? Are you taller than 177 cm? Do you like the idea of enhancing your workstation aesthetics? If yes, the Cyberpunk Titan chair is an excellent choice.
Titan Cyberpunk from Secretlab USD $489
The Cyberpunk Titan chair is available in North America, Europe, the UK, Australia, Singapore, and South Korea. Click the button to access the right store for your location. Smaller sizes can buy the Omega CP edition for $449.
How to use a Cyberpunk chair
As long as you're taller than 5'9″ (175), using a TItan chair is simple. First, turn the lumbar dial forward to increase the depth of support. Second, tuck your hips deep into the seat and sit upright. Tucking your hips ensures optimal contact of the lumbar support and your lower back.
Third, adopt a neutral posture while sitting in your chair. Do so by planting your feet flat on the floor, with your back pressed into the backrest.
For a detailed guide on using your Titan for optimal health and wellness benefits, read this:
How to care for a Cyberpunk chair
One of the realities of owning any high-end product is that you need to take extra-special care of it. The Secretlab Titan Cyberpunk chair is no exception.
It's a rugged, durable chair with a 5-year warranty, but it feels delicate. For instance, eat some potato chips and then sit down in your chair. After a few minutes, you'll notice several greasy (and very visible) fingerprints.
To keep your chair looking brand-new, follow two simple steps:
Wipe the whole chair down with a (clean) damp cloth every day before using.
Avoid eating or drinking at your desk. Any time you need a drink, take a walking break to get one.
The seat is wide enough to sit cross-legged in. But if you do so with bare feet, it can leave footprints and floor dust. If you want to sit with your feet up, make sure to wear socks.
Supercharge ergonomics with a footrest
Most desks are one-size-fits-all, ranging between 28-30 inches high. For people shorter than 6'0″, this is too high. As a result, when users sit with feet planted on the floor, they aren't able to make use of the armrests.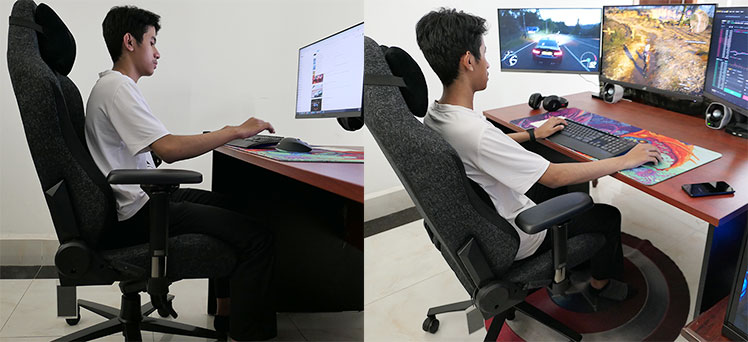 Adding a footrest solves this problem. Using one with a Titan chair lets you raise the height of the seat, better synching them with your desk and armrests.
Beyond height optimization, adding a footrest reduces pressure on the thighs against the seat. In doing so, it also glues your lower back to the lumbar support, making it easier to sit upright.
On top of that, stacking a footrest with your Titan chair provides more opportunities for movement. While the Titan lets you recline or tilt the seat, typing requires a static, upright posture. If you're shorter than 6'0″, trying this option is easy. Most popular footrests cost less than $50. Learn more:
Other colorful Secretlab gaming chairs
The Cyberpunk edition is the most vivid Secretlab design. Here of some other colorful options on offer:
Other colorful Secretlab chairs
Here are some color psychology insights into each design:
Overwatch D.Va: this colorful pink design uses Softweave fabric instead of leather (softer and more breathable). Pink is thought to be a calming color associated with love and kindness.
Warcraft Horde: red is an energizing color that signifies strength, power, and danger. It inspires motivation with strong masculine energy.
Warcraft Alliance: blue conveys peace and serenity. It's a popular choice for airline uniforms, and also for corporate design schemes.
Game of Thrones Targaryen: bold red dragons embroidered on the front and back will light up the room with fiery energy.
League of Legends Ari: this maroon/ burgundy design connotes wealth, sophistication, and a high social status.
Browse the entire Secretlab chair collection
Chairs are available from Secretlab web stores in North America, the UK, Europe, Singapore, Malaysia, South Korea, Australia, and New Zealand.
Conclusion
The Secretlab Titan is the top-rated pro esports gaming chair on this website. Among its 36 style variants, the Cyberpunk edition is my runaway favorite.
If you order this chair, expect it to have a big impact on your workstation. Aesthetically, the brilliant yellow color scheme will liven up your workspace. Concurrently, the luxurious ergonomics will enhance your health, wellness, and productivity.
Titan Cyberpunk from Secretlab USD $489
The Cyberpunk Titan chair is available in North America, Europe, the UK, Australia, Singapore, and South Korea. Click the button to access the right store for your location. Smaller sizes can buy the Omega CP edition for $449.