Compared to premium models, cheap gaming chairs have thinner padding, limited adjustability, and more basic upholsteries. Even so, they deliver good ergonomic support for a low cost. That makes them solid starter chairs for adolescents — and ok-ish options for adults. Looking for inexpensive, no-frills ergonomic support? This article reviews the best cheap gaming chairs under $200 available in 2023.
The world's first gaming chair emerged in 2006. In 2022, most gaming chairs under $200 are cheap clones of that original 16-year-old concept.
Most models in this review have 2D armrests, deep recline functionality, and adjustable lumbar and headrest pillows. At the other end of the spectrum are $560+ Secretlab Titan chairs.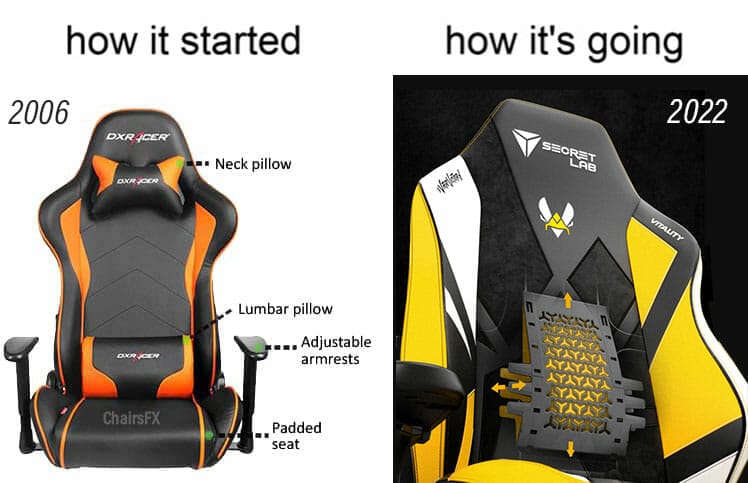 Compared to the cutting-edge features of Titan chairs, cheap gaming chairs feel like toys. Even so, they provide decent value for two particular classes of users:
Best Cheap Gaming Chairs Under $200
The best place to shop for cheap gaming chairs in 2023 is on Amazon. Most of Amazon's top-rated gaming chairs cost between $99 to $150. Among the top 10, most have fixed (non-adjustable) arms.
In contrast, most of our top-rated gaming chairs priced under $200 have 2D armrests or better. As well, all come from established brands with proven customer service records. That means if anything goes wrong with your chair, getting help isn't difficult.
Thus, based on brand reliability, the quality of features, and value for money, here are our top-rated cheap gaming chairs of 2023:
Conclusion: Decent Value For Money
Recap of the chairs in this review:
Don't worry if you can only afford to spend $200 on an ergonomic chair. ChairsFX has run several tests to show that any chair with adjustable lumbar + armrests + backrest recline can support good posture.
Proper usage trumps the type of chair being used. If you can only afford a cheap $150 chair, make the best of it with good sitting technique.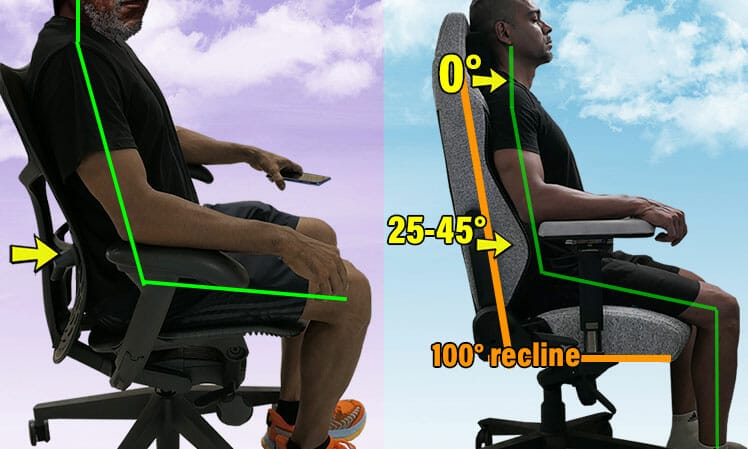 That means: tuck your hips deep into the seat. Plant your feet. Adjust the lumbar support to maintain your lower back curve. Then, use the armrests to prop yourself up into a healthy posture.

By following neutral sitting fundamentals, any of the chairs in this review can provide comfortable posture support over long periods of sitting — for less than $200. Learn more:
Neutral Posture Quickstart: For Gaming AND Ergo Office Chairs
Related:
Neutral Postures Compared: Gaming Chairs Vs Elite Ergonomic Office Chairs