Cheap gaming chairs priced under $200 are for first-time ergonomic chair users. These are starter models with basic, beginner-friendly features. Our market research suggests that Gen Z (ages 11-26) and Millennials (ages 27-42) are the primary target markets. Amazon's best-selling gaming chair rankings reflect their preferences. In 2023, semi-ergonomic loungers and fully-ergonomic desk chairs are both trending. ChairsFX reviews the most relevant cheap gaming chairs under $200 on the market in 2023.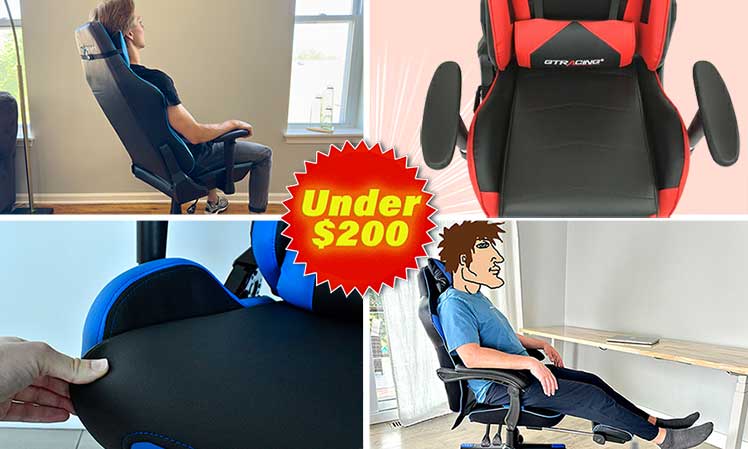 In the seating world, 'ergonomic' means 'adjustable'. All chairs that qualify as fully ergonomic have three adjustable components. In this regard, gaming chairs and ergonomic office chairs are functionally similar.

It doesn't matter if you use a cheap or expensive chair. Any model having this adjustable trio provides the support you need to maintain healthy neutral postures.

But despite this, Amazon's best-selling gaming chair rankings reveal an interesting trend away from ergonomic perfection.

In a shared home computer situation, a cheap gaming chair with a footrest provides more practical uses than one without a footrest. Even without adjustable arms, a basic model can support deskwork, watching movies, and even console gaming for kids.
Best Cheap Gaming Chairs Under $200
Most models under $200 have similar features. The usual kit: 2D arms, an adjustable lumbar, a reclining backrest, rocking, or a locked upright seat.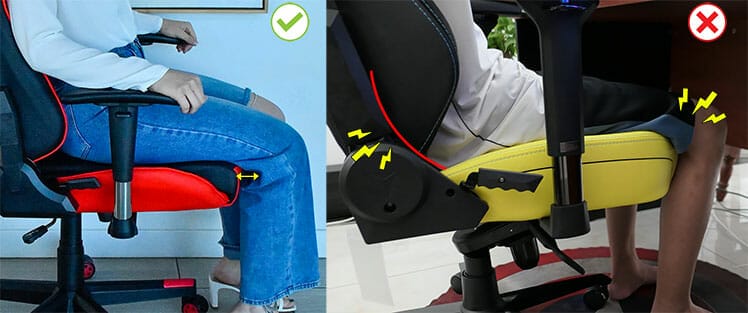 Proper sizing is the key to success. A gaming chair with a seat that's too deep for your knees will distort your posture. Instead, look for a fit that leaves a small gap between the back of your knees and the seat lip.
Amazon Best-Seller Picks
Most of the gaming chairs on Amazon's best-seller lists cost less than $200. Among these are pure desk chairs and also gaming chairs with footrests. The former has similar features as the Knight and Pro Series chairs.

The latter are modernized clones of the Elecwish Footrest chair. Using those three as benchmarks, you can assess the sizing potential (seat depth x width) and value for money of other top sellers. ChairsFX picks:
Cheap Gaming Chair Target Markets
DXRacer dropped the world's first gaming chair in 2006. For seventeen years, office chair purists have been feverishly deriding gaming chairs as scams. But despite their cries, cheap gaming chairs are more popular than ever.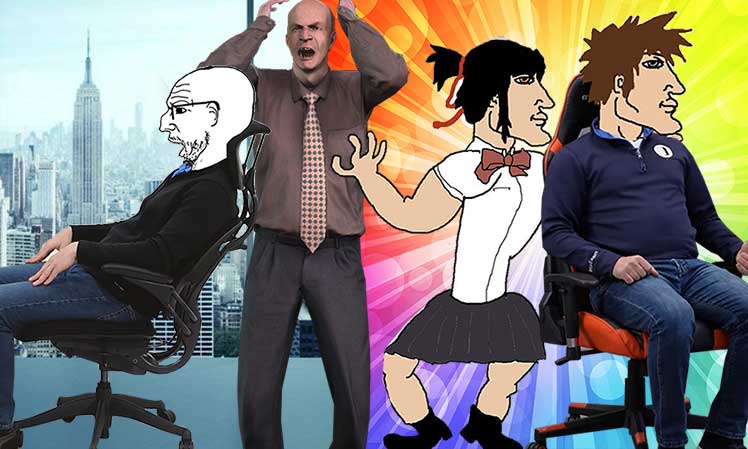 To find out why, we did some market research. To start, we used Pew Research Center generational definitions(1):
Generation X: born between 1965 to 1980 (ages 43-58 in 2023)
Millennial: born between 1981 to 1996 (ages 27-42 circa 2023)
Generation Z: born between 1997 and 2012 (ages 11-26 in 2023)
The ergonomic seating era kicked off in 1994 with the Herman Miller Aeron (29 years ago). Then, Generation X was aged 14-29. They grew up using Windows 1.0 in an era when ergonomic seating was revered with god-like status.
But the times have changed. In fact, modern computing trends suggest that cheap gaming chairs provide plenty of value for Millennial and Gen Z computer users.
Recap: Best Gaming Chairs Under $200
Recap of the chairs covered in this review:
By following neutral sitting fundamentals, any of the chairs in this review can provide comfortable posture support over long periods of sitting — for less than $200. Learn more:
Neutral Posture Quickstart: For Gaming AND Ergo Office Chairs
Related:
Neutral Postures Compared: Gaming Chairs Vs Elite Ergonomic Office Chairs
Footnotes