GTRacing has been in the seating business since 2015. Over the years, they have thrived by producing cheap and durable gaming chairs for PC gamers. This is one of the more ambitous brands, with a regular influx of new and exciting products. The current lineup offers great value for money. Check out the best GTRacing gaming chairs available to buy online right now.
GTRacing is the best in the business at reverse-engineering popular chair designs. Several years ago, its Pro Series GT-099 was released as an alternative to the Homall Classic. For a similar low price, the GTRacing version has better features and a longer warranty.
The GTRacing's Ace Series strategy goes in the opposite direction. It reverse-engineers premium chairs into more affordable packages.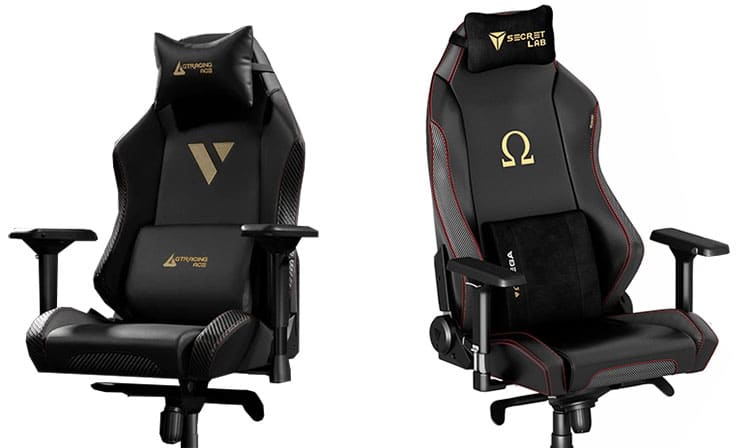 Ace Series chairs come with the same features as premium gaming chairs. They also come with a premium 5-year warranty. The main difference is that they cost less than the competition.
In 2021, there are three key collections in the GTRacing lineup. The first two are premium chair collections, while the third is for the budget-minded:
Ace Series: pro features, 5-year warranty. ($199-$299)
Luxury Series: pro features, 400-pound support, 2-year warranty. ($199-$245)
GTRacing Pro Series: 2D armrests, 2-year warranty. ($139-$175)

Within the Ace Series are small, medium, and large models. In the Pro Series collection, all models are racing-style gaming chairs. Some extend functionality with a footrest or Bluetooth speakers.
Best Premium GTRacing Gaming Chairs
All premium GTRacing gaming chairs come with 4D armrests. Ace Series chairs also include a 5-year warranty. In comparison, Luxury Series chairs have pro features and extra-large dimensions. However, those models only come with a 2-year warranty.
Here are the best GTRacing gaming chairs of 2021.
Best GTRacing Pro Series Gaming Chairs
The Pro Series is the original GTRacing gaming chair. The base model comes with 2D armrests, deep recline functionality, and compact dimensions.
Addons to the base model include Bluetooth speakers and a retractable footrest.
Buying tip: buying directly from GTRacing qualifies you for a free warranty extension of 2 years. Buying from Amazon yields lower prices, but a strict 1-year warranty.
Conclusion
GTRacing gaming chairs are among the top sellers on ChairsFX. There's a lot to love about these chairs. All models are affordable, comfortable, and ruggedly durable. On top of that, GTRacing's customer service team is very helpful. If anything goes wrong with your GTRacing chair, somebody from their team will help you to resolve your problem.
For part-time or casual use, Pro, Footrest, and Music Series chairs will do the job. For more luxury or full-time sitting support, consider buying an Ace chair instead.
Check GTRacing Chairs On Amazon
Related GTRacing Reviews