GTRacing operates out of Shanghai. They entered the market in 2015 by launching the budget-priced GTRacing Classic gaming chair. The release was a hit in China – consumers loved the high quality and low price. Today they also sell their chairs in the US, Canada, Japan and Europe.
GTRacing is now one of the leading budget players in the gaming chair industry. They have a young team with a passion for e-sports.
GTRacing Brand Overview
Before getting into reviews of the best GTRacing chairs, this section looks at shared aspects relevant to all models.
Standard GTRacing features
All GTRACING models are budget priced at less than $200. While there are differing models and price points, all share these common features:
Ergonomic design: all chairs keep the neck and spine in ergonomic alignment. This supports long hours of sitting. Thus, users can maximize performance while also optimizing their posture.
2D adjustable armrests: basic up-down adjustability.
Deep recline: models with footrests recline to 165°; other models go back 170°. Per our Gaming Chair User Manual, position between 100-110° for work. Recline deeper back for relaxing or sleeping.
Combined mesh and leather upholstery: comfortable mesh fabric allows for breathability. The PU leather accents provide enhanced durability where it's needed the most.
Sturdy support: steel frame, heavy-duty 5-point base, smooth rolling casters and gas-powered lift.
Neck and lumbar cushions:  these support the neck while keeping the spine in alignment.
Weight: support for up to 330 pounds.
Warranty: 1 year coverage on parts; free replacement or refund within 30 days.
GTRacing gaming chair warranty
GTRacing sells their gaming chairs on several platforms including Amazon, Newegg, Lazada, etc. They also sell chairs directly from their own website. Buying direct saves GTRacing third-party commissions, which is why they provide incentives to do so.
When you buy GTRacing products from third-party vendors, you get their standard 1-year warranty. If you buy direct from the GTRacing website, they double the warranty to two years.
Where to buy GTRacing gaming chairs
GTRACING sells their gaming chairs directly from their website. They also sell a few models on Amazon. In most cases the prices are the same or a bit cheaper when buying direct.
The advantage of buying from Amazon is familiarity. Most people are comfortable with the Amazon buying and shipping process. Buying direct from GTRACING puts you in clean contact with GTRACING service. It also gets you an extended warranty and a slightly cheaper price.
Best GTRACING models
All GTRACING gaming chairs are based on their very popular classic model. Higher-priced models add Bluetooth speakers, retractable footrests, thicker padding and upgraded upholstery. Every one of these models will support long hours of gaming or working with impressive comfort – while keeping your neck and spine in proper alignment.
Amazon only stocks a few GTRACING models. The following reviews list Amazon prices when they're available. All other purchase links let you buy direct from GTRACING.
Classic GT099-RED
This is the flagship of GTRacing's Pro Series line of gaming chairs. It's GTRacing's original gaming chair and one of Amazon's top sellers.
The GT099 beats other models in this price class with adjustable armrests and a 2-year warranty.
Key features:
Functionality: 2D adjustable armrests; tilt lock recline to 170°.
Upholstery: padded seat and backrest; red & black PU leather cover.
Sizing: supports users from 5'6″ to 6'2″ weighing up to 330 pounds.
Warranty: 1 year on parts; free replacement or refund within 30 days.
Free shipping: included.
Available on Amazon for $134.99 with a 1-year warranty. Buy direct from GTRacing for extended 2-year warranty.
Pro Series
There are several other options in the Pro Series line. All models have the same features and sizing as the GT099 Classic model. Our favorite Pro Series option is the GT000 Speed Series. These models use mesh fabric upholstery with PU leather trim. That's appealing because mesh fabric is more durable and breathable than PU leather.
The GT991 Speed Series is another Pro Series option. GT991 chairs have the same features and dimensions as the Classic Red, with a slick new design.
Pro Series models cost between $145.99 and $159.99. There's a huge variety of styles that all share the same solid features. That variety makes it easy to find the perfect style to suit your taste.
To learn more about the best Pro Series options, check our detailed Pro Series review.
Luxury Series
GTRACING made their mark selling cheap gaming chairs with basic features. Now that they've built up a loyal user base, they are expanding into the high-end gaming chair market.
The GTXMAN GTX010 is one of four high-end gaming chairs in GTRacing's new Luxury Series. This is an affordable luxury gaming chair with high end features. These include 4D adjustable armrests, recline to 170° and support for up to 400 pounds.
Check GTX010 prices from GTRacing
Available on Amazon for $249.99 with a 1-year warranty. Buy direct from GTRacing for extended 2-year warranty.
Summary of features:
Functionality: 4D armrests; 20° tilt lock; recline to 170°
Comfort: premium cold foam padding; neck and lumbar pillows.
Upholstery: carbon PU leather with red colored stitching along the seat and backrest.
Support: steel frame; metal base; class 4 gas lift; rubber casters.
Warranty: one year on parts; 30 days return policy. Buying direct extends the warranty to two years.
Free shipping: included.
There are four models in the Luxury Series product line. All have similar features and support for 400 pounds. Browse Luxury Series models on the GTRacing website.
For deeper insights into Luxury Series chairs, check our Luxury Series review.
Footrest Series
GTRacing's line of footrest gaming chairs ranges in price from $149.99 to $165.99. Aside from the footrest, all models have the same features as Pro Series style chairs. Those include 2D armrests, 170° recline and 2-year warranty if you buy direct from GTRacing.
As an example, the GTRacing GT909 currently costs Price not available on Amazon. Features include 2D armrests, 170° recline and support for 330 pounds.
Check GT909 prices on GTRACING
Available on Amazon for Price not available with a 1-year warranty. Buy direct from GTRacing for extended 2-year warranty.
Not all GTRacing footrest models are available on Amazon. Browse all footrest models on the GTRacing website.
Bluetooth Music Series
We're not fans of gaming chairs with Bluetooth speakers. Big holes are fit into the upper backrest to house the speakers. You need to run a USB from the backrest to your computer to charge the speakers.
A 3-hour charge will get you 5-6 hours of music time within a 5-meter range of your PC. For this to work, your computer needs to have a built-in Bluetooth connection. If not sure how to check on a Windows machine, refer to this Microsoft guide for help.
On top of the clunky charging process, there are plenty of cheap, high quality speakers on the market. Buying a nice pair to complement your gaming setup is a better idea than relying on your chair for sound.
That said, the stereo sound effect from speakers on both sides of the backrest is very cool. Most people who try it once will get blown away by how immersive it feels.
If chair-powered surround sound appeals, check GTRacing's Music Series chairs on their site.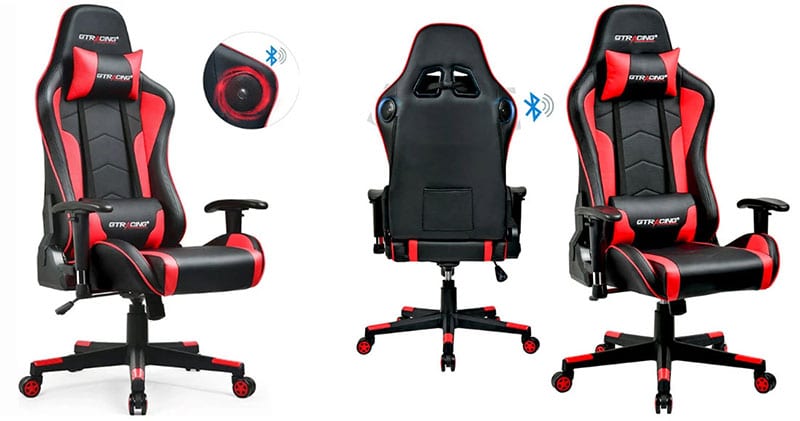 One model in the product line is the GT890M. This is a GT099-RED (best-selling Classic model) with added speakers. With the speakers the only addition, this chair costs over $30 more than Pro Series chairs.
Check GT890M prices from GTRACING
Available on Amazon for $169.99 with a 1-year warranty. Buy direct from GTRacing for extended 2-year warranty.
There are only a few Bluetooth speaker models available on Amazon. To get a full view of all options on offer, browse all models on the GTRacing website.
GTRACING buying advice
The GTRACING brand of gaming chairs suit everyone who spends long hours sitting at a computer.
Available in a range of color options, GTRACING chairs will fit any decor and lifestyle. The aim here is good posture and comfort. These chairs will ensure that you sit in the correct position while working. This will protect you from posture-related injuries.
Who are these products for?
These chairs are versatile. Pro Series chairs will fit average-sized users weighing up to 330 pounds. Pro Series chairs are colorful and stylish – good for the office or the living room. Footrest and music chairs are both based on the Pro Series, with extra features.
Luxury Series chairs are for those willing to pay more for high end features. All models are extra-wide, providing roomy seating for average and large sizes.
All GTRacing models will appeal to gamers, programmers, and others who sit long hours.
GTRacing Alternatives
Although GTRACING is one of the more popular gaming chair brands, there are plenty of competitors out there. Check out our brand reviews of other top budget brands. These include gaming chairs from Homall, Elecwish, and Killabee.
To browse our top-rated budget chairs, check out our Best Cheap Chairs Mega-Review.
GTRACING Pros and Cons
What's to like and dislike about GTRACING gaming chairs:
Pros
Versatile sizing options
Solid gaming chair features
Solid build that feels like a tank
Cons
Not as good as more expensive chairs if used for full-time sitting. These work best when used part-time.
2D adjustable armrests are good, but 4D armrests are great. For some, it's worth paying for the extra adjustability.
Conclusion
GTRACING gaming chairs are among the top sellers on Amazon, and also on this website. These are solid chairs that work as advertised. The Pro Series are best for part-time users. Students and casual computer users will enjoy great ergonomics for low prices.
The Luxury Series is better suited for full-time use. These are large, full-featured chairs with affordable prices.
These two product lines establishes GTRacing as one of the best gaming chair brands in the business.
GTRACING gives the ergonomics you need, at very reasonable prices. Their chairs will improve posture, boost performance and save you money.