GTRacing is one of the OG cheap gaming chair brands, in business since 2013. In 2023, the company's original Pro Series chair is still its most popular. It's a cheap racing-style chair built for short sizes. The Ace S1 has also gained acclaim as an upgraded luxury version. ChairsFX found both solid — with a catch. Both have seats that are too deep for short legs! Luckily, a third Music Footrest Series chair replicates the Pro Series with smaller dimensions. Based on our tests, ChairsFX reviews the best GTRacing gaming chairs of 2023.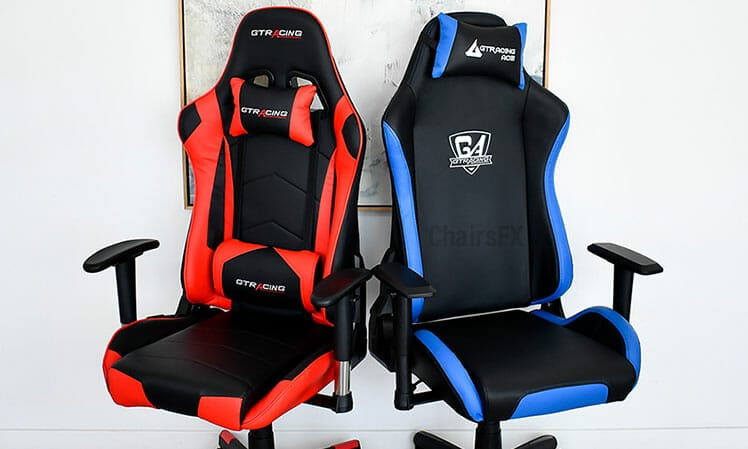 Since 2014, GTRacing has reigned as one of the world's most popular makers of cheap gaming chairs. But it's a chaotic brand. Every year, different models get phased in and out of production.
The only constant has been its original GTRacing Pro Series. In 2023, it remains one of Amazon's best-selling gaming chairs. In 2020, GTRacing released the Ace as an upgraded version with 4D arms + extra goodies. It was an instant hit.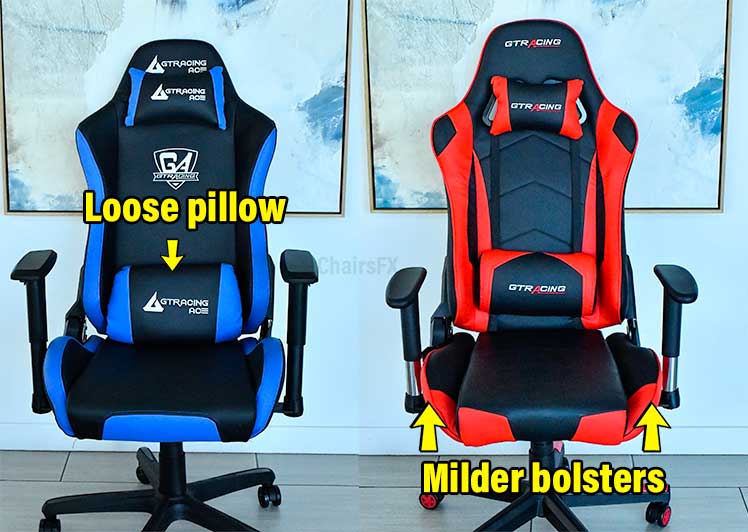 But Ace S1 chairs went out of stock in 2022. Now they're back — but stripped down to 2D arms and hazier warranty extension terms.
The GTRacing Ace S1 is also available on Amazon for $119.99.
Best GTRacing Chairs: Pro Vs Ace S1
The GTRacing Pro Series and Ace S1 both live up to their billing as cheap, effective desk chairs. They're especially attractive as starter models for first-time ergo chair users.

Both have the same features. The height-adjustable lumbar pillow aligns the seated spine. 2D Adjustable arms provide extra bracing to hold the torso upright. The reclining backrest lets you move while customizing angles.
Combined, these features make it easy for beginners to master neutral postures. For instance, our 5'8″ (172 cm) model had never used a gaming chair before.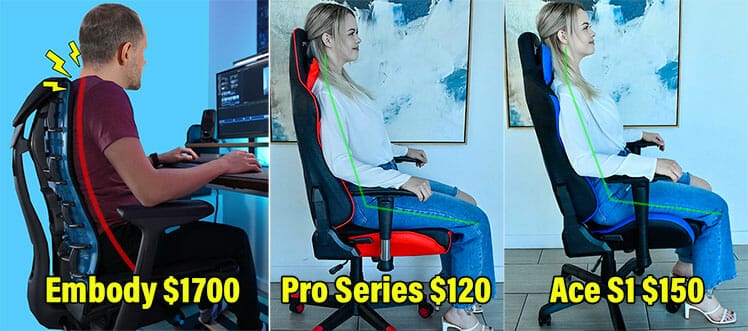 But using basic instructions, she was able to achieve crisp neutral postures in both. In contrast, starting out with a high-powered model like a $1700+ Herman Miller Embody can go wrong.
Without ergonomic experience, users will have no reference to manage its complex settings. That's the appeal of GTRacing chairs in a nutshell: as solid starter ergo chairs.

Both models are cheap, easy to use, and good for your back — but only if they fit. That's the catch.
Other 2023 GTRacing Chairs
In 2023, the Pro Series and Ace S1 are the only conventional desk chairs in the GTRacing collection. The rest are footrest gaming chair variations (most with built-in Bluetooth speakers).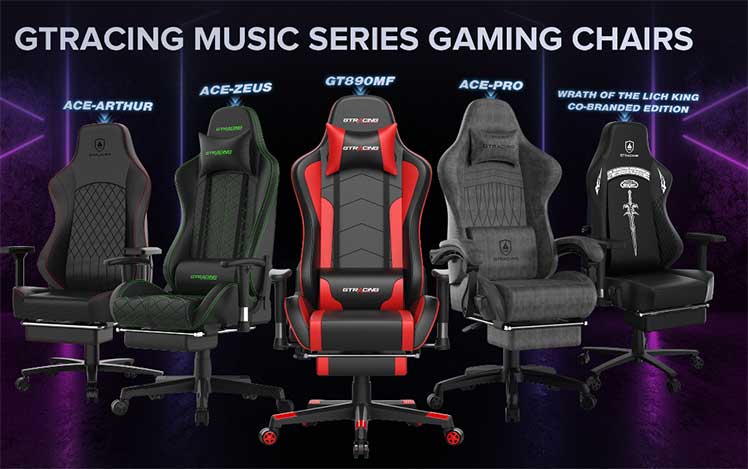 However, many are out of stock on both the GTRacing website and the GTRacing Amazon Store, except for the following:
Final Verdict: Best GTRacing Chairs 2023
GTRacing makes three excellent cheap gaming chairs for first-time ergo chair users. The first trick is to ensure that your chair fits your size.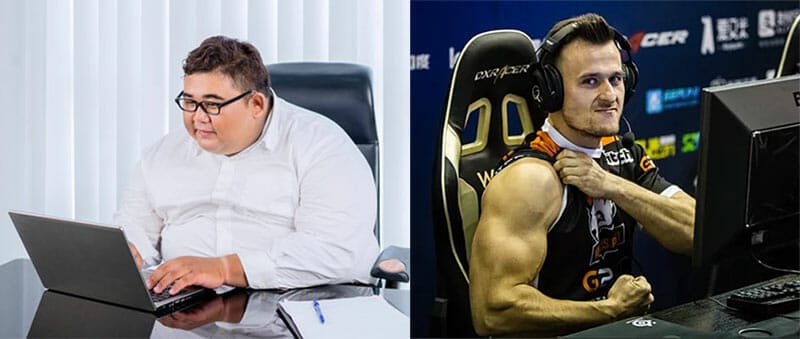 The second trick is to use your chair correctly. The third is to take frequent breaks to stretch, exercise, and stay active.
Given all factors, here are our top-rated GTRacing gaming chairs of 2023 — with revised size ratings. Stick within the recommended size ratings and follow best practices to ensure full benefits.
If none of these picks suit your body type, other budget models offer similar features as GTRacing chairs with differing dimensions: