Since 2013, GTRacing has reigned as one of the most popular brands in the cheap gaming chair market. The GTRacing Ace S1 is a luxury upgrade of its iconic Pro Series gaming chair. Its extras include upgraded upholsteries, improved features, and even a 5-year warranty! Find luxury seating for budget prices in this GTRacing Ace S1 gaming chair review.
The GTRacing Pro Series is the longtime flagship of the GTRacing chair collection. All models have 2D armrests, adjustable pillows, deep recline, and insanely low prices.
The GTRacing Ace S1 enhances that baseline build with a few luxury extras. The first is a choice of five premium PU leather or fabric upholstery styles. The second is the addition of fully-adjustable 4D armrests. The third is a 5-year warranty extension option.
These upgrades cost around $50 more than what a basic Pro Series chair costs. If you plan to spend full-time hours sitting in your chair, paying extra for an S1 chair is well worth it!
Ace S1 on Amazon Price not available
GTRacing Ace S1 Gaming Chair Review
The GTRacing Pro Series ranks as the best cheap gaming chair on the market priced under $120. One level up, the Ace S1 ranks as the hands-down best priced under $200. Most chairs in the sub-$200 price range offer 2D armrests and a 1-2 year warranty. In comparison, the Ace S1 comes with 4D armrests and a 5-year warranty.
Chair Features
The Ace S1 chair has better features than other budget models. Its 4D arms, deep recline, and rocking functionality provide everything you need to support healthy sitting.
Specifications:
Functionality: 4D armrests; recline to 165°; rocking and tilt tension.
Comfort: high-density foam padding; neck and lumbar support cushions.
Foundation: steel frame; Class 3 gas lift; XL PU-coated casters.
S1 Chair Sizing
The Ace S1 also ranks among the best cheap gaming chairs for small sizes. Its dimensions cater to slim users of short or average height.
Moderately thick sizes will find a snug but comfortable fit. Conversely, those with very thick hips or legs should upgrade to an Ace M1 chair instead.
Seat width x depth: 19.69″ (W) x 21.65″ (D)
Backrest width x height: 21.26″ (W) x 32.28″ (H)
Floor to seat range: 17.7″ to 22.04″
Size rating: 5'3″ to 5'11"; 290 pounds
S1 Chair Style Options
Small users shopping for a cheap gaming chair should look no further. The Ace S1 is the only chair in its price range with 4D armrests and a 5-year warranty.
This configuration is ideal for teens, part-timers, and budget users. For the money, you get incredible value. Used at a desk, an S1 chair provides comfortable back support for ultra-long gaming sessions.
Ace S1 pricing varies by model. Here are the current prices of all five versions:
5-year warranty
Out of the box, Ace chairs come with a 1-year warranty. To extend to 5-year protection, follow these steps:
Post a photo of your chair on social media (FB, Twitch, Reddit, Youtube, Twitter).
Email a screenshot of your post to support 'at' gtracing.com. That qualifies you for the free 5-year warranty extension.
Ace S1 Alternatives
GTRacing offers two solid alternatives to the Ace S1. One is cheap and more basic, while the other adds more luxury.
GTRacing Pro Series
The GTRacing Pro Series is a stripped-down version of the Ace S1. It has slightly smaller dimensions, lower-grade upholstery, and 2D armrests. It's much cheaper than the Ace S1 chair, and also more spacious.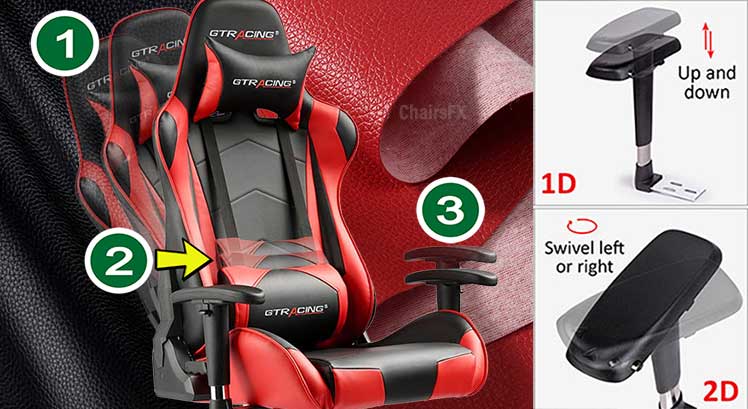 Here is how the Ace S1 and Pro Series chairs measure up head-to-head:
| | | |
| --- | --- | --- |
| Spec | Ace S1 | Pro Series |
| Seat size | 19.69″ (W) x 21.65″ (D) | 21.3″ (W) x 22.8″ (D) |
| Seat height | 17.7″ to 22.04″ | 17.32″ to 21.56″ |
| Weight Capacity | 290 pounds | 330 pounds |
| Armrests | 4D | 2D |
| Price | Price not available | $189.99 |
Notably, Pro Series chairs don't come with the option to extend to a 5-year warranty. That's likely because these ultra-cheap chairs use lower-quality upholsteries. Learn more:
GTRacing Ace M1
The Ace M1 is a larger version of the S1 chair that adds a multifunction tilt-lock. M1 chairs are available in three PU leather styles and one grey fabric version.
The big luxury extra is the multifunction tilt-lock. The S1 chair only has a conventional rocking function. In comparison, the M1's multifunction tilt also lets you tilt and lock the seat at angles. This is a premium feature usually only found on the best pro esports chairs.
Ace M1 vs S1 specs comparison:
| | | |
| --- | --- | --- |
| Spec | Ace M1 | Ace S1 |
| Seat size | 21.26″ (W) x 22.83″ (D) | 19.69″ (W) x 21.65″ (D) |
| Seat height | 18.9″ to 22.04″ | 17.7″ to 22.04″ |
| Weight Capacity | 330 pounds | 290 pounds |
| Armrests | 4D | 4D |
| Multifunction tilt | Yes | n/a |
| Price | Price not available | Price not available |
This is a tempting upgrade. For around $40 more than an S1 chair, you get larger dimensions, a tilt-lock, and sleeker designs. If you plan on sitting full-time, these luxuries are well worth the extra cost!
Get a closer look at each design in the collection below:
GTRacing Ace Gaming Chair Advice
Is a GTRacing Ace gaming chair right for your needs? This section will help you decide.
Is the 5-year warranty legit?
The GTRacing Ace collection has only been around for two years. As such, we have no hard proof about warranty authenticity but have some clues.
GTRacing rose to fame on the rock-solid durability of its Pro Series gaming chairs. Those chairs are guaranteed for two years and typically last longer.
In-house, we have two users testing GTRacing Ace M1 chairs for around six months. At present, both report their chairs still look and work like new.
Based on our intel, The GTRacing Ace 5-year warranty is sort of legit. This what what you can expect:
| | | |
| --- | --- | --- |
| Item | Expected degradation | Life expectancy |
| Frame and components | Parts might loosen after a few years | 5+ years |
| PU leather upholstery | Extended use will make the leather crack and peel. | 3+ years |
| Fabric upholstery | Coffee or grape juice stains | 5+ years |
| Padding | Will lose its resiliency and flatten | 3+ years |
If used full-time, it's very likely a PU leather Ace chair will begin to degrade after around 3 years. In contrast, fabric Ace chairs are almost indestructible. Even after ten years, you can expect synthetic fabric upholstery to hold up.
After three years of full-time use, you can also expect the padding to lose its resiliency. Instead of maintaining its original shape, it will gradually flatten. Once you can feel steel bars under the padding, it's time for a replacement.
Take note that GTRacing's warranty does not cover normal wear and tear. If your components break down within 5 years, GTRacing will send replacements. But if your padding or upholstery degrades, that counts as 'wear and tear'.
Who Should Buy a GTRacing Ace Chair?
There's a GTRacing gaming chair for all types of computer users. The Ace M1 (medium) stands out with premium features and the most versatile sizing.
In comparison, the Ace S1 and Pro Series chairs are cheap, basic, almost risk-free options. Summary:
Pro Series: first gaming chair for adolescents; budget option for hobbyists and part-timers.
Ace S1: for budget users who prefer a bit of luxury.
Ace M1: pro esports gaming chair for full-time (average-sized) power-users.
GTRacing Ace S1 Chair Conclusion
The Ace S1 chair is a souped-up version of the GTRacing Pro Series with a few extra luxuries. For full-time work at a desk, it does everything you need with consistent reliability.
GTRacing has been making gaming chairs since 2013. The company has a stellar reputation for making solid chairs with reliable after-care. If anything goes wrong with your S1 chair, GTRacing support will help. Thus, S1 chair luxuries are reliable extras guaranteed to work well.
If you need the lowest price possible, a Pro Series model will do the job. However, if you can afford to pay a bit more, the Ace S1 chair's luxuries are worth splurging for!