The GTRacing Ace S1 is the best gaming chair under $200 on the market. No other gaming chair offers 4D armrests, premium upholstery — and a five-year warranty. This GTRacing Ace S1 review covers an affordable chair offering excellent value for money.
GTRacing Ace chairs come in both leather and fabric styles. There are three PU leather designs and two breathable fabric models. All come with superb ergonomic features, a 2-year warranty, and a chance to extend to five years of warranty protection.
Buy the Ace S1 chair from Amazon $185.99
GTRacing Ace S1 chair review
GTRacing is one of the oldest gaming chair brands, in business since 2013. The company specializes in making cheap chairs with high-end features.
The GTRacing Ace is the perfection of that model. To live up to the 5-year warranty, Ace chairs use high-end components. Compared to GTRacing Pro Series chairs, Ace Series models offer several upgrades. Those include a better-quality high-density foam blend and a higher quality of leather.
Chair features
For the price, GTRacing Ace S1 chairs have very impressive features.
Functionality: 4D armrests; recline to 165°; rocking and tilt tension.
Comfort: high-density foam padding; neck and lumbar support cushions.
Foundation: steel frame; Class 3 gas lift; XL PU-coated casters.
Sizing
Ace S1 Series chairs are best suited to average-sized adults with slim builds. Those with wide hips or thick legs may find the fit too restrictive.
| | USA sizing | EU sizing |
| --- | --- | --- |
| Seat width x depth | 19.69" (W) x 21.65" (D) | 50 cm x 55cm |
| Backrest width x height | 21.26" (W) x 32.28" (D) | 54 cm x 82 cm |
| Floor to seat range | 17.72" to 22.14" | 45 cm to 56 cm |
| Chair height: | 49.21" to 53.15" | 125 cm to 135 cm |
| Size rating | 5'4" to 5'11"; 290 pounds | 162-180 cm; 131.5 kilos |
Ace S1 Style options
In total, there are five Ace S1 Series chair designs to choose from.
PU leather Ace chairs
There are three PU leather Ace chairs in black with red, white, or blue trim. These look a bit flashier than the fabric versions.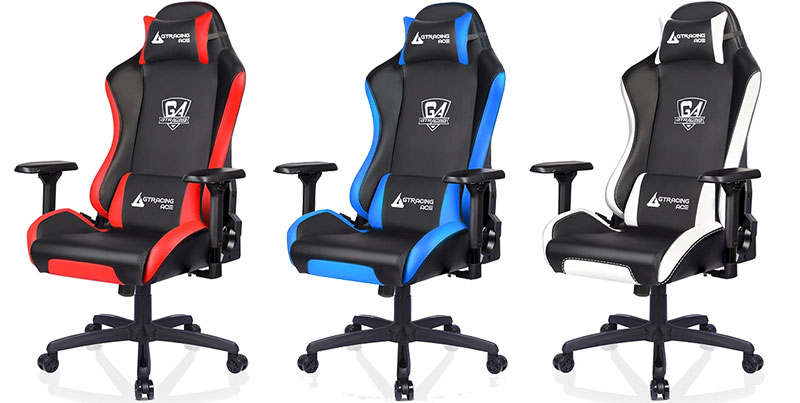 They're also easier to clean — simply wipe down with a damp cloth. On the downside, leather models are less breathable than fabric chairs. They're also a bit less durable. After a few years of heavy use, faux leathers often crack.
Soft fabric Ace chairs
Across the gaming chair industry, models with soft fabric upholstery are the most expensive. These chairs use woven nylon fabric that is softer, more breathable, and more durable than faux leather blends. Because of those benefits, fabric gaming chairs are a lot more popular than PU leather models.
Ace S1 fabric chairs come in a choice of light or dark grey fabric with black trim. These are the most popular chairs in the S1 line and tend to sell out very fast. No other chairs in this price range offer soft fabric plus 4D armrests and a 5-year warranty. If you find a fabric S1 chair in stock, grab one while you can.
GTRacing Ace S1 alternatives
The GTRacing Ace S1 blows away all other cheap gaming chairs under $200. The only comparables to S1 chairs are more expensive models.
GTRacing Ace M1 Series
The newest addition to the Ace lineup is the Ace M1 Series. There are four chairs in the M1 collection: three PU leather models and one mesh fabric edition. Like Ace S1 chairs, M1 models come with 4D armrests and an option to extend to a 5-year warranty.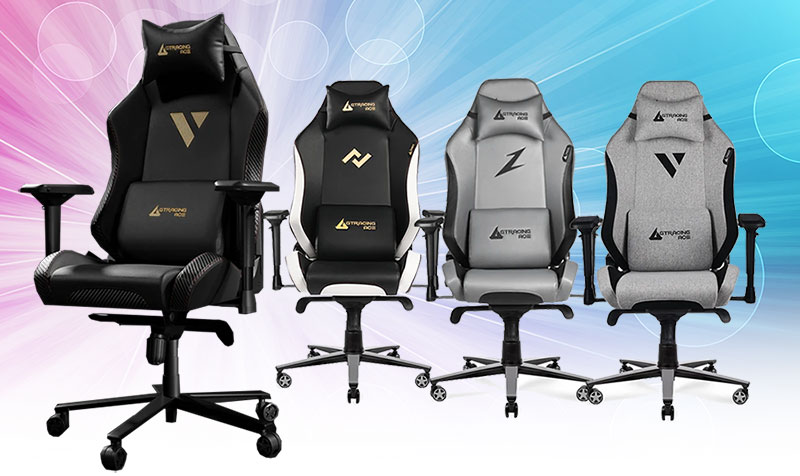 All Ace M1 chairs cost $279.99. That works out to $80 more than Ace S1 chairs. For the extra money, you also get a multifunction tilt lock. That lets you tilt and lock the seat at angles, independent of the backrest.
To learn more about the world's best pro esports chair priced under $300, check out the review:
Secretlab Omega
Among small-sized gaming chairs, the Secretlab Omega is our top-rated chair. Like the Ace chair, the Omega has 4D armrests and a 5-year warranty.
The Omega chair also exceeds the Ace chair with a few extras. First, Omega chairs come with a multifunction tilt lock. That lets you angle and lock the seat at different angles. Second, Omega chairs also have a backrest incline of 5°. That allows you to enjoy the benefits of back support even when leaning forward in the chair.
The Omega sells on the Secretlab website from $419 to $439.
Conclusion
The new GTRacing Ace gaming chairs offer pro features at an unbeatable price. This is great news for consumers. The gaming chair industry is ultra-competitive. Ace chairs are going to force other cheap chair providers like Homall to keep pace. In the future, look for other brands to copy the GTRacing Ace formula.
For now, the GTRacing reigns supreme. Among sub-$200 chairs, the Ace S1 has the very best features and warranty.