GTRacing makes affordable gaming chairs that support good posture with impressive comfort and durability. The GTRacing Pro Series is their most popular chair collection. Priced between $150 $180, these models come with 2D armrests, deep recline, and a range of styles. This review looks at the standout gaming chairs in the GTRacing Pro Series collection.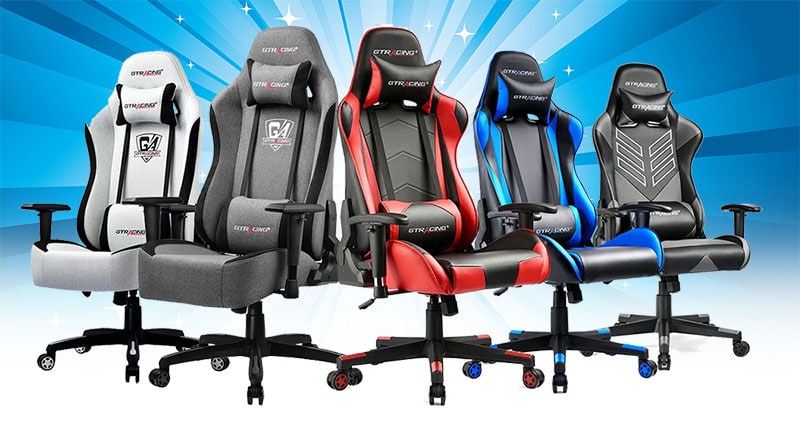 GTRacing has been making cheap gaming chairs since 2015. That makes them one of the oldest gaming chair brands still relevant today. In the sub-$200 gaming chair category, GTRacing Pro Series chairs have been among Amazon's best-sellers for a few years. Below, we outline what qualities make Pro Series chairs stand above competing cheap chairs.
GTRacing Pro Series Overview
The GTRacing Pro Series is one of the top-rated cheap gaming chairs on the market. There are many chairs in the collection. All share the same sizing and features, with unique styling.
Pro Series features
All models share the same build. There's a steel frame, resilient foam padding and support cushions for the neck and lower back. These features combine to provide solid ergonomic support. Check our Gaming Chair User Guide to learn more about gaming chair ergonomics.
Compared to expensive chairs, features are basic. Compared to cheap chairs, the Pro Series excels in a few key areas. Most cheap chairs have fixed armrests. The Pro Series has 2D adjustable ones. These move up and down, and also rotate diagonally. You also get deep recline and a rocking function.
Summary of features:
Functionality: 2D armrests; recline to 170°.
Comfort: high density foam padding; neck and lumbar pillows.
Upholstery: mesh fabric with PU leather trim; the Camo model is all PU leather.
Support: steel frame; metal base; class 4 gas lift; smooth rolling casters.
Warranty: one year on parts; 30 days return policy. Buying direct lets you register for an extended 2-year warranty (details).
Free shipping: included.
Pro Series sizing
GTRacing Pro Series models are compact chairs, but with wider, deeper seats than competing models. Pro Series chairs support users from 5'4″ to 5'11", with a maximum weight capacity of 330 pounds. These are slim-fitting chairs, yet wide enough to support users with thick legs. To support the high weight capacity, Pro Series chairs feel super-sturdy — like sitting in a tank.
Here's how the PRO Series compares to its main competitors:
| | Homall Classic Chair | GTRacing Pro Series | GTRacing Ace S1 |
| --- | --- | --- | --- |
| Seat width x depth | 20.5" (W) x 19.8" (D) | 21.3" (W) x 22.8" (D) | 19.69″ (W) x 21.65″ (D) |
| Backrest width x height | 22.5" (W) x 30.5" (H) | 21.5" (W) x 32.5" (H) | 21.26″ (W) x 32.28″ (D) |
| Floor to Seat Range | 18.5" to 22.5" | 17.32" to 21.56" | 17.72″ to 22.14″ |
| Total chair height | 49" to 53" | 49.21" to 53.15" | 49.21″ to 53.15″ |
| Weight support | Up to 300 pounds | Up to 330 pounds | 290 pounds |
| Height support | 5'4" to 5'10" | 5'4" to 5'11" | 5'4" to 5'11" |
Check out our Homall or GTRacing Ace reviews to learn more about the competing chairs. If you need help choosing the right size, check out this tutorial:
GTRacing warranty
GTRacing sells their gaming chairs on several platforms including Amazon, Newegg, Lazada, etc. They also sell chairs directly from their own website. Buying direct saves GTRacing third-party commissions, which is why they provide direct-buy incentives for customers.
When you buy direct from GTRacing, you can register for an extended 2-year warranty (details). No other cheap chair offers this level of protection.
Pro Series gaming chair reviews
All GTRacing Pro Series models have the same features, sizing, and warranty. Models mainly differ by styling and price. Below, we list the models that are currently available.
Classic GT099 Red
Amazon price: $109.99
This is the chair that established GTRacing as one of the best gaming chair companies. It's GTRacing's best-selling chair and one of the top sellers on Amazon.
This model features red and black PU leather. The material feels soft but resilient. GTRacing upgraded the blend in 2019 to ensure optimal durability. It's a solid chair offered for a great price.
GT002 Blue
Amazon price: $159.99
The GT002 Series is the exact same chair as the Classic Red, but with a blue and black PU leather color scheme.
It costs $10 more than the Classic Red because the blue leather blend is pricier to make than the red. Other than the color difference, it's the exact same chair.
GT505 fabric gaming chairs
The newest additions to the Pro Series product line are a trio of fabric gaming chairs. Gaming chair fabrics are renowned for their durability, breathability, and softness. Among the best fabric gaming chairs, the GT505 ranks as the cheapest.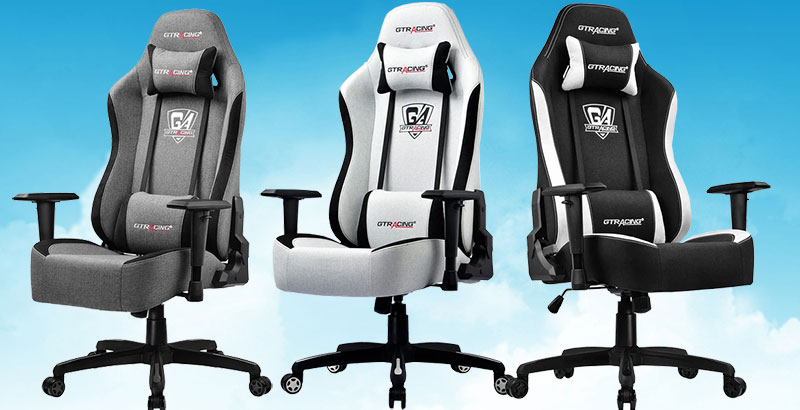 GT505 Pro Series chairs come in white, grey, or black mesh fabric. Beyond the mesh, there are two differences with other Pro Series chairs.
First, GT505 chairs have 1D armrests, instead of 2D. Second, GT505 mesh chairs have slightly smaller seats and backrests. Despite that, GT505 chairs feel more spacious than other Pro Series chairs because of the flat, wide seat. To learn more, check out our GT505 mesh fabric gaming chair review.
GTRacing advice
Thinking about buying a GTRacing Pro Series? This section will help you to make an informed buying decision.
Pros and Cons
Lean what's to like and dislike about GTRacing Pro Series models.
What we like
The GTRacing Pro Series ranks #2 behind Homall as the best cheap gaming chair on the market. Homall ranks #1 because it's Amazon's best selling gaming chair. The GTRacing Pro Series ranks #2 by offering better value for money.
The Pro Series beats Homall in a few areas. First, it has adjustable armrests, instead of fixed ones. Second, it's a larger chair with a wider and deeper seat. Third, the Pro Series is more durable. When you buy direct, GTRacing will give you an extended two-year warranty. No other cheap chair can match that length of protection.
What we don't like
Given the price, features, and warranty, the GTRacing Pro Series offers excellent value. Among cheap gaming chairs, these chairs are among the best.
That said, there's a big difference between cheap and expensive gaming chairs. Expensive chairs have higher quality padding and upholstery that supports full-time sitting. That's why pro gamers and computing professionals pay more.
If you use a GTRacing Pro Series full-time, it won't hold up as well as an expensive chair. After 6 months of sitting 10 hours per day, expect the padding to flatten out.
But if used only a few hours per day, Pro Series models will last for 2+ YEARS.
Who should buy Pro Series chairs
These chairs fit average sized users. While they work decently as full-time chairs, they work best when used part time. The Pro Series is ideal for students, casual gamers and others wanting high end features at a budget. These chairs cost a bit more than Homall models, but deliver more features.
If price is your main factor, choose the Homall. If comfort, durability, and value take priority, choose a Pro Series model.
GTRacing alternatives
There are a few viable alternatives to GTRacing Pro Series gaming chairs.
GTRacing Ace
The GTRacing Ace is a new release. It comes in a range of leather and fabric designs with 4D armrests and a five-year warranty.
Ace chairs are a little more expensive than Pro Series chairs, but not by much. Check out our detailed review to learn more:
Review of GTRacing Ace gaming chairs
Homall Classic
Among cheap gaming chair brands, only Homall Classic chairs are more popular than Pro Series chairs. That is because Homall Classics are cheaper. For instance, Homall's Classic White costs $94.99 on Amazon.
To save a few dollars, Homall chairs offer a big drop in quality. Notably, Homall Classic chairs have fixed, non-adjustable armrests. Second, they only come with a 1-year warranty. Third, they have smaller dimensions than Pro Series chairs.
Review of Homall Classic gaming chairs
For other alternatives, check out our review of the best cheap gaming chairs under $200. Reviewed models include the GTRacing Ace, Pro Series, the Homall Classic, and more.
Conclusion
The gaming chair market is expected to grow by 5% in the next 5 years. There is fierce competition among the top brands.
The GTRacing Pro Series offers better features and a longer warranty than competing chairs. There are many styles to choose from. You also get a deeper and wider seat than competing models.
The only quibble is the price. If you're looking for the absolute cheapest gaming chair, there are better options.
But if you're looking for a cheap chair with high-end features, the GTRacing Pro Series is our top-rated pick. For comparables, check out our review of the best GTRacing gaming chairs.
Browse all Pro Series models on Amazon
Related Reviews