The GTRacing Pro Series GT099 is one of the originals. Since 2013, it has reigned as one of the top-selling cheap gaming chairs on the market. In fact, most competing cheap chairs use its blueprint to make their own versions. But why shop around for cheap copies of the original classic? Instead, check this review of the GTRacing Pro Series gaming chair. It's a solid entry-level model for first-time gaming chair users of average size.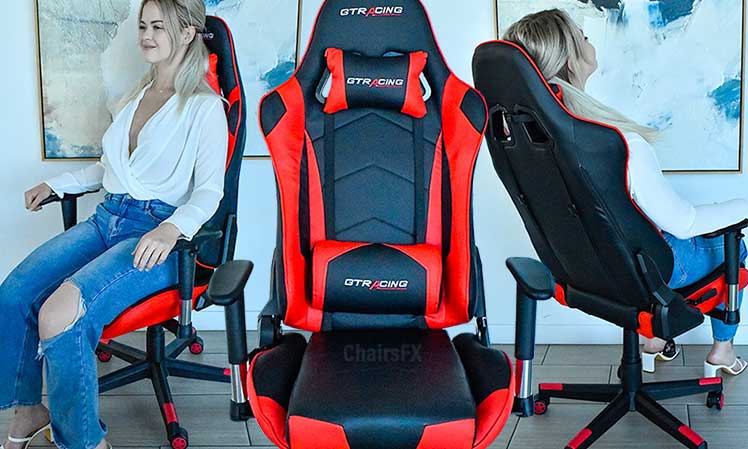 Many first-time ergonomic chair buyers overestimate the complexities of good sitting posture. That makes it easy to spend more than you need to on an ergonomic desk chair. In my opinion, that's a mistake.
For instance, the Pro Series is around $400 cheaper than a top-of-the-line Secretlab Titan gaming chair. Even so, you can see for yourself: both support similarly healthy neutral postures.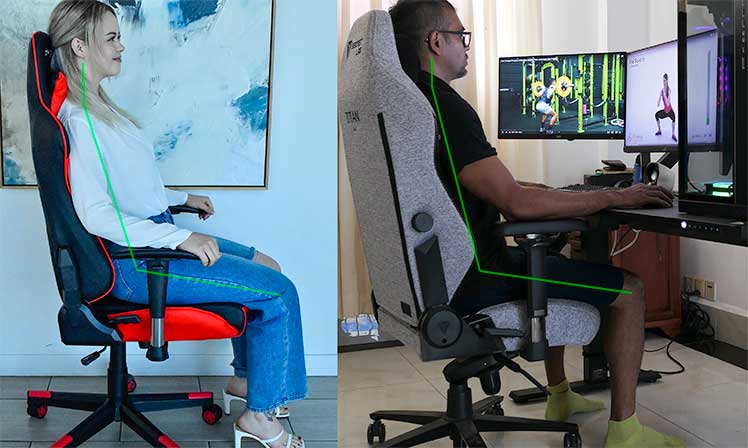 Beyond fancier styling and a longer warranty, the Titan's integrated lumbar controls are subtle. First-time ergonomic chair users without a point of reference may find its settings bewildering.
In contrast, the Pro Series comes with a fat lumbar pillow that's impossible to ignore. We instructed our 5'8″ model to adjust it just above her beltline for best results. It worked! She reported that it was easy to adjust and immediately effective.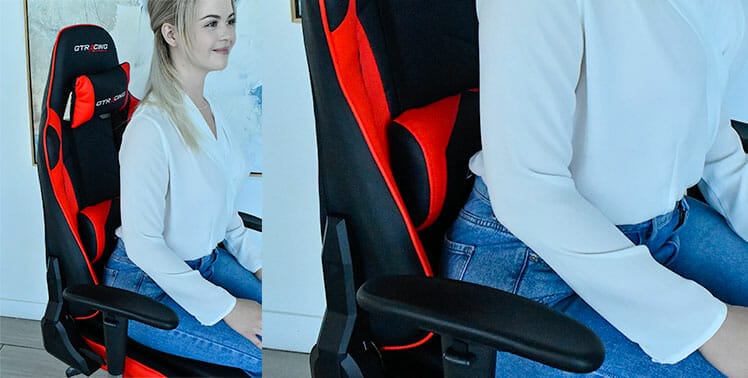 That explains the Pro Series chair's appeal in a nutshell. It's cheap, rugged, good for your back, and easy to use. That makes it an excellent starter chair for first-time ergonomic desk chair users.
Pro Series Red & Black on Amazon $109.99
GTRacing Pro Series Review
The GTRacing Pro Series is a collection of black gaming chairs with a choice of color accents. On Amazon, the original model (and cheapest style) is the GT099 classic red ($109.99).
Other variants are more expensive. These include a new pink & purple gradient edition ($129.98), a pink & white one (Price not available), and a black model with green accents (Price not available).
All models (including our Classic Red test model) have the same features and dimensions.
GTRacing Pro Series Likes & Dislikes
Ultra-fat people will find the Pro Series chair too snug. In contrast, short people will find the seat's depth too excessive. Meanwhile, all users must come to terms with the short expected Pro Series lifespan.
GTRacing Pro Series Target market
This 2023 market analysis finds cheap gaming chairs especially relevant for two groups:
Millennials: born between 1981 to 1996 (ages 27-42 circa 2023)
Generation Z: born between 1997 and 2012 (ages 11-26 in 2023)
Relevant trends:
Millennial + Gen Z tight budgets: less people can afford ultra-pricey chairs these days. Inflation/ cost of living slashed per capita disposable income by 6.4% in 2022. Top expenditures for both age groups were groceries, food deliveries, and car maintenance.
Millennials are sickly: those in the 27-42 age group suffer greater disease burdens. For instance, Millennials made 22% more back disorder ER visits last year than other generations.
Fitness beats ergo chair benefits: many esports docs claim that a good ergonomic is useful but not essential. Instead, healthy habits is the surest way to boost computing performance. Science agrees. 34.5 million Americans suffered chronic musculoskeletal pain in 2018. But studies confirm that exercise reduces pain & depression while enhancing one's quality of life.
Gen Z are fitness freaks: 48% work out several times per week; 1/3 of those lift weights. 60% jog (versus 26% among other generations). 42% wear fitness trackers.
Gen Z Proactively Addresses Pain: people in this generation are esports natives; they've grown up with the esports fitness + deskwork model. For example, A 2020 survey found that 36% of Gen Z experience back pain between the ages of 11-15. However, like their esports heroes, almost half address their pain with natural methods like stretching or exercise.
GTRacing Pro Series Alternatives
Within the GTRacing collection are several extensions of the Pro Series template.
Conclusion
The GTRacing Pro Series is a nice upgrade from a basic office chair for millennials with sore backs. It also delivers everything Gen Z kids need to game like their esports and streaming heroes.

The trick with this chair is the sizing. Despite GTRacing's claims, our tests found it a good fit only for slim sizes between 5'6″ and 5'9″ (167-175 cm). If you fit within that range, the Pro Series is a cheap and effective starter chair. Go for it.
But if you don't fit within this range, the GTRacing Pro Series still comes in handy. It's one of the OG cheap gaming chairs, dating back to 2013. For a full decade, it has reigned as one of the best-selling cheap chairs on the market.

Even if the Pro Series doesn't fit your size, use this OG as a functional blueprint. Check out other cheap gaming chairs priced under $200 with similar features. Find one that fits your body type and you're primed for a deskwork supercharge.
Pro Series Red & Black on Amazon $109.99
Related: Best GTRacing Gaming Chairs Of 2023