The GTRacing Pro Series GT099 is one of the originals. Since 2013, it has reigned as one of the top-selling cheap gaming chairs on the market. In fact, most competing cheap chairs use its blueprint to make their own versions. But why shop around for cheap copies of the original classic? Instead, check this review of the GTRacing Pro Series gaming chair. It's the definitive entry-level model for kids and first-time gaming chair users.
Many first-time ergonomic chair buyers overestimate the intricacies of good sitting posture. As a result, they often feel tempted to spend more than they need to on a gaming chair. In fact, the GTRacing Pro Series has everything you need for a healthy sitting experience.
Healthy Ergonomics For A Cheap Price
In a non-ergonomic chair, back muscles must hold up the spine against gravity. When muscles tire, the spine bends into a slouch. Slouching overworks muscles, drains energy, and tightens the lower back. Over time, that renders a user stiff, lethargic, and in chronic pain.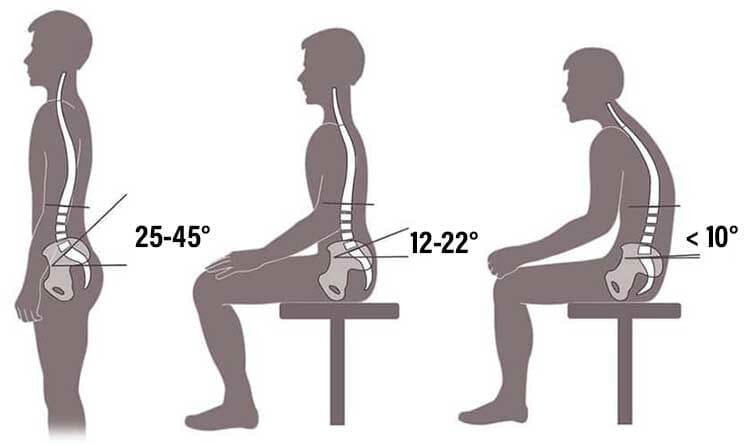 The point of any ergonomic chair is to maintain healthy postures over long periods of sitting. Any chair can qualify as 'ergonomic' with three adjustable features.

Adjustable lumbar support keeps the spine in alignment while sitting. Adjustable armrests provide extra bracing for the spine and shoulders. A reclining backrest helps the seated body move.
Combined, this trinity aligns the user into neutral sitting postures. No matter what type of ergonomic chair that you use, a neutral posture looks the same:
The GTRacing GT099 fills the requirements to help you sit this way. It's not as flashy as a Secretlab chair, nor as complex as a Herman Miller one. Even so, it does the same job as those chairs do, for a fraction of the cost!
GTRacing Pro Series Gaming Chair Review
The GTRacing Pro Series is a collection of black gaming chairs with a choice of color accents. The original model and longtime flagship is the GT099 classic red. Here's the sum of the GT099 styling and functionality in a single picture: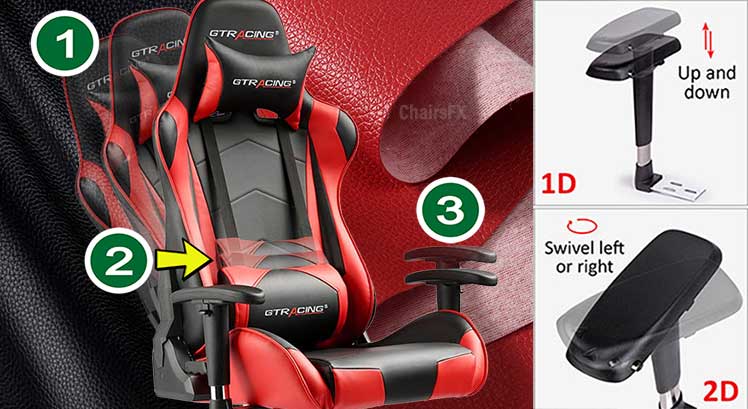 Other Pro Series models have the same features, differing only in color accents and price. The original GT099 model is the cheapest. The vibrant pink and green versions are the most expensive.
Here's a look at the current pricing for the most popular models:
For executives on a budget, the All-Black edition is a good fit. For a 'wow' factor in a teen girl's bedroom, the Pro Series Pink is worth paying a bit more for. Otherwise, the Classic GT099 Red is the most sensible pick.
The gist is that all Pro Series chairs have everything you need to support healthy sitting. Check out chair specs in the next section.
GT099 Pro Series Specifications
All Pro Series gaming chairs models share the same build and features. There's a steel frame, PU foam padding, and support cushions for the neck and lower back.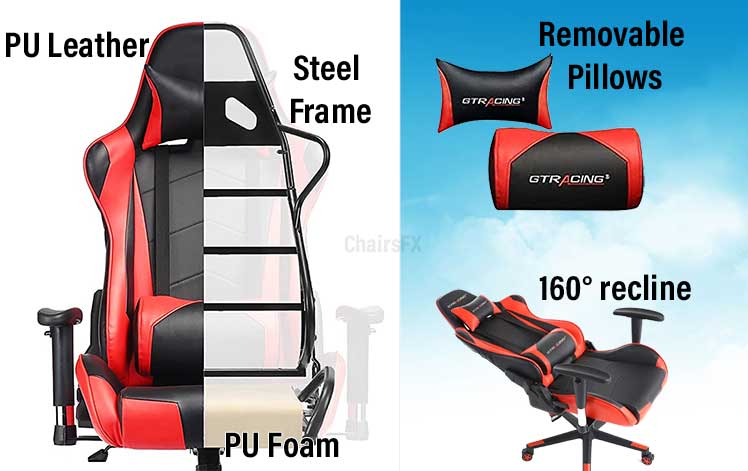 Over the top is a basic-grade PU leather that feels like a typical faux leather. It's decently breathable and won't get clammy in hot weather. It's also tough. You don't need to baby Pro Series chairs. Simply wipe down with a damp cloth every few days to keep it looking pristine.
Under the skin, Pro Series PU foam is a spongy, mid-grade material often used to stuff sofas. It has a semi-squishy feel like a well-padded office chair.
Chair Features
Sizing Specs
Functionality: 2D armrests; recline to 160°.
Comfort: high density foam padding; neck and lumbar pillows.
Upholstery: 2-tone PU leather.
Support: steel frame; metal base; class 4 gas lift; smooth rolling casters.
Warranty: one year.
If you fit within the size rating with slim (or slightly chunky) hips, this chair will fit fine. If your shape doesn't define as 'slim', prepare for a tight squeeze!
Seat width x depth: 21.3″ (W) x 22.8″ (D)
Backrest width x height: 21.5″ (W) x 32.5″ (H)
Seat height: 17.32″ to 21.56″
Size rating: 5'4″ to 5'11"; 330-pound capacity
These features give you everything you need to enjoy healthy sitting at a desk. For step-by-step healthy sitting instructions, see this tutorial: Gaming Chair Back Support User Guide.
Pro Series Chair FAQ
Here are answers to the most common questions potential buyers have about this chair:
Q: How long will a Pro Series chair actually last?
A: If you use it full-time, it should last around one year.
Q: What happens when a Pro Series chair breaks down?
A: First, the padding will flatten until you can feel the steel frame under the seat. After a year of full-time use, look for faux leather degradation.
Q: Is GTRacing support reliable?
A: Yes. This is one of the reasons the brand is so successful. Support is quick to answer and resolve issues.
Q: Are the pillows removable?
A: Yes.
Q: Are the armrests removable?
A: Yes. You can unscrew from the bottom and remove them if you want.
Pros and Cons
Learn what's to like and dislike about GTRacing Pro Series gaming chairs:
What we like
If switching from a standard office chair, Pro Series aesthetics and functionality are a massive upgrade. If you suffer from lethargy or back pain while sitting at a desk, using a gaming chair properly can literally change your life!
With good posture, users enjoy more energy, sharper focus, and greater well-being. As a result, productivity skyrockets. To reach that point, the Pro Series is one of the cheapest, most reliable entry-level ergonomic chairs.
For years, it's been at the top of Amazon's best-selling gaming chair rankings. That's because it works as advertised, without any gimmicks or hidden surprises.
What we don't like
Given the price, features, and warranty, the GTRacing Pro Series offers excellent value. Among cheap gaming chairs, these chairs are among the best.

That said, there's a big difference between cheap and expensive gaming chairs. Expensive chairs have higher quality padding and upholstery that supports full-time sitting. That's why pro gamers and computing professionals pay more.
If you use a GTRacing Pro Series full-time, it won't hold up as well as an expensive chair. After 6 months of sitting 10 hours per day, expect the padding to flatten out.
Who Should Buy Pro Series Chairs?
GTRacing Pro Series chairs have compact dimensions rated for sizes 5'4″ to 5'11". Even so, the 21.3″ seat width allows enough room for moderately thicker sizes. If you fit within these specs, these chairs fit most use cases.
Starter gaming chair for teens: a cheap, rugged solution for ages 12 and up.
Cheap home office chair: get a fully-functional ergonomic desk chair for just over $100.
Home gamer chair: enjoy sitting with good posture while you play video games.
The only reason not to buy a Pro Series chair is if you're willing to pay more for luxury. Then, consider leveling up to something like a $499 Secretlab chair or a $1595 Herman Miller Aeron.
GTRacing Pro Series Alternatives
Within the GTRacing collection are several extensions of the Pro Series template.
GT505 Fabric Gaming Chairs
This is a fabric-upholstered alternative to the Pro Series with some extra tweaks. Gaming chair fabrics are renowned for their durability, breathability, and softness. Among the best fabric gaming chairs, the GT505 ranks as the cheapest.
GT505 Pro Series chairs come in white, grey, or black mesh fabric. Beyond the mesh, there are two differences with other Pro Series chairs.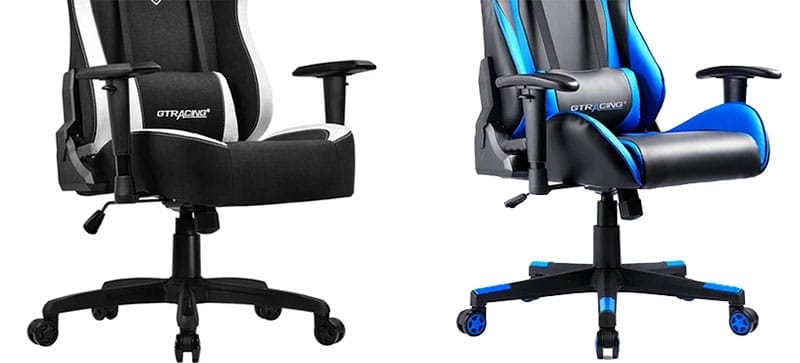 First, GT505 chairs have 1D armrests, instead of 2D. Second, GT505 mesh chairs have slightly smaller seats and backrests. Despite that, GT505 chairs feel more spacious than other Pro Series chairs because of the flat, wide seat. To learn more, check out our GT505 mesh fabric gaming chair review.
GTRacing Ace S1
The GTRacing Ace S1 is an upgraded version of the GTRacing Pro Series. It adds 4D armrests and higher-quality leather and fabric designs. For those extras, you pay around $30 more than you would for a Pro Series chair. It's a tempting upgrade!
Note that Ace S1 chairs have smaller dimensions than Pro Series chairs. While Pro Series chairs can support metier types, Ace S1 models are strictly slim-fit!
Here are some specs comparisons between the Ace S1 and Pro Series chairs:
| | | |
| --- | --- | --- |
| Spec | Ace S1 | Pro Series |
| Seat size | 19.69″ (W) x 21.65″ (D) | 21.3″ (W) x 22.8″ (D) |
| Seat height | 17.7″ to 22.04″ | 17.32″ to 21.56″ |
| Weight Capacity | 290 pounds | 330 pounds |
| Armrests | 4D | 2D |
Ace chairs are a little more expensive than Pro Series chairs, but not by much. Check out this GTRacing Ace S1 Review to learn more.
GTRacing Ace M1
GTRacing Ace M1 is an upgraded version of the S1. It adds a multifunction tilt-lock and more spacious dimensions. Chairs come in three PU leather styles and one grey fabric edition.
The big functional upgrade is the multifunction tilt-lock. The S1 chair only lets you rock the chair or lock it in place. The M1's multifunction tilt also lets you tilt and lock the seat at angles. It's a pricey pro feature usually found in the best pro esports chairs.
Here are key specs compared between Ace M1 and S1 gaming chairs:
| | | |
| --- | --- | --- |
| Spec | Ace M1 | Ace S1 |
| Seat size | 21.26″ (W) x 22.83″ (D) | 19.69″ (W) x 21.65″ (D) |
| Seat height | 18.9″ to 22.04″ | 17.7″ to 22.04″ |
| Weight Capacity | 330 pounds | 290 pounds |
| Armrests | 4D | 4D |
| Multifunction tilt | Yes | n/a |
The gist is that for around $40 more than an S1 chair, you can get a fully-loaded pro esports chair. It also gets you larger dimensions suitable for most adult sizes.
That's a lot of extra luxury — for the price of a steak dinner! Learn more in this GTRacing Ace M1 Review.
Alternatives Compared
| | | | |
| --- | --- | --- | --- |
| Spec | Pro Series | Ace S1 | Ace M1 |
| Seat size | 21.3″ (W) x 22.8″ (D) | 19.69″ (W) x 21.65″ (D) | 21.26″ (W) x 22.83″ (D) |
| Seat height | 17.3″ to 21.5″ | 17.7″ to 22.04″ | 18.9″ to 22.04″ |
| Weight Capacity | 330 pounds | 290 pounds | 330 pounds |
| Armrests | 2D | 4D | 4D |
| Price | Price not available | $149.99 | Price not available |
Conclusion
On ChairsFX, the GTRacing Pro Series GT099 ranks as the best cheap gaming chair under $200. How can we justify that when there are hundreds of competing models out there? It comes down to consistency.
GTRacing has been around since 2013. Over the years, the company has built a sterling reputation. GTRacing sells solid gaming chairs with reliable after-care. It's not a faceless factory pumping out generic chairs. Rather, it's a well-oiled global operation.
Notably, GTRacing after-care support is legit. If anything goes wrong with your chair, support has you covered. Thus, GTRacing Pro Series chairs are cheap, effective, and risk-free. That makes it the ultimate entry-level gaming chair for users on a budget!