Keep your eye on Secretlab sales alerts. For the rest of this year, both 2022 Series and 2020 Series gaming chairs will be on offer. That means deep discounts on the latest and the greatest 2022 Series. It also means even deeper discounts on 2020 Series chairs. Bookmark this page to stay up to date on Secretlab gaming chair discount deals.
At present, Secretlab is running an Autumn Sale in the EU and UK until September 21. Details:
Keep scrolling for a broad look at various designs on offer (NAPA, Leatherette, and fabric designs).
Secretlab Pricing Overview
Secretlab chairs are available for direct sale in North America, the EU, UK, Oceania, Singapore, and Malaysia. Here's a quick look at both standard and sales prices.
Secretlab discounts by country
When the next Secretlab sales go live, we'll update this section with per-region deals.
How to access Secretlab chair sales
During sales periods, look for a promotional banner at the top of every Secretlab website page:
To access all sales, click the timer at the top of the page. That will filter through to show all on-sale items.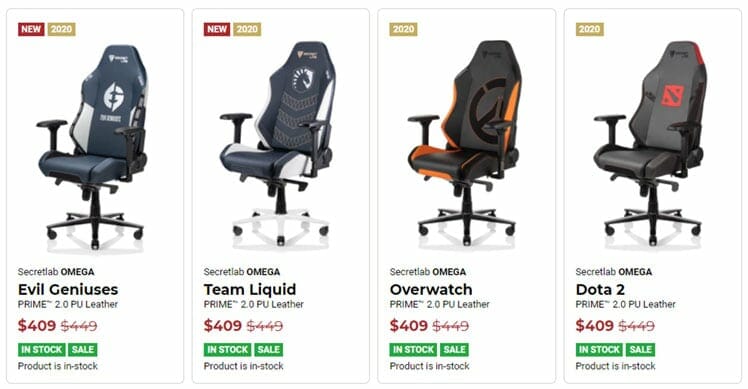 To check Secretlab chair prices in your area right now, click the button:
Secretlab chairs are available for buyers in the UK, EU, Oceania, Singapore, and Malaysia.
Recommended designs
When Secretlab gaming chairs go on sale, you'll get over 100 variants to choose from. To help narrow down your options, here are some of the most popular designs to consider:
Genuine NAPA Leather Chairs
Secretlab's most expensive chairs come upholstered in genuine NAPA leather. During sales periods, NAPA models usually go on sale for $100 off.
This year, expect a similar discount on 2022 Series NAPA chairs. At the same time, 2020 Series Omega and TItan NAPA chairs should be on sale for even less.
NAPA Leather
2022 Series

NEW

2020 Series
Small
Titan EVO $899
Omega $749
Medium
Titan EVO $899
Titan $799
XL
Titan EVO $999
Titan XL n/a
Available from Secretlab in North America, the EU and UK, Oceania, Singapore, and Malaysia.
Standard NEO Leatherette Designs
2020 Series chairs come upholstered in a faux leather blend called Prime PU 2.0. It's supple, breathable, easy to clean, and attractive.
2022 Series chairs upgrade to what's called Neo Hybrid Leatherette. The new blend is 4 times more durable than the previous one.
It's produced using a new technique that bonds a resin top laminate onto a base layer. That goes through a finishing process to render the material into an ultra-smooth top hide.
Neo Leatherette
2022 Series

NEW

2020 Series
Small
Titan EVO $429
Omega $359
Medium
Titan EVO $469
Titan $399
XL
Titan EVO $499
Titan XL $479
For a closer look at each Neo Leatherette design, see this Titan EVO Design Review.
SoftWeave Plus Designs
This collection easily ranks as the best fabric gaming chairs on the market. The 2022 Series SoftWeave Plus is softer, more durable, and more visually complex than the old version.
It's a revolutionary fabric using an advanced technical knitting process. The new method interlaces loops of resilient yarn fibers. That improves airflow, breathability, and aesthetics.
It lets designers craft complex, multi-layered textiles with color layers. For instance, all 2022 Series fabric editions feature 3D gradient layers on the side wings.
There are now seven 2022 Series fabric designs to choose from, in small, medium, and XL sizes. Meanwhile, 2020 Series Omega, Titan, and Titan XL fabric chairs are only on offer for slightly less money.
SoftWeave Edition
2022 Series

NEW

2020 Series
Small
Titan EVO $449
Omega $359-$399
Medium
Titan EVO $469
Titan $429
XL
Titan EVO $519
Titan XL $499
For a closer look at each design, see this Titan EVO SoftWeave PlusGaming Chair review.
League of Legends Designs
For a few years, Secretlab has partnered with Riot Games. Riot publishes League of Legends, one of the most popular (and lucrative) esports games in the world. Secretlab now offers eight brilliant League of Legends designs.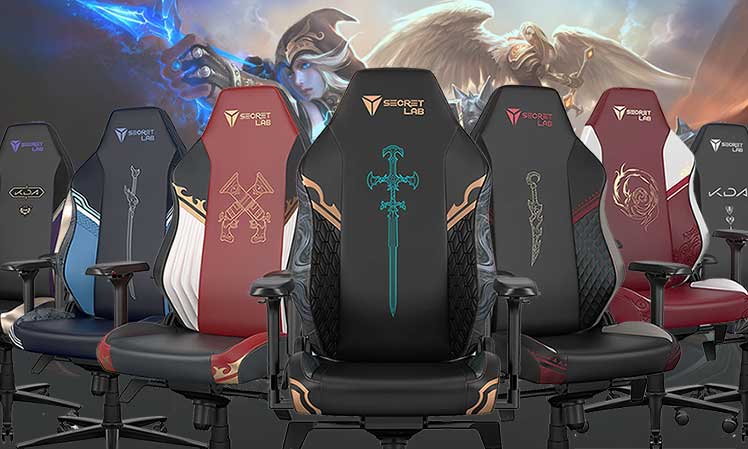 The latest addition to the collection is a Ruination Series. Designs feature Miss Fortune, Pyke, and Viego the Ruined King.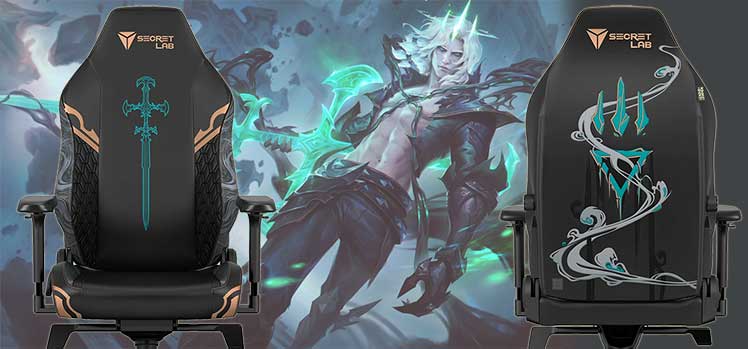 All LoL designs dazzle with intricate detailing based on game lore. The Viego edition shows off the Blade of the Ruined King on the front in bright green embroidery. On the back end, the Ruined King's crown overlays ominous wisps of black mist.
For the stories behind all eight designs, see this League of Legends and K/DA chair review.
Titan Viego Edition (medium) $449
Viego Edition (small) $429 | Viego Edition XL $499
Pro Esports Team Designs
Many of the best esports teams in the world use Secretlab chairs. As a result, the company offers custom designs for elite squads like Team Liquid, Evil Geniuses, G2, OG, Team Secret, and many others.
To see how top teams use these chairs for training, see this Review of Secretlab Pro Esports Team Chairs. It assesses each design in detail. It also looks at the training methods used by the pros.
Game of Thrones Designs
Gaming of Thrones gaming chairs remain hot well past the show's end. There are four chairs in Secretlab's GoT collection, but only three appear in the new 2022 Series format.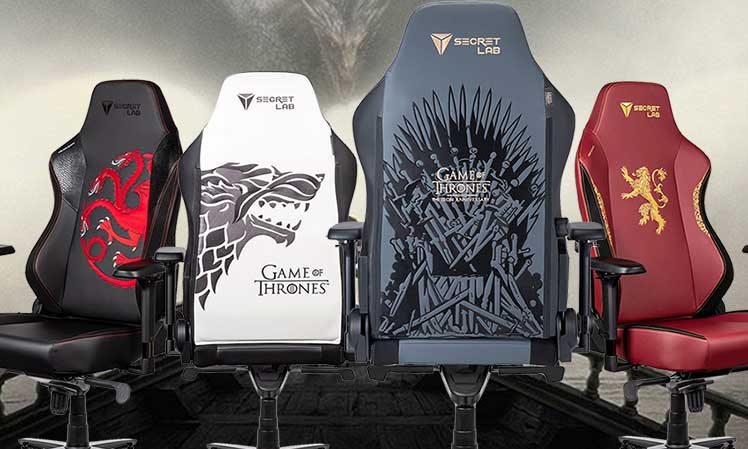 House Stark, House Targaryen, and House Lannister are available in both 2020 and 2022 Series editions. The Iron Anniversary edition is only available as Titan or Omega 2020 Series chairs.
GoT Editions
2022 Targaryen

NEW

2020 Iron Anniversary
Small
Titan EVO $459
Omega $389
Medium
Titan EVO $449
Titan $429
XL
Titan EVO $529
Titan XL n/a
To learn more, see this Secretlab Game of Thrones chair review.
Conclusion
Students, gamers, and office workers are all likely to do most of their 2021 computing at home. If so, you might as well make the most of it.
Adding aesthetic flair to your workstation is easy with a Secretlab gaming chair. You also get industry-leading ergonomic support for long periods of sitting.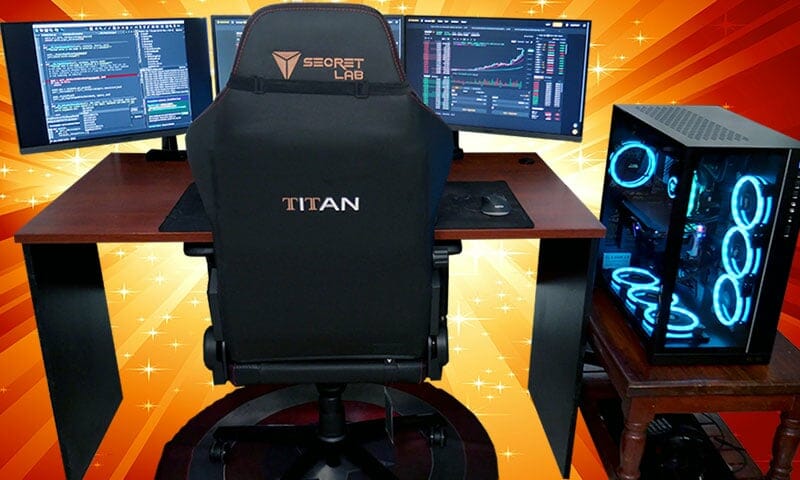 Imagine what impact improved posture support and aesthetics can add to your workstation. Take advantage during Secretlab sales to power up at a discount.
Browse all Secretlab chair sales
Check prices in your local Secretlab store (North America, Europe, the UK, Oceania, or SE Asia).
Related Articles