Secretlab is now running a Special Edition Sale for American customers. In other regions (Canada, EU, Oceania, etc), there are additional discounts on 2022 Series chairs, NeueChairs, and Magnus desk bundles. Here's what you need to know about Secretlab's hottest summer discounts on offer right now.
In August, Secretlab offers storewide sales in the EU, UK, Canada, Australia, New Zealand, and Singapore. Summary of deals using EU prices:
Titan 2022 Series chairs: €50 off
Classic 2020 chairs: €50 off
Magnus Desk bundles: €50 off
NeueChairs: €30 off
Sadly, American customers who visit the Secretlab store will find zero sales offers posted! Luckily, a handful of special edition chairs are on sale for American customers — find USA sales details in the next section.
Everyone else can click the button to browse storewide sales. These are now live in the EU, UK, Canada, Australia, New Zealand, and Singapore:
Sales are live in the USA, Canada, UK, EU, Australia, New Zealand, and Singapore.
Special Edition USA Chair Sales
In August, five chairs are on sale in the USA store: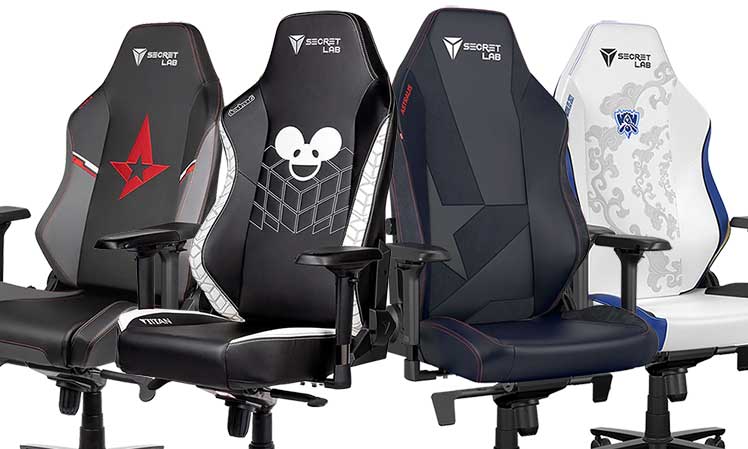 American military and veterans who can verify their military status (using ID.me) can also get an additional $40 off on all chairs, including the ones on sale:
Secretlab International Summer Sale
All regions except for the U.S. can enjoy store-wide sales prices. Each region has slightly different sales terms. In the UK, most chairs are £50 off. Up north, Canadian hosers get $70 off. Here are the discounted rates in the EU store:
Find below the discounted (EU) prices for all items that are on sale right now:
Titan Evo 2022 Series Sale
Secretlab's Titan 2022 Series is the most advanced gaming chair on the market. Its highlights include a strapless magnetic headrest with a massive 11″ adjustment range. There's also an integrated lumbar that's both depth and height-adjustable.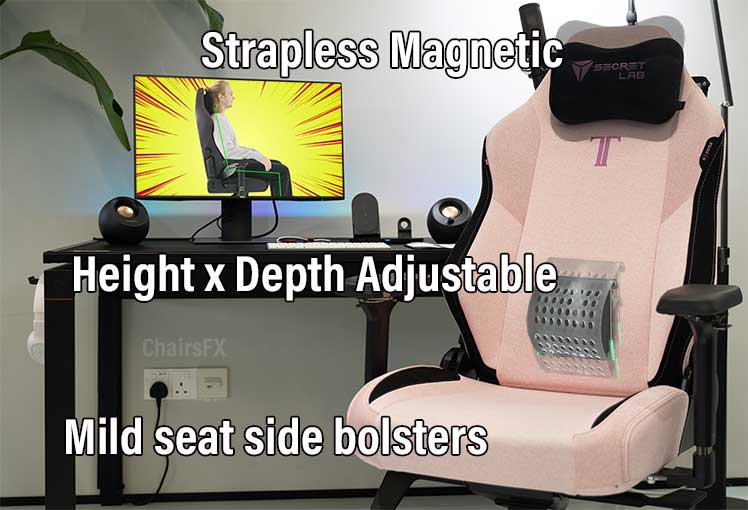 Its seat is also next-level. It has a waterfall edge and gentle side bolsters that encourage but don't force you to sit straight.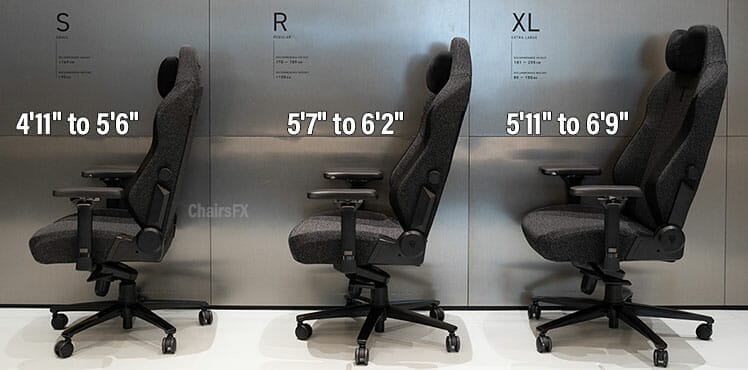 What's more, the 2022 Series comes in small, medium, and XL sizes, serving all sizes between 4'11" to 6'9″.
Titan 2022 Discounts
Discounts vary by region. In Canada, most 2022 Series chairs are $35 off. In the UK, they're £30 off; in Singapore, chairs are S$30 off. Prices below are in Euros.
Clicking any link will redirect to the appropriate store for your region:
At present, there are over 45 different Titan 2022 styles on sale. That includes eight SoftWeave fabric versions and 37 leatherette styles.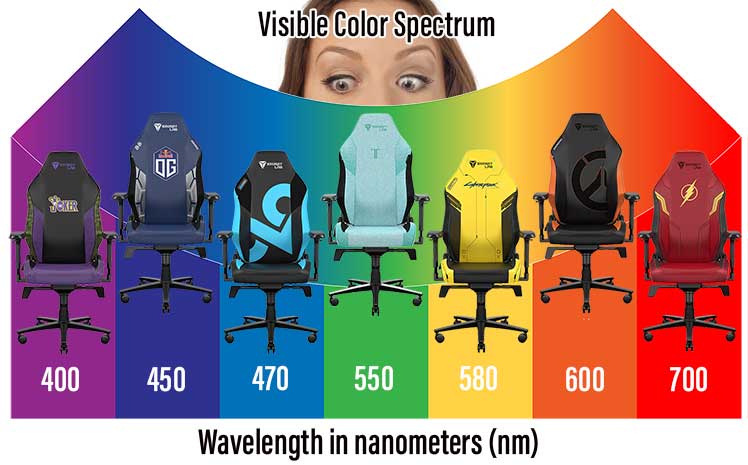 If you need help deciding, jump down to the recommended styles section. There, you'll find a quick color primer plus our favorite 2022 Series style collections.
Titan 2022 Series Review | SoftWeave Plus 2022 Series Review
Titan & Omega 2020 Series Sale
Secretlab's 2020 Series ranked as the world's best gaming chairs from 2018-2020. The Titan has a flat, wide seat and depth-adjustable lumbar support system. Because it's not height-adjustable, it only fits sizes 5'9″ and up.
The Omega is a better alternative for smaller bodies, built for sizes 5'3″ to 5'11". It differs with bladed seat edges (for stricter posture support) and an external lumbar pillow.
Advice: for best results with Titan 2020 chairs, sizing matters. If you're taller than 5'9″, choose a Titan. If shorter, the Omega works best. See below for hands-on 2020 Series usability reviews:
NeueChair Sale
The NeueChair office-styled chair is on sale in these regions only: USA, UK, EU, Australia, and Singapore. It shows off the fundamental difference between an ergonomic office and gaming-style chair.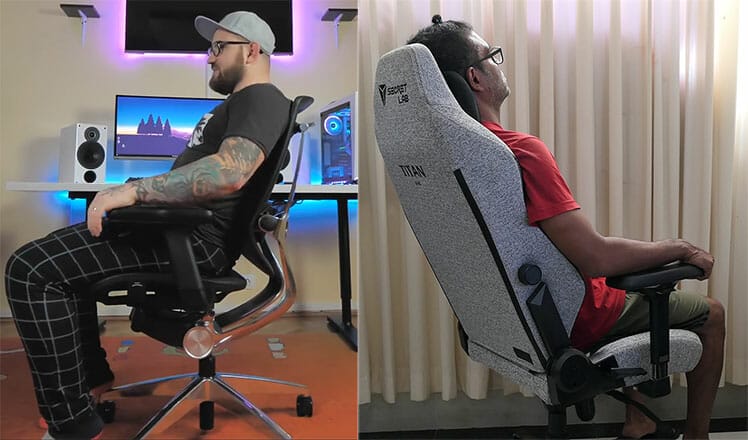 A full-back gaming chair supports both upright postures and reclined relaxed ones. But many serious types (office workers, professionals, etc) don't need a deep recline. Then, the mid-back, full-mesh NeueChair emerges as an affordable yet luxurious no-nonsense option.
The Neue slots between the $1500+ Herman Miller Aeron and more basic $300 ergonomic chairs. Its highlights include 4-way adjustable lumbar support and Infinite Tilt functionality.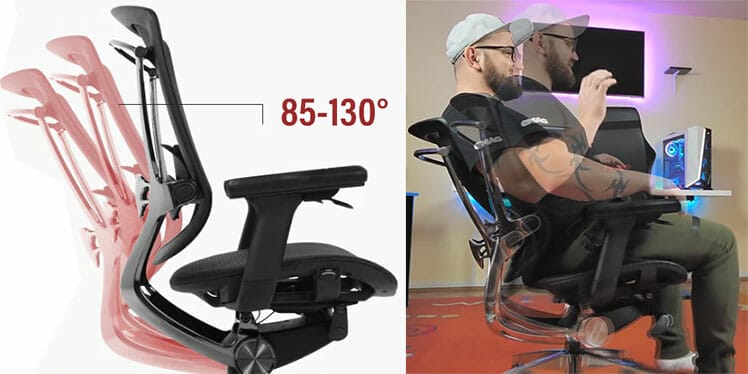 Most ergonomic chairs only let you recline in a few set positions. In comparison, the Neue's Infinite Tilt lets you lock at any angle between 85-130°.
NeueChair Sales Details
The NeueChair comes in both Silver ($609 $649) and Obsidian ($709 $749) styles. The latter delivers a darker finish on the base and rear frame parts.
The Silver edition is $100 cheaper than the Obsidian. But at present, only the Silver is in stock (the Obsidian is available for pre-order).
NeueChair Silver From Secretlab €619 €649
Learn more: NeueChair Review: Affordable, Luxurious Mid-Back Ergonomics
Magnus Desk Bundle Sale
Secretlab Magnus desk bundles are also on sale in America, the EU, the UK, and Australia. The bundle contains a 59″ wide Magnus desk and a Magpad desk cover.
There are seven different MAGPAD desk mats to bundle a desk with. There's a signature black one, a Stealth edition, a few esports team editions, and a Batman version.
Summary of Magnus bundle specials:
Stealth Desk Mat + 59″ wide desk: €528 €578
Cloud9 Desk Mat + 59″ wide desk: €558 €598
Team Liquid Desk Mat + 59″ wide desk: €558 €598
Astralis Desk Mat + 59″ wide desk: $€558 €598
Team Secret Desk Mat + 59″ wide desk: €558 €598
Dark Knight Mat + 59″ wide desk: €558 €598
Shop Magnus Desks €528-€558 €578-€598
Learn more Magnus Desk Overview.
Recommended Gaming Chair Designs
When Secretlab 2020 and 2022 Series gaming chairs are on sale, you get over 100 variants to choose from. Making sense of all designs in a single go can be overwhelming.
For help, check out our Gaming Chair Color Psychology article. It explains the science behind different furniture colors' physical and mental effects.
Broadly, drab neutral colors connote conformity. Warm blues promote creative, out-of-the-box thinking. Meanwhile, fiery reds literally scare the senses into paying more attention to details.
With these basics in mind, here are some popular Titan Evo collections:
Standard Neo Hybrid Leatherette Designs
2020 Series chairs come upholstered in a faux leather blend called Prime PU 2.0. It's supple, breathable, easy to clean, and attractive.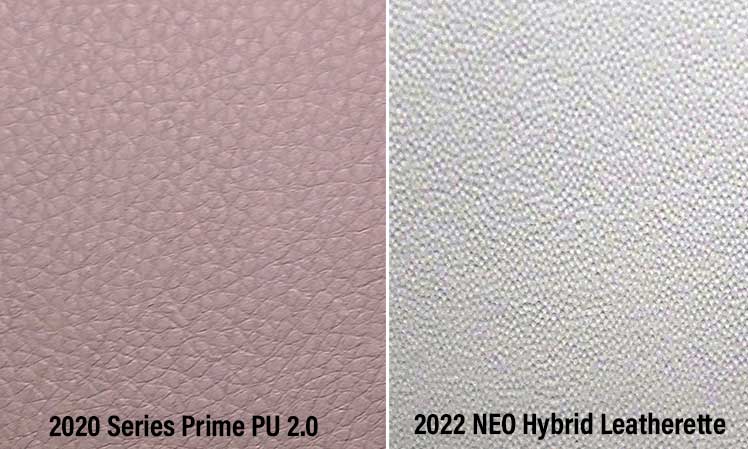 2022 Series chairs upgrade to what's called Neo Hybrid Leatherette. The new blend is 4 times more durable than the previous one.
It's produced using new techniques that render the material into an ultra-smooth top hide. You can see the difference between Prime 2.0 and Neo Leatherette under a macro lens:
To the touch, leatherette has a slightly more refined feel than Prime 2.0 PU. It's rich, buttery-soft, and decadent.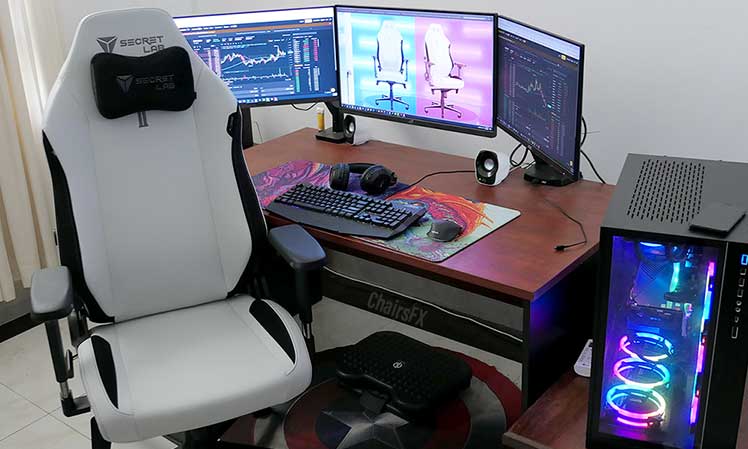 Even so, despite its smoothness, it has a decent grip that's not slippery. On top of that, it's stain-resistant, ultra-durable, and easy to keep clean.
Neo Leatherette
2022 Series

NEW

2020 Series
Small
Titan EVO $519 $549
Omega $409 $449
Medium
Titan EVO $519 $549
Titan $459 $499
XL
Titan EVO $569 $599
Titan XL $544 $579
Get a closer look at the 2022 leatherette experience in this hands-on Titan Ash Leatherette Chair Review.
SoftWeave Plus Designs
SoftWeave chairs are more expensive than leatherette ones ($20 more in the USA store). During the sale period, they're $30 off — cheaper than standard leatherette prices. There are eight styles to choose from:
These are hands-down the best fabric gaming chairs on the market. The 2022 Series SoftWeave Plus is softer, more durable, and more visually complex than the old version.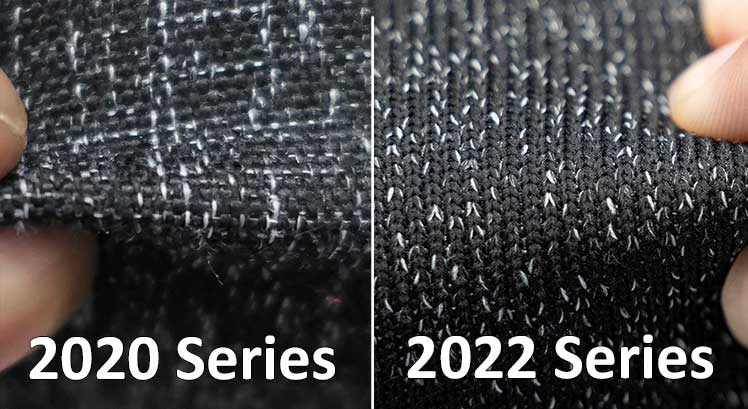 It uses an advanced technical knitting process. That interlaces loops of resilient yarn fibers, improving airflow. It also lets designers craft complex, multi-layered textiles with color layers.
There are eight 2022 Series fabric designs to choose from. 2020 Series Omega, Titan, and Titan XL fabric chairs are also on offer. These aren't the latest and the greatest, but world-class gaming chairs nonetheless.
SoftWeave Edition
2022 Series

NEW

2020 Series
Small
Titan EVO $539 $569
Omega $439 $479
Medium
Titan EVO $539 $569
Titan $489 $529
XL
Titan EVO $589 $619
Titan XL $564 $599
For a closer look at each design, see this Titan EVO SoftWeave Plus Gaming Chair review.
League of Legends Designs
For a few years, Secretlab has partnered with Riot Games. Riot publishes League of Legends, one of the most popular (and lucrative) esports games in the world. Secretlab now offers eight brilliant League of Legends designs.
Each chair in the collection features exquisite detailing. For instance, the LoL Pyke Edition shares the character's story with rich detail.
The bottom side wings show the distinctive scales of a jaull-fish. Embroidered on the front in gold is Pyke's Bone Skewer weapon. The backrest shows Pyke's Bone Skewer, set against the dark waters of Bilgewater Bay.
Learn more: League of Legends and K/DA Gaming Chair Review.
Titan Pyke Edition (medium) $594 $624
Pyke Edition (small) $594 $624 | Pyke Edition XL $644 $674
Pro Esports Team Designs
Many of the best esports teams in the world use Secretlab chairs. As a result, the company offers custom designs for elite squads like Team Liquid, Evil Geniuses, G2, OG, Team Secret, and many others.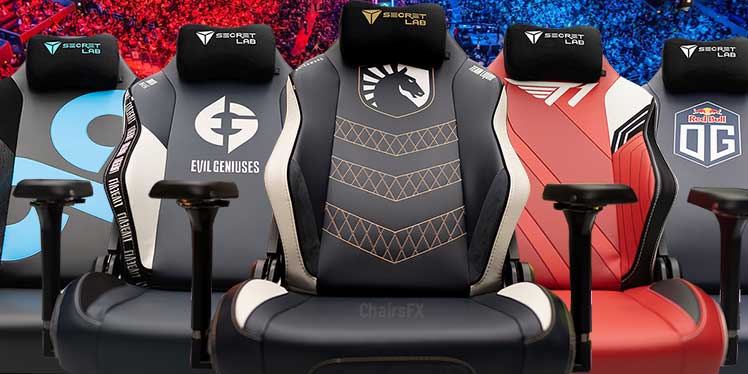 To see how top teams use these chairs for training, see this Review of Secretlab Pro Esports Team Chairs. It assesses each design in detail. It also looks at the training methods used by the pros.
Game of Thrones Designs
Secretlab's Gaming of Thrones chairs are still hot well past the show's end. Three chairs represent the three great houses of Westeros:
The House Stark, Targaryen, and Lannister styles are available in both 2020 and 2022 Series editions.

GoT Editions
2022 Targaryen

NEW

2020 Series
Small
Titan EVO $594 $624
Omega $489 $524
Medium
Titan EVO $594 $624
Titan $539 $574
XL
Titan EVO $549 $579
Titan XL n/a
To learn more, see this Secretlab Game of Thrones chair review.
Secretlab Sale Shopping Tips
Here are two bits of advice to help you get the most out of the Secretlab Mid-Year Sale:
Neo Hybrid Leatherette or SoftWeave?
Recently, I've been testing a SoftWeave Cookies and Cream and leatherette Ash chair in tropical weather. Both are superb. Leatherette has a more polished, formal aesthetic; SoftWeave looks and feels more casual.
Head-to-head, both SoftWeave and leatherette have advantages and (minor) disadvantages:
Breathability: both stay cool over long sessions, although SoftWeave has the edge.
Tactile quality: SoftWeave has a soft, plush feel (like luxury sofa fabric). Leatherette is ultra-smooth, buttery soft, and gorgeous. Leatherette wins with a jaw-dropping wow factor.
Maintenance: leatherette wins easily. It's easy to clean and stain-resistant. If you spill any food or drink, wipe it off. In contrast, eating in a SoftWeave chair can burrow crumbs deep into the fabric. If you spill red wine on a SoftWeave chair, it's scarred for life!
Based on my findings, leatherette is the more practical choice. It looks amazing, is breathable, and is easy to maintain. Even so, I've always preferred casual styling over formal. Thus I always feel a bit happier when sitting in my SoftWeave chair.

On days when I use my leatherette chair, it gives a more formal feel to my workspace. In comparison, when hanging around in my pajamas, my SoftWeave chair adds a cozy, homey aspect that really hits the spot!
Pocket Savings Or Buy Accessories?
What you save with discount prices can go into your pocket. Alternatively, put those savings into some soft, plushy, Secretlab chair accessories.

Options include lumbar pillows, plushies, luxury armrest caps, and upholstery cleaners. Check out this report for details:
Conclusion
Secretlab's Summer Sale offers 2022 Series Titans, 2020 Series versions, NeueChairs, and Magnus Desk Bundle discounts.
Grab any of these items and pocket the savings — or parlay into Secretlab accessories. Add-ons include lumbar pillows, armrest caps, and super-cuddly Plushies.
Bottom line: this sale lets you optimize your workstation as the summer season heats up. Click the button to browse all deals live right now in your area.
Shop The Secretlab Summer Sale
Discount deals are now live in America, Canada, the EU & UK, Australia, New Zealand, and Singapore.