Secretlab's October deals are for shoppers in North America, Europe, and Oceania. In these regions are discounts on Titan Evo gaming chairs and 2020 Series Classics. Find here a summary of all Secretlab regional deals. Then, check out some of the best Secretlab chairs now available with a discount.
As the weather cools and Halloween hype simmers, Secretlab spices up October with specials on its two gaming chair collections. The Titan Evo gaming chair is the latest and the greatest, with cutting-edge features and 60+ jaw-dropping styles.
Note: there are now over 60+ Titan Evo gaming chair styles. Secretlab discounts on 'selected models' exclude its sexiest 2023 chair designs (Valorant, Jhin Lol, Demon Slayer, etc).
2020 Classics Vs Titan Evo Chairs
Secretlab's 2020 Series classics include Titan 2020 (for sizes 5'9″ and and up) and Omega Series chairs (for sizes 5'3″ and up). Before the Titan Evo dropped, these were the most popular premium gaming chairs of their era.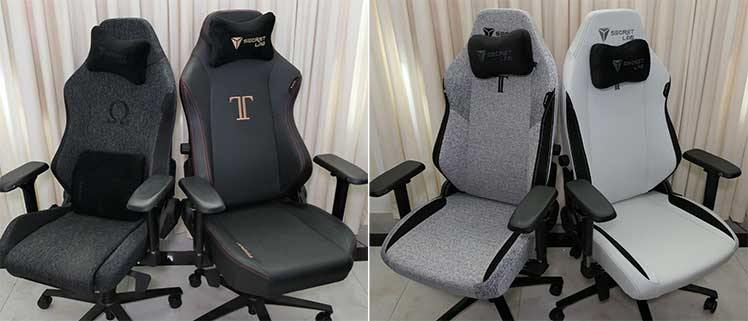 The 2022 Series differs with more refined features + small, medium, and XL size options. Here's a quick look at the value of both collections:
2020 Classic: Luxury Gaming Chairs
I spent two luxurious years using 2020 Series chairs before upgrading to Titan Evo models. Even so, I've kept my old models around and still use them sometimes. Both are spectacular in different ways.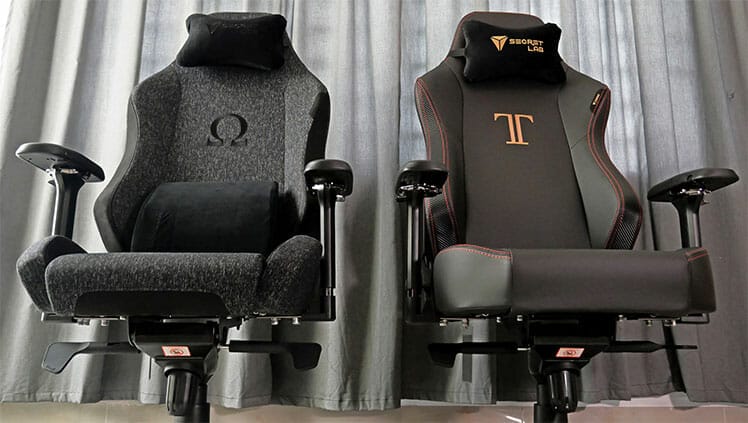 The Titan 2020 has a more spacious seat and a sexier style. However, its non-height-adjustable lumbar support is only for taller sizes. In comparison, I found that the Omega's bladed seat style and lumbar pillow combo made it easier to sit with good posture for longer periods.
Advice: the Titan 2020 lumbar support is only depth-adjustable. It barely fit my 5'9″ (177 cm) size. Shorter sizes should use an Omega with a lumbar pillow instead.
Compare: Secretlab 2020 Series Vs Titan Evo 2022 Series Chairs
Titan Evo: The Latest And Greatest Chair
Three features set the Titan Evo apart from other chairs. The first is a 4-way integrated lumbar with height x depth adjustability. Turn the dials on both sides of the chair to find your perfect fit.
The second is a magnetic memory foam headrest. Without straps, it provides a massive 11″ height-adjustment range. The third standout is the Titan Evo's flat, wide seat pan.

It provides gentle guidance to keep your legs pointing straight — but with full freedom to move your legs. When you get tired of sitting with planted feet, this design encourages you to mix up your positions.
This is because frequent movement while sitting is good for your body. Dynamic neutral postures engage leg, back, and abdominal muscles — a potent way to mitigate sedentary health risks while you sit.
Titan Evo Sizing
The Titan Evo comes in small, medium, and XL sizes. All come with a 5-year warranty and the same features. Each also comes with an accurate size rating. Choose the one that's appropriate for your height to ensure the best fit.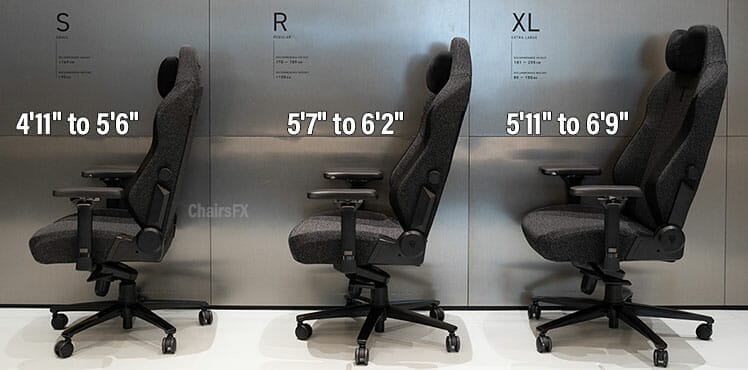 You can also gauge the potential fit yourself using the depth of the seat. For example, I stand 5'9″ (177 cm). As Secretlab's size ratings suggest, the medium Titan Evo is ideal for my size.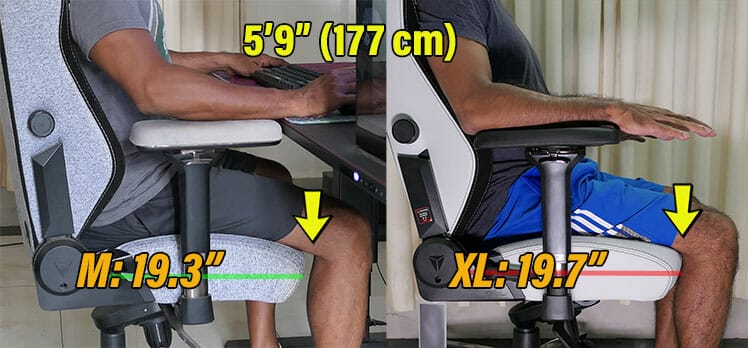 In contrast, the Titan XL's 19.7″ seat is a touch deep for my legs. With that in mind, here are the sizing specs for each Titan Evo model:
| | | | |
| --- | --- | --- | --- |
| Specification | Titan 2022 Small | Medium | XL |
| Seat | 17.7″ (W) x 18.9″ (D) | 18.5″ (W) x 19.3″ (D) | 19.3″ (W) x 19.7″ (D) |
| Backrest | 20″ (W) x 32.3″ (H) | 21″ (W) x 33.5″ (H) | 22″ (W) x 35″ (H) |
| Seat height | 17.7″ to 20.5″ | 17.7″ to 20.5″ | 18.1″ to 21.9″ |
| Size rating | 4'11" to 5'6″; 285 pounds | 5'7″ to 6'2″; 285 pounds | 5'11" to 6'9″; 395 pounds |
Having an appropriate seat depth for your size is the key. A seat that's too deep will pull your knees forward. That incites a flattened lower back curve and ruined upper back posture as well.
Learn more: Titan Evo 2022 Sizing Guide For S, M, and XL: Slim To Obese
Summary of Titan Evo Specifications
Titan Evo Features
Back support: integrated 4-way adjustable lumbar; magnetic headrest pillow.
Tilt functions: multifunction tilt-lock; 85-165° recline.
Armrests: 4D armrests with swappable top caps.
Seat: 65 kg/m³ padding density.
Dimensions
Seat width x depth: 20.9″ (total W) x 18.9″ (D)
Backrest width x height: 20″ (W) x 32.3″ (H)
Seat height range: 17.7″ to 20.5″
Armrest height range: 26″ to 31.9″
Size rating: 4'11" to 5'6″; 285 pounds
Bottom line: choose the right size and follow best sitting practices. Then, you're assured of a spectacular sitting experience in a Titan Evo gaming chair.
Recommended Evo 2022 Designs
Secretlab gaming chair discounts do not apply to designs released this year. This excludes some of the most spectacular gaming chair designs on the market. For example, the LoL Jhin edition depicts sinister grace with regal, romantic undertones.
Other stunners released this year pay tribute to Valorant, Demon, Slayer, and the Star Wars Empire. In the EU Store, the Jhin edition is the most expensive (€674 for medium and XL sizes). Other special editions this year cost €624 (€674 for XL versions).
Jaw-Droppers: Ranking The Sexiest Secretlab Styles Of 2023
In comparison, older special editions are now €524 in the Secretlab EU Store. Here are some older collections discounted in most regions right now (EU, UK, Australia, New Zealand, Canada):
Standard Neo Hybrid Leatherette Designs
Older 2020 Series chairs come upholstered in a faux leather blend called Prime PU 2.0. It's supple, breathable, easy to clean, and attractive.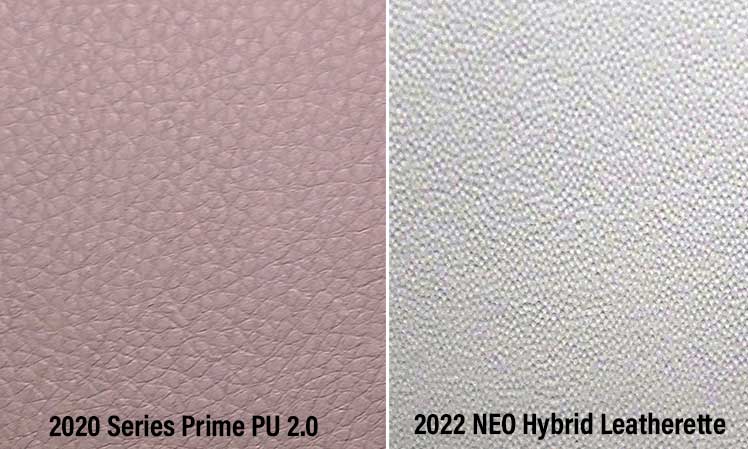 2022 Series chairs upgrade to what's called Neo Hybrid Leatherette. The new blend is 4 times more durable than the previous one.
It's produced using new techniques that render the material into an ultra-smooth top hide. You can see the difference between Prime 2.0 and Neo Leatherette under a macro lens:
To the touch, leatherette has a slightly more refined feel than Prime 2.0 PU. It's rich, buttery-soft, and decadent.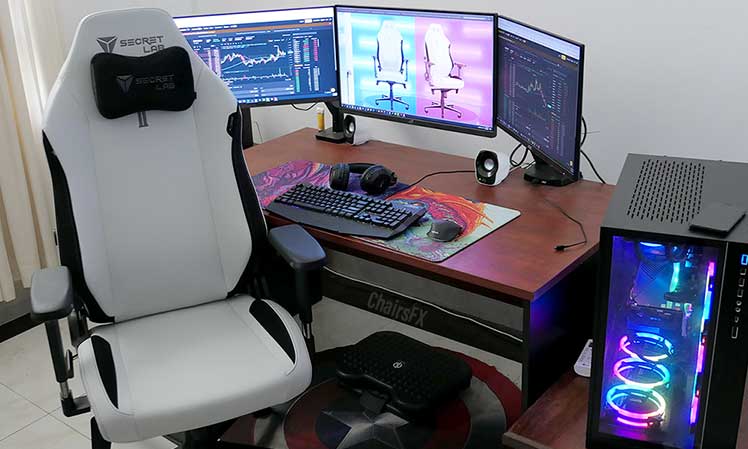 Even so, despite its smoothness, it has a decent grip that's not slippery. On top of that, it's stain-resistant, ultra-durable, and easy to keep clean.
Neo Leatherette
2022 Series

NEW

2020 Series
Small
Titan EVO $549
Omega $434
Medium
Titan EVO $549
Titan $484
XL
Titan EVO $599
Titan XL $544 $524
Get a closer look: Titan Ash Leatherette Chair Review.
SoftWeave Plus Designs
These are hands-down the best fabric gaming chairs on the market. The 2022 Series SoftWeave Plus is softer, more durable, and more visually complex than the old version.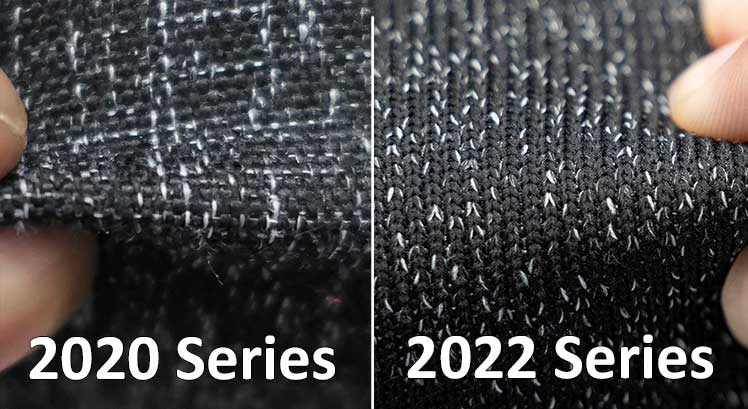 It uses an advanced technical knitting process. That interlaces loops of resilient yarn fibers, improving airflow. It also lets designers craft complex, multi-layered textiles with color layers.
There are now eleven 2022 Series fabric designs to choose from. 2020 Series Omega, Titan, and Titan XL fabric chairs are also on offer.
SoftWeave Edition
2022 Series

NEW

2020 Series
Small
Titan EVO $569
Omega $479
Medium
Titan EVO $569
Titan $529
XL
Titan EVO $619
Titan XL $574
Get a closer look: Titan EVO SoftWeave Gaming Chair Collection Review.
League of Legends Designs
For a few years, Secretlab has partnered with Riot Games. Riot publishes League of Legends, one of the most popular (and lucrative) esports games in the world. Secretlab now offers eight brilliant League of Legends designs.
Each chair in the collection features exquisite detailing. For instance, the LoL Pyke Edition shares the character's story with rich detail.
The bottom side wings show the distinctive scales of a jaull-fish. Embroidered on the front in gold is Pyke's Bone Skewer weapon. The backrest shows Pyke's Bone Skewer, set against the dark waters of Bilgewater Bay.
Learn more: League of Legends and K/DA Gaming Chair Review.
Titan Pyke Edition (medium) $624
Pyke Edition (small) $624 | Pyke Edition XL $674
GOT House Of The Dragon Designs
As the House of the Dragon series airs, Secretlab's Gaming of Thrones chairs are now enjoying newfound popularity.
The House Stark, Targaryen, and Lannister styles are available in both 2020 and 2022 Series editions.

GoT Editions
2022 Targaryen

NEW

2020 Series
Small
Titan EVO $524
Omega n/a
Medium
Titan EVO $624
Titan $484
XL
Titan EVO $574
Titan XL n/a
To learn more, see this Secretlab GOT House Of The Dragon chair review.
Secretlab Sale Shopping Tips
Here are two bits of advice to help you get the most out of Secretlab Titan gaming chair sales:
Neo Hybrid Leatherette or SoftWeave?
Recently, I've been testing a SoftWeave Cookies and Cream and leatherette Ash chair in tropical weather. Both are superb. Leatherette has a more polished, formal aesthetic; SoftWeave looks and feels more casual.
Head-to-head, both SoftWeave and leatherette have advantages and (minor) disadvantages:
Breathability: both stay cool over long sessions, although SoftWeave has the edge.
Tactile quality: SoftWeave has a soft, plush feel (like luxury sofa fabric). Leatherette is ultra-smooth, buttery soft, and gorgeous. Leatherette wins with a jaw-dropping wow factor.
Maintenance: leatherette wins easily. It's easy to clean and stain-resistant. If you spill any food or drink, wipe it off. In contrast, eating in a SoftWeave chair can burrow crumbs deep into the fabric. If you spill red wine on a SoftWeave chair, it's scarred for life!
Based on my findings, leatherette is the more practical choice. It looks amazing, is breathable, and is easy to maintain. Even so, I've always preferred casual styling over formal. Thus I always feel a bit happier when sitting in my SoftWeave chair.

On days when I use my leatherette chair, it gives a more formal feel to my workspace. In comparison, when hanging around in my pajamas, my SoftWeave chair adds a cozy, homey aspect that really hits the spot!
Pocket Savings Or Buy Accessories?
What you save with discount prices can go into your pocket. Alternatively, put those savings into some soft, plushy, Secretlab chair accessories.

Options include lumbar pillows, plushies, luxury armrest caps, and upholstery cleaners. Check out this report for details:
Summary of October Deals
This month, USA buyers get discounts on 2020 Series Classic chairs. However, stocks are dwindling, with limited designs available. Once they're gone, classic chairs will be sold out forever. If shopping for bargains, now is the time to buy a 2020 Series Classic.
In most other regions, buyers have a choice of classic or Titan Evo discounts:
This leaves you with three choices. First, 2020 or 2022 Series? Second, buy a full-priced 2023 design, or an older discounted one? Third, should you pocket discount savings, or parlay them into Secretlab accessories?
As an example, here's my (recently cleaned) Titan Evo chair + Plushcell armrests x Magnus Pro standing desk — the ergonomic workstation of the future, available right now!