Fabric gaming chairs are soft and breathable. But they also absorb body oils and dust. Over time, that builds up as smelly bacterial stains. Luckily, deep cleaning is easy and inexpensive. Learn how to remove stains and deodorize your chair in minutes. Enjoy the thrill of keeping your fabric gaming chair looking (and smelling) brand new for years!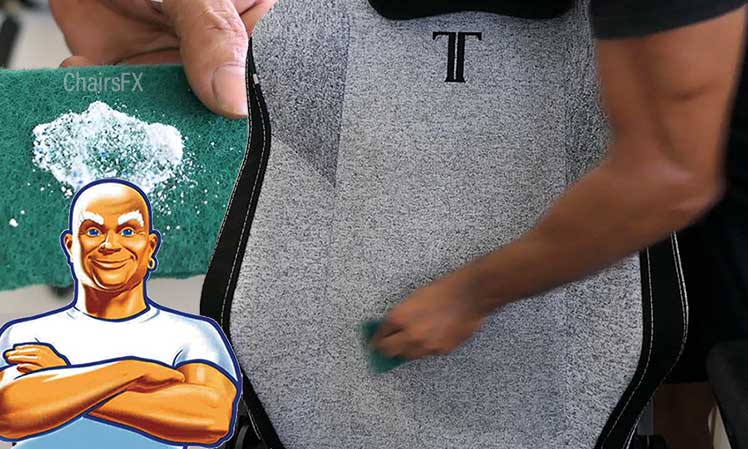 UPDATE: ChairsFX recently released an upgraded cleaning method Version 2.0. Our original method did perfect deodorization, but mediocre stain fighting. After each full cleaning, stains would reappear after a month or so.
Spending an hour cleaning your fabric chair every month becomes a real drag. To address that, we've come up with a new and improved fabric chair cleaning method:
You'll need a scrubbing pad, laundry detergent, water, a towel, and a stiff brush.
Apply detergent to the scrubbing pad and add water.
Scrub the resulting paste directly into the chair's fabric.
Scrub again with the stiff brush (for deep dirt removal).
Add water to a clean towel and scrub the detergent residue out of the fabric.
Dry your chair using sunlight, a blowdryer, or letting it sit overnight.
This does an excellent job at deep-cleaning stains. Expect your chair to look stain-free for around three months before mild discoloration appears. Then, you can do another quick cleaning.
However, this doesn't fully deodorize the chair. Luckily, our original fabric cleaning method has that covered. That requires baking soda, a vacuum cleaner, and a few minutes of work.
Why Fabric Chairs Get Sticky & Smelly
The human body has around 1.6 trillion skin cells. Around 40,000 of them fall off every hour (1). Over eight hours of sitting, around 320,000 cells will fall off your body as dust. A lot of that will seep into the nooks and crannies of your gaming chair fabric!
The body also secretes sebum, an oily substance that keeps skin moist. The average skin surface area of an adult is 18,000 cm2. (2) The average sebum production rate for adult males is 1.45 mg per 10 sq cm of skin every 3 hours.
In a faux leather chair, skin dust and body oils are easy to wipe off with a damp cloth. In a fabric gaming chair, dust and oils will penetrate deep into your chair's upholstery.
Fabric Upholstery Deodorization
Our original fabric chair cleaning guide included both stain removal and deodorization. Our new method provides better stain removal. However, the original deodorization formula remains relevant:
Follow these steps to completely deodorize your chair:
Sprinkle baking soda over the entire fabric surface.
Work the baking soda into the fabric with a microfiber cloth.
Let the chair sit for 30 minutes (baking soda needs the time to break down dirt particles).
Vacuum your chair and enjoy the fresh smell.
Find the steps repeated below in picture format:
Step 1: Vacuum the Chair
Run a vacuum cleaner over the seat and backrest. This will remove loose dirt and dust.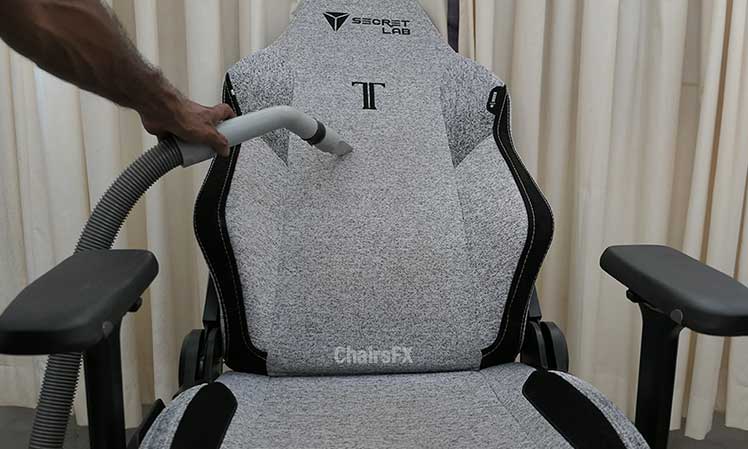 Step 2: Deodorize with Baking Soda
Baking Soda (sodium bicarbonate) is natural and non-toxic with powerful cleaning potential(3). When mixed with water, it dissolves dirt and grease. Applied dry on a chair, it works as an abrasive to lift dirt for easy removal. It also has powerful deodorizing properties.
Generic Arm and Hammer Baking Soda is the default choice. However, I prefer using Arm and Hammer Carpet Odor Eliminator (Price not available on Amazon).
Beyond its baking soda base, this adds a clean, fresh scent. (It also works great at deodorizing mattresses). On either a chair or a mattress, follow these steps:
Apply a liberal amount of powder onto the soiled surface.
Work the baking soda into the fabric using a microfiber cloth.
Give the chemical reaction time to unfold.
When the powder finds dirt particles, it breaks down particle compounds. That eliminates odors and loosens bits for the vacuum to suck up.
Step 3: Vacuum Away The Baking Soda
Arm & Hammer advises to let its Carpet Odor Eliminator sit for 30 minutes before vacuuming off. That should give enough time for the dirt compounds to break down. However, I feel the longer you let it sit, the better its deodorizing effects.
If you want to clean as deeply as possible, let the powder sit overnight on your chair. Those in a hurry can do 30 minutes.
(Optional) Deodorize Under Direct Sunlight
Sunlight is one of the world's most powerful disinfectants(4). If any bacteria survived the baking soda bath, this step will finish the job.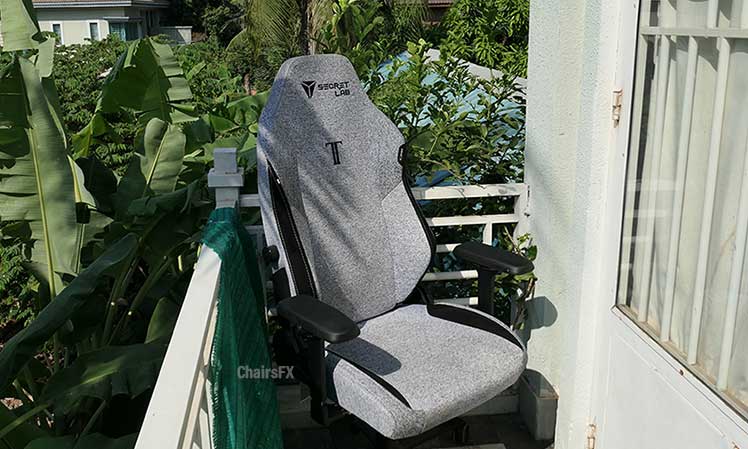 Put your chair under direct sunlight for an hour or so. That's plenty of time to let powerful UV rays obliterate lingering bacterial buildups.
Conclusion
If you sit full-time in a fabric gaming chair, you should deep-clean it every 3 months or so. THis guide gives you two easy options to remove stains and deodorize your chair.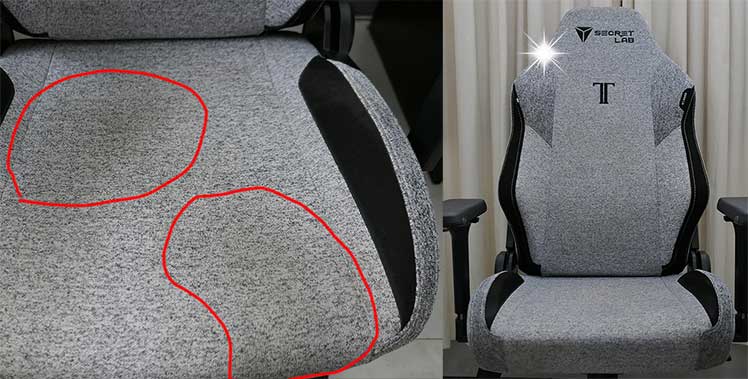 I find the process extremely gratifying. Removing stains will make your chair look brand new. A deep baking soda and sunlight deodorization will also yield a freshly-laundered scent.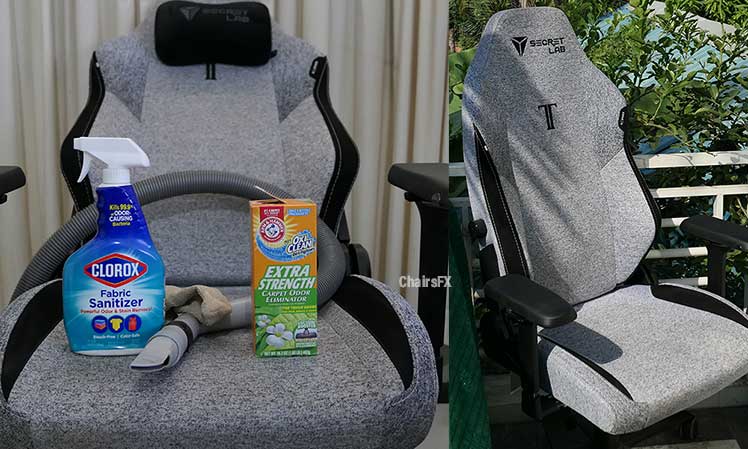 Finally, if fear of stains has prevented you from buying a fabric chair, this guide should put that to rest. For a look at the top fabric models on the market right now, see this feature:
Best Fabric Gaming Chairs For Deep Relaxation
Footnotes