Like the video game, the Secretlab Titan Minecraft chair's aesthetics are expansive. It's the only fabric gaming chair in the world blending two fabric weaves into one design. Each custom weave is stunning on its own. Combined, the design comes alive with colorful noise. From a distance, it sends out chilled, refreshing vibes. Here's an up-close look at the Secretlab Titan Evo 2022 Minecraft Creeper fabric gaming chair.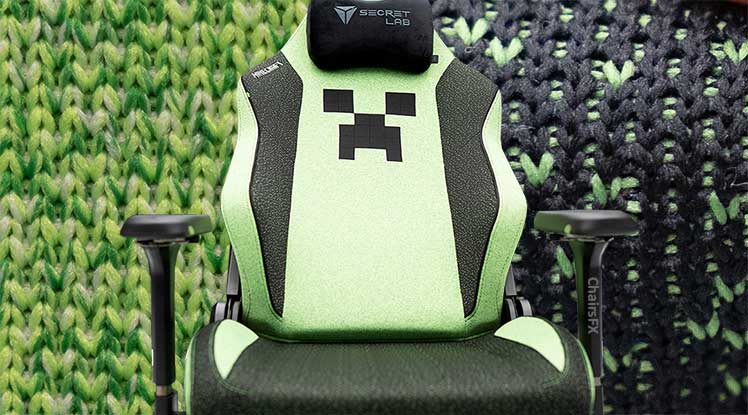 First released in 2009, Minecraft is one of the greatest video games of all time. It's a sandbox video game developed by Sweden's Mojang Studios. A traditional sandbox lets children play however they want.
Minecraft does the same in an open, procedurally generated 3D world. Last year, Minecraft reached new heights by topping 141 million players per month(1).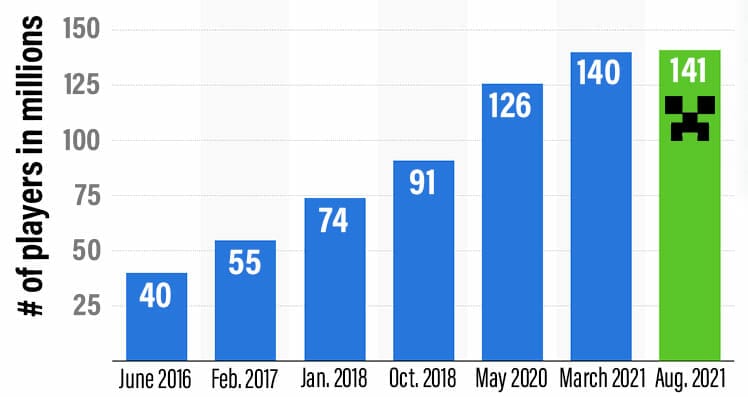 Major game updates were a big driver of growth. The most recent version 1.18 dropped in Dec. 2021 as a huge expansion. It introduced 8 new biomes, a new terrain generation system, plus big cave and cliff updates(2).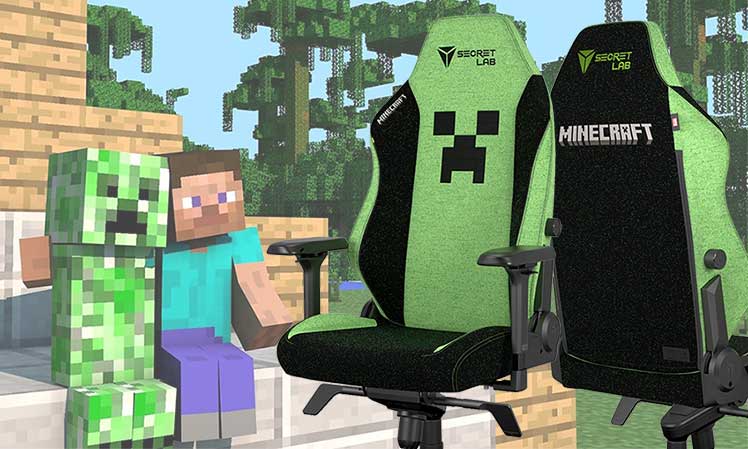 That has left 141+ million users with infinite new terrain to explore. The average game takes around 100 hours(3).
That means Minecraft gamers will spend a lot of time sitting as the year progresses. Enter the Secretlab Titan Evo 2022 MineCraft edition as the perfect gaming chair for the job!
Available from Secretlab in North America, the EU and UK, Oceania, Singapore, and Malaysia.
Titan Minecraft Edition (medium) $594
Minecraft Edition (small) $594 | Minecraft Edition XL $644
Titan Evo 2022 Minecraft Chair Review
Every two years, Secretlab updates its Titan gaming chairs. Compared to the 2020 Series, 2022 Titan chairs saw big ergonomic and upholstery improvements.
2022 Series SoftWeave Plus introduced a new technical knitting method. It loops resilient yarn fibers in a porous weave that lets more air pass through. It also lets designers control every pixel in a chair's design.
All standard SoftWeave chairs show this technology off with gradient side wing fades. The Minecraft chair pushes this technology even further with multicolored speckled effects.
Related Titan Chair Designs
There's no doubt that the Minecraft Creeper edition is a stunner. But before deciding on buying one, it's worth checking some other spectacular Titan designs. Here are two related collections:
Conclusion
The average Minecraft game takes around 100 hours. Since there's no actual ending to the game, it could take even longer. Sitting for that long without support can overwork muscles and knot up your lower back.
When suffering from back pain, concentrating on a Minecraft session is difficult. The Secretlab Titan Minecraft edition is a perfect solution.
Choose a small, medium, or XL chair appropriate for your body type. Then, use the built-in lumbar and magnetic headrest to support your spine while you game. That will let you grind through hundreds of Minecraft hours in blissful comfort!
Even if you're not a Minecraft fan, this design has appeal. It's the world's only two-tone fabric gaming chair. It's also one of the most detailed. Its cool green base recalls lush tropical forests. The black speckled seat buzzes with visual activity.
Whether fleeing from Creepers or grinding spreadsheets, Secretlab's Minecraft chair will delight. It's good for your back and easy on the eyes, with a tangy and refreshing vibe.
Available from Secretlab in North America, the EU and UK, Oceania, Singapore, and Malaysia.
Titan Minecraft Edition (medium) $594
Minecraft Edition (small) $594 | Minecraft Edition XL $644
Footnotes