A good gaming chair provides physical comfort by supporting good sitting posture. The upholstery laid over the top of the chair impacts psychological (perceived) comfort. Standard faux leather models deliver a sleek, professional, office-style look. In contrast, fabric ones are softer and more breathable, with a cozier aesthetic. Would you rather work from home all day wearing leather pants or plush luxury pajamas? If the latter, check out these rankings: best fabric gaming chairs of 2023.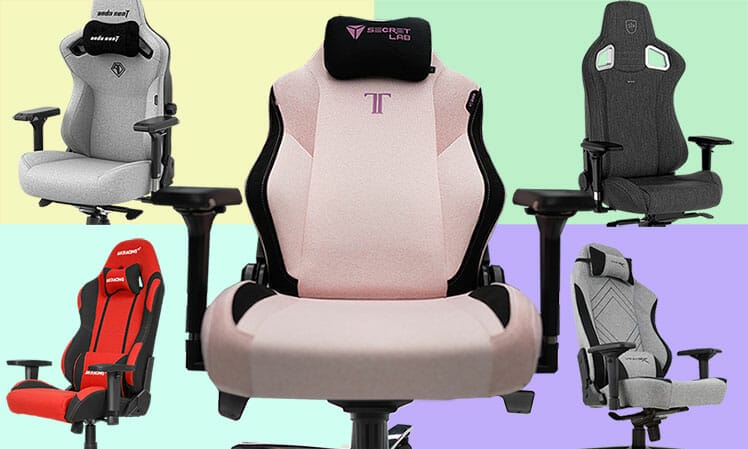 In the car seat industry, upholstery serves as the 'interface' between the human body and the seat. This means seated comfort is influenced by the upholstery(1).
For instance, good-quality ergonomic seats with different upholsteries yield different comfort perceptions. If one has a poor-quality cover, its comfort potential sags. If it also has poor ergonomics, comfort will plummet.

Car seat comfort factors include aesthetics, sensory appeal, thermal consistency, and correct pressure distribution (2).
These factors translate easily to gaming chairs. Aesthetically, fabric-upholstered models give off a homier, more casual dynamic than other upholstery types.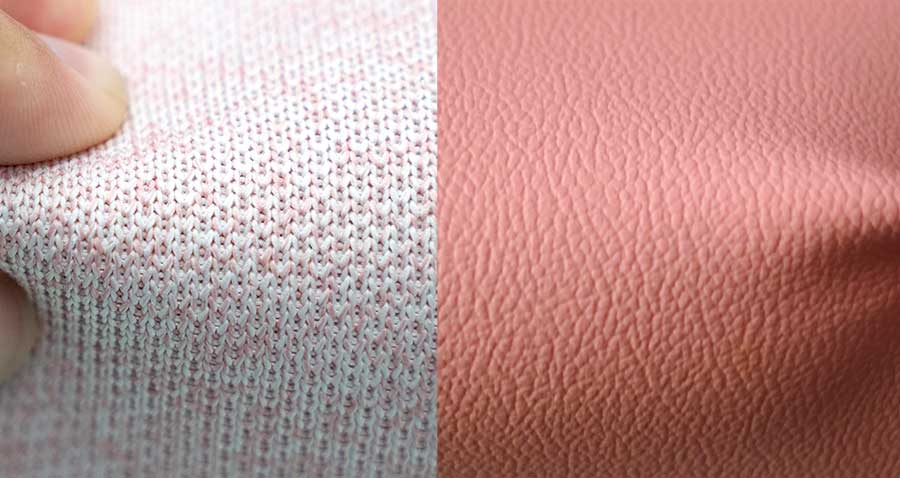 On the sensory level, fabric upholstery won't touch any skin while sitting in a gaming chair clothed. Even so, you can feel its texture through your clothes. That provides a better butt grip than slick, semi-slippery faux leather chairs.

Regarding thermals, enhanced breathability helps fabric-upholstered seats maintain consistent temperatures over long computing sessions.
Combined, all aspects help to explain why many prefer fabric gaming chairs over faux leather ones.
Best Premium Fabric Gaming Chairs
Aesthetics, sensory appeal, thermals, and correct pressure distribution. These dictate the potential comfort of a car seat. This review ports these factors over to fabric gaming chairs as secondary ranking factors.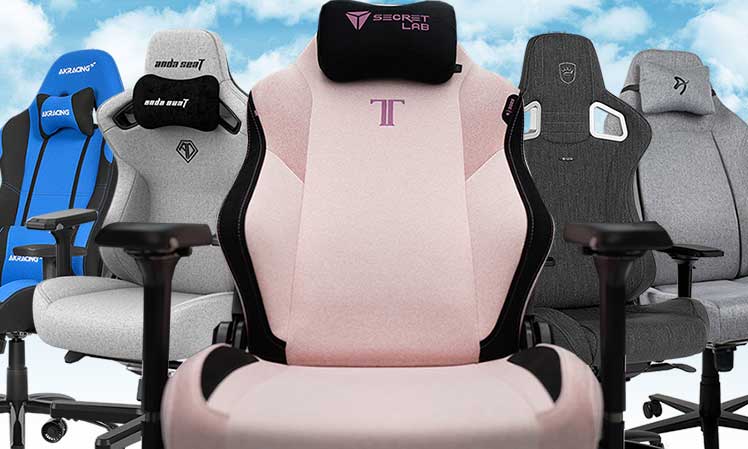 In my experience, all fabric chairs offer similar sensory appeal and thermal consistency. Pressure distribution varies; firmer padded seats like Secretlab's Titan provide a more even spread. In contrast, squishier seats are more comfortable — in the short term.
Thus, this review prioritizes the value for money of the chair under the skin. Value for money = back support quality and features + price + length of warranty .
As a third ranking factor, we consider the quality of the fabric upholstery. There, Secretlab's Softweave fabric stands out; the rest have a cookie-cutter consistency.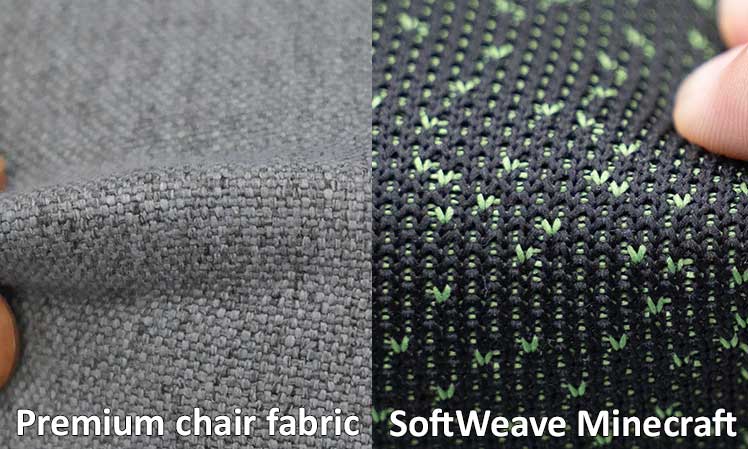 Using this formula, here are our top-ranked fabric gaming chairs of 2023:
Secretlab Titan EVO 2022 SoftWeave Series
$549-$644 from Secretlab
Rated #1
The Titan ranks #1 by a large margin across the board. On the fabric front, voracious user demand has resulted in eleven SoftWeave fabric styles. All of these show off the most advanced technical knit on the market. See for yourself: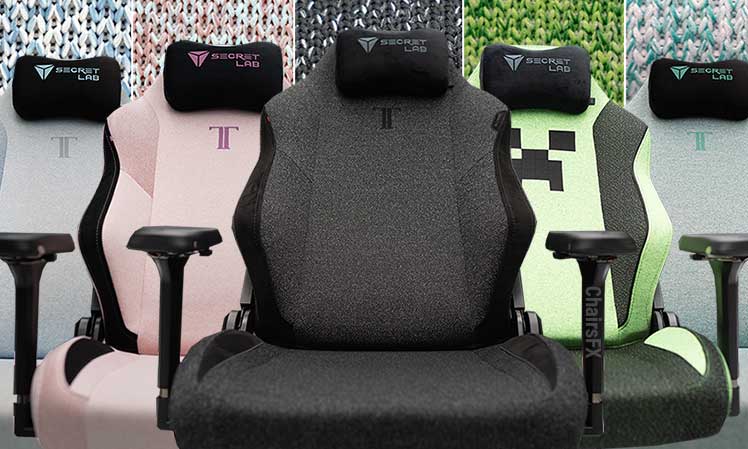 Traditional fabrics use a flat, tight basket weave. In contrast, SoftWeave Plus interlaces loops of high-tensile yarn fibers. That enhances breathability by allowing more air to pass through.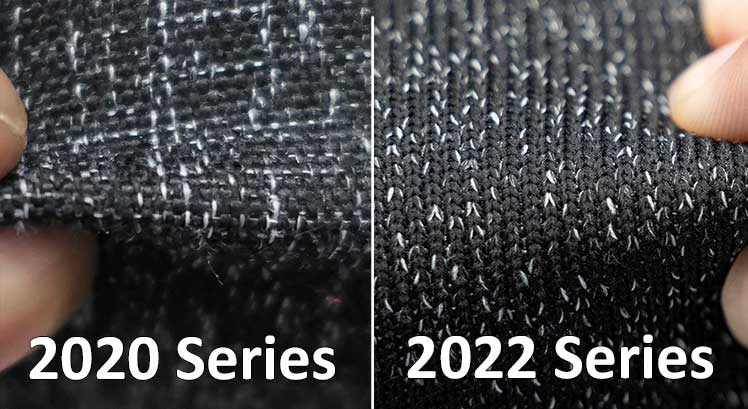 This process also allows greater design control over every thread. Each style boasts exquisite detailing with smart color palettes that produce distinct effects.
Titan Evo Key Features
The Titan Evo 2022 stands out with two groundbreaking features. Its integrated lumbar support lets you adjust both the height and depth. A matrix of 63 adaptive hinges laid over the top adjusts dynamically as the user moves.

The second highlight is a magnetic memory foam headrest. Without straps, it offers a massive 11″ adjustment range. In tandem with the lumbar system, this ensures perfect support for your particular spinal curves.

Titan 2022 chairs come in a choice of small, medium, and XL sizes. There's a fit here for all body types from ages 12 and up.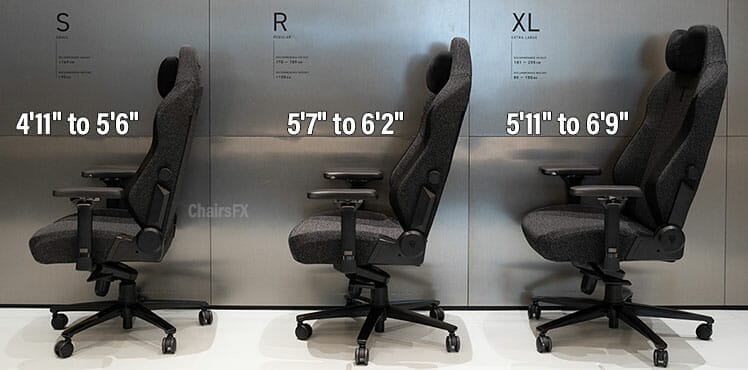 Summary of specs:
Functionality: 4D magnetic arms; multifunction tilt-lock; recline from 85-165°.
New 2022 Series Features: integrated 4-way lumbar support; magnetic headrest pillow; pebble seat base with waterfall edge; CloudSwap armrest caps.
Upholstery: Neo Hybrid Leatherette (35 styles); Softweave Plus Fabric (8 styles).
Warranty: five years.
| | | | |
| --- | --- | --- | --- |
| Specification | Titan 2022 Small | Medium | XL |
| Seat (total inner width) | 17.7″ (W) x 18.9″ (D) | 18.5″ (W) x 19.3″ (D) | 19.3″ (W) x 19.7″ (D) |
| Backrest | 20″ (W) x 32.3″ (H) | 21″ (W) x 33.5″ (H) | 22″ (W) x 35″ (H) |
| Seat height | 17.7″ to 20.5″ | 17.7″ to 20.5″ | 18.1″ to 21.9″ |
| Size rating | 4'11" to 5'6″; 285 pounds | 5'7″ to 6'2″; 285 pounds | 5'11" to 6'9″; 395 pounds |
Pros and Cons
Several months of full-time use in a Cookies and Cream edition revealed two downsides. First, the body sheds skin dust and body oil while you sit. Over time, that will build up into ugly, smelly stains.

Luckily, plastic-based fabrics are stain-resistant. The fabric cleaning section explains how to (easily) keep your chair hygienic and stain-free!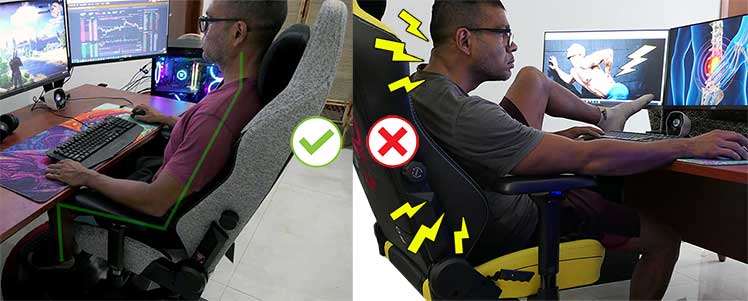 The other problem concerns ergonomics. Instead of forcing you to sit with good posture, the Titan chairs make it an option. Freestyle sitting is very comfortable — but potentially harmful. Doing so too often can alter muscle patterns and destroy good posture habits.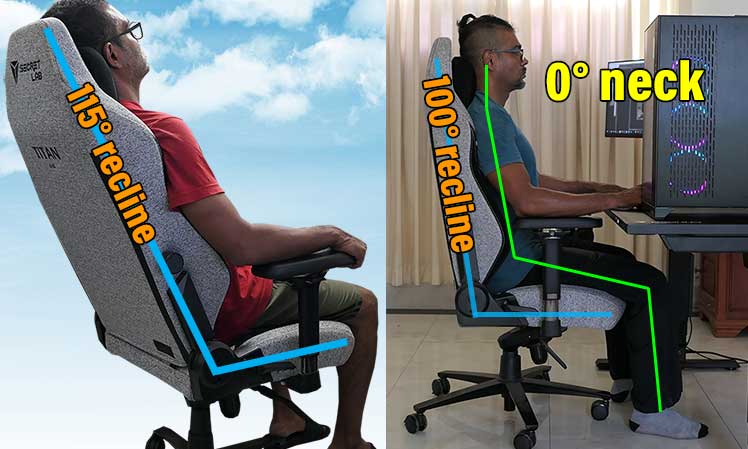 On the flipside, with discipline, this chair supports perfect back — and neck — posture with plush, luxurious comfort!
Pros
Three sizes to fit all body types
Best-in-class integrated lumbar
Spacious seat wide enough to sit cross-legged
Strapless magnetic headrest pillow
Intricate fabric designs with gradient fade effects
Cons
You need discipline to maintain good posture habits
Inevitable stains need (infrequent) deep cleanings
2022 Titan SoftWeave Plus (medium) $549-$644
Learn more: SoftWeave 2022 Series Review (11 styles up-close)
Razer Iskur Grey Fabric Edition
$499 from Razer
Rated #2
The Iskur's only fabric version is a plain-ish-looking grey style. Even so, it ranks #2 overall because of its popularity. That chair has a massive cult following with glowing praise from legions of happy users. Two things set it apart.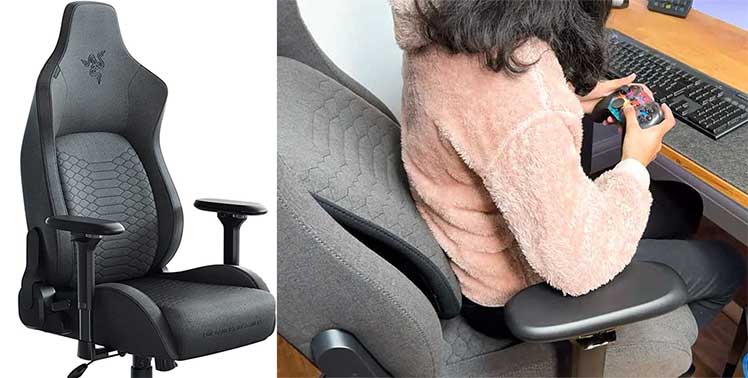 First, its 3-year warranty (many competitors only offer two years). Second, its unique flip-up lumbar support is very easy to use.
Razer Iskur Key Features
The Iskur's highlight feature is its flip-up lumbar support. To sit straight, simply flip it up until it hits your lower back curve. That bracing will make it easy to sit up straight for a lengthy gaming session.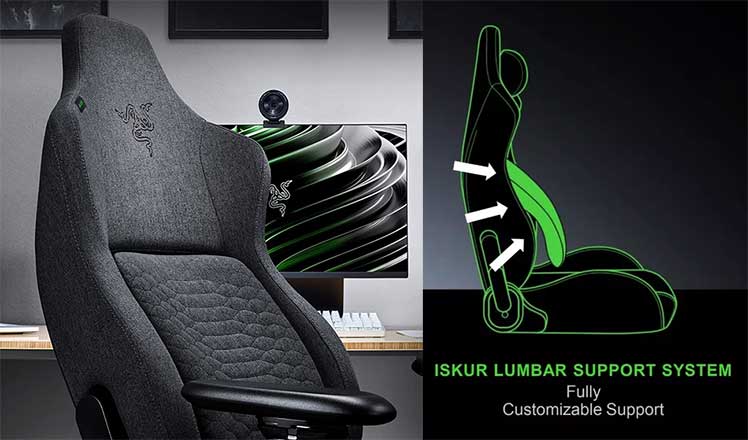 That unique feature makes it a versatile chair. Razer rates it for sizes 5'6″ to 6'2″. Even so, those on the shorter side should measure their legs against its 18.3″ seat depth.
One downside: the Iskur comes with a standard instead of a multifunction tilt lock. That means you can rock the chair, but not lock the seat at angles. Given the premium price tag, this downgrade is a bummer.
Functionality: 4D arms; standard tilt-lock; recline from 90-139°, flip-up lumbar.
Upholstery: ultra-soft, spill-resistant grey fabric.
Warranty: three years.
Seat usable W x D: 15.3″ (W) x 18.3″
Backrest W x H: 16.5″ (lumbar width); 20″ (shoulder) x 32″ (H)
Seat height range: 16.5-20.4″
Armrest height range: 2.9″
Size rating: 5'6″ to 6'2″ (170-190 cm); up to 299 pounds (136 kg).
Pros and Cons
The Iskur is comfortable, super-easy to use, and in vogue among cool gamer kids. The sizing is also versatile enough to fit most average sizes.
Pros
Foolproof lumbar support
Comfortable and easy to use
Most Iskur users rave about their chairs
Cons
Plain grey fabric styling
No multifunction tilt lock
The flip-up lumbar negates upper back support while sitting upright.
On the downside, it's a pricey chair that only comes with a cheap standard tilt lock (usually found on sub $300 chairs).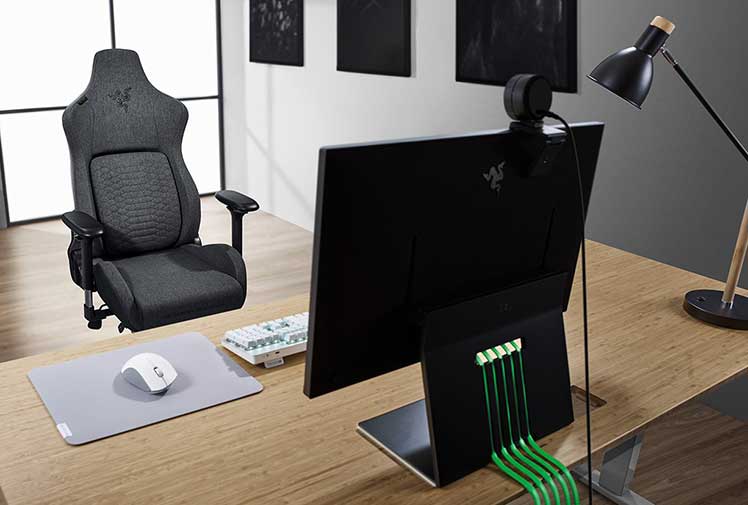 Even so, its 3-year warranty and foolproof back support make the Iskur the second-best fabric gaming chair of the year.
Learn more: Razer Iskur Technical Specs Review
Iskur Grey Fabric Chair $499 from Razer
The Iskur fabric edition is also available (sporadically) on Amazon for Price not available.
E-Win Champion Series CPG
$295 $369 from E-Win
Rated #5
Compared to flashy Corsair and Noblechairs models, E-Win CPG fabric chairs look plain and frumpy. But under the skins, there's plenty of ergonomic muscle.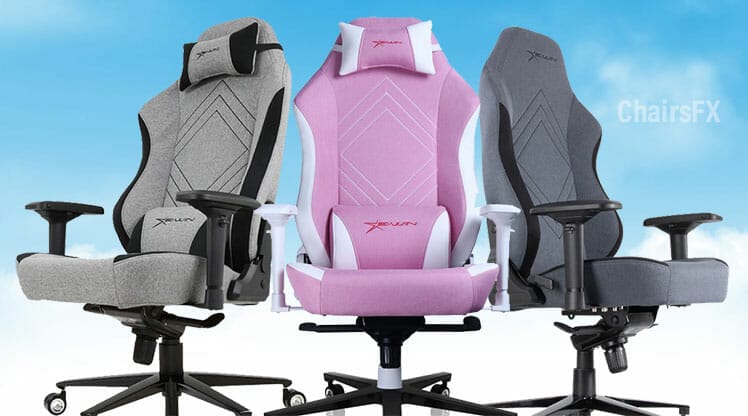 For under $300, you get 4D arms, a multifunction tilt-lock, support for 400 pounds, and a 2-year warranty. So despite the plain looks, E-Win CPGs provide excellent value for money.
E-Win CPG Chair Specifications
CPG chairs pair a 400-pound weight capacity with a low seat height range of 15-18.9″ (around 3″ lower than other chairs). This makes them one of the few chairs suited to wide, short bodies.
Functionality: 4D armrests; recline from 85° to 155°; seat angle tilt-lock.
Padding: high-quality cold-cured foam.
Upholstery: breathable woven fabric in two colors.
Warranty: two years on parts, 10 years on the frame.
Seat width x depth: 20.9″ (W) x 21.7″ (D)
Backrest width x height: 21.7″ (W) x 37.8″ (H)
Floor to seat range: 15-18.9″
Size rating: 5'3″ to 6'1″; 400-pound weight capacity
Pros and Cons
The E-Win Champion Series CPG is a rare full-featured gaming chair priced under $300. Like pricier fabrics, its upholsteries are smooth, soft, and breathable. It's laid over a flat, wide seat with plenty of room to move.

So what's the catch? There are a couple. First, to keep prices low, E-Win must cut corners somewhere. As a result, some users have complained of receiving damaged goods. That's not a disaster. If anything goes wrong, E-Win support is easy to reach.
Pros
Spacious seat with flat edges
Good-quality fabric upholstery
Premium ergonomic features
Good fit for short, thick sizes
Cons
The plain design will bore some people.
Scrappy QC standards.
Second, Champion Series CPG chairs aren't as flashy or high-tech as others. If you can live with the plain looks and pillow-powered support, this chair is a great deal.
Learn more: E-Win CPG Fabric Chair Review.
Champion Series CPG from E-Win $295 $369
Use the coupon code ChairsFX to get 20% off.
Noblechairs Epic TX
$539.00 on Amazon
Rated #6
German chair maker Noblechairs places the highest priority on making ultra-gorgeous gaming chairs. So it's no surprise that the Epic is one of the most attractive fabric chairs in this review.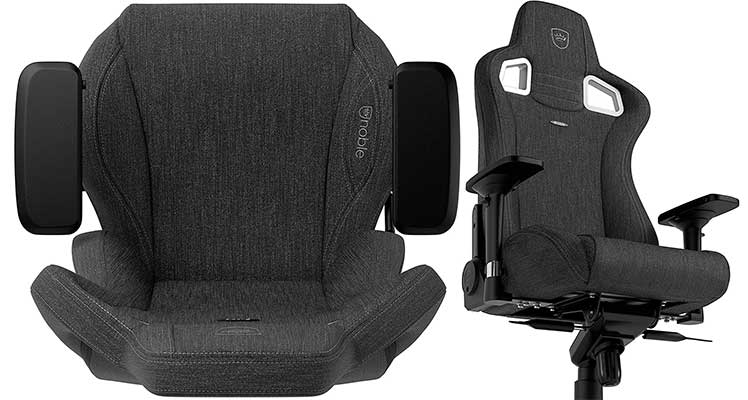 The downside: styling is the Epic's biggest selling point. Under the hood, it serves up 4D arms, a multifunction tilt, an old-school lumbar pillow on straps, and a mere 2-year warranty.
Epic Specifications
The TX edition is one of the latest Epic designs. Besides its Anthracite Black fabric, it has the same merits — and flaws — as the entire Epic line:
Functionality: 4D armrests; recline to 135°; 11° seat angle tilt-lock.
Build: steel frame, 5-point aluminum base, 60mm smooth rolling casters.
Comfort: cold foam padding; neck & lumbar support pillows.
Warranty: 2 years
Inner seat width: 13.75″
Total seat width: 22″
Usable seat depth: 19.5″
Backrest inner width: 11.5″
Backrest outer width: 20.5″
Usable backrest height: 34.4″
Seat height: 19.5-23.4″
Size rating: 5'5″ to 6'2″; 265-pound weight capacity
Pros and Cons
The Epic TX has excellent features and a unique style that resembles a black jean jacket. It's put together with the crisp, contemporary elegance that Noblechairs is famous for.
Pros
Good ergonomic features
Attractive Anthracite fabric
Sharp modern styling
Cons
Its legacy ergonomic features are outdated
High price but only a 2-year warranty
But this elegance is pricey. The Epic TX has the same warranty and features as the E-Win CPG but costs over $100 more. It's also pricier than the Core-EX, which comes with a 5-year warranty.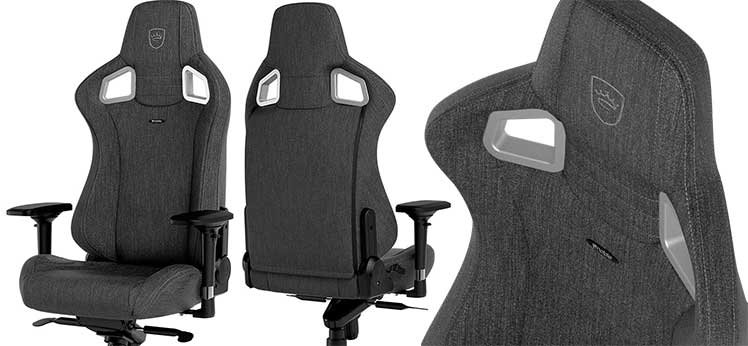 On top of that, its old-school pillows on straps seem archaic compared to the Titan's integrated system. That leaves the Epic TX chair's styling as its main selling point.
Learn more in our Review of the Noblechairs Epic 2022 Collection.
Anda Seat Kaiser 3 Series
$549 from Anda Seat
Rated #4
The Anda Seat Kaiser 3 Series was designed as a Secretlab Titan alternative. It combines the Titan's cutting-edge features with softer padding and a choice of light or dark fabric styles.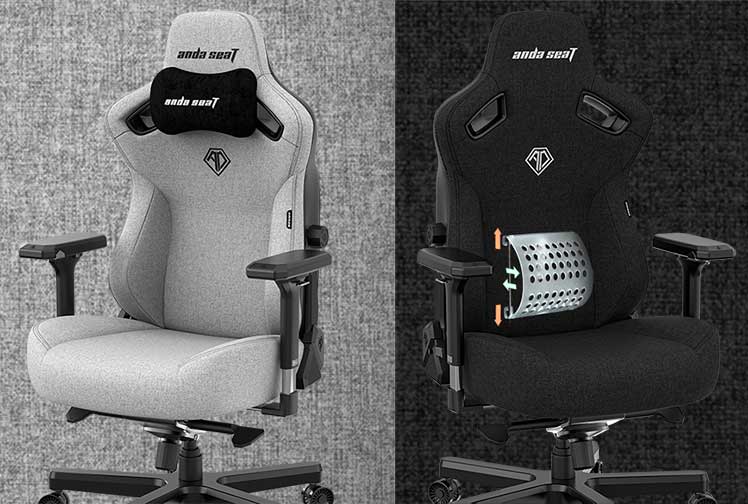 On paper, its features should make it one of the best fabric gaming chairs of the year. Instead, a technical concern drops it all the way down to the fifth spot in these rankings.
Kaiser 3 Specifications
The Kaiser 3 Series chairs have the same advanced features as the Titan chair. Kaiser 3 versions differ on a few fronts. First, they come in medium and XL sizes only. Second, only two fabric styles are available.

Third, while Titan chairs come with 5-year warranty protection, the Kaiser 3 only offers 2 years. Summary:
Lumbar support: integrated, height and depth-adjustable
Headrest: magnetic strapless memory foam pillow with cooling gel insert
Adjustments: 90-165° recline; 4D armrests; multifunction tilt lock
Add-on: Magnetic mounted retractable tabletop
Warranty: two years
Kaiser 3 Series chairs come in large and XL sizes. Prices are the same for both.
| | | |
| --- | --- | --- |
| Spec | Large | XL |
| Seat | 20.2″ (W) x 19.6″ (D) | 20.8″ (W) x 22.4″ (D) |
| Backrest | 21.2″ (W) x 33.4″ (H) | 22.8″ (W) x 33.4″ (H) |
| Seat height | 17-19.6″ | 17.3-20″ |
| Size rating | 5'9″ to 6'3″, 265 pounds | 6'0″ to 6'10", 396 pounds |
Kaiser 3 Downside: Upper Back Support
The Kaiser 3 does not support sharp upright postures at a 100° recline. Last year, three esports doctors helped me achieve perfect neck postures in a Titan chair. The trick: set the backrest at a steep 100° recline; use the headrest to brace the neck. It works well!
Since the Kaiser 3 has the same features as the Titan, I assumed it would provide similar 100° recline support. So I bought a Creamy Pink PVC leather model for testing. Unlike the Titan, the Kaiser's upper back area has no padding under the upholstery!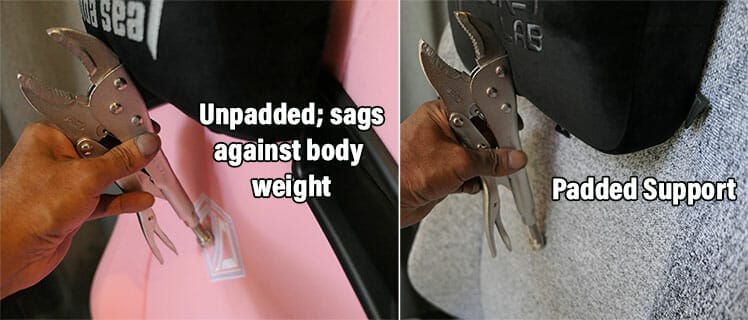 As a result, when I try to sit upright with a 100° recline, my upper back and shoulders hurt after a few hours. After taking side posture photos, I discovered why: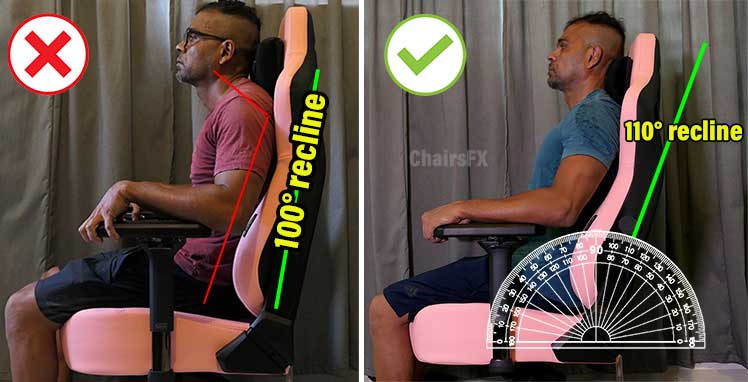 The lack of padding in the upper backrest forces the upper back to sink rearward at a 100° recline. In contrast, setting the recline to a more relaxed 110° recline seems to negate that issue.
Summary of Pros and Cons
To explore Text Neck Syndrome remedies, I sit with a steep 100° recline angle in my Titan chair 90% of the time. I cannot do so in my Kaiser 3 Creamy pink chair.
Pros
Has the same advanced features as the Titan 2022
Has softer padding than stiff Secretlab seats
Good-quality fabric upholsteries
Attractive
Cons
The unpadded upper back area discourages sitting at formal 100° recline angles
Short 2-year warranty (the Titan's is 5 years)
It's worth prospective Kaiser 3 fabric chair buyers keeping the unpadded upper back issue in mind. However, sitting with a 100° recline is extreme; most users kick back to around 110°.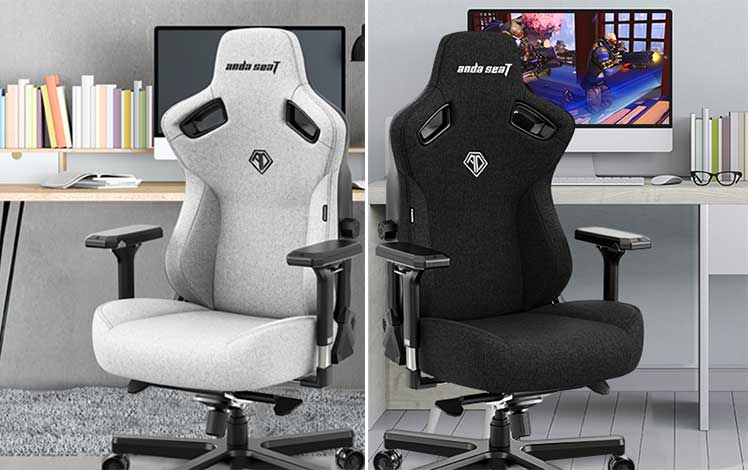 Therefore, the Kaiser 3's upper back flaw won't bother anyone except postural hardcores. Even so, knowing that it exists is concerning. Are there others that I missed? Are you willing to gamble?
Learn more: Anda Kaiser 3 vs Secretlab Titan 2022 Series.
Kaiser 3 chairs are also available on Amazon for $499.99.
AKRacing Core Series EX
$359.00 on Amazon
Rated #8
The Core Series Ex is an old-school pillow-powered gaming chair with prosumer features. Instead of full-featured 4D arms, its arms are 3D. Instead of a multifunction tilt lock (lock the seat at angles), its standard tilt only lets you rock or lock.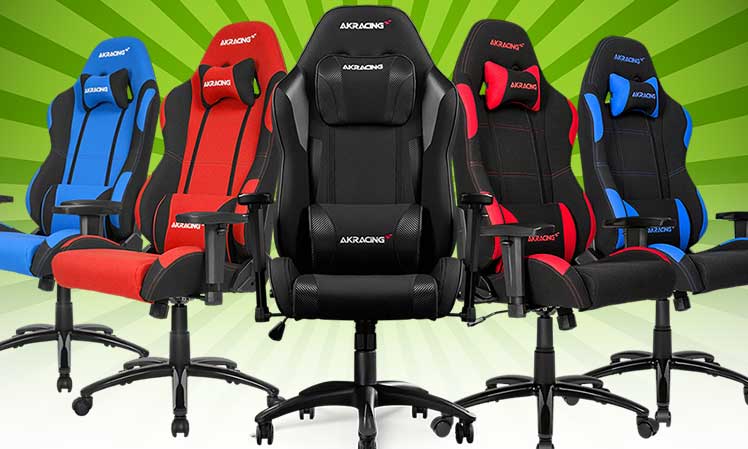 Despite these quibbles, it's a comfortable chair that provides good support. As a sweetener, it also stands out with a legit 5-year warranty (the same as what Secretlab offers).
Core Series EX Specifications
Core Series Ex chairs come upholstered in black, red, or blue fabric with color accent trim. The fabric is of a similar quality as the competition.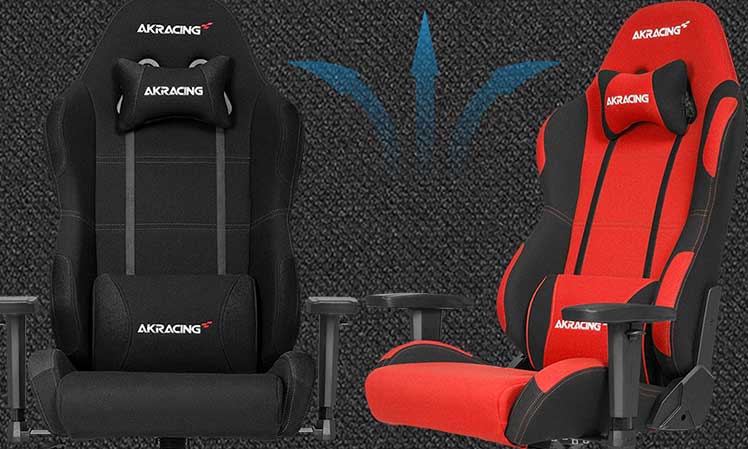 It's soft, breathable, and tough. The seat padding's 55 kg/m³ density is also significantly softer and squishier than Secretlab and Arozzi chairs.
Functionality: 3D armrests; backrest tilt to 180 degrees; tilt tension & rocking.
Comfort: cold cured padding; headrest and lumbar cushions.
Upholstery: 2-tone fabric with color accent stitching.
Support: steel frame; class 4 gas lift; 2.5″ casters.
Warranty: 5 years on parts, 10-years on the frame.
Seat: 20.9″ (W) x 19.7″ (D)
Backrest: 32.6″ (H), 21.2″ (W)
Seat height range: 13.75-17.25″
Total height: 46″ to 49.3″
Size rating: 5'3″ to 6'3″; weight capacity 330 lbs.
Pros and Cons
For feedback, we reached out to Youtuber Dave's Techaway. He did a Core EX unboxing and review in January 2021. He chose the Core EX for two reasons. First, it's a good fit for his 6'1″, 220-pound size. Second, it comes with a 5-year warranty.
These days, he uses it around 30 hours per week and raves. "The build quality is outstanding. After two years of use, it's still like new. It's very comfortable."
Pros
Cool, comfortable seating
Eight 2-tone fabric styles
Superb durability
Cons
Thinner padding than luxury chairs
The lumbar support pillow often moves around
3D armrests are a bit less versatile
Old-school aesthetics
Dave's one quibble is a common one with old-school lumbar pillows: "The lumbar pillow straps need improvement. You have to keep readjusting the cushion because it always moves."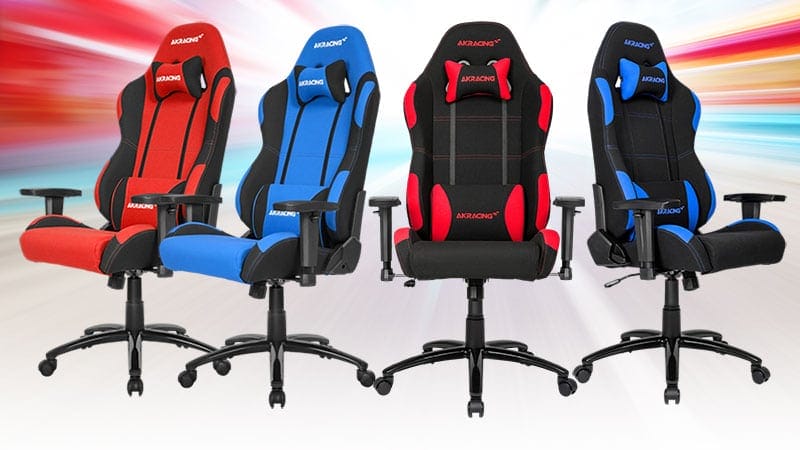 In my opinion, the biggest downside is the old-school design — it hasn't evolved in years. Even so, that's a good fit for people like Dave who prioritize good back support and value over flashy skins.
Learn more: AKRacing Core Series EX Review.
The Core Ex is also available directly from AKRacing for $399.
Corsair T3 Rush
Price not available on Amazon
Rated #5
Like the preceding Core Ex, the T3 Rush serves up fabric skins with prosumer features. But the Core Ex has a 5-year warranty; the T3 Rush is only guaranteed for 2. It's also more expensive than the Core Ex.
But the T3 Rush is (arguably) a prettier chair with a more contemporary look. It's also produced by one of the world's most beloved gaming hardware makers. For these reasons, some might consider the T3 a much better option than the plain-looking Core Ex.
Features
Instead of an old-school lumbar pillow on straps, T3 rush chairs come with a strapless memory foam lumbar pillow. These are significantly softer than stiff Amazon lumbar pillows.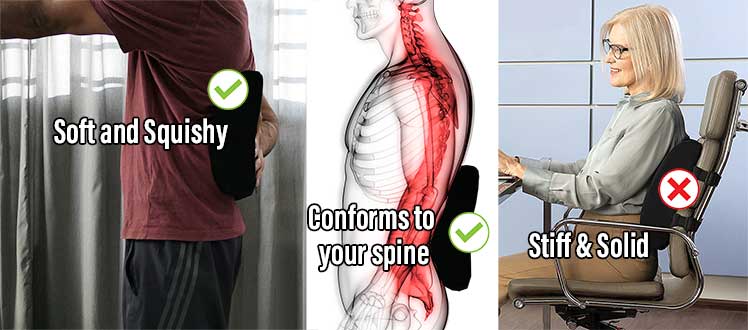 They're also easier to use than classic lumbar pillows on straps.
Functionality: 4D adjustable armrests; backrest tilt to 180 degrees; tilt tension & rocking.
Comfort: cold cured padding (55 kg/m³); headrest and lumbar pillows.
Upholstery: nylon fabric.
Warranty: 2 years.
Corsair doesn't include a size rating for this model. Based on its dimensions and Amazon user feedback, it's best suited to slim, average sizes. If you have thick legs of chunky hips, look elsewhere.
Seat width & depth: 22″ (W) x 22.8″ (D)
Backrest width x height: 21.26″ (W) x 33.46″ (H)
Seat height range: 17.5-21″
Size rating: 5'7″ to 6'3″; 264 pound weight capacity
Pros and Cons
If you have Corsair components in your PC, a T3 Rush gaming chair can complete your kit. Corsair logos are embroidered into the front and rear of the backrest. Otherwise, these are understated designs that blend well into most office environments.
Pros
The memory foam pillow works better than a traditional one on straps
Attractive design
Good aesthetic complement for a Corsair-powered PC
Cons
No multifunction tilt lock
No standout features
On the downside, T3 chairs only have a standard (rock or lock) seat tilt. Most of the other chairs in this price range have a multifunction tilt (to lock the seat at angles). Second, despite the high price tag, T3 chairs don't have any standout features.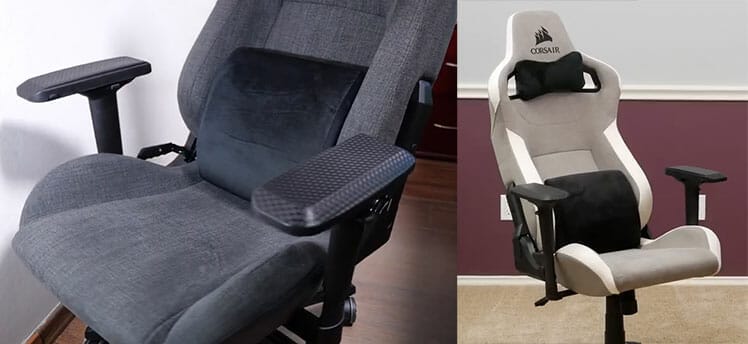 Bottom line: the T3 Series of chairs provide soft, breathable, supportive comfort for slim figures of average height.
Gaming Chair Upholstery Comparisons
Here's how gaming chair fabrics compare to other types of chair upholsteries:
Fabric vs Full Mesh
Full mesh offers the best breathability. Fabric upholstery comes second in breathability, but first in soft, sensory appeal. Fabric is also a lot more durable than mesh over the long term.

Studies on car seat thermals (3) show that breathable covers only make a padded seat marginally cooler. Once air passes through the fabric, it comes to a near-stop against a thick slab of foam. That makes fabric gaming chairs less breathable — but more durable.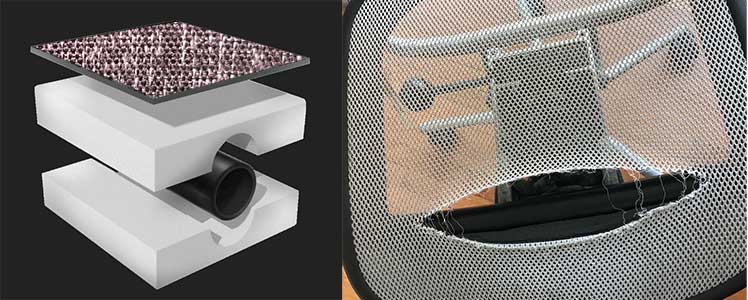 Unsupported mesh sags under body weight. Once it tears, the chair is ruined. In comparison, padded gaming chair fabrics won't stretch or even wrinkle after years of use.
Fabric vs PU leather vs PVC
All gaming chair upholsteries are based on chemical plastic blends. PU leather chairs are the most common. Modern blends of PU leather are tough, decently breathable, and fairly durable.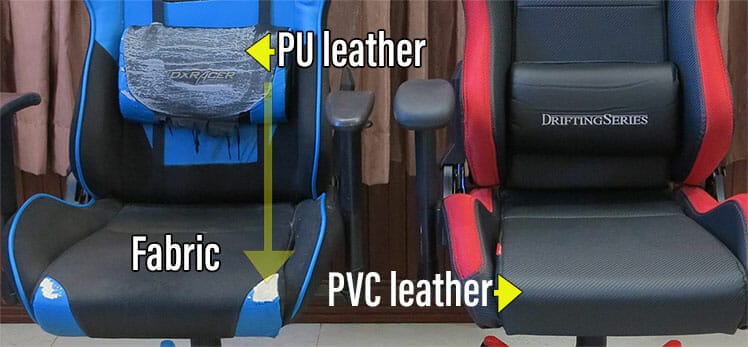 PVC is a thicker, tougher version of PU leather. It's a bit less breathable, but more durable. Gaming chair fabrics match the durability of PVC, with better breathability.
| | | | |
| --- | --- | --- | --- |
| Type | Aesthetics and feel | Breathability | Durability |
| Synthetic fabric | Most are plain designs with a soft feel. | Better than PU leather | Excellent |
| PU leather | Attractive and easy to clean. Feels smooth and leather-like. | Good | Good |
| PVC leather | Thicker than PU leather with a tough, rubber-like feel. | Average | Excellent |
These days, even cheap gaming chair upholsteries offer good breathability. Whichever type you choose, clamminess shouldn't be an issue.
Keeping A Fabric Gaming Chair Clean
Fabrics absorb sweat and body oils. Over time, that will leave stinky, smelly stains. Luckily, it's easy to deep-clean and deodorize a chair using common household ingredients.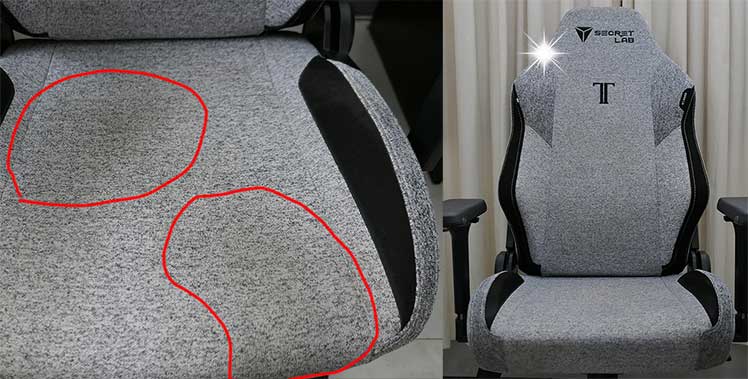 There are a few easy cleaning methods to consider. For quick spot removal, laundry detergent scrubbed into the fabric with a pad works well.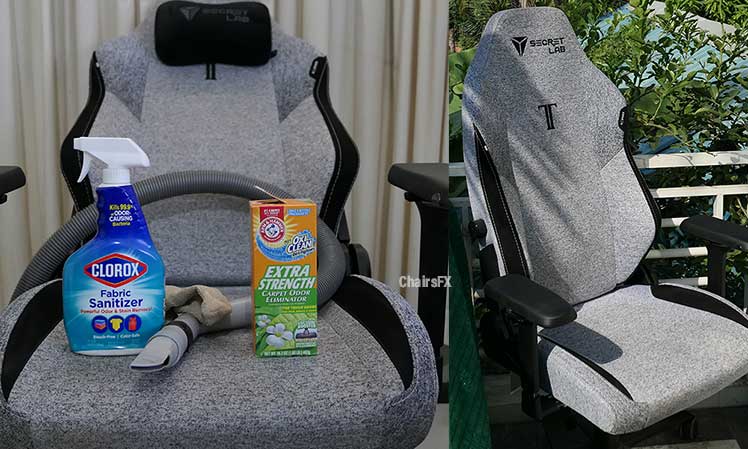 Beyond stains, you can also deodorize your chair using baking soda and sunlight. Cleanings typically take around ten minutes of work and a few hours of drying time.
Learn how to keep your fabric chair looking (and smelling) like new for years:
Conclusion
This article reviews the seven best fabric gaming chairs of 2023. Most offer a similar quality of fabric upholstery. Models differ by price, warranty protection, and ergonomic features. The big incentive to buy any is the soft, breathable upholstery.
I find that sitting full-time in soft, plush upholstery makes a big difference! It adds a casual feel to the experience, like wearing sweats instead of a business suit.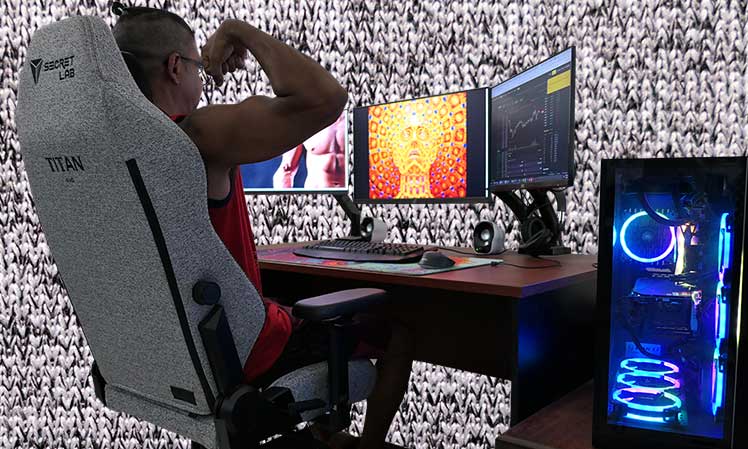 Over a long day of high-tension computing, this sensory extra can help soothe your body and mind. Enjoy long periods of healthy sitting with soft, plush, soothing sensations!
Footnotes
Singh, P. et al. 'Effect of Fabric Type and Construction on Automotive Seating Comfort'. SAE Technical Paper 2013-01-0654, 2013, https://doi.org/10.4271/2013-01-0654, (accessed 18 March 2023).
Antonín Havelka, et al. 'Testing the effect of textile materials on car seat comfort in real traffic'. First published online December 1, 2019, https://doi.org/10.1177/15280837198896, (accessed 18 March 2023).
Ing. Funda Büyük Mazari, 'A Study On The Comfort and Thermo-Physiological Properties of Car Seats', (Liberec: University of Liberec, 2017) http://www.ft.tul.cz/document/1753, (accessed 19 Dec. 2021).