Seated comfort has physiological and psychological aspects. Physiological comfort comes from good posture support that wards off muscular stress. Psychological comfort comes from the aesthetics, functions, and upholstery of a chair. On both fronts, a fabric gaming chair is the most comfortable you can get. This article explains why. Then, it ranks the best fabric gaming chairs of 2022.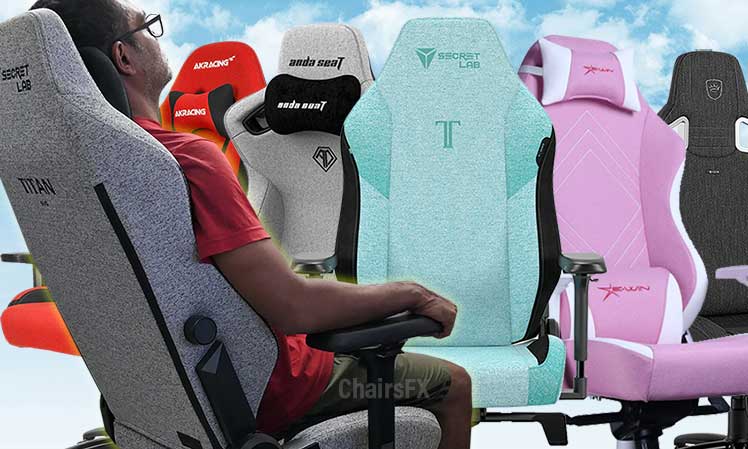 A fabric gaming chair is the most comfortable type of ergonomic seating on the market. ChairsFX bases this declaration on two things.
First, our own in-house user experience tests. Second, key comfort rating factors from contemporary desk chair and car seat studies.
Many of these consider both physiological (objective) and psychological (subjective) factors when measuring a seat's comfort potential. On the physiological front, non-ergonomic desk chairs are bad for your back.
Meanwhile, there's a key difference between ergonomic office and gaming-style chairs. Mid-back ergonomic chairs force you to sit in (comfortable) upright positions at all times.
Full-back gaming chairs don't force you. Instead, they also give you the option to kick back and relax. In the modern computing era, relaxation-oriented functionality fills a significant need.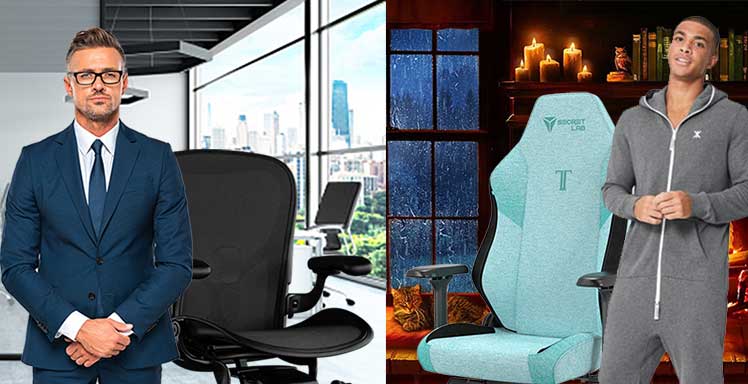 As technology becomes more prevalent in life, physical and mental problems have emerged. Musculoskeletal disorders arise from extended computing over long periods. Mental ones come from the cognitive overload of doing so.
A good fabric gaming chair can soothe these ills on two fronts. First, by providing good posture support. Second, by calming the mind with a soft, breathable, deeply relaxing sitting experience.
Best Premium Fabric Gaming Chairs
Physiological vs psychological factors reveal fabric gaming chairs as the most comfortable. But which fabric chair model is best? To determine that, we drill down further to chair-specific factors.
This study(1) proposes thermophysiological, sensorial, and ergonomic factors as the keys. Regarding the first, most gaming chair fabrics across all price ranges have similar thermophysiological qualities.
Air passes through the fabric into a thick slab of foam. That only yields a slightly cooler seat in hot weather(2). More significant is its 0% sweat rate. Instead of pooling, fabrics absorb moisture, wicking it away from the body. This will leave stains.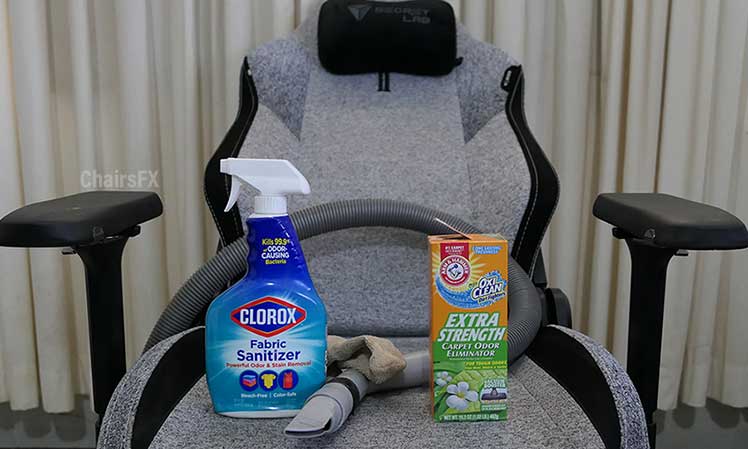 Luckily, deep cleaning a fabric chair is cheap and easy. That leaves sensory and ergonomic qualities as the key ranking factors.
Based on those, here are the best fabric gaming chairs of 2022: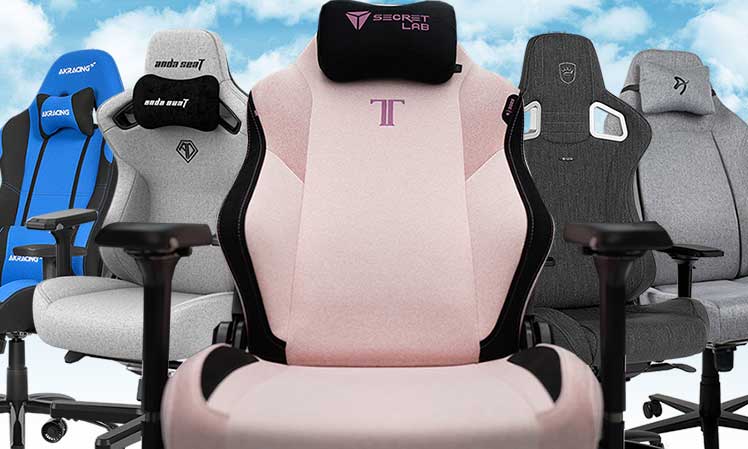 Note: 'ergonomic' ratings assess how well a chair's features support dynamic neutral sitting positions. That's the gold standard for healthy sitting in any type of ergonomic chair.
Secretlab Titan EVO 2022 SoftWeave Series
$539-$664 from Secretlab
Rated #1
The Titan ranks as the best racing-style gaming chair on both sensorial and ergonomic levels. It comes in eight stunning SoftWeave fabric styles that show off the most advanced technical knit on the market.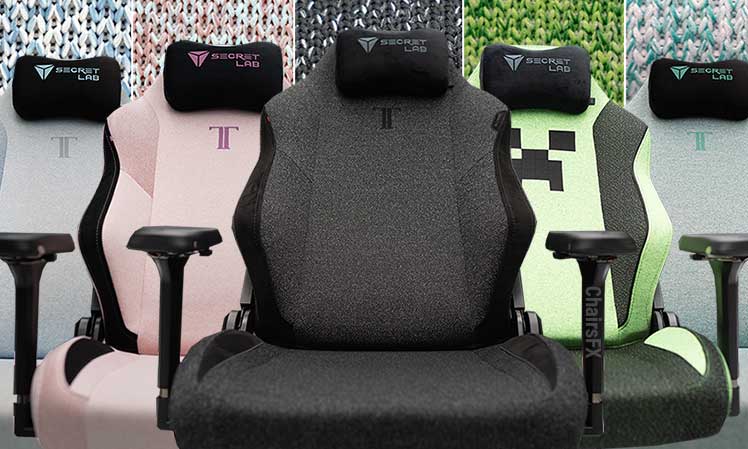 Traditional fabrics use a flat, tight basket weave. In contrast, SoftWeave Plus interlaces loops of high-tensile yarn fibers. That enhances breathability by allowing more air to pass through.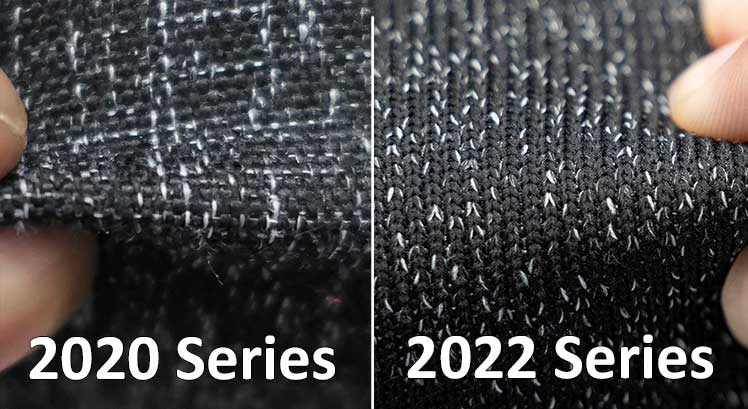 The new process also allows greater design control over every thread. Each style boasts exquisite detailing with smart color palettes that produce distinct effects.
Titan Evo Key Features
The Titan Evo 2022 stands out with two groundbreaking features. Its integrated lumbar support lets you adjust both the height and depth. A matrix of 63 adaptive hinges laid over the top adjusts dynamically as the user moves.

The second highlight is a magnetic memory foam headrest. Without straps, it offers a massive 11″ adjustment range. In tandem with the lumbar system, this ensures perfect support for your particular spinal curves.

Titan 2022 chairs come in a choice of small, medium, and XL sizes. There's a fit here for all body types from ages 12 and up.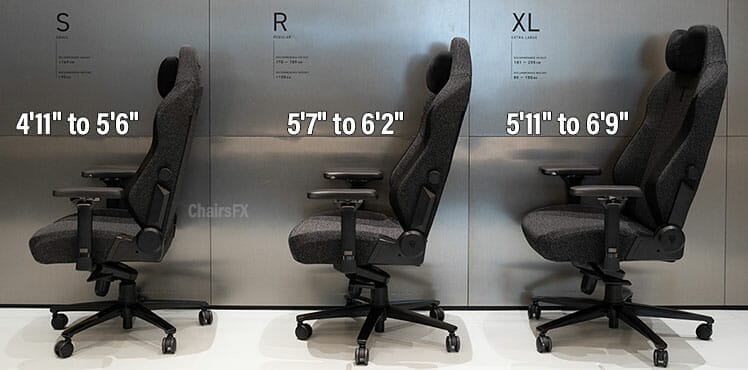 Summary of specs:
Functionality: 4D magnetic arms; multifunction tilt-lock; recline from 85-165°.
New 2022 Series Features: integrated 4-way lumbar support; magnetic headrest pillow; pebble seat base with waterfall edge; CloudSwap armrest caps.
Upholstery: Neo Hybrid Leatherette (35 styles); Softweave Plus Fabric (8 styles).
Warranty: five years.
| | | | |
| --- | --- | --- | --- |
| Specification | Titan 2022 Small | Medium | XL |
| Seat (total inner width) | 17.7″ (W) x 18.9″ (D) | 18.5″ (W) x 19.3″ (D) | 19.3″ (W) x 19.7″ (D) |
| Backrest | 20″ (W) x 32.3″ (H) | 21″ (W) x 33.5″ (H) | 22″ (W) x 35″ (H) |
| Seat height | 17.7″ to 20.5″ | 17.7″ to 20.5″ | 18.1″ to 21.9″ |
| Size rating | 4'11" to 5'6″; 285 pounds | 5'7″ to 6'2″; 285 pounds | 5'11" to 6'9″; 395 pounds |
Pros and Cons
Several months of full-time use in a Cookies and Cream edition revealed two downsides. First, the body sheds skin dust and body oil while you sit. Over time, that will build up into ugly, smelly stains.

Luckily, plastic-based fabrics are stain-resistant. A dry baking soda scrub with a microfiber cloth will keep your chair hygienic and looking like new!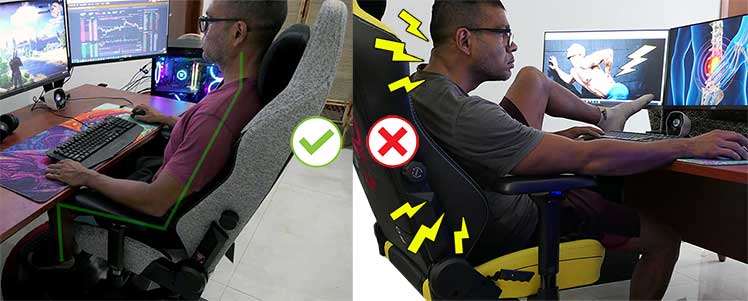 The other problem concerns ergonomics. Instead of forcing you to sit with good posture, the Titan chairs make it an option. Freestyle sitting is very comfortable — but potentially harmful. Doing so too often can alter muscle patterns and destroy good posture habits.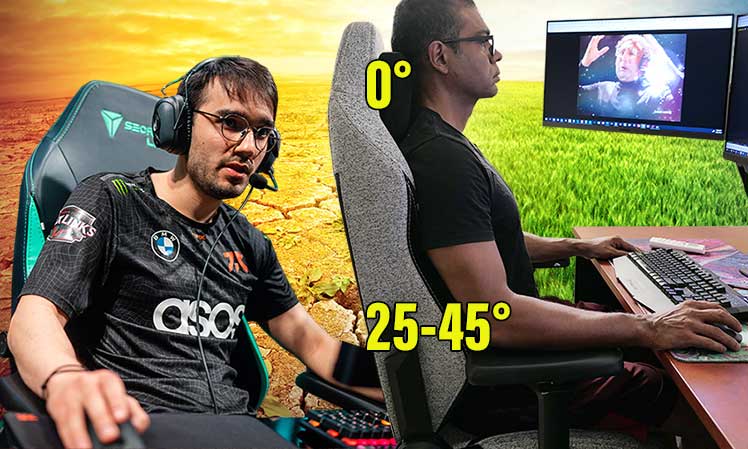 On the flipside, with discipline, this chair supports perfect back — and neck — posture with plush, luxurious comfort!
Pros
Three sizes to fit all body types
Best-in-class integrated lumbar
Spacious seat wide enough to sit cross-legged
Strapless magnetic headrest pillow
Intricate fabric designs with gradient fade effects
Cons
You need discipline to maintain good posture habits
Inevitable stains need (infrequent) deep cleanings
Final Verdict
The Titan is the ultimate gaming chair for hard-core pros. Team Liquid, Evil Geniuses, Cloud9, and other world-leading teams all use Titan chairs.
Note that a key part of professional success in any field is discipline. With disciplined use, the Titan Evo 2022 Series delivers crisp posture support, sweet comfort, and no limits.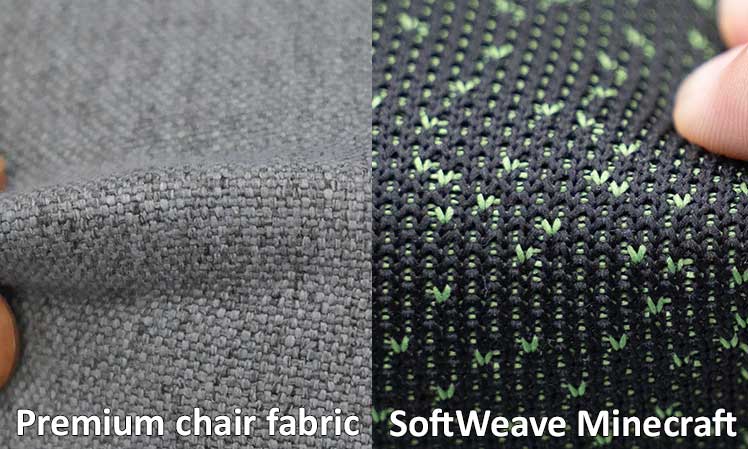 The SoftWeave editions are the best fabric versions money can buy. In fact, you can see major differences under a macro lens. Secretlab's material is thicker, fluffier, and more visually complex.
There are eight cool, neutral, and warm styles. See this SoftWeave 2022 Series Collection Review for details.
2022 Titan SoftWeave Plus (medium) $539-$614
Titan SoftWeave Plus (small) $539-$614 | Titan SoftWeave Plus (XL) $589-$664
Herman Miller Embody Gaming Chair
$1795 from Herman Miller
Rated #2
This mid-back anomaly makes our 'gaming chair' rankings for three reasons. First, it's literally called the Embody Gaming Chair. Second, it's clad in ultra-breathable fabric. Third, it offers what many consider the best back support in the world.
For these reasons, it ranks #2 on our list — as an exception to the full-back norm. Notably, many famous streamers have given up on full-back chairs for an Embody.
For instance, Ninja, Shroud, and Timthetatman, and many other top names all now use this chair. So what are the attractions? There are several.
First, the Embody has better thermophysiological properties than any other gaming chair. Under its fabric upholstery are two spring layers and one layer of thin padding. Without thick slabs of foam, that allows better airflow.
Second, it also provides much better spinal support than full-back racers. On the downside, it's not as easy to use. Inexperienced ergonomic users who get their settings wrong may do more harm than good.
Embody Features
Most chairs prioritize back support to the lumbar region. The Embody differs by focusing support on the thoracic (upper) spine. Once that support is locked in, a fixed curve then supports the lumbar (lower back) region.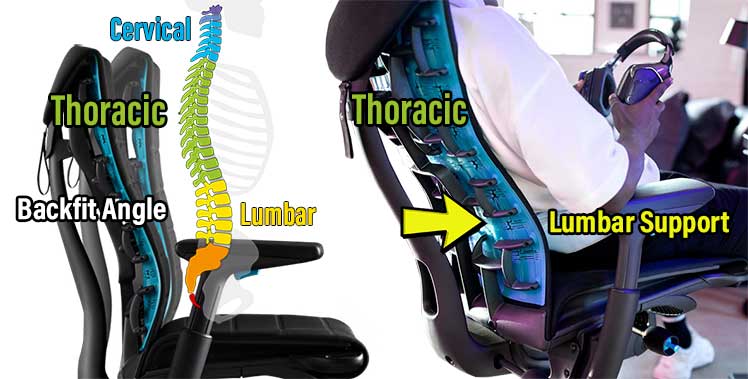 If you don't know what healthy back angles are, configuring the backrest is tricky. Setting it right will balance your head evenly above the shoulders. But if your settings are off, it might tilt your neck forward instead!
The trick is to get your head around the Backfit Adjustment concept. First, you need to twist the adjustment knob forward until it cups your upper back. Once it does, twist the knob counter-clockwise. That will angle the lower part of the backrest towards your lumbar curve.

For a more detailed explanation, check out our Embody Gaming Chair Review.
Summary of Specifications
Synchro-tilt: seat pan angle 3° to 15°; backrest 94° to 120°
Pixelated back support: the backrest has a central spine with flexible ribs. Each rib adjusts when you move for consistent support of your spinal curves.
BackFit angle adjustment: lets you angle the backrest to fit the curvature of your spine.
Seat adjustments: adjust the seat's height and depth.
Armrests: 2D-adjustable
Backrest: adjust recline tension; 3-position tilt-lock; synchro-tilt
Sizing specs: 5'4″ to 6'2″; 300-pound weight capacity
Seat: 21.25″ (W) x 15″-18″ (D)
Backrest: 14″ (W) x 23.5″ (H)
Armrests: 11.5-21″ width range; 4-8.75″ height range.
Seat height: 16-20.5″
Seat depth: 15-18″
Size Rating: 5'4″ to 6'2″; 300-pound weight capacity
Embody chairs come in a range of styles. Among classic editions, you can choose a dark or light base color, plus six different fabric colors. Graphite bases are the cheapest; Titanium and white versions cost more.
There are also a pair of gaming editions. Both come clad in all-black fabric with a choice of blue or black accents.
Pros and Cons
People suffering from kyphosis or a forward neck posture will find the Embody chair a godsend. With a good configuration, the upper back support will stick to your upper spine like glue. To maintain a good posture, all you need to do is rest your body weight against the backrest.
The problem is that the Backfit adjustment isn't intuitive. Without ergonomic experience, getting the hang of this chair's settings may seem like rocket science.
Pros
Museum-quality aesthetics
Ultra-responsive backrest
Spacious seat
Next-level armrest adjustability
More breathable than thick padded chairs
12-year warranty
Cons
Expensive up-front cost
The Backfit settings aren't beginner-friendly
The backrest makes noise when you move.
Final Verdict
The Embody's fabric seat delivers a cooler sitting experience than a padded gaming chair seat. As well, its complex functionality has compelled many of the world's top streamers to switch over from gaming chairs.
However, this is a powerful seat for experienced ergonomic chair users. Can you handle this much raw ergonomic power?
Embody Gaming Chair From Herman Miller $1595
The Embody Office Edition is also available from Herman Miller for $1745.
Anda Seat Kaiser 3 Series
$549 from Anda Seat
Rated #3
The Anda Seat Kaiser 3 Series is an almost exact copy of the Titan 2022 Series. It has the same 4-way integrated lumbar and magnetic headrest.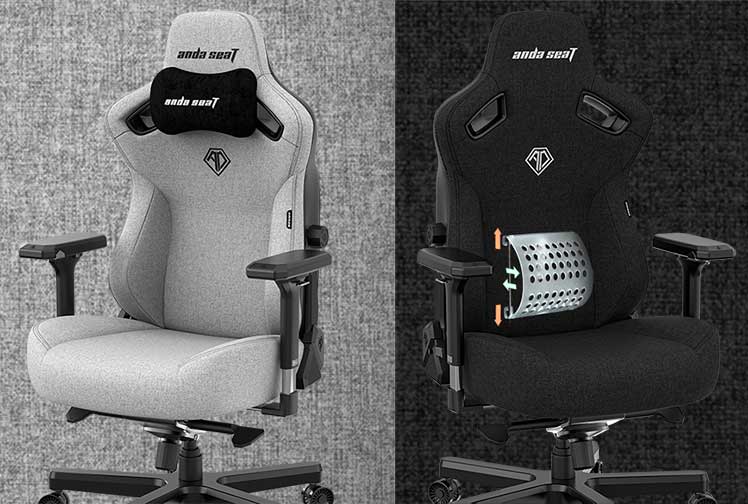 There's nothing new here except (slightly) unique styling. There are seven PU leather styles and two fabric ones.
Kaiser 3 Specifications
Anda's Kaiser 3 Series chairs have the same trio of advanced features as the Titan chair. Kaiser 3 versions differ on a few fronts. First, they come in medium and XL sizes only. Second, only two fabric styles are available.

Third, while Titan chairs come with 5-year warranty protection, the Kaiser 3 only offers 2 years. Summary:
Lumbar support: integrated, height and depth-adjustable
Headrest: magnetic strapless memory foam pillow with cooling gel insert
Adjustments: 90-165° recline; 4D armrests; multifunction tilt lock
Add-on: Magnetic mounted retractable tabletop
Warranty: two years
Kaiser 3 Series chairs come in large and XL sizes. Prices are the same for both.
| | | |
| --- | --- | --- |
| Spec | Large | XL |
| Seat | 20.2″ (W) x 19.6″ (D) | 20.8″ (W) x 22.4″ (D) |
| Backrest | 21.2″ (W) x 33.4″ (H) | 22.8″ (W) x 33.4″ (H) |
| Seat height | 17-19.6″ | 17.3-20″ |
| Size rating | 5'9″ to 6'3″, 265 pounds | 6'0″ to 6'10", 396 pounds |
Kaiser 3 Likes and Dislikes
All chairs in this review have similar thermophysiological properties. Most (including the Kaiser 3) also have indistinguishable fabrics. Expect the look and feel of good-quality furniture fabric.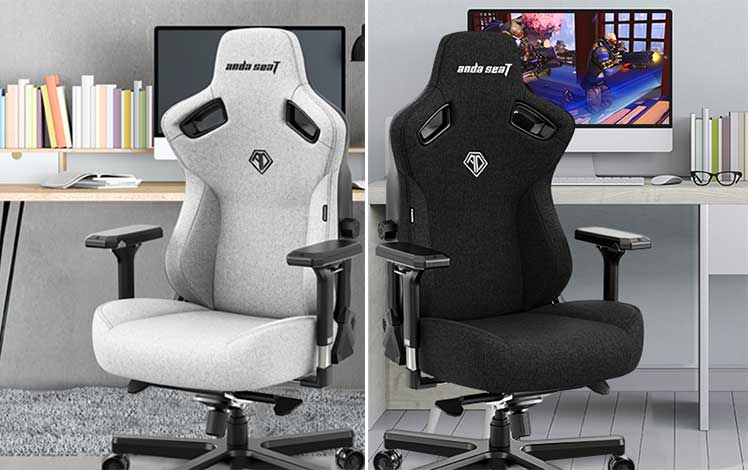 The Kaiser ranks #3 because its ergonomic features are better than lower-ranked chairs. The problem is that its features are exact copies of Secretlab Titan ones.
Pros
4-way integrated lumbar support
Strapless magnetic headrest system
Flat, wide, spacious seat
Two sizes to choose from
Cons
Unoriginal copy of the Titan 2022
Short 2-year warranty (the Titan's is 5 years)
Head-to-head, the Titan is a better deal. It costs around $100 more than a Kaiser 3 — but comes guaranteed for five years. Titan comparisons aside, the Kaiser 3 has better features than other gaming chairs. The 4-way lumbar and magnetic headrest make a big difference!
Learn more in this Kaiser 3 Gaming Chair Review.
E-Win Champion Series CPG
$295 $369 from E-Win
Rated #4
Compared to the flashiest fabric chairs, E-Win's plain-looking CPG fabric chairs might look boring. But under the hood, they pack in plenty of muscle.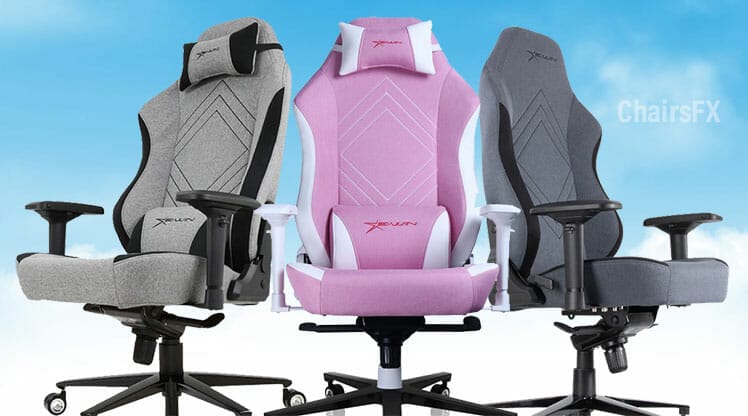 For under $300, you get 4D arms, a multifunction tilt-lock, support for 400 pounds, and a 2-year warranty. What's more, the flat, spacious seat suits even the widest of sizes.
E-Win CPG Chair Specifications
These full-featured fabric gaming chairs support 400 pounds. They also have a low seat height range of 15-18.9″ (around 3″ lower than other chairs). This makes them one of the few chairs suited to wide, short bodies.
Functionality: 4D armrests; recline from 85° to 155°; seat angle tilt-lock.
Padding: high-quality cold-cured foam.
Upholstery: breathable woven fabric in two colors.
Warranty: two years on parts, 10 years on the frame.
Seat width x depth: 20.9″ (W) x 21.7″ (D)
Backrest width x height: 21.7″ (W) x 37.8″ (H)
Floor to seat range: 15-18.9″
Size rating: 5'3″ to 6'1″; 400-pound weight capacity
Pros and Cons
The E-Win Champion Series CPG is a rare full-featured gaming chair priced under $300. Its fabric is smooth, soft, and pleasant against the skin. The wide, ridgeless seat offers plenty of room to move.

So what's the catch? There are a couple. First, to keep prices low, E-Win needs to cut corners somewhere. As a result, some users have complained of receiving damaged goods. That's annoying but not a disaster. If anything goes wrong, E-Win support will help you resolve it.
Pros
Spacious seat with flat edges
Good-quality fabric upholstery
Premium ergonomic features
Good fit for short, thick sizes
Cons
The plain design will bore some people.
Scrappy QC standards.
Second, Champion Series CPG chairs aren't as flashy or high-tech as others. If you can live with that, it's one of the best fabric chair bargains available.
Learn more: E-Win CPG Fabric Chair Review.
Champion Series CPG from E-Win $295 $369
Use the coupon code ChairsFX to get 20% off.
Noblechairs Epic TX
$399.00 on Amazon
Rated #5
Pokimane has spent the past three years riding to streaming glory on a Noblechairs Epic. That powered this German-engineered chair to mega-popularity. Now, fabric fans can get on board with the new fabric-upholstered Epic TX (aka Epic Anthracite Black).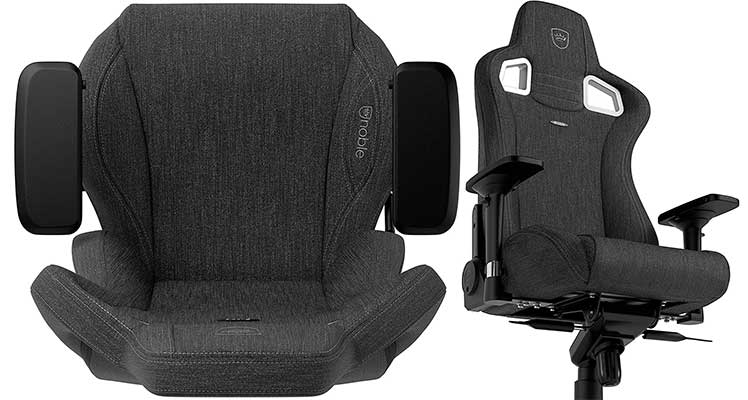 The TX edition is one of the latest Epic designs. Besides its Anthracite Black fabric, it has the same merits — and flaws — as the entire Epic line.
Epic Specifications
The Epic has a fresher style and better features than the Core EX. It also has a higher price and shorter warranty.
Functionality: 3D armrests; backrest tilt to 180 degrees; tilt tension & rocking.
Comfort: cold cured padding; headrest and lumbar cushions.
Upholstery: 2-tone fabric with color accent stitching.
Support: steel frame; class 4 gas lift; 2.5″ casters.
Warranty: 5 years on parts, 10-years on the frame.
Seat: 20.9″ (W) x 19.7″ (D)
Backrest: 32.6″ (H), 21.2″ (W)
Seat height range: 13.75-17.25″
Total height: 46″ to 49.3″
Size rating: 5'3″ to 6'3″; weight capacity 330 lbs.
Pros and Cons
The Epic TX has excellent features and a unique style that resembles a black jean jacket. It's put together with the crisp, contemporary elegance that Noblechairs is famous for.
Pros
Good ergonomic features
Attractive Anthracite fabric
Sharp modern styling
Cons
Its legacy ergonomic features are outdated
High price but only a 2-year warranty
But this elegance is pricey. The Epic TX has the same warranty and features as the E-Win CPG but costs over $100 more. It's also pricier than the Core-EX, which comes with a 5-year warranty.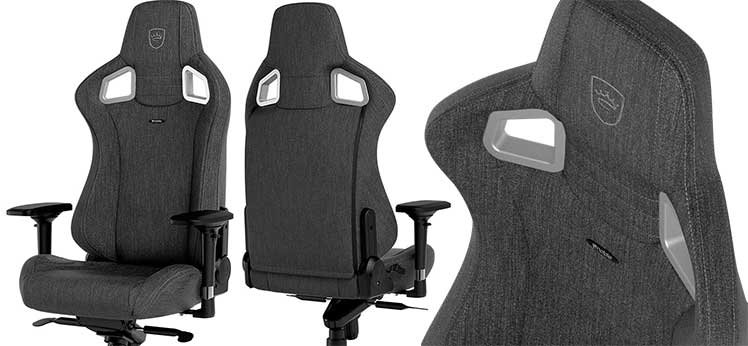 On top of that, its old-school pillows on straps seem archaic compared to the Titan's modern versions. That leaves the Epic TX chair's styling as its main selling point.
Learn more in our Review of the Noblechairs Epic 2022 Collection.
Arozzi Primo Woven Fabric Chair
$340.46 from Amazon
Rated #6
Swedish brand Arozzi's flagship Primo chair is available in light and dark fabric styles. Features include 4D arms, integrated lumbar support, and ultra-firm padding.
Like Epic chairs, styling is the main appeal. Downsides include a high price, cheap 2-year warranty, and ultra-stiff padding.
Arozzi Primo Specifications
Unlike the Titan 2022, the Primo's integrated lumbar is depth but not height-adjustable. If you're shorter than 5'9″, that will feel painful instead of supportive. On the positive side, the flat, wide seat caters to a wide range of body types.
Functionality: 4D armrests; recline to 145 degrees; multifunction tilt-lock.
Comfort: resilient foam padding (70kg/m³); integrated lumbar support; headrest cushion.
Upholstery: premium synthetic woven fabric.
Warranty: two years.
Seat: 20.5″ (W) x 20.5″ (D)
Backrest: 21.25″ (W) x 32.75″ (H)
Seat height: 18.75-22.75″
Size rating: 5'9″ to 6'6″; weight capacity 320 pounds
Pros and Cons
The Arozzi Primo is a good-looking alternative to the 2020 Series Secretlab Titan (now outdated). There are three technical quibbles. First, the integrated lumbar lacks height adjustability.
Second, the Primo chair's padding density (70kg/m³) is the firmest in the industry. Some complain it feels like a rock! Third, despite its premium price tag, it's bundled with a cheap 2-year warranty.
Pros
Premium build and features
Integrated lumbar support
Classy minimalist designs
Cons
Only comes with a 2-year guarantee
Extremely firm padding
On the plus side, if minimalist styling is your priority, Primo chairs will delight. For a closer look, see this Arozzi Primo Chair Review.
The light grey Primo-WF-GYBK is also available on Amazon for $707.00.
Primo WF-BKGY Dark from Amazon $340.46
Also available from Arozzi USA, Arozzi EU, and Wal-mart.
AKRacing Core Series EX
$269.00 on Amazon
Rated #7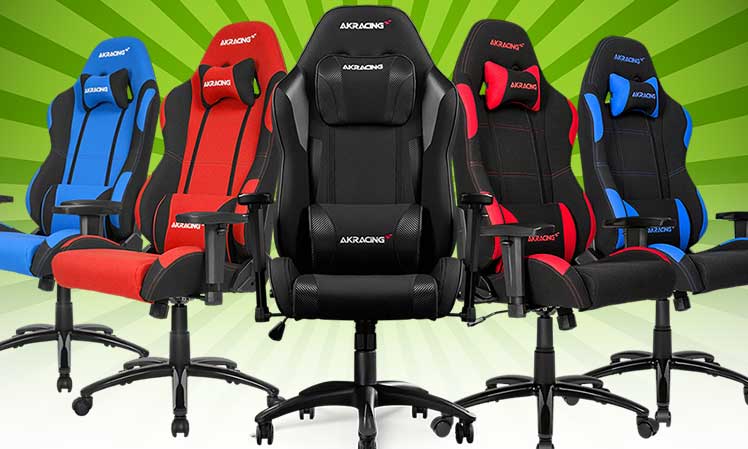 The Core Series EX provides comfortable, durable support without flashy gimmicks. It has a basic office look in eight different fabric styles. All come with prosumer features and a 5-year warranty.
Core Series EX Specifications
Most elite fabric chairs have premium features; the Core EX has prosumer ones. Those include 3D armrests and a standard (not multifunction) tilt. That lets you rock the seat bucket, but not lock it at angles.
The fabric is of a similar quality as the competition. It's soft, breathable, and tough. As well, the padding (55 kg/m³ density) is softer and squishier than Secretlab and Arozzi chairs.
Functionality: 3D armrests; backrest tilt to 180 degrees; tilt tension & rocking.
Comfort: cold cured padding; headrest and lumbar cushions.
Upholstery: 2-tone fabric with color accent stitching.
Support: steel frame; class 4 gas lift; 2.5″ casters.
Warranty: 5 years on parts, 10-years on the frame.
Seat: 20.9″ (W) x 19.7″ (D)
Backrest: 32.6″ (H), 21.2″ (W)
Seat height range: 13.75-17.25″
Total height: 46″ to 49.3″
Size rating: 5'3″ to 6'3″; weight capacity 330 lbs.
Pros and Cons
For feedback, we reached out to Youtuber Dave's Techaway. He did a Core EX unboxing and review in January 2021. He chose the Core EX for two reasons. First, it's a good fit for his 6'1″, 220-pound size. Second, it comes with a 5-year warranty.
He uses it around 30 hours per week and raves. "The build quality is outstanding. After a year of use, it's still like new. The padding is also holding up well. It's still very comfortable to use."
Pros
Cool, comfortable seating
Eight 2-tone fabric styles
Superb durability
Cons
Thinner padding than luxury chairs
The lumbar support pillow often moves around
3D armrests are a bit less versatile
Dave's one quibble is a common one with old-school lumbar pillows: "The lumbar pillow straps need improvement. You have to keep readjusting the cushion because it always moves."
Final Verdict
When Dave went shopping for a gaming chair, his main priorities were comfort and reliability. On those fronts, the Core EX scores very well. It's comfortable, well-built, and guaranteed for 5 years.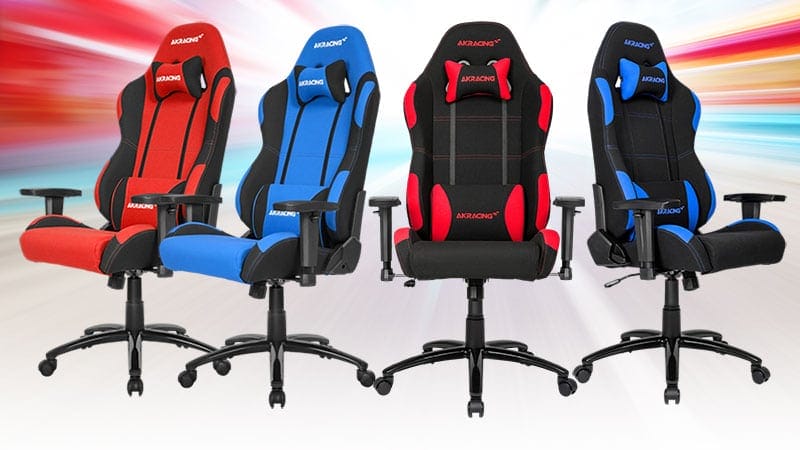 The biggest downside is the old-school design — it hasn't evolved in years. That's perfect for people like Dave seeking simple, effective support.
Learn more: AKRacing Core Series EX review.
Core Ex from AKRacing $311 $399
Also available on Amazon for $269.00.
Gaming Chair Upholstery Comparisons
Here's how gaming chair fabrics compare to other types of chair upholsteries:
Fabric vs Full Mesh
Full mesh offers the best breathability. Fabric upholstery comes second in breathability, but first in soft, sensory appeal. Fabric is also a lot more durable than mesh over the long term.

Studies on car seat thermals (2) show that breathable covers only make a padded seat marginally cooler. Once air passes through the fabric, it comes to a near-stop against a thick slab of foam. That makes fabric gaming chairs less breathable — but more durable.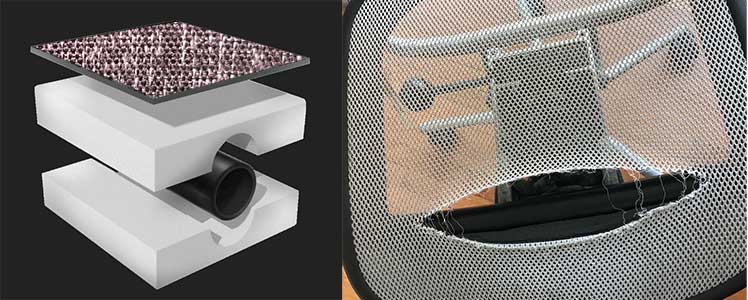 Unsupported mesh sags under body weight. Once it tears, the chair is ruined. In comparison, padded gaming chair fabrics won't stretch or even wrinkle after years of use.
Best Upholstery For Excessive Sweaters
Around 15 million Americans suffer from hyperhidrosis (3). This causes the body to sweat more than it needs to.
If you suffer from this, an absorbent fabric chair will quickly look and smell disgusting! In comparison, it's easy to scrub down full mesh (on both sides) using detergent mixed with water.
Fabric vs PU leather vs PVC
All gaming chair upholsteries are based on chemical plastic blends. PU leather chairs are the most common. Modern blends of PU leather are tough, decently breathable, and fairly durable.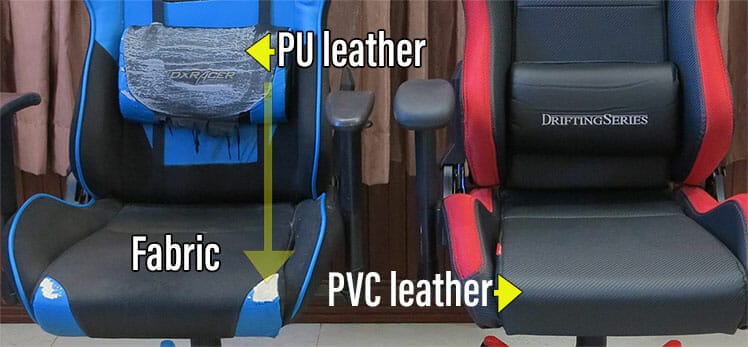 PVC is a thicker, tougher version of PU leather. It's a bit less breathable, but more durable. Gaming chair fabrics match the durability of PVC, with better breathability.
| | | | |
| --- | --- | --- | --- |
| Type | Aesthetics and feel | Breathability | Durability |
| Synthetic fabric | Most are plain designs with a soft feel. | Better than PU leather | Excellent |
| PU leather | Attractive and easy to clean. Feels smooth and leather-like. | Good | Good |
| PVC leather | Thicker than PU leather with a tough, rubber-like feel. | Average | Excellent |
These days, even cheap gaming chair upholsteries offer good breathability. Whichever type you choose, clamminess shouldn't be an issue.
Keeping A Fabric Gaming Chair Clean
Fabrics absorb sweat and body oils. Over time, that will leave stinky, smelly stains. Luckily, it's easy to deep-clean and deodorize a chair using common household ingredients.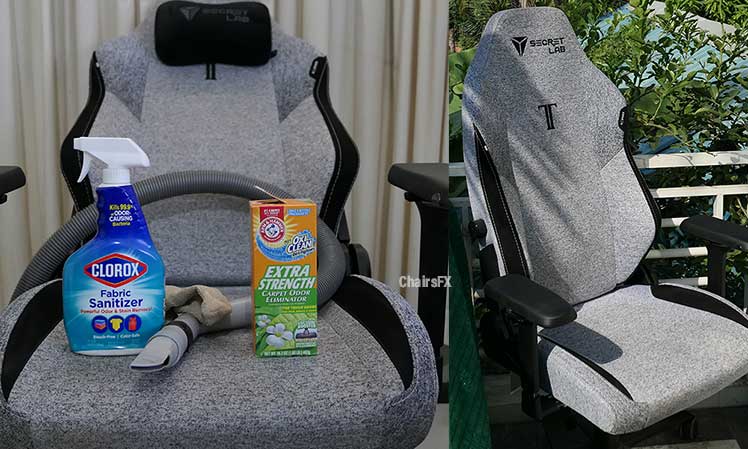 The process uses a dry baking soda bath for deodorization plus a generic upholstery spot remover. It takes around ten minutes of work and a half-hour of waiting time. Using this method, it's possible to keep your fabric chair looking (and smelling) like new for years!
Conclusion
This article reviews the seven best fabric gaming chairs of 2022. Most offer a similar quality of fabric upholstery. Models differ by price, warranty protection, and ergonomic features. The big incentive to buy any is the soft, breathable upholstery.
In my experience, sitting full-time in soft, plush upholstery makes a big difference! It adds a casual feel to the experience, like wearing sweats instead of a business suit.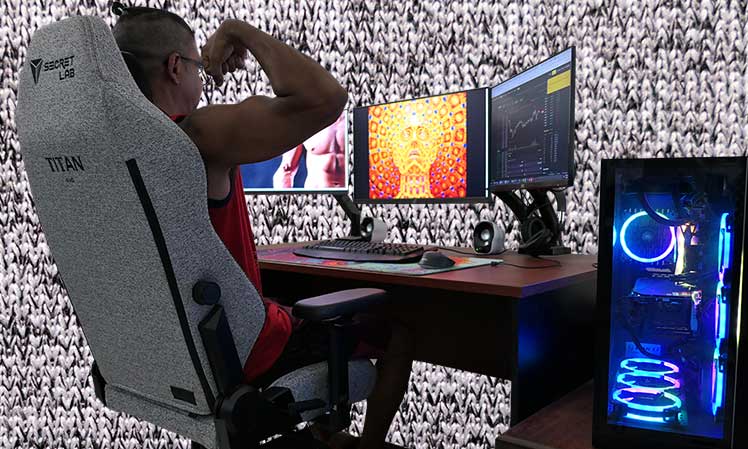 Over a long day of high-tension computing, this sensory extra can make a big difference. Enjoy long periods of healthy sitting with soft, plush, soothing sensations!
Footnotes
Bianca-Michaela Wölfling, 'Comfort Rating for Upholstery Systems', Conference: 2nd International Comfort Congress, June 2020 https://www.researchgate.net/publication/342040536_Comfort_Rating_for_Upholstery_Systems, (accessed 19 Dec. 2021).
Ing. Funda Büyük Mazari, 'A Study On The Comfort and Thermo-Physiological Properties of Car Seats', (Liberec: University of Liberec, 2017) http://www.ft.tul.cz/document/1753, (accessed 19 Dec. 2021).
J. Doolittle, 'Hyperhidrosis: an update on prevalence and severity in the United States', NCBI, Arch Dermitol Res, 2016, https://www.ncbi.nlm.nih.gov/pmc/articles/PMC5099353/, (accessed 23 Dec. 2021).