The Secretlab Titan Evo 2022 is the world's most advanced full-back gaming chair. Anda Seat has paid tribute by replicating its features into the new Kaiser 3 Series. I've been using a Titan 2022 Cookies and Cream for almost a year. So I picked up a Creamy Pink Kaiser 3 for a head-to-head test. How do the two chairs measure up? This Titan 2022 vs Kaiser 3 comparison reaches some very interesting conclusions.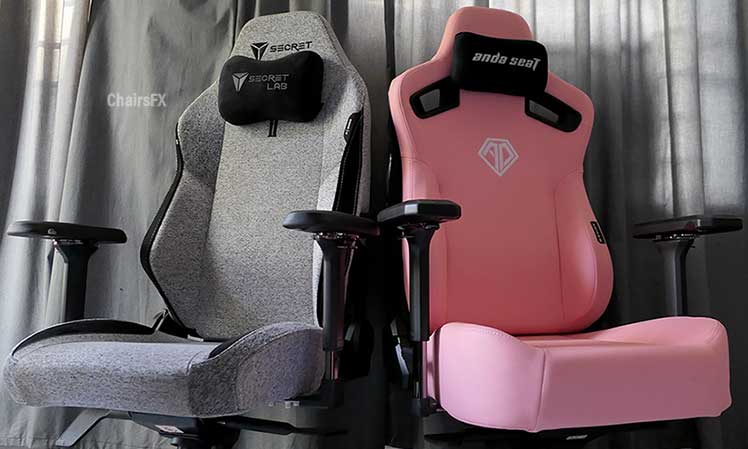 For almost a year, I've been using a medium-sized Secretlab Titan 2022 Series chair as my main ride. Its next-level adjustability has helped me to achieve a biomechanically-perfect neutral sitting posture — as a regular habit.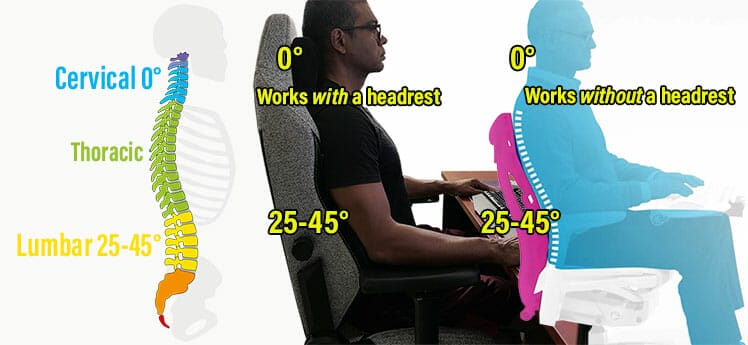 A crisp neutral posture puts the spine in the same position as if in a healthy standing posture. That includes a 25-45° lumbar curve and a 0° neck tilt. These are the same numbers achieved in Herman Miller's best, most posturally-precise ergonomic chairs.
I first started sitting that way as a text neck posture rehabilitation test. However, the benefits of life with good neck posture have been too sweet to abandon.
As a result, when a Kaiser 3 rolled into my office for testing, I put it through very precise posture-support testing. Could it support a perfect neutral sitting posture as well as a Titan 2022 chair? Keep reading to find out.
Titan 2022 Vs Kaiser 3 First Impressions
The Titan 2022 comes in small, medium, and XL sizes. The Kaiser 3 comes in large and XL sizes. This review pits a medium-sized Titan vs a large-sized Anda Seat Kaiser 3. Key specs:
| | | |
| --- | --- | --- |
| Specification | Titan Evo 2022 | Kaiser 3 |
| Lumbar support | Integrated height and depth adjustable | Same as the Titan |
| Headrest | Strapless magnetic headrest | Same as the Titan |
| Armrests | 4D arms with swappable magnetic top caps | Same as the Titan |
| Size options | S, M, XL | L, XL |
| Warranty | 5 years | 2 years |
| Price for test model | $569 (medium) from Secretlab | $449.99 (large) on Amazon |
Side-by-side, the medium Titan and Large Kaiser 3 both appear to be similar in size. The Kaiser 3 differs with a chunkier seat and sharper backrest top curves. It also has dual 'air holes' flanking the headrest area.
Secretlab's Softweave fabric is the best fabric upholstery in the business. It's thicker, softer, and more aesthetically complex than what other brands offer.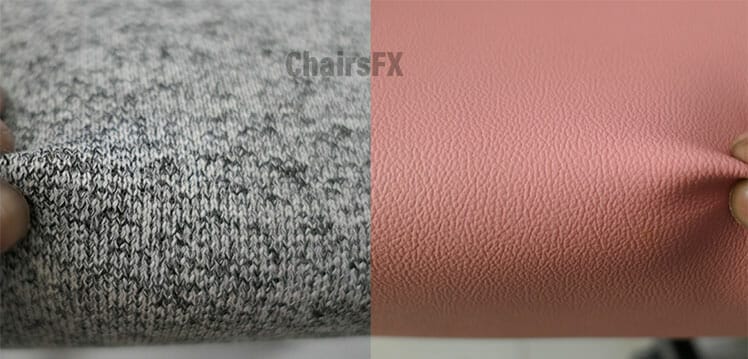 Anda Seat's premium PVC leather is also impressive. It's thicker than PU leather and a lot more durable. Even so, it has a soft, buttery feel with good breathability.
Between the two, SoftWeave has the softness and breathability edge. On the downside, fabric upholsteries require frequent cleanings to manage stains. In contrast, Anda's PVC feels indestructible. Dirt, coffee, and even red wine spills will wipe off in seconds.
Sizing Specifications
Both chairs have similar dimensions on paper. In practice, the Kaiser 3 feels a touch more compact than the Titan.
| | | |
| --- | --- | --- |
| Spec | Titan 2022 (M) | Kaiser 3 (L) |
| Seat | 18.5″ (W) x 19.3″ (D) | 20.2″ (W) x 19.6″ (D) |
| Backrest | 21″ (W) x 33.5″ (H) | 21.2″ (W) x 33.4″ (H) |
| Seat height | 17.7-20.5″ | 17-19.6″ |
| Size rating | 5'7″ to 6'2″, 285 pounds | 4'11" 5'8″ to 6'2″, 264 pounds |
| Price | $569 (medium) from Secretlab | $449.99 (large) on Amazon |
Note that Anda Seat's suggested size rating (4'11" and up) is way too optimistic. Based on my (5'10") impressions, those shorter than 5'8″ will find the seat is too deep and the backrest too large.
Padding Density
Based on our padding density study, firmer padding provides more consistent support. In contrast, softer, squishier padding is more appealing in the short term.

The Secretlab Titan's 65 kg/m³ padding is one of the firmest in the business. Those used to cheap office chair padding may find it extremely stiff at first. Under 18.5 kilos (40 pounds) of weight, it maintains stability with very little compression.
According to Anda Seat's website, the Kaiser 3 padding also has a 65 kg/m³ density. This has to be a typo. Moving from a Titan to a Kaiser 3, the difference in padding density is extremely noticeable.

The Kaiser 3 padding density feels like the DXRacer Master's 54 kg/m³ density. Under 40 pounds of dumbbell weight, you can see how much more it compresses vs the Titan's density.
The upside of softer padding is that it feels squishier. However, that also provides more uneven support, as shown with 40 lbs of dumbbells.
Padding Density Verdict
The Titan's firmer padding provides consistent support. In contrast, the Kaiser 3's more malleable padding density provides slightly uneven support.
Lumbar Support
The Titan was the first gaming chair with an integrated, 4-way adjustable lumbar support. By replicating this functionality, the Kaiser 3 becomes the second.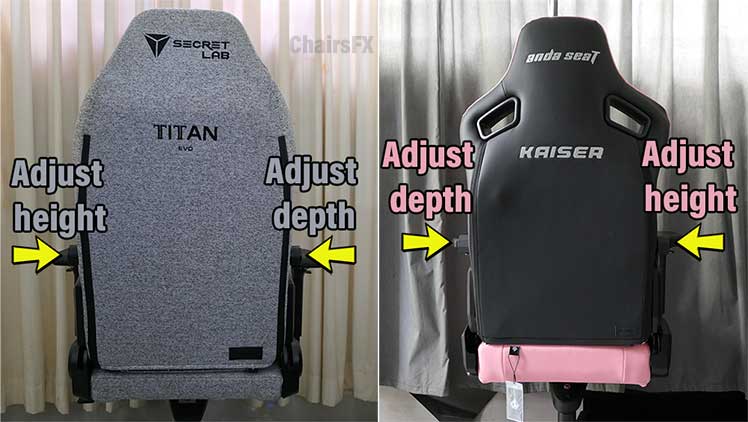 On both chairs, one dial on the side of the backrest lets you adjust the height of your support. The other lets you toggle the depth.
Comparison Findings
Both lumbar units work as advertised. With a few twists of either dial, it's very easy to find your lower back support sweet spot. However, the Titan differs with one feature that makes a noticeable difference.

The big difference is that the Titan's version adds a hinged matrix over top of the lumbar unit. These independently flex left or right as you move in the chair.
Without that matrix, the Kaiser 3 lumbar system has a cruder, lumpier feel. Instead of a smooth unit supporting your back, you can sort of feel parts moving around and you toggle the controls.
Lumbar Support Verdict
both provide excellent, fully-adjustable integrated support. However, the Titan version feels smoother and more sophisticated.
Magnetic Headrest
The Titan was the world's first gaming chair to offer a strapless headrest that attaches via magnets. The Kaiser 3 is the second. Here's a shot of both chairs with the headrests set as low as possible.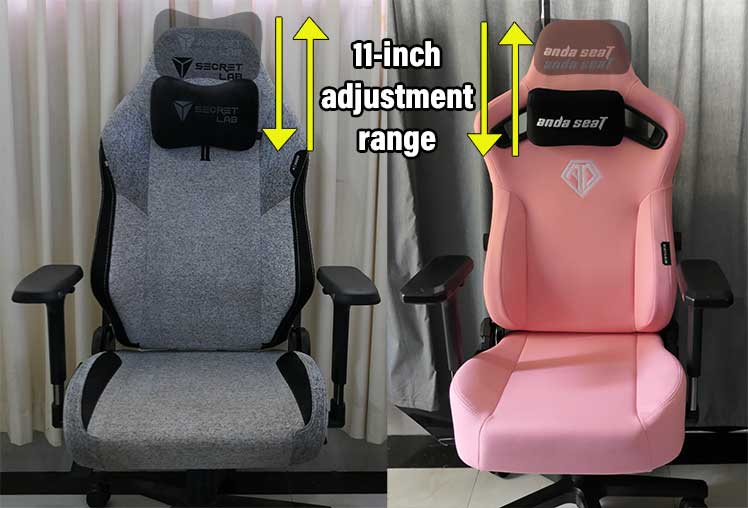 Both offer around an 11″ adjustment range. That provides plenty of range to cater to shorter or taller sizes needing a special fit.
Headrest Usability
Secretlab pulled out all the stops on its version. It was designed with a 'more aggressive curve' to provide better support for the entire neck. It's stuffed with memory foam with what feels like a perfect level of compression.
On top of that, it also has a layer of cooling gel under its velour to keep your neck from overheating. In contrast, the Kaiser 3 version feels like a work in progress. It's a stiffer, pill-shaped pillow with smaller coverage for only part of a medium-sized person's neck curve.
Quick Headrest Notes
The Kaiser 3's magnets are significantly stronger than the Titan's.
Kaiser 3 headrests don't work on Titan chairs; Titan ones don't work on Kaiser 3 chairs.
Headrest Verdict
The Titan's headrest has better compression, temperate control, and full-neck support. The Kaiser 3's is stiffer, smaller, and feels like a work in progress.
Neutral Posture Support Comparison
The point of any type of ergonomic chair is to support users into healthy neutral postures. When ChairsFX started in 2018, most ergonomic sciences focused on healthy back support techniques.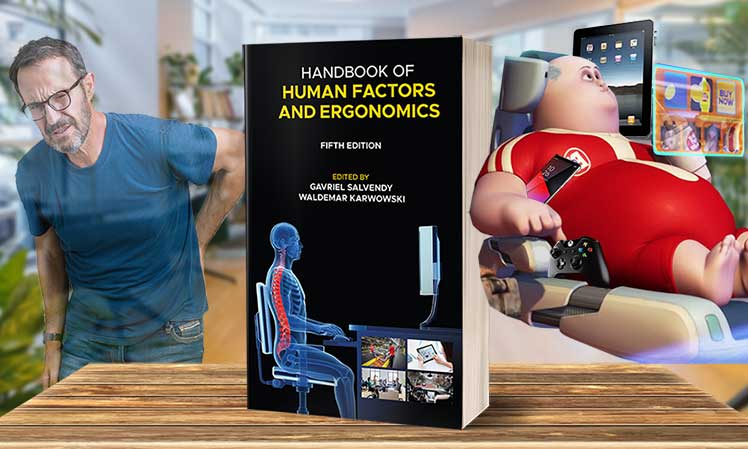 However, at the institutional level, ergonomic priorities recently shifted. The modern focus is now on effective back support (for long periods of sitting) and neck support (for excessive mobile device usage).
While researching gaming chair neck support realities, I asked some prominent physical therapists to assess my posture. In the first shot, I'm using my back muscles to sit straight. In the second pic, I'm relaxed.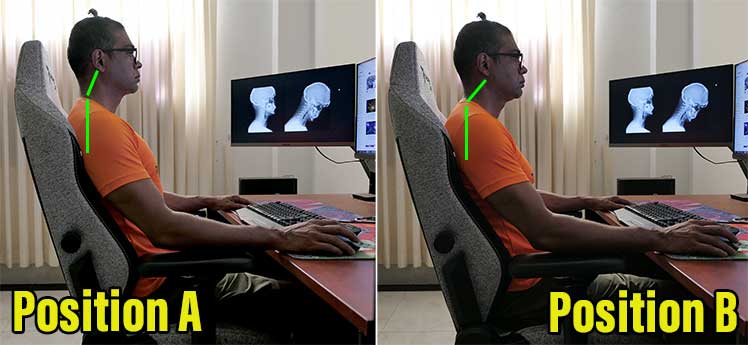 Dr. William Duncan's diagnosis was alarming. In Position B (my relaxed posture), he noted I was "resting more on the shape of the joints/bones rather than using soft tissue (muscles, tendons, ligaments) to actively create support."
In other words, instead of my neck muscles holding up my head, my neck was hanging off of my shoulder like a hinge!
Titan Evo 2022: Perfect Support
Dr. Jordan Tsai is an esports therapist for the stars. He works with many of the world's top esports teams at the highest levels of competition. He's also a member of Secretlab's Ergonomic Advisory Board.
He assured me that the Titan 2022 was specifically designed to support a 0° neck angle. He then advised me to reduce my backrest angle and try again. It worked!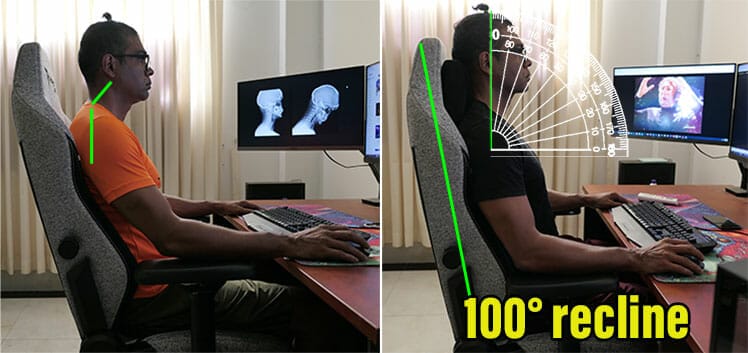 A Titan backrest set to a 100° recline supports a perfect 0° head tilt. The pillow provides the perfect amount of support to hold the neck in place.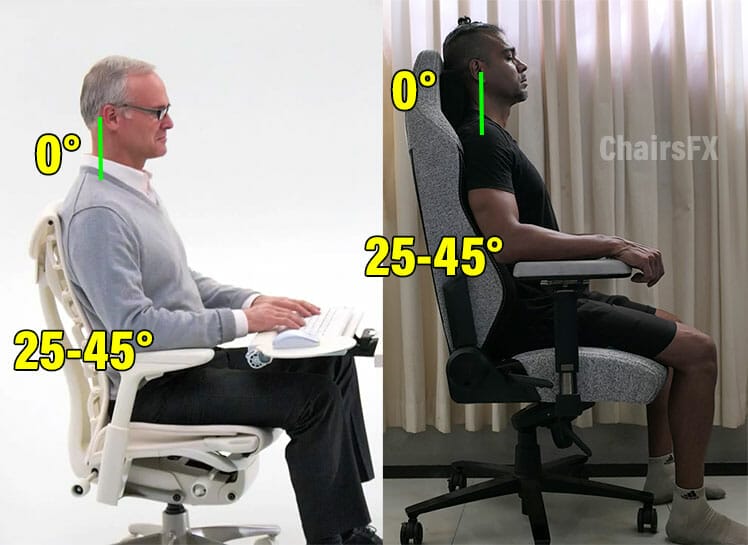 After a week of practice, sitting this way became a habit that's still with me three months later.

That said, most gaming chair users don't sit with a near-upright 100°. For the casual crowd, the Titan also works well in support of deeper reclines.
Titan Cookies & Cream 2022 $569 From Secretlab
Learn more: How To Achieve Perfect Neck Posture In A Titan 2022
Kaiser 3: Flawed Neck Support?
Because of my unique posture demands (0° head tilt and 25-45° lumbar curve), the Kaiser 3 faced a very stiff test. Would it provide the same biomechanically-perfect support that a Titan 2022 and Herman Miller Embody does?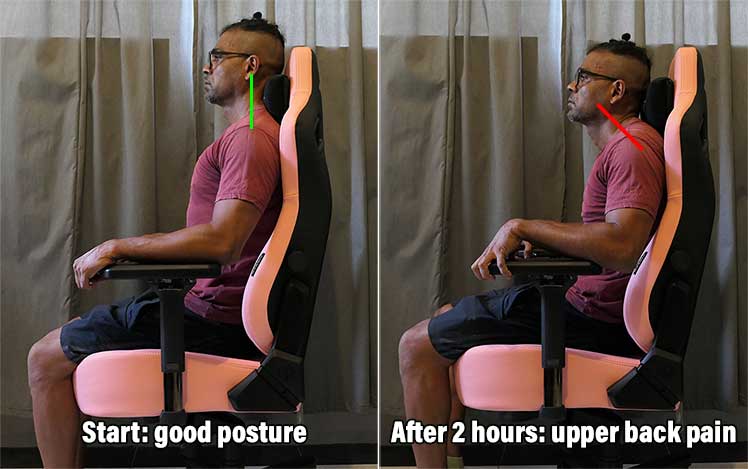 At first, sitting in a Kaiser 3 using a 100° backrest tilt felt as supportive as the Titan! However, after a few hours of sitting, my neck and upper back felt sore.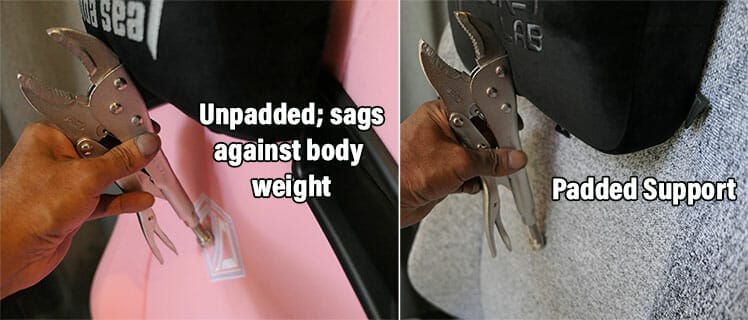 After checking a few things, I found what appears to be a problem in the upper backrest area. There, the Kaiser 3 is missing something — there's no padding or support under the upholstery.
Sitting with a sharp 100° recline causes the upper spine to sink backward. At the same time, the headrest keeps the neck in place. As the upper spine sinks backward, a forward neck tilt becomes more pronounced!
How To Use A Kaiser 3
Before writing off the Kaiser 3, I had to remind myself that most gamers do not sit using a sharp 100° backrest recline. After playing around with a few angles, I finally found the sweet spot.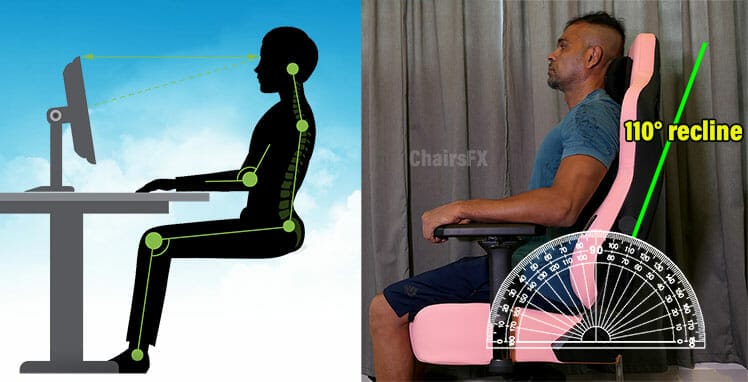 Our summary of leading ergonomic guidelines advise that a 100-130° recline + lumbar support best reduces spinal disc pressure. As it turns out, the Kaiser 3's sweet spot (for me) is 110°.
Once I figured that out, the Kaiser 3 started to make more sense. It's basically a more casual version of the Titan. The softer padding gives it a looser, less serious feel.
Continuing with the casual theme, it works best when used in deeper reclines. For casual gamers without perfect posture expectations, it delivers!
Kaiser 3 Creamy Pink on Amazon $449.99
The Kaiser 3 is also available from Anda Seat for $449.
Final Recommendations
Head-to-head, the original beats the clone. Other brands thinking to replicate the Titan's features may want to reconsider. As the Kaiser 3 release has shown, it's not easy!
The Titan Evo 2022 Is Superior
This comparison of the Titan Evo 2022 and Anda Seat Kaiser 3 finds a clear winner. The Titan is an incredibly well-thought-out ergonomic chair. Secretlab's Head of Industrial Design Vincent Sin once told me that every aspect gets obsessive levels of attention. This is evident — every detail seems very well developed.
The padding density is on-point: soft enough for comfort, yet firm enough for stability. The magnetic headrest is superb. It's the perfect shape, has excellent compression, and keeps your neck cool. The lumbar support is also next-level. Even when applying pressure on it, it moves up, down, forward and back with a solid, seamless feel.
Other brands wanting to copy the Titan 2022 are in for a challenge. Because of the Titan's all-around excellence, clones with even slight flaws will get exposed quickly.
Titan Cookies & Cream 2022 $569 From Secretlab
Learn more: In-Depth Titan 2022 User Review
Why Choose A Kaiser 3?
Gamers wanting casual ergonomic support have a few reasons to choose a Kaiser 3 over a Titan 2022. First, Kaiser 3 chairs are cheaper than Titans. Second, they come in some banging color schemes.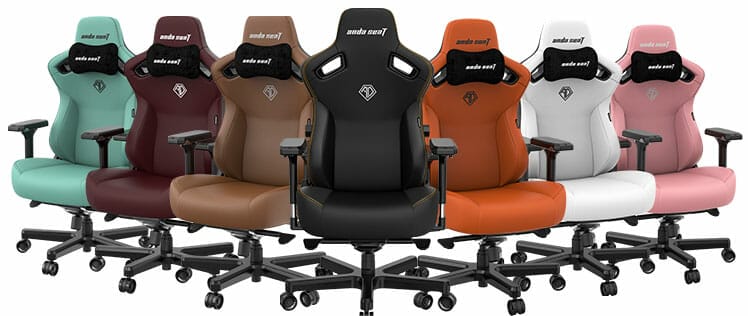 Third, if you're not obsessed with maintaining a 0° neck tilt, the Kaiser 3 does a similar job as the Titan does. Fourth, the Kaiser 3's softer padding will better appeal to casuals than the Titan's stiffer seat.
Finally, true casuals can't be bothered with babying their chair. To that end, the Kaiser 3 is a rugged beast of a chair. You can kick it around, rough it up, and treat it like crap.
To make it look brand new, simply wipe it down with a wet rag. Thus, it's easy to use, easy to maintain, with a soft comfiness that casual gamers often prefer.
Kaiser 3 Creamy Pink on Amazon $449.99
The Kaiser 3 is also available from Anda Seat for $549.