Text neck syndrome is endemic in the modern era. The body adapts to positions it spends most time in. People who engage in excessive mobile device usage tilt their heads to see the screen. That strains the neck and spine until posture gets distorted. If you find yourself in such a state, here's an easy text neck fix recipe. The ingredients are a mid-back ergonomic chair (without a headrest) and moderate discipline.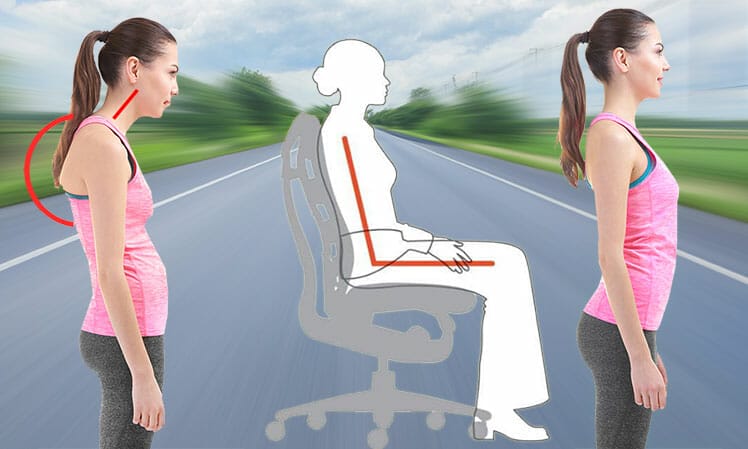 In 2022, around 87% of the global population use mobile phones. When using one, most users tilt their heads 45°. This exerts 50 pounds of extra pressure on the neck and shoulders (5 times more than normal).
Over a year, the average user will spend around 1400 hours(1) in texting positions (around 3 hours per day). The problem is that when the body holds itself in certain positions, the brain creates muscle memories.
These help it to coordinate movements with greater efficiency. With enough repetition, the brain can carry out tasks on auto-pilot — without conscious effort. Muscle memory can help or hinder.
On the positive side, muscle memory simplifies complex tasks. For example, it helps people to type on a keyboard without needing to look. On the downside, muscle memory also adapts to bad habits.
For example, craning your neck at a 45° angle for 3 hours every day causes Text Neck Syndrome. Early symptoms include chronic migraines, neck and shoulder stiffness, tingling in the upper limbs, and eye pain.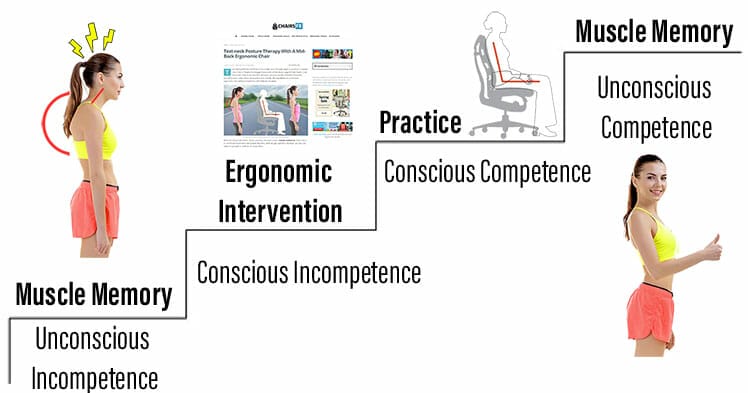 Left unchecked, this becomes a downward spiral of chronic fatigue, spinal disc degeneration, and worse.
This article explains how to reverse these symptoms using ergonomic science and muscle memory. You'll need a mid-back ergonomic chair and 3-5 days of moderate discipline.
Posture Therapy Using Muscle Memory
Poor postures cause stiffness in the body's fascia system. This is a fibrous matrix that lays over the organs, muscles, and bones. As muscles adapt to good or bad postures, fascia reacts to the physical force by producing collagen. This makes fascia stronger and thicker(2).
With good posture, fascia hardens around muscles to fortify healthy positions. Then, sitting up straight becomes effortless. But with poor posture, the fascial network hardens in the wrong spots.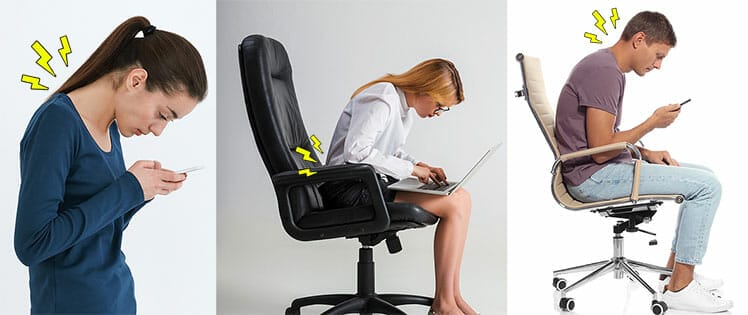 For instance, desk workers often suffer from tight lower backs in non-ergonomic chairs. As another example, text neck syndrome distorts and then hardens soft tissues and joints in the cervical spine. That places intense pressure on the spinal cord and nearby nerve roots(3).
Best Text Neck Posture Therapy Chairs
Herman Miller's mid-back ergonomic chairs are the gold standard in this genre. All are designed to keep the head at a perfect 0° angle at all times. After a few days of sitting this way, muscle memory will start locking down this position as your default!
Conclusion
The biggest difference between racing-style gaming chairs and ergo office chairs is the backrest style. The former has a full-back style that encourages a rear neck tilt. The latter's mid-back style encourages the head to balance atop the shoulders.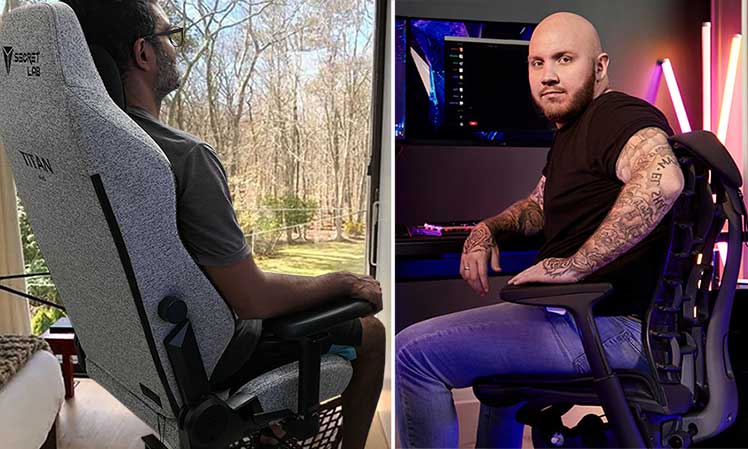 If you spend long periods texting with a tilted head, you likely suffer from neck, back, or shoulder pain. But the only ergonomic arm support systems available are all prototypes.
That leaves text-neck posture therapy with a mid-back ergonomic chair as the best usable corrective measure. Many studies show that when given clear biomechanical targets, people can train themselves into healthy positions.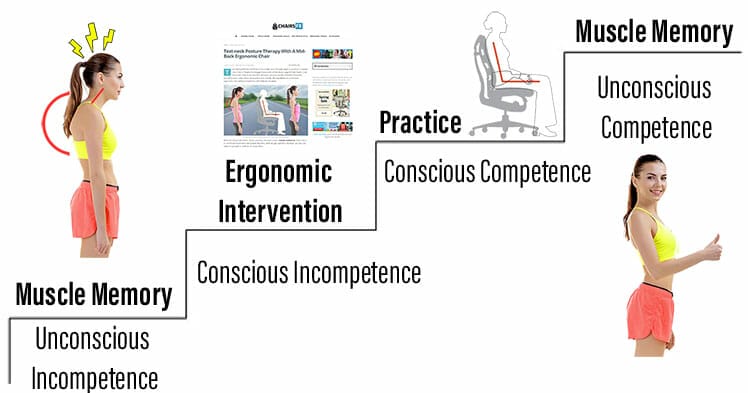 This article provides instructions on how to adopt a 0° head tilt. With a few days of disciplined effort, muscles will adapt. That will offload massive strain on the neck and shoulders.
Eventually, your fascial system will harden around your new posture. So if you want to fix your text neck, this article explains how.
To learn more about using muscle memory to your advantage, check this feature:
Use Muscle Memory To Forge Healthy Ergonomic Habits
Footnotes