People who use mobile devices tilt their heads to operate them. That strains the spine. Once muscles adapt, text neck syndrome distorts the entire spine. That leads to lethargy, headaches, and spinal disc pressure. Even so, most ergonomic arm support systems for mobile users are prototypes.
An adult's head weighs around 10-12 pounds. Most people tilt their necks forward by 45° when texting.
That angle adds 50-60 extra pounds of force to the neck and shoulders ( 5 x more than the normal load). The resulting pains are what's known as Text Neck Syndrome.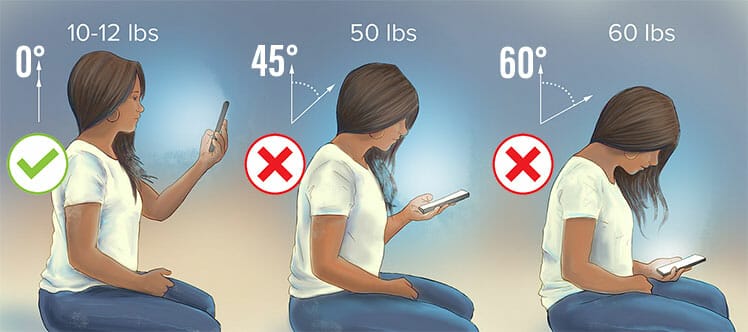 In 2022, around 6.5 billion people have mobile phone subscriptions. The average person spends around 3 hours using their phones each day. Over a year, that works out to around 1200 hours of severe neck and shoulder strain(1).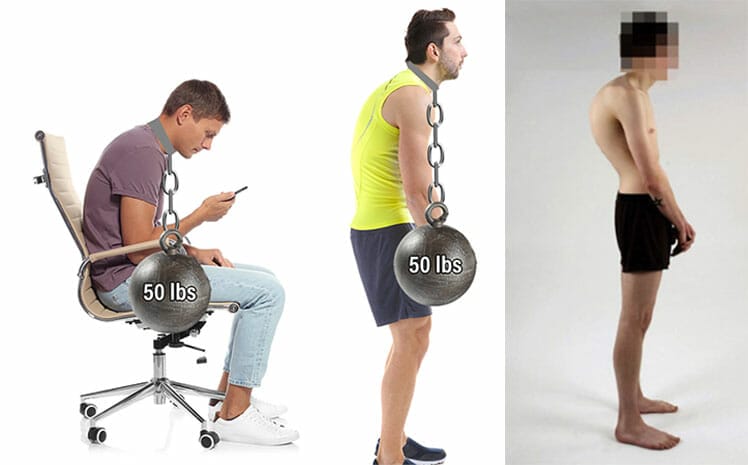 Despite this, most ergonomic arm support systems for mobile users only exist as prototypes. Even so, recent studies have provided clear parameters — and testing methods — to bring mobile arm support prototypes to market.
Mobile Support Design Parameters
Recent research from Khon Kaen University in Thailand has clarified the ergonomic support needs of mobile users. The best flexion angles known thus far are 0° for the neck and 30° for the shoulders.
Product developers seeking to play with these numbers can measure results using for cheap using open source Electromyography devices. Here's a summary of the key points:
Mobile Arm Support Prototypes
In late 2021, this prototype(3) was unveiled by a team at the School of Physical Therapy of Khon Kaen University. It is the world's first that provides ergonomic mobile support with a clear biomechanical basis. In use, it locks neck flexion into a 0° tilt and shoulder flexion at 30°.
Those angles were proven to yield the lowest muscle exertion over 20 minutes of mobile gaming. Without support, muscular fatigue increased over time, especially in the shoulders.
With the prototype, muscle activity dropped significantly. Pressure was reduced in the anterior deltoid, cervical erector spinae, and trapezius muscles. As a result, muscular fatigue was insignificant.
Over the past few years, the gaming chair industry has also released a few mobile support concepts. Here's a summary:
Conclusion
Around 6.5 billion (82% of the world) people use mobile phones for around 3 hours each day. Most do so with a 45° forward head tilt. That places around 50-60 pounds of force on the neck and shoulders.
Text Neck Syndrome starts out as neck and shoulder pain. If untreated, it can degenerate into chronic musculoskeletal disorders.
Despite this, institutions have so far ignored these health risks. For example, Apple generated $180 billion from iPhone sales in 2021. However, the company spent zero researching text neck solutions caused by its own products.
Luckily, tiny little Khon Kaen University in Thailand has stepped up. Its Ergonomic Arm Support Prototype gives product developers plenty to work with.
The big takeaway is that institutional support for work-related diseases is insignificant. Luckily, an emerging field of DIY ergonomics is primed to fill the gap. Studies show when taught proper body mechanics, people can train themselves into healthy positions.
Then, muscle memory takes over to lock down good posture habits — for life! As a result, you needn't wait around for mobile arm support systems to reach the market. Instead, read this feature to start taking a proactive approach to your postural health:
Use Muscle Memory To Form Healthy Ergonomic Habits
Footnotes