The Autofull Mechanical Master is the world's first gaming chair optimized for mobile computing. This chair reimagines the adjustable armrest concept. The armrests swing up, down, outward, and even 360°. The point is to support the arms whether the user is computing, console gaming, or using their mobile phone.
The Mechanical Master made its debut at CES 2020 (Consumer Electronics Show) in Las Vegas. That event showcases the world's most innovative tech products of each year onto the global stage. Since then, Autofull has streamlined its product line and expanded its global operation.
The AutoFull Mechanical Master is now available in the United States, the UK, and Europe. In all regions, the company offers free shipping and 3-year warranty protection via the Autofull.com website.
Discontinued
This chair has been discontinued, but we're keeping this article up as a historical record. Check our review of the
Best Autofull Gaming Chairs
for the refreshed 2021 lineup.
Autofull Mechanical Master Review
The Mechanical Master is the world's first mobile-optimized gaming chair. In its default setup, it serves as a good quality gaming chair for upright computing.
When it's time to relax, the retractable footrest lets you use the chair as a recliner. When it's time to play console games or use your phone, it turns into a mobile gaming mecha.
The mechanical armrests are the star feature, but there's plenty more to like about this chair.
Chair features
The Autofull Mechanical Master is a solid gaming chair with a footrest. But it's also a spectacular mobile and console gaming chair. That's because you can adjust the armrests to support the arms and wrists while you hold a phone or mobile device. They swing out, up, down, and they even swivel 360°. You can also open them up to store headphones and other peripherals, or even use them to hold snacks.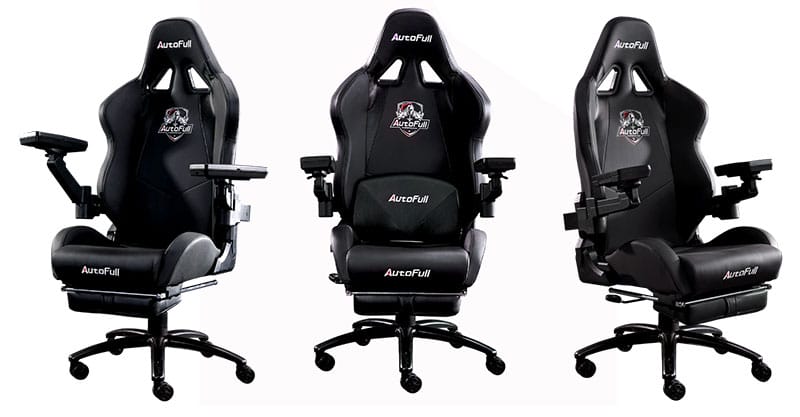 Positioning the armrests for mobile gaming eliminates the risk of developing "text neck". Instead of craning your neck and hunching your back over a phone, use a Mechanical Master chair. Configure the armrests, lean into the backrest, and kick up your legs on the footrest if you wish.
The tall backrest and support pillows will support your spine's natural curves. The armrests will support your arms and wrists, taking pressure off of your spine. Alternate between sitting upright and using the footrest. That will rest some muscles and activate others, while also boosting circulation.
Functionality: multi-directional armrests; retractable footrest; recline from 90° to 155°.
Comfort: high density foam padding; neck and lumbar support cushions.
Upholstery: combination of black PU and Carbon PVC leathers.
Support: heavy duty steel frame that supports up to 390 pounds
Warranty: 30-day money-back guarantee; lifetime frame warranty; 2-year warranty on parts.
For multi-platform gamers, these features provide an all-in-one gaming solution. With the chair supporting your body, the spine doesn't need to. That leads to a massive surge in energy that can be focused on gaming.
Sizing
The Mechanical Master is an average-sized gaming chair with enough room for slightly taller or wider users.
It has a narrow but deep seat and taller than normal backrest. Compared to most other chairs, the seat range is a few inches lower. The highest seat setting of 20″ should be enough to match normal-sized desks. Lowering the seat to 16.9″ makes it usable as a console gaming chair. Roll it in front of your TV, set up the armrests, then use your controllers with comfortable arm support.
Seat width x depth: 20.4″ (W) x 22″ (D)
Backrest width x height: 23.2″ (W), 36.6″ (W)
Floor to seat range: 16.9″ (H), 20″ (W)
Total height: 50.8″ to 53.9″
Autofull rates this chair for users up to 6'0″, with a maximum weight capacity of 390 pounds. However, the recommended limit is 260 pounds.
Thus people weighing less than 260 pounds can expect rock-solid support, with no shaking or vibrations.
Warranty
All Autofull chairs come with solid warranty protection. First, you get a 30-day money-back guarantee. Second, the steel frame comes with a lifetime warranty. Third, all parts come with a 2-year warranty. Within those timeframes, if you have any problems with your chair, reach out via autofull.com for support.
How to buy
Autofull chairs are available through Autofull.com to the following countries. Free shipping is included on all orders, which take around 2-5 days to deliver.
Austria, Belgium, Bulgaria, Republic of Cyprus, Czech Republic, Denmark, Estonia, Finland, France, Germany, Greece, Hungary, Ireland, Italy, Latvia, Lithuania, Luxembourg, Malta, the Netherlands, Poland, Portugal, Romania, Slovakia, Slovenia, Spain, Sweden, the United Kingdom, and the United States.
Conclusion
The Autofull Mechanical Master is the world's first mobile-optimized gaming chair. Its mechanical armrests swing outwards, up, down, and even swivel a full 360°. Use these to support your arms and wrists while gaming on a mobile phone.
For console gaming in front of a TV, you can also retract the footrest and lower the seat closer to the ground. Of course, you can also use this chair for deskwork and computing. Set upright, the tall backrest and support cushions will keep your spine aligned, ensuring good posture while you sit.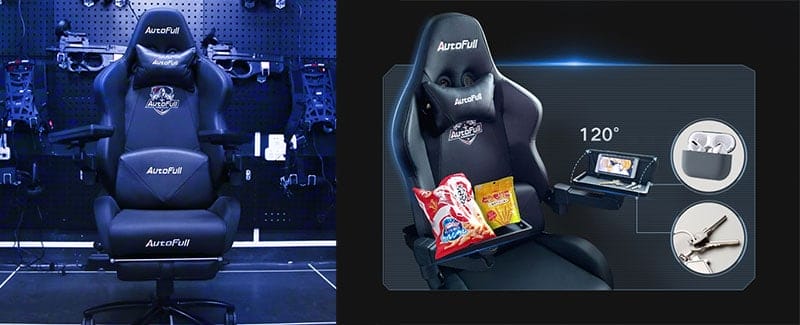 For multi-platform gamers, this model suits all mobile, console, and PC gaming needs. For non-gamers seeking better armrest support than other gaming chairs, the Mechanical Master is an intriguing option at a reasonable price.
UPDATE: this model has been discontinued. See this review for the current collection: