The human body is a machine. It adapts to your thoughts and its most frequently-held positions. It doesn't judge. If you spend all day slouching, it will work spinal muscles extra hard to compensate. If you spend all day craning your neck, it will build hard collagen there for reinforcement. But knowledge is power. This article explains how to use muscle memory to your advantage. Boost health, happiness, and productivity — on autopilot!
Poor postures cause stiffness in the body's fascia system. This is a fibrous matrix that lays over the organs, muscles, and bones. As muscles adapt to good or bad postures, fascia reacts to physical force by producing collagen. This makes fascia stronger and thicker(1) in support of adopted postures.
Healthy toddlers are born with super flexibility and good body mechanics. By the age of 10, their bones begin to harden. Then, collagen in muscle tissues also hardens(2). With poor posture habits, they'll harden in all the wrong spots, reinforcing a twisted spine as 'normal'.
This explains why the majority of adults suffer from anterior pelvic tilt. One American study(3) found 80% of men and women in its test group with this condition.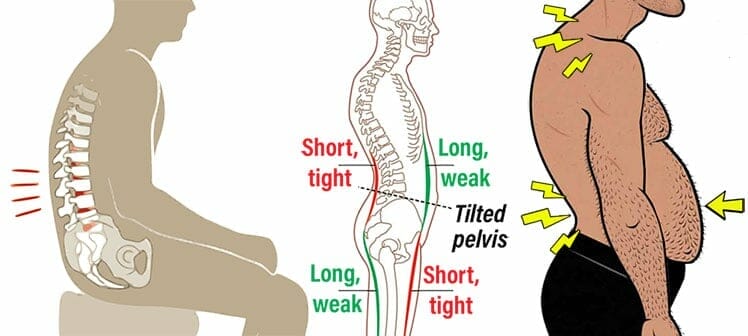 An anterior tilt forces the body to tighten on one side and weaken on the other. Sitting with a slouch tightens the lower back and weakens abdominal muscles. As a result, quad muscles tighten, while hamstrings get longer and weaker.
Knowledge + Muscle Memory = Power
A growing idea in the physical therapy world is that people adopt sloppy postures because they forget what healthy ones are! That's because muscle memory works both ways.
If you passively adapt to sloppy habits, those will become your 'normal' state of being. That leaves you vulnerable to back pain — with no awareness of the cause!
On the flip side, a therapist can teach you how to proactively train muscles into healthy habits. To kickstart the process, all they do is give you postural awareness.
Recipe: Biomechanical Targets + Muscle Memory = Perfect Posture + Benefits
The brain takes the path of least resistance. By identifying — and then striving towards — clear targets, your body will follow. After a few days of practice, healthy sitting mechanics will slide into your subconscious as your 'new normal.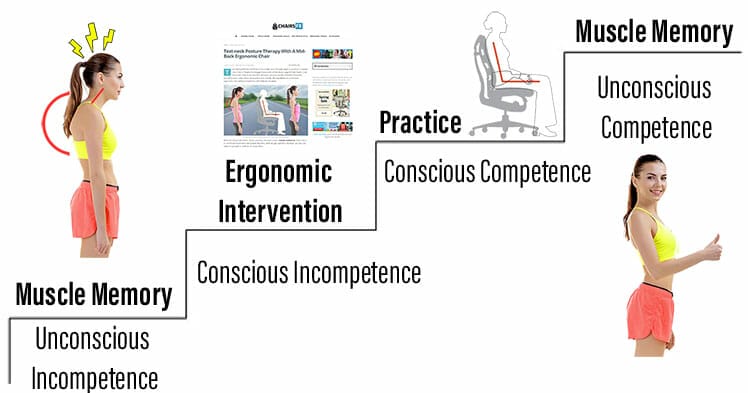 Step 1: educate your mind about healthy sitting mechanics.
Step 2: use that knowledge to train your body.
Orthopedic Physical Therapist Tanya Snowden: "once you train the body to know what the proper movement is, then body mechanics become so much easier."(4)
Posture Therapy Using Muscle Memory
Anyone who works full-time at a desk can supercharge their efforts with this proactive approach. Ergonomic knowledge plus muscle memory can lock healthy habits into your arsenal for a lifetime.
The ChairsFX Ergonomic Advice Library simplifies all the knowledge you need to hack human ergonomics in your favor. Then, muscle memory will tie the whole scheme together.
Circa 2022, ergonomic science is very clear and uncomplicated. With a firm grasp of the fundamentals — plus muscle memory awareness — you can kick ergonomists and chiropractors to the curb.
Easy Muscle Memory Wins
If you suffer from chronic back pain and lethargy, here are three easy muscle memory wins. Treat these tips like software that you can upgrade your skin suit with:
Conclusion
The human body adapts to the positions it holds most often. Then, muscles and fascia memorize these to run on autopilot in the subconscious. By arming yourself with ergonomic targets, you can hack this concept.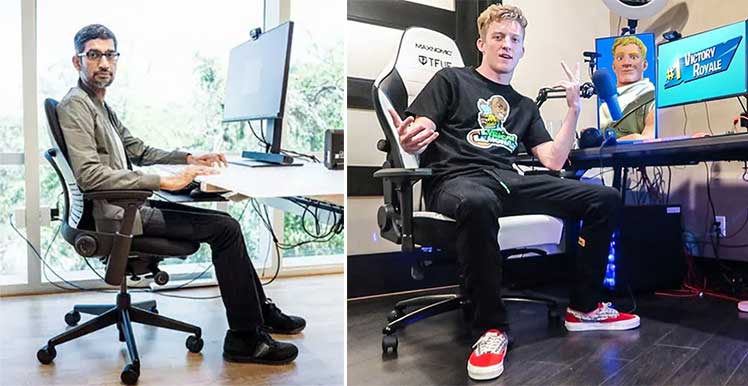 Changing poor posture habits can take less than a week! You'll need an ergonomic chair, a grasp of neutral posture techniques, and discipline. Struggle once for a few days to enjoy good posture habits for life!
Recipe: Biomechanical Targets + Muscle Memory = Perfect Posture + Benefits
Sounds good? The only question left is what type of chair to use. Mid-back office chairs can reverse text neck syndrome by locking your head into a 0° tilt. But they're nowhere near as comfy as full-back gaming chairs.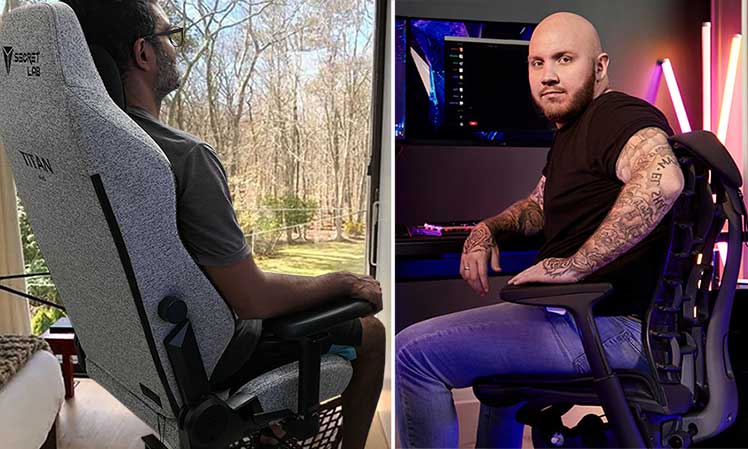 In fact, strict and casual neutral styles are both good for your back. The former is more precise; the latter is more comfortable.
With frequent breaks, regular exercise, and a healthy lifestyle, both work well. Which is better for you? Find out here:
Gaming Chairs Vs Ergonomic Office Chairs: Comfort Vs Focus
Footnotes