Video games now make more money than the U.S. movie and sports industries combined. A key driver of growth is the pro esports industry. Based on career earnings, the top esports teams of all time consistently perform at the highest levels of the industry. This article summarizes the official chairs used by the all-time-great pro esports teams.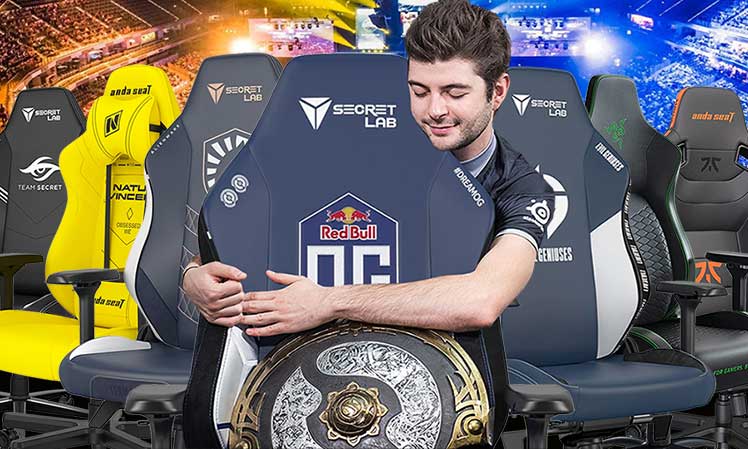 What gaming chairs are the world's leading eSports teams using in 2022? Among the 15 top-earning teams of all time(1), ten have official gaming chairs. Eight of those are made by Secretlab. Anda Seat makes the other two.
Other brands emerge in the top 16-30. There, we find teams partnered with Herman Miller, Vertagear, Respawn, and others.
Chair Partners: Top-15 eSports Teams
Based on earnings, here are the top-15 pro eSports teams of all time:
Team Liquid ($38,207,210.78): Secretlab
OG ($35,649,323): Secretlab
Evil Geniuses ($25,571,431): Secretlab
Team Spirit ($19,874,022): Secretlab
Virtus.pro ($18,122,325): no partner
Fnatic ($17,448,780): Anda Seat
Natus Vincere ($16,937,369): Anda Seat
Team Secret ($16,189,522): Secretlab
Paris Saint-Germain eSports ($15,589,648): no chair partner
Vici Gaming ($15,048,251): no chair partner
Invictus Gaming ($14,598,303): Secretlab
Newbee ($14,225,385): disbanded
LGD Gaming ($11,960,444): no chair partner
T1 ($11,883,516): Secretlab
Cloud9 ($11,041,103): Secretlab
Fifth-ranked Virtus.pro ($18,122,325 career earnings) doesn't have a chair partner.
Ninth-ranked Paris Saint-Germain Esports ($15,589,648 career earnings) doesn't have a chair partner.
12th-ranked Newbee ($14,225,385 career earnings) was disbanded. #13 LGD Gaming doesn't have a gaming chair partner.
Chair Partners: 16-30 eSports Teams
Among the top-15 teams, only Secretlab and Anda Seat have partnerships. Among the next 15, we see more variety.
FaZe Clan ($10,750,121): Vertagear
Wings Gaming ($9,745,472): no partner
Astralis ($9,257,418): Secretlab
G2 eSports ($9,223,707): Secretlab
Optic Gaming ($8,063,439): no chair partner
Team SoloMid ($7,871,728): Herman Miller x Logitech G Embody
Gen.G eSports ($7,315,363): Sidiz T80
Team Envy ($7,285,249): no chair partner
Royal Never Give Up ($7,009,305): Autofull
Ninjas in Pyjamas ($6,821,317): DXRacer
Alliance ($6,776,493): Razer Iskur
SK Gaming ($6,723,497): Noblechairs
NRG Esports ($5,965,616): no partner
mousesports ($5,871,093): Noblechairs Epic
MVP ($5,728,989): no partner
Here's a look at some of the other chair brands partnering with elite eSports teams:
Other Pro User Cases
Beyond the top-15 eSports teams of all time, we've also tracked chair usage among two other groups:
Conclusion
Secretlab is the dominant pro eSports chair brand. Among the top-30 eSports teams of all time, Secretlab partners with ten. Among the top-15, Secretlab partners with eight.
Across the top-30, Anda Seat, Noblechairs, and DXRacer have two partners apiece. All things considered, here are our eSports trend predictions for 2022:
Secretlab will continue racking up big-name partners.
Many top teams will start using Iskur chairs as part of Razer partnerships.
Herman Miller gaming chairs will make an impact among elite teams.
Feel like investigating further? For a complete look at chairs used by top streamers and teams, see here:
What Gaming Chairs Do The Pros Use In 2022?
Footnotes