Almost everyone in the esports industry uses an ergonomic chair. For hard-core gamers and streamers, these are the best at supporting health, wellness, and productivity. To perform like a pro, using a pro-quality computing chair makes a huge difference. So what chairs do the pros use in 2020? ChairsFX investigates.
In 2020, esports is a billion-dollar industry. Millions follow streaming mega-stars like Ninja, PewDiePie, and Shroud. Tens of millions watch global video game tournaments streamed live.
Esports championship prize pools are already larger than those for winning Wimbledon or PGA Majors. More people watch esports finals than NBA or World Series broadcasts.
For organizers, it's an effective way to gain massive exposure with very low production costs. Most of the action takes place on computer screens. With hyped-up commentators, fast gaming action, and quick-cuts to players, it makes for gripping, dynamic TV.
At all top tournaments, there are official gaming chair sponsors. These are often the same chairs that pro players use for full-time training.
Relevance of knowing what the pros use
This article answers which gaming chairs top esports professionals use. But first, this section clarifies why that's relevant for general computer users.
Computing chairs used by top streamers
2020 has been a wild year in the streaming world. In June, Microsoft's Mixer streaming service closed down. That left mega-streamers Ninja and Shroud as free agents without a streaming platform. Also in June, another major streamer went dark when Twitch banned Dr. Disrespect.
Even though those three are currently offline, they still have a major influence. Regardless of platform status, the world's most influential streamers use the following chairs:
The next two gaming chairs used by pros are ergonomic task chairs. That name implies that these chairs are for all seated tasks, not only computing. Task chairs offer more advanced back support than gaming chairs but cost a lot more.
Gaming chair partners: top esports teams
Pro esports teams need the highest caliber of seated support. Players spend huge amounts of time in intense gaming marathons on the world's stage. To thrive in competition, the best equipment provides an edge.
The most accurate calculation of 'top esports teams' comes from esportsearnings.com. We took their updated 2020 rankings and put them into a Google spreadsheet. That shows the top-50 esports teams in the world, based on career earnings.
Here are the top-10 most successful esports teams of all-time, and their chair partners:
| Team | Lifetime Earnings | Country | Chair Partner |
| --- | --- | --- | --- |
| 1. Team Liquid | $35,132,529.75 | Netherlands | Secretlab esports team designs |
| 2. OG | $33,696,483.59 | USA | Secretlab |
| 3. Evil Geniuses | $24,128,698.79 | USA | Secretlab |
| 4. Fnatic | $15,474,564.68 | UK | Anda Seat |
| 5. Virtus.pro | $14,303,822.39 | Russia | DXRacer |
| 6. Newbee | $14,221,717.77 | China | Secretlab |
| 7. Vici Gaming | $12,983,061.64 | China | none |
| 8. Team Secret | $11,770,403.64 | Europe | Secretlab |
| 9. Invictus Gaming | $11,450,175.97 | China | none |
| 10. Natus Vincere | $11,073,636.90 | Ukraine | Herman Miller Embody |
In 2020, there are two powerful players dominating esports team partnerships. Secretlab has the most team partners and highest-profile esports tournament exposure. On the other side, Herman Miller has long been plotting to release a gaming chair of their own. The Embody gaming chair is now on the market and already partnered with some top-50 teams.
Esports tournament chair partners
Today, over 250 million people watch esports. In 2020, tech consulting firm Activate predicts that 70 million viewers will watch an esports final. That would exceed the viewership of American pro baseball, soccer, and hockey finals.
As esports fans multiply, the gaming chairs used at tournaments gain massive exposure. Below are some of the most notable gaming chair partners for top esports tournaments.
SUMMARY: chairs used by the pros in 2020
What chairs do pro gamers use? In 2020, some prefer racing-style gaming chairs with bucket seats. Others prefer office-styled synchro-tilt task chairs. The common aspect among all chairs is that they are ergonomic.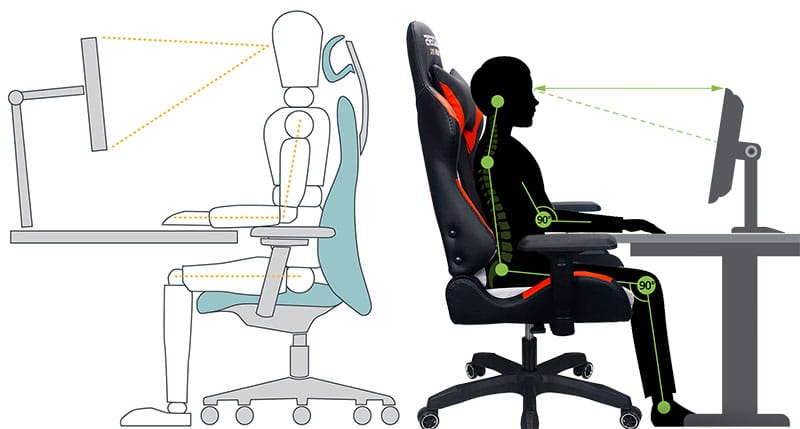 In 2020, ergonomic standards for computer chairs are well documented. An ergonomic chair needs adjustable lumbar support, adjustable armrests, and a reclining backrest. It should also let users move their bodies while sitting.
For high-performers, pro esports gaming chairs and synchro-tilt task chairs are top options.
Among task chairs, Herman Miller Embody and Aeron chairs are popular. Among pro esports gaming chairs, Secretlab chairs are most favored by the pros.
Luckily for consumers, the demand for ergonomic furniture is surging. As a result, more ergonomic options are coming out. If you can't afford the same level of support that the pros use, there are many cheaper options.
For example, if you can't afford a synchro-tilt task chair, you can buy a cheaper fixed-tilt model. If you can't afford a Secretlab chair, many cheap gaming chairs sell for less than $200.
In conclusion, to perform like a pro esports player, it helps to have the right chair. Regardless of your budget, an ergonomic chair is the best option. These models provide comfort and support that ensures good posture while sitting. That puts players in the best position to perform at their best.