what gaming chairs do professionals use? Professional esports demands that players spend long periods sitting. This increases the risk of ergonomic related injuries. This article looks at the gaming chairs used by top esports streamers, teams and tourneys.
Pro gaming is a grueling endeavor. Teams usually practice 8-10 hours per day, honing the skills that set pro gamers apart (source). These include things like response times, strategy, and muscle memory.
That's why the quality of gaming chairs is so important to pro players. Chairs need to keep players comfortable and fit for more than full-time sitting loads.
Technically, cheap gaming chairs could do the job. Among all prices classes, gaming chairs (from legit brands) support good posture while sitting. Many benefits emerge as a result. Over time, good sitting posture reduces muscle strain, improves circulation and promotes wellness.
But the best pro class gaming chairs take sitting support to another level. Gaming chairs used by the pros have the best features and highest quality materials.
Pro chairs start with steel frames layered with cold foam padding. Cold foam is the premier padding choice in the furniture industry. It offers the best resistance and durability. When you sit, it gives slightly to take the shape of your body. When you stand, it pops back into the original shape.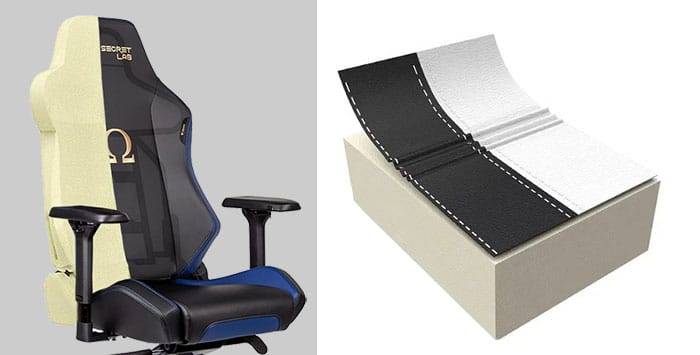 Even if hard-core gamers sit in pro chairs 10 hours a day, the padding will retain its original shape for years.
Anatomy of a PRO gaming chair
What is a professional gaming chair? What's the difference between a pro chair and an amateur one? Both classes of chairs have the same basic features:
Reclining backrest
360° swivel
Adjustable height
Padded seat
Professional gaming chairs add extra features for enhanced comfort, support, and durability:
Learn more about what defines a pro-class gaming chair in our detailed analysis:
Gaming Chairs used by popular Streamers
In the mid-2010s, live streaming video gameplay became popular. The trend started on the Twitch platform and later spread to Youtube, Facebook, and others.
As popular as gaming is, watching others live stream gameplay with commentary may be bigger. As millions watch, the gaming chairs used by top streamers gain massive exposure.
The gaming chairs endorsed by top streamers are all quality. Expect high-end products with luxurious ergonomics that support long sitting periods.
What gaming chairs do the most popular streamers use? Find out below.
PewDiePie: Clutch Chairs Throttle Series
Amazon price: Price not available

PewDiePie is Youtube's biggest star. He has over 100 million Youtube subscribers. He streams video game commentaries. Gamers watch him playing games while discussing various topics.
Clutch Chairs Throttle Series
What gaming chair does PewDiePie use? It's a custom design Clutch Chairs Throttle Series. This model supports up to 330 pounds. It has a premium feature set and roomy seat, even for larger bodies. No features stand out, but the chair is luxurious. The padding, PU leather exterior and parts are all top-notch.
Detailed Throttle Series review
The Clutch Chairs Throttle Series is expensive. But you get what you pay for. This is a high-end gaming chair.
Ninja: Maxnomic Pro
Amazon price: $389.00
Richard "Ninja" Blevins is an American gamer. He was the most followed person on Twitch (15 million followers). Recently he broke with Twitch and moved to Mixer.
His most popular act is streaming Fortnight. He's also known for streaming commentary over Halo and PUBG.
Maxnomic Gaming Chair
Ninja uses a custom Maxnomic Pro gaming chair. Maxnomic makes two models suitable for esports. The Maxnomic Pro is a racing-style chair with bladed edges on the seat for a slim fit. Maxnomic Office Comfort (OFC) chairs differ with an internal lumbar support system and flat, wide seat.
Ninja is Maxnomic's highest-profile ambassador. Many other eSport teams, celebrities, and Twitch streamers also endorse these chairs.
A big reason is because Maxnomic is one of the only high-end gaming chair companies selling custom chairs. For an extra fee, you can get custom embroidered logos on the front and back of your chair.
The next two gaming chairs used by pros are ergonomic task chairs. That name implies that these chairs are for all seated tasks, not only computing. Task chairs offer more advanced back support than gaming chairs but cost a lot more.
Shroud: Aeron Chair by Herman Miller
Michael "Shroud" Grzesiek is the third most popular streamer in the world. This 25-year-old Canadian made his mark on the Twitch platform. There, he gained over 7 million followers. Like Ninja, he recently moved over to Microsoft's Mixer streaming service.
Shroud is a former pro Counter-Strike: Global Offensive player with pro team Cloud9. In 2017, he decided to focus on streaming full-time.
Aeron Chair by Herman Miller
Shroud doesn't have a gaming chair sponsor. His former chair of choice was a Maxnomic 9 Pro. In 2019, he switched over to an Aeron Chair by Herman Miller. Check his Youtube chair testimonial:
Before gaming chairs, ergonomic office chairs were the go-to for seated back support. The Herman Miller Aeron debuted in 1994 as the world's first ergonomic task chair. Today, it is still among the top-selling task chairs on the market.
Are you willing to pay over $1000 for an office chair? The Aeron supports people 5'5″ to 6'2″ weighing between 150 to 230 pounds. It uses the same ergonomic principles as gaming chairs.
A high backrest and 3D adjustable armrests support good posture. There's no neck pillow, but the lumbar support is very advanced.
There's plenty to justify the high cost of this chair. First, it comes with a 12-year warranty. Second, the ergonomic controls are more advanced than what you find in gaming chairs.
Shroud raves about his Aeron, as do many of the Amazon reviews online. Indeed, compared to office chairs, high-end ergonomic chairs like the Aeron are awesome. But not everyone can afford to spend more than $1000 on a chair.
Gaming chairs bring seated ergonomics to the masses. Compared to ergonomic task chairs, gaming chairs have similar features — for a much lower price.
DrDisrespect: Sidiz T80
Herschel "DrDisRespect" Beahm is an American streamer. He has over 3.7 million followers on Twitch and 1.34 million subscribers on Youtube.
Styled like an 80s glam rocker, he streams play of games like Blackout, Apex Legends, H1Z1 and Fortnite.
Sidiz T80 Ergonomic chair
The Sidiz T80 is an ergonomic task chair. It resembles Shroud's Aeron chair but costs around $300 less. Here's a clip of DrDisrespect raving about its comfort:
This model has tons of impressive features. These include:
Memory Foam and Antibacterial High Elastic Sponge padding
Adjustable lumbar support
3D adjustable armrests
10-year warranty
The Sidiz T80 is a great choice for those who prefer task chairs over PC gaming chairs. According to Dr. Disrespect, it's more comfortable than his old Maxnomic Pro. What's more, it's a few hundred dollars cheaper than the Herman Miller Aeron. If you can afford $700 or so for a chair, the T80 is a great pick. If not, PC gaming chairs are the better option. The most expensive gaming chairs cost over $200 less than a T80. Those models offer a comparable quality of ergonomic support. They are also tailored for computer users, unlike general-purpose 'task chairs'.
Rogue HusKers: Secretlab Titan Softweave
Buy direct price: from $399

Jordan "Rogue Huskers" Thomas is a full-time Twitch streamer with 65,000 followers. He's also a professional Apex Legends player for team Rogue. Most of his Twitch steams are playing Apex Legends. He's not in the league with the other mega-streamers listed, but a good example of a second-tier player.
Secretlab Titan Softweave Edition
Rogue HusKers uses the Secretlab Titan Softweave Edition gaming chair.
The Secretlab Titan is our pick as the best high-end gaming chair. Among the top models, it's one of the most attractive, comfortable and luxurious.
The Titan also has an internal lumbar support system. This rivals the back support on the Aeron and Sizid T80 chairs.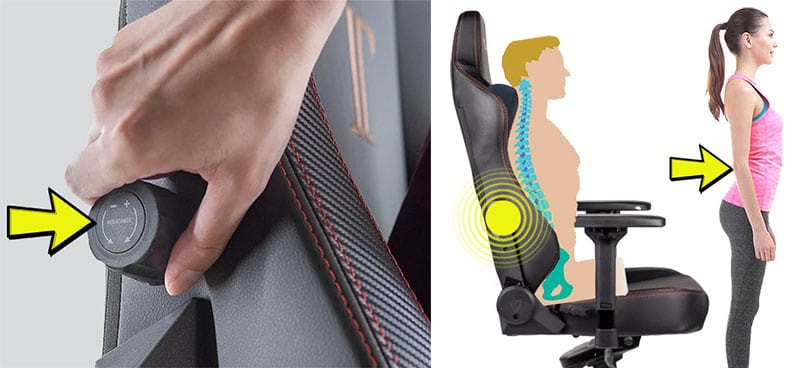 Secretlab's SoftWeave fabric models are their most breathable and durable. SoftWeave fabric uses dense 350GSM yarn ground into a fluffy texture.
Softweave chairs come in dark and cookies & cream colors. Both models provide ultra-breathable, soft covers that provide luxurious comfort.
Gaming chair partners: top esports teams
Pro esports teams need the highest caliber of seated support. Their players spend huge amounts of time in intense gaming marathons on the world's stage. To thrive in competition, the best equipment provides an edge.
Which pro teams have official gaming chair partners? We compiled a Google spreadsheet containing the top 50 esports teams of all time (based on earnings). Then we checked which of those teams have gaming chair partners.
22 of the top 50 teams do not have official gaming chair partners.
7 of the top 50 partner with DXRacer.
5 of the top 50 partner with Secretlab.
3 of the top 5 partner with Maxnomic.
2 of the top 50 partner with Noblechairs.
Zipchair, Herman Miller and Sidiz all partner with one team in the top 50.
Below are some profiles of gaming chairs used by pro esports teams.
Team Liquid: Maxnomic Pro
Chicago Bulls, 1991-1998. San Francisco 49ers, 1981 to 1994. Edmonton Oilers, 1984 to 1990. These were some of the most dominant sports dynasties in history.
In the short history of esports, Team Liquid is the most famous and successful team. They top the all-time earnings rankings, winning over $34 million since their debut in 2000.
Team Liquid started in 2000 as a Dutch StarCraft: Brood War clan. Upon the release of StarCraft II: Wings of Liberty in 2010, Team Liquid signed their first pro players.
In 2012, Team Liquid added a North American Dota 2 team. Other squads that have earned over $1 million play Apex Legends, Fornite and CS:GO.
​
Maxnomic Pro
Team Liquid has been a partner with Maxnomic since 2013. Their official chair is a custom Maxnomic Pro with Team Liquid styling.
With Ninja and Team Liquid on their roster, Maxnomic has a huge esports presence. The Maxnomic Pro stands up to scrutiny with classic high-end gaming chair features. Expect plush padding, 4D armrests and a sturdy build that can support years of intense gaming.
Check Team Liquid Maxnomic Prices on Amazon
Learn more about these chairs in this detailed Maxnomic Pro review
SK Telecom T1: Secretlab Titan & Omega
SK Telecom T1 is a South Korean pro gaming team. Their financier is Korean Telecom giant SK Telecom. They won the League of Legends World Championships in 2013, 2015 and 2016.
Before, team T1 used custom DXRacer Racing Series chairs. In October 2019, they signed a deal with Secretlab. Secretlab is now the official chair sponsor of all T1 teams. These include their mega-successful League of Legends Champions Korea (LCK) team. Other notables include their Dota 2, PUBG, Fortnite and Apex Legends teams.
Secretlab T1 Edition chairs
To kick off the partnership, Secretlab has produced Secretlab T1 Edition gaming chairs. These models come in Titan and Omega variants.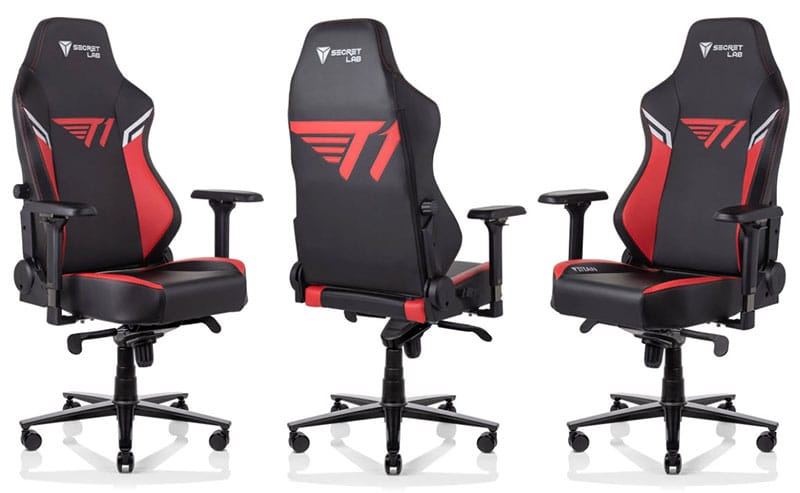 The red and black colors pay homage to T1's massive success. The intricate embroidered celebrates the team's rich legacy.
Secretlab Brand Review: comparing all models
These models are available for sale in Titan and Omega variants from Secretlab. To compare the two models, read our Secretlab Brand Review.
Cloud9: Secretlab Titan & Omega
Cloud9 is one of the top esports organizations in the world. Investors include the WWE, Reddit founder Alexis Ohanian and NFL legend Joe Montana.
The group formed in 2013, when CEO Jack Etienne took over a League of Legends roster from Quantic Gaming. After a successful run in the North American LoL Championships, the team expanded. Today, there are Cloud9 teams with over a million in earnings playing CS:GO, Dota 2 and League of Legends.
​
Secretlab Titan & Omega chairs
Cloud9 is another team that recently switched from Maxnomic to Secretlab. They signed a multi-year deal with Secretlab in 2018 for officially licensed chairs.
Statement from Jack Etienne, Cloud9 CEO & Owner:
"Secretlab caught our eye as they were making waves in the gaming chair scene. After trying their chairs out, we immediately understood what the fuss was about.
We expect our equipment partners to be of the highest professional quality, and Secretlab's products matched our expectations in spades… From here on out, our players will be training for and winning championships in the full comfort provided by the incredible Secretlab Cloud9 chairs."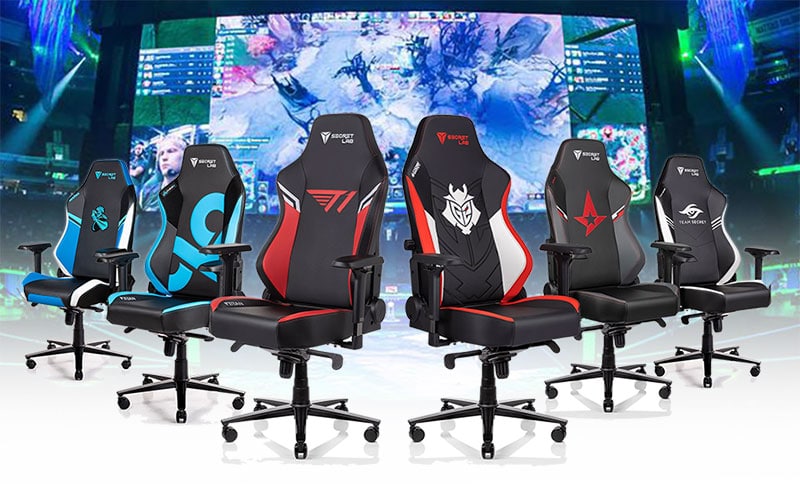 Cloud9 models are available for sale in Titan and Omega versions from Secretlab. To compare the two models, read our Secretlab Brand Review.
SK Gaming: Noblechairs HERO

SK Gaming is one of the world's leading esports organizations. Founded in 1997, the team maintains offices in Cologne and Berlin, Germany. This team is a powerhouse, winning 60 major championships and millions in prize money. Their top squads include a Swedish Counter-Strike team, a Warcraft III team and more.
​
Noblechairs HERO
The Noblechairs HERO is one of the best luxury gaming chairs in the world. It's the flagship of the Noblechairs product line. Read our Noblechairs Brand Review to compare all Noblechairs models.
The HERO is a large, roomy, elegant model. It features sleek German design, thick cold cure foam padding, 4D armrests and more.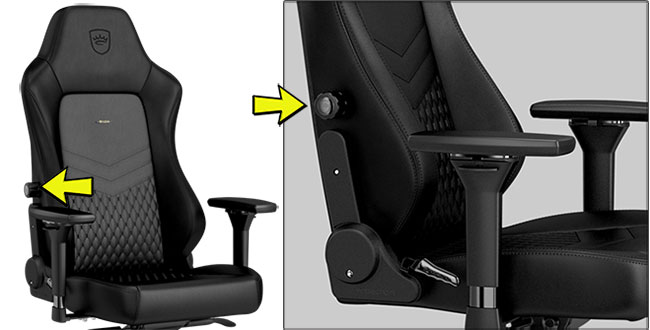 The standout feature is the brilliant internal lumbar support system. This rivals the back support in $1000 ergonomic chairs. Compared to traditional lumbar pillows, it provides more precise. Set, forget and enjoy perfect posture while sitting.
Detailed Noblechairs HERO review
The Noblechairs HERO is available for sale on Amazon for Price not available.
Team Splyce: Vertagear SL5000
Splyce develops world-class esports teams. They excel in League of Legends, Call of Duty, Rocket League, Starcraft 2, Street Fighter, Halo and more. Splyce invests in the highest quality resources for their teams. This creates the best platform for their players to succeed.
Vertagear SL5000
The official chair of team Splyce is a color-modded version of the Vertagear SL-5000. The Team Splyce Edition chair is only available for sale from the Vertagear website.
The SL5000 is Vertagear's most luxurious product. It boasts 4D adjustable armrests, extra-thick padding, and superb ergonomics. To compare all Vertagear products, read our Vertagear Brand Review. Alternatively, check out our detailed review of the SL5000.
Detailed Vertagear SL5000 review
The Vertagear SL5000 is available for sale on Amazon for $389.99.
Gaming Chair partners: esports tournaments
Big brand sponsors are funding their own teams. Traditional sports teams are also setting up esports divisions. Players are enjoying bigger salaries. They also get to monetize their fans by launching personal Twitch channels.
These days, young people talk about Ninja and Shroud the way 90s kids gushed about Michael Jordan. They analyze moves, memorize stats and emulate their favorite player's tactics.
Today, over 250 million people watch esports. In 2020, tech consulting firm Activate predicts 70 million to watch an esports final. That would exceed the viewership of American pro baseball, soccer and hockey finals.
As esports fans multiply, the gaming chairs used at tournaments gain massive exposure.
Below are gaming chair partners for three of the world's top esports tournaments.
League of Legends Championships: Secretlab
Riot Games is the publisher of League of Legends. Since 2011, they've been running League of Legends tournaments around the world.
Since 2013, Maxnomic had been the official LoL sponsor. In 2019, Secretlab took over, joining Mastercard and Alienware as global LoL sponsors.
The Secretlab deal includes the North American and World Championships. The 2020 Championships are the 10th annual. The North American Championships take place in spring. The World Championships are in October.
Secretlab Brand Review: comparing all models
League of Legends models are available in Titan and Omega variants from Secretlab. To learn more about the Titan, read our detailed review.
The International (Dota 2): Secretlab
The International is the concluding tournament of the Dota Pro Circuit. In 2019, over 1.1 million viewers watched the final round on Twitch. Team OG's 3-1 victory over Team Liquid was the most-watched Dota event of all time.
Secretlab was the official chair sponsor of the event. This year's edition – the 10th annual- will return to Europe for the first time since 2011. The International 2020 happens this summer at Ericsson Globe in Stockholm, Sweden.
Secretlab created a special chair for the 2019 event. They also sell a special edition Dota 2 chair for consumers.
Detailed Secretlab Omega review
Dota 2 models are available for sale in Titan and Omega versions from Secretlab.
Capcom Cup: Vertagear
The Capcom Cup is an annual esports tournament focused on the Street Fighter series. The 2019 Capcom Cup finals took place at the Novo Theater in LA in December 2019. There, 32 players competed for the title and $250,000.
Each year, the Capcom Pro tour kicks off in March. Vertagear is the official sponsor of all events. All players get to do their work in custom Vertagear SL5000 gaming chairs.
This is the premium model in the Vertagear product line. The SL5000 proves its mettle by keeping competitors focused during intense tourney play.
Detailed Vertagear SL5000 review
The Vertagear SL5000 is available for sale on Amazon for $389.99.
Summary: gaming chairs used by the pros
What gaming chairs do pros use? All top teams have large training budgets. They could afford pricey Herman Miller task chairs if they wanted. But most pro teams use the best gaming chairs.
Pro gamers use these chairs for full-time training. Players need to stay sharp for long periods under heavy pressure. The right chairs help their bodies sit with good posture. Armrests adjust in enough directions to support wrists and hands. The padding provides firm support that doesn't flatten.
Reviewing 2020's top streamers, teams, and tournaments, a few gaming chairs stand out.
FINAL VERDICT
All gaming chairs listed in this article are professional class. Pro gaming chairs meet the needs of the world's top esports teams and personalities. Chairs of this class have a few things in common.
First, pro chairs support good sitting posture. Second, they have superior padding that holds up under long periods of use. Third, they have the arm support that gamers need to stay fast and loose with their mouse and keyboard.
Do you want to take your computing performance to the next level? Your best option for the highest proven performance is a gaming chair used by pros.