Pokimane is one of the world's top streamers — and a longtime gaming chair user. In late 2021, she started suffering from wrist pain. To address that, she splashed out on a Herman Miller Aeron chair. But she only used it for a few months. In September 2022, she returned from a break atop a Secretlab Titan Softweave chair! What went wrong with her Aeron experience? Plenty! Thinking of buying a Herman Miller Aeron? Check out Pokimane's turbulent experience for important insights!
ChairsFX has been tracking Pokimane's chair usage for a few years. She started streaming in 2018 atop a DXRacer gaming chair. In 2019, she briefly switched to a Herman Miller Embody(1).
However, its large back support was a poor fit for her tiny 5'4″ frame. As a result, she switched to a Noblechairs Epic (rated for sizes 5'6″ and up). The tall, white backrest of the Epic chair has been a staple in her streams ever since.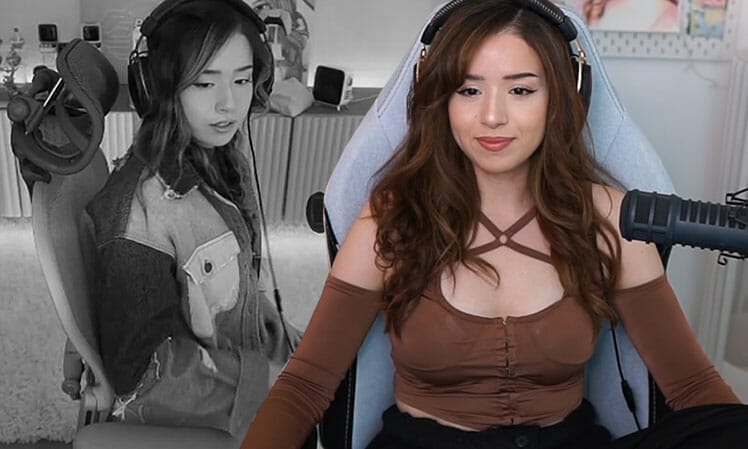 In late 2021, she started to suffer from wrist pain. To fix things, she upgraded to a Herman Miller Aeron chair. But after just a few months of using it, she gave up! As of September 2022, Pokimane uses a Secretlab Titan Frost Blue Softweave chair.
Poki's 'Upgrade': Aeron To Secretlab Titan 2022 SoftWeave
Pokimane's Aeron Chair Misadventure
In November 2021, Pokimane debuted her new Aeron chair in a stream. Over several other streams, she generously shared her early experiences with it. That gives prospective Aeron buyers valuable insights into the Aeron buying process.
Pokimane chose a small-sized Aeron Remastered with a Mineral Finish. Given her 5'4″ frame, the Size A version is a perfect choice!
| | | | |
| --- | --- | --- | --- |
| | Aeron Size A | Size B | Size C |
| Seat | 25.75″ (W) x 16″ (D) | 27″ (W) x 16.75″ (D) | 28.25″ (W) x 18.5″ (D) |
| Backrest | 20.25″(W) x 21″ (H) | 21.5″ (W) x 22″ (H) | 22.75″(W) x 23″ (H) |
| Seat Height | 14.75″ to 19″ | 16″ to 20.4″ | 16″ to 20.5″ |
| Size Rating | 4'10" to 5'9″; 300 pounds | 5'2″ to 6'6″; up to 350 pounds | 5'2″ to 6'6″; up to 350 pounds |
Herman Miller sponsors many top streamers like TimtheTatman. But Pokimane isn't a partner. She bought the chair with her own cash, on her own terms.
Aeron Remastered from Herman Miller $1695
Learn more in this detailed Aeron Remastered Review.
Episode 1: The Chair Arrives Broken!
On November 12, Pokimane broadcast a live stream titled welcome everyone (✿◠‿◠) CHAIR UNBOXING!(2) The Aeron was poised to make a grand debut to her 8+ million Twitch followers. But it was not to be!
The Aeron ships pre-assembled. As Pokimane rolled it out of the box, she began to bask in its glory. Then, she noticed that an armrest cap had broken off!
Imagine spending over $1600+ on a chair and receiving it broken! Like most people, she went through the five stages of grief. Once she reached the acceptance phase, she decided to fix the armrest with super-glue.
Luckily, common sense prevailed. Instead of a super-glue home remedy, she reboxed the chair and contacted Herman Miller.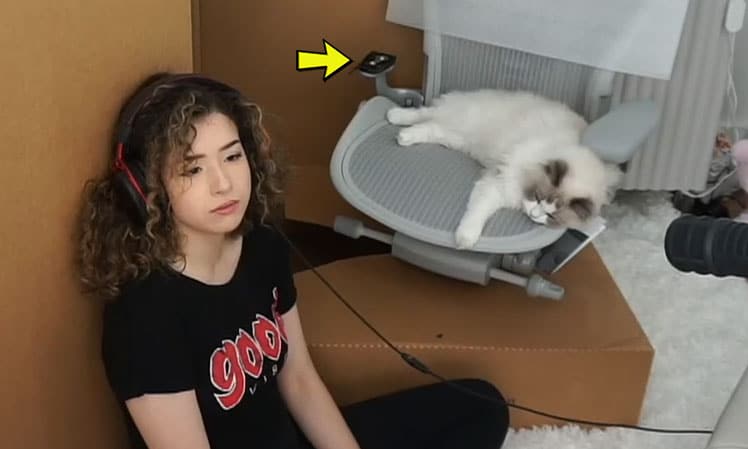 Protip: even multi-billion-dollar companies like Herman Miller can make mistakes. If your chair arrives damaged, stay cool. Contact the chair company and ask them to resolve it. Most legit brands will help you with sincere apologies.
Episode 2: Replacement Chair & Headrest
On her Nov. 25 stream, a replacement Aeron chair arrived(3). Had she super-glued the armrest in place, she would have voided her warranty.
Instead, she suffered a 13-day delay to let Herman Miller resolve the problem. If your chair arrives damaged, keep this strategy in mind.
Aeron Headrest Mistake
The ergonomic chair buying process includes physiological and psychological factors. The former has to do with the quality of back support. The latter refer to gimmicks that make a chair appear to be more comfortable.
A headrest on a mid-back office chair is an excellent example of this. In fact, Herman Miller makes it very clear: Leaning your head back on a headrest while in an upright position would be improper posture"."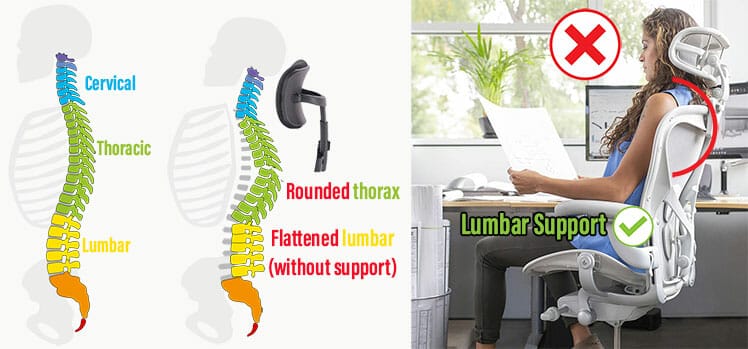 Specifically, adding a headrest to an Aeron chair promotes a rearward head tilt. That curves the upper spine, forcing the neck to tilt forward. As the upper spine curves forward, the lower back tightens up.
Bottom line: the Aeron is one of the world's best posture-correcting chairs. By adding a headrest to an Aeron, users will lose its most spectacular feature (good back support). Learn more:
Episode 3: Learning Aeron Functionality
The Aeron has unique controls that take time to comprehend. Herman Miller's official PDF user guide covers the essentials(4) but isn't intuitive.
On December 6, Pokimane made another stream(5). Instead of the PDF user guide, she used Herman Miller's Aeron video user guide(6). As backup, she crowdsourced help from stream viewers to help her with the Aeron chair's settings.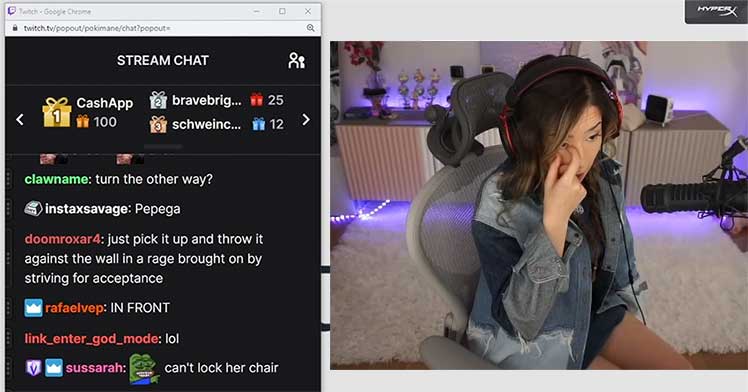 Spoiler: the crowd offered little help. Therefore, Pokimane deployed a common strategy for new Aeron chair users. She mashed controls randomly while thrashing around in the chair.
After around 30 minutes of thrashing, she figured out all the settings she needed.
Essential Aeron Functions
Seat height: pop the switch under the right side of the seat open. That will loosen the seat lock and kick in the gas lift. Push down with your bum until you find your ideal head. Then, push the switch back into a locked position.
Tilt tension: if you want to rock in an unlocked position while working (not recommended), fiddle the knob under the right side of the seat. Turn forward to increase tension. Turn back to loosen the rock.
Tilt angle: reach for the knob under the left side of the seat. It has an outer and inner dial. Turn the outside one to toggle the angle.
Posturefit: turn the dial behind the backrest to adjust the depth of lumbar support. The height is non-adjustable — that's why you should stick with Aeron chair size ratings. If you use an Aeron not rated for your size, the lumbar support won't work.
Adjust seat angles: you can lock the Aeron's seat at various upward or downward angles, or also with a flat horizontal angle. Turn the outside dial under the left seat backward to free-flow the seat angle. When you find your preferred angle, turn the knob forward to lock it.
Advice: a great way to get your head around Aeron settings is to pay attention to the buying process. It includes seven options that customize the functionality of your chair. As a result, once your chair arrives, you'll have a good idea of what to expect.
Where Did Pokimane Go Wrong?
Pokimane spent over $2000 on a tricked-out Aeron chair in November 2021. But for the next six months, she switched back to her Noblechairs Epic. Her pricey Aeron doubled as a cat bed and guest chair.
In the summer of 2022, she appears to have finally made a full-time switch to her Aeron chair. Special thanks to Pokimane for sharing her Aeron story.
If you're shopping for an Aeron, take note of Pokimane's two crucial errors. Avoid these to ensure you get the best value from your investment!
Mistake 1: A Chair Won't Heal Injuries
I asked some of the esports industry's leading physical therapists about Pokimane's case. Dr. Jordan Tsai of Respawn Therapy works with elite teams like Cloud9, TSM, Evil Geniuses.
He also sits on Secretlab's Ergonomics Advisory Board. Even so, he touts a good chair as the last option to treat pain. Before that, he advises players to spend two hours daily doing a range of motion exercises.
Dr. Elliot Smithson works with 1-HP.org. His clinic services G2, Team Liquid, Fnatic, and other elite squads. He says that wrist pain is the most common esports injury his clinic deals with. For a start, he recommends "taking breaks every 45 minutes and standing up to do some light stretching."
Dr. William Duncan of Southeast PT offers this summary: "A chair alone cannot fix your issues. If you work on strength & endurance and use a good chair, this will most likely resolve the source of your symptoms and allow you to play longer."
Mistake 2: Wrong Buying Choices
Another mistake that (I suspect) Pokimane made was to buy a misconfigured Aeron. In the Herman Miller store, there are seven configuration options that are worth paying attention to:
Frame and base colors: six styles to choose from (graphite is cheapest, mineral + polished aluminum is $320 extra).
Chair size: choose Size A (small), Size B (medium), or Size C (XL). All are the same price.
Back support: no back support (cheapest); Adjustable Lumbar Support Pad ($75 extra); Posturefit ($95 extra).
Seat and backrest tilt: Standard Tilt lets you control rocking tension. Tilt Limiter ($100 extra) lets you lock the backrest and seat at different angles.
Armrests: choose non-adjustable; height-adjustable ($125 extra); 3D adjustable ($255 extra)
Armrest pads: choose standard or leather ones ($180 extra).
Caster wheels: choose casters for carpets; multi-surface casters with 'quiet roll'($50 extra).
The two most crucial choices are the size of the chair and the type of lumbar support.
Aeron Sizing
The Aeron comes in small, medium, and extra-wide sizes. At 5'4″, Pokimane went with an Aeron Size A (small).
Aeron Lumbar Support
The Aeron comes with a choice of lumbar support systems. PostureFit ($95) supports both the lumbar and sacral spine with a dual-pad design. You can adjust the depth of the pads, but not the height.
The other option is a height-adjustable sliding lumbar pad ($75). Slide it up or down until it hits your lower back curve.
Here's the tricky part: the Posturefit hits two spinal points, providing better support — but only if it fits. With a perfect fit, the bottom pad applies pressure to the tip of your tailbone.
With a poor fit, it feels like a brick against your lower back! Because of Pokimane's slow adoption of her Aeron chair, it's possible that her Posturefit device didn't fit. Learn more in this breakdown:
Conclusion: 'Upgrade' To a Titan Chair
Pokimane bought her Aeron chair in November 2021. However, she only used it for a few months in the summer of 2022. In September, she finally gave up.
As of September 2022, her Aeron is out of her streams. In its place is a small-sized Secretlab Titan 2022 Frost Blue Softweave. Essentially, she has 'upgraded' — from a $2000 Aeron to a $469 Secretlab Titan. How is that possible? Click the button to find out:
Poki's 'Upgrade': Aeron To Secretlab Titan 2022 SoftWeave
Footnotes