When 2020-era lockdowns hit, the multi-billion-dollar office furniture industry crashed. A year later, MillerKnoll emerged from the rubble as the new industry leader. It's now the largest company — and also the one with the clearest post-pandemic plan. This 2022 Office Chair Industry Report has the details. Check the top office chair companies — and trends — reshaping the office seating market.
The biggest office furniture companies usually generate billions in annual revenue. Most of that comes from B2B sales to schools, government offices, and corporations.
Over the past several years, Steelcase has consistently ranked #1 (in terms of annual revenue generated). Herman Miller has steadily held the #2 spot.
In pre-pandemic 2020, six office furniture companies had generated over a billion in annual revenue. Steelcase and Herman Miller held their usual spots, with the usual stragglers fighting over the scraps.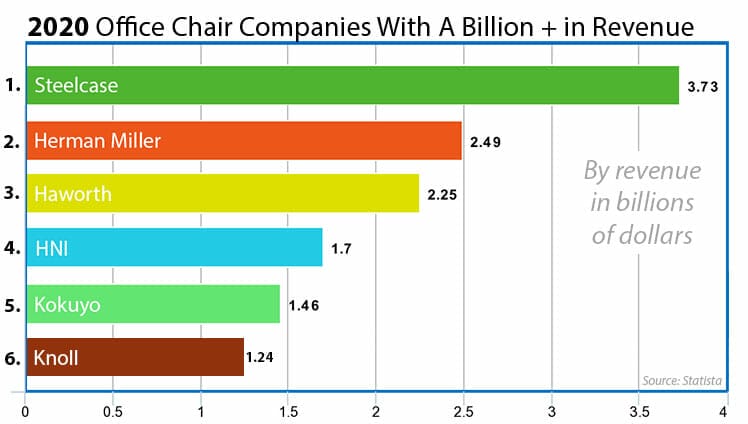 Business was brisk for all parties. At that time, pundits were predicting robust 6% year-by-year office furniture industry growth.
But when lockdowns hit in Q1 2020, office space occupancy crashed. In America, occupancies plummeted by 53%. As offices closed, the demand for corporate furnishings evaporated.
As a result, furniture industry giants saw their revenues crumble. Steelcase shares fell 69% from the 52-week high. Shares of Herman Miller fell over 71%.
Both muddled through slow recoveries as lockdowns eased. Then, in mid-2021, a Herman Miller + Knoll merger dramatically altered the balance of power.
Top Office Furniture Companies Of 2022
The largest office furniture companies of 2022 are the ones that generated the most revenue in 2021. From a stock perspective, the largest are the publicly-traded ones with the biggest market caps.
In 2020, Steelcase ranked #1 with $3.1 billion in annual revenue. Michigan-based Herman Miller ranked 2nd with $2.1 billion. New York-based Knoll ranked sixth with $1.24 billion.
In July 2021, the balance of power shifted. Then, 2nd-ranked Herman Miller announced the acquisition of 6th-ranked Knoll(1). Combined, the new company is a juggernaut. MillerKnoll has 19 leading brands, a foothold in 100+ countries, 64 global showrooms, and 50 retail locations.
Per merger details, both Herman Miller and Knoll will continue to operate as independent brands. Meanwhile, MillerKnoll combines the financial, marketing, R&D, and production might of both companies. Based on announced plans, that company's goal is total industry domination.
As a result, there are still six office furniture companies who earned $1B+ in revenues (in the previous year). Here are the top office furniture manufacturers of 2022:
MillerKnoll

: $3.5 billion
Steelcase: $2.6 billion

Herman Miller

: $2.4 billion
HNI Corporation: $2.2 billion
Haworth: $1.9 billion

Knoll

: $1.1 billion
Herman Miller's acquisition of Knoll gives them a run of the board. The company now controls the first, third, and sixth-largest office furniture companies in the world!
Key Player Reported 2022 Trends
Each company's annual report for the 2021 fiscal year cited shipping and inflation as the biggest challenges heading into 2022.
MillerKnoll is the only one with a clear, forward-moving plan. The rest are hoping to 'ride things out' and wait for market conditions to normalize. Here's a summary:
Office Furniture Industry Trends 2022
Herman Miller was the only major player to proactively tackle lockdown challenges. As a result, it's the only major office chair company with a clear plan moving forward.
Notably, six of the planned initiatives have to do with spreading ergonomic awareness to a wider audience.
This idea of 'evangelizing' ergonomic working benefits is a popular one in the physical therapy world. A popular idea in the therapy community: people adopt sloppy postures because they forget what healthy ones are!
The solution — from a physical therapy perspective — is education. Once people are trained to understand healthy sitting mechanics, they adapt. Here's the formula:
Recipe: Biomechanical Targets + Muscle Memory = Perfect Posture + Benefits
Below is a summary of trends showing that MillerKnoll's plan is spot-on. There are indeed gaping holes in many corporations' post-lockdown plans.
Many of them are related to crappy working conditions on cheap non-ergonomic furniture.
Existing Musculoskeletal Issues
It's well-known in the esports world that healthy, rested & comfortable players perform better. In fact, most savvy gamers apply a 3-step blueprint that anyone can adopt:
Adequate rest, exercise, and nutrition. Eating healthy food, sleeping well, and exercising regularly keep bodies and brains sharp.
Use an ergonomic computing workstation. Get a good ergonomic chair, adjustable computer screens, and a desk.
Take frequent breaks. Frequent breaks get your body moving. It also gives your brain time to reset before another ultra-productive burst of work.
If teenybopper gamers playing Fornite can adopt healthy computer habits, so can desk working adults. With help from office furniture players like MillerKnoll, corporations have the means to make this happen.
By improving the working habits of their employees, companies will enjoy higher production. But those improvements will also bring life-changing benefits to their staff.
As a result, companies can gain tremendous loyalty from suddenly happy, healthy, and motivated workers! Here are some of the most common musculoskeletal disorders that ergonomic interventions can address:
Industry Predictions: Beyond 2022
Based on the facts outlined in this report, here are some broad predictions for the coming years:
Office Chair Industry Report 2023
How accurate were our 2022 performance predictions? This report ranks the top office furniture companies of 2022 – based on the previous year's actual earnings.
A year after writing this, our 2023 Office Furniture Industry Report has also been published. The first column reveals how the top companies actually performed in 2022:
In the next chapter of the story, Steelcase, Haworth, and the HNI Corporation are all trending upwards — assuming hybrid working styles continue. Meanwhile, the biggest industry player in the room faces (predicted) growing pains.
Herman Miller's focus on integrating Knoll into the MillerKnoll juggernaut has given others opportunities to catch up:
Office Furniture Industry Report 2023 (NEW)
Footnotes