The office chair industry is in transition. Today's office workers spend their days using computers, tablets, and smartphones. Those tools have changed the way people sit and move at a desk. While gaming chairs support modern computer users, traditional office chairs do not. As a result, chairs with limited adjustability are out. New ergonomic solutions are emerging. This report summarizes the challenges facing the office chair industry in 2020.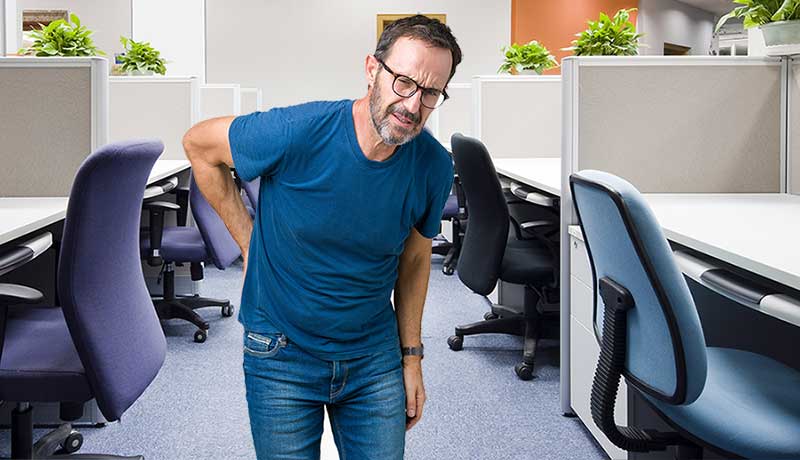 In 2017, market experts valued the office chair industry at around $10.69 billion dollars. Year-by-year growth was pegged at around 6%.
Only a small fraction of that comes from consumer sales — the industry operates as a B2B service. Enterprise sales make up 64.5% of the total, followed by sales to government offices and schools.
Experts predicted a few different reasons for expected growth:
Industrialization in emerging economies drives demand for bulk office furnishings (source).
A growing number of startups and tech parks in America also need furnishings. There is also a Canadian surge in retail and office space construction (source).
Rising demand for ergonomic, healthy solutions to replace outdated office chairs (source).
Office chair industry in decline
In Q1 2020, the global pandemic caused major disruption in the office space market. Occupancy dropped by 14 million square feet. Gross leasing dropped by 53.4%.
This year, over 30 million Americans have requested unemployment insurance. The U.S. jobless rate in April reached 14.7%, an all-time high. In Canada, the construction business was down by 9% in Q1 2020.
Worldwide, ongoing social distancing ensures low traffic in retail spaces. Schools are switching to distance learning models. Offices are empty. A recent MIT study found that around half of American office workers are now working from home.
With schools closed and millions now working from home, projected demand has evaporated. For instance, Steelcase (one of the world's largest office furniture companies) laid off most of its production staff in April 2020. Despite these new realities, most industry projections you will find online still predict massive industry growth. That's because most were written in 2018.
Statista is one of the few with updated projections. They now predict a deep slump in 2020, followed by a slow recovery.
Luckily for the industry, while enterprise demand has slowed, demand for ergonomic office furniture is on the rise.
History of ergonomic chairs
Ergonomic awareness in America has been crude. Before the nineteenth century, most of the global workforce worked as farmers. Then came the railroad, and then the Industrial Revolution. As farming jobs dwindled, administrative jobs increased. The concept of the office worker was born.
In the 1920s, the common belief was that sitting comfortably made for laziness. Workers in factories often labored in factories on backless benches. As staff health issues surged, a few improved designs emerged. For instance, the Do/More chair added a backrest. It promised to prevent hemorrhoids, kidney trouble, and other issues caused by slouching.
Meanwhile, in the education system, harsh posture practices were the norm until around the 1950s. After that, ergonomics became a non-factor.
It wasn't until the 1970s that the office chair industry began to take notice of human-centered design concepts. Then, a series of factors led to the emergence of the world's first ergonomic chair.
1950: Dr. George Phelan began spreading awareness about Carpal Tunnel Syndrome.
1955: Industrial designer Niels Diffrient helped popularize the concept of ergonomic seating.
1970: President Nixon signed the Occupational Safety and Health Administration Act (OSHA). That penalized companies who failed to provide safe work environments.
These factors led to the release of the world's first ergonomic chair in 1976.
Types of ergonomic chairs in 2020
Many studies show that poor workstation ergonomics increases the risk of musculoskeletal problems. Several others make it clear that specific seating postures can help mitigate those risks.
Contemporary guidelines define ergonomic chairs as having three essential features. Those are adjustable lumbar support, adjustable armrests, and a reclining backrest. In 2020, there are three types of office chairs that meet ergonomic office chair guidelines:
Gaming chair industry vs office chair industry
The global office chair industry was valued at $10.6 billion in 2017. In contrast, the gaming chair industry had a market size of less than $10 million in 2018. Gaming chair analysts predict annual growth of 5%. By 2024, the gaming chair industry is predicted to have a market size of around $70 million.
From this perspective, the gaming chair industry poses no threat to the office chair industry.
However, despite the massive difference in market sizes, Google trends show a narrower gap in consumer search interest. That gap is because the tiny-by-comparison gaming chair industry has several advantages in the consumer market.
Challenges facing the office chair industry
The office chair industry operates as a B2B service. Most top brands sell to enterprises, schools, and government offices are the key drivers. Consumer sales make up only a fraction of annual revenue.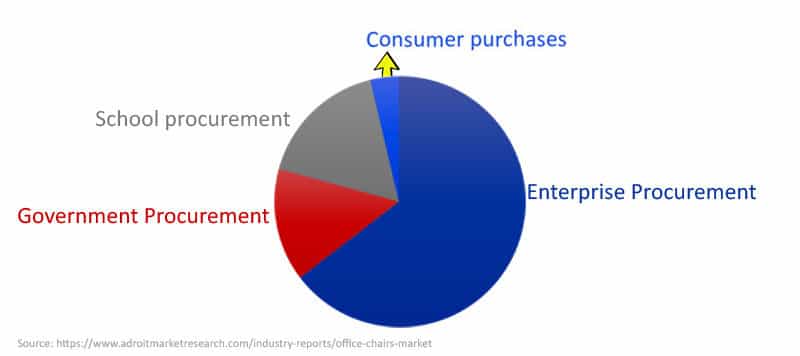 With office and schools closed, B2B demand has evaporated. But with millions now working and studying from home, consumer demand for ergonomic products has skyrocketed. This new reality poses several challenges for the massive, slow-moving multi-billion-dollar office chair industry.
Conclusion: ergonomic seating is the new normal
For the past thirty years, office workers had no choice over their hours, location of work, or workstation furniture. Decades of documented health hazards caused by traditional office chairs were blown off. The office chair industry kept selling billions of dollars worth of back-crippling chairs each year.
In 2006, gamers took control of their wellness by switching to ergonomic gaming chairs. Fast-forward to 2020 and the facts are clear:
Working from home is a new reality that's likely here to stay.
For full-time work at a computer, an ergonomic chair is very necessary.
Moving forward, office chair providers must cater to consumers, not corporations.
To conclude, here are some facts. First, office chairs are bad for your back. Second, ergonomic chairs are good for your back. Third, a good chair on its own is not enough. healthy lifestyle habits are also needed for the best results.
Moving forward, look for waves of new ergonomic chairs to flood the market. Over time, features will likely improve while prices go down. In the end, consumers win. A proper ergonomic chair can make a massive difference. Expect excellent support at great value for your health, wellness, and computing productivity.