This article documents a slice of ergonomic history that would otherwise go unnoticed. In 2022, a gaming chair vs ergonomic office chair debate has a clear (technical) winner. Circa 2022, racing-style gaming chairs (as a collective industry) have superior ergonomic functionality. This article documents recent gaming chair innovations that have leveled the ergonomic seating field.
The world's first gaming chair emerged in 2006, during the height of the desktop computing era. Sixteen years later, new multi-device ergonomic priorities have arisen. These are in response to an emerging Internet of Things (IoT).
IoT describes a network of "things" that contain sensors, software, and other technologies. These connect and exchange data with other systems over the internet. In time, these systems are intended to wrap society in a perpetual state of near-virtual reality.
Imagine hundreds of computers embedded in a room yet "invisible to common awareness. People will simply use them unconsciously to accomplish everyday tasks."(1)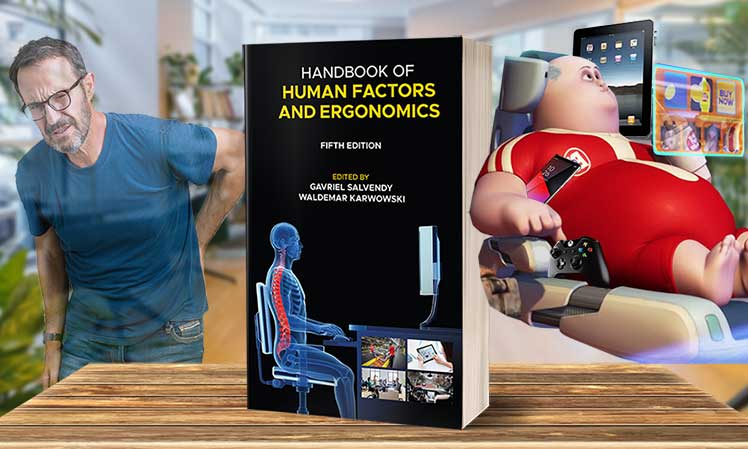 The Handbook of Human Factors and Ergonomics(2) documents the latest standards in workplace environment design. For the ubiquitous computing era, the latest 5th edition lists three ergonomic design priorities:
Physical technostress: excessive use of laptops, tablets, and smartphones will increase the risks for musculoskeletal disorders.
Gadget fatigue: users become overwhelmed when choosing appropriate digital gadgets.
Mental technostress: cognitive overload from using too many complicated gadgets at once.
The gaming chair industry has already pivoted to incorporate these new guidelines. In doing so, it matched and then exceeded the feature sets of ergonomic office chairs.
Recent Gaming Chair Tech Advances
This 1904-2022 ergonomic evolution timeline shows that technology drives seating innovations. For instance, when farmers shifted to desk work in the early 1900s, the standard office chair emerged.
When office computing emerged in the early 1990s, ergonomic office chairs soon followed. When esports exploded a decade later, gaming chairs appeared on the scene.
As the multi-device commuting era unfolds, the gaming chair industry has already started to adapt. with a series of groundbreaking innovations. Here are the top-7 major gaming chair innovations released in the past 12 months:
Relevance: New Ergonomic Standards
The gaming chair industry has been around since 2006. For most of its 16-year history, there was very little innovation. Most new chairs on the market simply copied the original DXRacer design.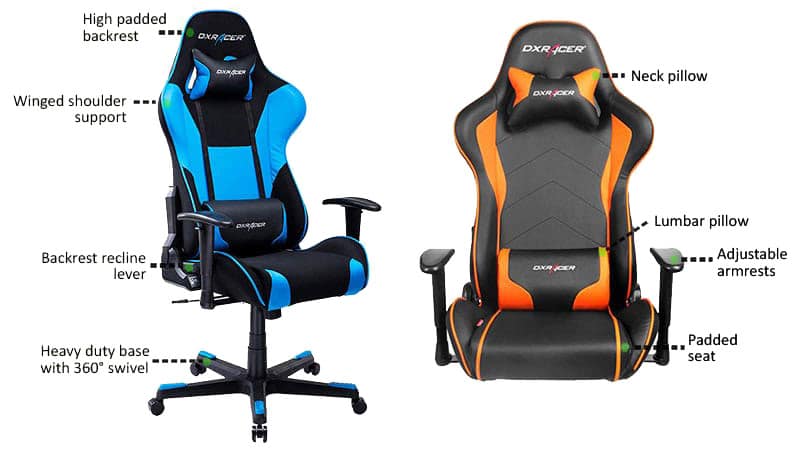 In sharp contrast, this article lists 7 major innovations — all from the past 12 months! These arrive in sync with new institutional-level ergonomic design priorities.
The 5th edition of the Handbook of Human Factors and Ergonomics documents standards in workplace environment design. Released in 2021, it makes desk worker back support secondary to two tech-related issues.
First, a state of multi-device perpetual computing is emerging. In that new reality, multi-device ergonomic support is urgently needed.
Second, severe technostress is inevitable in a perpetual computing environment. To avoid data burnout, info-era workers need more output screens with more placement options.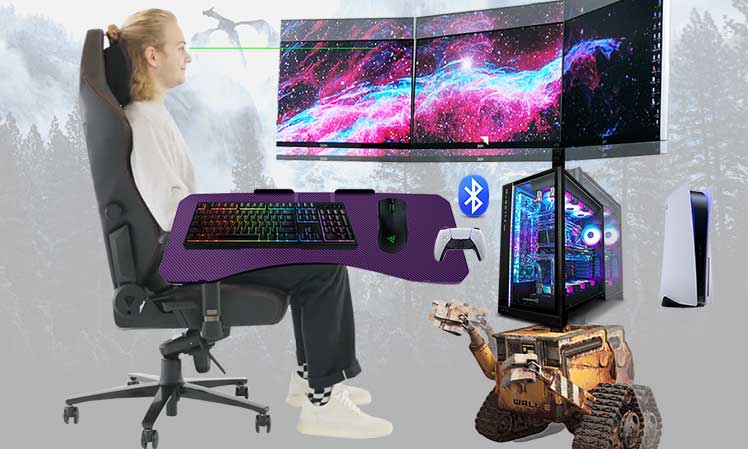 The good news is that with recent gaming chair innovations, the tech already exists for perpetual, multi-device (and deskless) computing! Check out this prototype cobbled together from recent gaming chair innovations:
Prototype: Deskless, Multi-Device Gaming Chair
Footnotes
Weiser, M. 'The computer for the 21st century.' Scientific American, 265(3), 94–105, 14 June, 2012. https://www.ics.uci.edu/~corps/phaseii/Weiser-Computer21stCentury-SciAm.pdf (accessed 2 March 2022).
Edited by Gavriel Salvendy. 'Handbook of Human Factors and Ergonomics'. John Wiley & Sons, Aug 24, 2021. https://www.worldcat.org/title/handbook-of-human-factors-and-ergonomics/oclc/35986430 (accessed 2 March 2022).
Henry Gray. 'Anatomy of the Human Body', 3b. The Vertebral Column as a Whole, Philadelphia: Lea & Febiger, 1918; Bartleby.com, 2000. https://www.bartleby.com/107/25.html, (accessed 13 March 2022).