Herman Miller is the world's most influential office furniture company. Now, it's gunning to become the world's dominant gaming chair company. To that end, the company recently partnered with G2 Esports. The team will start using Embody gaming chairs as its official ride. No special chair designs have been announced. In fact, it seems unlikely. Even so, here are two sweet Embody x G2 prototypes that could be possible — depending on public demand.
Our 2022 Office Chair Industry Report documents Herman Miller's rise to become the dominant office furniture brand of this era.
In 2020, the company launched a gaming furniture division. The Herman Miller gaming collection includes three gaming chairs, a sit-to-stand desk, and a desk-mounted monitor arm.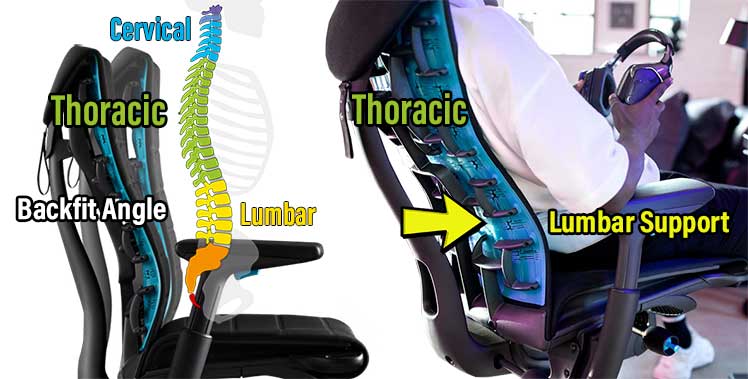 The Embody is the star of the collection. Unlike other chairs, it prioritizes support to the upper back. Lumbar support is secondary. The unconventional support style makes it a bit tricky to figure out.
Those who fail to figure out its nuances will live with regret. On the flip side, those who manage will enjoy one of the best back support systems in the world.
Embody Gaming Chair from Herman Miller $1795
The Embody Classic Office Edition is also available from Herman Miller for $1795.
Herman Miller x G2 Collab Chair Designs
G2 Esports is Herman Miller's highest-profile team partner to date. This Germany-based squad (founded in 2014) has won 576 tournaments and over $10 million in career earnings(1).
In announcing the deal, Herman Miller's Gaming GM Jon Campbell declared(2) it "time for brands to provide more value than licensing deals and good upholstery stitching. In a homogenous category, the disruptor will be the one who leads with human-centered design."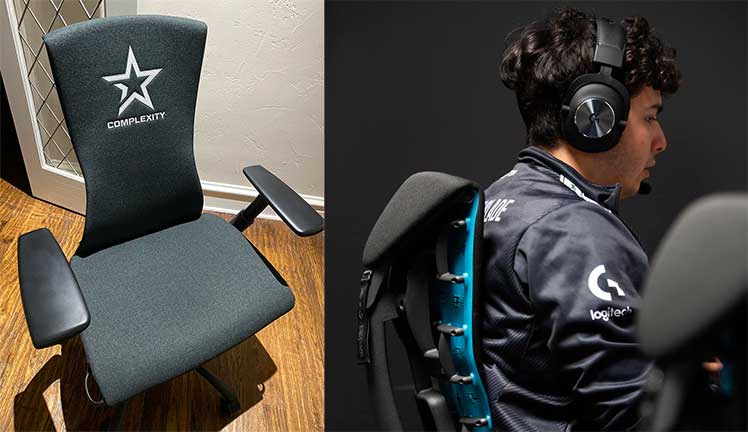 This makes it sound like G2 will not be getting custom designs. In fact, among Herman Miller's other partners (TeamSolomid, San Francisco Shock, Complexity Gaming), only Complexity uses a custom team edition chair.
However, one of Herman Miller Gaming's declared goals is to "respond quickly to player feedback." To that end, they added an all-black Embody gaming chair in 2021 based on input from users.
Thus, if demand for G2 special edition designs exists, Herman Miller might listen. Otherwise, expect G2 to use standard-issue Embody gaming chairs. For Herman Miller, that means simpler production processes.
But for gamers, it means a monotone field of chairs that all look the same. To help avoid a boring, monotone seating future, here are some G2 collab alternatives.
G2 Special Edition With Red Accents
This version retains the black fabric of the original gaming edition. It uses G2 brand guidelines(3) to vary the color accents. It also adds a G2 logo to the front of the chair.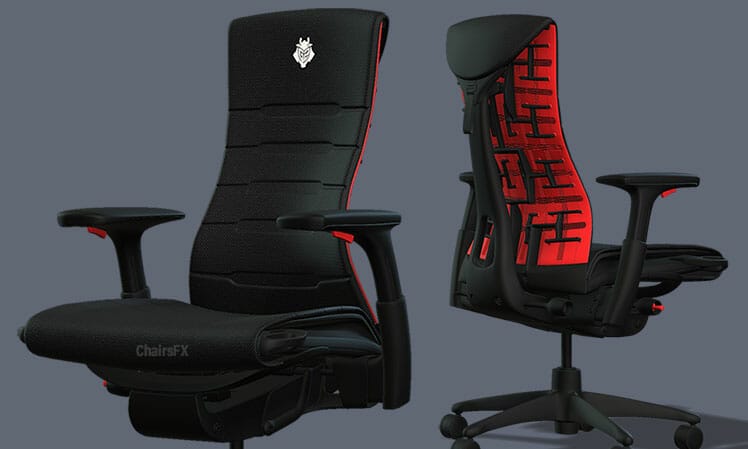 The red plastic along the backrest shows what's possible by mixing up Embody colors. It blends perfectly with the black, matches G2's color scheme, and gives the Embody a fresh new look.
G2 Edition With Red Fabric + White Accents
Our second version mixes up the G2 color palette in a bolder, more colorful manner. Red fabric adorns the front, complemented with white accents.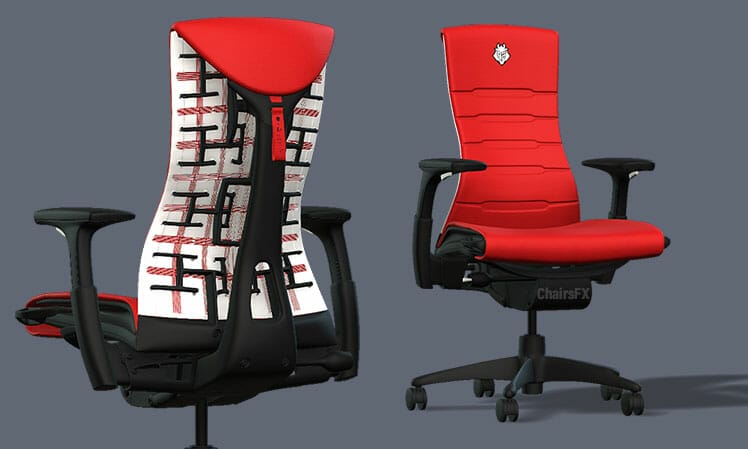 In my opinion, this version really pops. The super-intense red fabric blends well with the clean white accents. From the front, it looks like a thrilling battle station ride. From the rear, it gives off a crisp, clean, almost clinical feel.
Conclusion
The Herman Miller Embody gaming chair is legit. On ChairsFX, it ranks as the best gaming chair in the world — but not for everybody. Users shorter than 5'8″ may find the (non-height-adjustable) lumbar system hits too high. As well, the complex controls tend to befuddle ergonomic chair first-timers.
When its gaming collection debuted in 2020, Herman Miller promised "gamer-first designs". However, the Aeron, Embody, and Sayle gaming chairs are functionally the same as the office editions. The only difference between the two is color schemes.
With the G2 partnership, Herman Miller is once again promising big things. "A shift is happening in the 'gaming chair category.' It's time for brands to provide more value…"
If that intent is genuine, we'd love to see the Embody evolve to truly support 'gamer-first designs'. First, by catering to more sizes with height-adjustable back support.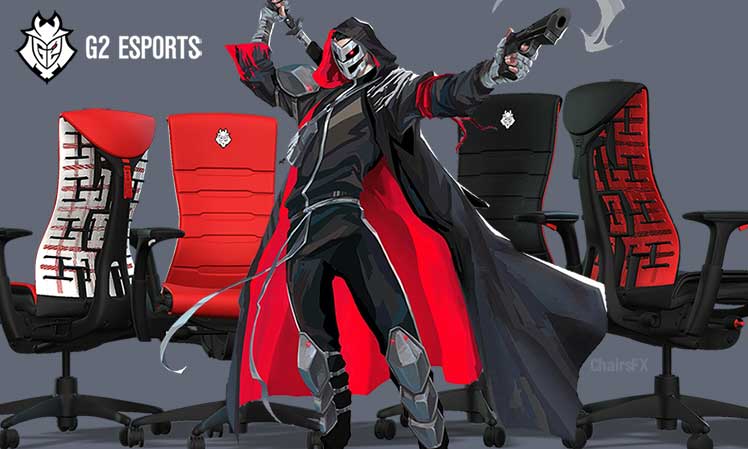 Second, by adding more custom designs, such as special edition G2 collaboration chairs. We've no idea if that will happen, but will all find out soon!
Learn more: Herman Miller Embody Gaming Chair Review
Embody Gaming Chair from Herman Miller $1795
The Embody Classic Office Edition is also available from Herman Miller for $1795.
Footnotes
Highest Overall Team Earnings, https://www.esportsearnings.com/teams
Jon Campbell. 'Herman Miller x G2 Partnership", Linkedin post, July 18, 2022. (accessed 15 Aug. 2022).
G2 Esports, 'Brand Guidelines', https://g2esports.com/pages/brand-guidelines (accessed 15 Aug. 2022).