Herman Miller's gaming division launched in 2020 with the stunning teal and black Embody x Logitech G gaming chair. A year later, they added an all-black gaming edition by request — with a pledge to respond to gamer feedback. So when Herman Miller partnered with G2 Esports in 2022, ChairsFX pitched custom designs. That didn't happen. But soon after, they dropped 5 Embody style concepts for famous streamers. Soon after that, they dropped two new gaming designs. Summary: Embody gaming chair custom design prototypes — plus new Amethyst & Galaxy gaming chairs available for sale.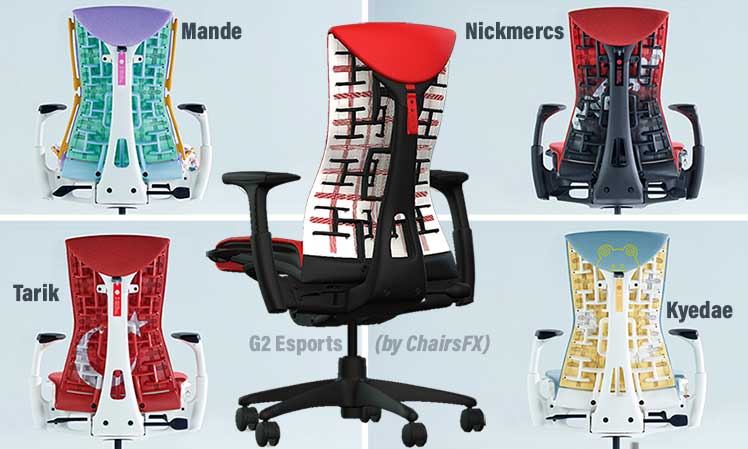 In 2020, Herman Miller launched a gaming furniture division. The Embody x Logitech G gaming chair kicked off the collection. The aim: to switch video game players onto the Embody's back support benefits.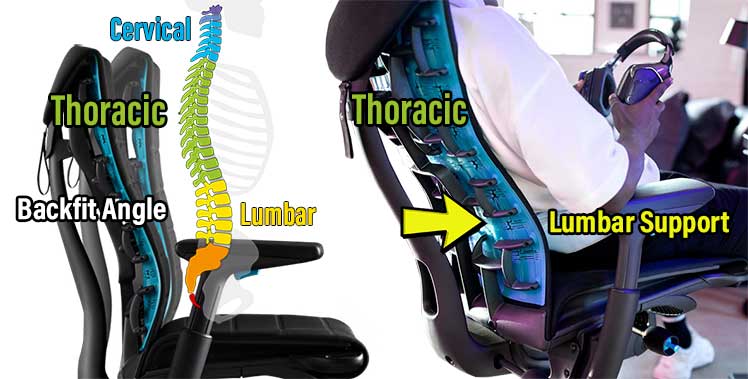 The Embody prioritizes support to the upper back. Lumbar support is basically non-existent — a built-in curve that's set too low to be of any use.
This unconventional support style makes it tricky to figure out — especially for first-time ergo chair users. Those who fail to figure out its nuances may suffer back pain and financial regret.

On the flip side, those who manage will enjoy one of the best back support systems in the world.
Embody Gaming Chair from Herman Miller $1795
Embody Gaming Chair Review: 4 Styles, Cheaper Prices & How To Use
ChairsFX Embody x G2 Collab Pitches
G2 Esports partnered with Herman Miller to use Embody gaming chairs in June 2022. G2 is Herman Miller's highest-profile team partner to date. This German-based squad (founded in 2014) has won 576 tournaments and over $10 million in career earnings(1).
In announcing the deal, Herman Miller's Gaming GM Jon Campbell declared(2) it "time for brands to provide more value than licensing deals and good upholstery stitching. In a homogenous category, the disruptor will be the one who leads with human-centered design."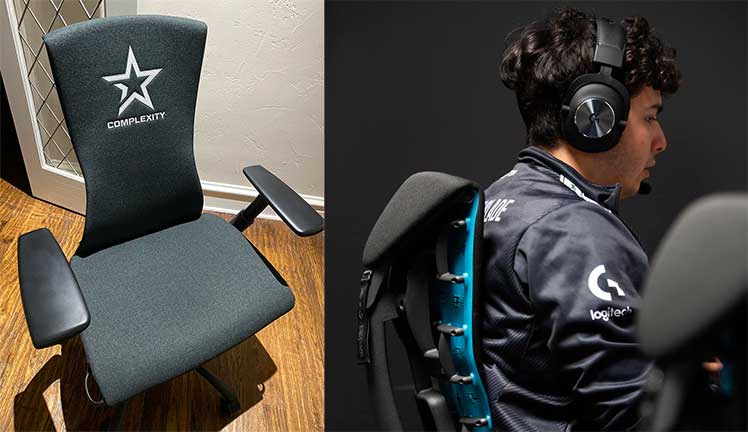 This made it sound like G2 would not be getting custom designs. In fact, among Herman Miller's other partners (TeamSolomid, San Francisco Shock, Complexity Gaming), only Complexity uses a custom team edition chair.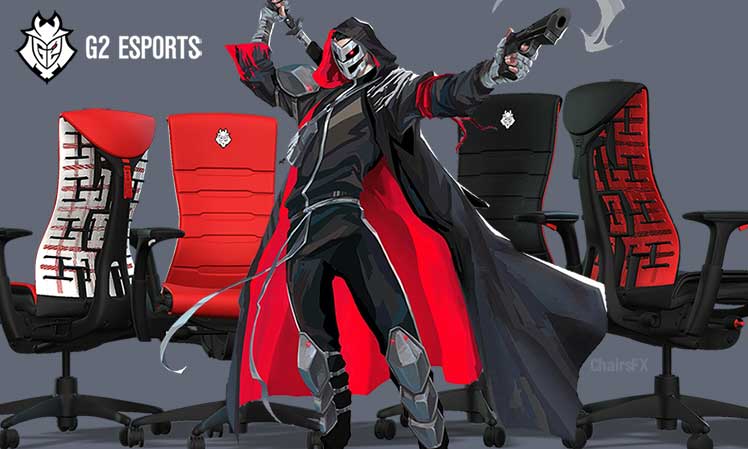 However, one of Herman Miller Gaming's declared goals is to "respond quickly to player feedback." To that end, they added an all-black Embody gaming chair in 2021 based on input from users.
If demand for G2 special edition designs existed, Herman Miller might have listened. But soon after the G2 partnership was announced, G2 Esports CEO Carlos 'Ocelote' Rodríguez resigned after a scandal(3).
The Ocelote's shenanigans killed any chance of G2 x Embody special designs. Even so, our two concepts are still worth a look:
G2 Special Edition With Red Accents
This version retains the black fabric of the original gaming edition. It uses G2 brand guidelines(4) to vary the color accents. It also adds a G2 logo to the front of the chair.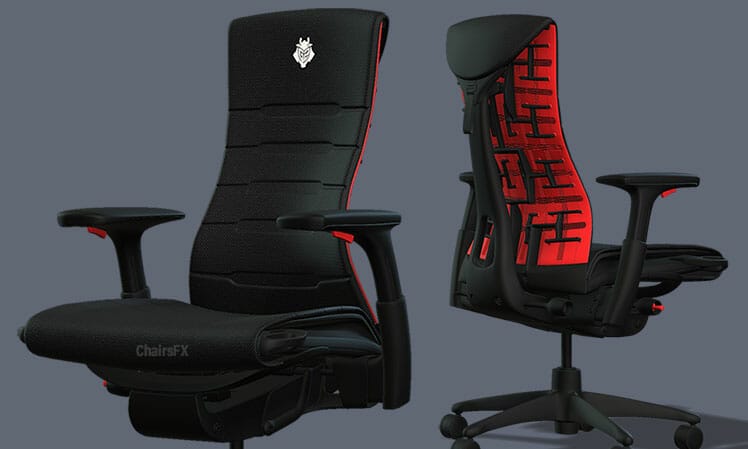 The red plastic along the backrest shows what's possible by mixing up Embody colors. It blends perfectly with the black, matches G2's color scheme, and gives the Embody a fresh new look.
G2 Edition With Red Fabric + White Accents
Our second version mixes up the G2 color palette in a bolder, more colorful manner. Red fabric adorns the front, complemented with white accents.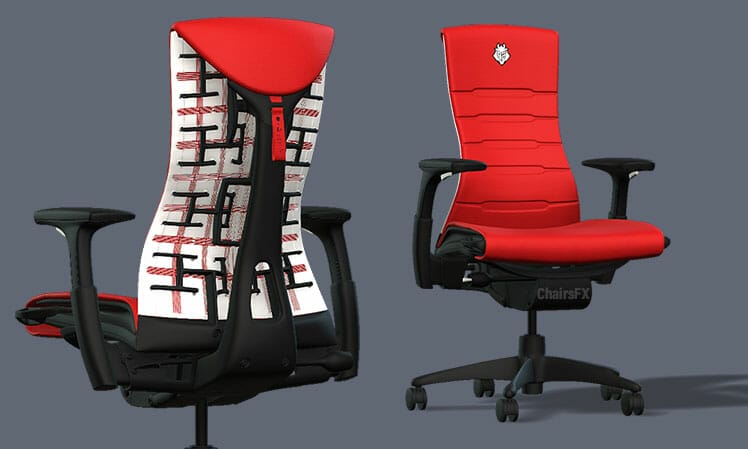 In my opinion, this version really pops. The super-intense red fabric blends well with the clean white accents. From the front, it looks like a thrilling battle station ride. From the rear, it gives off a crisp, clean, almost clinical feel.
New Embody Amethyst & Galaxy Styles
Thanks to the Ocelote, G2 x Embody collab designs never materialized. But in March 2023, Herman Miller Gaming did release two new Embody gaming chair colorways:
The new Amethyst (purple) and Galaxy (green) designs are the first Embody gaming variants with white frames. Notably, Herman Miller is keen in spreading Embody gaming chair appeal far and wide.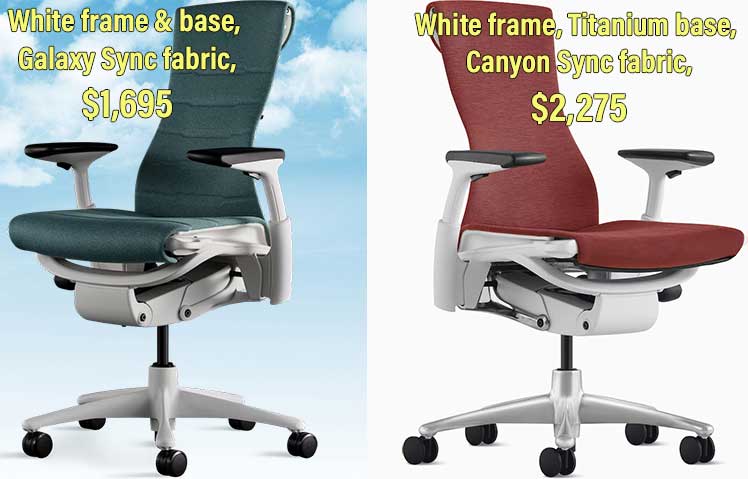 To that end, the new Amethyst and Galaxy styles are significantly cheaper than classic Embody chairs with white frames. A month later, these fabrics made another splash as part of a 5-pack of custom streamer concept chairs.
Embody Amethyst Edition From Herman Miller $1695
Learn more: New Herman Miller Embody Amethyst & Galaxy Gaming Chairs
Herman Miller Streamer Designs
A month after the Amethyst & Galaxy releases (April 2023), Herman Miller dropped five special edition (not for sale) streamer chair prototypes. They advertised these across Herman Miller Gaming social media channels(5).
Our community is nothing without our partners. To celebrate how they play, our product design team crafted five, unique Embody Gaming Chairs for a few of our favorite creators and streamers… let us know which one you like best!
@HMGaming
Here's a quick look at each of the five designs:
Mande: Purple, Yellow, Green
A fan-favorite in Apex and #1 in our hearts: @mande and Pathfinder have become practically synonymous, so we borrowed elements from the character's "unicorn skin" for his chair. ​
@HMGaming
Nickmercs: Red, Black, White
We channeled @nickmercs' community-first mindset to build his custom Embody. From his notorious Spartan emblem to the fans who've made it all happen, this chair is designed for an icon. GLHF! ​
@HMGaming
Kyedae: Blue, White, Yellow
The chair buddies for Mochi and Kuro are just the start: @kyedae's custom Embody features a number of call-outs to represent her singular gaming career. (Peep the frog on the back and the letterman-style typeface we used for her name.) ​
@HMGaming
Tarik: White x Red Turkish
What's a content king without his throne? An ode to @tarik's Turkish heritage and the loyal community behind him, this one-of-one Embody is built to carry the crown. ​
@HMGaming
iiTzTimmy: Silver x Black
A 9K world record, the hours spent grinding for solo Predator status: @iitztimmy's handcrafted, one-of-one Embody is both a nod to a true legend and a celebration of his inspiring accomplishments.
@HMGaming
Conclusion
The Embody gamming chair started out with a black and teal design. In the fourth quarter 2021, Herman Miller added an all-black iteration. This was supposedly inspired by user requests.
In its Fourth Quarter Fiscal 2021 report, the company cited that as "part of our strategy to respond quickly to player feedback."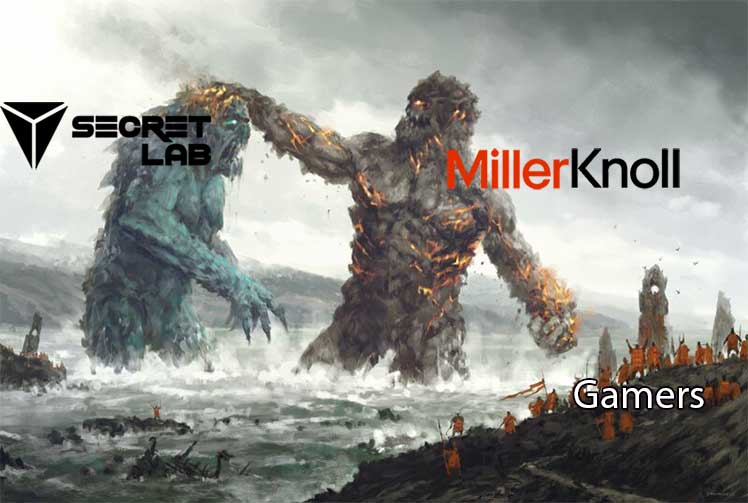 This tactic takes aim at Secretlab; they've being using a wildly successful feedback-driven development strategy for years. Today, its flagship Titan chair comes in three sizes, two upholstery types, and over 50+ designs.
Herman Miller's five streamer chair prototypes take a step in that direction. Its Twitter post(5) about the designs welcomed feedback:
Dig into the details with us and let us know which one you like best! ​
@HMGaming
ChairsFX Embody Chair Feedback
The Herman Miller Gaming Twitter(5) welcomes feedback about the five streamer prototype chairs. Beyond new colors, ChairsFX has a technical request to throw in.
The Embody's unique design makes it very easy to maintain near-perfect sitting postures. But this is without any lumbar support. As is, the built-in curve hits too low to be of any use.
For many, this won't matter. Even without lumbar support, the Embody supports good posture. However, a closer look reveals a severely flattened lower back curve.

Many studies show that a chronically-flattened lower back curve causes serious health issues. So despite the Embody's legit comfort, the lumbar-less style makes me paranoid. There are 2 possible solutions:
Make the backrest height-adjustable. Then, the user can adjust the built-in lumbar curve to fit their size.
Embed a sliding lumbar support system into the backrest (like most Steelcase chairs do)
While hyping the G2 partnership, Herman Miller promised big things(2). "A shift is happening in the 'gaming chair category.' It's time for brands to provide more value…"
If that intent is genuine, we'd love to see the Embody evolve to truly support 'gamer-first designs'. First, by adding lumbar support height-adjustability. Second, by adding more custom designs.
Learn more: Herman Miller Embody Gaming Chair Review
Embody Gaming Chair from Herman Miller $1695
The Embody Classic Office Edition is also available from Herman Miller for $1795.
Footnotes