Herman Miller partnered with G2 Esports in 2022. Then, the team agreed to use the Embody as its official esports chair. ChairsFX first published this article to campaign for a custom Embody x G2 design. That day has finally arrived. The Herman Miller x G2 Esports Embody Gaming Chair is here. It's a limited edition: 250 chairs with signature G2 etching.
The Herman Miller x G2 Esports Embody Gaming Chair is now available in the Herman Miller Store. It's a Herman Miller Embody gaming chair with G2 Esports-branded upholstery. On the front of the chair, it's embossed with a unique chevron design.
On the rear is a white Pixelated backrest shell with dark components. At the top of the center column is a custom Herman Miller x G2 Esports G-Hook.
Etched on the rear of the seat is "Limited edition G2 Embody | 1 of 250". This implies the G2 edition is a limited run of 250 chairs. These are now available for sale in the Herman Miller Store for $1895.
G2 editions cost $200 more than other Embody gaming chairs. Given that it's a 1-in-250 limited edition, this is a fantastic price for a rare collector's item.
Embody x G2 Edition $1895 from Herman Miller
Compare With Other Styles: Embody Gaming Chair Collection Review
New Embody Amethyst & Galaxy Styles
Before this latest G2 drop, Herman Miller released two new Embody colorways in March 2023. The new Amethyst (purple) and Galaxy (green) designs are the first Embody gaming variants with white frames.
Notably, these models are significantly cheaper than classic Embody chairs with white frames. As well, they appear to be base editions that may power future Embody designs.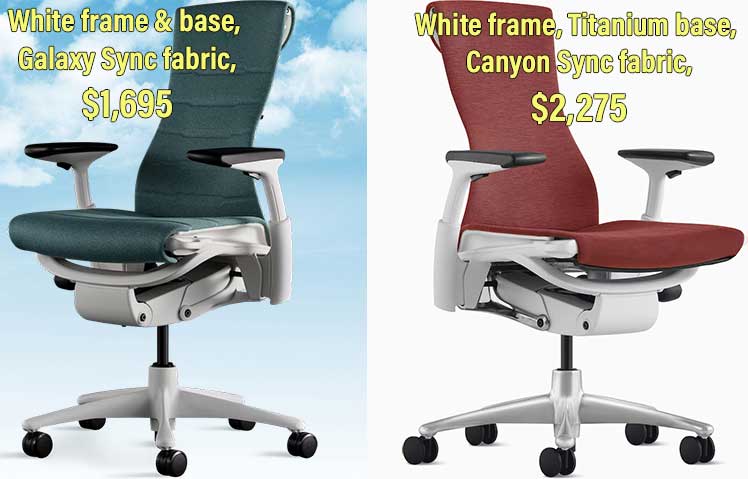 To that end, a month after the Amethyst and Galaxy chair releases, Herman Miller released a 5-pack of custom streamer concept chairs (for display only).
Embody Amethyst Edition From Herman Miller $1695
Release notes: New Herman Miller Embody Amethyst & Galaxy Gaming Chairs
Herman Miller Streamer Designs
A month after the Amethyst & Galaxy releases (April 2023), Herman Miller dropped five special edition (not for sale) streamer chair prototypes. They advertised these across Herman Miller Gaming social media channels(1).
Our community is nothing without our partners. To celebrate how they play, our product design team crafted five, unique Embody Gaming Chairs for a few of our favorite creators and streamers… let us know which one you like best!
@HMGaming
Here's a quick look at each of the five designs:
Mande: Purple, Yellow, Green
A fan-favorite in Apex and #1 in our hearts: @mande and Pathfinder have become practically synonymous, so we borrowed elements from the character's "unicorn skin" for his chair. ​
@HMGaming
Nickmercs: Red, Black, White
We channeled @nickmercs' community-first mindset to build his custom Embody. From his notorious Spartan emblem to the fans who've made it all happen, this chair is designed for an icon. GLHF! ​
@HMGaming
Kyedae: Blue, White, Yellow
The chair buddies for Mochi and Kuro are just the start: @kyedae's custom Embody features a number of call-outs to represent her singular gaming career. (Peep the frog on the back and the letterman-style typeface we used for her name.) ​
@HMGaming
Tarik: White x Red Turkish
What's a content king without his throne? An ode to @tarik's Turkish heritage and the loyal community behind him, this one-of-one Embody is built to carry the crown. ​
@HMGaming
iiTzTimmy: Silver x Black
A 9K world record, the hours spent grinding for solo Predator status: @iitztimmy's handcrafted, one-of-one Embody is both a nod to a true legend and a celebration of his inspiring accomplishments.
@HMGaming
ChairsFX Embody x G2 Collab Pitches
Before the official G2 x Embody chair was released, ChairsFX pitched several designs in August 2022. I figured that if demand for G2 special edition designs existed, Herman Miller might listen.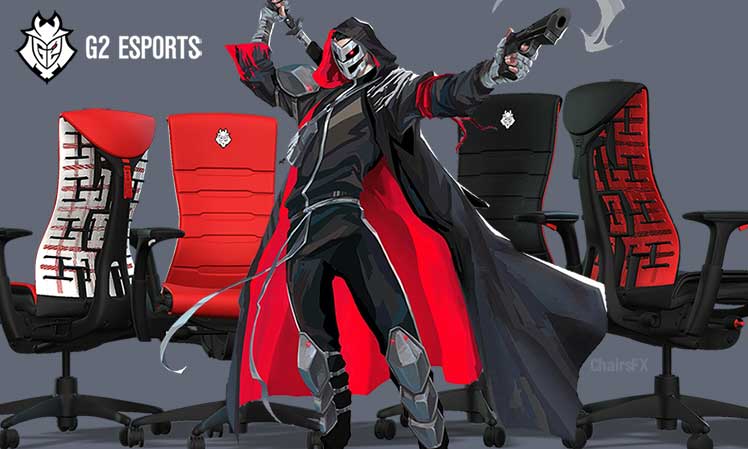 Some of our proposed elements made it into the final design: red armrest knobs, a G2 logo on the front of the chair, and a white Pixelated backrest shell:
G2 Special Edition With Red Accents
This version retains the black fabric of the original gaming edition. It uses G2 brand guidelines(2) to vary the color accents. It also adds a G2 logo to the front of the chair.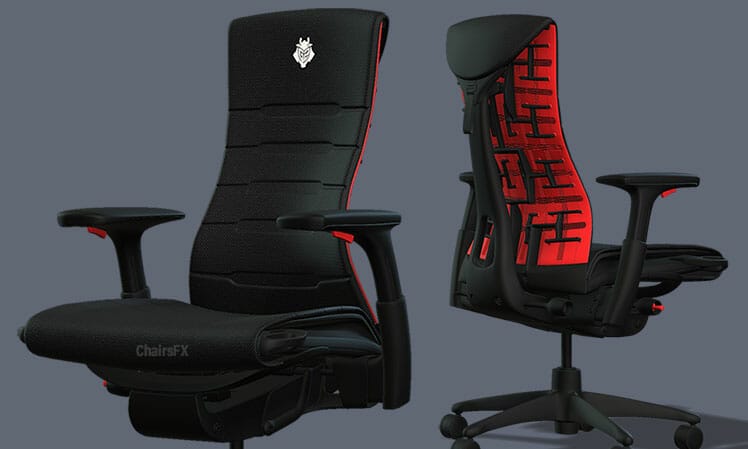 The red plastic along the backrest shows what's possible by mixing up Embody colors. It blends perfectly with the black, matches G2's color scheme, and gives the Embody a fresh new look.
G2 Edition With Red Fabric + White Accents
Our second version mixes up the G2 color palette in a bolder, more colorful manner. Red fabric adorns the front, complemented with white accents.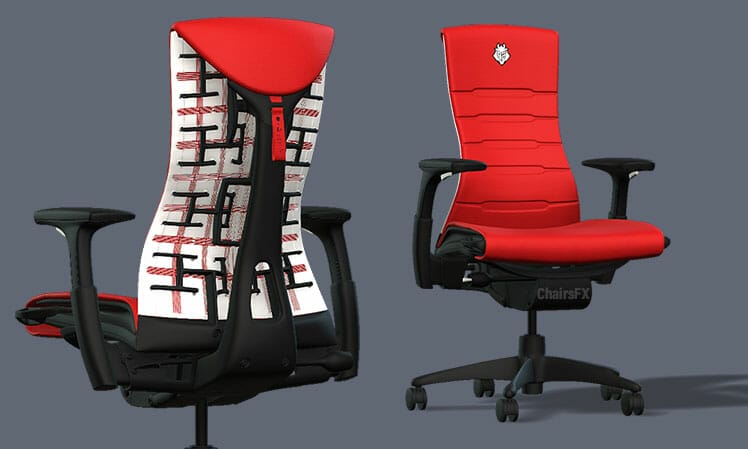 In my opinion, this version really pops. The super-intense red fabric blends well with the clean white accents. From the front, it looks like a thrilling battle station ride. From the rear, it gives off a crisp, clean, almost clinical feel.
Conclusion
The Herman Miller x G2 Esports edition is a special edition, with only 250 units available. Priced at $1895, it's only $200 more than regular Embody gaming chairs ($1695). It's an intriguing option for both hard-core G2 fans and collectors.
It's also an option for anyone in the market for an Embody. Standard Embody office chairs now sell for $1990 in the Herman Miller Store; G2 editions are $95 cheaper!
Moving forward, all signs point to Herman Miller being very receptive to new Embody design requests. In its Fourth Quarter Fiscal 2021 report, the company cited that as "part of our strategy to respond quickly to player feedback."
Herman Miller's five streamer chair prototypes take a step in that direction. Its Twitter post(1) about the designs welcomed feedback:
Dig into the details with us and let us know which one you like best! ​
@HMGaming
In conclusion, the G2 x Embody gaming chair is now available. Even if you're not a G2 fan, this is cheaper than Embody office chairs — it's also a collector's item, with only 250 available.
Finally, if you're not into the G2 but have been dreaming of a custom Embody design, reach out to @HMGaming on Twitter. Don't feel shy about sharing your idea — they're interested in hearing from you!
Go deeper: Herman Miller Embody Gaming Chair Review
G2 Edition $1895 from Herman Miller
Classic Embody Gaming Chairs also available from Herman Miller For $1695
Footnotes
Herman Miller Gaming, Twitter post, April 13, 2023, https://twitter.com/HMGaming/status/1646214102849552406.
G2 Esports, 'Brand Guidelines', https://g2esports.com/pages/brand-guidelines (accessed 15 Aug. 2022).