Gaming chairs ship with assembly instructions — but no user guide. So what's the purpose of a gaming chair? How to use its adjustable features? How to sit effectively? Without a manual, users must figure these things out on their own. This article provides a shortcut. I've been using gaming chairs full-time for 5+ years, relying on ergonomic fundamentals for guidance. This helped me learn several potent best practices. Read this gaming chair user guide before you buy a chair. Then, reap the best physical and mental benefits from your investment.
Every successful project starts with a clear objective. In the case of a gaming chair, its primary purpose is to support a healthy spinal alignment while sitting. That reduces strain on the body, leaving more energy available to power the brain.
Without ergonomic support, users only have their back muscles to help them sit upright in a chair. Once their muscles tire, slouching sets in. Over time, slumped postures cause back pain, neck pain, chronic fatigue, and perpetual brain fog.

Gaming chairs provide the same potential solution that ergonomic office chairs do. However, without any user documentation, new gaming chair owners must use trial and error to understand what works.
This article provides an efficient shortcut. Get a firm grasp of the basics before you buy a chair. When your chair arrives, you'll be mentally prepared to get the most out of your investment.
Before You Buy A Chair: Verify The Fit
Before buying a gaming chair, the most important consideration isn't the price — it's the fit. Most chairs from reputable brands have recommended size ratings. But you can also gauge the fit yourself using the depth of a chair's seat.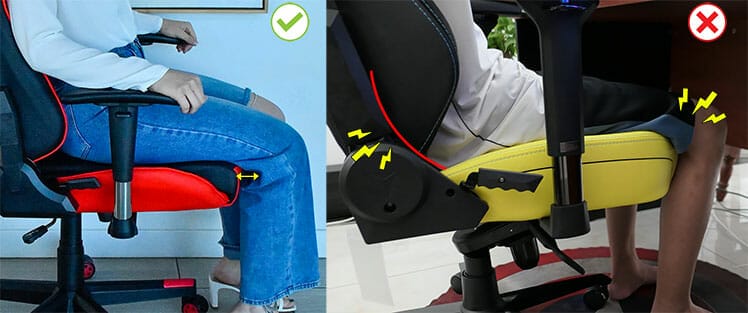 A suitable seat should leave at least two fingers of space between the back of your knees and the seat lip. Using one that's too deep for your legs will pull your knees forward.
A seat too deep will flatten your lower back curve and slump your upper spine. So what's a good depth? As a reference, here are the seat depths of the best small gaming chairs for short people:
| | | | |
| --- | --- | --- | --- |
| Model | Seat depth | Size Rating | Price |
| Noblechairs Epic Compact | 16-5-18.9″ (adjustable) | 4'1″ to 5'7″, 265 lbs | $559.00 on Amazon |
| AKRacing California | 17.7″ | 4'9″ to 5'6″, 330 lbs | $350.99 on Amazon |
| Secretlab Titan (S) | 18.9″ | 4'11" to 5'6″, 285 lbs | $519 from Secretlab |
For my 5'9″ (177 cm), the medium-sized Secretlab Titan's 19.3″ seat depth is perfect. People sized 5'6″ or shorter should look for a maximum seat depth of 20″; slightly less would be even better.
Learn more: The Ultimate Gaming Chair Sizing Guide For All Body Types
Gaming Chair User Guide
After your purchase of a good gaming chair (which fits your size), it's time to start using it. These steps cover everything you need to enjoy a high-quality sitting experience in a gaming chair:
How To Adjust A Gaming Chair
The point of a gaming chair is to support active or passive neutral postures. To achieve those, you must make three gaming chair adjustments. First, adjust the seat height so you can sit with planted feet and your hips slightly higher than your knees.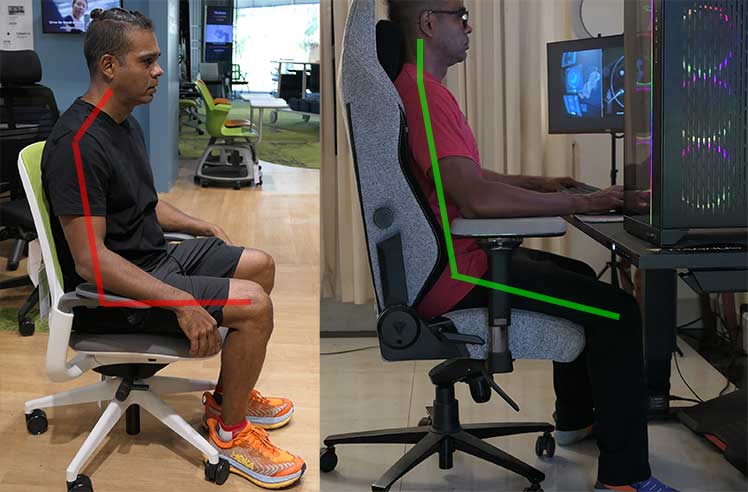 Second, adjust your chair's lumbar system to provide support slightly above your beltline, around 1.5″ (4 cm) deep. The point is to preserve a healthy 25-45° lower back curve while you sit.
Third, set your chair's backrest recline angle to 100°. This will provide chair-assisted support to help you achieve a biomechanically-perfect active neutral posture.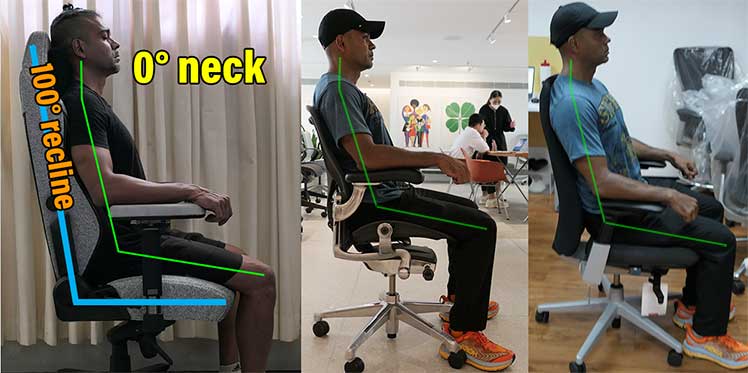 Recap of key gaming chair settings:
Seat height: adjust to place hips slightly higher than the knees.
Lumbar height: target support to hit slightly above your beltline.
Recline angle: start with a sharp 100° angle; once you've got the hang of it, practice with a more relaxed 110° angle. Then, using a mix of both while sitting will keep your body moving.
Learn more: Adjust A Gaming Chair's Settings To Support Neutral Postures
How To Sit: Neutral Postures
A standard gaming chair comes with a tall reclining backrest, adjustable lumbar support, and adjustable armrests. Combined, these features support neutral sitting postures.
A neutral sitting posture aligns the spine with the same angles as a healthy standing spine. This 30-second clip shows the method in a Herman Miller Aeron and Secretlab Titan:
It doesn't matter what type of ergonomic chair you use. In all cases, the user should end up with a 0° neck tilt and a 25-45° lower back curve.
Active Vs Passive Neutral Postures
There are two types of neutral postures relevant to gaming chair users. An active neutral posture actively uses back muscles to hold the torso up against gravity.
In contrast, a passive neutral posture reclines the backrest. That rests the user's body weight against a gaming chair's backrest; it also rests back muscles, making them passive.
The biggest problem with active postures: you need strong back muscles to maintain them. Alternatively, you can use a gaming chair for support by making use of its recline functions.
Managing Gaming Chair Recline Angles
A gaming chair's recline functions let users easily toggle between active and passive support modes. This is especially helpful for people with poor posture or weak back muscles.
To achieve a chair-supported active neutral posture, set your recline angle to 100°. Then, tuck your hips deep into the seat, plant your feet, and press your body weight against the backrest.
BOOM! It's that easy to sit with perfect posture in a gaming chair! When your back muscles get tired, pop the recline back to 110-120°. As you lean further back, your back muscles will do less work as gravity + your backrest take over.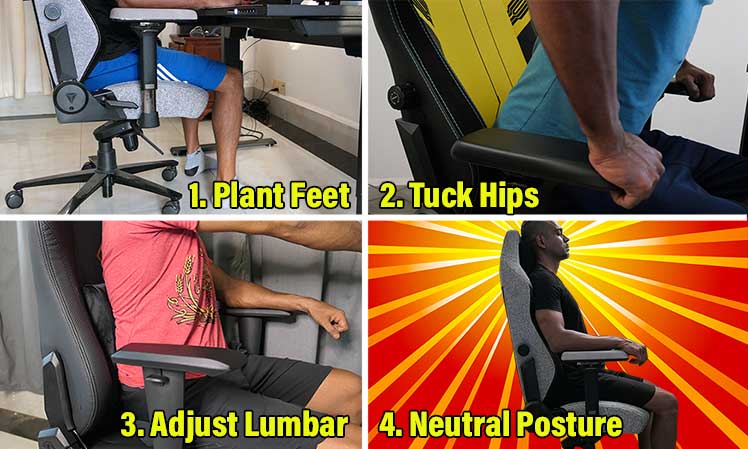 Then, all you need to do is kick back and relax. To master the chair adjustments and methods to lock down neutral posture habits easily, read this guide:
Dynamic Neutral Postures Beat Static Ones
Neutral postures offset the damage caused by long periods of sitting. Even so, sitting in any static position for too long will strain back muscles.
As a remedy, dynamic neutral sitting engages leg, back, and abdominal muscles(1). Maintaining active muscle groups effectively reduces sedentary risks. There are a few ways to sit dynamically in a gaming chair.

The first is super-simple: change your position in whatever way feels comfortable every few minutes. Even if you switch into unhealthy variations like crossing your legs, moving frequently will mitigate muscle strain.
Toggle Recline Functions
I started my gaming chair recline angle research with some biomechanical benchmarks(2). Lumbar disc pressure and back muscle activity are lowest with a supported recline angle of 110° – 130°.
For desk work, a (lumbar-supported) backrest recline of 110° lowers muscle activity around the lumbar, thoracic, and cervical spine. But to simplify things, first-time users can focus on three angles:
Starting off using a 100-120° recline range will yield quick mastery of both active and passive sitting styles:
100° recline: provides chair-assisted support for active neutral postures.
110° recline: reduced back muscle activity by leaning more weight against the backrest.
120° recline: a classic passive neutral posture; the chair's backrest entirely holds the torso up against gravity.
Bottom line: a 100° recline uses the chairs backrest and your back muscles to hold your torso upright. As you recline further back, back muscles do less work. At a 120° recline, back muscles can almost completely relax.
Use Your Multifunction Tilt Lock
A multifunction tilt-lock lets you tilt and lock your seat at different angles. If your chair has one, this provides a delightful way to work your hips while you sit. Does your chair have one? Look under the seat.

If you see one control lever, it means you have a standard tilt mechanism. That lets you rock the chair or lock it upright. In contrast, a multifunction tilt will let you lock the seat at angles.
To get the most out of a multifunction tilt, add a footrest. Without one, your legs may dangle off the floor while the seat tilt is engaged. With one, you get perfect support for your feet, spine, and hips with a few easy adjustments. Learn more:
What Is A Multifunction Tilt Mechanism?
Related: How To Use A Secretlab Titan Multifunction Tilt Lock
How Long To Sit: Take Frequent Breaks
People who sit full-time are at greater risk of diabetes, depression, and obesity. A simple way to mitigate the damage is to stand up and walk around every 20 minutes or so. Studies show that doing so can improve mood, boost energy levels and sharpen focus(3).
Another popular benchmark is the Ultradian Performance Rhythm. It hypothesizes that the brain works best in 90-minute chunks. After 90 minutes, its performance wanes.
I started with the Ultradian Rhythm and a timer a few years ago. Every 90 minutes, I would force myself to stand up and walk around. With enough experimentation, I found that my brain works best when used for short bursts of work (15-30 minutes).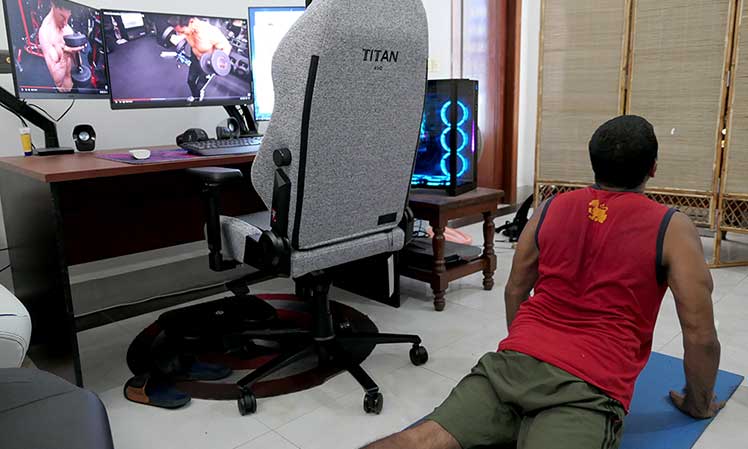 These days, I assign myself a work task every time I sit down. As soon as I complete it, I take a break. Most tasks take between 10-30 minutes. This achieves two things:
Motivation: I push my brain harder to finish tasks so that I can give my brain the rest it craves.
Peak performance: returning to work after a short break yields a rested brain that's primed for another round of work.
Physical & Mental Benefits Of Frequent Breaks
Human muscles thrive on activity. Well-timed breaks between sitting sessions provides the activity the human body needs to keep sedentary risks at bay.
This downward spiral is common:
As sedentary times increase, muscles become less active. As a result, people burn less calories.
As people move less and eat more, they gain weight.
Sedentary, overweight people suffer from slower cognitive functioning than the physically fit.
Sedentary, overweight desk workers suffer from myriad musculoskeletal issues.
A good ergonomic chair + proper usage + frequent movement breaks reverses this physical and mental wellness breakdown. Early signs of postural success include:
Reduced lower back pain
Less headaches
Reduced tension in neck and shoulders
Increased lung capacity
Improved circulation
Improved core strength
Higher energy levels
Beyond these physical benefits of movement breaks are mental ones. Using a computer to complete tasks keeps the brain locked in focused mode.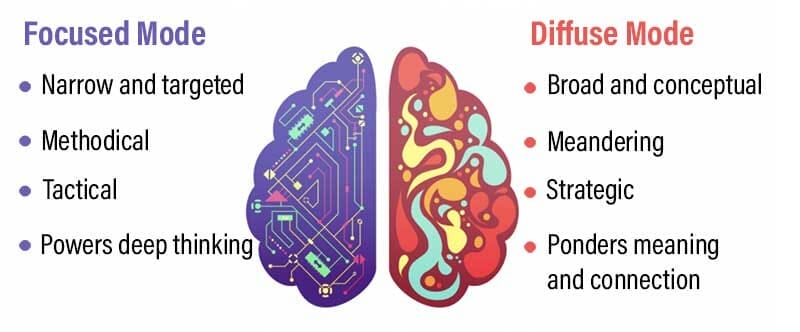 Stepping away from your screen to walk around or stretch puts your brain into diffuse mode. This is a dreamlike state that gives the brain time to process what is absorbed during its last focused mode work session.
Summary: move your body every 5-10 minutes to keep your seated spine and muscles fresh. Then, take a walking break every 90 minutes or less . This will give your body and mind time to recharge before cracking out more work.
How To Check Your Gaming Chair Posture
The best way to assess your gaming chair posture is to take side-angle photos. I've used these over the years to assess my sitting form, my chair's settings, and my syncing with my desktop.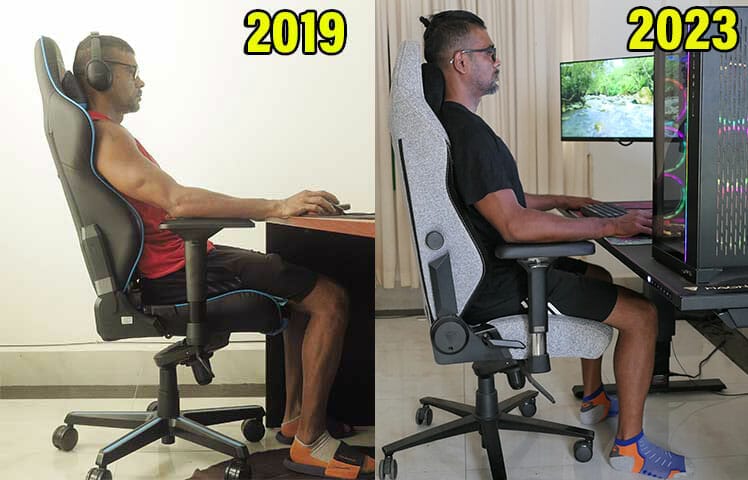 For several years, I used a sloppy active neutral sitting style. With regular position changes and frequent standing breaks, I found these worked fine. That changed in 2022.
Then, while testing myself for text neck syndrome, I found myself a victim of it! As a result, I decided to sharpen my sitting habits to maintain technically-perfect active neutral postures: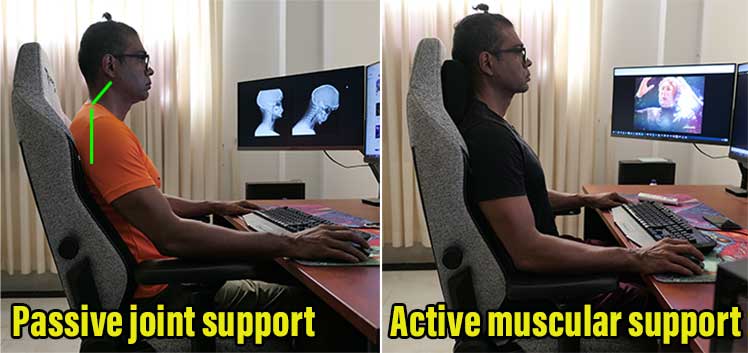 I've been sitting with a clean active upright neutral posture for well over a year now. Some esports doctors I asked dismissed sitting so straight as overkill. Instead, they suggest sloppy neutral postures — mixed with frequent breaks — work just fine.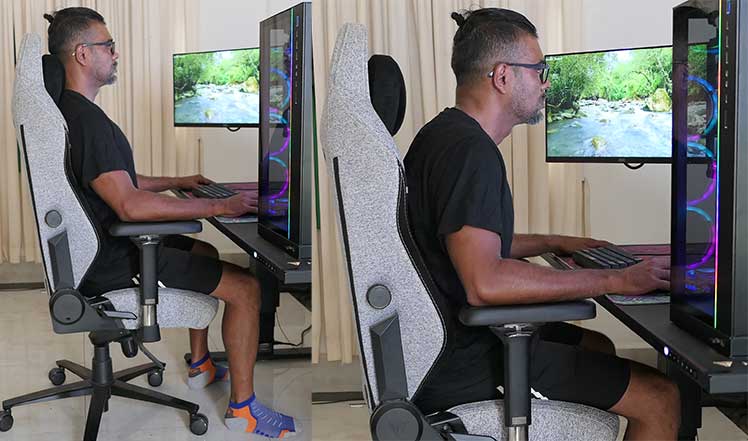 In my experience, they're right. However, if you want to improve on sloppy postures, a good gaming chair is equipped to help.
Setting your backrest recline to 100° and using your headrest to brace your neck is all it takes to achieve a textbook perfect neutral posture.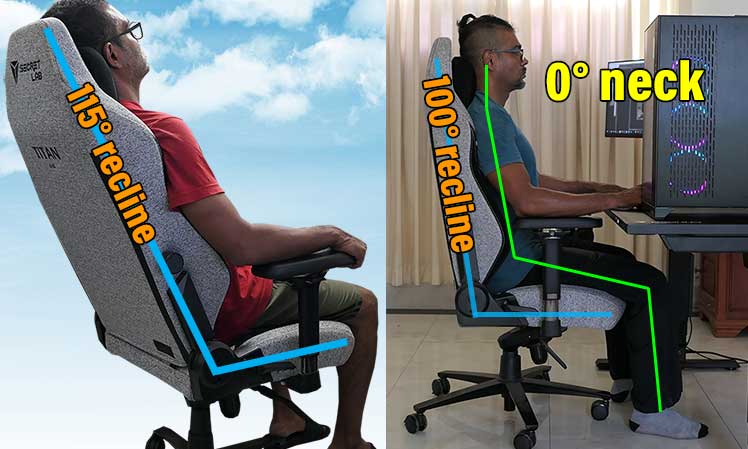 Summary: gaming chair beginners can strive for casual, sloppy neutral posture variations. If discomfort emerges, take side-angle photos of your postures and assess them. To mitigate text neck, follow these steps:
Gaming Chair Pain Troubleshooting
If you suffer from pain in a gaming chair, the previous section suggests taking side photos of your sitting posture. If those don't reveal the source of the problem, these tips might help:
Sore knees or thighs: your seat may be too deep. There should ideally be 2 fingers of space behind your knees and the seat lip. To address this, add a footrest.
Tight lower back: first, make sure you tuck your hips as deep as possible into the seat. Second, adjust your lumbar to provide support slightly above your beltline.
Sore upper back: indicative of a forward head tilt. To resolve, set your recline to 100°. Then, sit upright, using the chair's headrest to brace your neck at a clean 0° angle.
Elbow or wrist pain: this suggests an improper sync between your chair's armrests and your desk's work surface. This is most commonly resolved by adding a footrest.
Tingling feet: feeling pins and needles in your feet suggest clogged circulation or blood pooled in the feet. Fix this easily by taking more frequent standing breaks.
Beyond fiddling with chair settings, your lifestyle habits may be the problem. For instance, without understanding the neutral sitting objective, you might be using your gaming chair completely wrong.
Your lifestyle might also be an issue. These days, top esports players and chess pros exercise regularly. For instance, the world's #1 chess player Magnus Carlsen uses core strengthening exercises to help him sit longer.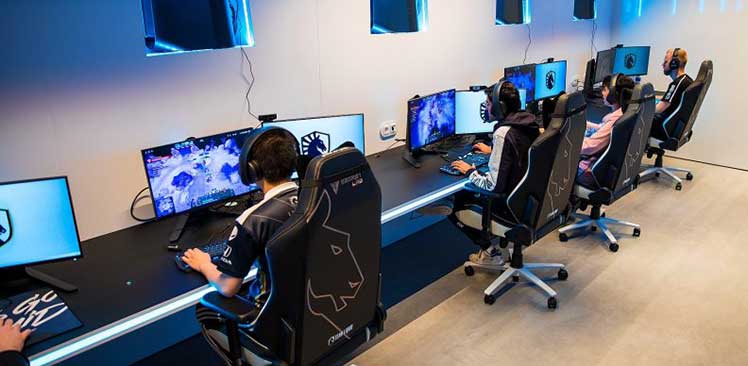 Meanwhile, Team Liquid is one of many pro esports teams that encourage 4 performance pillars: clean eating, sound sleep, regular exercise, and sufficient mental downtime. This blueprint helps players to consistently perform at their highest levels while effectively managing stress.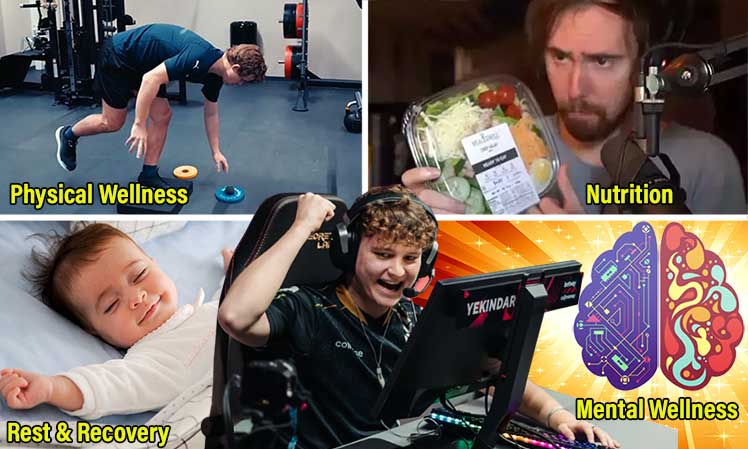 For more help rectifying gaming chair pain, refer to this troubleshooting checklist:
How To Maintain A Gaming Chair
The only thing needed to maintain a gaming chair is to keep it clean. When you sit, the body sheds skin dust, body oil, and sweat. Sitting in the remnants of your own filth is unhygienic.
A filthy chair can also sour your desk working experience. Unkempt workspaces raise stress levels; they also negatively impact mood, emotions, and behavior. Follow these steps to keep your gaming chair clean:
How To Clean A Faux Leather Gaming Chair
Modern-day gaming chair faux leathers seem almost good to be true. Most premium blends are breathable, durable, and very easy to keep clean. All you need is a microfiber cloth and some clean bottled water.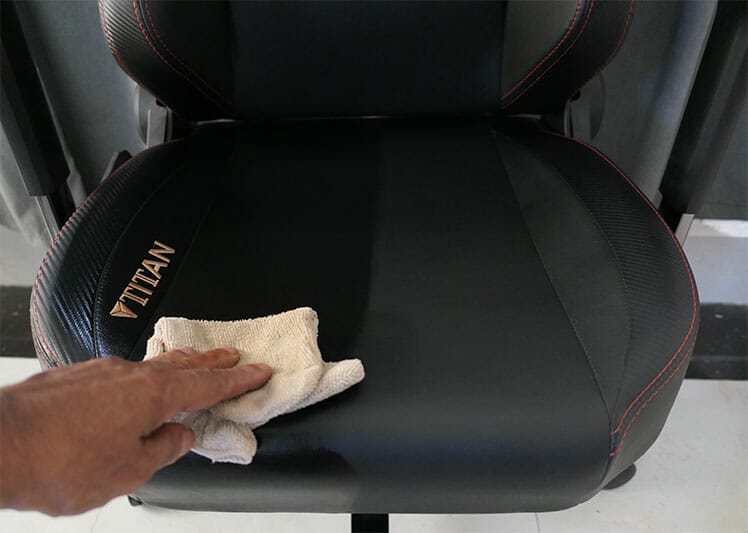 A damp towel will push dirt and dust around your chair. In contrast, a microfiber cloth contains tiny split fibers that 'hook' onto dust, dirt, and even bacteria particles. Follow these steps:
Moisten a clean microfiber cloth with some cleaned bottled water.
Wipe down your chair using the damp microfiber cloth.
Repeat the process every few weeks to keep your chair looking brand new.
Learn more: How To Clean A Faux Leather Gaming Chair
How To Clean A Fabric Gaming Chair
Body residue is easy to wipe off of a faux leather gaming chair. In contrast, fabric gaming chairs absorb them. Over time, these build up as sticky, smelly stains.
After six months of full-time use, your fabric chair will need a good cleaning. After testing various ideas, I came up with three methods that work. The first requires that you buy a wet-dry vacuum.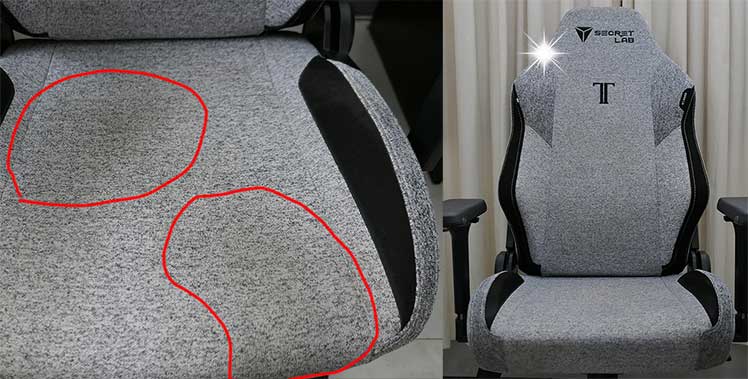 If that's not possible, two others do a decent job using common household ingredients. Direct sunlight baths are also an option:
Rank & Model
Details

1. Wet-Dry Vac Deep Clean

The most effective deep-cleaning fabric gaming chair method.

Method: spray cleaning formula into the fabric, then vacuum it out.
Downsides: you need to spend $109.59 on a wet-dry vac.
Effectiveness: super-potent, jaw-dropping dirt removal.
Durability: lasts 6+ months before stains reappear

2. Baking Soda Bath

Deodorize by breaking down dirt particles deep in the fabric.

Method: vacuum, sprinkle baking soda, let sit for 30+ minutes, vacuum again.
Downsides: only deodorizes — doesn't significantly remove stains.
Effectiveness: most effective if using a scented baking soda.
Deodorization durability: lasts 2-3 months before smells re-emerge.

3. Spot Spray Stain Removal

Remove stains using a generic cleaning spray. Then, sop up the excess using a damp towel.

Downsides: only cleans surface stains — dirt remains deep in the fabric. Stains reappear quickly.
Effectiveness: good at removing visible stains.
Durability: lasts 2-3 months before stains re-appear

4. Direct Sunlight Bath

Use direct sunlight to quick-dry a cleaned fabric chair. Can also be used (sparingly) to obliterate bacteria with direct UV ray hits.

Downsides: only kills surface odors.
Effectiveness: great for quick-drying (2 hours until bone-dry).
Deodorization durability: around 1 month.
In my experience, the wet-dry vacuum method is by far the most effective cleaning method. But the other methods work well enough for a while. Consider using one of those until you become dissatisfied with the results. Then, buy a wet-dry vac.
Gaming Chair User Advice
I've been using gaming chairs for full-time desk work for 5+ years, following ergonomic best practices. During this period, I've also tested most of the world's best gaming and ergonomic office chairs.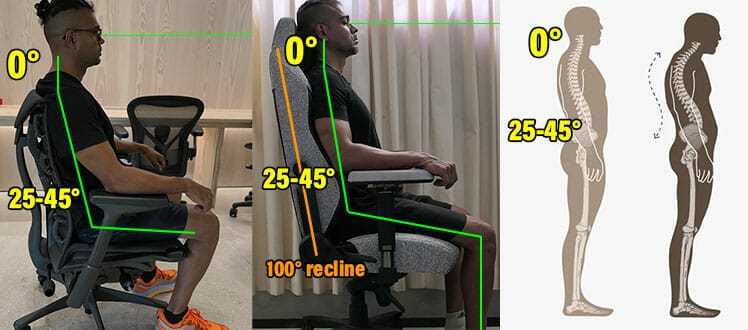 These experiences have helped me stumble across many best practices. Here are some I wish I'd known before starting to use a gaming chair for desk work.
Gaming & Office Chairs Do The Same Thing
Gaming chairs and ergonomic office chairs are both designed to support active and passive neutral sitting postures. Both do so using the same trio of adjustable components. Adjustable lumbar support aligns the lower spine.

Adjustable armrests provide extra bracing to hold the torso up against gravity. A reclining backrest lets you toggle support angles and move your body. Combined, both support clean neutral postures in any type of ergonomic chair.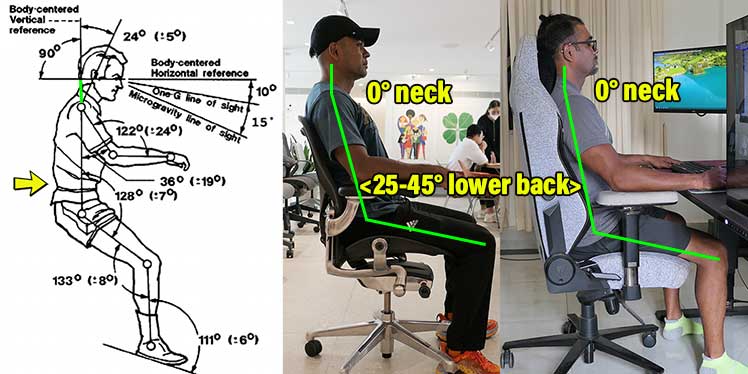 In my experience, the biggest difference between the two types is the recline functionality. Most ergonomic office chairs have limited recline ranges that force you to sit basically upright at all times.
In contrast, gaming chairs have deep reclines that support a wider range of passive neutral posture activities. Beyond desk work, that lets you use your gaming chair for relaxing, mobile computing, and even napping!

Summary: gaming chairs and ergonomic office chairs both support neutral sitting postures. The former have deeper recline ranges that let you relax. The latter keeps users upright, positioned to do tasks. Learn more:
Tuck Your Hips Deep Into The Seat
When you get started with neutral sitting, make a conscious effort to tuck your hips deep into the seat pan. Resist the temptation to curl your hips forward when you sit down.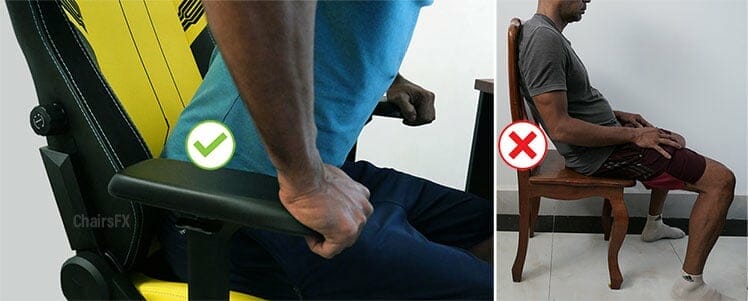 Curling the hips forward will flatten your lumbar curve. Then, only your upper spine will brace against the backrest. In contrast, tucking your hips will ensure optimal contact between your lower and the chair's lumbar support.
Sync Armrests With Your Desk Height
The average arm of a 170-pound person weighs around 10 pounds. To offset the weight of both arms, proper armrest configuration is essential.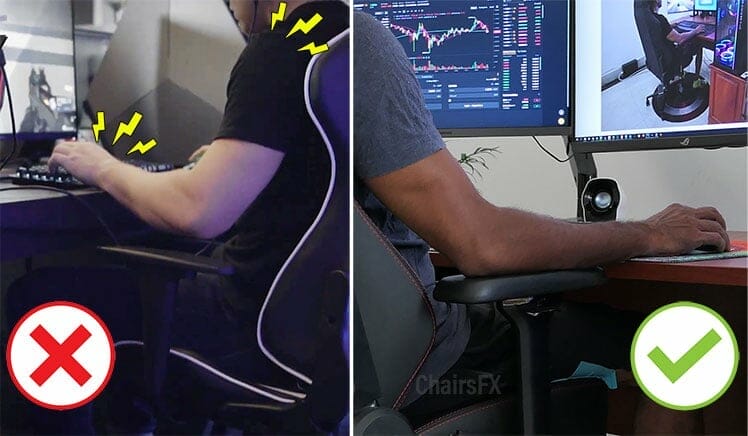 With feet planted, armrests provide a second level of weight distribution. To make that happen, try to sync the height of the armrests to match the height of your desk.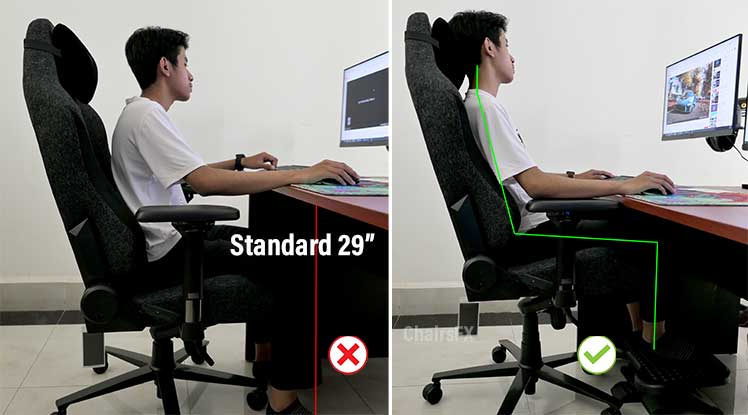 A good configuration lets your arms fall freely down from your shoulders. If your legs are too short, planted feet with armrests aligned to your desk might fit awkwardly. If so, add a footrest to give yourself more height.
Keep Feet Planted With A Footrest
Planted feet provide the power to hold your torso up against gravity while you sit. Without that support, your back muscles do all of the work at holding your upper body upright. For people with short legs, this might be a problem.
Most standard-sized desks have a work surface that's 28″ or taller. Regardless of what chair is being used, every user sized 5'8″ or shorter will find a poor sync between their chair and the desk.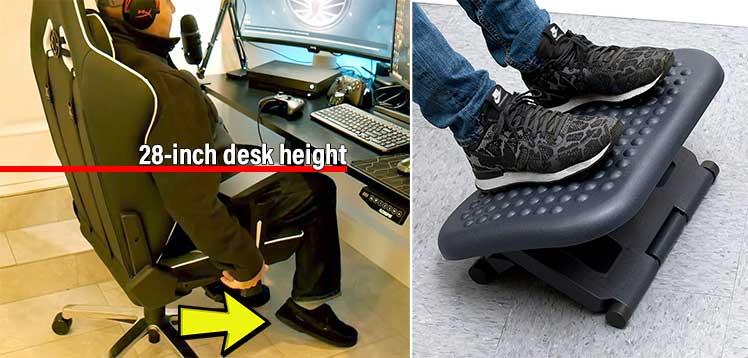 The simple solution to this problem is to add an ergonomic footrest. Then, regardless of how short your legs are, you can enjoy a nice sync between your desk and your gaming chair armrests.
Beyond height-boosting, a footrest also lets you work your calves while you sit — without disturbing your typing! That keeps your body in motion while letting your mind stay focused. Learn more:
Why ALL Short People Need A Footrest
Cut Sitting Times With A Standing Desk
I've been using a Secretlab Magnus Pro standing desk for over a year. It took me around 8 months of trial and error before reaching the recommended 1:1 sit-to-stand ratio consistently.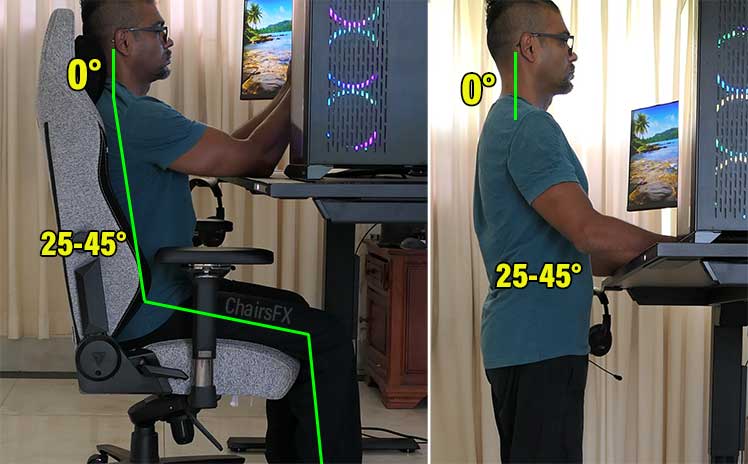 This means if you sit for 15 minutes, you should counter-balance that with 15 minutes of standing. After getting used to that method, I found that maintaining good posture became easier while sitting and standing!
With less time spent in each mode, I experienced less muscle fatigue. As a result, it felt easier to hold myself upright in crisp active neutral postures. On top of that benefit, I found my height-adjustable desk invaluable for mobile computing support.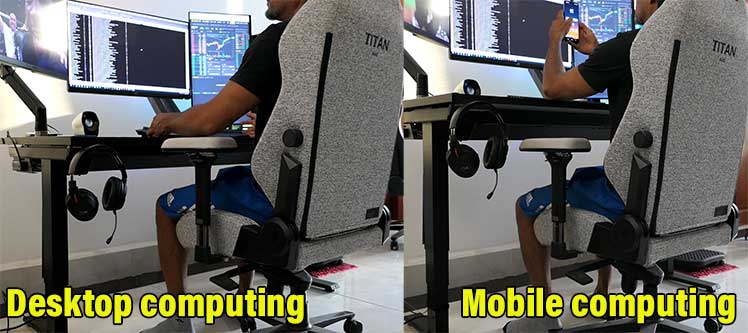 To deploy mobile support while sitting, simply raise your seated work surface a few inches higher than normal. That will brace your elbows to effectively negate a forward head tilt.
Gaming Chair Benefits Testimonial
Back in 2017, I bought my first gaming chair. At that time, I had terrible posture, chronic lethargy, and a beer belly. In my cheap office chair, I always felt exhausted after a long day of sitting. Once I mastered neutral postures in a gaming chair, that changed.

After a full day of neutral sitting in a gaming chair, my energy levels skyrocketed. Then, I was brimming with too much mojo to sit still. So I started going to the gym to burn off the excess. As I developed stronger muscles, sitting in neutral postures became even easier.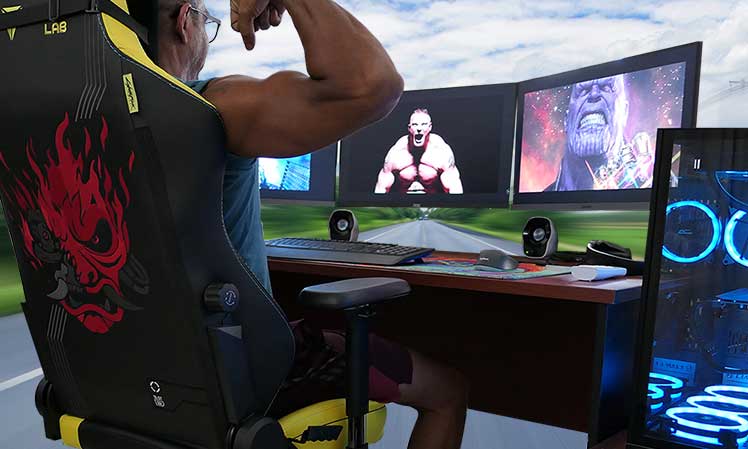 That jacked my energy levels even higher. Nowadays, I've got plenty to put into computing, working out, eating clean, and sleeping well. I'm in the best shape of my life and more productive than ever! See my first Youtube testimonial from 2018 — it tells the same story!
Gaming Chair User Guide Recap
A gaming chair is designed to support active or passive neutral postures. These are easy to achieve. First, make the necessary chair adjustments. Then, tuck your hips, plant your feet, and use the armrests to help brace your spine. This video walks beginners through the steps:
Follow these best practices to gets the best postural support benefits from your gaming chair:
So there you have it. Gaming chairs support neutral postures. Using these, you can boost your physical and mental health while working at a desk.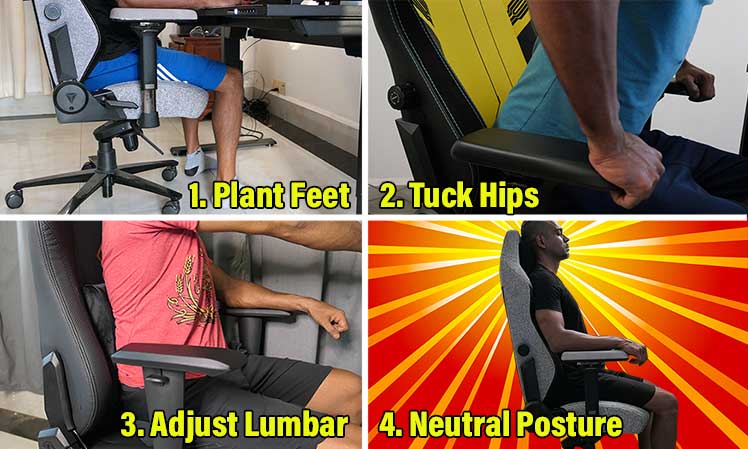 For a more technical breakdown of the actual sitting process, read this step-by-step guide:
How To Sit In A Gaming Chair Step-By-Step
Footnotes
Henry Wang, et al. 'The effect of active sitting on trunk motion', Journal of Sport and Health Science. Volume 3, Issue 4, December 2014, Pages 333-337. https://www.sciencedirect.com/science/article/pii/S2095254614000076, (accessed 8 March 2022).
D D Harrison, et al. 'Sitting biomechanics part I: review of the literature', J Manipulative Physiol Ther. 1999 Nov-Dec;22(9):594-609. https://pubmed.ncbi.nlm.nih.gov/10626703/, (accessed 8 March 2022).
Audrey Bergouignan, et al. 'Effect of frequent interruptions of prolonged sitting on self-perceived levels of energy & mood', International Journal of Behavioral Nutrition and Physical Activity volume 13, Article number: 113 (2016). https://ijbnpa.biomedcentral.com/articles/10.1186/s12966-016-0437-z, (accessed 8 March 2022).