Non-ergonomic office chairs have basic adjustable features. You can only adjust the seat height and rock the chair. They have fixed armrests and a fixed, non-reclining backrest. Used part-time, basic office chairs work fine. But for longer periods, they lack ergonomic essentials that prevent spinal misalignments. That causes poor posture, which degrades health and cripples productivity. Learn in detail why non-ergonomic office chairs are bad for your back.
There are many ways to define 'ergonomics'. Humanscale describes it as "the science of fitting a workplace to the user's needs." The point is to "increase efficiency and productivity" while reducing discomfort. Its definition also notes that ergonomic furniture should adjust effortlessly to the needs of the user.
Most studies on healthy sitting cite three adjustable features that make a chair ergonomic. First and most important is adjustable lumbar support. Second is adjustable armrests. Third is a tilt-locking backrest recline.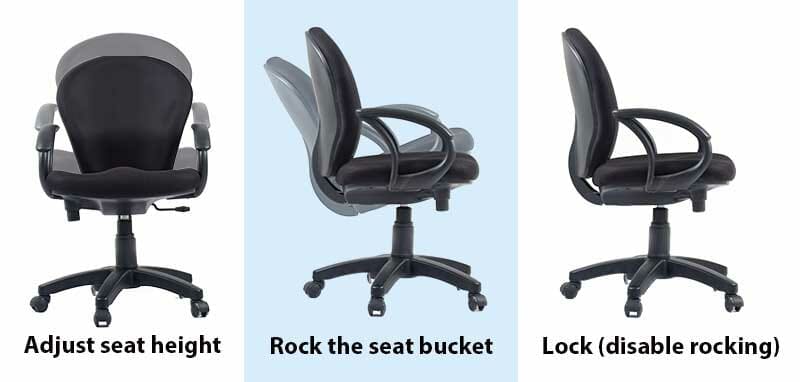 Generic, mass-produced office chairs lack all three of these essential features. Below, we explain how these missing features cause health, wellness, and cognitive functioning problems.
Problems caused by cheap office chairs
There's no official name for cheap, mass-produced office chairs. We also refer to these fixed-component chairs as traditional, generic, classic, etc.
Traditional/ basic/ generic office chairs lack three essential components: adjustable lumbar support, adjustable armrests, and a tilt-lock reclining backrest.
A chair without these features can cause serious health issues when used full-time. The reason comes down to basic human physiology.
Why generic office chairs are unhealthy
Traditional office chairs with fixed components don't provide the support users need over full-time sitting periods. That leads to discomfort, posture problems, and degraded wellness.
Healthy sitting ergonomic alternatives
Basic office chairs lack the features to support healthy full-time sitting. As a result, people who sit at a desk for a living are best served by using an ergonomic chair instead.
Conclusion
If you suffer from lethargy, migraines, or chronic lower back pain, your chair might be the problem. Even if your office chair has thick padding, it may not be doing you any good. In fact, it could even be detrimental to your health.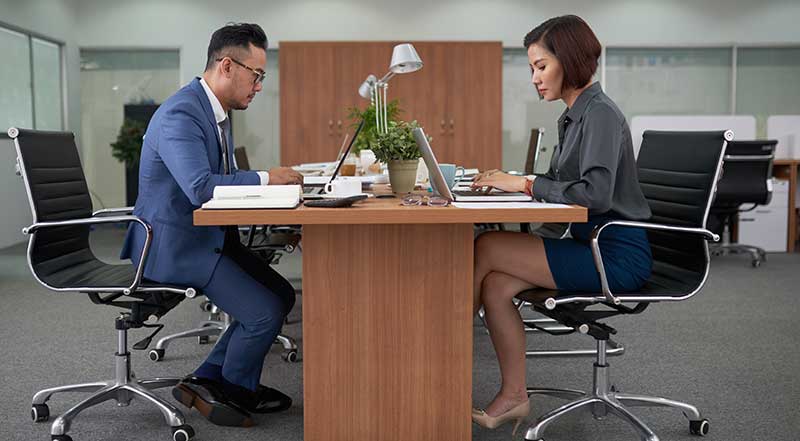 People who sit full-time in non-ergonomic chairs don't have the support to maintain a healthy posture. That places severe strain on the head, shoulders, neck, arms, hips, and legs.
When muscles in those areas tire, the body curls into a slouch. That misaligns the spine, forcing joints, muscles, and internal organs into the wrong positions. Sitting this way over years can cause chronic stiffness in the muscles and tendons. Then, sitting for long periods can become difficult.
The simple solution is to upgrade to an ergonomic chair. Whether you choose a gaming chair or ergonomic office chair, make sure it has the right features. Adjustable armrests, adjustable lumbar support, and a reclining backrest are the keys. Among these options, gaming chairs stand out for a few reasons.
First, all models provide full-body support with tall padded backrests and thick padded seats. Second, gaming chairs have deeper reclines that allow for more casual computing postures. Third, when used the right way, gaming chairs are very good for the back. Learn more in this feature: