Traditional office chairs have limited features. You can rock the chair and adjust the height of the seat. The appeal is that they are cheap and comfortable — when used over short periods. Here, we review some of the most popular traditional office chairs.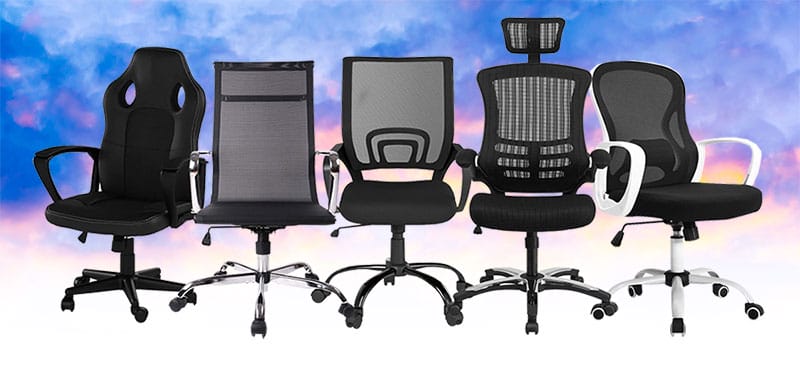 If you're looking for cheap office seating, check out Amazon's list of best-selling office chairs. It's updated every day, but the rankings don't change very often.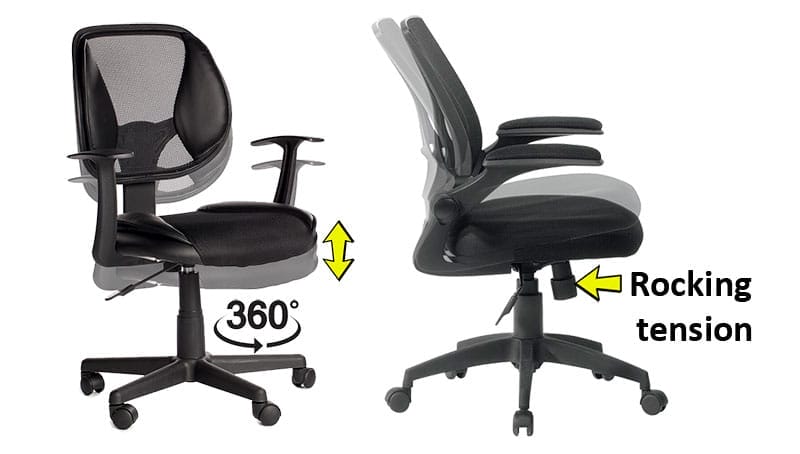 Most of the top-100 chairs on this list have a few things in common. First, they all cost less than $200. In fact, many cost less than $100. Second, these chairs have very basic adjustable features. Third, none appear to provide much support for your back and upper body while you sit.
Used full-time over long periods, these models can lead to poor posture, stiffness, and back pain. But if you only need a seat for a few hours per day, these models are very cheap and comfortable enough.
Reviews: best-selling cheap office chairs
This section looks at some top-selling models. All are among Amazon's top-100 list of best-selling office chairs. If you prefer buying one of these chairs, consider adding one of the suggested lumbar support addons.
Cheap office chair advice
Office chairs are ideal as part-time desk chairs. As full-time computer chairs, they offer poor value for money. But if necessary, there are cheap and easy ways to beef up the support that these chairs provide.
Problems with cheap office chairs
Most cheap office chairs share a few common features. All have padded seats, fixed armrests and a fixed backrest. Combined, these components provide a comfortable seat for short periods of time.
Over longer periods, the limitation of traditional office chairs become apparent. The lack of adjustable features forces users to sit in static positions. Over long periods of sitting, that overworks upper body muscles. As the muscles get tired, users begin to slouch. Over time, slouching leads to poor posture and a host of issues including chronic pain, depression, and inability to concentrate.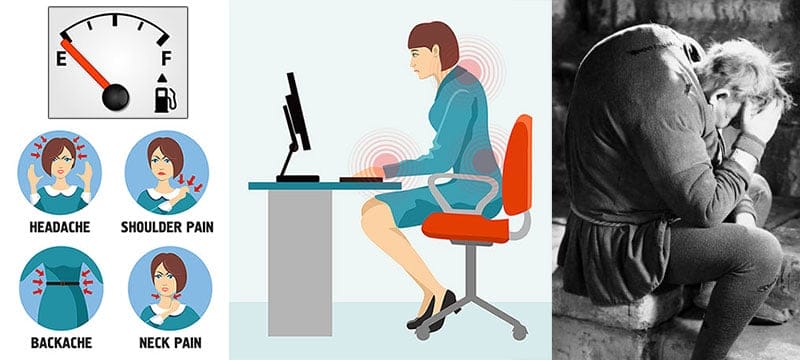 While the prices of traditional office chairs are appealing, the long-term effects on health and productivity are not.
Why buy a cheap office chair?
The key reason to buy a cheap office chair is that they are cheap. If you're an employer, buying these for office grunts can save you a few dollars. If you're an employee, use these chairs with caution. Pay attention to the lumbar support. if it's lacking, buy an addon. If money is tight, roll up a towel and stuff it between your lower back and the chair's backrest.
Getting value from a cheap office chair
If you already bought a cheap office chair to work from home, there's a good chance you regret it. Working in a cheap chair in a busy office is different. There are enough distractions and interactions through a workday to keep your body and mind active.
When working from home in an enclosed space, you spend a lot more time sitting. As a result, flaws in a chair become more pronounced. The first sign of trouble in a cheap office chair is often tightness or pain in the lower back.
The reason this happens is that cheap chairs don't support the curve in your lower back. As the spine gets tired, the shoulders slump, the neck sags, and the lumbar curves outwards. When that happens, pain flares up. If it gets worse, your back can lock up.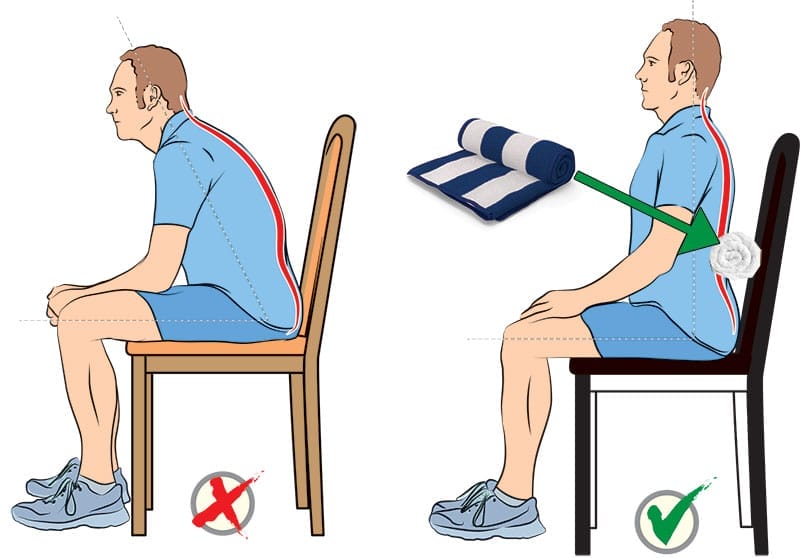 If that happens and you don't want to buy a new chair, here are two solutions. One option is to roll up a bath towel. Place it into the curve of your lower spine. Then lean into the backrest of your cheap chair. Focus on sitting upright while using the towel (not the headrest) to prop up the weight of your back.
Another option is to buy a cheap lumbar support pillow online. Here are two popular picks:
Cheap office chair alternatives
Traditional office chairs lack adjustable features that allow for healthy sitting over long periods. Here are two affordable alternatives:
Conclusion
Traditional office chairs are the cheapest but the worst option for full-time desk workers. These chairs lack adjustable features, forcing users to sit in static positions. At the end of a full workday, office chair users can expect exhausted muscles, a sore back, and a distracted mind.
The chairs reviewed in this article are for reference, more than recommendations. The bad news is that they can have a negative impact on posture and wellness. The good news is that there are plenty of alternatives that have features traditional office chairs lack.
If you're looking for the cheapest desk chair possible, buy a traditional office chair. If you want more support, pay a few dollars more for a gaming chair or ergonomic office chair.