Many people get blown away when using a full-mesh ergonomic chair for the first time. Mesh is the most breathable upholstery available. Its thin, net-like fabric also delivers a sense of weightlessness that's very addictive. Once you go full-mesh, you'll feel fresh! Luckily, there's little debate about the best full-mesh gaming chairs on the market. From premium to rock-bottom classes, there are clear leaders in every price class.
In 2022, the 'gaming chair' term applies to any type of seating. Among the world's most popular streamers, around 60% use full-back, racing-style chairs. The rest use mid-back ergonomic office chairs.
Significantly, none use a mid-back chair with a headrest attached. This edict comes from Herman Miller: "Leaning your head back on a headrest while in an upright position would be improper posture."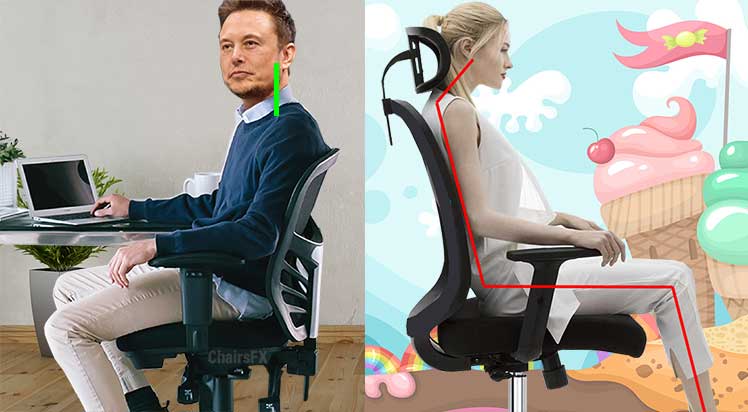 The point of a mid-back design is to "support your spine as if you were standing." Many studies support this claim. A headrest on a mid-back chair encourages a forward or rearward head tilt. That distorts lower back and neck posture, ultimately leading to pain and discomfort.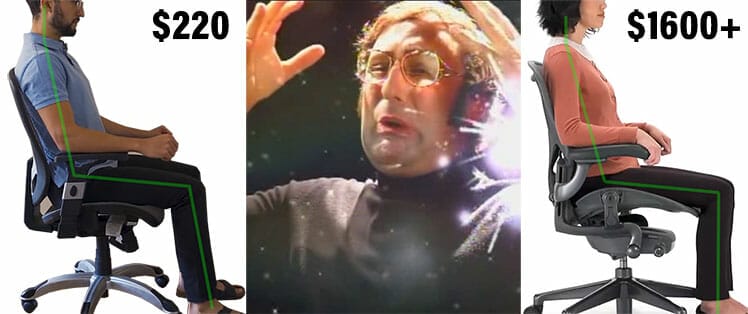 In contrast, a mid-back chair without a headrest encourages a crisp, clean, 0° neck tilt. Getting your head around this concept may blow your mind. By removing gimmicky headrest models from the equation, the full-mesh seating landscape clarifies.
Then it becomes clear: you don't need to spend lots of money to enjoy world-class, full-mesh posture support. On the flip side, as you go higher up the full-mesh pricing scale, world-leading luxury extras also exist.
Headrest on Mid-Back Chairs Ruins Neck Posture
Best Full Mesh Gaming Chairs
A 'full mesh' gaming chair is an ergonomic chair with mesh upholstery on both the seat and backrest. Partial mesh chairs combine mesh backrests with fabric padded seats.
Among full-mesh chairs, the Herman Miller Aeron stands far ahead of the pack. It has the most sophisticated (adaptive) mesh technology, fancy sync-tilting features, and a 12-year warranty.
However, its $1600+ price is well beyond the reach of the average gamer. Luckily, beyond the Aeron are several cheaper options that stand out. By cutting out a few fancy extras, it's possible to enjoy a similar level of back support — without a hefty price tag!
Full Mesh Chairs We Don't Recommend
These days, the average person uses their cell phone for around three hours each day. Most do so with a severe forward neck tilt. The resulting deformities this causes is known as Text Neck Syndrome.
In fact, text neck issues have become so widespread that they've altered institutional ergonomic standards. Today, healthy multi-device support for the back and neck and dual priorities.
This is why — by 2022 ergonomic standards — a headrest on a mid-back chair is a bad idea. Using one will distort neck and lower back posture for sake of psychological (perceived) comfort. In today's text neck era, that can prove disastrous.
Beyond the headrest issue, a common feature on many full-mesh chairs is a '3D' lumbar support system. These are 'self-adjusting' lumbar systems with no manual controls. As the user leans back, the lumbar unit extends. As they lean forward, it retracts.
Without sure controls for the lumbar unit, these chairs qualify as 'semi-ergonomic'. The problem with semi-ergo chairs: users must adapt to the chair. In contrast, fully-ergonomic chairs adapt to the user.
Because of these factors, several full-mesh chairs we recommended in 2021 no longer make the cut:
Mesh Gaming Chair Advice
Read this section before making the decision to buy a full mesh gaming chair.
Conclusion
When shopping for a gaming chair, there are physiological and psychological factors to consider. The physiological factors determine the quality of a chair's back and neck support.
The psychological factors refer to aspects that make the chair seem more comfortable. These include headrests and non-user-adjustable lumbar systems.
Luckily, when you strip those gimmicks away, the dozens of gimmick full-mesh gaming chairs on the market fade from relevance. That leaves four rock-solid full-mesh gaming chairs to consider.
These have the ergonomics you need to enjoy long periods of healthy sitting:
For a closer look at the physiological and psychological factors that impact buying decisions, see this: