What's the difference between a full-back gaming chair and a mid-back ergonomic office chair? Both are designed to support healthy neutral postures — using the same trio of adjustable components. In fact, it's the full-back vs mid-back contrast that yields the biggest usability differences. The former lets you kick back and relax; the latter keeps you upright in desk working positions. Both types have merits. This article explains why settling the gaming chair vs ergonomic office chair debate comes down to subjective preferences.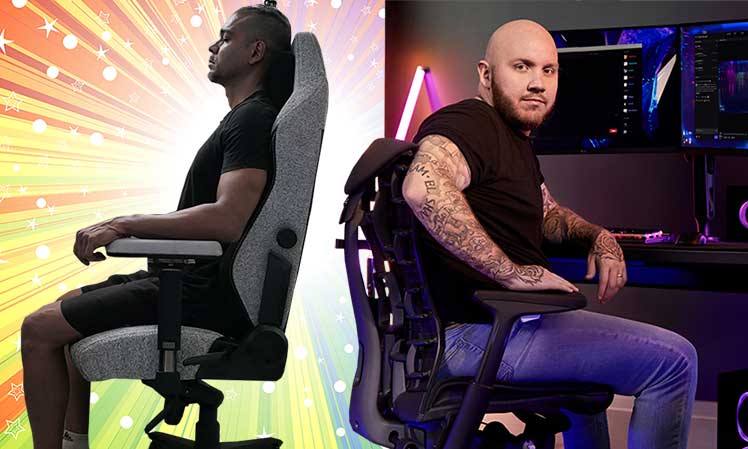 Many hype ergonomic office chairs made by top-5 office furniture corporations as god-tier. These masterpieces supposedly provide medical-grade back support that puts gaming chairs to shame.
Based on my tests of the world's best chairs, this is partially true. However, legit god-tier status belongs to only one model.
The Herman Miller Embody supports the back objectively better than any other ergonomic chair. Other models prioritize lumbar support to encourage neutral sitting postures.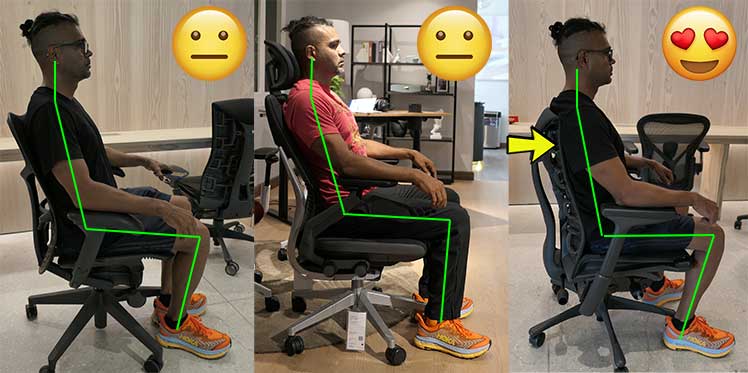 In contrast, the Embody's Backfit support system support the upper spine. Getting started is easy: plant your feet, tuck your hips deep into the seat, and sit super-straight. Then, toggle the Backfit so that it cups your upper spine in place.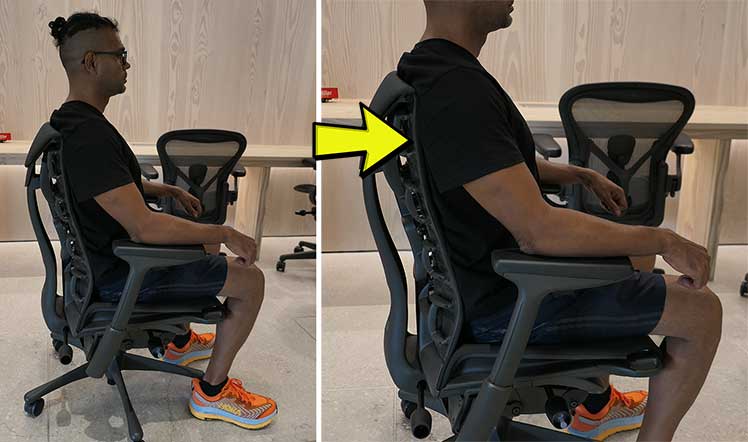 This will 'hook' your upper back curve and keep it straight — the effect feels like you're floating. It also requires noticeably less effort than using standard lumbar-supported ergonomic chairs.
Ubiquitous Lumbar-Powered Neutral Posture Support
After the Embody, all ergonomic chairs use a cookie-cutter lumbar-powered support concept. You can see for yourself how an adjustable lumbar + adjustable arms + reclining backrest combo supports good posture:
Gaming (Full-Back) Vs Office (Mid-Back) Chairs
Full-back gaming and mid-back ergonomic office chairs both support healthy upright computing postures. Mid-back chairs have limited reclines that keep users upright. In contrast, full-back chairs add deep recline functionality.

But regardless of the chair, proper usage yields the best results. As a result, deciding on the 'best' is subjective — but still extremely important.
Studies show that psychological appeal influences comfort. When users find a chair attractive, they'll feel more inspired to use it properly — and then perceive it as more physically 'comfortable'.
Gaming & Office Types Both support Neutral Postures: that one provides 'better' support than the other is easily disproven.
Proper Usage > Type Of Chair: regardless of model, tuck your hips, plant your feet, and support your lower back for best results.
Psychological Appeal = Significant Comfort Perception Factor: people who perceive a chair as more comfortable will find it physically so.
Overhyped Office Chair Selling Points: mediocre luxury extras that you don't actually need.
Mid-Back Vs Full-Back Seating Differences: strict cubicle-style support vs a relaxed work-from-home style.
Choosing A Gaming Or Office-Style Chair
The evidence shows that gaming and ergonomic office chairs both support healthy neutral postures. In all cases, proper neutral sitting techniques will bring the best out of the chair — regardless of its price.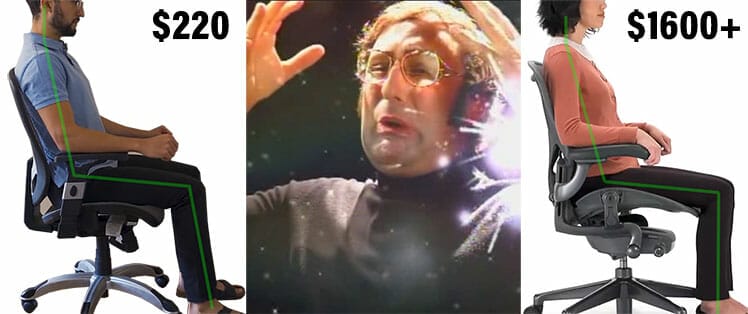 On top of that, frequent breaks + a healthy lifestyle when away from the computer can iron out potential kinks. That means the 'best' type is the one that you find most appealing.
The 'Best' Chair Type Is Subjective: gaming and ergo office chairs both support healthy neutral postures. Whichever type appeals to you is the best one to choose.
Healthy Lifestyles > Type Of Chair: regardless of chair types, neutral tactics + frequent breaks + healthy lifestyles away from the computer yield the best results.
Pro Gamers Use Ergo Chairs + Fitness Model: some pros gaming chairs; others use mid-back ergo office chairs. Most balance things out with healthy habits when away from the computer.
Best Ergonomic Chairs Of 2023
Here at ChairsFX, I use a Secretlab Titan Evo 2022 ($560) with a Magnus Pro desk ($799 + accessories). That combo lets me maintain near perfect multi-device computing postures while sitting and standing.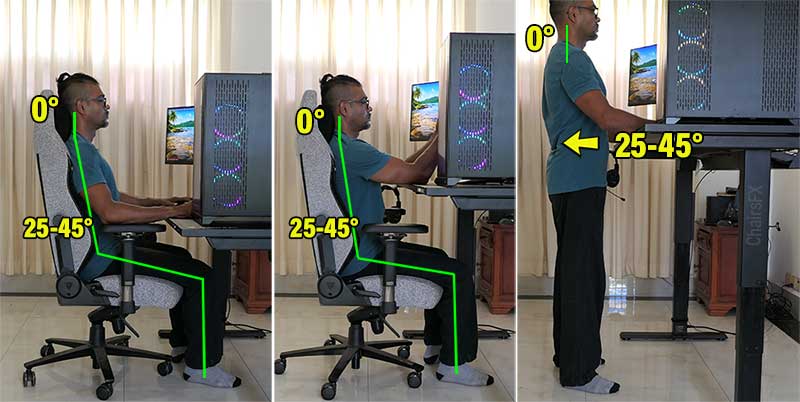 Last year, three esports doctors helped me configure my Titan to support 0° neck postures. Method: adopt a good neutral posture with a 100° recline; use the headrest to brace your neck.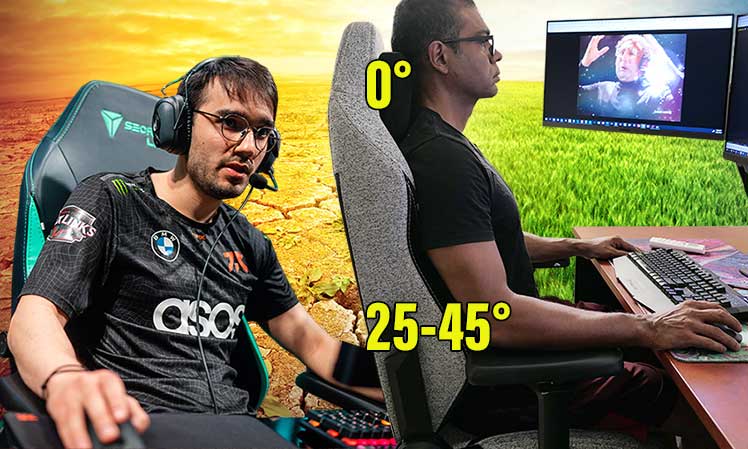 Recently, I took a fresh look at the world's best ergonomic chairs. My objective: see which would legitimately upgrade my Titan sitting experience.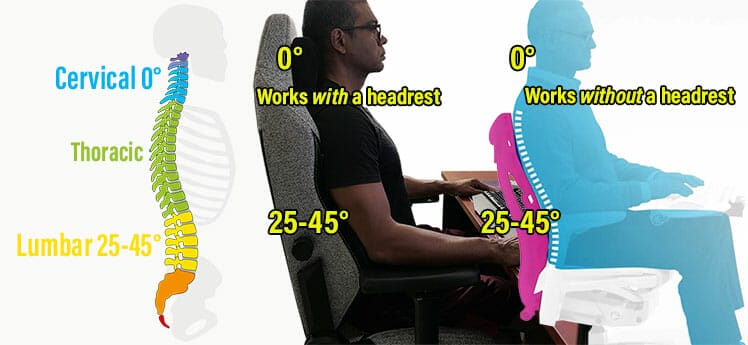 Herman Miller's Embody fit the bill. It provided better back support using an alternative (upper back support) method. That, as a result, delivered an equally perfect neck posture — achieved with less effort than in a Titan.
Significantly, none of the other elite chairs support the neck. Instead, all serve up a cookie-cutter lumbar-supported style. That makes none of them viable upgrade over my Titan — except for one.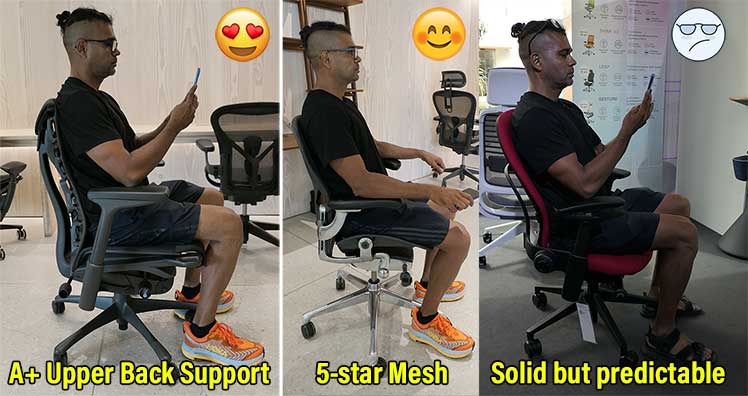 Despite serving up a cookie-cutter support style, Herman Miller's Aeron pops for two reasons. First, it's extremely easy to use. Second, its 8Z Pellicle Mesh is world-class. That in particular helps to justify its high price.
Conclusion: Comfort Vs Focus
Soon after the first gaming chair dropped in 2006, a hard-core band of ergo office chair evangelists emerged online. They deride gaming chairs as scams — while adoring mega-corporate office chairs with zeal. Subjectively, they're right!
Full-back gaming and mid-back office chairs both support good back posture — using the same support methods. However, psychological appeal is also a major comfort factor.
Those who perceive mega-corpo office chairs as medical-grade will find them physically so. If that brings inpriation to maintain neutral postures, everybody wins.
Comfort Vs Focus
At this stage of my life, flexible seating best suits my needs. So my Titan Evo 2022 Series serves my needs just fine — for now. Many world-leading streamers also start off using racing-style gaming chairs. But after hitting the big time, they often switch over to Herman Miller chairs.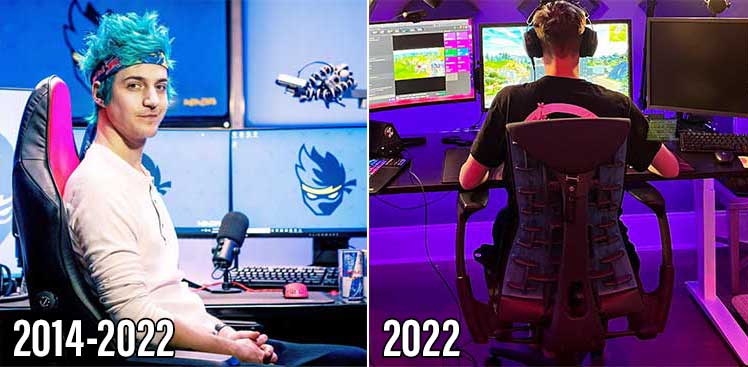 For example, Ninja is the most-followed streamer on Twitch. After several years using a Maxnomic gaming chair, he recently upgraded to a Herman Miller Embody. Timthetatman, Tfue, Shroud, and other elite streamers have all done similar. Why did so many use gaming chairs early in their careers? Why do they often switch to ergonomic office chairs later on?
Early in streaming careers, comfortable all-day support helps to maintain the grind. After they hit the big time, time is money. Then, stricter support better ensures high performance over shorter, more focused sessions.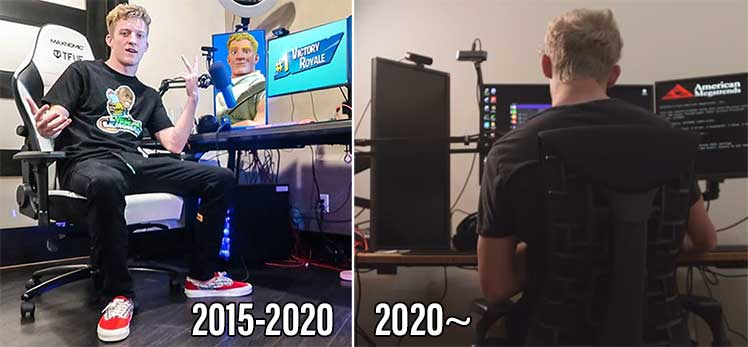 That boils down to a very simple conclusion to the gaming chair vs office chair debate. Since both support neutral postures, choose whichever type you fancy the most. Then, make sure you use it properly.
Choosing a mid-back model will limit your recline and keep you locked in focus mode. Opting for a full-back model will also give you the option to kick back and relax.

Regardless of chair type, make sure to tuck your hips deep into the seat and keep your feet planted. Take frequent movement breaks. Hit the gym to iron out any kinks.
Then, it doesn't matter what type of ergonomic chair you decide on — as long as you feel inspired enough by it to maintain good posture. Then, everyone wins (you, your spine, the chair maker's reputation).
Ergo Chair Comfort Factors: Physical Vs Psychological
Footnotes
Youtube, "Set up like S1mple – WITH CFG!" ESL Counter-Strike, March 18, 2022, https://youtu.be/REjATuWa5TY