What's the difference between a gaming chair and an ergonomic office chair? The former has a full-back design with deep recline functionality. Ergonomic office chairs are the opposite: mid-back designs with limited recline ranges. Those force users to sit in upright postures all day long. In contrast, full-back gaming chairs also give users the option to kick back and relax. Which type is better for your computing needs? Read this gaming chair vs ergonomic office chair comparison to find out!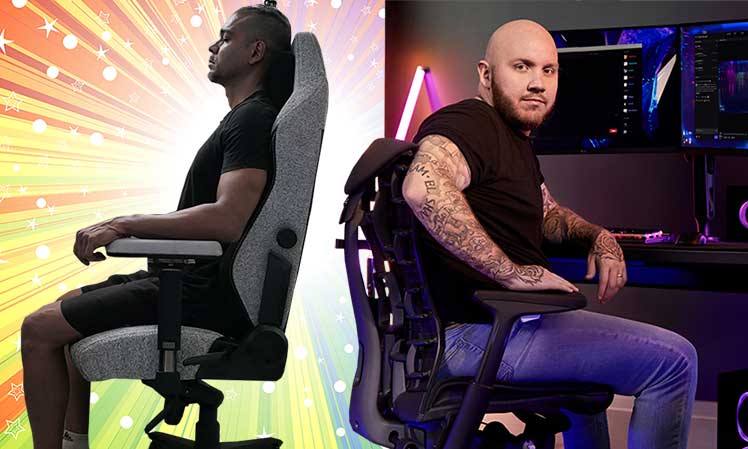 Herman Miller leads MillerKnoll, the world's largest office furniture megacorporation. Since 1994, the company has insisted that its mid-back ergonomic chairs — used without headrests — provide the best posture support.
Meanwhile, the first full-back gaming chair emerged in 2006. Like Herman Miller's chairs, these provide fully-ergonomic functionally.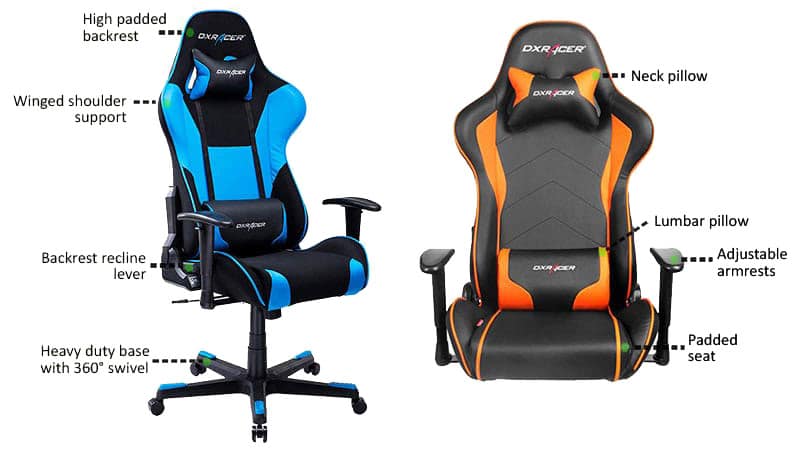 To promote neutral postures, gaming chairs have adjustable lumbar and armrests plus a reclining backrest. Notably, deep recline gaming chair functionality lets users kick back and relax. The problem: if left unchecked, that can degrade into full-blown back problems!
Despite this, gaming chairs have continued to rise in popularity. Now, 16 years after the first gaming chair arrived, Herman Miller has bent the knee to the full-back concept!
In the promotion of its new Vantum Gaming Chair, the company says that modern gamers have unique needs(1). The strict posture enforcement of its mid-back collection isn't ideal.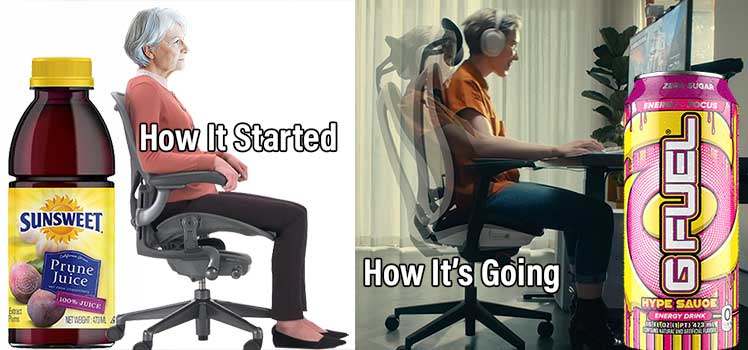 Instead, "Gamers require versatility. A strong active posture is critical for gameplay, but having an equally supported, reclined position for moments of relaxation is key."
Ergonomic Criteria For Healthy Sitting
There's no universal definition of what 'ergonomic' actually means. Even so, OSHA, BIFMA, the Human Factors & Ergonomics Handbook, and other leading institutions define it the same way.

To qualify as 'ergonomic', a chair needs three adjustable features. Adjustable lumbar support aligns the spine. Adjustable arms provide extra bracing to hold the spine upright. A reclining backrest helps a seated body move.
Combined, these features support users into dynamic neutral postures. These align the spine as if it was in a healthy standing position.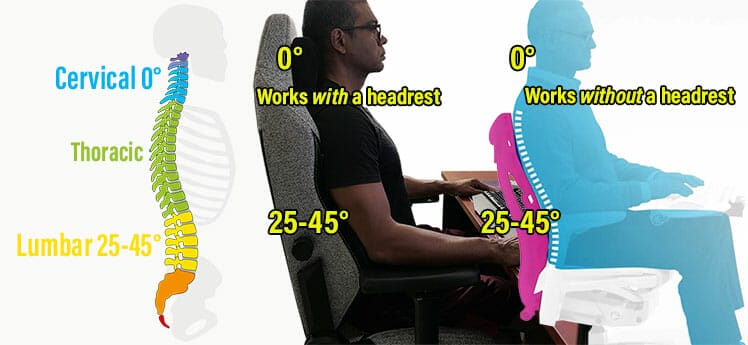 A standard neutral posture requires a 25-45° lower back curve. A perfect neutral posture also includes a 0° neck tilt.
Sitting in a chair without these features first causes problems in the lower back. Without lumbar support, a seated lower back curve flattens by half.
Mid Vs Full-Back Ergonomic Differences
Mid-back ergonomic chairs are designed to keep the head balanced with a 0° tilt atop the shoulders. Using a headrest isn't necessary. In fact, adding one ruins a healthy 0° tilt while destabilizing the neck.
In contrast, most full-back gaming chair headrests support a slightly tilted neck. They also support freestyle postures without restriction. This provides a greater sense of psychological comfort — albeit with a loss of postural integrity.
Even so, many leading pro esports doctors insist you don't need to sit with perfect posture! Instead, fairly good postures + frequent breaks + regular exercise boosts wellness and computing performance!
Mid-back Chair = Better Posture Support
Many people regard Herman Miller's ergonomic office chairs as the world's best. Notably, all models provide mid-back support with no headrest. The company's Twitter(2) notes "you don't need a headrest when you're standing…"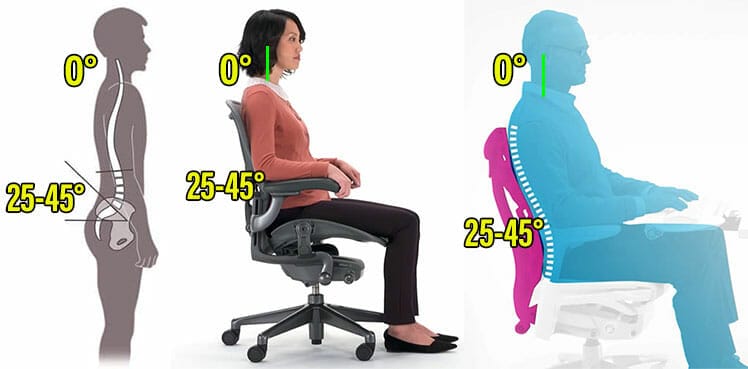 Its Aeron Gaming Chair Q+A page adds more detail: "Leaning your head back on a headrest while in an upright position would be improper posture.
We do not have headrest attachment options or recommend the use of third-party headrests. Our ergonomic chairs are designed to support your spine as if you were standing."
A Headrest Distorts Mid-Back Posture Support
Ergonomic science supports Herman Miller's assertion. A human spine has cervical, thoracic, and lumbar sections. A University of Michigan study(3) tested how these are affected in mid-back car seats — with and without headrests.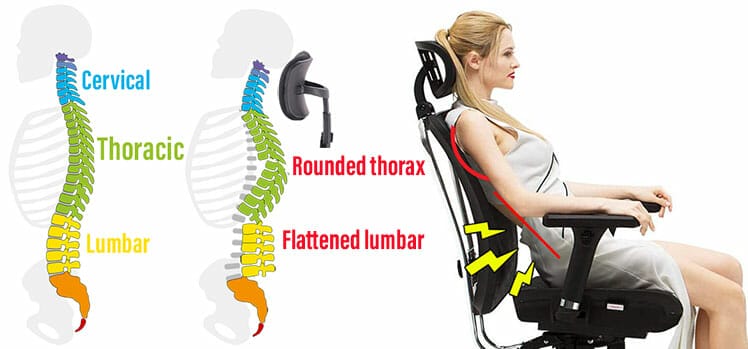 It found that a headrest compels the thoracic spine to rotate rearward. That, as a result, flattens a healthy lumbar curve.
Without lumbar support, an extended thorax reduces the lower back curve by 6.6°. In a mid-back chair + headrest with a 30° recline, the lumbar curve narrows by 17°.
These misalignments occur because most mid-back chair headrests — like mid-back car seat ones — fail to keep the head on the centerline. Without a perfect fit, mid-back headrests tilt the neck to the rear. That forces an outward curving of the thoracic spine.
That increases the risk of musculoskeletal disorders. Adding lumbar support protects the lower back, but the thorax remains misaligned.

This is why Herman Miller asserts that using a headrest with a mid-back ergonomic chair causes improper posture. Learn more:
Full-back Chair = More Comfortable
Comfort is not a factor in office ergonomics. Most businesses prefer their staff alert — not relaxed. But outside of strict office settings, comfort joins health as a key seating priority.
A physiological comfort assessment considers psychological, physical, and environmental aspects(4). Psychologically, a full-back chair incites a greater expectation for comfort.
Physically, it fills that expectation with more effective casual posture support techniques. For instance, stiff mid-back chair headrests only hit flush on parts of the neck. In contrast, a full-back headrest adapts to the user by cradling the entire cervical spine.
Combined with deep recline functionality, that provides more comfortable lounging support than a headrest on a mid-back chair.
This suits the needs of typical gamers. Many can't be bothered with good posture nonsense. Flashy, racing-style gaming chairs appeal to their psychological desire for having fun.
Physical: Lumbar Support + Recline Lowers Back Pressure
Sitting in a full-back chair without lumbar support flattens the lower back curve. Adding adjustable lumbar support nullifies the risk. In an upright position with lumbar support 4 cm deep, lumbar lordosis averages a healthy 47°. (5)

As a bonus, reclining in a full-back (lumbar-supported) chair reduces spinal disc pressure even more. A recline of 105° transfers 4.4% of one's body weight to the backrest. With a lumbar-supported recline of 130°, intradiscal pressure reduces by around 50%.
Psychological: Headrests Make a Seat More Comfortable
Comfort isn't a factor in office ergonomics. On passenger airplanes, it's a different story. Good back support is a priority, but comfort is a much bigger one. By looking into aircraft seat studies, we gain more full-back chair insights.

For instance, a 2018 study tested neck postures in aircraft seats with and without headrests(6). It found that in seats without headrests, users would instinctively sit straight. Then, the head would evenly balance above the shoulders.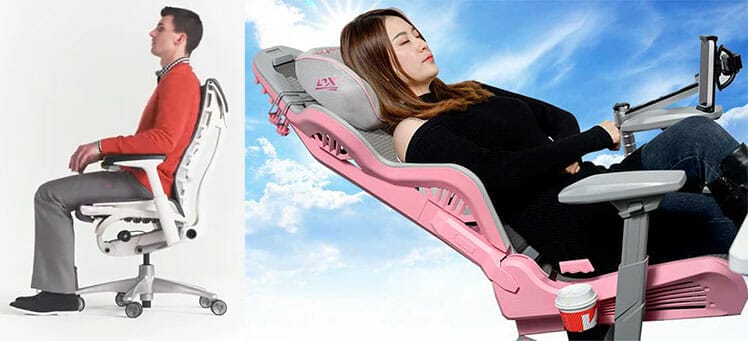 Adding a headrest created a greater expectation for comfort. Key findings:
Humans instinctively gravitate to head positions that cause minimal muscle effort.
Head support doesn't significantly lower neck muscle activity while sitting.
Slouched postures with headrest support are preferred for watching movies.
The gist is that adding a headrest doesn't help or hinder the neck. Rather, it creates a more casual dynamic than sitting in a mid-back chair.
Full-Back Chairs Also Support Perfect Posture
Full-back chairs provide more comfortable support than mid-back ones. But to truly qualify as 'ergonomic', they should also support perfect neutral postures. That means a 25-45° lower back curve and a 0° neck tilt.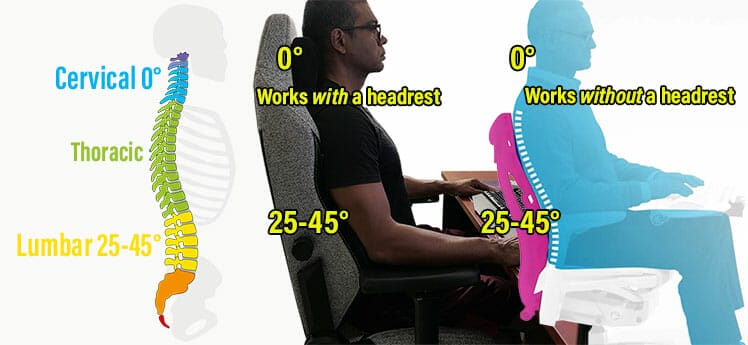 To test this, I sought the help of three leading esports therapists, including Dr. Jordan Tsai. He also serves on Secretlab's Ergonomic Advisory Board. Dr. Tsai confirmed that Secretlab chairs do support 0° neck tilt — with a 90-100° backrest recline.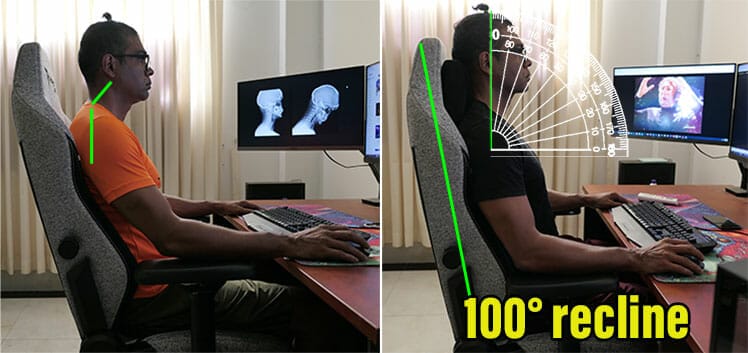 Adjusting to sitting with a consistent 0° neck took me five days. It was a comfortable transition that most significantly helped my standing posture. Now, I'm standing a bit taller than before, with more open shoulders.
Long-Term: Sloppy Sitting Degrades Posture
To achieve perfect posture in a gaming chair, you'll need good technique, strong back muscles, and willpower. But many people aren't obsessed with posture — they just want comfort without suffering back pain.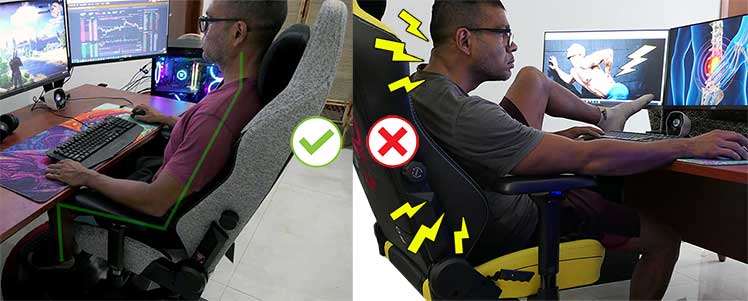 Full-back gaming chairs fill this need better than mid-back ones. The downside is that sloppy sitting styles cause posture degradation. That's because discipline isn't consistent.
Many studies show that depressive episodes cause postural changes(7). Others show that stress degrades good habits. For instance, workers under tight deadlines often indulge in binge eating and drinking.
The problem is that the longer you sit in certain positions, the muscles will adapt. Then, sitting with improper posture may start to feel more comfortable. If you don't address that, good posture can mutate quickly into crushing back pain!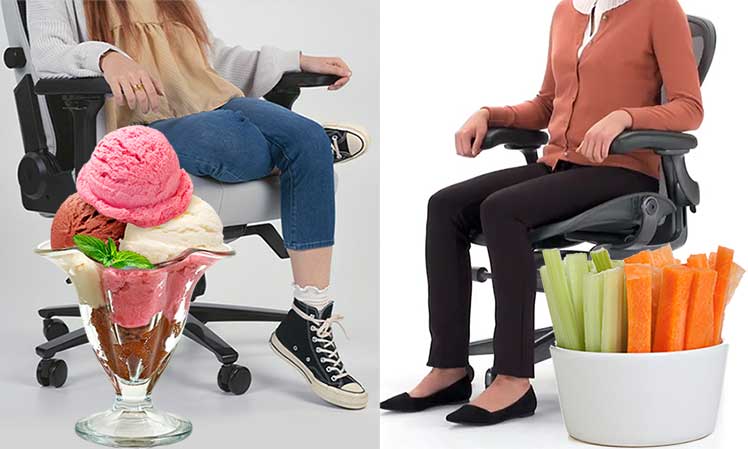 That's the downside of relaxed neutral postures. To safely enjoy freestyle sitting, you'll need the discipline to avoid getting too relaxed.

Mixing up strict neutral and freestyle postures gives you the best of both worlds. Keep strict styles as your default; limit the use of freestyle ones. That yields good spinal support plus the comfort of sitting as you please!
Another option is to deploy a postural reset. Spend a week forging a 0° neck tilt habit. That will realign your spine and muscles back to a healthy default. From there, you can let yourself go and sit as you please. When discomfort strikes, reset.
What Ergonomic Chairs Do The Pros Use?
Historically, many of the world's top streamers show similar seating preferences. Early in their careers, they use racing-style gaming chairs. Several years after hitting the big time, they switch over to ergonomic office chairs.
For example, Ninja is the most-followed streamer on Twitch. After several years using a Maxnomic gaming chair, he recently upgraded to a Herman Miller Embody.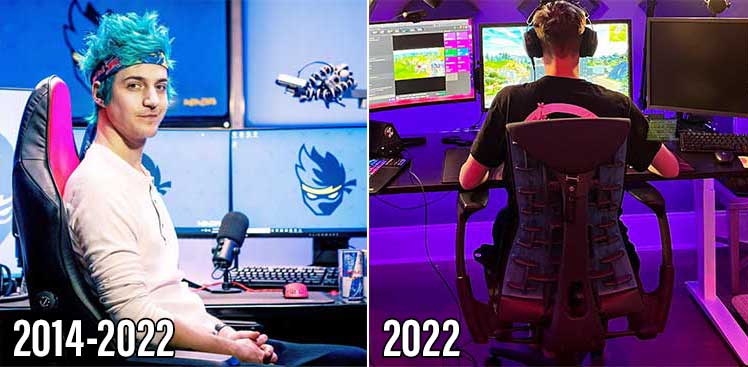 Timthetatman, Tfue, Shroud, and other elite streamers have all done similar. Why did so many use gaming chairs early in their careers? Why do they often switch to ergonomic office chairs later on?
The science behind the two seating styles suggests it comes down to user needs. Early in streaming careers, comfortable all-day support helps to maintain the grind.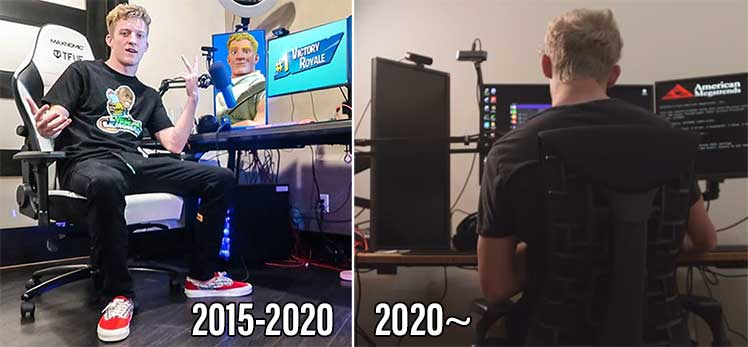 After they hit the big time, time is money. Then, stricter support better ensures high-performance over shorter, more focused sessions.
Wild Card: Fitness Beats Ergonomics
Over 150+ years of seating history, institutional ergonomic designers have consistently ignored key human factors. For example, when schooling became mandatory for all American kids in the 1800s, back problems skyrocketed. Even so, academic seating standards haven't changed in over 150 years!
In sharp contrast, performance optimization is a high priority in pro esports. That's why many of the world's best esports teams train full-time using gaming chairs.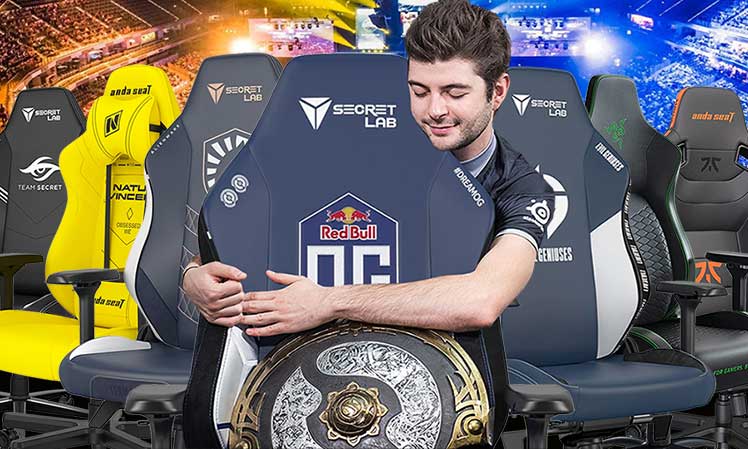 Beyond good chairs, they also employ mental coaches, nutritionists, and physical therapists. Industry-wide, it's well-established that players who are comfortable, healthy and rested perform better.
Recently, ChairsFX interviewed some prominent esports doctors. Dr. Jordan Tsai works with players from Cloud9, Evil Geniuses, TSM, 100 Thieves, and other top teams. He touts fitness as more important than a good chair to maintain health while sitting.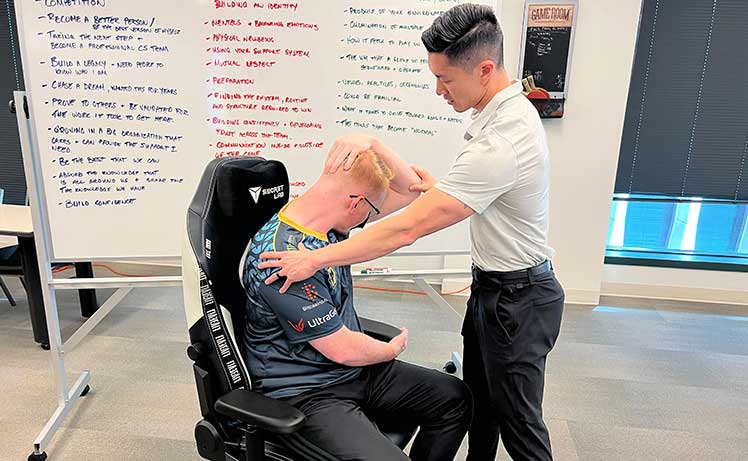 "A regular range of motion exercises, strengthening, and stretching are all critical." Dr. William Duncan works with both esports and traditional athletes. He clarifies that gamers should "work on strength & endurance and use a good chair."
Esports Priorities For Healthy Deskwork
To boost performance at a desk, the doctors we spoke to agreed on these priorities (in order of importance):
Health trinity: regular exercise, good nutrition, sound sleep.
Good posture: try to sit straight in whichever type of chair you use.
Frequent breaks: breaks reset the brain, boost blood flow, and work sedentary muscles.
Good ergonomic chair: choose whichever type aligns with your preferences.
From an esports health perspective, the gaming chair vs ergonomic chair debate is irrelevant. A healthy lifestyle with frequent breaks and regular exercise can override the damage caused by sloppy sitting.

For instance, when I first started using gaming chairs, I had terrible posture. After adapting to neutral postures, I gained enough energy to work out and eat right.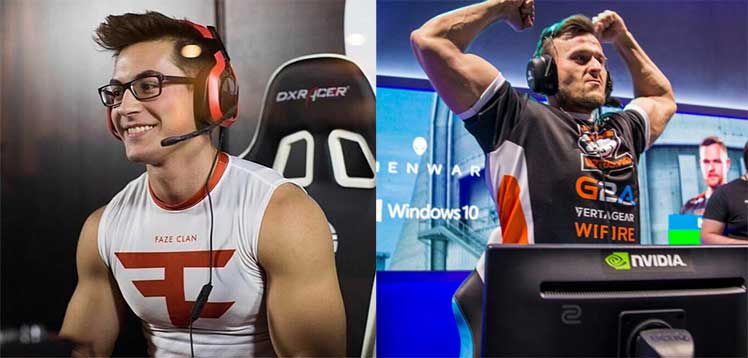 These days, I don't see a need to sit with a strict posture. A looser style is more comfortable. When things veer off course, it's easy to reset. Learn more:
2022 Deskwork Priorities: Fitness + Posture Beats Technostress
Other Gaming Vs Office Chair Factors
Ergonomic office chairs and gaming chairs both support good sitting posture. The former provides mid-back support that's a good fit for formal, office-style work. The latter adds relaxation aspects that better serve all-day sitting needs.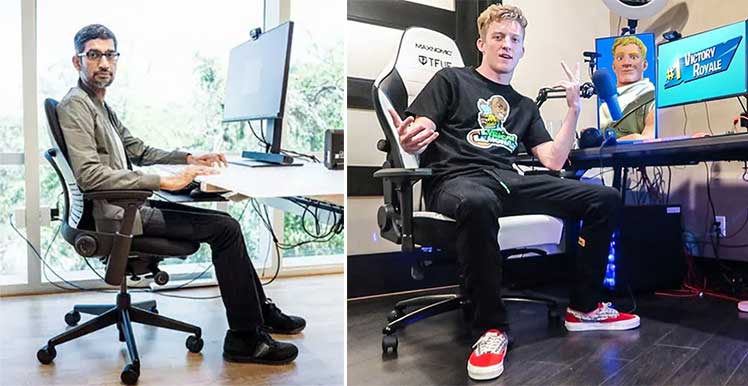 Beyond backrest styles, the 'business vs pleasure' theme influences other factors as well.
Breathability
Gaming chairs layer upholstery over the top of thick foam slabs. In comparison, full mesh ergonomic office chairs let more air pass through without any blockage.
However, some studies(4) consider an upholstery's breathability (aka thermophysiological qualities) as one of three comfort factors. The others are ergonomic and sensorial.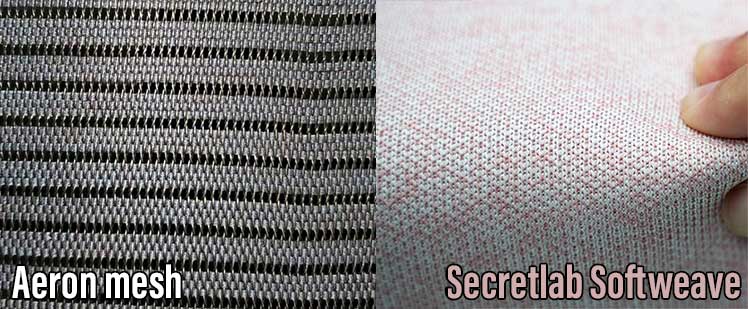 As already covered, gaming chair ergonomics are comfort-oriented. On top of that, a luxury fabric gaming chair delivers more comfortable sensations than the steely synthetic feel of office chair mesh.
Winner: Gaming Chairs
Full-mesh office chairs are more breathable. But on ergonomic and sensory levels, fabric gaming chairs are a lot more comfortable.
Aesthetics
It should surprise nobody that ergonomic office chairs are designed for corporate settings. Most models come in neutral colors (black or grey) with conservative styling and no embellishments.
On the flip side, gaming chairs come in conservative, flashy, and plenty of in-betweener styles. Whatever you fancy, there's a gaming chair style that will suit your tastes.
In rare cases where office chairs do add color, aesthetics retain a sense of corporate formality.
Winner: draw
IFancy ergonomic chairs look fantastic in office settings. In a gaming room or home office, a vibrant gaming chair can chill you out while dazzling your senses.
Pricing
The world's best ergonomic office chairs include the Herman Miller Aeron, Embody, and Steelcase Gesture. Each costs over $1000 and comes with a 12-year warranty.

Gaming chairs are cheaper. The best premium models cost between $399 to $670; warranties are between 2 to 5 years.
Best Ergonomic Chairs Of 2022
Given all factors, three chairs stand out as the cream of the crop. The Herman Miller Aeron is the world's most effective posture-correction chair. In fact, it's so effective at enforcing good posture that some find it stifling!
If so, the Herman Miller Embody delivers a more casual and adaptive mid-back experience. If you go full-back, the Secretlab Titan 2022 Series reigns supreme. It packages the best ergonomic features, aesthetics, and after-care into 43 red-hot styles.
Herman Miller Aeron
The Herman Miller Aeron is so effective at enforcing good posture that it's almost stifling! The star feature that makes it so is its bladed seat.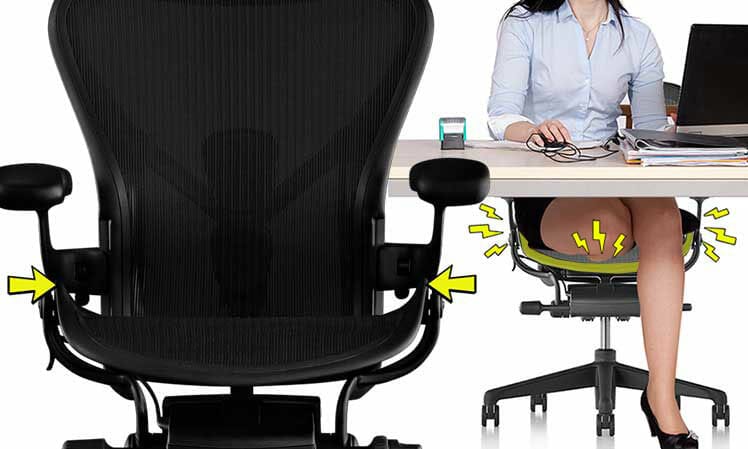 Hard ridges on each side make sitting with planted feet the only comfortable option. Those ensure that the Aeron's other features work as intended.
Ultra-adaptive mesh helps to keep the body in balance. Adjustable lumbar support preserves the lower back curve. On top of that, elaborate tilting functionality helps the seated body to move.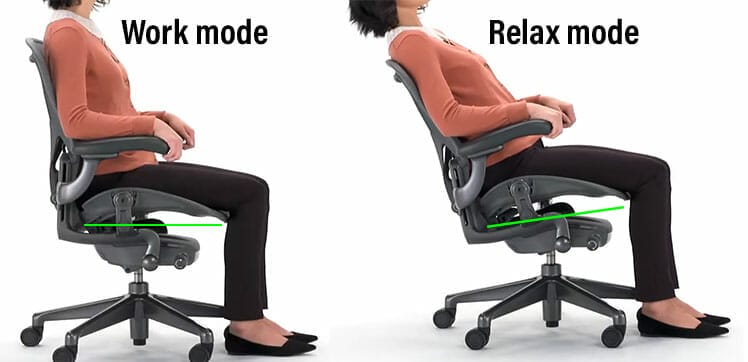 Notably, the limited recline range forces you to sit almost upright all the time. Over an 8-hour office shift, that works fine. When sitting all day at home, the limited range can feel stifling!
Aeron Features
Sync-tilt: seat pan angle from -1° to 16°; backrest 93° to 104°
Upholstery: Pellicle 8Z mesh provides eight tension zones.
Adjustable lumbar: choose a height or depth-adjustable unit.
Seat: adjust the height; tilt up or down; sync-tilt with the backrest.
Armrests: 3D adjustable.
Warranty: 12 years.
Aeron Remastered from Herman Miller $1195-$2195
Learn more: Aeron Remastered Office Chair Review
Herman Miller Embody
The Embody is for Herman Miller fans who find the Aeron too restrictive. It comes with a padded fabric seat, ultra-adaptive backrest, mega-adjustable arms, and a spacious seat. Instead of forcing you to sit with planted feet, there's enough space here to sit cross-legged.
Its star feature is a Pixelated backrest. A flexible central spine holds up a flexible plastic unit supported with human-like 'ribs'.
But unlike other chairs, it prioritizes support to the thoracic spine. There's no lumbar support — only a hard-molded backrest curve. To adjust this to your spinal curves, you can't adjust the backrest height — only its angles.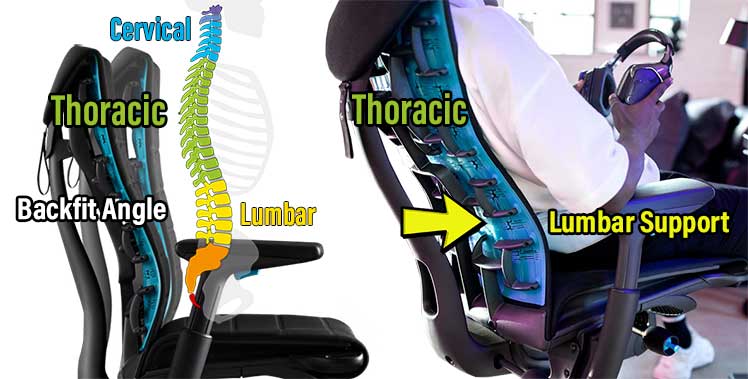 If you've never used an ergonomic chair before, getting the Backfit angle adjustment right can be tricky. Slight misadjustments will slump your spine rather than align it!
Grasping the Backfit angle adjustment concept is the key to success in this chair. The trick is to first adjust the top angle so that it cups your thoracic curve. Once it does, adjust the bottom angle to support your lower back.

Note that Timthetatman, Tfue, Ninja, Shroud, and many other streaming elites use the Embody chair. All are advanced ergonomic users with years of experience. If you're not at that level, consider the more user-friendly Aeron chair instead!
Embody Features
Synchro-tilt: seat pan angle 3° to 15°; backrest 94° to 120°
Pixelated back support: the backrest has a central spine with flexible ribs. Each rib adjusts when you move for consistent support of your spinal curves.
BackFit angle adjustment: lets you angle the backrest to fit the curvature of your spine.
Seat adjustments: adjust the seat's height and depth.
Armrests: 2D-adjustable
Backrest: adjust recline tension; 3-position tilt-lock; synchro-tilt
Sizing specs: 5'4″ to 6'2″; 300-pound weight capacity
Embody Gaming Chair From Herman Miller $1795
Learn more: Embody Gaming Chair Review
Secretlab Titan 2022 Series
Based on the science, a full-back chair (with lumbar support) encourages more relaxed sitting postures. The Secretlab Titan 2022 Series supports that concept with next-level ergonomics and aesthetics.
Under the skin of every Titan chair is a 4-way adjustable integrated lumbar support. You can adjust the height and depth to achieve a perfect fit. Complementing that is a strapless magnetic headrest with a massive 11″ adjustment range.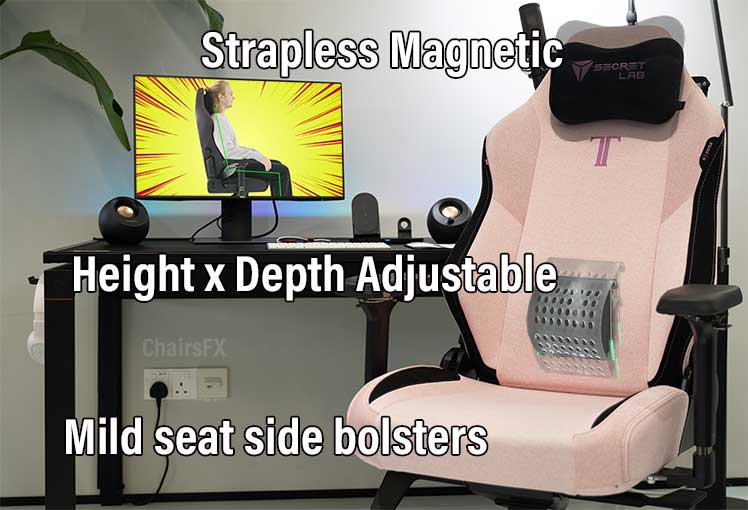 The backrest works in sync with a flat, wide, spacious seat. Combined with the Titan's 165° recline, this delivers the comfort of a luxury aircraft seat — plus the ergonomic support you need for computing.
But that's not all. Physiological comfort factors include physical (ergonomic), psychological, and environmental. In service of the latter two, the Titan comes in a whopping 43 styles.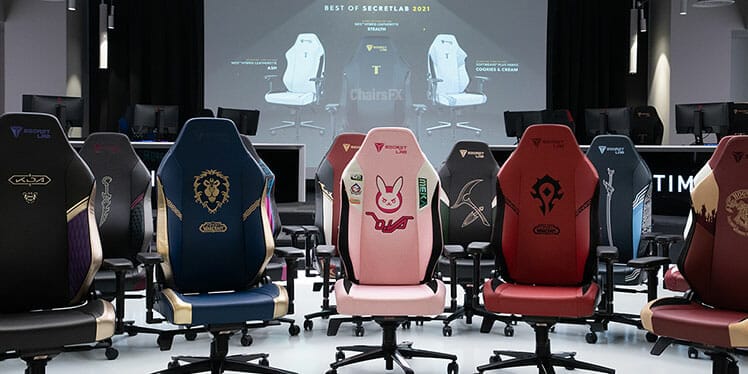 There are enough styles here to delight most sensibilities. Choose conservative office designs, fancy embroidered video game styles, cool fabric pastels, and plenty more. Check out this Furniture Color Psychology Guide for details.
Titan Evo 2022 Features
Functionality: 4D armrests; multifunction tilt-lock; recline from 85-165°.
New 2022 Series Features: integrated 4-way adjustable lumbar support; magnetic headrest pillow; pebble seat base with waterfall edge.
Sizing: small 4'11" to 5'6″; medium 5'7″ to 6'2″; XL 5'11" to 6'9″.
Warranty: five years.
Titan 2022 from Secretlab $549-$674
Learn more: Titan Evo 2022 Gaming Chair Review
Conclusion
Full-back gaming chairs and mid-back ergonomic office chairs both support dynamic neutral sitting positions. That's the ergonomic standard for healthy sitting in any type of chair.
The biggest technical difference between the two types is the backrest style. An office chair's mid-back support keeps the spine in the healthiest alignment. That's better for focused, business-style work.
A gaming chair's full-back style is more comfortable — but less ergonomically accurate. Whichever you choose, healthy habits away from the computer can enhance the potential of your chair.
Strive for regular exercise, good nutrition, and a conscious effort to sit straight. Then, a good ergonomic chair can help to supercharge your health, happiness, and productivity.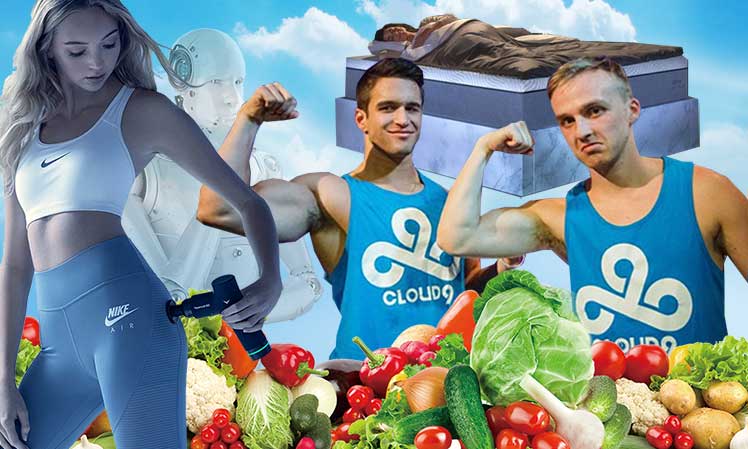 Personal preference: I enjoy the esports method: gaming chair + fitness routine. My Secretlab Titan lets me enjoy decadent freestyle comfort plus neutral posture support. To mitigate potential side effects, I hit the gym.
Fitness + Posture: Modern Blueprint For Healthy Deskwork
Footnotes