Ergonomic task chairs support all sorts of seated desk work. Top models from Herman Miller cost over $1000. PC gaming chairs cost less — and also support healthy sitting over long periods. In the modern computing era, you can choose between two types of ergonomic chairs. Learn about PC gaming chairs vs. ergonomic task chairs. Which type provides better value for computer users in 2020?
In 2020, there are three types of chairs that qualify as office chairs.
Traditional office chairs: basic features and low prices. Usually, you can adjust the height and rock the chair. These chairs cost between $60 to $150 and serve well for short periods of sitting.
PC gaming chairs: comfortable ergonomic chairs that cost between $100 to $550.
Ergonomic task chairs: made famous by Herman Miller. These chairs offer superb ergonomics and sync features for $400 to $1600.
We already compared gaming chairs versus traditional office chairs. It wasn't a fair fight.
Gaming chairs won with superior features, health benefits, and value for money.
Gaming chairs vs traditional office chairs
The gaming chair versus ergonomic task chair battle is a more even matchup. Both types of chairs support long periods of healthy sitting. Both also stand out with ergonomic features that adjust to the user. But ergonomic task chairs can cost as much as three times more than the best gaming chairs.
What do you get for the extra money? Is it worth it? Keep reading to find out.
Ergonomic chair origins
Our comparison stars by looking at the origins of both types of chairs. These provide clues about the usability and limitations of each type.
From the 1950s to the early 90s, office chairs were a status symbol. Clerks sat on stools. Better chair features depended on rank. More prestigious ranks got thicker padding and higher backrests.
"Ergonomics" refers to the adaptability of work tools to user needs. Until the early 1990s, ergonomics were rarely a factor in schools or offices.
In a traditional office setting, users had many reasons to walk around. That changed when internet computing forced users to sit long periods at their desks.
1994: first ergonomic task chair
PC computers entered the market in the 1980s. In the 90s, the Internet emerged. As a result, 90s office culture became synonymous with PC computing.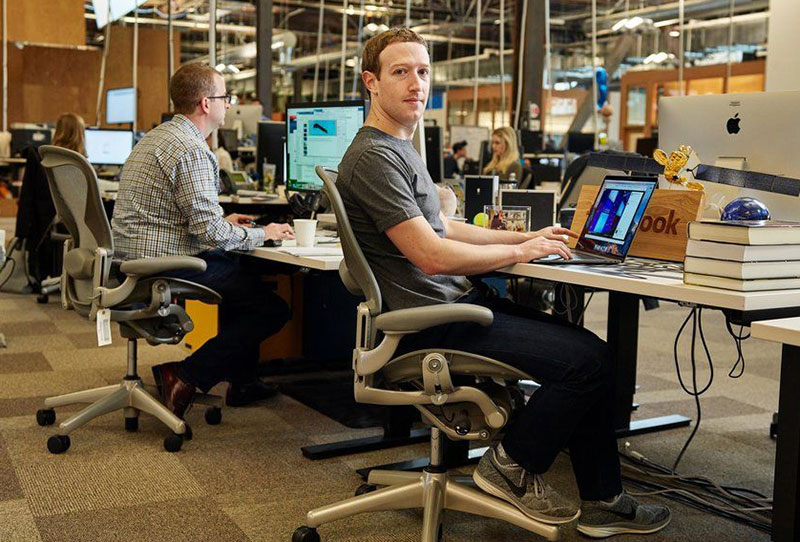 Traditional office chairs force users to sit in fixed positions. Over long periods of computing, that can ruin your posture and damage your back. In 1994, Herman Miller introduced a solution to the problem.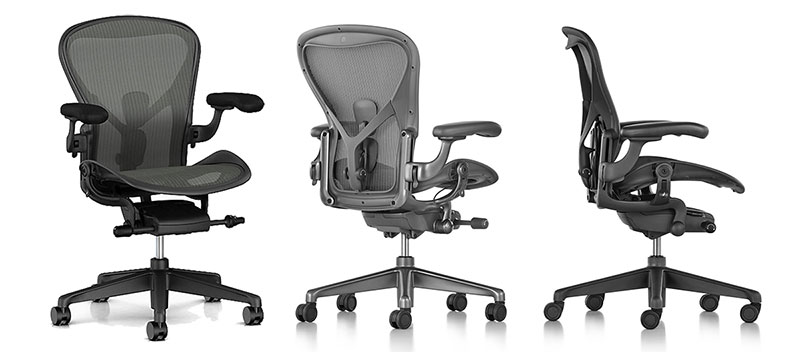 The Herman Miller Aeron was the world's first ergonomic task chair. This proved a radical upgrade over traditional office chairs.
The Aeron was an instant hit, providing a healthier and more comfortable alternative to office chairs. It became the blueprint for all ergonomic task chairs to follow. Today, there are a wide range of task chair options, ranging from $400 to $1600.
2006: first gaming chair
Despite the great features of ergonomic task chairs, there was still a hole in the market. That got exposed during the rise of global esports.
The story began in 1997 when the South Korean economy collapsed. Thousands of young people found themselves without jobs. In 1998, Blizzard Entertainment released Starcraft. Soon, internet cafes started popping up all over Seoul. There, youth flocked to play Starcraft.
In 2002, big companies like Samsung and SK Telecom began to put money into pro esports teams. Korean TV channels started running Starcraft tournaments. Players competed for cash prizes, with games broadcast live on each channel. Record audiences tuned in. Thus began the rise of global esports.
As gamers played for longer periods, back problems began to arise. But most gamers couldn't afford pricey ergonomic task chairs.
Fast forward to 2001. A startup company called DXRacer started making luxury car seats. Then the American recession hit, crippling the auto industry.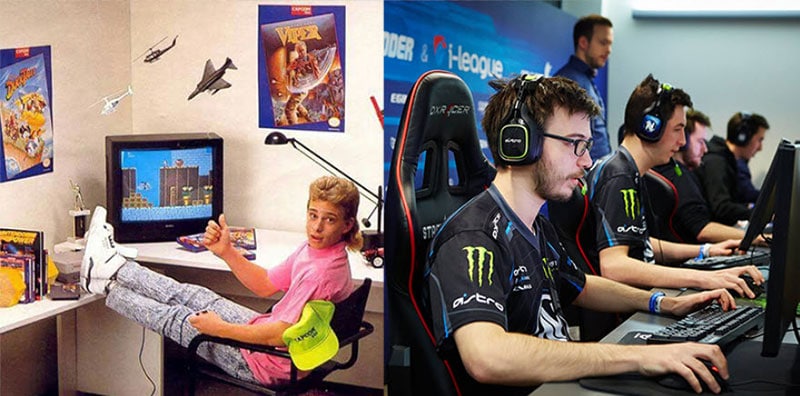 By 2006, the esports craze had become a global phenomenon. Finally, DXRacer figured out a way to sell off their luxury car seats.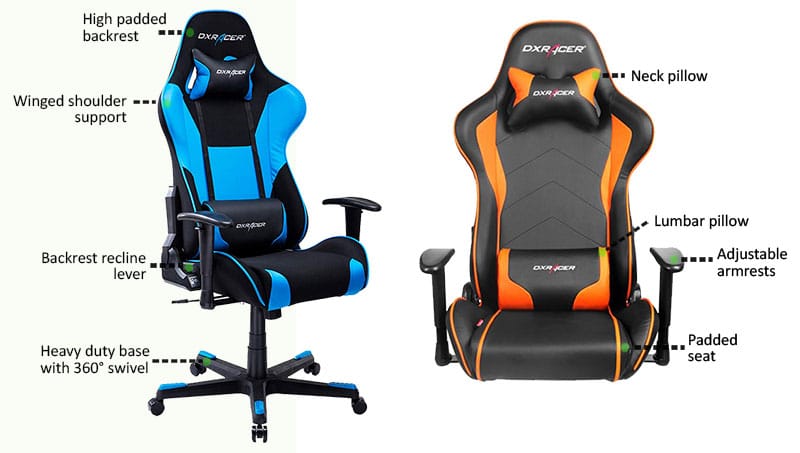 They converted them into gaming chairs and added some ergonomic features. These chairs were a massive hit that turned into a thriving global industry.
Feature comparison
We've already established that for long periods of computing, office chairs are the worst option. So what is the best option? The first ergonomic task chairs came out in 1994. The Herman Miller Aeron is the original and most popular task chair on the market. It debuted in 1994 and didn't have any updates until 2017.
If the Aeron and other task chairs were a complete solution, gaming chairs would not exist. Why were gaming chairs invented, if ergonomic task chairs already existed? What need did they fill that task chairs do not?
Further, why are task chairs so expensive? What do they offer that gaming chairs do not?
Let's examine the features of both types of chairs to find the answers.
Healthy posture support
Traditional office chairs are for sitting. Gaming chairs and ergonomic task chairs are for healthy sitting, over long periods.
Most ergonomic task chairs are mid-back. Some add a neck rest that adds support for the upper body. In comparison, gaming chairs are high-back. Attached to the backrest are neck and shoulder support pillows.
The mid-back design of task chairs provides support from the sacrum to the thoracic part of the spine. In contrast, gaming chairs provide support from the sacrum to the cervical part of the spine.
If you try both types of chairs, you'll discover that task chairs don't need neck support. They offer such solid mid-spine support that the head stays in balance atop the neck. For instance, one of the Herman Miller Aeron's key features is PostureFit back support.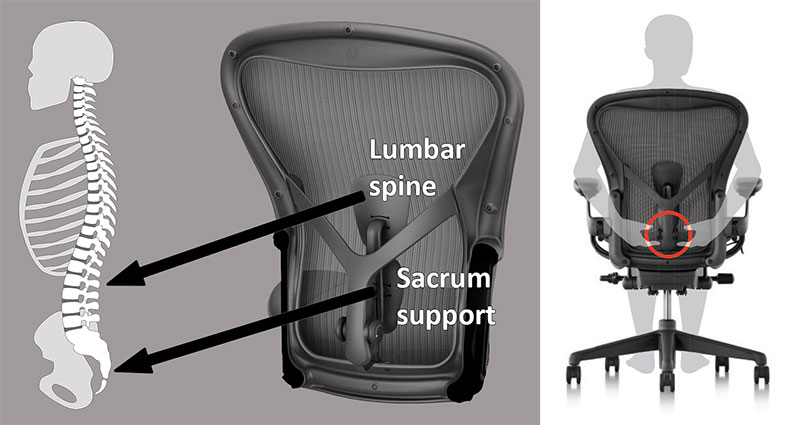 PostureFit supports the lumbar and sacral-pelvic areas. Two pads fixed to the unit flex independent of each other. The top pad supports the lumbar. The lower pad stabilizes the sacrum. You can adjust the lumbar height, and also the depth of both pads. Together, the pads encourage the spine to stay in a healthy S-shaped position.
Gaming chairs lack the precision of task chairs. The tall backrest supports the entire spine, while the neck and lumbar pillows support the spine's natural curves. To ensure the right fight, you can adjust the height of both pillows.
Winner: draw
Task chairs support the mid and lower back with superior precision. Gaming chairs support the entire back using a tall backrest and support pillows. Both result in the same end: a healthy computing posture over long periods of sitting.
Synchro tilt
The synchro-tilt function is the reason why task chairs cost so much.
The human body thrives when in motion. Sitting in fixed positions reduces the natural pumping action of the muscles. Synchro-tilt angles the seat in sync with the backrest when leaning back. That helps users to change positions while maintaining a healthy posture.
Herman Miller's Aeron and Embody chairs come with the widest synchro-tilt ranges. For instance, the Herman Miller Aeron has a seat pan angle of -1° to 16°. That combines with a backrest range of 93° to 104°.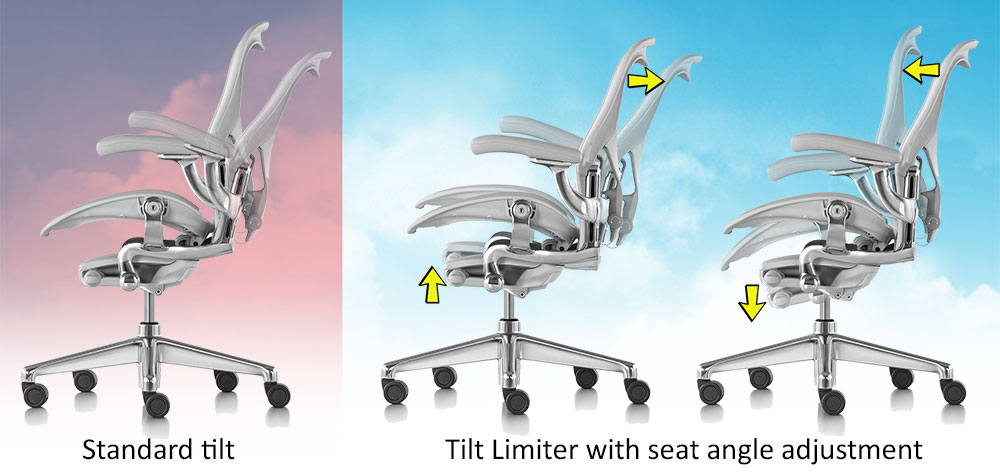 Most of the other top-rated task chairs have a smaller synchro-tilt range. For example, the $900+ Steelcase Gesture has a seat pan angle of 1° plus backrest recline from 98° to 125°.
In broad terms, buying a task chair for less than $1000 will get you synchro-tilt with a 1° seat pan angle. It's nice to have, but the tiny range is almost unnoticeable. To get the "wow" factor, you need to spend more than $1000.
Winner: task chairs
Only task chairs come with a synchro-tilt feature. Pro gaming chairs also let you angle the seat and backrest, but each piece needs to be manually set.
Synchro-tilt is useful to keep your body fresh while sitting for long periods. Any time your muscles start to feel tired, you can lean into the backrest. As the backrest reclines, the seat angles up. That switches up the muscles in play while giving tired muscles a rest.
The downside of synchro-tilt is the price. Full-range synchro-tilt chairs cost over $1000. Limited synchro-tilt chairs cost less, but can only angle up by 1°.
Ergonomics
The science of ergonomics studies human efficiency in working environments. The end goal is to enhance human well-being while boosting performance. That gets achieved by decreasing discomfort and fatigue through product design.
Ergonomics applied to office furniture considers how products fit the people using them. For computer users, ergonomic furniture provides comfort while supporting healthy movement. The point is to reduce musculoskeletal problems, back pain, and other health problems.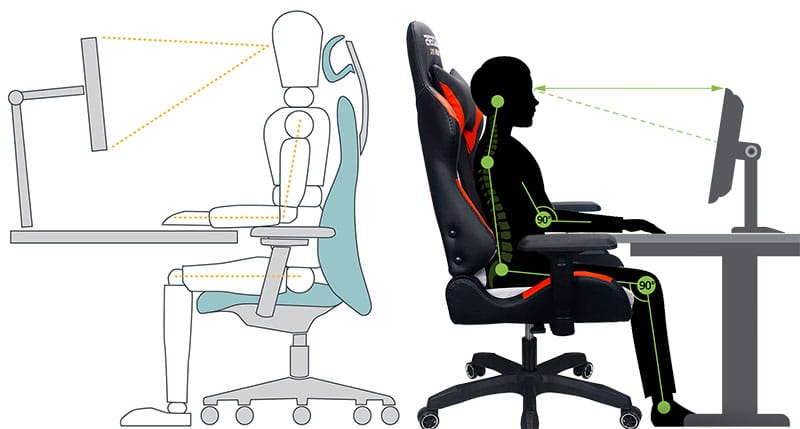 In 2002, the BIFMA organization released an ergonomic guideline for office furniture. Key points (summarized by AllSteel):
Height of seat: should allow the user's feet to plant onto the floor or a footrest.
Depth of seat: should be deep enough so that the back of the knees do not touch the front of the seat.
Seat width: should be wide enough to accommodate the user's hips.
Backrest: should conform to the shape of the user's spine. It should also have lumbar support that maintains the lordotic curvature of the lumbar spine.
Armrests: should be adjustable up and down, plus in and out. This helps to relieve neck, shoulder, and back stress.
A final requirement is the range of motion. The seat and backrest should allow varied postures. The backrest should recline from 90° to at least 115°. The only guideline for seat tilt is to ensure the torso-to-thigh angle is not less than 90°.
Gaming chair vs task chair ergonomics
Using the BIFMA guidelines, here is how gaming chair ergonomics compare with task chairs:
| | Gaming chair | Task chair |
| --- | --- | --- |
| Seat height: | Adjustable | Adjustable |
| Seat depth: | Fixed | Adjustable |
| Seat width: | Extra-wide models are available. | Most chairs are one-size-fits-all. |
| Backrest: | Adjustable lumbar support plus deep recline. | Adjustable lumbar plus limited recline. |
| Armrests: | Pro models are 4D adjustable. | Most models are 2D adjustable. |
| Range of motion: | Manually tilt the backrest and seat. | Synchro-tilt automatically tilts the seat when you recline. |
Winner: draw
Pro gaming chairs and high-end task chairs both meet BIFMA ergonomic guidelines for office furniture. One feature missing in gaming chairs is a depth-adjustable seat. That is needed in task chairs since most are one-size-fits-all.
But with gaming chairs, extra small or extra-large users can buy specialty chairs. Small gaming chairs provide a seat depth suitable for small bodies. Also, the best heavyweight chairs provide extra-deep seats to support larger sizes. In contrast, few task chairs cater to extra-large sizes — most models are slim fit.
Usability
In the intro section of this article, we looked at the origins of both task chairs and gaming chairs.
The first task chair came out in 1994 when the Herman Miller debuted. It solved the problem of unhealthy sitting at a computer with innovative ergonomics.
But when the esports industry arose in the late 1990s, few gamers used task chairs. At top tournaments, players used cheap office chairs instead.
There are two reasons for this. First, task chairs are too expensive for average gamers. Second, task chairs have usability limits that gaming chairs managed to address.
Upright working
Task chairs excel at forcing users to sit in an upright working position at all times. There is no room to slouch or lie back into a deep recline.
When sitting in a task chair, you will always sit in a position to do tasks. That could be typing, writing with pen and paper, or reading.
Relaxation mode
Gaming chairs also encourage upright sitting, but with more flexibility. Users aren't forced to sit upright. Deep recline plus a seat angle tilt-lock lets users recline far enough back to see the stars.
When gaming, there are periods of intense gameplay. Then, players can lock into an upright sitting position. During lulls in the action, it's easy to lower the backrest and kick back in a deep recline. That position is ideal for passive sessions of watching videos, reading, or contemplation.
Maintaining a healthy posture
Task chairs are less versatile, but that's the point of the design. No matter what position a user sits, the chair will ensure they maintain a healthy posture.
In contrast, you can still slouch if you want to in a gaming chair. That makes the healthy sitting posture optional. If you lack discipline, task chairs will force you into good posture, whether you like it or not.
Winner: gaming chairs
Task chairs are ideal in office settings. When staff comes into work, the chair forces them into a position to work hard. It's good PR. Visitors will see an office full of alert staff sitting with perfect posture. When they need a break, the staff can find a sofa to lie down on.
In comparison, gaming chairs are more versatile. For gamers and people who work from home, these chairs cater to both work and play. When it's time to work, angle the backrest to around 100°. When you need a break, recline to around 140° and relax. That said, it's still possible to slouch in a gaming chair. Thus, you get more freedom in a gaming chair, but you also need more discipline to use the features.
Pricing
Only task chairs come with synchro-tilt. Pro gaming chairs can also tilt the angles of the seat and backrest, but using manual settings. Another feature exclusive to task chairs is a seat depth adjustment. That is essential since most task chairs are one-size-fits-all.
For these extras, expect to pay a massive premium. Is it worth it? Both gaming chairs and task chairs meet BIFMA ergonomic office furniture guidelines.
What's more, gaming chairs have deep recline. That makes them much more versatile than task chairs. While task chairs are ideal for work, you could spend a whole day in a gaming chair doing various activities. You can work, relax, watch videos, or even take a nap.
From this perspective, spending $1500 on a task chair that can do less than a $400 gaming chair is impractical.
Winner: gaming chairs
Task chairs with advanced synchro-tilt cost over $1000. Meanwhile, the best full-featured gaming chairs cost less than $500. The back support on high-end task chairs is more precise than what gaming chairs offer. Beyond precision, both work the same. Both support a healthy sitting posture over long periods of sitting. Beyond that, gaming chairs are more versatile.
Without any doubt, gaming chairs offer much better value for money than task chairs.
Head-to-head chair comparisons
Now that we've concluded our broad comparison, it's time for specific comparisons. Here, we match three of our top-ranked gaming chairs against three top task chairs.
Secretlab Titan vs Herman Miller Embody
The Secretlab Titan (RSP $399 from Secretlab) is our top-rated PC gaming chair. The Embody is Herman Miller's most expensive chair, priced at $1,409.49 on Amazon.
This comparison pits the best PC gaming chair against one of the most expensive task chairs.
Armrests: the Titan has 4D armrests; the Embody has 2D.
Lumbar: both are depth adjustable.
Upholstery: the Embody uses a skin-like textile covering. The Titan has mesh, leather and faux leather styles.
Warranty: the Embody comes with a 12-year warranty. The Titan has a 3-year warranty extendable to 5 years.
Neck support: the Titan uses a neck pillow. The Embody doesn't have any neck support.
Winner: Secretlab Titan
The Secretlab Titan offers a healthy and luxurious sitting experience. The Herman Miller Embody has a longer warranty and more precise lower back support. But the Secretlab Titan is 1/4 the price with comparable ergonomic features. Both chairs support a healthy sitting posture. The Embody does so with fancier bells and whistles, but those cost $1200 extra.
Maxnomic Pro vs Herman Miller Aeron
The Maxnomic Pro is the compact chair popular among pro esports players. It provides ergonomic support using removable neck and lumbar support pillows. There are a few design options, ranging from $399 to $429. The Herman Miller Aeron sells on Amazon for $3,179.00. Here's how the two models compare:
Armrests: Maxnomic pro has 4D adjustable armrests with finger indents. The Aeron chair has 3D adjustable armrests.
Lumbar: the Maxnomic Pro uses an adjustable lumbar pillow that fixes to the backrest. The Aeron chair has a height and depth adjustable lumbar.
Backrest: the Aeron reclines from 93° to 104°. The Maxnomic Pro reclines from 83°(forward tilt) to 139°.
Tilt lock: the Aeron tilt has a 16° seat tilt range. The Maxnomic Pro has an 11° range.
Neck support: the Maxnomic Pro comes with a neck pillow. On the Aeron chair, you can buy a third-party neck support addon.
Upholstery: the Maxnomic Pro uses PU leather in a range of styles. The Aeron chair uses an "intelligent" mesh that adapts to the body's micro-movements.
Warranty: the Maxnomic Pro comes with a 2-year warranty. The Aeron chair comes with a 12-year warranty.
Winner: draw
The Maxnomic Pro has features that match or exceed the Aeron chair. The Aeron chair stands out with the most robust synchro-tilt in the industry. But minus the synchro-tilt, it's hard to justify paying $1100 extra for more limited features.
Opseat Master Series vs Steelcase Gesture
The Opseat Master Series is the cheapest gaming chair on the market with pro features. Priced at $249, how does compare with our #3-ranked task chair, the Steelcase Gesture? On Amazon, the Gesture sells for $974.55.
Armrests: the Master Series has 4D adjustable armrests. The Gesture has better 4D armrests with a wider adjustment range.
Support: the Gesture can recline back into three positions. It has a seat pan angle of 1° and backrest recline from 98° to 125°. The Master Series beats it with recline to 180°, plus a seat angle tilt range of 11°.
Upholstery: the Master Series uses PU leather. The Gesture chair uses mesh fabric.
Warranty: the Master Series comes with a 2-year warranty. The Steelcase Gesture comes with a 12-year warranty.
Winner: Opseat Master Series
The Master Series costs less than $250, yet offers a wider recline and seat angle tilt than the Gesture chair. Meanwhile, the Gesture has a measly 1° seat tilt angle, with only three recline positions. Buying a Gesture chair over a Master Series will give you a less usable chair, for over four times the price.
Value for money
The best ergonomic task chairs offer more precise back support — but cost more money. PC gaming chairs offer good back support with less precision but much lower prices.
This section looks at the value for money that each type of chair offers.
Verbose ergonomics cost more
The Herman Miller Aeron debuted in 1994 and was an instant hit. It proved to be a massive upgrade over traditional office chairs, with far better back support. Development took several years and cost $35 million in research and development. Onboard were ergonomic scientists from Cornell, Michigan State, and other top schools.
The Steelcase Leap came out in 1999. it took four years of development that also cost $35 million. Development involved 11 academic studies, 23 patents, and two design teams.
These were among the first two ergonomic task chairs. As with all new technologies, describing the functionality can be verbose. For instance, Herman Miller upgraded the Aeron chair in 2017.
Here is how Herman Miller described the update: "We incorporated two decades' worth of technological and ergonomic enhancements to improve the health-positive design, and widen the range of cross-performance capabilities. With updates that include a more refined tilt mechanism, adjustable PostureFit SL, and 8Z Pellicle suspension, the new Aeron performs better than ever before."
In simple English, the update doesn't sound as spectacular. The revamped Aeron added adaptive mesh fabric, adjustable lumbar support, and minor tweaks.
Cutting through the sales copy, task chairs serve the same purpose as gaming chairs. Most offer less functionality. Most also cost at least three times more than the best pro gaming chairs.
Straightforward ergonomics cost less
In 2006, DXRacer took full advantage of the R&D funded by Herman Miller and Steelcase. Their purpose was to get rid of a warehouse full of unsold luxury car seats. The craziest part is that their scheme worked. In fact, it worked so well that gaming chairs have evolved into a thriving global industry.
With their original gaming chair blueprint, DXRacer took the Herman Miller ergonomic formula and radically simplified it.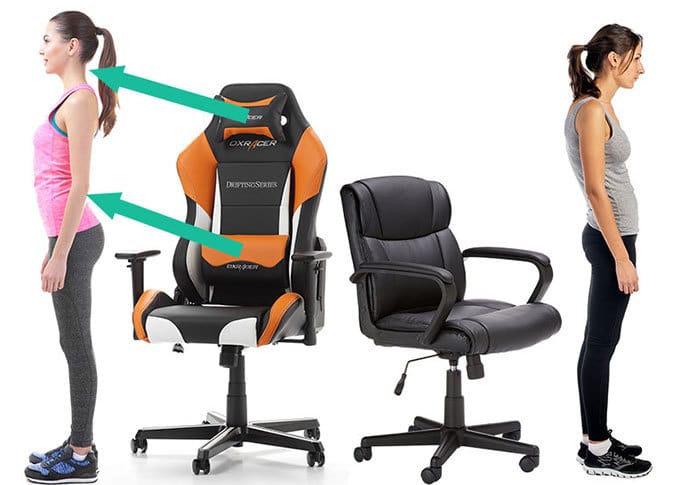 The body has natural curves at the neck and small of back.
Removable pillows fit into those curves when the user leans back.
That ensures proper posture while the user sits.

In place of synchro-tilt, pro gaming chairs also let you angle the seat and backrest. That achieves the same effect as synchro-tilt, but you need to set the angles manually.
Conclusion
The most expensive task chairs force users to sit in an upright position at all times. Doing so maintains a healthy posture, while also letting the user move while sitting. But task chairs have some limits. First, they force users to sit upright at all times — these chairs are not ideal for relaxing. Second, they cost over three times as much as pro-quality gaming chairs.
But ergonomic task chairs offer terrible value for money. Paying $1000 more gets you back support a bit better than PC gaming chairs.
That's a big reason why pro esports players use PC gaming chairs. Built for PC users, they offer great ergonomics, varied styles, and excellent comfort. But PC gaming chairs are not just for pros. They're also the best option for office workers seeking a performance boost.
In fact, all gamers and computer users can benefit by using PC gaming chairs. That's because gaming chairs let you sit longer, work smarter, and be more productive.