Ergonomic chairs made by the top-5 office furniture mega-corporations are almost universally revered. That reverence is legit — from a 2000s-era desktop computing perspective. From a generational, multi-device 2023 one, there's still good value — for some. Let's explore unique selling points (USPs): best ergo office chairs — from a modern, multi-device + esports optimization perspective.
Any chair with adjustable lumbar + arms and a reclining backrest provides the tools to support good posture. Regardless of how fancy the execution is, proper user habits are necessary to ensure good results. That means two things.

While sitting, you need to tuck your hips, plant your feet, support your arms, and support your lower back curve. That will ensure a healthy neutral posture — in any type of ergonomic chair.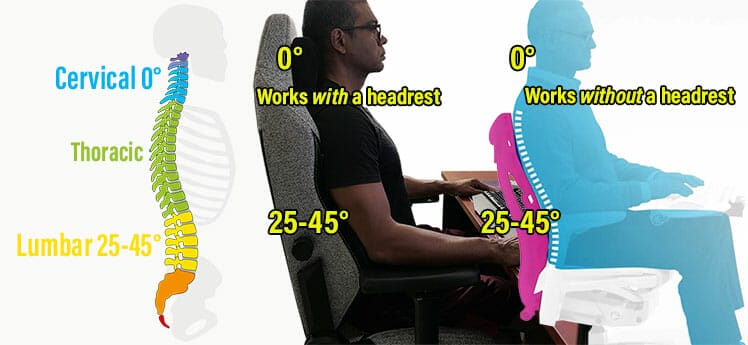 Second, no matter how 'perfect' your sitting posture, sitting in any position for too long will overload muscles.
Thus frequent movement breaks are vital. To that end, high-end office chairs serve up fancy seat-tilting functions. However, these days, many more sensible movement-boosting options exist.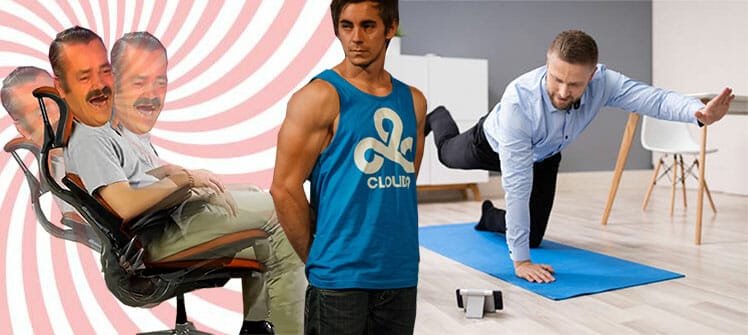 For example, instead of flopping around in a chair, stand up to stretch your legs. Alternatively, invest in a $20 yoga mat. Beyond frequent stretching breaks, healthy habits away from the computer also work wonders.
That includes include gym time, clean eating, and sound sleep — not fancy chair tilt functions. Learn more:
Healthy Deskworker Blueprint 2023
Formula: ergonomic chair + neutral posture habits + frequent breaks + gym exercise + clean eating + sound sleep = peak performance.
Back Support Ergo Tech Has Peaked
History shows that the definition of healthy sitting support evolves as technologies do. But all of the world's 'best' ergonomic office chairs have support designs at least a decade old.

When the Aeron debuted in 1994, the concept of a healthy posture-supporting chair was revolutionary. Today, its ergonomic formula is ubiquitous. Any chair with adjustable lumbar + arms and a reclining backrest can provide what's needed.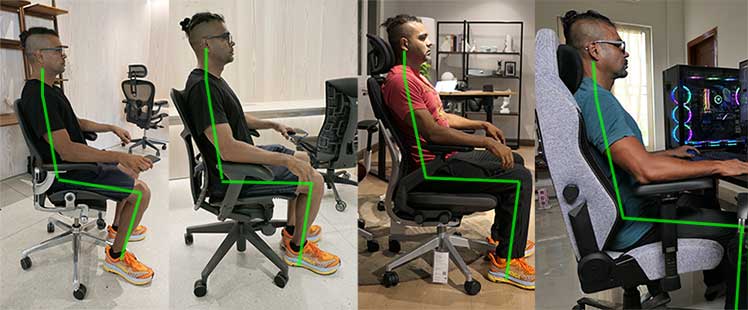 Regardless of the model, proper usage is necessary for the best results. Planted feet, supported arms, and a supported lumbar curve produces a neutral sitting posture in any type of ergonomic chair.
Outdated Unique Selling Propositions
A unique selling proposition (USP) defines what makes a product stand out against the competition. Our 2023 seated comfort analysis shows physical, psychological, and user habits as the most influential factors.
With disciplined habits and frequent breaks, a cheap $200 ergonomic chair works just fine. So what's the real incentive to spend over $800 on a chair?
Find below a summary of the outdated USPs used to hype ergonomic office chairs in 2023:
Back support technologies have peaked: planted feet, tucked hips, and supported lumbar + arms at a 100° recline = neutral postures in any ergonomic chair.
Premium chair mobile support is outdated: the Steelcase Gesture is specially designed for mobile computing – but only by 2013 standards.
Synchronous tilt functionality is extraneous: pricey tilting functions pull you away from the keyboard; a swivel footrest does not. Besides, frequent walking breaks are better movement boosters than syntho-sync-tilt.
Strict neutral postures are overkill? Herman Miller engineers and esports docs agree. Semi-neutral postures mixed with frequent breaks work well enough. Add gym time, sound sleep, and clean eating to supercharge.
2023 Elite Chair Appeal = Psychological
Any ergonomic chair with adjustable lumbar + arms and a reclining backrest can support neutral postures. Proper usage — not luxury features — yields optimal results.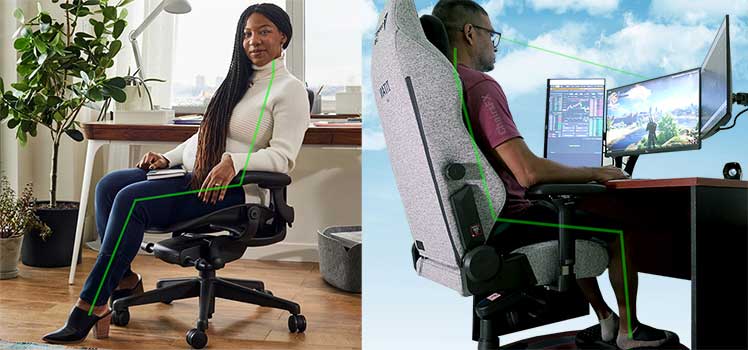 Regardless of chair, usage is the same. Tuck your hips, plant your feet, and sit upright with a supported lumbar curve. For extra bracing to hold your torso upright, press your forearms into the armrests.
So what's the point of spending $1500 on a chair when a $300 one does a similar job? Facts:
Predictable back support concepts: all models (except for the Embody) provide a similar level of back support using the same neutral support concepts.
Mediocre mobile support: no model is fully mobile-compliant. For proper multi-device support, you'll need to stack a sit-to-stand desk with any chair you choose.
Overhyped sync tilt: boosting movement by paying extra for fancy sync tilt will let you flop around like a moron. Instead, invest $100 in a yoga mat + footrest. Then, make sure to take frequent breaks.
Given these facts, why do so many hype pricey office chairs as amazing, magical works of wonder? The answer is psychological.
Psychological Perception + Aesthetic Appeal
The comfort of a chair includes both objective (neutral posture support) and subjective (reported feelings) factors. Psychologically attractive furniture is often perceived as more physically comfortable.
This is why every product put out by the world's top-5 ergonomic office furniture brands enjoys almost universal reverence. Buying a chair from any of these mega-corps comes with massive expectations.
Buyers expect perfection out of the box. That means a world-class build, medical-grade back support, and designs fit for the fanciest Fortune 100 offices.
True Value: Best Ergo Chairs Over $1000
For most of 2022, ChairsFX spent its editorial time documenting shifting ergonomic trends.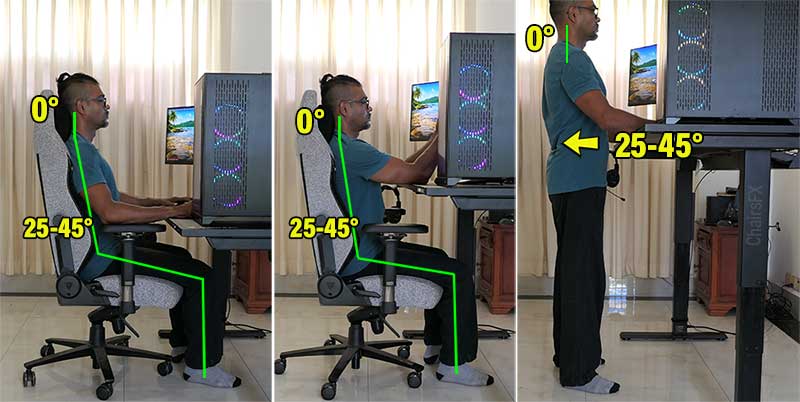 To validate those, I've been using a full Secretlab kit for multi-device purposes (I'm 5'9″ / 177 cm):
While using the kit, I've been applying the cookie-cutter esports performance model:
Frequent breaks to stand up and move.
Resistance and cardio training at the gym 4 x per week.
Clean eating and stable sleep habits.
In 2023, I started shopping around for a seating upgrade. What ergonomic office chair would improve my current setup?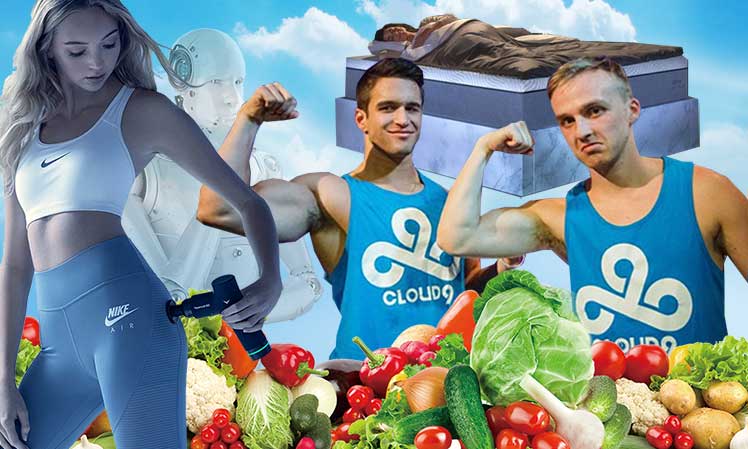 After a fresh hands-on look at the top models, I found most offered excellent but predictable neutral posture support.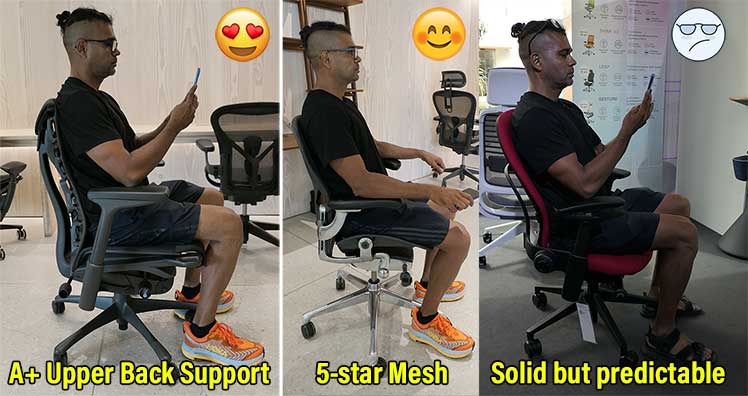 Only a pair of Herman Miller chairs stood out. The Embody justifies its $1700+ price tag with a revolutionary system that supports the upper spine. It works well — and there's nothing else like it on the market.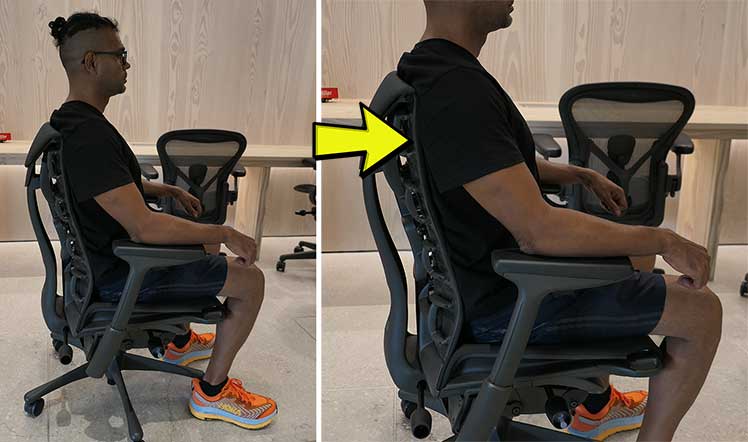 The Aeron's back support is more predictable: adjustable lumbar + arms and reclining backrest = neutral postures. However, its mesh upholstery is truly world-class. That helps to justify its price tag.
Everything else is just a neutral support rehash. That includes the Haworth Fern, Steelcase Gesture, Steelcase Leap, and more. Check out an honest, hands-on (non-hype) review of all top models:
Hands-On Review: Best High-End Ergo Office Chairs
Footnotes
Herman Miller Press Release. 'Herman Miller and Logitech G Introduce Vantum, a Modern Gaming Chair', October 6, 2022. Vantum Gaming Chair Press Release, (accessed Oct. 7, 2022)
"Pentiment & Herman Miller Gaming." YouTube, uploaded by Larry Hryb, Xbox's Major Nelson, Jan. 26, 2023, https://youtu.be/vbU-YhxkeU8?t=3046.