For years, sit-to-stand desks have existed as niche items. But modern ergonomic standards now emphasize multi-device support and sedentary computing solutions. That sets up sit-stand desks to gain go mainstream. This standing desk starter guide simplifies things for first-time buyers. First, grasp sit-stand desk fundamentals for the multi-device computing era. Then, browse the best standing desks on the market in 2023.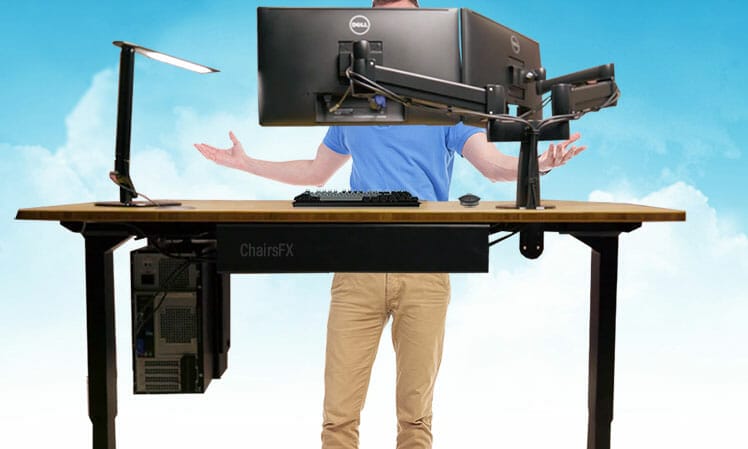 The Handbook of Human Factors and Ergonomics documents workplace environmental design standards. In late 2021, the 5th edition came out with a major paradigm shift.
Since the early 1990s, good back support had been the ergonomic priority. But these days, the average person uses a mobile device three hours per day — usually with a severe forward head tilt.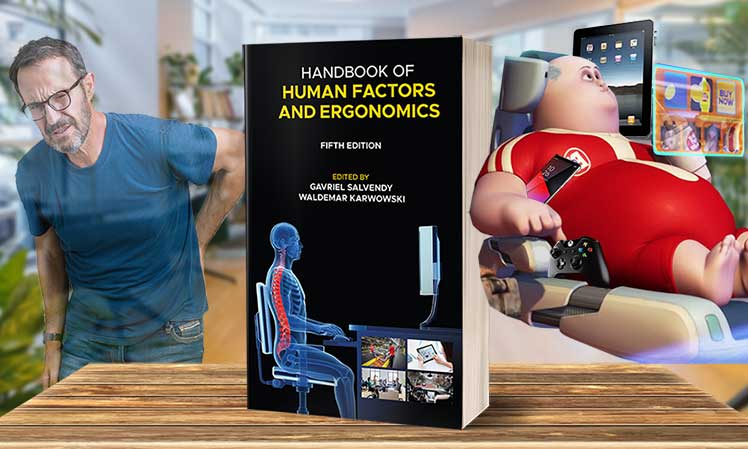 Thus, updated ergonomic standards tout the need for back and neck support while desktop or mobile computing. On the latter front, the Steelcase Gesture's 360° arms are touted as providing the best mobile-support in the business.
In reality, its support looks toylike compared to a standing desk. In fact, by modern standards, none of the best ergonomic chairs provide sufficient mobile support.
Meanwhile, to combat sedentary ills, deskbound humans need more opportunities to move. Shifting between sitting and standing while computing provides an easy means.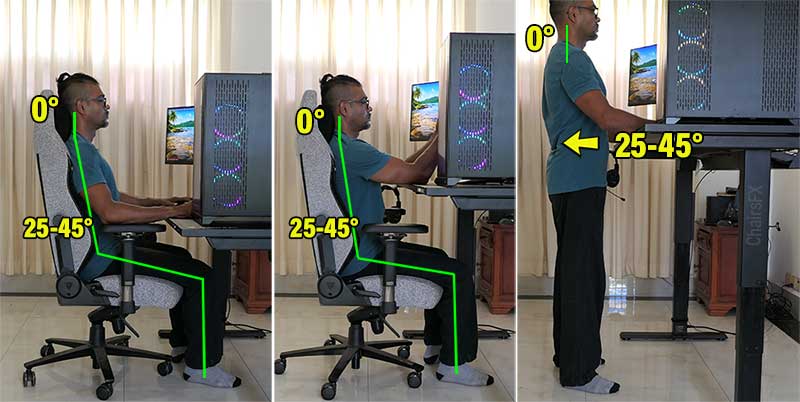 These factors suggest that many are likely to upgrade from traditional desks in the coming years. But in 2023, there are hundreds of possible configurations, sizes, materials, colors, and accessory options.
Preview: Standing Desk Specifications
This clarifies the standing desk landscape by pitting top OG desk makers against ergonomic seating company upstarts. Here's a preview of what's covered:
Sit-Stand Desk Fundamentals
Learn why and how you should use a standing desk for healthy, multi-device computing in the modern era:
Benefits Of Using A Sit-Stand Desk
The benefits of standing vs sitting while computing are often exaggerated. Standing for 3 hours instead of sitting will slightly lower blood pressure and burn 24 more calories — the equivalent of a carrot)(1).
Meanwhile, standing too much can cause muscle fatigue and lower limb swelling. Those stresses can slow reaction times and deteriorate mental states(2). So what's the actual benefit? There are two:
Robust Movement While Computing
Moving from seated to standing positions forces a squatting position. Each squat up or down works your hips, bones, muscles, and joints. This beats sitting for long hours in rigid, fixed positions.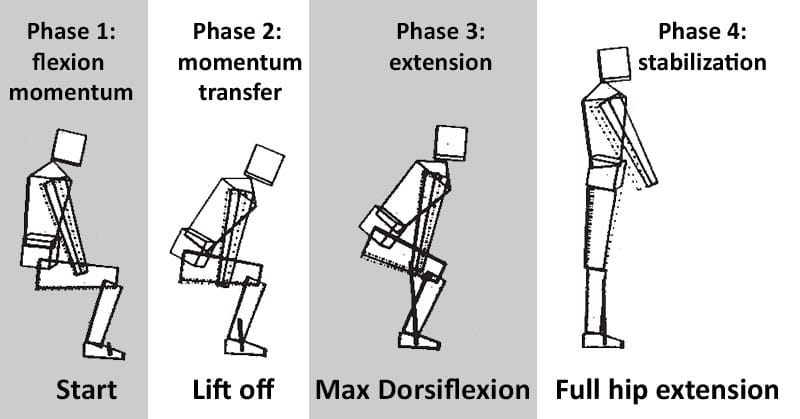 Frequent sit-to-stand transitions improve both cardiovascular and cerebrovascular health. As a result, users enjoy improved learning, memory, and cognitive functions(3).
These benefits are so profound that physical movement has become a cornerstone of elite pro esports optimization programs.
Multi-Device Ergonomic Support
The Handbook of Human Factors and Ergonomics calls for multi-device support for the back and neck. This can be achieved by stacking a good ergonomic chair with a sit-to-stand desk.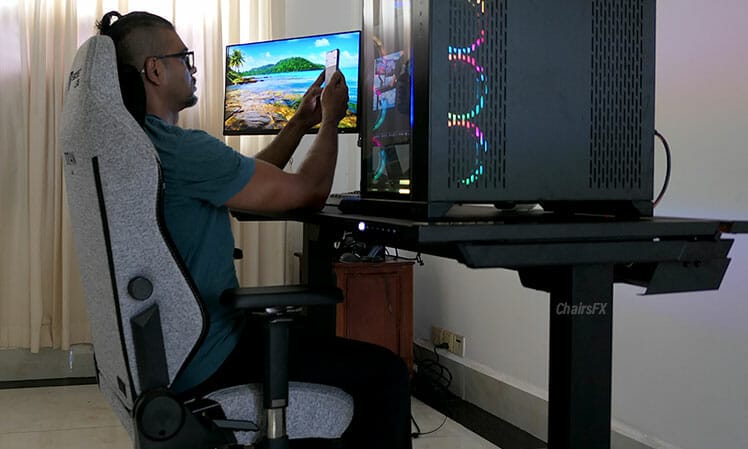 A healthy standing posture includes a 0° neck tilt and a 25-45° lower back curve. The point of all ergonomic chairs is to help maintain those numbers while sitting.
By adding a sit-to-stand desk, users can also enjoy neutral posture support while standing and mobile computing! Learn more:
Important Sit-Stand Desk Specs
The height and width of a desk will both impact your computing experience:
Adjustable Desk Height
The minimum height of an adjustable desk should let you plant your feet firmly on the floor.
Here are recommended desk heights for different sizes(4):
| | | | |
| --- | --- | --- | --- |
| User height | Desk height | Chair seat height | Armrest height |
| 5'2″ (157 cm) | 25″ (63.5 cm) | 16.7″ (42.4 cm) | 9.2″ (23.2 cm) |
| 5'5″ (165 cm) | 26.2″ (66.5 cm) | 17.5″ (44.45 cm) | 9.6″ (24.3 cm) |
| 5'7″ (170 cm) | 27″ (68.5 cm) | 18″ (45.7 cm) | 9.9″ (25 cm) |
| 5'9″ (175 cm) | 27.8″ (70.6 cm) | 18.5″ (47 cm) | 10.2″ (25.9 cm) |
| 6'1″ (185 cm) | 29.4″ (74.6 cm) | 19.6″ (49.7 cm) | 10.8″ (27.4 cm) |
| 6'3″ (190 cm) | 30.2″ (76.7 cm) | 20.2″ (51.3 cm) | 11.1″ (28 cm) |
| 6'5″ (195 cm) | 31″ (78.7 cm) | 20.7″ (52.5 cm) | 11.4″ (29 cm) |
Appropriate Width For Your Screens
The width x depth of a desk will determine how many external monitors you can stack into your workstation. Using desk-mounted monitor arms will give you more space than traditional monitor stands.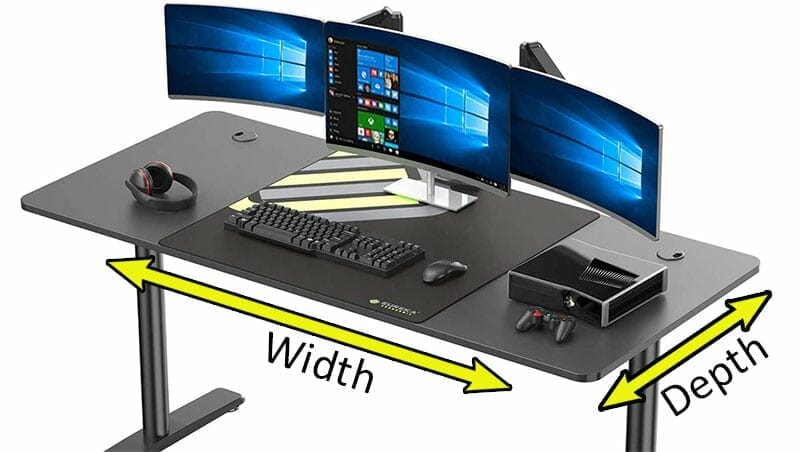 As a reference, my Magnus Pro measures 59.1″ wide x 27.6″ deep. With desk-mounted monitor arms, I can fit 2-3 screens plus a large PC tower onto its work surface.

Here are suggested desk widths for different monitor configurations:
Small desks: 48″ (121 cm) wide; suitable for a single-monitor setup.
Medium desks: 55″ (140 cm) wide; suitable for a dual-monitor setup.
Large desks: 60″ (152 cm) wide; suitable for a triple-monitor setup.
Extra-large desks: 70″ (177 cm) wide; suitable for three monitors and a PC or gaming console.
Physical Vs Psychological Comfort
The ergonomic definition of 'comfort': environmental factors that improve physical or psychological wellness(5). A sit-stand desk and accessories will improve physical comfort by providing ergonomic support.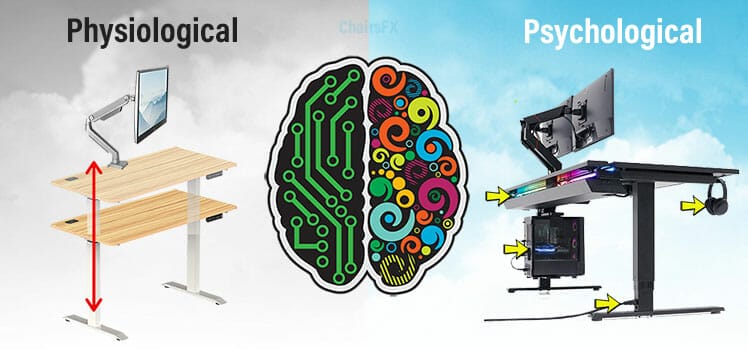 But that's not the only factor to consider. Psychological comfort relates to unique human needs. This Herman Miller Comfort Study(6) touts the importance of being able to personalize and prettify one's workspace.

Such psychological factors don't directly impact productivity. However, many studies show that psychological comfort does affect mood, cognitive function, and commitment. This concept also applies to ergonomic seating.
Flashy gimmicks like office chair headrests and deep gaming chair recline angles make people happier. These often comes at the expense of good physical support. Even so, with greater perceived furniture appeal, studies show that people do indeed feel more comfortable! Learn more:
Sit-Stand Desk Ranking Criteria
From a subjective perspective, the 'best' sit-stand desk depends on how many luxury extras you're willing to pay for. Objectively, the best sit-stand desk can be any model that meets your sizing needs.
Many basic options can be found for under $500. In contrast, a sleek super-sexy Secretlab Magnus Pro kit with recommended accessories costs over $1500!
The above short clip shows off the Magnus Pro's functionality and ergonomic support potential in two minutes. (Note that my current Magnus Pro desk isn't complete – a PC mount is on order.)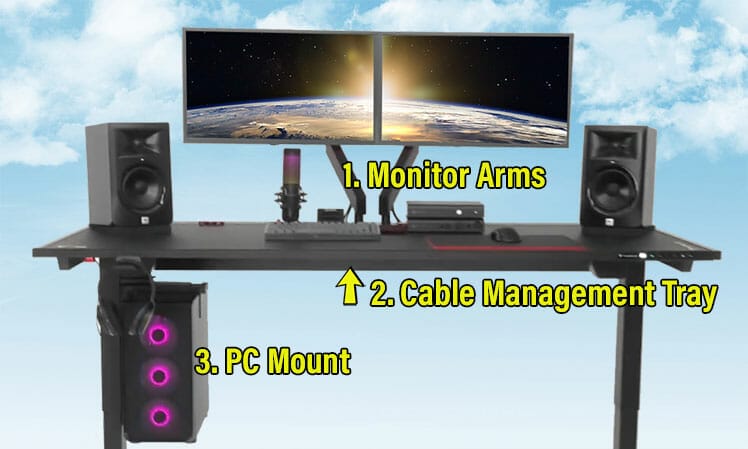 Based on my experiences so far, every PC user should stack three accessories with their desk. The first supports physiological comfort; the others boost psychological appeal:
Desk-mounted monitor arms for easy screen adjustability
Cable management solutions for PC wires
PC mount to hang your rig under the desk
Ranking Criteria Summary
The ultimate build should have four aspects. First, it should support your sitting height. Second, the width should support your preferred number of screens. Third, it should accommodate professional cable management. Fourth, both the tabletop and monitors should be easy to adjust on the fly.
Best ESTABLISHED Sit-Stand Desks
First-time shoppers should start their research with the industry's top brands. Two of the most popular boast long, impressive histories, rich accessory collections, and reasonable prices (around 0.25 cents per day).
Uplift V2 Sit-Stand Desk
Anyone new to the sit-stand desk market should start their research with the industry OG. The first Uplift desk was released back in 2011. In 2022, the Uplift V2 desk reigns unchallenged as the premier sit-stand desk in the industry.

The Uplift V2 fits sizes 5'4″ to 6'9″ with a 25.3-50.9″ height range. There's also an Uplift V2 commercial edition with a larger 22.6-48.7″ range (for sizes 5'0″ to 6'3″).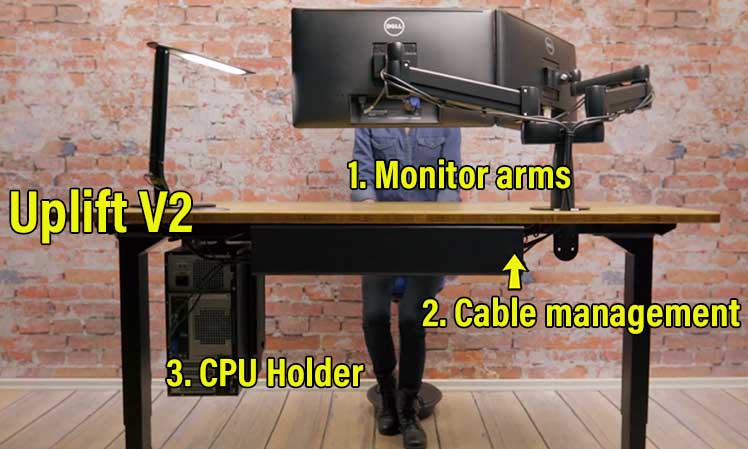 After choosing one or the other, there's a massive array of customizations and accessories to sift through. Based on the recommended computing bundle in our ranking criteria, consider stacking some essential accessories with your desk.
Recommended Custom Uplift V2 Build
This build stacks a 60″ x 30″ Uplift V2 Desk with four extras:
Suggested Uplift V2 Build
Custom Uplift V2 Specs
Lockable Caster Wheels: for easy portability on non-carpeted floors. ($57.00 on Amazon)
Dual Monitor Arms: from Upliftdesk.com ($149-$179); generic mounts also work.
Cable Management: Ultimate Bundle with modesty panel ($110.00 on Amazon)
Humanscale PC Desk Mount: under-desk mount with sliding and rotating functionality; compatible with V2 desks ($129.99 on Amazon)
Specs are similar to competing desks — but the 15-year warranty blows the others away!
Height-adjustment range: 25.3″ to 50.9″ (fits sizes 5'4″ to 6'9″)
Tabletop options: 42-80″ wide; materials include laminates, bamboo, and solid wood.
Warranty: 15 years, all-inclusive
The result is a sleek, portable setup with professional cable management and easy screen adjustability:
On upliftdesk.com, this bundle costs $769 for the desk and $354 for the add-ons ($1152). On Amazon, a 60x 30″ desk ($918.00) with the suggested accessories costs roughly $1335. That's $183 more than what you'd pay buying direct.
Browse V2 Desk Options At UpliftDesk.com
Uplift V2 Vs Secretlab Magnus Pro
Here's how this Uplift V2 bundle compares with my recommended Secretlab Magnus Pro bundle:
| | | |
| --- | --- | --- |
| Aspect | Uplift V2 | Magnus Pro |
| Suggested add-ons | Cable management tray, dual monitor arms, PC mount | Cable tray included; RGB strip + mousepad + monitor arms + PC mount |
| Weight capacity | 355 pounds | 265 pounds |
| Price (desk only) | $918.00 on Amazon | $799 from Secretlab |
| Warranty | 15 years all-inclusive | 5 years on parts; 2 years on the electronic controller |
Both models have the same functionality. The Magnus Pro has prettier aesthetics — and shorter warranty protection.
Uplift V2 Desk Advice
The Uplift V2 can fit all sizes and suit all requirements with a dazzling array of accessories. It also boasts competitive pricing and an industry-leading 15-year (all-inclusive) warranty.
Pros
A huge range of desk accessories
Customizable table top colors and materials (chipboard, wood, etc)
15-year warranty
Cons
Boutique models add luxury extras
The plain styling might bore gaming hipsters
The only downside is a lack of decadence. Functionally, Secretlab and Herman Miller desks are Uplift V2 clones. But both exceed the V2 with flashier aesthetics.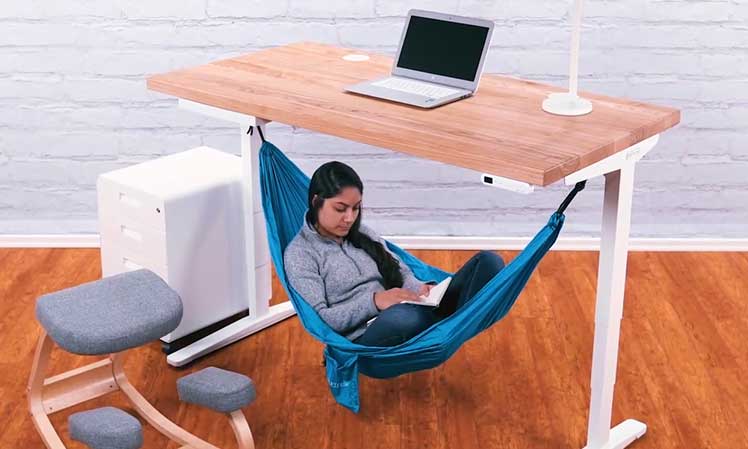 Bottom line: if cutting-edge aesthetics are not a priority, the Uplift V2 remains the most reliable (and versatile) standing desk on the market.
Uplift V2 60×30″ Desk on Amazon $918.00
The Uplift V2 (and all accessories) is also available from the Upliftdesk.com Store.
Flexispot Standing Desks
Flexispot has been in the healthy office furniture business since 2013. Its sit-stand options resemble the Uplift V2 — but with cheaper prices!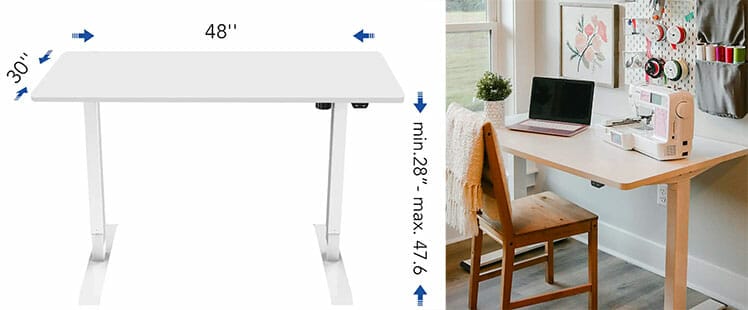 Among Amazon's best-selling desks, Flexispot ranks two sit-stand models priced under $250. However, the real magic happens on Flexispot.com.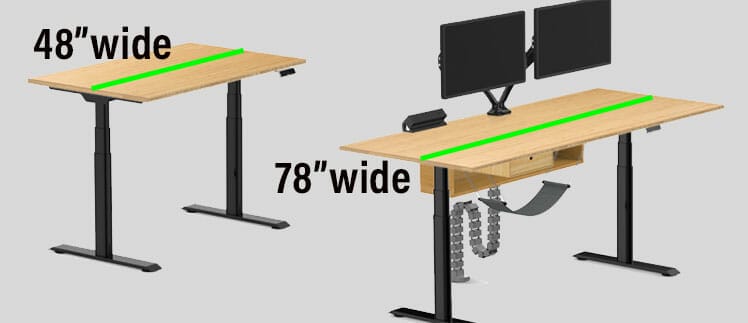 There, you'll find twenty different sit-stand home office desks with almost unlimited configuration options. The cheapest models come guaranteed for 5 years; the premium ones are covered for 15 years. Popular Flexispot.com models:
E7 Pro Plus: extra-sturdy; 15-year warranty; 355-pound weight capacity; small and large frame options; many tabletop types and sizes. ($499)
Comhar Pro Q8: 5-year warranty; 55 x 28″ tabletop; 24-49.2″ height range; under-desk cable management; bamboo desktop; built-in wireless charger. ($799)
Kana Pro Bamboo Desk: 5-year warranty; S, M, and XL tabletop sizes; 23.6-49.2″ height range; rear cable management tray. ($529)
Browse Flexispot Sit-Stand Desks
Flexispot E7 Pro Desk Specs
The E7 Pro is Flexispot's premium sit-stand desk. It supports up to 355 pounds with thick, carbon steel legs that deliver ultra-sturdy support. It's built like a tank and guaranteed for fifteen years, with fully customizable build options.
The first is a choice of frames. The standard one has a height-adjustment range of 22.8-48.4″. Based on the average sizes of American kids, it fits 10-year-old fourth graders! For $60, you can supersize to the XL frame (25-6-52.4″).
The E7 Pro also comes with a choice of tabletops. Standard 48×24″ chipboard tables are $499-$579; a solid rubberwood slab costs $100 over the base price. Larger 55×28″ tabletops are also available.
Suggested E7 Pro Build
Custom E7 Pro Specs
The only thing missing for a perfect E7 Pro bundle is an under-desk PC mount. Third-party mounts are available but risky — the E7 Pro isn't specifically designed to support them.
Desk with black chipboard table: $499
XL frame (25-6-52.4″ range): $60
Desk caster wheels: make your desk portable ($59)
Advanced dual monitor mount: $109.99
Standard single mount: $49.99
Cable management spine: $24.99
Full table mouse pad: $45.99
Here are the specs of my suggested baseline build:
Tabletop: 55″ x 28″ black chipboard tabletop.
Height range: 25.6-52.4″
Desk warranty: 15 years on the frame, motor, parts, controller, and switches.
Chipboard tabletop warranty: 2 years.
Comparisons
Here's how the E7 Pro compares with the Uplift V2 and Secretlab Magnus Pro bundles:
| | | | |
| --- | --- | --- | --- |
| Aspect | E7 Pro | Uplift V2 | Magnus Pro |
| Suggested add-ons | Cable management, dual monitor arms, PC mount, desk mat | Same as the E7 Pro minus the mousepad | Cable tray included; RGB strip + mousepad + monitor arms + PC mount |
| Price | $799 from Flexispot.com (with bamboo tabletop) | $918.00 on Amazon | $799 from Secretlab |
| Weight capacity | 355 pounds | 355 pounds | 265 pounds |
| Warranty | 15 years all-inclusive | 15 years all-inclusive | 5 years on parts; 2 years on electronic controller |
Given its 355-pound weight capacity and fifteen-year warranty, the E7 is one of the best standing desk values on the market.
Flexispot Desk Advice
The 'best' sit-stand desk is the one that best suits your needs. On Flexispot.com, you'll find a huge array of sit-stand desk options. This video covers the premium, ultra-sturdy E7 Pro model:
Short adults and kids needing a small minimum height can simply choose an XS frame. If you don't like black desks, choose a white frame and tabletop instead. And if you're not into synthetics, genuine wood tabletops are also available.
Pros
Affordable frame options for all sizes
A complete range of affordable accessories
Customizable table top colors and materials (chipboard, wood, etc)
Good 5 to 15-year warranties (depending on the desk)
Excellent value for money
Cons
Overwhelming choices and confusing Flexispot.com interface.
No PC mount accessory option
Cruder aesthetics than others
There are three downsides. First, the E7 Pro isn't guaranteed to support under-desk PC Mounts. While third-party mounts exist, risking your PC with one isn't a smart gamble.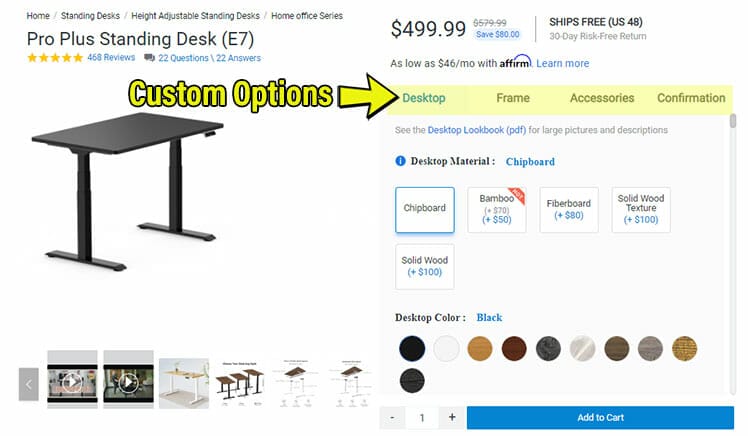 Second, Flexispot.com has a confusing desk configuration interface. To overcome that, check out the option tabs on the right of each desk page. Third, the E7 Pro doesn't prioritize aesthetics. You may need to drill holes and use zip ties to manage your build.
Browse Sit-Stand Desks @ Flexispot.com
On Amazon, several pre-configured Flexispot models cost less than $400. You can also create a custom build with Flexispot's Amazon Desk Builder.
Boutique Sit-Stand Desk Alternatives
With sit-stand desks poised to go mainstream, top WFH seating brands have entered the market. Secretlab and Herman Miller both offer pricier, more luxurious re-imaginations of the Uplift V2.
Secretlab Titan Magnus Pro
Secretlab's Magnus Pro remixes the best from the Uplift V2 into a prettier, more charismatic package. What sets it apart is the most sophisticated cable management systems on the market.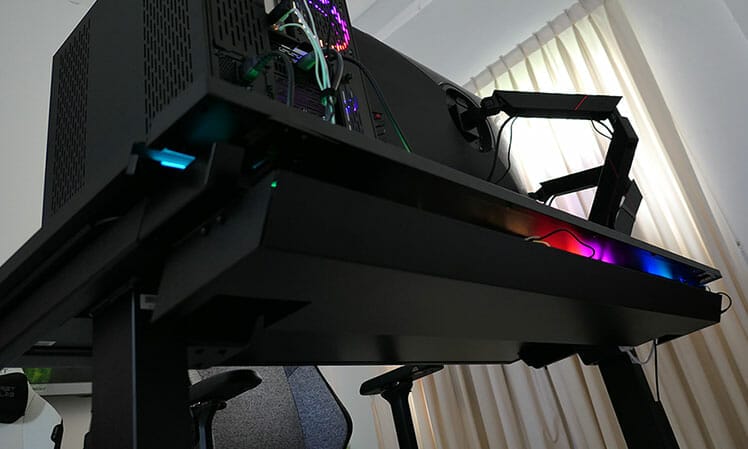 It allows for cleaner cable management punctuated with snazzy RGB effects. Beyond that, its build quality and aesthetic elegance are to the elite standard that Secretlab is famous for.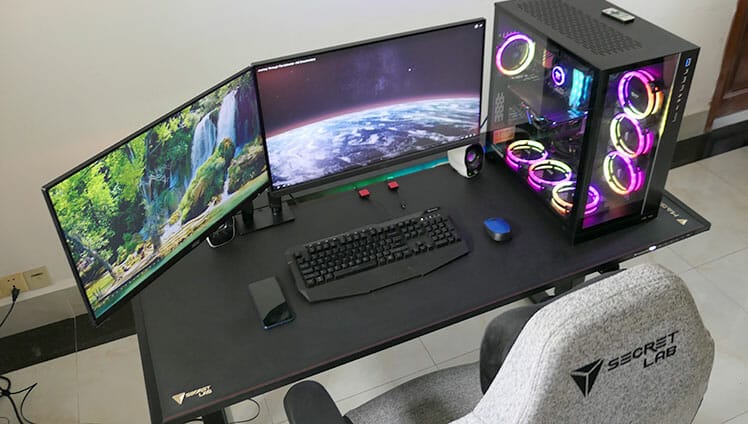 Are you willing to pay a few extra hundred dollars for flashy aesthetics? If not, circle back to the cheaper (but less glamorous) Uplift V2.
Magnus Pro Overview
The Magnus Pro comes in standard ($799) and XL ($949) tabletop sizes. Both have a height-adjustment range of 25.6-49.2″ (fits sizes 5'1″ and up).
The base desk package includes motorized legs and a cable management tray. Secretlab also offers a solid range of magnetic accessories. My suggested bundle stacks on six add-ons:
With a standard-sized desk, this bundle costs $1343:
Summary of Specs
Specifications
Suggested Accessories
Magnus Pro dimensions: 59.1″ (L) x 27.6″ (D)
Magnus Pro XL dimensions: 70″ (L) x 31.5″ (D)
Height-adjustment range: 25.6-49.2″ (fits sizes 5'2″ to 7'0″)
Base package contents: Magnus Metal Desk; rear cable management tray
Warranty: 2 years on electrical controls; 5-years on other parts; 49-day return/ refund policy (details)
In my opinion, the perfect Magnus Pro bundle would
cost $1343
and include the following:
1 x Magnus Pro Desk ($799)
1 x Signature Stealth Desk Mat ($49)
2 x Cable Management Bundles ($49 each)
1 x MagRGB Strip ($79)
1 x Dual Monitor Arms ($249)
1 x Premium PC Mount ($89)
1 x Headphone Hanger ($29)
Magnus Pro Buying Advice
The Magnus Pro is a gorgeous desk with the best built-in cable management system of them all. The rear cable tray and magnetic addons make it very easy to manage your cables like a pro.
On the downside, a fully-loaded Magnus Pro with all the bells and whistles costs over $1300 dollars. That resembles the price of an Uplift V2 desk. However, while that model has a 15-year warranty, the Magnus Pro is only covered for 5.
Pros
Excellent cable management built-in
A good collection of magnetic accessories
Mesmerizing RGB effect accessories are available
Two tabletop sizes
Cons
Overpriced compared to others
The 5-year warranty falls behind what other brands offer
If I bought an Uplift V2 with the same functionality (instead of a Magnus Pro), I'd save $191. But then, I'd have a boring desk without the aesthetic extras that make my heart flutter. From that perspective, the Magnus Pro is well worth the added expense.
Magnus Pro from Secretlab $799+
Learn more: Hands-on Magnus Pro Sit-To-Stand Desk Review
Herman Miller Sit-Stand Desks
Herman Miller's sit-stand desk collection has 10 different home office models. All come with Herman Miller's standard 12-year warranty.
Herman Miller Sit-Stand Computing Desks
Several sit-stand desks in the Herman Miller store are currently out of stock. These two models are consistently available:
Motia Gaming Desk
Jarvis Bamboo Desk
The all-black, powder-coated steel Motia Gaming Desk comes with a soft-touch, anti-glare laminate tabletop. It comes with a 60″ x 30″ surface and a built-in cable management tray. It also has a mediocre height range of 27-46″ (fits sizes 5'7″ and up).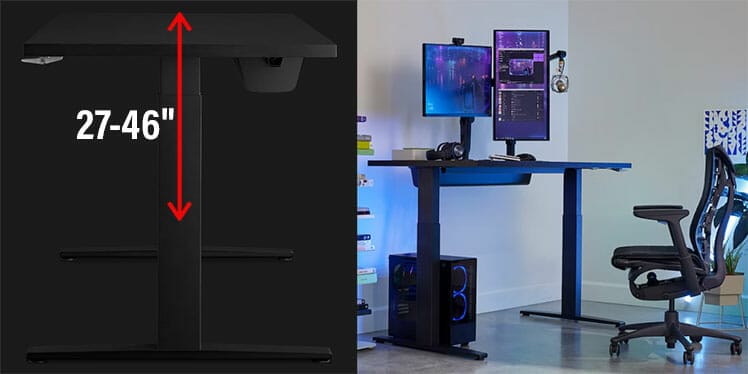 The base build resembles the base Magnus Pro desk. Both have steel frames and built-in cable management trays. But a fully-loaded Magnus Pro costs $1343. In contrast, a Motia desk without any extras costs almost as much — without any extras!
Motia Gaming Desk From Herman Miller $1345
Learn more: Best Herman Miller Gaming Chairs and Accessories
The highlight of the Jarvis sit-stand desk is its eco-friendly bamboo tabletop. Desks come in a choice of 48-72″ wide and 27-30″ deep. You can customize the leg colors (white, black or grey) and select two extras.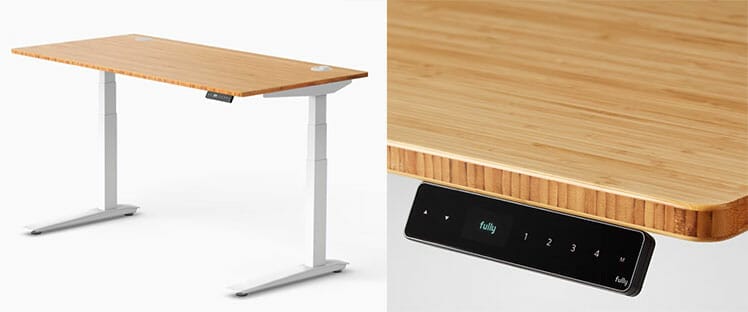 The first is a powered grommet ($39). That adds an opening at the back of the desk with a cover. Inside is an AC plug, USB-A port, and USB-C 18-watt port. The second is a cable-management router that runs through the rear left leg. A 60″ x 27″ tabletop (enough room for 3 monitors) and both extensions costs $962.
Ultimate Luxury: Leatherwrap Sit-Stand Desk
Herman Miller hypes this as a sit-stand desk "with the warmth and refined materials of a traditional writing desk." The center is inset with premium leather.

The tabletop is available in genuine oak or walnut with a choice of one, two, or no drawers:
No drawers: 46″ x 28.1″; $3,055.75
Left drawer: 56.37″ x 28.1″; $3,565.75 ($510 extra)
Two drawers: 66.19″ x 28.1″; $4,075.75 ($1020 extra)
Meanwhile, the veneer-wrapped legs have a height-adjustment range of 29.1-46.75″. Based on our sizing spec reference, this range fits sizes 6'1″ and taller.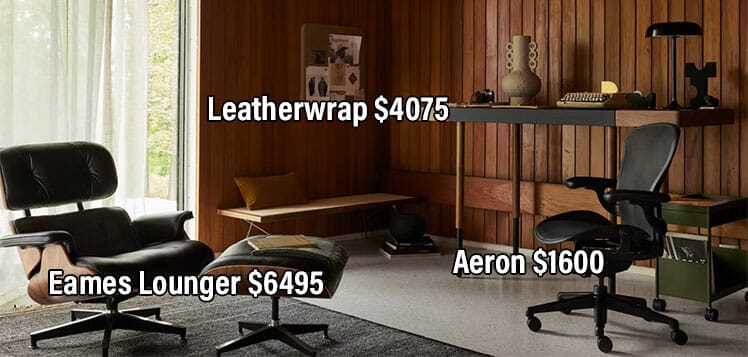 Given the limited technical features, rich luxury, and gaudy price, this desk is most likely for the super-wealthy. Stacked with two other iconic Herman Miller luxury items will cost you over $12,000!!!
Leatherwrap From Herman Miller $3055+
Herman Miller Desk Advice
Like all Herman Miller products, its desks are very well built using the finest quality materials. All come with Herman Miller's all-inclusive 12-year warranty. If anything goes wrong with your investment during this window, consider it covered!
Pros
12-year warranty
High-quality materials and superb build quality
Among the most aesthetically-pleasing desks on the market.
Cons
Extremely overpriced
Most desks will only fit sizes 5'7″ or taller
Mediocre accessory collection
On the downside, most models are designed for average or tall sizes. Most people 5'7″ or shorter should look elsewhere. As well, Herman Miller's pricey desk accessories are limited to monitor mounts and shelves.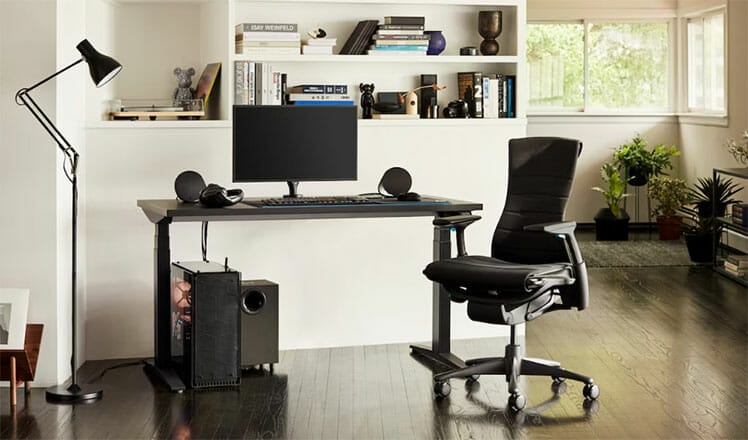 Bottom line: these desks have fewer functional possibilities than others — with much higher prices. The higher price will buy you stunning aesthetics with a build quality to match.
Notable Sit-Stand Desk Accessories
Without a firm grasp of purpose, it's possible to overspend on standing desk accessories for the wrong reasons. If you buy a standing desk as a relaxant, you're vulnerable to overspending on fancy extras you don't need.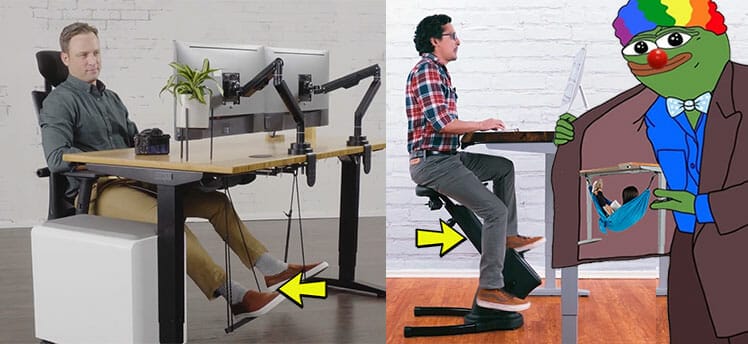 First-time buyers who assume 'standing is better than sitting' might also get sucked into 'healthy' gimmicks that don't enhance productivity.
For physiological support for the back and neck, adjustable monitor arms are the only extras you need. Beyond that staple, I recommend two others for a decent helping of psychological comfort.
Essential: Desk Mounted Monitor Arms
A good standing desk setup should provide multi-device support for the back and neck. An important part of that is to prevent a forward head tilt while sitting or standing. This requirement makes desk-mounted monitor arms an essential accessory.

All desks in this review have optional desk-mounted monitor arms that you can stack with your desk. Even so, any third-party mount with edge installation mounts will work with any sit-to-stand desk.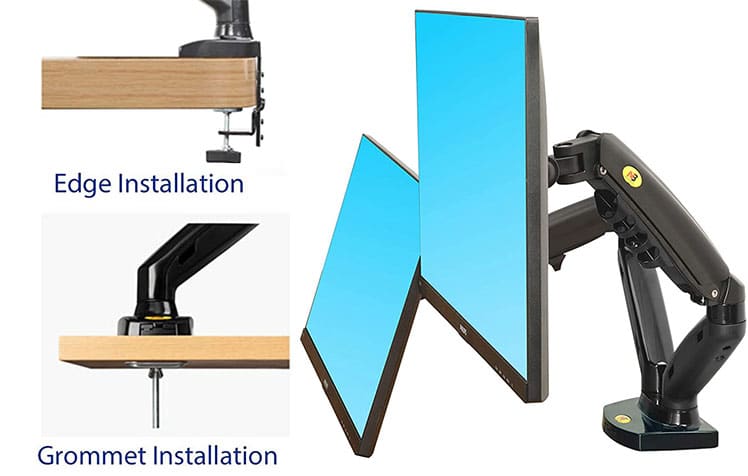 For example, I've used a North Bayou dual mount for a few years. It has built-in cable management, included USB ports, and is easy to install onto any desk. While Secretlab's dual mount arms cost $249, North Bayou ones do the same job for just $55.90 on Amazon!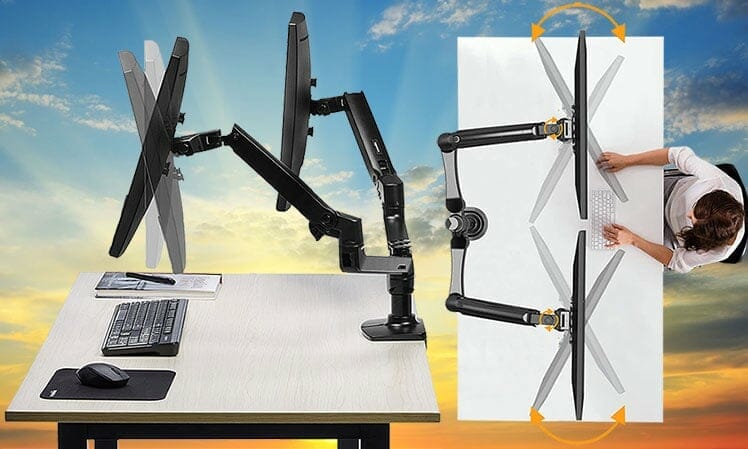 For more about North Bayou arms and other affordable options, see this feature:
Emerging Essential: PC Tower Mount
A PC mount lets you hang your rig under your desk. It provides no physical support. Rather, soothes the psyche with clean cable management. It also serves a practical purpose – with your PC under instead of on top, you get more usable desk space.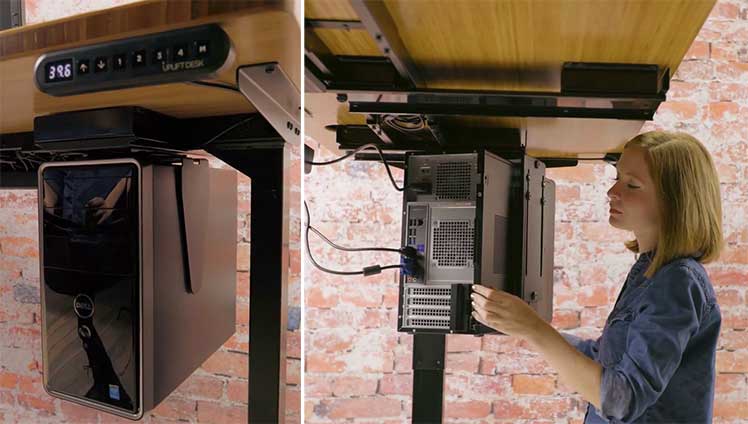 All desks in this review offer PC mount add-ons. The Uplift V2 model is the most advanced. It installs onto a tack that slides back and forward. You can also swivel the entire PC for easy access to the rear ports.
Third-party mounts also exist, but they're risky. None are specifically designed for the desks in this review. Search through Amazon reviews of top models and you'll find several that failed!
Bottom line: do not risk your PC crashing to the floor with a cheap mount. Instead, buy a native mount from the maker of your desk.
Trending Luxury Upgrades
As standing desks grow in popularity, I predict two luxury extras will also grow in popularity. The first is lockable caster wheels. At present, neither Secretlab nor Herman Miller offers these.
With good cable management and a non-carpeted floor, this delivers a portable workstation that you can wheel around. Meanwhile, RGB strips can add tons of charisma to a steel desk in a jiffy.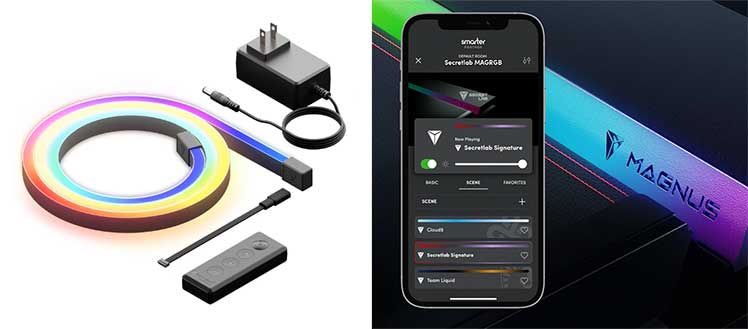 For example, Secretlab's MAGRGB is a magnetized strip that attaches to metal surfaces. It's compatible with Google Home and Apple Homekit, and also controllable using a Nanoleaf app.
Conclusion
This article gives you the tools to define your sit-to-stand computing desk needs. So now you know the best sizing, functionality, aesthetics, and pricing for you.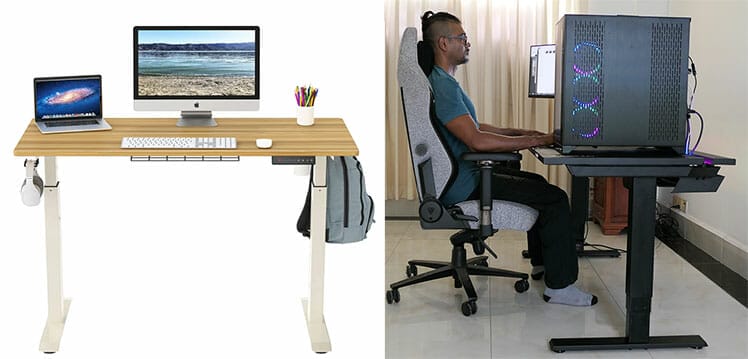 Next, take a quick look at Amazon's most popular standing desks. Beyond Uplift and Flexispot, you'll find cheaper, cruder, and less customizable options.
What health goals will your new desk fill? Does your pick support your sizing needs? Would you rather save money or spend extra for aesthetic luxury?
Final Desk Comparison
Here's a final look at the most practical options from four leading furniture brands. Each bundle includes dual monitor arms plus unique extras. The Herman Miller models don't include any extras besides the arms.
Finally, the premise of this article is that the sit-stand desk revolution has just started. This is because of new ergonomic standards degreed at institutional ergonomic levels.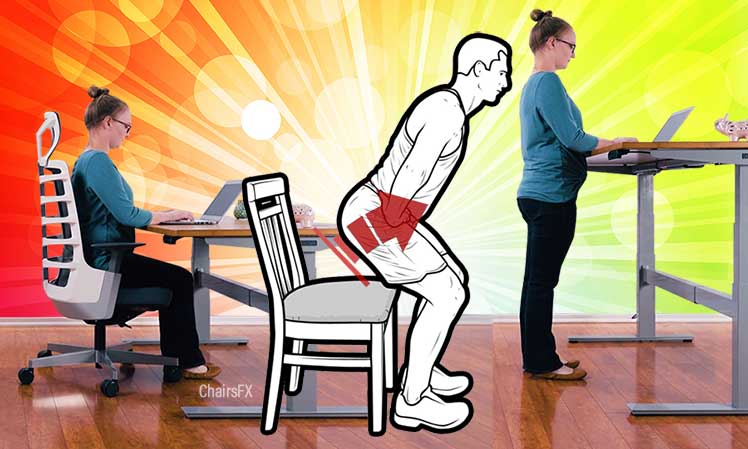 Those are the result of a planned shift into a fully-blown Internet of Things. That will compel people to spend even more sedentary time with bent necks over mobile devices.
For a deeper look at the ergonomic necessities now powering the sit-stand revolution, see this:
Multi-Device Ergonomics: Why You Need A Sit-Stand Desk In 2022
Footnotes