Herman Miller has developed an ergonomic blueprint for gamers. It includes a choice of ergonomic chairs, a sit-stand height-adjustable desk, and a desk-mounted monitor arm. Herman Miller has long reigned as the trend-setting ergonomic office furniture industry leader. This blueprint is at the cutting edge of ergonomic science. Even if you don't use Herman Miller products, this computer workstation setup is worth taking note of.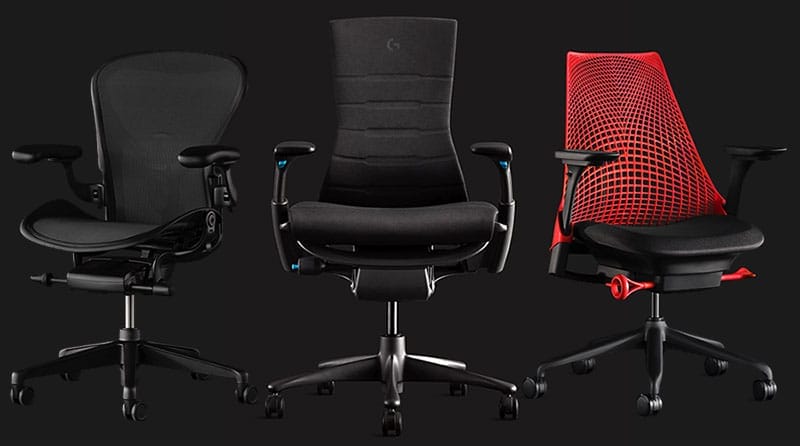 The first component of an effective ergonomic workstation setup is a good ergonomic chair. To ensure the best back support, it's important to choose the appropriate size chair for your body type. Our Gaming Chair Size Guide explains why in detail.
That guide also makes it clear that a gaming chair is only one part of an effective ergonomic workstation. A good chair with a desk set too high or low will still throw your spine and posture out of alignment. But even with the perfect chair and desk height, a monitor set too high or low can still result in unhealthy sitting habits. As such, the ultimate ergonomic workstation should include a good chair, a height-adjustable desk, and a height-adjustable computer screen.
The chair serves as the ergonomic foundation. Below, we look at the three chairs in the Herman Miller gaming lineup. The entire gaming collection is available for sale in the Herman Miller UK and EU stores.
The collection is also listed on the Herman Miller USA store, but only as a preview.
Review: Herman Miller gaming chairs
In its gaming collection, Herman Miller has three chairs. The Aeron first came out in 1996. In 2008, the company released the Embody, its first chair specialized for computer users. Two years later in 2010, Herman Miller released the Sayl chair. In 2020, all three models enjoyed a gamified upgrade.
Each Herman Miller chair in the collection has the same design concept. In sum:
The central backrest spine supports the sacrum and lumbar areas of the body.
A flexible backrest adapts to user body movements while adding more support for sitting up straight.
Synchro-tilt helps the hips move while sitting. When you lean back, the seat angles up, keeping your thighs parallel to the floor.
Below are reviews of each new chair.
Aeron gaming chair
Price: $1445
The flagship of the Herman Miller line is the iconic Aeron chair. This model first came out in 2006. In 2017, Herman Miller updated the Aeron with 8Z pellicle mesh, a lumbar support upgrade, and minor tweaks. The 2020 gaming edition is the same as the 2017 model, with a different color scheme.
The new gaming version comes in dark black upholstery, with dark black parts. Otherwise, it's basically the same chair that first launched 26 years ago.
Aeron chair features
The Aeron is a mid-back office-style ergonomic chair. It is the flagship of the Herman Miller line, with the most robust features. The gist is that the Aeron chair keeps your body sitting with perfect posture at all times. There are three standout features.
Adaptive mesh upholstery
Aeron chairs have no padding. Instead, these chairs come with adaptive 8Z Pellicle mesh fabric. This mesh varies between eight zones of tension. Together, these zones work to evenly distribute body weight across the seat and backrest.
Synchro-tilt
With synchro-tilt deactivated, the backrest reclines independently of the seat. When activated, the seat angle up as you lean back. When you lean forward, the seat angles down. At all angles of back and forward recline, posture remains pristine.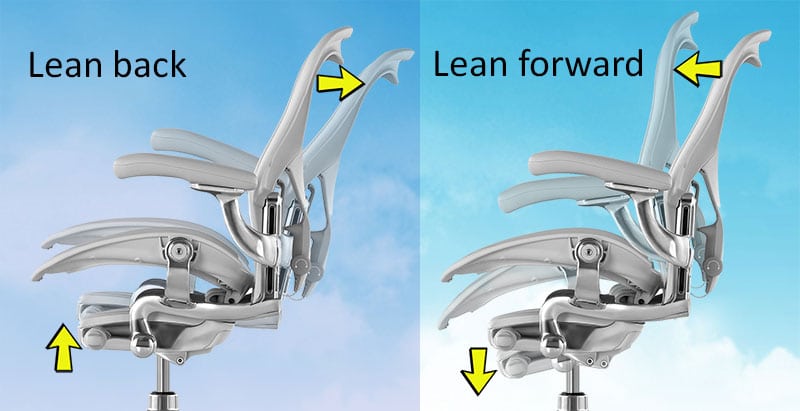 This is the most complete synchro-tilt in the world. All other synchro-tilt chairs (including Herman Miller models) only tilt up during recline. Only the Aeron seat can tilt down when leaning forward.
Lumbar and sacrum support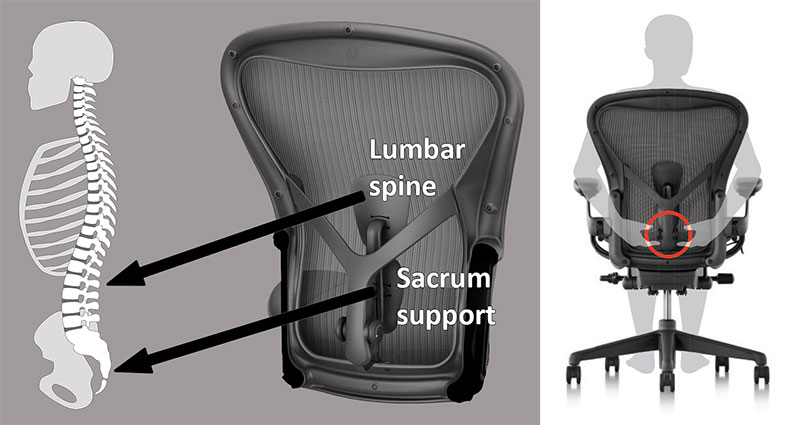 The Aeron's PostureFit supports both the lumbar and sacral-pelvic areas. Two pads attached to the unit flex independent of each other. The top pad supports the lumbar, while the lower stabilizes the sacrum. You can adjust the height of the lumbar support, and also the depth of both pads. The net effect is that the two pads help the spine to maintain a healthy S-shaped position.
Aeron features summary
Summary of features:
Synchro-tilt: seat pan angle from -1° to 16°; backrest 93° to 104°
Upholstery: Pellicle 8Z mesh provides eight zones of varying tension for ultra-responsive support..
Seat: adjust the height; limit the tilt range; adjust the tilt tension; sync-tilt with the backrest.
Backrest: forward tilt option; height and depth adjustable PostureFit lumbar support.
Armrests: 3D adjustable.
Warranty: 12 years.
Aeron chair sizing
The Herman Miller Aeron comes in three different sizes. Size A fits people 4'10" to 5'9″ and up to 150 pounds. Size B fits users 5'2″ to 6'6″ and up to 325 pounds.
Here are the dimensions of the largest C size option:
Seat: 18.25″ (W) x 18.5 (D)
Backrest: 22.75″ (W) x 23″ (H)
Floor to seat range: 16.7″ to 22.7″
Total height: 36.5″ to 43″
Size rating: 5'3″ to 6'7″; up to 350 pounds
Aeron chair summary
The Herman Miller Aeron was the world's first mass-produced ergonomic task chair. Twenty-six years after its debut, it remains the gold standard of high-end ergonomics. The Aeron has the most dynamic synchro-tilt functionality in the industry. Its adaptive mesh fabric upholstery is also cutting-edge.
But this chair has some limits. For one thing, mid-back chairs like the Aeron stop at around the shoulder blades. That works fine when sitting upright or leaning forward. However, when leaning back, there's no support for the shoulders and neck.
As well, this chair forces you to sit in a working position at all times. That's great for productivity, but less so when you need to relax. As such, the Aeron is an elite choice for pure productivity. But for working from home, a PC gaming chair supports both work and play. You can sit upright in a PC chair, and also engage a deep recline for reading or watching movies.
In summary, the new gaming edition doesn't offer anything new, besides an all-black color scheme. Even so, the Aeron remains the pinnacle of high-end ergonomic seating. No matter what position the body moves, support remains consistent. The chair adapts to user movements, keeping the spine aligned and posture pristine. These features make the Aeron a fantastic productivity booster. Using this chair will help users stay relaxed, refreshed, and focused over long computing sessions.
Aeron gaming edition from Herman Miller $1,445
The fully-loaded Aeron classic (not the gaming version) is also available from OfficeDesigns.com for USD$1,395. Includes free shipping in the USA within 4-7 business days.
Embody gaming chair
Price: $1495
The new Embody comes with a black fabric skin, blue accents, and an extra layer of padding on the seat. Otherwise, it's the same chair as the original 2008 version.
Embody chair features
When the Embody first came out in 2008, Windows XP was the operating system of choice. Since then, computers, esports, and gaming have evolved tremendously. In contrast, the Embody hasn't evolved at all. The new gaming version has an extra layer of padding on the seat. It also has a new color scheme. Otherwise, it's the same chair. That said, the features are impressive.
The standout is a "pixelated" backrest that works like a human spine. Each "rib" flexes or contracts as your body moves. That supports a healthy sitting posture, no matter how the user sits.
Summary of all Embody gaming chair features:
Synchro-tilt: seat pan angle 3° to 15°; backrest 94° to 120°
Pixelated back support: the backrest has a central spine with flexible ribs. Each rib adjusts when you lean back to support the natural curve of your spine.
BackFit angle adjustment: this lets you position the back of the chair to fit the curvature of your back.
Seat adjustments: adjust the seat's height and depth.
Backrest: adjust recline tension; 3-position tilt-lock; synchro-tilt
Warranty: 12 years.t
Another notable feature is the "synchro-tilt", which angles the backrest at a 2:1 ratio to the seat. The backrest reclines between 94-120 degrees. With synchro-tilt activated, the seat also angles between 3-15 degrees.
To learn more about these features, check this review:
Detailed Embody gaming chair review
Embody chair sizing
This is a uni-size chair designed to fit 95% of adults. It has enough adjustments to provide a good seat height range, arm width range, and seat depth.
Seat: 21.25″ (W) x 15″-18″ (D)
Backrest: 23.5″ (H) x 14″ (W)
Floor to seat range: 16″ to 20.5″
Total height: 42″ to 45″
The Embody supports up to 300 pounds and should suit most users between 5'4″ and 6'2″ tall.
Embody summary
The Embody is a well-built chair with an array of complex settings. At first, using one may seem intimidating. Once you figure the settings and find your comfort zone, this is a solid, comfortable chair. one of the most comfortable chairs around. It has a solid, sturdy feeling and a resilient seat that always stays cool.
The unique backrest conforms to your back, no matter what position you sit in. Once you get used to it, you won't notice the back support at all. Then, using this chair almost feels like floating.
On the downside, the marketing of this as a "new" product feels disingenuous. In fact, this is the same chair as the 2008 edition, with minor cosmetic changes. Another obvious quibble is the price. This product is very expensive.
Embody gaming edition from Herman Miller EU $1,495
The fully-loaded Embody classic (not the gaming version) is also available from OfficeDesigns.com for USD$1,695. Includes free shipping in the USA within 4-7 business days.
Sayl gaming chair
Price: $725
The Sayl is the cheapest chair in the Herman Miller gaming collection. Its plastic colored backrest is an acquired taste. At a glance, it reminds us of a plastic laundry basket.
Yves Béhar designed the Sayl taking inspiration from the Golden Gate Bridge. The idea was to apply the design principles of a suspension bridge to a chair.
As a result, the Sayl uses a suspension tower to support an unframed plastic backrest. As the body moves, the backrest stretches to provide more tension where support is needed.
From the side, the chair resembles a full mainsail. The name "Sayl" reflects the sailing vessels that pass under suspension bridges.
Sayl chair features
Despite its weird looks and lower price, the Sayle offers better ergonomic features for gamers than the Embody chair. For one thing, the Sayl's synchro-tilt feature supports leaning both backward and forward. When you lean back, the seat tilts up. When you lean forward, it tilts down. As a result, your thighs remain parallel to the floor at all times, which maintains good posture.
For another thing, you can also angle the seat independently. For gamers who often lean forward, sloping the seat down can help to maintain healthy spine alignment. As well, the armrests are fully 4D-adjustable. That beats the 2D armrests on the more expensive Embody chair.
One downside of the Sayl chair is the limited recline. Instead of fluid reclining, you can only recline to 91, 101, or 124 degrees. For forward-leaning work, angle to 91 degrees and slop the seat down. For upright work, the 101-degree angle works best. Use the 124-degree setting for passive web surfing and relaxing.
Summary of Sayl chair features
Synchro-tilt: seat pan angle -3° to 13°; backrest reclines to 91°, 101°, or 124°.
3D Intelligent backrest: an unframed 3D Intelligent back stretches or contracts to support the back as the user moves.
Posturefit: a unit at the rear of the backrest supports the sacrum (lowest point of the spine) to reinforce the pelvis. That prevents slouching and sitting fatigue.
Seat adjustments: contoured seat pad; adjust the seat's height and depth; downwards tilt to -3°.
Armrests: 4D adjustable (adjust height, angles, width, and depth).
Warranty: 12 years.
Sayl chair sizing
Among all Herman Miller gaming chairs, the Sayle has the widest seat and backrest dimensions. This is a versatile chair that should fit everything from slim to extra-wide sizes.
Seat: 24.5″ (W) x 16-18″ (D)
Backrest: 16.8″ (W) x 20.9″ (H)
Floor to seat range: 15″ to 20″
Chair height: 33.75″ to 40.75″
Size rating: 5'3″ to 6'7″; 350 pounds
Sayl chair summary
Like other Herman Miller chairs, the Sayle has a flexible backrest that supports good posture. Like the Aeron, the Sayle also has a powerful synchro-tilt function. Our favorite gaming feature on this chair is the manually-activated seat slope. When leaning forward for intense gameplay, that slopes the seat down up to -3°. As a result, even when leaning forward, your thighs remain parallel to the floor, keeping your spine in a healthy alignment.
While we love the features, the plastic backrest is an acquired taste. In a corporate office downtown, these chairs can bring prestige. But if working at home in your sweatpants, resting all day against flexible plastic may not be for everyone. If this model had a mesh backrest like the Aeron, it would be almost perfect.
Sayl gaming edition from Herman Miller $725
The fully-loaded Sayle classic (not the gaming version) is also available from OfficeDesigns.com for USD $755. Includes free shipping in the USA within 4-7 business days.
Herman Miller's gaming blueprint
Herman Miller's ergonomic blueprint for gamers resembles the one suggested in our gaming chair sizing guide. In both versions, a good ergonomic workstation starts with a chair. But the best chair used with an ill-fitting desk will negate the ergonomic benefits of the chair.
In a similar fashion, a monitor set too high or low can cancel out the benefits of a well-fitting desk. To address these realities, the Herman Miller ergonomic gaming blueprint has three adjustable components: a chair, a desk, and a monitor stand.
The entire collection is now available for sale in Europe (links contained within each product review).
Part 1: ergonomic chair
A good ergonomic chair serves as the foundation of a healthy workstation. In the ergonomic seating industry, Herman Miller is the pioneer. Since the Aeron chair first came out in 2006, Herman Miller products have been synonymous with excellence. That excellence has inspired many other ergonomic designs.
In 2020, while Herman Miller chairs remain at the pinnacle, there are other options to consider. In brief:
For a comparison of all four types, check this feature article:
Part 2: ergonomic sit-stand desk
Even if using a top-of-the-line Herman Miller chair, sitting too much is bad for health. Excess sedentary time slows metabolism, tightens ligaments, and raises blood pressure.
Height-adjustable sit-stand desks offer a logical solution. These come with motorized legs that lift or lower on demand. To switch from sitting to standing, push a button to raise the height of your desk. When ready to resume sitting, push another button to lower your desktop.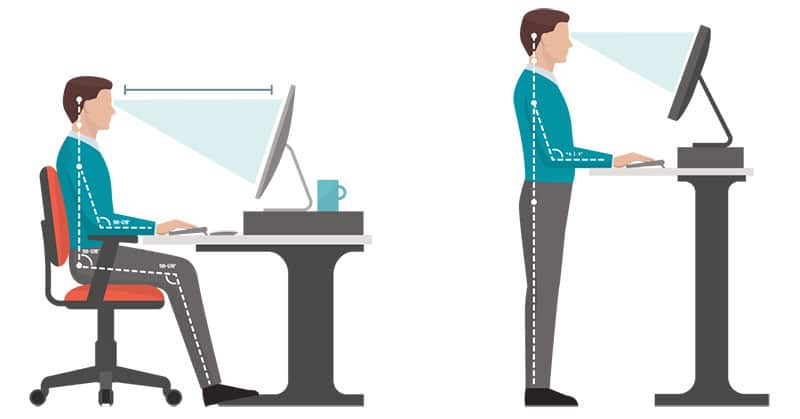 The problem with this solution is that proven health benefits are mild. Users can expect a tiny decrease in blood pressure and a small reduction in lower back pain. Standing to burn calories is also pointless. For instance, standing for three hours only burns 24 more calories than sitting.
Even so, there is one huge benefit of having a height-adjustable desk. Most desk surfaces are between 28-30 inches tall. That is a good height for average sizes between 5'8″ and 5'10" (172-177cm). People shorter or taller can benefit by adjusting the desk to match their height.
Herman Miller Motia desk
Included in the Herman Miller blueprint is the Motia sit-stand gaming desk. Features include an all-black smudge-proof finish, anti-glare tabletop and motorized tabletop lift. Specs:
Tabletop width x depth: 60″(W) x 30″ (D)
Adjustment range: 27-46 inches
Weight capacity: 200 pounds (90 kg)
The work surface comes with a 12-year warranty, while other parts and the motors are covered for five years.
Motia Desk from Herman Miller $1,295
Cheaper sit-stand desks
The Herman Miller Motia Desk is very overpriced. In our review of the best sit-stand desks, models with comparable features all cost less than $300.
For example, the Motion Series Dual Motor Standing Desk has a larger adjustment range than the Nevi Desk. Its height ranges from 23.6″ to 49.2″. No other desk on the market guide can go as low as this model.
At its lowest setting, the desk fits kids 6-12 years old. They usually need a desk set to a height between 22-26 inches. When raised to full height, the Motion Series desk supports standing users up to 6'2″ tall.
Like the Motia Desk, you make adjustments at a control panel. On the Motion Series, you can program four preferred height settings. Then, press your desired level. That will start dual motors that lift the desktop at a speed of 30mm per second. Specs:
Tabletop width and depth: standard is 47.2″ (W) x 27.9″ (D); large is 59″ (W) x 29.5″
Height range: 23.6″ to 49.2″
Weight capacity: 225 pounds
Warranty: three years
Motion Series Desk from MotionGrey $359.27 USD
To browse more options, check out our review of the best height-adjustable sit-stand desks.
Part 3: monitor mount stand
A monitor desk mount is a flexible steel arm. It replaces the base of a compatible computer monitor and attaches to a desk.

Using a desk mount makes it easy to adjust your monitor screen in several ways. For example, you can tilt your screen at angles, rotate 360 degrees, adjust its height, or turn the screen vertical.
Monitor desk mounts work with VESA -compatible monitors. On the back of most monitors, you'll find four screw holes arranged in a square. Remove the base, then attach your monitor to the desk mount using the four screws.
Herman Miller Ollin Arm
The Ollin Monitor Arm has a powder-coated aluminum finish and robust adjustment range. It also comes with built-in cable management and an impressive 12-year warranty. Specs:
Weight capacity: 9 kg (19.8 pounds)
Vertical adjustment range: 343 mm (13.5″)
Horizontal range: 673 mm (26.5″)
Tilt range: 80° rearward, 10° forward
Rotational range: 180° and 360°
This is a solid product. But compared to competing monitor desk mount arms, the price is ridiculous.
Ollin Arm from Herman Miller $295
Cheaper monitor mount stands
Our breakdown of Xbox and PS5 accessories mentions a couple of monitor desk mount arms. For example, the VIVO monitor desk mount supports screens sized 13 to 27 inches, weighing up to 22 pounds (9.9 kg). Adjustments are similar to the Herman Miller arm. Options include +90° to -90° tilt, 360° swivel, and 360° rotation. You can also shift the monitor into portrait or landscape orientation.
One difference is height-control. The Herman Miller arm allows for fluid height adjustment. In contrast, to control height on the VIVO, you adjust along the center pole. In fact, we prefer the VIVO style. Once you have your perfect height set, it's better to lock into place. Leaving it fluid means it's more likely to change.
Like the Ollin arm, the VIVO desk mount also comes with integrated cable management. Even better, it also comes with a much more realistic price.
VIVO desk mount stand on Amazon $29.99
To browse more options, check out our summary single and dual monitor desk mount stands.
Conclusions
The blueprint applies to everyone
As the ergonomic seating pioneer and industry leader, Herman Miller trends are worth noting. Per its 2019 annual report, the company spends over $50 million each year on research and development.

Even if you don't buy Herman Miller products, there are some key takeaways for everyone in the package:
An effective computer workstation starts with a good ergonomic chair.
Most desks are for people between 5'8″ and 5'10 (172-177 cm). People shorter or taller should adjust their desk height for the best results.
The top of the computer screen should align with your line of sight. Setting it lower will hunch the back and crane the neck.
These points are explained in detail in our feature our Gaming Chair Sizing Guide. It starts by helping readers to find the best-fitting chair. Then it looks at optimal desk heights plus easy ways to make adjustments.
Herman Miller pros and cons
Here's what's to like and dislike about the Herman Miller gaming blueprint:
Pros
Herman Miller gaming chairs are expensive but worth the expense for power users. The Aeron, Embody, and Sayl chairs support the body while keeping the user locked in a working position. The support means that you won't get tired during long periods of sitting.
Rich synchro-tilt features on the Aeron and Sayl chairs also help you sit longer by helping the body to move. For instance, leaning back using synchro-tilt switches the position of the hips while maintaining good posture. Leaning forward does the same, at different angles. No other chairs offer such rich options to move while sitting.
Cons
Herman Miller products are like Rolls Royce cars in the auto industry. The latter is an icon of opulence and very overpriced. For everyday tasks like going to the supermarket, it's overkill.
In a similar fashion, Herman Miller chairs cost a lot of money. The point of these chairs is to support good posture while sitting. However, there are hundreds of other chairs that achieve the same effect for a lot less money.
There's no denying the excellent of these chairs. But if you can't afford one, several cheaper options can serve full-time computer users just as well. Check out our task chair versus gaming chair analysis to learn more.
One final negative is the absurd prices of Herman Miller accessories. Both the Nevi Desk and Ollin Desk Mount are comically overpriced.
More options for computer users
Once upon a time, the multi-billion-dollar office furniture industry made money on auto-pilot. Each year, schools, government offices, and corporations flooded in orders for cheap, one-size-fits-all furniture. Students and office workers sat where they were told to, with posture and wellness ignored.
Back in 2006, gamers had enough of crude seating, and the first gaming chairs emerged. For years after, gaming chairs were derided as fringe gimmicks for nerds. Concurrently, gamers were branded as Mountain Dew-chugging, basement-dwelling freaks.
The 2020 lockdown work-from-home era changed everything. Suddenly forced to buy their own home office gear, interest in ergonomic furniture soared. Gaming chairs went mainstream, and sales spiked. At the same time, offices around the world closed. As a result, office furniture sales slumped.
That is why major global brands like Herman Miller and Ikea are moving into the gaming chair market. Recently, hardware giant Razer also jumped into the market with an innovative new gaming chair.
These developments are great news for both gamers and office workers. Herman Miller's new workstation blueprint now serves as the pinnacle. In its wake, expect many more ergonomic workstation packages to hit the market.
The key takeaways have to do with sizing and height adjustment. For optimal results, start with a well-fitting ergonomic chair. Then add a desk that's raised to the appropriate height for your size. Finally, make sure that your monitor aligns with your line of sight. Combined, this is the ultimate ergonomic computer workstation setup.
Gaming chairs vs task chairs
Get started by choosing the perfect chair for your needs. If you can't afford a Herman Miller chair, gaming chairs are an excellent alternative.
In fact, head-to-head, a $400 gaming chair's ergonomic features match up well with Herman Miller variants. Check out more in this detailed comparison: