When the work-from-home era emerged, demand for ergonomic chairs skyrocketed. As a result, consumers now enjoy a huge array of ergonomic options. We filtered through all offerings to unearth the gems. Here are our picks as the best ergonomic chairs for work-from-home executives.
Among the entire range, there are choices for both bosses and work-from-home desk workers. Miserly employers often opt to seat their staff in the cheapest office chairs available.
Big-time corporate bosses might swing in the other direction, opting for ultra-expensive ergonomic chairs. Those cost a lot, but force workers to sit in productive postures at all times.
Luckily, in the work-from-home era, desk workers have the freedom to choose. This article summarizes the best ergonomic options for office workers in 2021.
High-end task chairs: for ultra-productivity
The most complex, luxurious, and expensive work-from-home seating option is an ergonomic task chair. The term 'task chair' implies that they have enough adjustability to suit all types of tasks.
In 2021, the best high-end models cost between $600-$1650. These are ideal for power-players and health-conscious corporate sharks hell-bent on optimal productivity.
High-end task chairs are also the choice for many of the world's most popular streamers. Jacksepticeye, Tfue, Shroud, XQcOW, and Myth all use Herman Miller Embody chairs.
There are pros and cons to spending so much on a chair. In summary:
Pros: precise back support; luxurious extras. These chairs are very comfortable once you get used to the sitting style.
Cons: limited recline; users are forced to sit upright at all times.
Advantages: luxury and durability
These chairs come with the standard ergonomics (adjustable lumbar, armrests, and recline), plus some complex extras. For instance, most high-end models come with a feature called 'synchronous tilt' (aka synchro-tilt or sync-tilt).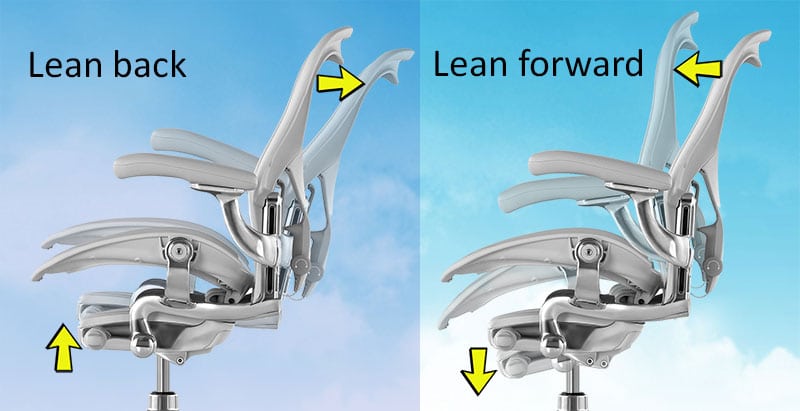 The Herman Miller Aeron has the most robust sync-tilt range in the industry. Its seat pan angle range is -1° to 16°; the backrest tilt range is 93° to 104°. The net result feels like a party in your hips as you move around in the chair.
Disadvantage: always forced to sit upright
The biggest downside to these chairs is that they don't allow alternative sitting styles. Whether you like it or not, those force users into perfect neutral postures at all times. With no room for slouching or lounging, users are locked into the perfect position for high productivity.
This seating concept works well in a Fortune-500 office. But those working from home often prefer more flexibility. Gaming Youtuber Mike Wat recently made a video about this. In this clip, he shows how a rigid approach limits the comfort potential of an Embody chair.
If you don't mind the pricing or lounging limitations, here are some of the top chairs in the high-end price class:
Executive gaming chairs for office workers
While the best task chairs force users into upright positions at all times, gaming chairs are more flexible. All models provide full-back support with deep recline functionality. As a result, these are generally more comfortable for lounging.
Casual web surfing, gaming, watching movies, and relaxing are all better in gaming chairs than task chairs. On the downside, the more casual aspect of gaming chairs can lead to degraded posture habits. You'll need more diligence to sit upright in a gaming chair than in a task chair.
Pros: ergonomically sound; more versatile and comfortable for passive activities (reading, watching movies, etc). Much cheaper than task chairs.
Cons: slouching is possible (and pretty comfortable). You need more discipline to sit straight than if using a task chair.
Lumbar pillow vs integrated lumbar
Most gaming chairs come with a height-adjustable headrest and lumbar pillow. Many lumbar pillows are too fat. Using a thicker one can leave a gap between your spine and the backrest.
For full-time desk workers, we recommend a gaming chair with integrated lumbar support. Instead of adjusting the height as with a pillow, these are depth-adjustable. That lets you apply a perfect amount of lumbar support that keeps your spine glued to the backrest.
For office workers, there are two clear-cut gaming chair options. Among all gaming chairs with internal lumbar support, the Secretlab Titan is the best. It has the most advanced features, longest warranty, and widest array of designs.
Among chairs with traditional lumbar pillows, the AKRacing Master Series Pro has been a longtime favorite. Both the Titan and Master Pro boast premium ergonomic features, spacious dimensions, and a 5-year warranty.
Affordable ergonomic office chairs
Beyond pricey task and gaming chairs are affordable models priced under $300. There are a handful of cheap gaming chair options and a growing number of ergonomic office variants.
All come with the ergonomic necessities to support healthy sitting. That means an adjustable lumbar, adjustable armrests, and a reclining backrest.
As work-from-home chairs, gaming chairs in this price range will give you more versatility. When not working, you can lounge, watch movies, or even nap in a gaming chair.
In contrast, an office-style variant will keep you in upright postures at all times. For long periods of desk work, both can provide the support you need to sit straight without back pain.
All ergonomic chairs in the sub-$300 have positives and negatives to consider:
Pros: cheap, ergonomically sound, comfortable.
Cons: not very durable. With full-time use, mesh will sag and parts will rattle.
Below are two office chair picks, and two gaming chair options. All will support good posture for long periods of sitting. However, with full-time use, expect these models to break down faster.
FAQ: gaming chairs for office work
As a work-from-home desk chair, an ergonomic chair is a sensible choice. Non-ergonomic chairs are bad for your back. Sitting in one for any length of time generally leads to back pain.
If you're in process of deciding which type of ergonomic chair to buy, this section should help.
Conclusion
Setting yourself with a work-from-home ergonomic chair is a smart choice. Doing so will help boost your productivity by supporting healthy sitting habits.
Choosing the right model depends on your needs. If you need support strictly for working, consider an ergonomic task chair. Those models will keep you locked into pristine postures for long, productive stretches.
If you want more versatility, a gaming chair is the way to go. These chairs offer full-body support with deep recline functionality. That combination lets you use a gaming chair for working, lounging, or even napping.
Spend as much as your budget allows. Paying more will get you better durability and a more luxurious experience. Paying less will get you a similar level of back support, without any fancy frills.