The first racing-style gaming chair was released in 2006. That powered a growing demand for good quality ergonomic seating for the home. As a result, a deluge of ergonomic office and gaming chairs flooded the market. Even so, the cream always rises to the top. Circa Q3 2021, there are some clear work-from-home standouts. Here we review the best WFH gaming office chairs for hardcore gamers and power users.
The best work-from-home ergonomic chairs have a few things in common. First, they come from established brands with a proven record of ergonomic excellence. These brands engineer the prototypes that copycat factories follow.
Second, these picks are proven to do the job. Most power users will spend at least 1/3 of each day using their chairs. Thus, most full-timers can expect to form an intimate relationship with their ride.
Rather than risk your spend on unproven, gimmicky tech, these models deliver the goods. Out-of-the-box, you can count on superb back support with luxurious comfort.
Gaming vs Office Work-From-Home Chairs
Should you buy a gaming chair or office chair to work from home? Both types meet ergonomic guidelines for healthy sitting. In all cases, the point of a chair's ergonomic components is to support dynamic neutral sitting positions.

The dynamic aspect delivers opportunities to move while you sit. The primary means of doing so in both types of chairs is using the backrest recline.
Here is where the biggest difference between the two chair types emerges.
Most ergonomic office chairs offer mid-back support. A few add headrests. All come with limited recline ranges. These force you to sit upright at all times. They're often called 'task chairs' because they keep you locked in position to do tasks at a desk.
In comparison, gaming chairs deliver full-back support with deep recline functionality. These also support healthy neutral sitting, but not strictly. Users are free to sit however they like, and for various purposes.
Beyond desk work, you can use a gaming chair to read a book, watch a movie, stare at the ceiling, or even take a nap.
Would you prefer a strict working chair in your home office, or a flexible one? For the WFH pros and cons of each type, see this:
Best WFH Ergonomic Office Chairs
The best ergonomic office chairs for a home office are pricey, industry-leading models. These come with ultra-adaptive backrest support and robust synchronous-tilt functionality. Three models stand a cut above the rest.
Beyond the top three are a handful of popular alternatives with lower prices. These lack the fancy extras of the premium chairs. Even so, they deliver a comparable level of comfort and neutral sitting support.
Herman Miller Aeron
Since 1994, the Aeron has reigned as the gold standard of ergonomic seating. The chair was remastered in 2017 with a next-level mesh upholstery, sync-tilt functionality, and an upgraded lumbar support system. These features keep it atop the ergonomic rankings in 2021.
These days, the Aeron is a bit cheaper and less celebrated than the jazzier Embody chair. Even so, it offers superior ergonomic features, better dynamic sitting features, and the best mesh upholstery in the business.
As a bonus, its highlight features come wrapped in a sleek, timeless, absolutely gorgeous design. Whether you work in a colorful gaming room or contemporary office, this chair will serve as a dazzling centerpiece.
Key Features
Three aspects of the Aeron chair stand out. See this Aeron chair review for a detailed analysis. Here's a quick summary:
8Z Pellicle Mesh
Synchro-tilt
PostureFit Lumbar
This is the most advanced mesh chair upholstery in the business. 8Z Pellicle mesh has a luxurious feel with incredible durability and next-level adaptability.
On the backrest, the weave is tighter along the edges and looser in the middle. The seat tension also varies with four different zones.
Both provide varying levels of resistance as the user changes positions. As a result, users enjoy consistent posture support, no matter how they move around in the chair.
Behold the most robust synchronous-tilt functionality in the seating industry. This technology tilts the seat up or down and the user moves.
When the user reclines, the seat tilts at a 2:1 ratio (1 degree of tilt for every 2 recline degrees). During recline, it can tilt by as much as 16 degrees. When leaning forward, it tilts down to -1 degrees.
Note that this is a luxury feature, not an essential one. Using it during recline works your hips, but also pulls you away from a desk. That makes it useful for relaxing between gaming sessions.
The Aeron's PostureFit lumbar support system is the only one offering support for two parts of the spine. It comes with two pads that flex independently of each other.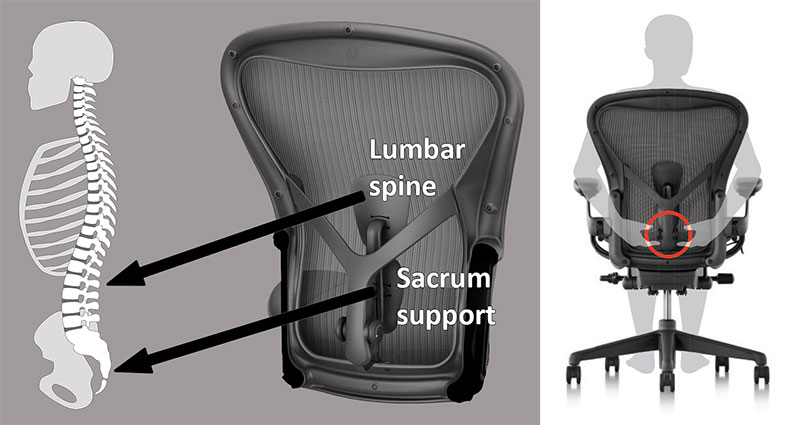 The top pad supports the lumbar area. The bottom one supports the sacral spine (near the tailbone). You can adjust the depth of support, but not the height.
To ensure a good fit, you need to choose the right Aeron chair for your size (small, medium, or XL). With a proper fit, this support works better than any I've ever tried.
Summary of Features
Synchro-tilt: seat pan angle from -1° to 16°; backrest 93° to 104°
Upholstery: Pellicle 8Z mesh provides eight zones of varying tension for ultra-responsive support.
PostureFit Lumbar: depth–adjustable support for the lumbar and sacral spine.
Seat: adjust the height; limit the tilt range; adjust the tilt tension; sync-tilt with the backrest.
Backrest: forward tilt option; height and depth adjustable PostureFit lumbar support.
Armrests: 3D adjustable.
Warranty: 12 years.
Aeron Work-From-Home Suitability
The Aeron is less expensive than the Herman Miller Embody. It's also less hyped. Even so, it's the superior chair in a few ways. First, its sync tilt is a lot more robust than what the Embody offers.
Second, its 8Z Pellicle Mesh is more breathable and comfortable over long hours. Third, unlike the Embody chair, it has a dedicated lumbar support system.
These factors make it one of the most comfortable ergonomic office chairs money can buy. Even so, as a work-from-home centerpiece, it has one drawback — no relaxation mode.
In his review of the best programmer chairs, YouTube star TechLead pointed this out.
While working, he rated the Aeron well ahead of the Embody and Steelcase Gesture chairs. However, when relaxing, he found the Aeron too formal. As a result, he only used his Aeron chair for work.
If you need a chair strictly for working, the Aeron is hard to resist. However, if you prefer more versatile, all-day support, a good gaming chair is the alternative.
Detailed Herman Miller Aeron Review.
Aeron Gaming Chair from Herman Miller $1545
The Aeron Remastered Office edition is also available from Herman Miller for $1545.
Herman Miller Embody
The Embody is a modernized version of the Aeron chair specially designed for PC users. It's the chair of choice for many of the world's world's top streamers. That includes big names like Shroud, Tfue, xQcOW, and TimTheTatman.
There are a few reasons the Embody chair is so popular. For one thing, compared to the classic Aeron design, its aesthetics are next-level futuristic. That's mainly because of its cutting-edge Pixelated Backrest.
It's designed to support the entire spinal curve while allowing a wide range of motion. The entire unit is made up of 'pixels' that work like a human ribcage. As you move around, the units flex independently so that the backrest consistently hugs your spine.
Here's how the Aeron and Embody chairs stack up head-to-head:
| | | |
| --- | --- | --- |
| Feature | Aeron | Embody |
| Lumbar Support | Depth-adjustable | Angle-adjustable |
| Armrests | 3D | 2D |
| Sync-tilt | Seat tilt -1° to 16°; backrest 93° to 104° | seat tilt 3° to 15°; backrest 94° to 120° |
| Seat depth adjustment | n/a | 15-18 sliding depth |
| Sizing | Small, medium, and XL sizes | One size fits all |
For a deeper technical analysis, check out this Embody Gaming Chair Review.
Embody Work-From-Home Suitability
We rank the Aeron chair slightly above the Embody as a safer pick for ergonomic beginners. Unlike the Aeron, the Embody has no dedicated lumbar support. Instead, a curve is built into the backrest.
The only thing you can adjust is the angle. If you're too short, the lumbar support curve will hit the wrong part of your spine. If it hits too low, the chair will encourage you to slouch instead of sitting straight!
You might not even notice the problem until crippling back and shoulder pain flares up. In comparison, the Aeron chair's PostureFit support is a lot easier to get the hang of.
Assuming a good fit, you'll still need time to adjust to sitting in an Embody chair. Once you get into the groove, the backrest will operate as an extension of your spine that keeps your spinal curves intact.
Embody gaming chair from Herman Miller for $1595
The fully-loaded Embody classic is also available from Herman Miller for $1695 .
Sidiz T80
There are plenty of premium ergonomic office chairs on the market priced over $700. The Sidiz T80 is well down the pricing scale, yet one of the strongest models in its price class.
This is an ergonomic office chair optimized for gamers. Gen G (one of South Korea's top esports teams) adopted the T80 as their official team back in 2019. Soon after, Dr. Disrespect started using one.
Sidiz T80 Features
This chair comes fully loaded with every ergonomic feature you need, plus a few luxury ones that are nice to have. A lot of functionality centers around the seat.
You can adjust the depth by sliding it forward or back. TO support forward-leaning work, you can also tilt and lock it at a downward angle. As well, with sync-tilt active, the seat angles up when the user leans back.
Summary of features:
Synchro-tilt: seat angle 1°; backrest 90° to 114°.
Adjustable spine support: height adjustable lumbar; height and depth-adjustable padded headrest.
Armrests: 3D.
Seat slide plus slope: slide the seat forward or back; manually slope down by -1°.
Premium Padding: resilient memory foam plus a layer of antibacterial elastic sponge.
Warranty: three years, plus 30-day money-back-guarantee (details)
Sidiz T80 WFH Suitability
The biggest downside to the T80 chair is its warranty. While Herman Miller chairs come with 12-year protection, the T80 is only guaranteed for three years.
That aside, the T80 is a superb work-from-home chair. Compared to pricey Herman Miller chairs, the up-front cost is more reasonable. Even so, the ergonomic features are comparable.
Another aspect that gamers will appreciate is the T80 chair's flexibility. Unlike Herman Miller chairs, the T80 doesn't force you to sit with perfect posture at all times. The wide, flat seat pan makes it possible to sit cross-legged.
On top of that, the headrest adds an extra level of support that Herman Miller chairs lack. That extra bit of support comes in handy when you want to just kick back and relax.
Get detailed specs in this Sidiz T80 review.
Cheaper Alternatives
You don't need to spend more than $300 to get the ergonomic basics. In fact, any chair with adjustable arms, adjustable lumbar support, and a reclining backrest can do the job.
Here are two cheap options that support dynamic neutral sitting. In the absence of luxury extras, you get no-frills support that does the job well enough.
Flexispot Soutien
$299.99 from Flexispot
Flexispot is an office furniture company specializing in healthy office furniture. They make standing desks, bicycle desks, and ergonomic chairs. The Soutien chair is its flagship chair offering.
This chair has every essential feature you need in an ergonomic chair. That means adjustable lumbar support and armrests, plus recline functionality. To keep costs low, it strips out luxuries. There's no sync-tilt. You can adjust the depth, but not its angle.
Summary of features:
Backrest: recline and lock with a 90° to 115° range; Italian chenille fiber upholstery.
Lumbar support: three height adjustments; self-adjusting 'rebound' system maintains lumbar pressure as the user moves.
Headrest: height-adjustable.
Seat: padded fabric covering; depth-adjustable (16.1-29.1″ range).
Armrests: 4D adjustable with cushioned top covers.
Warranty: 1-year warranty from Flexispot.
Soutien chair from Flexispot $299.99
To learn more, check out our detailed Soutien ergonomic chair review.
Staples Hyken
The Staples Hyken is a rock-bottom cheapie with full mesh upholstery and basic ergonomics. This chair does the job — without luxury frills. It's a compact chair suitable for slim adults of average height or shorter.
For less than $200, you get a solid, breathable chair with enough adjustments to keep you comfortable.
Backrest: recline and lock with a 90° to 140° range (4 lock positions); synthetic mesh upholstery.
Lumbar support: height-adjustable.
Headrest: non-adjustable.
Seat: mesh seat; fixed (not depth-adjustable).
Armrests: 1D adjustable (up and down).
Warranty: 30-day return policy.
The Hyken is comfortable and supportive, but not very durable. After a year of full-time use, you can expect the padding to sag and the chair's parts to loosen. Then, you'll need to replace the chair.
That said, if you've never used an ergonomic chair before, this is a good starter model. Because of its stripped-down feature set, its controls are intuitive and easy to use.
It's a low-risk investment. After a year of using this chair, you should have improved your posture. With improved posture, you'll enjoy a surge of energy and much greater productivity. With greater productivity, you can expect more professional and financial success.
As a result, when your Hyken chair breaks down in a year, you should be ready to upgrade to something more luxurious.
Staples Hyken from Amazon $176.41
Learn more in this detailed Hyken Mesh Task Chair Review.
Best WFH PC Gaming Chairs
Ergonomic office chairs force users to sit upright at all times. That's a good concept in a corporate office, but less so when working from home. If you prefer something more versatile, a gaming chair is what you need.
Like the best ergonomic office chairs, gaming chairs also support healthy neutral postures. Beyond the limits of office models, gaming chairs also support deep relaxation and even napping.
Over the past few years, hundreds of new gaming chairs have flooded the market. However, most are cookie-cutter clones, with only a few models pushing to evolve.
That has made it a lot easier to narrow down the 'best' gaming chairs for work-from-home. There's the Secretlab Titan, a fresh new release from DXRacer, and a bunch of generic builds with custom skins.
Secretlab Titan
With the release of its Titan 2022 Series, Secretlab has propelled itself far ahead of the pack. As such, 'Secretlab chairs' belong in a category of their own. Nothing else on the market matches up to this chair's features, sizing, designs, durability, or after-care.
Several things stand out. For one thing, the Titan is the only premium gaming chair on the market available in three sizes. For another, these chairs are available in over 30 styles. No other chair on the market comes close to this variety.
On top of that, this is one of the few premium gaming chairs with a 5-year warranty. Despite all of these accolades, the Titan is actually cheaper than most competitors!
Titan 2022 Series features
Like all premium esports chairs, the Titan EVO comes with 4D armrests and a multifunction tilt-lock mechanism. That's just the start. On top of the basics, the Titan adds luxuries offered by no other gaming chair. Summary:
4-Way Integrated Lumbar
Magnetic Headrest
Waterfall Pebble Seat
Several brands offer gaming chairs with a depth-adjustable integrated lumbar. The Titan EVO beats them all with integrated support that is depth
and
height-adjustable.
One dial on the side of the chair lets you adjust the height of support to fit your lower back curve. Once you've found your sweet spot, the other dial lets you adjust the depth to the perfect level of comfort.
Other gaming chairs come with a headrest pillow connected to the chair with straps. In contrast, the Titan employs a strapless memory foam pillow held in place with magnets.
This achieves two things. First, it gives the chair an ultra-clean, minimalist look. At a glance, it reflects the immense amount of detail that went into this design.
The other payoff is a much greater range of adjustment. Without straps, you can move the pillow from the top of the chair to the bottom of the embroidered "T".
The 2022 Series Titan seat comes with a refined waterfall edge and Pebble seat base. The former replaces the sharp seat edge of the 2020 Series with a gentler slope.
As well, refined seat edges provide a gentle but unobtrusive slope. This helps guide the user to the center of the seat, without restricting legroom. Combined, this reduces pressure on the back of the knees, while giving you plenty of space to play.
Summary of Features
For a detailed feature breakdown, see this hands-on Titan 2020 vs 2022 Series Comparison. Summary:
Functionality: 4D armrests; multifunction tilt-lock; recline from 85-165°.
New 2022 Series Features: integrated 3D-adjustable lumbar support; magnetic headrest pillow; pebble seat base with waterfall edge; CloudSwap armrest caps.
Upholstery: Neo Hybrid Leatherette (21 styles); Softweave Plus Fabric (6 styles).
Sizing: small 4'11" to 5'6″; medium 5'7″ to 6'2″; XL 5'11" to 6'9″.
Warranty: five years.
Titan EVO sizing
There are three sizes to choose from:
| | Titan EVO Small | 2022 Series Medium | 2022 Series XL |
| --- | --- | --- | --- |
| Seat | 17.7" (W) x 18.9" (D) | 18.5" (W) x 19.3" (D) | 19.3" (W) x 19.7" (D) |
| Backrest | 20" (W) x 32.3" (H) | 21" (W) x 33.5" (H) | 22" (W) x 35" (H) |
| Seat height | 17.7" to 20.5" | 17.7" to 20.5" | 18.1" to 21.9" |
| Size rating | 4'11" to 5'6"; 285 pounds | 5'7" to 6'2"; 285 pounds | 5'11" to 6'9"; 395 pounds |
| Price | $449 | $469 | $499 |
If you prefer a larger chair than you're rated for, see this Titan Size-Hacking Tutorial.
Titan Work-From-Home Suitability
ChairsFX has extensively tested Titan 2020 and 2022 Series editions. While both are excellent chairs, the 2022 Series is a next-level work-from-home option.
Recently, I've been testing out a pair of 2022 Series chairs: a medium Cookies and Cream fabric and Ash XL leatherette edition. With 4-way lumbar support and the magnetic headrest, there was sufficient adjustability to fit my 5'9″ frame into both models.
Simply put, there's no better gaming chair option on the market today. No other model comes in three sizes. None offers lumbar support with better adjustability. The Titan EVO is also available in the widest range of leatherette and fabric gaming chair designs.
As for pricing, these chairs are cheaper than most of the other premium gaming chairs. If you're looking for the very best, the Titan 2022 wins by a very large margin.
Available from Secretlab in America, Canada, the UK, Europe, Australia, New Zealand, Singapore, and Malaysia. Browse styles in this Titan EVO 2022 Series Design Summary.
DXRacer Air
Ranking behind the Titan there are several premium gaming chairs with the same features but different skins. Only one stands out by offering something unique. The DXRacer Air blends the best of office and gaming chairs into a stunningly fresh design.
The Air comes with a traditional gaming chair steel frame. Over the top goes office-style mesh upholstery and an office chair-style lumbar support. An innovative rail-mounted headrest delivers a large adjustment range to suit most sizes.
On top of that, the Air is also 'modular'. That means you have the option of adding extra functionality. At present, available modules include a retractable footrest, laptop holder, and cup holder.
DXRacer Air Features
Ergonomic features are those of a typical premium-quality gaming chair.
Functionality: 4D armrests; recline from 90-135°; multifunction tilt-lock.
Support: height-adjustable lumbar (15 cm range); height-adjustable headrest.
Upholstery: ultra-breathable mesh; supporting suspension springs.
Foundation: steel frame; Class 4 gas lift; 3″ (76 mm) PU casters.
Extras: modular add-ons; leather or fabric slipcovers.
DXRacer Air Work-From-Home Suitability
The Air is one of the most innovative work-from-home options available. It has similar features as other premium gaming chairs, with a mind-blowing hybrid design. Like all DXRacer chairs, it boasts an excellent build quality well-suited to supporting full-time desk work.
However, as with all radical new innovations, there are kinks to work out. For one thing, DXRacer markets this design as ideal for women. However, it's a large chair rated for sizes 5'10" to 6'6″. Meanwhile, the average woman stands 5'4″.
To address this, DXRacer plans to release smaller sizes, but they haven't arrived yet. The other quibble is the warranty. Despite being more expensive than the Titan, the DXRacer Air is only guaranteed for two years.
Despite these quibbles, this is a solid work-from-home option. It has decent ergonomics, ultra-breathability, and a striking style certain to light up your home gaming or working office.
To learn more, check out this detailed DXRacer Air Gaming Chair Review.
DXRacer Air $499 from DXRacer.com
Modular Air add-ons and slipcover upholsteries are also available from DXRacerAir.com.
Premium Racing Chairs
DXRacer released the world's first gaming chair in 2006. Fifteen years later, most brands still follow the exact same blueprint.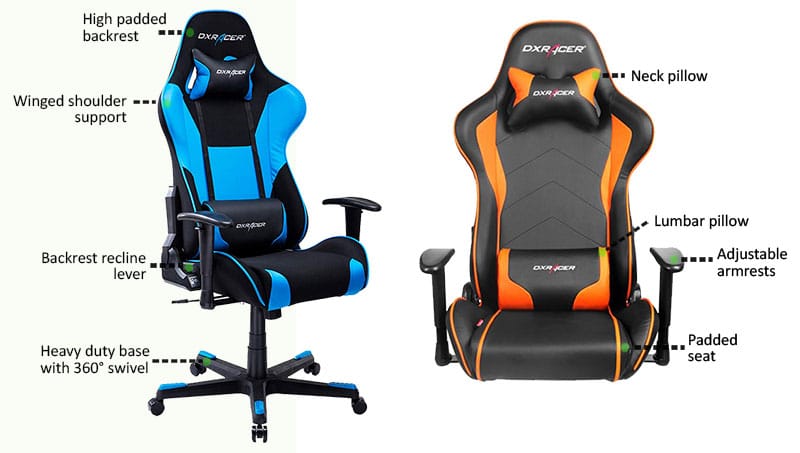 Beyond the Titan and DXRacer Air, all premium gaming chair brands follow the original DXRacer blueprint. Each chair has the same core features:
4D armrests
Deep recline and multifunction tilt
Adjustable lumbar and headrest pillows
The only differences are the prices, warranties, and chair skins. If you're looking for a solid old-school racing-style gaming chair, these are the best premium models on offer:
Work-from-home Productivity Checklist
Traditional office chairs are bad for your back. These only let you adjust the seat height and rock the chair. Without the essential ergonomic components, they lack the support your spine needs for long periods of sitting.
Ultimately, it doesn't matter if you choose a gaming-style or office-style chair, as long as you choose an ergonomic one. If your chair has adjustable lumbar support, a reclining backrest, and adjustable arms, it qualifies.
Buying one will do a lot more than give you a place to sit. Using your ergonomic chair correctly will help you to improve both your seated and standing posture.
Learning to sit with good posture aligns your spine and relieves overworked back muscles. That gives users a surge of energy, supercharged cognitive performance, and a host of other benefits.
Are you ready to supercharge your health, wellness, and productivity? Work through this checklist to take your work-from-home game to a higher level.
Step 1: Buy a Good Ergonomic Chair
Humans are not designed to sit for long periods. Doing so flattens the lumbar curve, rounds the upper back, and bends the spine into an ugly "c" shape.
For a few decades, ergonomists have touted dynamic neutral sitting postures as the healthiest solution. Any chair that qualifies as 'ergonomic' can serve this purpose.
Among hundreds of models to choose from, this article reviews the absolute best work-from-home chairs. If you're looking for a high-performance chair that enforces strict posture, choose an office chair. If you prefer more flexibility, go for a gaming chair.
Best Work-From-Home Ergonomic Office Chairs
Choose an ergonomic office chair if you want strict posture support that deters you from slacking off. Executives, high-level streamers, and serious content creators should consider a chair in this genre.
This article covers five options across the entire price range. At the highest end, three models stand out:
Herman Miller Aeron: easy to use; available in 3 sizes; packed with world-leading features; 12-year warranty. ($1595 from Herman Miller or $132.91 per year)
Herman Miller Embody: next-level backrest adaptability; similar features as the Aeron; 12-year warranty. ($1595 from Herman Miller)
Sidiz T80: high-end ergonomics; synchro-tilt functionality; full-back support; gamer-friendly; 3-year warranty. ($552.50 on Amazon)
Best Work-From-Home Gaming Chairs
If you want more flexibility than a strict ergonomic office chair, a gaming chair is for you. These also promote healthy sitting habits, but not strictly. Full-back support, spacious seats, and deep recline give you more options.
Beyond sitting upright, you can use a gaming chair for lounging, watching movies, and taking power naps. The Secretlab Titan is the undisputed industry leader.
Ranking behind the Titan is the DXRacer Air, an innovative gaming-office hybrid. Beyond that is a decent collection of premium racing-style gaming chairs:
Secretlab Titan: industry-leading ergonomics; 3 sizes; 30+ styles; 5-year warranty; excellent support. ($449-$499 from Secretlab)
DXRacer Air: modular hybrid with full mesh office chair upholstery and upgraded racing-style functionality. ($499 from DXRacer)
Premium Racing-Style chairs: several models offer 4D armrests, multifunction tilt, deep recline, and luxury upholstered skins. ($499-$570)
Step 2: Etch Neutral Sitting Into Muscle Memory
This is the most challenging part, especially for first-time ergonomic chair users. If you're used to slouching, sitting in a clean neutral posture might feel awkward and painful. For example, when I bought my first gaming chair back in 2017, I started with very bad posture.
At the time, there were no online guides to help. Through trial and error, it took me a very painful month before I got the hang of it. Several times before I figured it out, I seriously considered throwing my chair in the trash!
To sit in a neutral posture, follow these steps:
Plant your feet firmly on the floor.
Tuck your hips as deep as possible into the seat pan.
Adjust the lumbar support to fill your lower back curve.
Once you master the basics, you can optimize by adjusting your armrests, seat height, or backrest recline. This tutorial uses gaming chairs, but the same concepts apply to ergonomic office chairs:
Wait for Muscle Memory to Kick In
Getting started with neutral sitting might feel awkward at first. Even so, give it a few days. Getting used to sitting this way depends on muscle memory. When you practice any skill, your brain begins to coordinate muscle movements. Repetition etches neural pathways deeper into memory to perform tasks more efficiently.
At first, sitting in a neutral style might cause mild soreness. If you lift weights for the first time, you'll also feel sore for a few days after.
Getting past soreness in the gym helps your muscles get stronger. The same principle applies with ergonomic chairs. The longer you sit in neutral postures, the more your body will adjust.
After a week or so of practice, sitting this way will become effortless. Without even thinking about it, you will naturally position yourself to sit with a clean, healthy posture while you work.
If you need help with this step, we have two video tutorials to help. How to Sit in a Gaming Chair covers proper lumbar support, armrests, seat height, and recline configurations.
Many people struggle the most with lumbar support configuration. To master that aspect, see our Lumbar Support Biomechanics tutorial.
Step 3: Boost Health Benefits With Micro-Breaks
After you buy an ergonomic chair and learn how to use it, you'll enjoy improved posture. With better sitting posture, you'll gain more energy, sharper focus, and improved productivity. This will flood you with feelings of bliss, comfort, and positivity.
Bask in that glory for as long as you can. When the thrill begins to wear off, there's a very easy (but counter-intuitive) way to supercharge once more — stop sitting!
Taking several short breaks through a workday yields many benefits. Esports Physical Therapist Dr. Joshua Lee explained the physical benefits to ChairsFX. "The body craves movement. Short rest breaks with exercises are like little snacks. Your body can use these throughout a gaming session to keep you energized."
Beyond the physical, downtime also supercharges cognitive ability. Stepping away from the computer for a break will shift your brain to a relaxed, dreamlike state. This mental downtime helps the brain process tasks on a big-picture level.
Timing breaks at 90-minute intervals can also help you sync your tasks with the body's natural rhythms. The basic rest-activity cycle defines deep sleep as 90-minute periods of differing rhythms.
During waking hours, humans shift through similar stages ranging from higher to lower alertness. Some call it the "ultradian rhythm." Timing your work sessions in sync with this rhythm will help you get more done in less time. Any time your concentration begins to wane, take a break.
No matter what kind of ergonomic chair you use, this simple trick will take your performance to a higher level. Learn more in this feature:
Step 4: Optimize Your Workstation Ambiance
By this point, your work-from-home setup should be running smoothly. You have a good ergonomic chair. You've also integrated healthy neutral sitting as a permanent habit. The thrill of life with good posture should keep you glowing with delight for a few months.
Once it wears off, rekindle the thrill by adding regular breaks into your routine. Then, you'll find yourself getting more work done with less time spent sitting.
As your health, wellness, and leisure time expands, something new will emerge. Good posture makes you more aware of your body and its nuances. That awareness will eventually spread to your entire surroundings.
Feng Shui Principles For A Home Office
Gaining greater awareness of your surroundings isn't much use without a method to harness that. Luckily, Feng Shui principles slot seamlessly in to help with ambiance optimization.
In Chinese, Feng shui is "wind" (feng) and "water" (shui). For home workers, its principles help to arrange working spaces for harmony and balance. Doing so maximizes the flow of positive energy in a room.
The most basic feng shui principles apply to everyone who works from home:
Clutter-free environment: clutter affects your brain and computing performance. A messy workstation raises stress levels while wearing down the brain. Wipe down your chair, desk, and peripherals each morning before you start work. The difference it makes should inspire you to make this a habit.
Fresh air: many studies show that stale air makes people feel listless and unmotivated. Fresh air in a workspace does the opposite, inspiring creative productivity. From a feng shi perspective, fresh air recharges the life force in an environment by removing stale energies.
Sound management: sound generates energy vibrations that can disrupt the energy flows in a workspace. For instance, nearby construction or barking dogs can rattle nerves and shatter concentration. In my experience, the best solution is to drown out the racket with white noise. Nature sounds without birdsong work well.
Beyond these basics, you can also use feng shui to optimize the layout of your workspace. For optimal energy flows through a room, there are two essentials.
First, arrange your desk so that it faces the room's entrance. This is the 'power' position of a room that helps to stimulate success energies. In contrast, sitting with your back to the door will generate anxious, vulnerable energies.
Second, try to arrange your desk so that windows face beside you. A window in front of you will send your work energies out of the room. A window behind you will let chi (life energy) escape. To learn more about home workstation optimization, see this:
Step 5: Optimize Time Spent Away from the PC
By this point, your purchase of an ergonomic work-from-home chair has blown away all of your expectations. You work in blistering chunks of time at a high pace. In between work bursts, you develop an internal alarm that kicks off whenever you need a break.
Even though you spend less time sitting, you get more work done. That gives you the time to master Feng Shui basics that optimize the energy flows in your room. More doors to self-improvement will then open.
In my case, this resulted in a newfound passion for working out. Suddenly able to get more work done faster, I gained more time — and energy — for other pursuits. In my case, that energy went into lifting weights. A year after getting started with a gaming chair, my beer belly shriveled up and big benefits kicked in!
While learning how to build muscle, I also learned about the key building blocks for growth. Between exercise sessions, proper rest, recovery, and nutrition were key.
Astralis Performance Model
The same principles for building muscle can apply to gaming and ergonomic office chair users. Astralis is a Danish CS:GO team that rose from anonymity to become one of the greatest CS:GO teams ever. Since 2019, the team has been training full-time on custom Secretlab gaming chairs.
However, a big part of the team's success is their time spent away from the computer. The team uses the Astralis Performance Model to emphasize proper nutrition, fitness, and rest.
The model has three dimensions:
Physical: proper exercise, nutrition, and sleep.
Mental: player dynamics and profiling.
Technical: player skills and team strategies.
To support these dimensions, Astralis employs a sports director, sports psychologist, nutritionist, and analysts. Nyholm credits this model to the team's consistent success. While many teams have reached the #1 rank, Astralis is the only one to hold that spot for over 86 weeks.
Within the ChairsFX Performance Model, the first dimension is the most relevant. In short, when away from the computer, focus on three things:
Maintain a healthy diet.
Do some physical exercise every day.
Do what you can to ensure deep, sound sleep every night.
Step 6: Further Self-Improvement As You Desire
This adventure started with the simple purchase of an ergonomic chair. If you've made it this far, you should be rolling in benefits. That means professional and financial gains, personal ones, and physical ones. Even so, the path of self-improvement has no end.
With sharp discipline, a strong body, and a focused mind, new challenges will surely emerge. I was starting to dabble in these areas when COVID lockdowns emerged. When my gym and local eateries closed, I coped by slamming beers and eating pizza.
These days, I'm working on reversing my slovenly shenanigans with new routines. Beyond cleaning up my diet, I've also replaced my 5-year gym routine with a work-from-home setup (using Chris Heria dumbell routines as work breaks).
Choose your own adventure
Proceeding with self-improvement beyond the physical requires all of the other steps to be solid. Once your posture, diet, and exercise habits are in check, there are other avenues of self-improvement to explore. Examples:
Mindfulness: training your mind to be fully present and aware in the moment.
Meditation: learning how to keep the mind still without wandering.
Visualization: imagining a preferred outcome and pouring positive energy into that (example).
If these challenges don't jive with you, choose something that does. It could be related to food, fitness, or whatever you feel passionate about!
Conclusion
Working from home presents a fantastic opportunity to better yourself in many ways. If you work at a desk, the adventure begins when you buy a good gaming or ergonomic chair.
Once you buy a chair, the next challenge is to use it correctly. Follow the steps in this guide. Upon success, you will begin to notice these benefits:
Improved posture and flexibility
Reduced muscle strain
Deeper breathing and improved circulation
Higher energy levels
Improved mood and wellness
Greater ability to focus
Once those aspects kick in, you will feel better, more energetic, and more confident to take on new challenges. From there, the world is yours to play with and explore, without limits!
It all begins when you buy a work-from-home gaming chair. Here are our Gold Standard picks:
Best WFH Ergonomic Office Chairs
Herman Miller Aeron: easy to use; available in 3 sizes; packed with world-leading features; 12-year warranty. ($1595 from Herman Miller or $132.91 per year)
Herman Miller Embody: next-level backrest adaptability; similar features as the Aeron; 12-year warranty. ($1595 from Herman Miller)
Sidiz T80: high-end ergonomics; synchro-tilt functionality; full-back support; gamer-friendly; 3-year warranty. ($552.50 on Amazon)
Best Work-From-Home Gaming Chairs
Secretlab Titan: industry-leading ergonomics; 3 sizes; 30+ styles; 5-year warranty; excellent support. ($449-$499 from Secretlab)
DXRacer Air: modular hybrid with full mesh office chair upholstery and upgraded racing-style functionality. ($499 from DXRacer)
Premium Racing-Style chairs: several models offer 4D armrests, multifunction tilt, deep recline, and luxury upholstered skins. ($499-$570)
Related Articles