Since 1994, the Herman Miller Aeron has reigned as the best ergonomic office chair in the world. Last year, Herman Miller released a gaming version of its iconic flagship. What's different about the gaming edition? How does it compare to racing-style desk chairs? This Herman Miller Aeron gaming chair review answers these questions.
In mid-2020, Herman Miller released an entire line of gaming furniture. The Herman Miller gaming collection includes a desk, accessories, and three gaming chairs. Those are the Aeron, Sayle, and Embody gaming chairs.
Aeron Remastered vs Aeron Gaming Chair
Herman Miller released the original Aeron chair in 1994. The Aeron Remastered edition landed in 2017 and remains the gold standard.
The new Aeron Gaming Edition has the same mechanics as the Aeron Remastered. One big difference is the styling. Another is that the Aeron Remastered gives you more buying options.
Here are the Aeron Gaming Vs Remastered chair differences:
| | | |
| --- | --- | --- |
| Feature | Aeron Remastered | Aeron Gaming |
| Style Options | Four variations | One-black design |
| Sizes | Small, medium, and XL sizes | Medium size only |
| PostureFit Lumbar Support | Optional | Yes |
| Forward tilting | Yes | Yes |
| Downgrade Options | No lumbar support; no tilting; fixed arms; carpet casters | No customizable options |
The gist is that the Aeron Gaming Chair comes in a single size with fully loaded features out of the box. In comparison, the Aeron Remastered gives you more buying options.
For one thing, you can choose an Aeron Remastered in small, medium, or XL sizes. For another, if you don't want full features, you can downgrade (not recommended).
Downgrade options let you choose an Aeron with fixed armrests, no lumbar support, and standard tilt. That will save you around $150 but give you the shell of an amazing ergonomic chair.
Aeron Styling Options
The Aeron Gaming Chair comes in one standard all-black design. The frame, components, and mesh are all dark black.
In comparison, the Aeron Remastered comes in four styles:
Graphite: dark mesh paired with dark components and base.
Graphite + Polished Aluminum: dark mesh, polished aluminum frame.
Mineral + Satin Aluminum: light grey mesh with aluminum components styled with a matte finish.
Mineral + Polished Aluminum: light grey mesh, polished aluminum frame.
To learn more about the Remastered edition, see this review: Top-5 Herman Miller Office chairs. Both the Gaming and Remastered editions are available to buy directly from Herman Miller.
Aeron Gaming Chair from Herman Miller $1445
The Aeron Remastered is also available from Herman Miller for $1445.
Herman Miller Aeron Gaming Chair Review
This review covers the Herman Miller Aeron Gaming Chair. It has the same features as the Aeron Remastered, with minor differences. It's available in one size, as a single style, with no downgrade options.
Out of the box, it's a full-featured ergonomic wonder with all the bells and whistles. Its appeal as a gaming chair is the same as its appeal for general desk work.
Nothing comes close to the Aeron's adaptability and functionality that the Aeron offers. For gamers, it's an investment in guaranteed good posture.
No matter how you sit, this chair will keep your hips and spine in a healthy alignment. If you try to slouch, the Aeron will resist with ultra-adaptability.
Aeron Gaming Chair Features
Four features set the Aeron apart from others. First, its 12-year warranty covers parts and service costs globally. Spreading the cost of this chair over 12 years works out to a reasonable $120 per year!
Beyond the warranty, the chair itself comes stacked with rich ergonomic features, including three highlights:
8Z Pellicle Mesh
The Aeron comes with the most advanced mesh upholstery technology in the business. 8Z Pellicle mesh fabric has a luxurious feel with incredible durability and adaptive qualities.
On the backrest, 8Z Pellicle mesh is tighter along the edges and looser in the middle. The seat varies with four different tension zones.
These adapt to micro-movements with different tension levels. That keeps body weight evenly distributed, no matter how you move around in the chair.
Sync-Tilt Functionality
The Aeron also comes with the most robust synchronous-tilt functionality in the seating industry. Once activated, the seat tilts up or down and the user moves.
When the user reclines, the seat tilts up to 16 degrees. When leaning forward, it tilts down to -1 degrees. This complex feature is a big reason why the Aeron is so pricey.
Even so, it's a luxury feature for relaxing, not an essential one for working. While gaming or typing, it's better to sit in fixed positions.
Thus, sync-tilt works best when used between gaming sessions. Use it like you would the rocking function on a conventional chair. It's a nice luxury to have, but not necessary.
PostureFit Lumbar Support
The Aeron's PostureFit lumbar support is the only type offering support for two parts of the spine. The unit comes with two pads that flex independently of each other.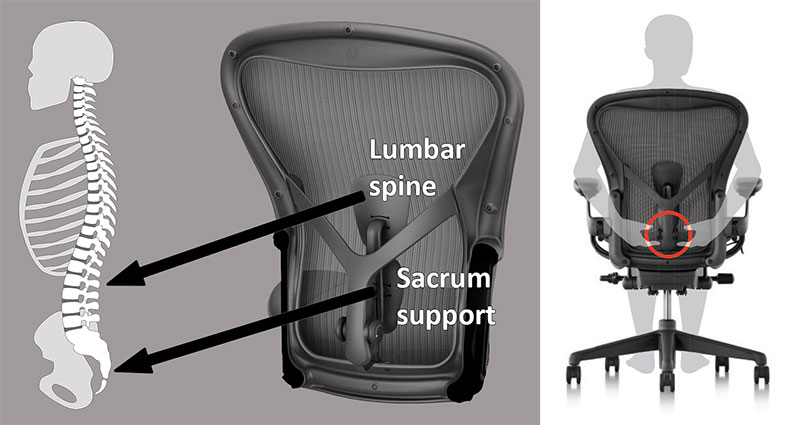 The top one supports the lumbar area. The bottom one supports the sacral spine (closer to the tailbone). You can adjust the depth of support, but not the height.
That makes it very important to choose the right Aeron chair for your size. If you're too tall, there's a chance the unit might hit lower than your lumbar curve. Then, its support isn't useful.
Assuming the right fit, the support this system provides is sublime. The lumbar pad is adjustable to provide the perfect amount of lower back pressure.
Meanwhile, the sacral pad provides tactile information about your hip positioning while you sit. This serves as a potent reminder to maintain good posture. After a while, tucking your hips deep enough to hit the sacral pad will become a habit.
Summary of Features
Synchro-tilt: seat pan angle from -1° to 16°; backrest 93° to 104°
Upholstery: Pellicle 8Z mesh provides eight zones of varying tension for ultra-responsive support.
PostureFit Lumbar: depth–adjustable support for the lumbar and sacral spine.
Seat: adjust the height; limit the tilt range; adjust the tilt tension; sync-tilt with the backrest.
Backrest: forward tilt option; height and depth adjustable PostureFit lumbar support.
Armrests: 3D adjustable.
Warranty: 12 years.
Aeron Gaming Chair from Herman Miller $1445
The Aeron Remastered Office edition is also available from Herman Miller for $1445.
Dimensions
The Aeron Gaming Chair originally came in medium and large sizes. At present, only the medium-sized Aeron Gaming CHair is available. These dimensions match those of the Aeron Remastered edition:
| | Size B (available) | Size C |
| --- | --- | --- |
| Seat width x depth | 27" (W) x 16.75" (D) | 28.25" (W) x 18.5" (D) |
| Backrest width x height | 21.5" (W) x 22" (H) | 22.75"(W) x 23" (H) |
| Floor to seat range | 16" to 20.4" | 16" to 20.5" |
| Size rating | 5'2" to 6'6"; up to 350 pounds | 5'2" to 6'6"; up to 350 pounds |
Both gaming versions have the same weight capacity, with Size C offering a bit more width. Even so, the medium version has a massively wide 27″ seat. Unless you're unusually thick, the medium-sized version should suffice for most users.
Pros and cons
The Aeron has reigned as the gold standard of ergonomic seating for over 27 years. Once you get used to sitting in an Aeron chair, it's bliss. Even so, there are downsides.
For one thing, this chair comes with a minuscule recline range of 93° to 104°. That forces you to sit upright at all times! That works fine in an office.
However, when working from home, it's nice to be able to kick back and relax. To do so in an Aeron, you will need to get out of the chair and move to a recliner.
The other downside is the lack of height-adjustability on the PostureFit support. Many users on Herman Miller's website have complained that it hits too low.
Pros
5-star posture support
Sleek, sexy design
Gold standard adaptive mesh upholstery
Robust synchro-tilt functionality
12-year warranty
Cons
Expensive
Forces good posture at all times
Not suitable for lounging
Beyond the quibbles, this chair delivers. The adaptive mesh delivers a floating sensation while you sit. The adaptive synchronous tilting features add robust movement.
After a few weeks of sitting full-time with this support, expect some mind-blowing benefits. First, you can expect to feel more energetic and alert while sitting at your desk. That will make you a lot more productive.
While the price seems shockingly high, it isn't when you factor in the 12-year warranty. Then, the Aeron gaming chair costs $120 per year.
Aeron Gaming Chair from Herman Miller $1445
The Aeron Remastered is also available from Herman Miller for $1445.
Aeron Gaming Chair Alternatives
Here are three viable Aeron chair alternatives. The first is a pair of other Herman Miller gaming chairs. The second is a collection of cheaper full-mesh Aeron clones. The third is the best high-end gaming chair alternative.
Other Herman Miller Chairs
If looking for elite alternatives, Herman Miller offers several intriguing ones. Here's a summary:
Herman Miller Gaming Chairs
The Herman Miller gaming collection also includes Embody and Sayle gaming chairs. Like the Aeron gaming edition, these come full-featured with gamified color schemes.
Embody Gaming Chair
The Embody has an even more adaptive backrest than the Aeron. It also differs with a fabric padded seat, smaller sync-tilt range, and more contemporary design.
Sayle Gaming Chair
Comes with an ultra-adaptive backrest and a robust sync-tilt second only to the Aeron. On the downside, it only locks in 3 recline positions.
Beyond chairs, the collection also includes a sit-stand height-adjustable desk and monitor arm mount. Check out all pieces in this comprehensive review:
Herman Miller Office Chairs Chairs
We count five models among Herman Miller's best ergonomic office chairs. The Aeron, Embody, Cosm, Sayle, and Mirra 2 all have enticing buying incentives.
All come backed by Herman Miller's 12-year warranty and range in price from $1635 to $755.
Aeron: stands out with ultra-adaptive mesh, synchro-tilt functionality, and an iconic look.
Embody: offers an even more adaptive backrest than the Aeron.
Cosm: full mesh chairs with self-adjusting features. Available in low-back, mid-back, and high-back variants.
>Sayle: the best Aeron and Embody features fused into a much cheaper package.
Cosm: a cheaper version of the Aeron with updated styling and streamlined ergonomics.
Check out this article for a comprehensive look at all models:
Other Full Mesh Ergonomic Chairs
The Aeron's superb mesh upholstery has inspired hundreds of imitations. Today, the best full-mesh ergonomic alternatives cost between $800-$150. None offer the complex sync-tilt functionality that the Aeron has.
As well, none matches the quality or durability of the Aeron's 8Z Pellicle Mesh. Even so, beyond those highlights, many cheaper options match up well with the Aeron.
For example, the Secretlab NeueChair ($549 from Secretlab) looks almost identical to the Aeron. Features are also comparable, although the NeueChair's lumbar support offers better adjustability.
To learn more about the NeueChair and other alternatives, see this:
Secretlab Titan 2022 Series Gaming Chairs
Based on features, the Secretlab Titan 2022 Series ranks as the best gaming chair in the world. Like the Aeron, it's available in small, medium, and XL sizes. There's a huge price disparity, with the Titan 32% cheaper.
Even so, these chairs match up quite well. The Titan beats the Aeron with better lumbar support, deeper recline functionality, and more design options.
On the other hand, the Aeron's robust sync-tiling functionality blows away what the Titan chairs offer. Here's how the two chairs stack up head-to-head:
| | |
| --- | --- |
| Category | Winner |
| Price | Titan |
| Sizing | draw |
| Lumbar support | Titan |
| Recline | Titan |
| Seat Tilt | Aeron |
| Armrests | draw |
| Upholstery | draw |
Which one is a better option for work-from-home? Check out this feature to find out:
WFH Titan vs Aeron Chair Compared
Learn more about the Titan in this Secretlab Titan 2022 Series Gaming Chair Review.
Conclusion
The Aeron Gaming chair doesn't bring anything new to the table except its sleek black skin. Even so, under the hood, it has the same rich features as the Classic Aeron. That qualifies it as one of the best ergonomic chairs in existence today.
If you're looking for the very best posture support, the Aeron Gaming Chair is hard to ignore. Compared to the Embody, it has better technical features and a lower price tag.
You could also compare the Aeron to the hundreds of imitators on the market. Almost every ergonomic chair in existence today reflects the Aeron chair's groundbreaking concepts.
If your budget allows, it makes sense to skip the imitators and go with the best. Expect years of superb posture support and blissful comfort while sitting at a desk.
Aeron Gaming Chair from Herman Miller $1445
The Aeron Remastered is also available from Herman Miller for $1445.
Related Articles