Last year, the best cheap ergonomic office chairs all cost less than $300. In 2023, inflation has jacked the threshold to $350. Below that, there are five solid ergonomic chairs suitable for working from home. All come with straightforward ergonomic support features and assorted luxury extras.
All chairs in this review use classic ergonomic support features. In sum: adjustable lumbar + adjustable arms + a tilt-lock reclining backrest = neutral posture support.

This technology isn't new. In fact, cubicle-era desktop computing standards have been around since the 1990s. Since then, most seating developments have mainly been psychological extras (like full-back fancy designs).

This is significant. In our 2023 drill down of ergonomic trends, psychology — not back support potency — stands out as a major selling point. When a chair looks more comfortable, people feel happier while using it.
Best ergonomic office chairs under $350
When shopping for a chair, we advise users to consider both physical and psychological comfort factors. In the sub-$350 office chair genre, three physical comfort factors deserve attention:
Seat + Backrest fit: a chair too large or small for your size will deliver mediocre support.
Lumbar quality: the lumbar support should have enough height adjustability to fit your lower back curve.
Seat tilt surprises: a few models pack in fancy sync tilt functions to titillate your hips.
On the psychological front, cheap office chairs offer two main incentives:
Value for money: some models boost perceived value with extended warranty protection
Upholstery quality: color, breathability, and softness will all impact long-term happiness levels.
Four mid-back ergonomic chairs meet our ranking criteria better than others in 2023. Here are the best ergonomic office chairs priced under $350:
Cheap Office Chair Accessories
Footrests (for short sizes) and seat cushions (for sore bums) are the two most common accessories to stack with a cheap ergo chair.
Conclusion
On the surface, good posture support is about as exciting as a good bowel movement. In the cutthroat world of cheap ergonomic chairs, that influences marketing tactics. As a result, sizzle often sells better than steak in this price range.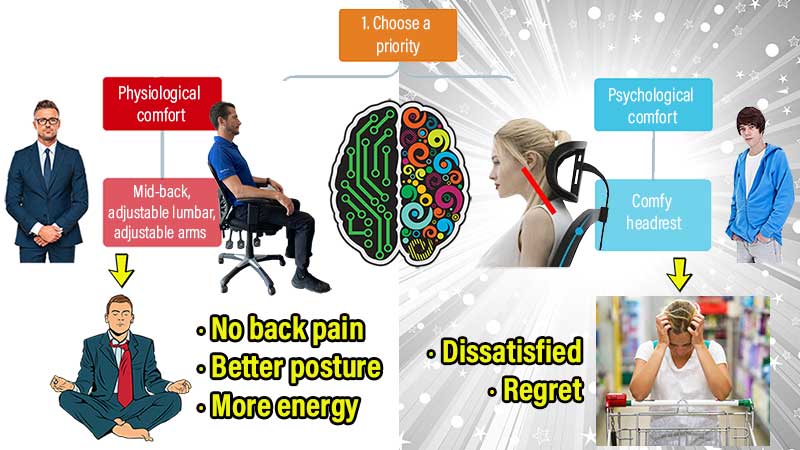 This is why many sub-$350 chairs come stacked with fancy extras. Ill-fitting headrests are common, as are flashy upholsteries. Another tactic is to offer a 4-way lumbar – with a tiny adjustment range that's basically unusable!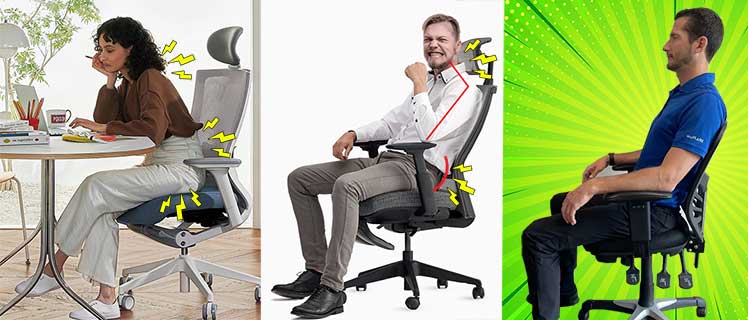 Luckily, four models offer solid performance and value in 2023. If you're looking for the very best cheap mid-back desk chair, consider one of these:
Next on the office chair pricing scale are more luxurious chairs costing between $350 to $700. There, you'll find slightly nicer aesthetics, better adjustability, and warranty protection between 2-12 years.
For a deeper dive into that scene, read this feature: