Healthy ergonomic support isn't expensive. Cheap mid-back ergonomic office chairs aren't as flashy or decadent as luxury models. But they're easy to use and very good for your back and neck! Enjoy near-perfect posture support without any gimmicks or pricey frills. ChairsFX reviews the best ergonomic office chairs under $300 (as of Q2 2022).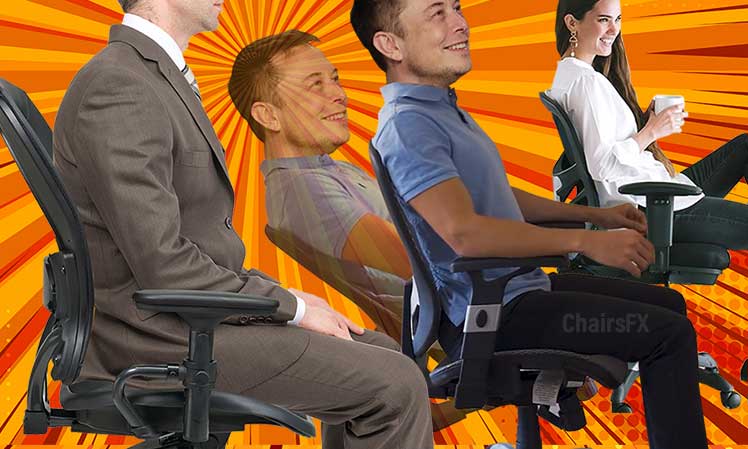 A common complaint about cheap ergonomic chairs is the awkward headrests. Most are ill-fitting with poor adjustability that brings pain instead of support. Luckily, there's a solution to this problem that will blow your mind!
By removing the headrest, your cheap mid-back office chair can deliver the same level of posture support as a much pricier model! Here are near-perfect postures in a $223.52 Staples Hyken vs $1600+ Herman Miller Aeron: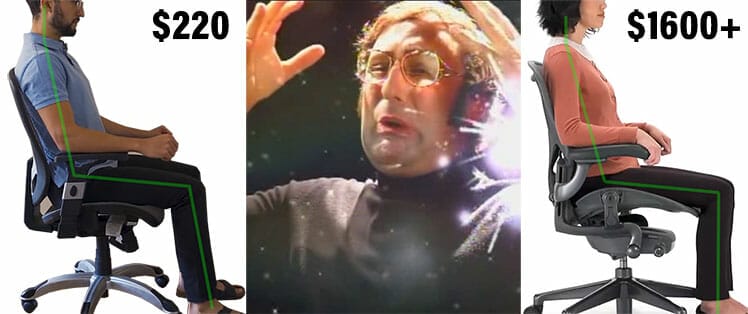 Both do a similar job at supporting users in healthy neutral positions. The lack of a headrest is a key part of the ergonomic concept.
Mid-Back Chairs Don't Need Headrests
Herman Miller's Aeron debuted in 1994 as one of the world's first ergonomic office chairs. Today, most cheap alternatives offer stripped-down versions of Herman Miller concepts. Notably, all Herman Miller chairs provide strict mid-back support.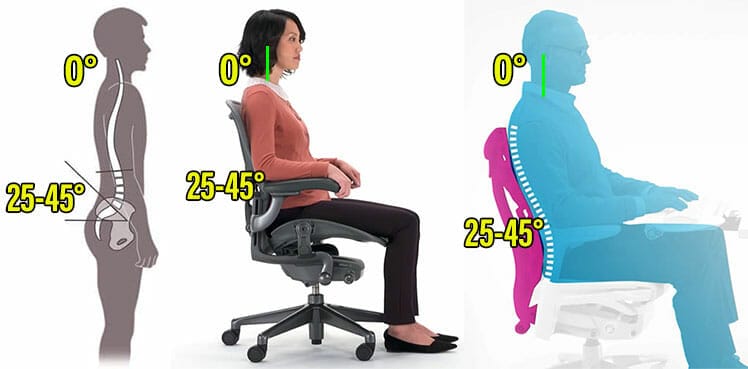 The company doesn't provide headrests or recommend using third-party ones. "Leaning your head back on a headrest while in an upright position would be improper posture… Our ergonomic chairs are designed to support your spine as if you were standing."
A major study on car seat biomechanics with and without headrests supports Herman Miller's claim. A human spine's 33 vertebrae are divided into cervical, thoracic, and lumbar sections.
Without a headrest, the user must balance their neck atop the shoulders. Adding one destabilizes that balance while distorting the entire spine! Specifically, a rearward head tilt curves the thoracic spine outward more than normal. That, as a result, flattens the lower back curve.

In contrast, by removing the headrest, you give your neck a chance to adopt a picture-perfect 0° neck tilt as a regular habit. In doing so, you also get the best potential wellness benefits from your chair!
PSA: Headrests on Mid-Back Chairs Alter Comfort And Posture
Best ergonomic office chairs under $300
Four mid-back ergonomic chairs meet our ranking criteria better than others in 2022. Here are the best ergonomic office chairs priced under $300:
Second-rate Picks Under $300
Several popular ergonomic chairs priced under $300 don't make our list. That's despite having better features than our top-4 picks. Why is that?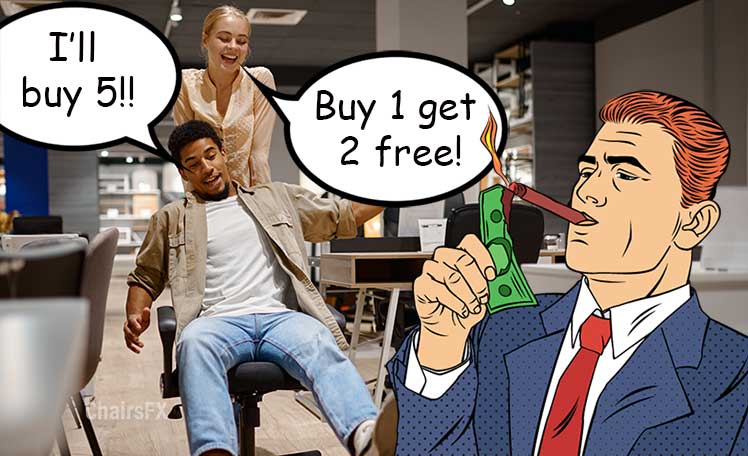 Facts: the cheap consumer office chair market is cutthroat. Most companies rely purely on high turnover for survival. In many cases, selling more chairs takes priority over quality engineering.
That's why many models add enticing lures like headrests and 4-way lumbar support. But flashy luxury mechanics often don't measure up on cheap chairs. Instead of providing genuine value, they only exist to sell more chairs to a wider range of sizes.
Here are two popular models that illustrate this point:
Conclusion
On the surface, good posture support is about as exciting as a good bowel movement. In the cutthroat world of cheap ergonomic chairs, that influences marketing tactics. As a result, sizzle often sells better than steak in this price range.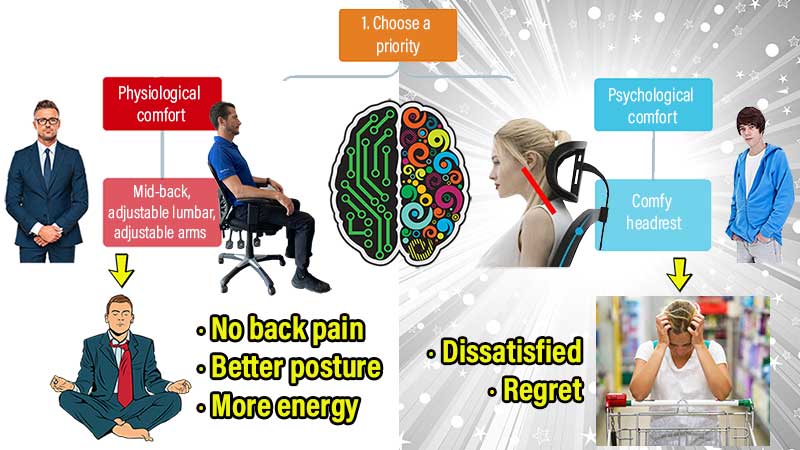 This is why many sub-$300 chairs come stacked with fancy extras. Ill-fitting headrests are common, as are flashy upholsteries. Another tactic is to offer a 4-way lumbar – with a tiny adjustment range that's basically unusable!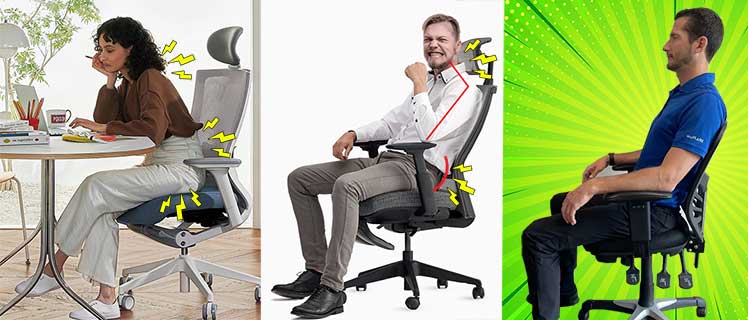 Luckily, four models offer solid performance and value in 2022. If you're looking for the very best cheap mid-back desk chair, consider one of these:
Next on the office chair pricing scale are luxury chairs that cost between $300 to $700. There, you'll find nicer aesthetics, better adjustability, and warranty protection between 2-5 years.

For example, the top-ranked model in that class is the Secretlab NeueChair. It comes stacked with full mesh upholstery, infinite tilt functionality (recline and lock in any position), plus 4-way lumbar support that actually works!