The Modway Articulate Ergonomic Mesh Office chair's aesthetics are boring. Even so, this chair packs in powerful ergonomic functionality under the hood. In fact, you'll get better biomechanical support in a Modway than in a fancy chair with a headrest! Priced at $124.46, it's a steal! This Modway Articulate Ergonomic Chair review explores the best ergonomic chair on the market priced under $200.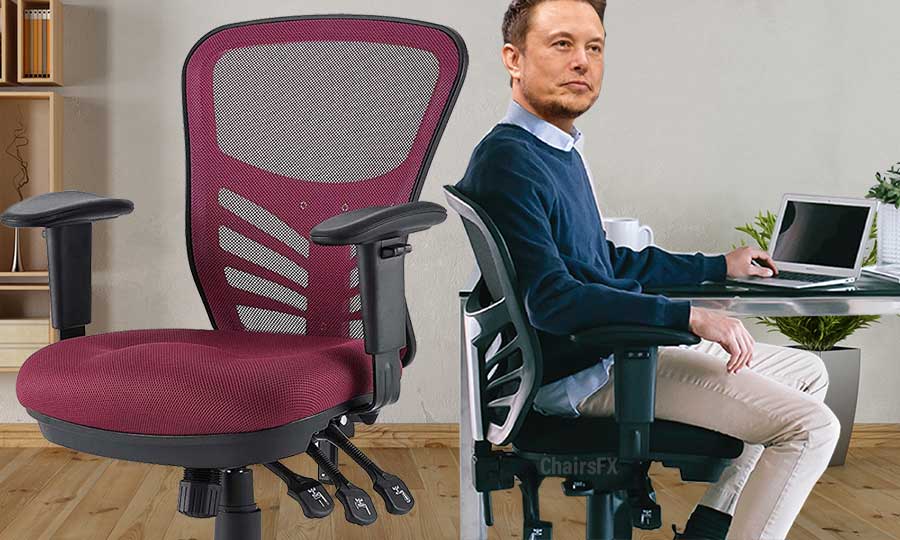 Why on earth would anyone choose a dull Modway Articulate over a flashy modern chair? It has a boring fabric seat, measly 1D armrests, and doesn't even come with a headrest!
Here's the reason: the potential 'comfort' of a chair has subjective and objective factors. Over the long-term, objective ones align the spine and relieve muscular stress. Subjective comfort factors are psychological.
No-Frills Physiological Support
When a chair looks comfier, people feel more relaxed when using it. This is why flashy full-back gaming chairs exist. It's also why many people prefer their office chair to have a headrest.
However, studies show that a headrest on a mid-back chair hinders its posture support. Specifically, using one destabilizes the neck and distorts the spine.
That promotes a rounding of the upper back, leading to pain in the neck and shoulders.
In contrast, a mid-back chair with the requisite adjustable components promotes healthy neutral postures.
These replicate the back angles that a body assumes when in a healthy standing position.
This is where the Modway Articulate Office Chair comes in. Although not as flashy as others, it meets all the criteria to support healthy sitting. In fact, this review shows why it's the best-value ergonomic chair on the market priced under $200.
Modway Articulate Chair Review
The Modway EEI-757 ranks among the top-50 Home Office Desk Chairs on Amazon. It comes with a mesh backrest and fabric padded seat in a choice of six styles.
This section summarizes the chair's features, dimensions, and merits:
Key Features
As outlined in our peer-reviewed ergonomic guidelines, a chair needs three things to qualify as 'ergonomic'. Those are adjustable lumbar support, adjustable armrests, and a reclining backrest.
Adjustable Lumbar Support
The Modway EEI-757 has a lumbar curve built into the backrest. You can adjust the height of the curve by up to 4″ by raising the height of the backrest.
Although not as fancy as other lumbar systems, it's very easy to use. Simply adjust the height of the backrest until it fits your lower back curve. Most people between 5'6″ and 6'2″ will find a great fit within the adjustment range.
Height-adjustable Armrests
The armrests adjust up and down with a 2.8″ height adjustment range. This level of adjustability is typical in budget-class ergonomic chairs.
Most within the recommended 5'6″ to 6'2″ range should find this adjustability suitable. However, those on the extreme ends of that range may find it falls a bit short of what's needed.
Seat And Backrest Tilt
All EEI-757 tilt functionality works using the levers under the left side of the chair. The first one lets you recline the backrest by up to 20° and lock it at an angle.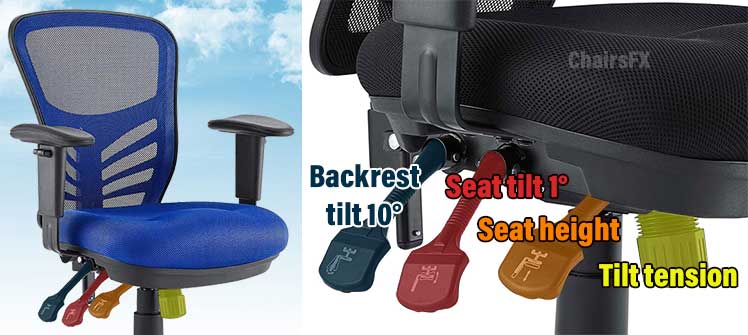 Using the second one, you can tilt the seat by one degree up or down. Tilt it down to support intense work as you lean forward. Tilting it up keeps your thighs parallel to the floor as you recline.
The third lever controls the seat height (17-22″ height range). Finally, the tilt tension knob lets you toggle resistance levels. Looser tension enables easier rocking; tighter tension limits it.
Summary Of Specifications
The Modway EEI-757 fits sizes 5'6″ to 6'2″ with a 331-pound weight capacity. Here's a summary of the chair's features and dimensions:
Functionality: 1D armrests; adjustable back height; 360 degree swivel; adjustable seat height.
Backrest & Seat tilt: 90° to 120° backrest; 5° to -1° seat
Upholstery: mesh backrest; fabric padded seat.
Warranty: one year.
The Modway Articulate Mesh Chair fits average / taller sizes of moderate thickness. Note that despite the 331-pound weight capacity, extra-wide sizes might find the 17.5″ seat width too narrow.
Seat width x depth: 17.5″ (W) x 21″ (D)
Backrest width x height: 19″ (W) x 22-26″ (H)
Armrest height: 27.5-31″ (4.5″ range)
Seat height: 17-21″
Size rating: 5'6″ to 6'2″; 331-pound weight capacity.
Modway EEI-757 Pros And Cons
Good posture aligns your spine back to its natural, healthy state. That eliminates back pain, letting you sit comfortably for long periods. But that's only exciting for people in pain.
Those who've already achieved a natural, healthy spine never think about posture at all! From that perspective, the Modway EEI-757 is about as exciting as a tepid glass of water.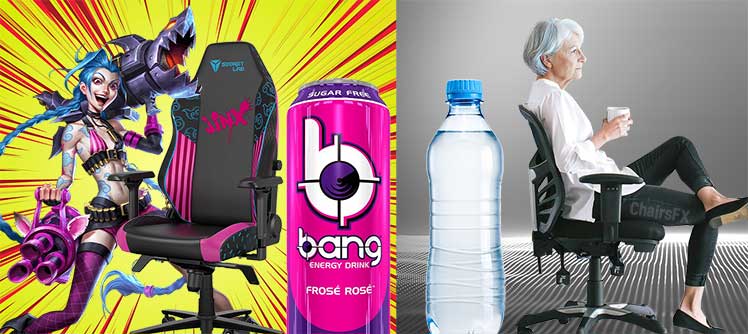 It supports good posture. You can choose a color. You can also tilt the back and seat if you like. That's it. Compared to flashy modern desk chairs, it's super boring. Other quibbles:
The fabric padded seat will flatten after a year or so of full-time use.
Some users have reported faulty tilt mechanisms after a few months of use.
Modway support will only cover objective flaws like cracks or fabric tears.
Pros
Boring (when compared to flashy modern chairs)
Mediocre build quality (albeit suitable for the price)
Very basic ergonomic features
No luxuries besides tilt functions
Cons
Very easy to use
The simple design makes misuse unlikely
Great starter chair for ergonomic beginners
Beyond the low price, the biggest appeal of the Modway chair is its beginner-friendly posture support. Minus the fancy bells and whistles, using this chair leaves no room for confusion.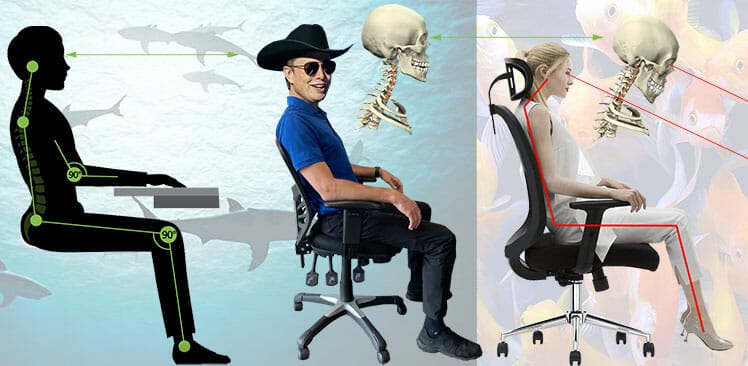 First, adjust the backrest height to support your particular lumbar curve. Then, sit down, plant your feet, and lean your weight on the backrest. That's all it takes to sit in crisp, posturally-perfect positions!
Modway Articulate Alternatives
The Modway EEI-757 is the cheapest viable ergonomic chair on the market priced under $200. It also ranks fourth in our review of best mid-back ergonomic office chairs under $300.
Here are three pricier alternatives — each a step higher on the pricing scale.
Modway Articulate vs Staples Hyken
Modway Articulate $124.46 on Amazon | Hyken $207.89 on Amazon.
The Staples Hyken offers similar ergonomic features as the Modway Articulate. It differs with a few comfort-boosting psychological enhancements. First, it comes bundled with a headrest (remove it for best results).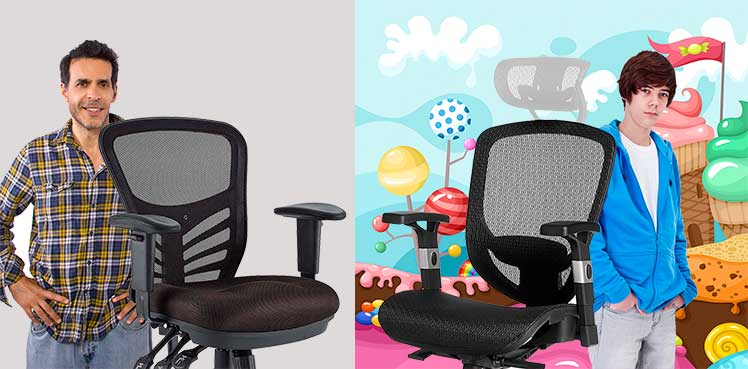 Second, it's clad in super-breathable full-mesh upholstery. Third, it comes packed with fancy synchronous tilt functionality. Its sync-tilt feature rivals that of the Herman Miller Aeron!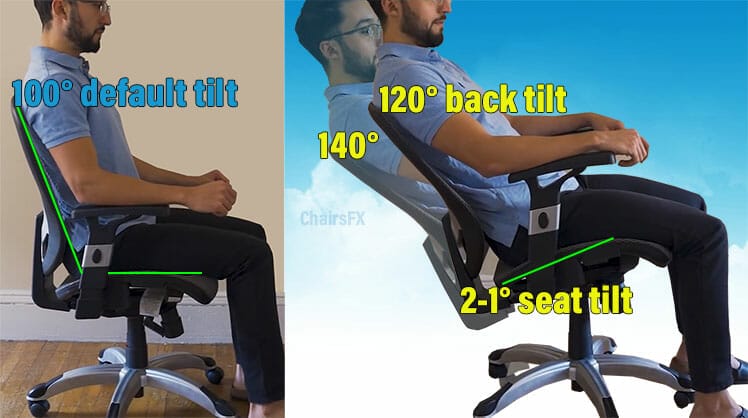 Bear in mind that none of these extras are necessities that impact physiological comfort. From that perspective, both chairs do the same job — but the Hyken costs around $60 more.
Modway EEI-757 Vs Hyken Specs
Both chairs do a similar job at supporting healthy neutral postures. The Hyken adds a few luxury extras.
| | | |
| --- | --- | --- |
| Specification | Hyken | Modway Articulate |
| Armrests | 1D (4″ height adjustment range) | 1D (2.8″ height adjustment range) |
| Lumbar Support | Height-adjustable | Height-adjustable backrest (lumbar built-in) |
| Recline | 100-140° tilt with 4 lock positions | 90° to 120°; 5° to -1° seat tilt |
Modway EEI-757 vs Space Seating 27 Series
Modway Articulate $124.46 on Amazon | 24 Series $205.58 on Amazon.
The Space Seating 24 Series offers similarly spartan features as the Modway Articulate. It has a mesh backrest, padded fabric seat, adjustable arms, and an adjustable lumbar.
For $120 more, you get a warranty that blows away that many chairs twice the price offer!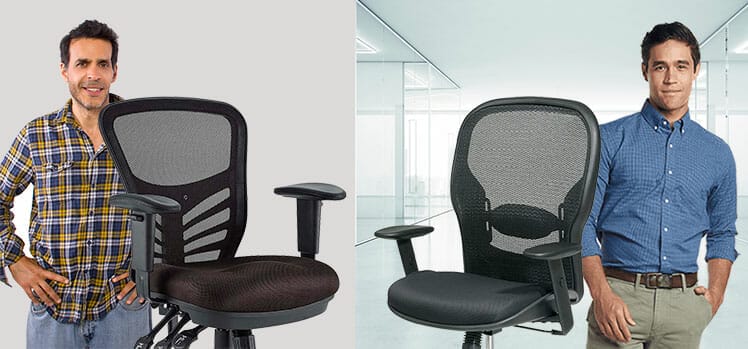 Space Seating is a huge B2B company that furnishes corporate offices across America. Long-term durability and stellar after-care are two of the company's hallmarks. To that end, the 27 Series comes with a lifetime parts warranty!
On top of that, the upholstery is guaranteed for three years — including wear and tear! What's more, Space Seating keeps replacement parts in stock. Past the warranty period, you can swap parts to extend a 27 Series chair's life indefinitely.
Key 24 Series Features
The 24 Series has similar functionality as the Modway chair. But instead of a height-adjustable backrest, you adjust a lumbar support pad instead.
Also, note that the 24 Series doesn't have a backrest recline lock. Instead, there's a tilt tension knob. Loosen it to rock the backrest from 100-110 degrees — but not lock.
That results in a similar sitting experience as the Modway Articulate. As a result, the warranty works out to be the biggest difference.
| | | |
| --- | --- | --- |
| Specification | 24 Series | Modway Articulate |
| Armrests | 1D (2.5″ height adjustment range) | 1D (2.8″ height adjustment range) |
| Lumbar Support | Height-adjustable | Height-adjustable |
| Backrest & Seat Tilt | 2-to-1 synchro tilt (100-110° recline + 5° seat tilt) | 90° to 120°; 5° to -1° seat tilt |
If you like Space Seating warranty terms but not the boring style, check out the 27 Series. It has the same features and warranty terms, but with luxurious full-mesh upholstery.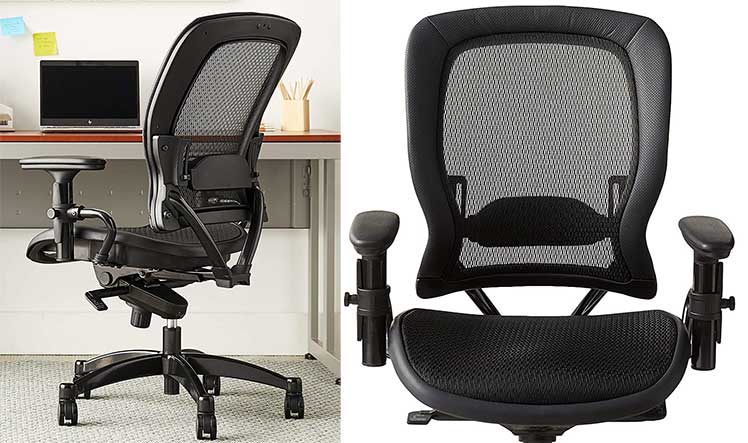 Modway Articulate vs 24 Series: both provide a similar sitting experience. The 24 Series warranty is better by a huge margin.
Modway Articulate Vs Secretlab NeueChair
NeueChair $649 from Secretlab | Modway Articulate $124.46 on Amazon.
The Secretlab NeueChair is a luxury mid-back chair that costs around $490 more than a Modway. That gets you a higher-quality build, better ergonomics, and a longer warranty.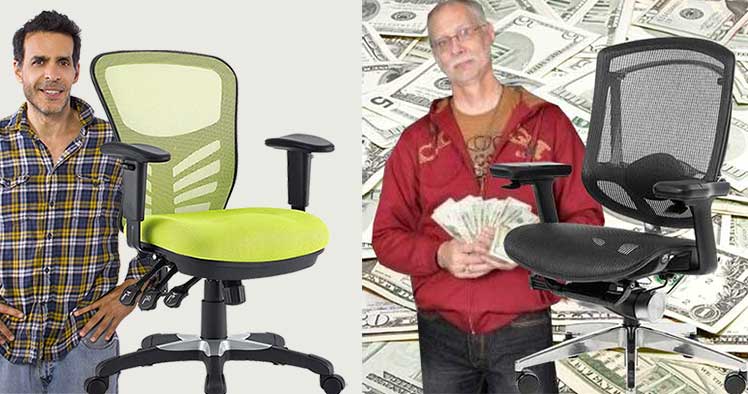 Even so, both chairs are designed to do the same thing: support neutral postures. While your senses will enjoy the NeueChair's decadence, your spine won't notice a difference!
Modway Articulate Vs NeueChair Specs
The NeueChair uses high-quality components, has a solid warranty, and offers rich ergonomic functionality. It also has a polished steel frame that gives it a sleek, sexy aesthetic.
On the functionality front, two features stand out. First, control-click levers under each armrest. The right one controls the height of the seat; the left controls the backrest tilting functions.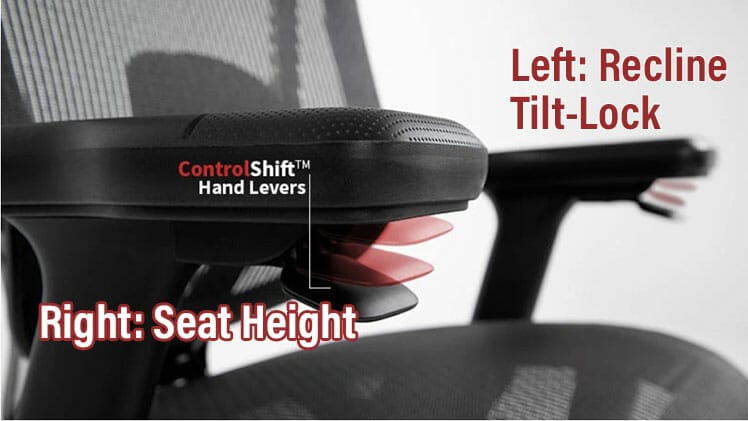 The second standout is the tilt functionality itself. The NeueChair is one of the few available models that come with Infinite Tilt functionality.
Infinite Tilt lets you lock the backrest tilt at any angle between 85° to 130°. In contrast, the Modway EEI-757 only lets you lock at a 120° angle or else upright.
Head-to-Head Comparison
| | | |
| --- | --- | --- |
| Specification | Modway Articulate | NeueChair |
| Armrests | 1D (2.5″ height adjustment range) | 1D (2.3″ height adjustment range) |
| Lumbar Support | Height-adjustable | Height and depth-adjustable |
| Recline | 90° to 120°; 5° to -1° seat tilt | 85° to 130° Infinite Tilt-Lock |
The NeueChair beats the Modway Articulate on both physiological and psychological comfort levels. Regarding the former, it has better lumbar support adjustability and backrest recline functionality.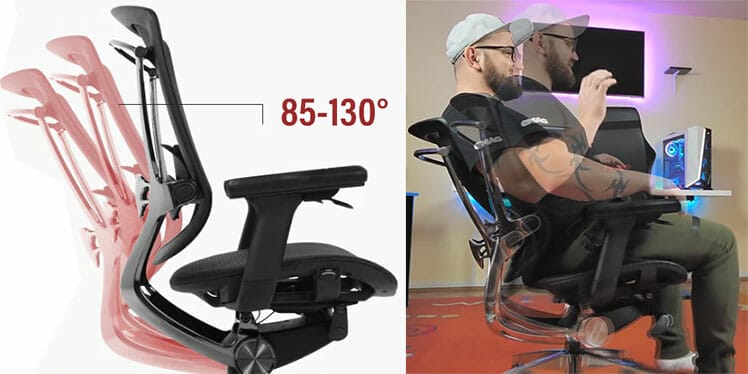 On the luxury front, its polished steel has more aesthetic pop than the dull Modway chair. As well, the innovative levers under each armrest are a lot of fun to use.
Modway Articulate vs NeueChair: the NeueChair's Infinite Tilt recline beats the simple angling of the Modway chair. It also delivers 5x the guaranteed durability and a sexier look. If you can afford these luxuries, consider this upgrade:
Modway Vs Best Ergo Chairs Under $300
In our updated 2022 rankings, the Modway Articulate ranks as the fourth-best ergonomic chair priced under $300. Used without a headrest, all four models provide solid (no-frills) ergonomic support and good value.
Summary of the top-4 (prices from Amazon):
Space Seating 24 Series: basic ergonomics + lifetime parts warranty |

$205.58

Staples Hyken: full mesh upholstery + robust sync-tilt |

$207.89

Ticova Ergonomic Chair: 4D arms, height + depth-adjustable lumbar support |

$299.99

Modway Articulate Ergonomic Chair: super-basic yet complete ergonomics |

$124.46
For a close comparison of all four chairs, check this review:
Conclusion: Excellent WFH Starter Chair
The Modway Articulate is a perfect work-from-home (WFH) chair for ergonomic beginners. It's cheap, good for your back, and easy to use. This chair has the potential to fill a crucial need.
During the lockdowns of 2020, researchers studied the work-from-home habits of academic professionals. They found that almost half were completely ignorant of healthy working habits. As a result, they were given wellness tips to adopt. Few listened.
Five months later, reports of pain skyrocketed. Even so, most continued to ruin their backs on dining tables and sofas. The conclusion reached was many WFH professionals need proper tools — and ergonomic training on how to use them.
The Modway Modway Articulate Mesh Office Chair is perfect for the job. Its simple design serves as an easy, intuitive entry into the world of healthy sitting.

Stacked with a desk, computer screen, and keyboard/ mouse set, it can even serve as the centerpiece of a healthy home office setup!
Bottom line: if you're working from home on a dining table or sofa, a Modway Articulate is an excellent remedy for your work-related pains!
Modway Articulate on Amazon $124.46
For comparable options, check our review of the best ergonomic office chairs priced under $300.