The Staples Hyken is a cult classic among savvy home gamers for deserved reasons. For one thing, it's clad in ultra-breathable full-mesh upholstery. For another, it packs in powerful synchronous-tilt functionality. But despite such high-end luxuries, it only costs $207.89 on Amazon. Looking for one of the cheapest complete ergonomic experiences on the market? This Staples Hyken computing chair review gives you a great option to consider.
The Staples Hyken is a mid-back ergonomic office chair. The point of its design is to keep users sitting in healthy upright postures. It's revered in the PC enthusiast community for its comfort, ease of use, and low price.
Caveat: a chair's 'comfort' has both objective and subjective interpretations. The objective ones are physiological. A healthy posture while sitting includes a 25-45° lower back curve and 0° head tilt. The Hyken supports these numbers out of the box.
On the flip side, subjective perceptions of comfort are psychological. In choosing a Hyken over a flashy full-back gaming chair, users should be prioritizing physiological over psychological comfort factors.
Things go wrong with a Hyken once you start mixing priorities. By avoiding psychological temptations, the best aspects of the chair emerge.
Staples Hyken from Amazon $207.89
Hyken Works Best Without A Headrest
The biggest complaint that many people have with the Hyken is its ill-fitting headrest. If you Google 'Hyken headrest hack', you'll find many trying to add psychological comfort to their ride. Luckily, the best Hyken headrest hack of all is: remove the headrest!
The biggest difference between a gaming chair and ergonomic office chair is the back support. Mid-back chairs — without headrests — provide the most accurate spinal support. Full-back chairs with headrests give you the option of deviating from strict to casual postures.
Adding a headrest to a Hyken will deviate your good posture in an ugly way. Studies have shown that headrests on mid-back chairs distort the spine. That destabilizes the neck, promoting a rearward or forward head tilt.
Over time, a destabilized neck leaves users prone to prone to forward head tilt (aka Text Neck Syndrome). With that comes a steady flow of spiralling healthy issues.
Summary: people use headrests with Hyken chairs in a failed pursuit of comfort. That distorts the Hyken's support, leaving users in pain and discomfort, rather than relaxed. Learn more:
Hyken Mesh Task Chair Review
At a glance, the Hyken's standout feature is its full mesh upholstery. In 2022, it's the only viable full-mesh ergonomic chair priced under $300. The few full mesh competitors in that price class have illogical ergonomics. In comparison, the Hyken's work as needed.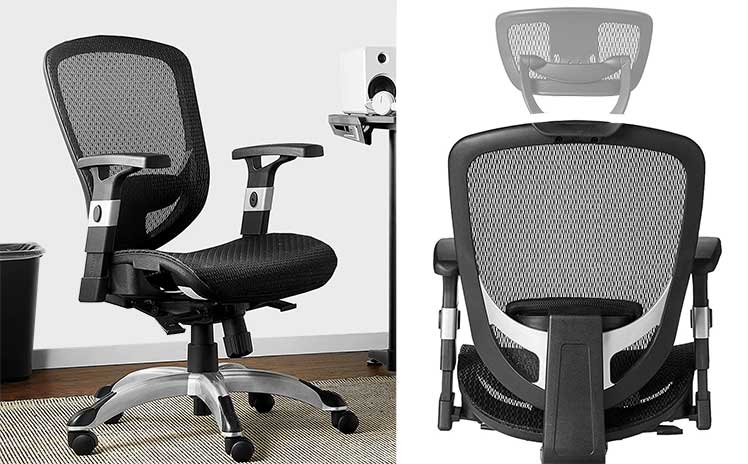 The chair is designed to fit users from 5'3″ to 5'10". Its height-adjustable lumbar support range of 3″ serves those sizes well. Its 1D armrests also do the job by adjusting up and down. That said, the standout feature is its brilliant synchronous tilt functionality.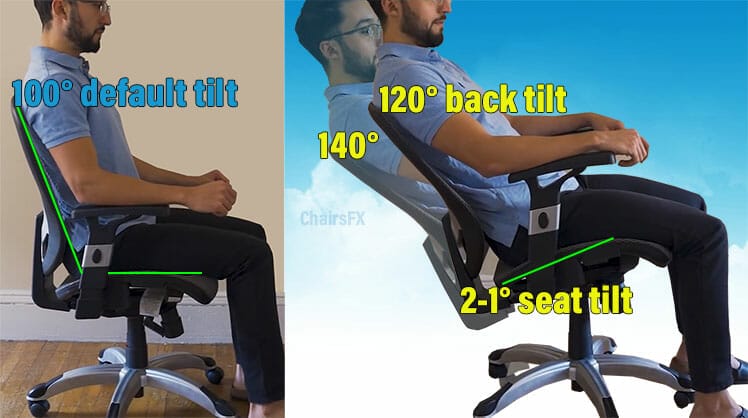 You can tilt and lock the backrest in 4 positions between 100-140°. As you recline, sync-tilt deploys at a 2:1 ratio. For instance, when you lean back at a 120° angle, the seat will tilt up by 10°.
The point of sync-tilt is to keep the thighs parallel to the floor through all ranges of motion. That helps to stabilize the spine and neck through all recline ranges.
Hyken Chair Specifications
The Hyken is a smallish chair designed to fit sizes 5'3″ to 5'10". Users outside of that range may find the lumbar support hits too high or low. Notably, all users shorter than 5'9″ should add a footrest for best results.
On the physiological support front, a chair needs three components to qualify as 'ergonomic'. These are adjustable lumbar support, adjustable armrests, and a reclining backrest.
The Hyken chair meets these requirements and then exceeds them with its powerful sync-tilt functionality.
Summary Of Specifications
The only issue with the Hyken's features is its 3″ (4-position) lumbar support height-adjustment range. People taller than 5'10" will find it hits too low, even at the highest setting.
Backrest: recline and lock with a 100° to 140° range (4 lock positions); synthetic mesh upholstery.
Lumbar support: height-adjustable (4 positions, 3″ range).
Headrest: included but removable.
Seat: full mesh, height-adjustable.
Armrests: 1D adjustable (up and down with 4″ range).
Warranty: 30-day return policy; 3-year warranty extension for $19.99.
The Hyken is a compact chair suitable for people of average height. The biggest problem for short sizes is that the headrest sits too high. Luckily, by removing it, you'll enhance the chair's spinal support qualities!
Seat width x depth: 19.3″ (W) x 16.5″ (D)
Backrest width x height: 16.2″ (W) x 23.2″ (H)
Seat height: 16.9-19.7″
Armrest height from floor: 24.5-28.5″ (4″ adjustment range)
Size rating: 5'3″ to 5'10"; 250-pound weight capacity.
Protip: Add a Footrest For Best Results
The Hyken is designed to help sizes 5'3″ to 5'10" sit with their feet planted firmly on the floor. However, most users within that size range will find this a problem when paired with a desk.
Most adult desk surfaces are 28-30″ high. To sync a chair's armrests with the tabletop (while keeping feet planted), shorter users must raise the armrests too high.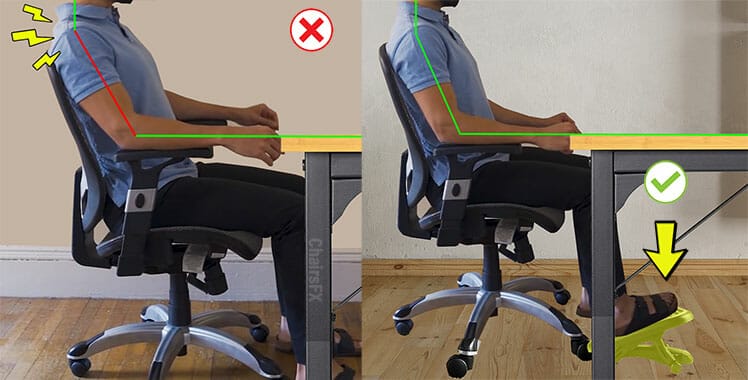 Armrests too high bunches up the shoulders, which can cause strain. In some cases, syncing armrests with a desk will leave short legs dangling off the floor!
The simple solution for all sizes 5'9″ or shorter is to add an ergonomic footrest. Here at ChairsFX (I'm 5'9″), I use a Mind Reader Footrest ($22.78 on Amazon).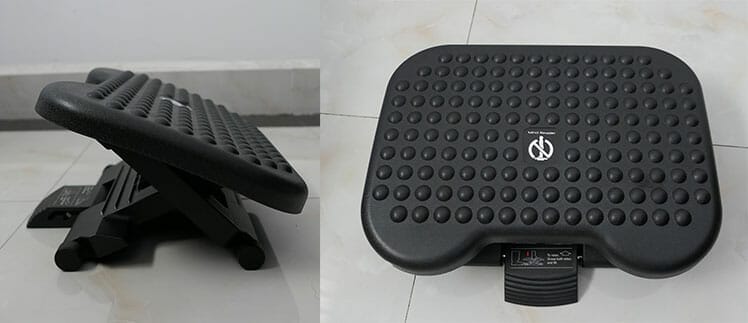 Adding one will help you to sit taller at a normal-sized desk. As a bonus, ergonomic footrests let you work your ankles and calves while sitting. Learn more:
What's To Like: World-Class Posture Support
The Hyken proves that effective ergonomic support doesn't have to be complicated or expensive. With feet planted, users between 5'3″ to 5'10" can adjust the lumbar to comfortably support their lower back curve. Adjustable armrests provide extra bracing for the spine.
Without a headrest, this combination provides all the support you need to enjoy long periods of healthy sitting! Here are crisp, healthy postures in a $207.89 Hyken vs $1600+ Herman Miller Aeron: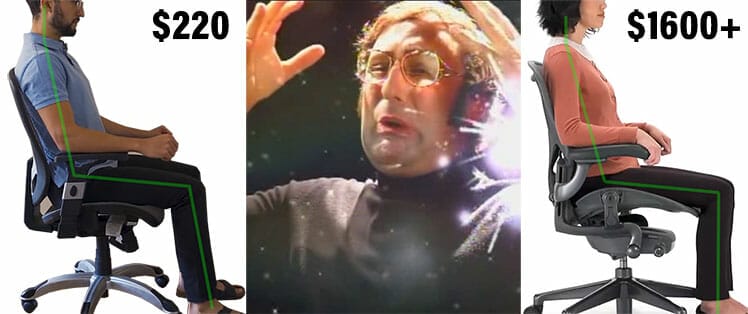 Both chairs use the same features to support healthy neutral postures. The Hyken strips out luxury extras and long-term durability. As a result, it costs a fraction of the price of an Aeron chair.
Dislikes: Poor Durability & Warranty
As with all cheap ergonomic chairs, the Hyken is not built to last. After a year of full-time use, you'll notice parts starting to loosen, making the chair rattle as you sit. After two years, the mesh will surely sag, leaving you unbalanced.
That said, given its low price, getting 1-2 full-time years out of a Hyken chair is fair value! As such, its measly 30-day return policy is reasonable.
Don't Buy The Warranty Extension
Staples offers an optional warranty extension that isn't worth buying. For $19.99, you're supposed to get a 3-year warranty on your chair.
In reality, this only covers objective flaws like cracks or tears. Things like saggy mesh or loose parts are considered subjective and not covered!
Bottom line: count on a Hyken chair to last 1-2 years before needing to be replaced. The $19.99 3-year extension isn't worth it.
Hyken Chair Alternatives
Here are three alternatives to the Hyken in cheap, mid-range, and premium price ranges.
Hyken vs Space Seating 27 Series
Hyken $207.89 on Amazon | 27 Series Price not available on Amazon.
The Space Seating 27 Series is an affordable full-mesh alternative to the Hyken. It costs around $100 more — with lesser recline functionality. However, its outstanding warranty terms beat the Hyken's by miles.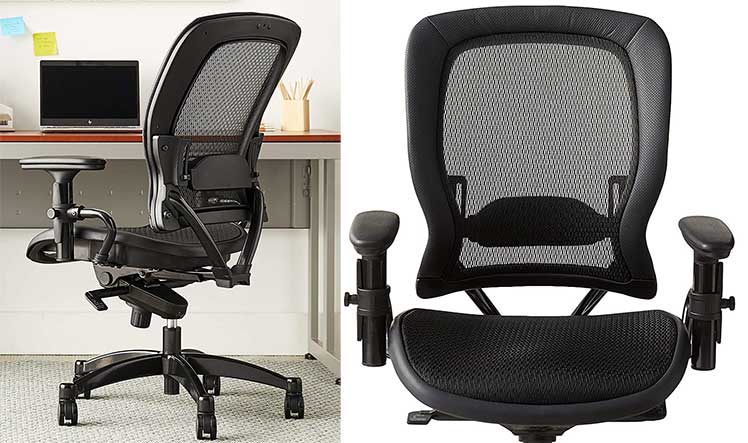 The biggest downside to the Hyken is that it won't last very long. As a result, you'll fall in and out of love with your chair as it starts to degrade. Spending $130 more on a 27 Series overcomes this problem.
Its upholstery is guaranteed for 3 years (including wear and tear). What's more, 27 Series parts are guaranteed for life.
| | | |
| --- | --- | --- |
| Specification | Staples Hyken | 27 Series |
| Armrests | 1D | 1D |
| Lumbar Support | Height-adjustable | Height-adjustable |
| Recline | 90-140° range; 4 tilt-lock positions | 20° rocking range |
| Sync-tilt seat | 10° seat tilt range | 5° seat tilt range |
While gaining durability with a 27 Series, you also lose recline functionality. It has no backrest recline lock. Instead, there's only a tilt tension knob. Loosen the knob and you can rock the back from 100-110 degrees — but not lock.
That results in a more spartan sitting experience that keeps you upright all the time. In contrast, when you want to chillax in a Hyken, you can pop the recline and zone out with ease.
Hyken vs 27 Series: if you can live without the recline perk, the 27 Series provides better long-term value.
Hyken Vs Secretlab NeueChair
NeueChair $649 from Secretlab | Hyken $207.89 on Amazon.
The Secretlab NeueChair is a luxury version of the Hyken that costs around $420 more. Despite the huge price difference, both have 1D armrests. What's more, the Hyken's armrest adjustment range is double that of the NeueChair's!
So what's the incentive to pay $420 more? The NeueChair offers several. It uses higher-quality components, has a longer warranty, and offers better ergonomic functionality. It also has a polished steel frame that gives it a sexier aesthetic punch.
In comparison, the Hyken looks — and feels — like a plastic toy. One will make you feel happy every time you sit down. The other will reflects the call center cubicles in the back streets of downtown Karachi.
27 Series Vs NeueChair Specs
Beyond its sexy aesthetics, the NeueChair has two tempting features. The first is a pair of control levers under each armrest. The right one controls the seat height; the left controls the backrest tilt and locking functions.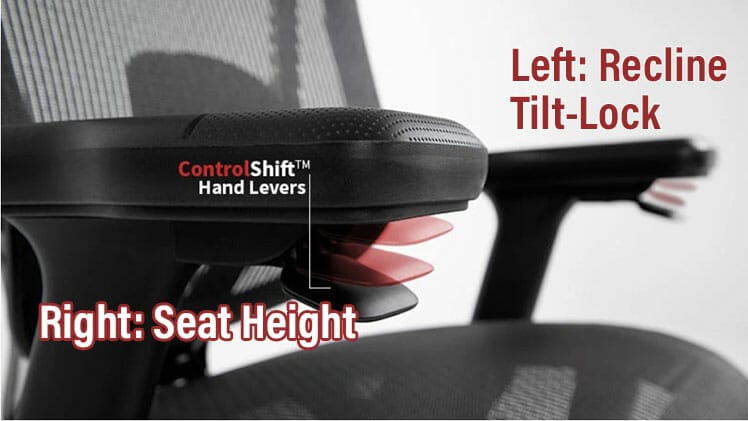 The second is the tilt functionality itself. The NeueChair is one of the few on the market offering Infinite Tilt functionality.
That means you can lock the backrest recline at any angle between 85° to 130°. In contrast, the Hyken only lets you lock in 4 positions.
Head-to-Head Comparison
The NeueChair has a nicer build, a longer warranty, cool armrest controllers, and Infinite Tilt functionality.

Even so, it does the same fundamental job as the Hyken: support healthy neutral postures. Is it worth paying over $400 more for a similar experience? You decide:
| | | |
| --- | --- | --- |
| Specification | Hyken | NeueChair |
| Armrests | 1D (4″ height adjustment range) | 1D (2.3″ height adjustment range) |
| Lumbar Support | Height-adjustable | Height and depth-adjustable |
| Recline | 100-140° tilt with 4 lock positions | 85° to 130° Infinite Tilt-Lock |
On the luxury front, NeueChair's polished steel frame is more aesthetically pleasing. On the physiological front, it also has better lumbar support adjustability and recline functionality.
The nifty levers under each armrest are a cool but wholly unnecessary luxury. Even so, using the left one makes it easy to enjoy good posture through a full range of recline motions.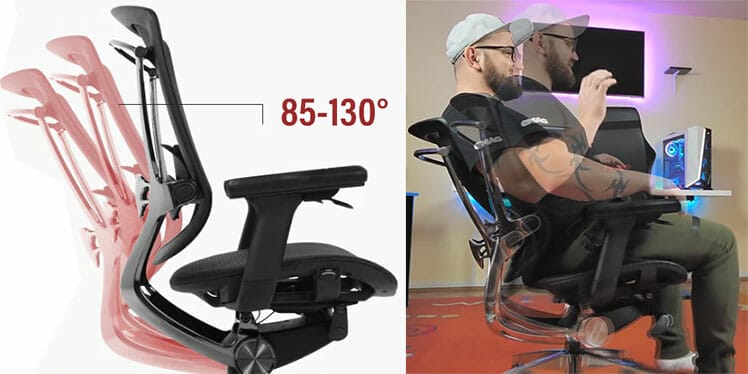 Hyken vs NeueChair: the latter's Infinite Tilt recline beats the brakes off what the Hyken offers. You also get 5x the guaranteed durability and a sexier look. If you can afford it, the upgrade is definitely worth it. Learn more:
Hyken Vs Herman Miller Aeron
Aeron $1195-$2195 from Herman Miller | Hyken $207.89 on Amazon.
If you're willing to pay extra for luxury, why not go all out with the best full mesh chair in the world? The Herman Miller Aeron sits on the top of the ergonomic mountain. It's the original ergonomic chair and still one of the most advanced.
Its looks, features, upholstery, and 12-year warranty all beat the Hyken's by miles. The problem is its ridiculous price. At present, a fully-loaded Aeron costs $1695. Spread over 12 years, that works out to $141 per year.
On the flip side, assuming each Hyken lasts two years, 12 years of Hyken x 6 chairs = $1320, or $110 per year. Therefore, by using 6 Hyken chairs for 12 years instead of one Aeron, you'll save $375. Over 12 years, that's a savings of $31.25 per year.
Aeron Vs Hyken Specs
The Aeron beats the Hyken in every way. Note that the Aeron's lumbar support (a choice of height or depth-adjustable systems) isn't far off from what the Hyken offers.
In contrast, the Aeron's mesh, armrest adjustability, and recline functionality vs the Hyken is no contest:
| | | |
| --- | --- | --- |
| Specification | Hyken | Aeron |
| Armrests | 1D | 3D |
| Lumbar Support | Height-adjustable | Height or depth-adjustable |
| Recline | 100-140° tilt with 4 lock positions | Seat pan angle from -1° to 16°; backrest 93° to 104° |
Deciding between the two is an easy choice. If you're in a fixed place for the next several years, investing in an Aeron is worth considering. On the other hand, not everyone eats steak for breakfast.
Aeron vs Hyken: if you're a common ham & egger satisfied with a comfy beater for a year or two, the Hyken does the job just fine. If you can afford a longer-term investment, look into the Aeron.
Learn more: Aeron Remastered Office Chair Review | Aeron Gaming Chair Review
Hyken Vs Best Ergo Chairs Under $300
In our updated 2022 rankings, the Hyken ranks as the second-best ergonomic chair priced under $300. The seemingly basic yet ergonomically complete Modway Articulate ranks fourth.
Used without a headrest, all of the top-4 provide superb (no-frills) ergonomic support and excellent value. Summary of the top-4 (prices from Amazon):
Space Seating 24 Series: basic ergonomics + lifetime parts warranty |

$205.58

Staples Hyken: full mesh upholstery + basic ergonomics |

$207.89

Ticova Ergonomic Chair: 4D arms, height + depth-adjustable lumbar support |

$299.99

Modway Articulate Ergonomic Chair: super-basic yet complete ergonomics |

$124.46
If you're not decided on the Hyken, check out the best alternatives below:
Conclusion
Choosing a Hyken over a full-back gaming chair is a good way to boost posture and productivity. In contrast, buying a Hyken and then trying to use it as a gaming chair will ruin your experience!
Instead, remove the ill-fitting headrest and forget about it. Then, spend a few days balancing your head atop the shoulders while you sit.
After a few days, your neck fascia will strengthen until muscle memory kicks in. Then, you'll enjoy the benefits of a near-perfect back and neck alignment.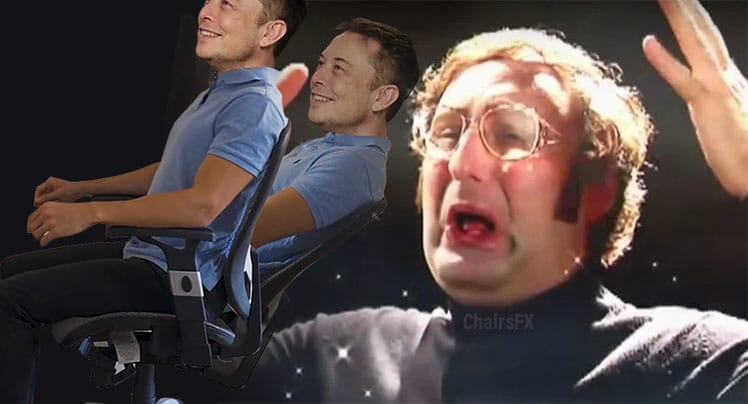 That alignment will have an impact while you're sitting and standing. Boost health, happiness, and productivity — simply by sitting in a $207.89 Hyken chair!