Secretlab's NeuChair is a mid-back, full mesh ergonomic office chair. It sits between the extremes of ultra-cheap and mega-expensive full-mesh variants. It's more luxurious than basic models, and half the price of a Herman Miller Aeron. Looking for luxury mid-back ergonomics at an affordable price? This NeuChair full-mesh mid-back chair review covers one of the best options in the genre.
In the pursuit of seated comfort, you can choose either a full-back or mid-back ergonomic chair. The latter provides sweeter psychological comfort satiation. If you want to work and chillax in a chair, the Secretlab Titan full-back gaming chair better supports dual roles.
In contrast, mid-back office chairs support physiological comfort factors with greater precision. By locking users into healthy, upright working postures, productivity should improve.
However, as a part of the Secretlab ecosystem, psychological comfort still plays a part in the NeueChair equation.
If you want to go beyond basic ergonomic support — but not to the extreme of a pricey Aeron — NeuChair delivers.
Available from Secretlab in North America, the EU and UK, Australia, New Zealand, and Singapore.
NeuChair Review: Mid-Back, Full-Mesh
The NeueChair is Secretlab's mid-back, full mesh alternative to the Secretlab Titan 2022 Series gaming chair. Head-to-head with the Titan, the NeuChair is easier to use.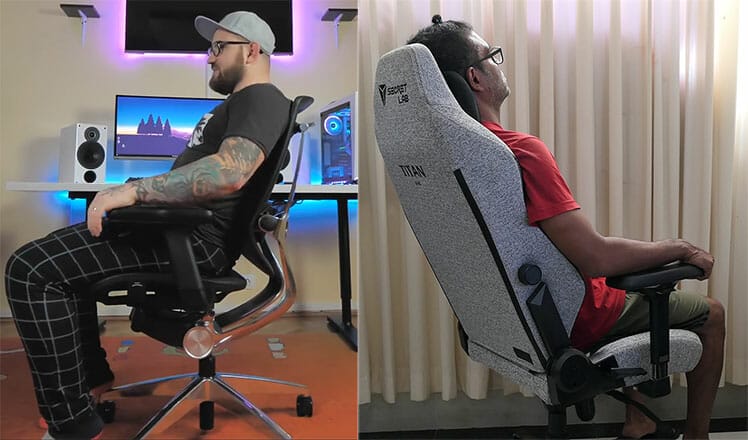 It's also better at supporting a healthy back and neck — when used without a headrest! The following covers all aspects that potential NeueChair buyers should know:
Pros And Cons
Here's a shrewd look at the positives and negative aspects of the NeueChair:
NeuChair Full-Mesh Comparisons
In 2022, most full-mesh mid-back ergonomic chairs come in either cheap (under $400) or expensive (over $800) versions. The Secretlab NeueChair is a rare luxury model that fits between the two extremes.
Here's how NeueChair measures up with a cheaper and more expensive alternative.
Conclusion
The point of an ergonomic chair is to support good posture while sitting. In the cell phone era, Text Neck Syndrome caused by excessive forward head tilt is also problematic.
Buying a NeueChair can help you tackle both issues — simply by sitting. Its 4-way adjustable lumbar support makes it easy to set the perfect lower back support. As well, without a headrest, the NeueChair coaxes your neck to maintain a healthy 0° neck tilt.
Deciding to buy one or not is a question of luxury. It's possible to enjoy a similar quality of support — minus frivolities — for a lot less money. It's also possible to get an even more luxurious sitting experience with a high-end Aeron.
The NeueChair fits between the two extremes. If looking for cool, luxurious comfort without extreme pricing, NeueChair fits the bill.
Available from Secretlab in North America, the EU and UK, Australia, New Zealand, and Singapore.