The rise of mobile computing has made forward head tilt a major ergonomic problem. To protect the neck while desktop computing, adjustable monitor arms are invaluable. These replace conventional screen stands with desk-mounted arms that are easy to adjust. Beyond neck protection, these also yield aesthetic and motivational benefits. Here's what you need to know about the benefits of using adjustable monitor arms in 2022.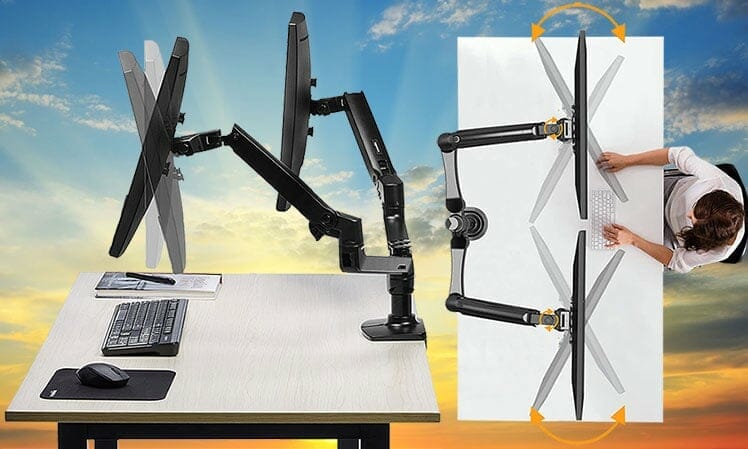 These days, the average person spends around three hours daily using a mobile device. Most do so with a severe forward head tilt. In the short term, Text Neck Syndrome strains muscles and drains energy.
Over time, it curves the upper spine. That tightens hamstrings, stiffens the lower back, and limits mobility. Once degenerated discs start leaking fluid, chronic pain and swelling begin.
Forward neck tilt also became a problem during 2020 lockdowns. As millions started working from home, many did so without the proper equipment. A study of locked-down faculty at the U. of Cincinnati found that most were sent home with only a laptop.
Many worked on their laptops using makeshift desks (legs, pillows, or books). Others worked at desks using a laptop without any accessories. Both methods promote severe forward neck tilts. As a result, 62% reported moderate to severe pain in the upper back and shoulders!

To prevent a forward neck tilt, the study suggested that users connect their laptops to external screens. Desk-mounted monitor arms take this concept a step further. These make it very easy to prevent a forward neck tilt while computing at a desk!
Multi-monitor workstation overview
Desk-mounted arms come in single, dual, and triple-screen variations. These attach to compatible screens via four VESA screws on the rear side. Then, most connect to table tops using a simple clamp system.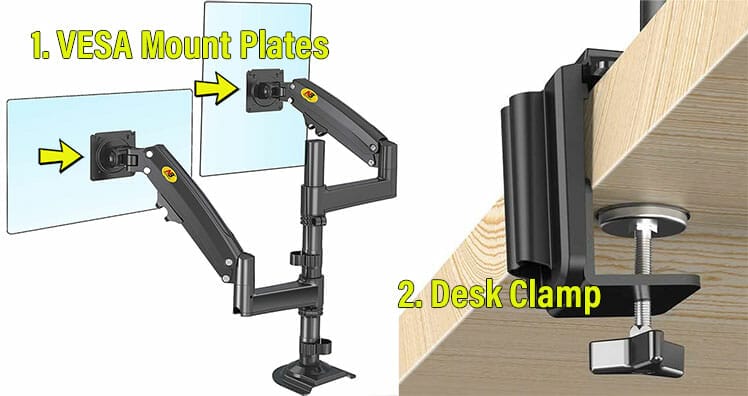 Most mounts have the same functionality. Once attached, you can adjust your screen height, depth, and angles. You can also rotate your screens 360° with a flick of a finger. Beyond clamp systems, all come with adjustable tensions on every moving part.
Here's a quick introduction to using adjustable mounts for first-time users.
Best Third-Party Monitor Arms
My monitor arm adventure began a few years ago with old-school, non-height-adjustable oddities. Later, I upgraded to a gas spring, dual-arm North Bayou mount ($55.90 on Amazon).

Recently, I upgraded to a Secretlab Magnus Pro Sit-Stand Desk. It came stacked with a $275 deluxe dual monitor gas spring arm. It does the same job as the North Bayou mount — but it's a lot prettier.
In fact, it doesn't matter if you buy $55.90 North Bayou dual arms of $575 Herman Miller ones — they all do a similar job.
In my experience, the only reason to spend more is if you're using a sit-to-stand desk. For example, my $275 Magnus Pro arms match the styling of my $799 desk. Since mine is a luxury product with sharp aesthetics, paying more for matching arms is worth it.
On the flip side, if aesthetics are not a priority, several cheap desk mounts offer the best value for money.
Conclusion
Every healthy computing setup starts with a good ergonomic chair. But a good chair is just a start. You also need to maintain healthy neutral postures.

Once those are locked in, you need to sync your chair with your desk. If your legs are too short, add a footrest.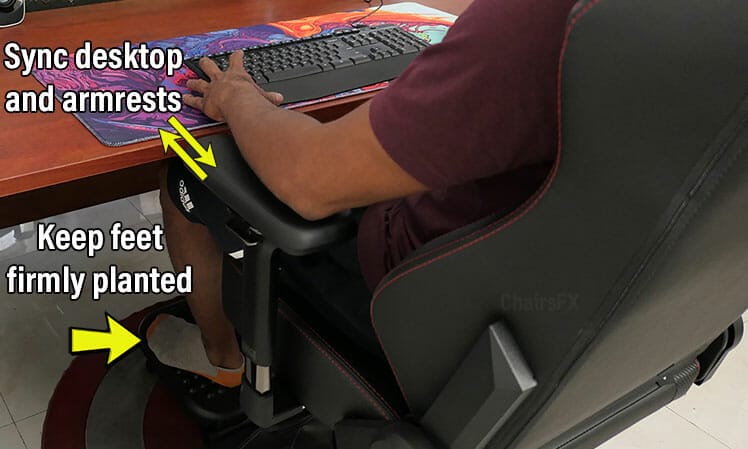 After that, add desk-mounted monitor arms. These will enhance the back support qualities of your setup.

Our suggested work from home (WFH) formula:
Buy a good ergonomic chair.
Use your chair to support a 0° neck tilt and 25-45° lower back curve.
Sync your armrests with your table top. Add a footrest if your legs are too short.
Use desk-mounted monitor arms; set the top of the screen to your eye level.
Follow these steps to maintain good posture while computing. Then, deploy a few other tricks to boost health, happiness, and productivity even more.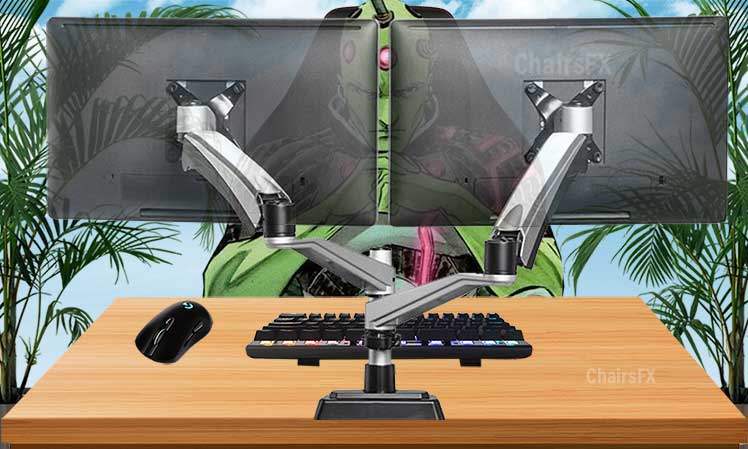 Simple tweaks like frequent breaks, exercise, and regular dusting work wonders! Learn more: