The perfect ergonomic setup starts with a good chair. After that, you need a desk set to the right height for your size. The final step in the configuration is the placement of computer screens. Monitors aligned the wrong way can nullify the support of both chair and desk. Learn how to set up your monitors the right way for optimal computing productivity.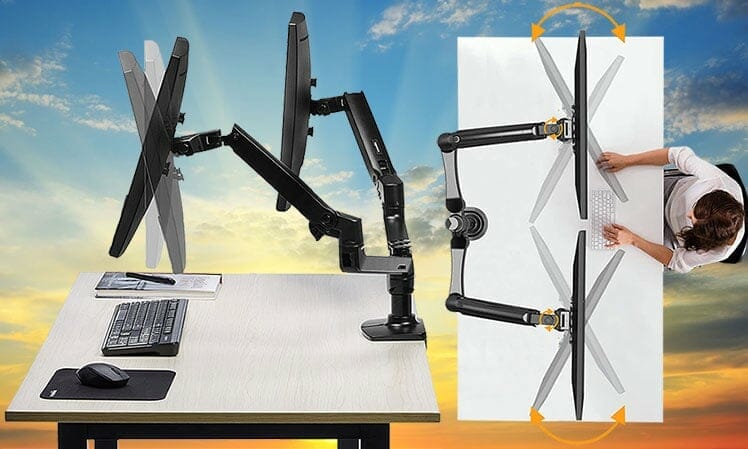 When building a workstation, you need to choose the right computer, chair, and desk for your needs. The computer monitors are the final addition that ties everything together.

This workstation guide applies to both gamers and non-gaming computer users.
Multi-monitor workstation overview
Working from home using a single screen is like looking at the sky through a pipe. Dual-screen workstations will improve your multitasking and make you more productive. To take your multitasking to a higher level, a triple-screen setup is a luxurious, eye-popping experience.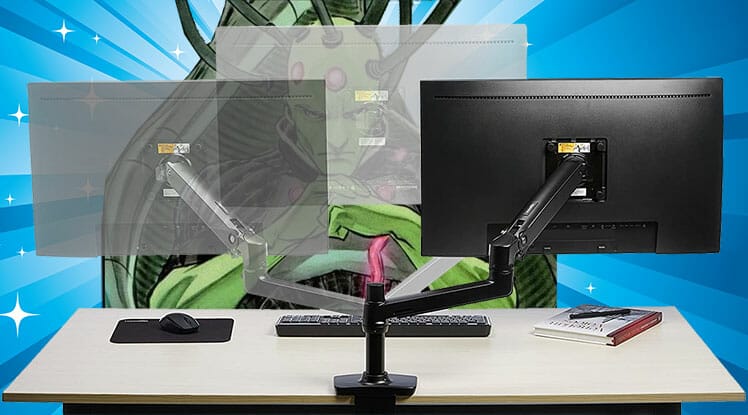 Luckily, setting up a multi-screen workstation is easy and affordable. All laptops support one external monitor. Some support two. Pricier ones support three. Most $1000 custom PC builds these days will support four screens.
Making use of extended desktops
Most modern laptops come with an HDMI cable port. Using that, you can connect an HDMI cable from your laptop to an external monitor. Switch on the monitor on and you now have two screens to work with. That turns your laptop into a desktop PC.
Using two screens isn't only for power users or hard-core pros. Everyone can benefit by spreading out their apps and multitasking like a pro. Doing so will make you more efficient and productive.
Multi-tasking benefits
Having two screens will alter the way that you work, for the better. Writers can use one screen to write, and the second to do web research. Conferencers can speak to associates over one screen, and share data on the other. Programmers can write code on one screen and reference documents on the other.

Enhanced data processing
Most laptop screens are between 13 and 15 inches. At that size, they can display around 15 columns by 25 rows of data. For larger documents, laptop users have to scroll up and down, taking more time to complete tasks.
With dual screens, there are two options. You can deploy "mirror view" to clone the desktop onto both screens. In extended view, each monitor acts as its own workspace. Using extended screens will help you to process data with greater efficiency.
Optimal monitor height settings
Many people make the mistake of setting a computer monitor too low while working at a desk. To see the screen, users need to crane their necks. That leads to a slumped posture with curved shoulders and a compressed rib cage. Sitting this way over long periods will cripple your productivity. Expect lower back stiffness, upper body muscle strain, and lots of discomfort while you sit.

If you see the monitor too high, you will constantly need to tilt your head to get a direct view. Constant tilting will over time will overwork neck muscles, causing pain in the back and shoulders.
To set your monitor at the ideal height, do two things:
First, sit up straight in your desk chair. Second, align the top of your computer screen with your eye level.
Aligning the top of your screen to eye level yields three benefits:
Self-monitored posture: you need to sit up straight to enjoy the best view. As a result, users can self-monitor posture by maintaining eye-level sync with the screen.
Less neck movement: with eyes aligned to the top of the screen, you get the best peripheral view. To focus on one area, you can move your eyes, instead of tilting your neck. As a result, the body suffers less neck and lower back strain.
Ingrained good posture habits: sitting up straight while computing eliminates the need to bend the neck or slump the shoulders. After a few months of sitting this way, your body will adapt to your improved routine. Then, good posture will become the default position that makes you feel the most comfortable.
VESA compatible monitors with desk mounts
Screens perched on stands and sat on a desk is archaic. For one thing, most monitor stands are too low. That forces users to slouch. For another thing, bulky monitor stands will clutter up your desk. That makes for bad feng shui.
In contrast, desk-mounted monitor stands are attractive, adjustable, and clutter-free. These are flexible steel arms that replace the base of your screen. Look on the back of your monitor for four screw holes arranged in a square. Monitors with those holes are VESA-compatible. That means they can attach to universal mounting devices.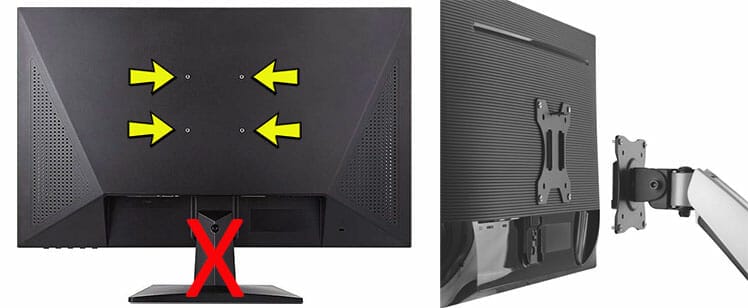 By replacing your monitor stand with a desk mount, you gain full customization control of screen positions. You can angle the screens, adjust the height, turn vertical, or rotate 360 degrees. Using one lets you position your screen at the perfect height and angle.
Using desk mounts also helps to de-clutter a desk. Without monitor stands, you gain more desk space. Less clutter makes it easier to keep clean. A clean desk also provides less distractions while focusing on work. Finally, a clean desk looks really good. Working at one is a lot more enjoyable.
Monitor specs to look out for
Computer monitors have dozens of different specs that can leave beginners feeling very confused. Luckily, when you strip through the jargon, basic specs become clear.
Screen size and resolution
A monitor's resolution shows how many pixels a monitor displays in a width x height format. On a 24-inch screen, a resolution of 1920×1080 delivers a pixel density of 92 PPI. Windows 10 works best at a pixel density of 90-110 pixels per inch (ppi). For best results, use these specs as guidelines (credit displayninja.com):
| Monitor size | Resolution | Pixel density | Optimal viewing distance |
| --- | --- | --- | --- |
| 24-inch | 1920×1080 | 92 PPI | 37″ |
| 27-inch | 2560×1440 | 93 PPI | 32″ |
| 32-inch | 2560×1440 | 109 PPI | 37″ |
Other technical specs
When choosing monitors for gaming, buyers need to look for certain specs. Mainly, gaming monitors need high refresh rates (measured in hertz, or Hz) and low response times. A decent gaming monitor will have around a 144 Hz refresh rate with 1ms or less response time.
Panel type is also relevant for non-gaming desk workers. TN panels are the cheapest but least color-accurate. VA-panel screens offer the best contrast and color accuracy. Because of the extra-sharp contrast, these are best for office workers. FInally, IPS screens are cheaper (and more popular) than VA-panel screen. IPS panels have wider viewing angles, better gaming features, and decent color accuracy.
Learn more about workstation monitor specs at our supplementary workstation site. There, we plunge deeper into workstation topics that are not chair-related.
Dual-monitor desk mounts
Beyond the type of monitor, you also need to decide how many monitors you want at your workstation. Finally, you will need to decide how to arrange your workstation screens. Below we walk you through both aspects.
There are two basic types of dual-monitor desk mounts to choose from. Fixed heights support two screens with horizontal adjustments only.

Mounts with gas spring arms adjust both vertically and horizontally. The latter is a much better pick when balancing multiple screens of different sizes.
Below are some of our favorite gas spring dual-monitor desk mounts:
Mount-It! Dual Monitor Spring Mount
Amazon price: $109.99
Mount-It! makes some of the best desk mounts in the industry. The company is a family-run business operating since 2006 in San Diego. The best Mount-It! mounts come with a 5-year warranty. They also use mechanical springs instead of gas ones. That ensures no leakage dangers as with gas systems.
The company's flagship mount is the MI-1772 mechanical spring dual monitor arm. It supports two 32″ monitors weighing up to 20 pounds each. Adjustments include 13″ height adjustment, 45° up or down tilt, 180° swivel, and 360° rotation. If looking for the best dual-monitor mount with the longest warranty, this is the one.
Mountup Dual Monitor Stand
Amazon price: $57.99
This popular dual-arm mount supports two 27-inch monitors weighing up to 14 pounds each. The gas spring system provides smooth height adjustments with gentle tension. Adjustment options include 135° tilt, 180° swivel, and 360° rotation.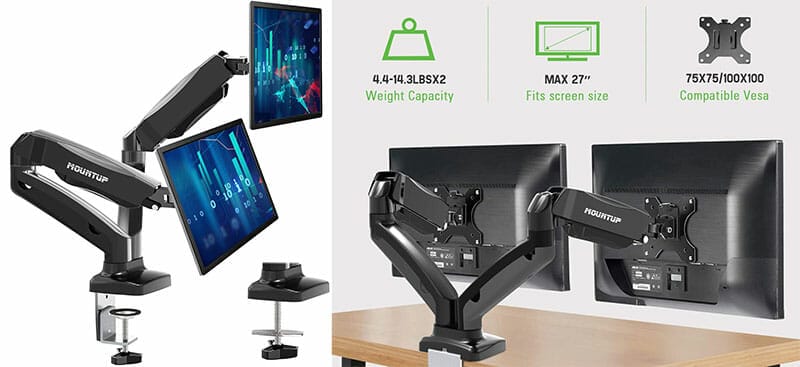 This model has six top joints with 180-degree articulation. You can loosen the joints for easy adjustability, or tighten to lock in place. That makes it very easy to arrange your screens as you desire.
North Bayou dual monitor desk mount
Amazon price: $49.90
This is the model I'm currently using. It's cheap, easy to set up, super-sturdy, and full-featured. The built-in cable management didn't work for me, so I compensated with zip ties. Despite that quibble, this model was a massive improvement over my old fixed-height mount.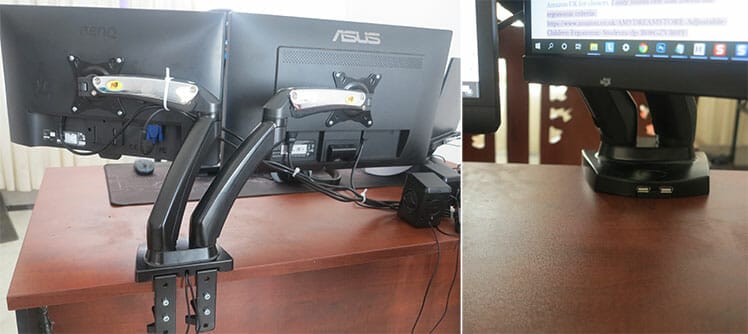 The North Bayou dual monitor desk mount supports two x 17-27″ screens. Each arm can bear a maximum load of 19.8 pounds (9 kg). Each arm gives full adjustment possibilities. That includes 360° rotation; tilt angles from +85° to -30°; swivel ±90°. Each arm has a max extension height of 21″ (535mm).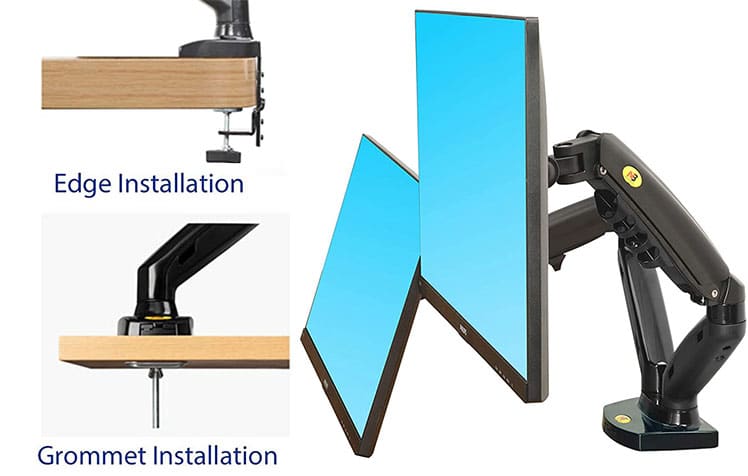 Like all monitor desk mounts, the North Bayou comes with a choice of edge and grommet installation methods. The former is easy: slide to your desk edge and then tighten the hand clamps. For the latter, you need to drill a hole into your desk (not recommended, unless you are a carpenter).

This model includes cable management support and 2 USB port holes in the base (cables sold separately). The built-in cable management system is basic. If it doesn't work for you, use zip-ties instead.
Its premium gas lift is rated to lift over 50,000 times. Use an included Allen key to tighten or loosen the joint screw on either arm. Tightening increased the gas lift to maximum height. Loosening lowers the arm. Once you find your sweet spot, toggle the screw tighter or looser and adjust the screen until you find your sweet spot.
Single-monitor desk mounts
Gas spring mounts are useful to adjust the height of individual screens in a dual-screen system. Many single-spring mounts are height-adjustable along the center pole instead.
VIVO single 27″ monitor desk mount
Amazon price: $27.99
The VIVO monitor desk mount supports all screens sized 13 to 27 inches, weighing up to 22 pounds. If your existing monitor has VESA holes, you can ditch your stand and use this desk mount instead.
The adjustable arm offers +90° to -90° tilt, 360° swivel, and 360° rotation. You can also control the height of the screen along the center pole. Once attached, it's easy to shift the monitor into portrait or landscape orientation.
As a bonus, the VIVO desk mount also comes with integrated cable management. Keep power and AV cables organized using detachable cable clips on the arms and center pole. To install, remove your monitor's base and then screw it into place using the VESA plate. After that, get a friend to hold up the arm while you fasten it to the back of your desk.
Mount-It! MI-2761 Single Monitor Arm Mount
Amazon price: $39.99
The Mount-It! MI-2761 Single Monitor Arm Mount fits one screen up to 32-inches wide weighing up to 17.6 pounds.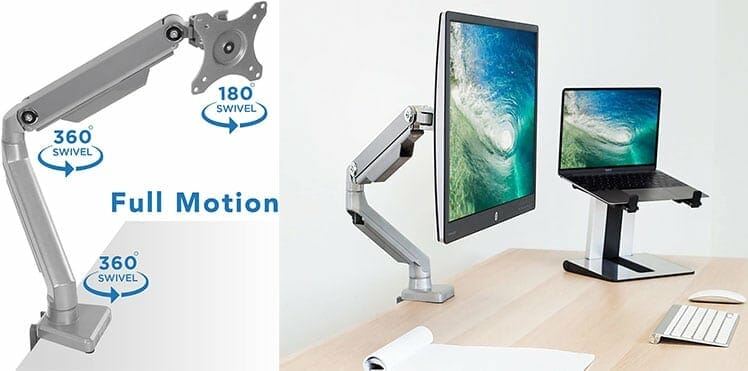 Like other models, you can choose to mount with an edge clamp or grommet system. Highlight features include full adjustability, integrated cable management, a mechanical spring lift, and a 5-year warranty.
Conclusion
This article is a supplementary piece to our work-from-home ergonomic blueprint. For the best ergonomic results at a computer workstation, you need three essentials beyond the computer:

A good ergonomic chair: if you can afford it, choose a $400+ pro esports chair or $1000+ ergonomic office chair. If you have a smaller budget, any chair that meets basic ergonomic requirements will do.
Desk set to the right height: if shorter than 5'8″, adding a footrest will compensate for a desk set too high. If taller than 6'2″, consider a height-adjustable desk to support your size. Learn more in our workstation desk sizing guide.
Computer monitor setup: desk-mounted monitor stands will de-clutter your desk and make it less likely to sit with poor posture while working. Using multiple screens will also help to boost multitasking ability and overall productivity.
This article marks the completion of our work-from-home blueprint. It serves as a supplementary piece for our comprehensive work-from-home ergonomic blueprint. It spells out all the steps for a successful home office setup that makes you feel better, work harder, and be more productive.
Key setup factors include choosing a dedicated spot and applying feng shui principles to your room's layout. Technical factors include choosing the right size chair, setting your desk to the right height, and aligning your monitors.