Institutional ergonomic standards now demand back and neck support for PC and mobile computing. Sedentary computing solutions are also an emergent priority. Sit-to-stand desks address these issues. Hence, they're likely to become ubiquitous. But as more people make the switch, new ergonomic problems will arise. For instance, after a month of using a standing desk, I discovered a need for good-quality foot support. Here are some of the best anti-fatigue foot support options for standing desk users.
A month into using a Secretlab Magnus Pro desk, my sit-to-stand ratio is around 40:60. Around 60% of the time, I've found standing with supported elbows while computing very comfortable.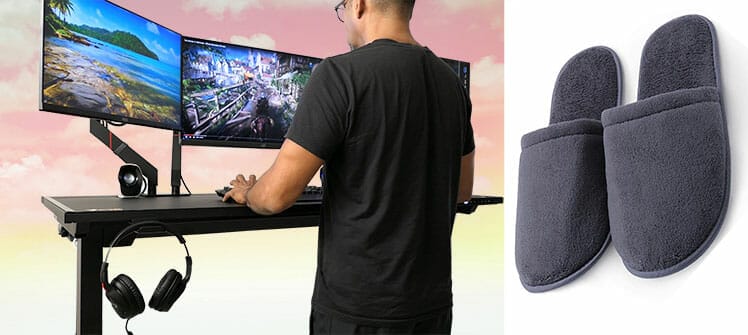 For most of that time, I stood for 5-7 hours every day in either bare feet or cheap house slippers. After a month, the slipper soles wore down to nothing. Then, the bottom of my feet started to hurt. Soon after, my lower back tightened.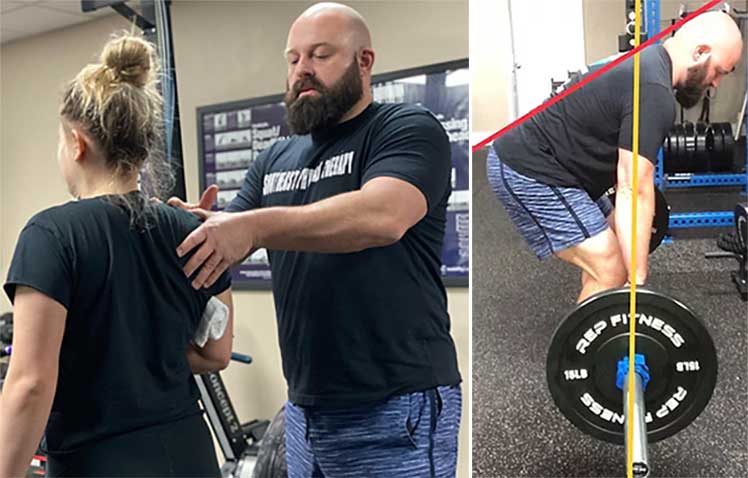 Esports therapist Dr. William Duncan has this advice for gamers who experience pain: "Addressing issues begins by identifying the source of the problem."
Since my slippers had worn out and the soles of my feet were sore, the source of my problem seemed clear: inadequate standing desk foot support.
Existing Anti Fatigue Foot Solutions
Existing foot solutions for standing desk users are variations of anti-fatigue mats. Here's a summary:
Alternative Anti Fatigue Foot Supports
Existing anti-fatigue standing desk foot solutions include hard plastic mats and compressive ones. Based on those facts, I decided to test out some alternative solutions.
Standing Shoes + Inserts = Anti-Fatigue
What's the best anti-fatigue foot support option for standing desk users? In my experience, it's a good pair of standing shoes — stacked with high-quality heel inserts.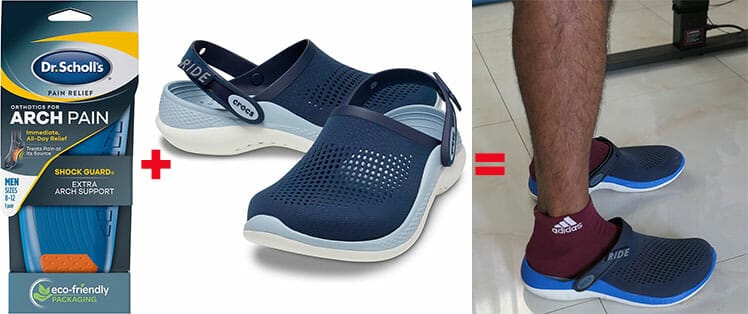 Based on the hype — and my own experiences — Crocs are an excellent option. Birkenstock is another name that stands out. Since the 1930s, its legendary footbed has taken comfortable, healthy standing to an elite level.
The Birkenstock footbed is designed to make you feel like you were standing in sand(5). That promotes long periods of comfortable standing support. To ensure precise foot ergonomics, its extra-deep heel cup keeps the heel bone firmly in its natural position.
Birkenstock footbeds also have a pronounced heel mold that negates the need for inserts. Its built-in support activates calf muscles while improving gait and coordination.
Given these facts, which is better for standing desk users: Crocs or Birkenstocks? Hospital and kitchen staff prefer Crocs because they're easy to clean. But in a work-from-home setting, a pair of supple Arizona Birko Flor Sandals seems a comfier, more luxurious option.
Arizona Birko Flor Sandal on Amazon $108.00
For more premium standing desk shoe options, browse the Birkenstock Store on Amazon.
Footnotes