For many computer users, a gaming chair is the most important part of their ergonomic workstation. The chair on its own will give your workspace a huge upgrade. Adding accessories can enhance the experience. This article looks at the best accessories to enhance your gaming chair-powered battle station.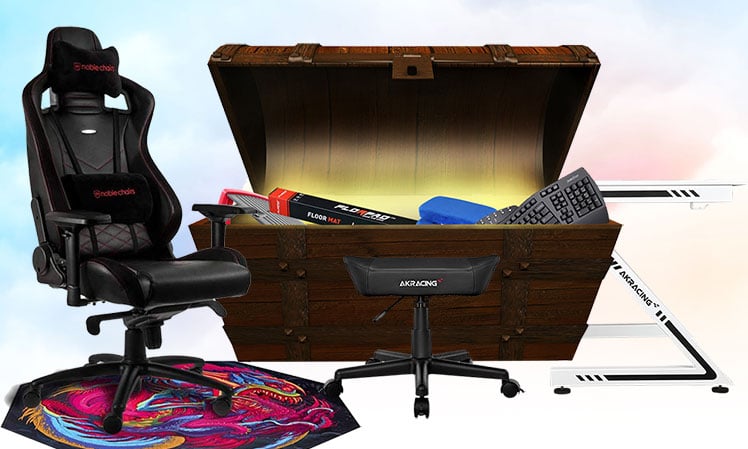 Best gaming chair accessories
The following accessories can complement the features of your gaming chair. A floor pad can protect your feet and the floor. Thick armrest pads or a footrest can enhance your chair's ergonomic qualities. If you have an older gaming chair, a slipcover can extend the life of your chair.
Standalone gaming chair foot stools
These products can serve as a footrest or even an extra seat for guests. Browse the best standalone gaming chair footrests below.
Ergonomic office accessories
With your gaming chair maxed out, the final frontier to supreme ergonomics is your desk space. Complete your setup with these best-selling ergonomic add-ons.
Computing desk options
After a chair, the most important part of a computer workstation is the desk. Here are three popular desk options to consider:
Conclusion
When shopping for gaming chair accessories, we suggest that you avoid buying everything at once. Start with a gaming chair. Add armrest pads if comfort is a priority. After that, focus on using your chair the right way. Once used to sitting with a healthy posture, it's likely that the chair on its own will do everything you need.
If you're adamant about supercharging your workspace, the following accessories are the most useful:
Armrest pads: gaming chair armrests provide essential support that you will use 98% of the time. Armrest pads add a luxurious quality that everyone will appreciate.
Foot rest: modern ergonomic concepts promote movement while sitting. Footrests make it easy to work your feet, heels, and knees while sitting.
Footstool: a gaming chair footstool adds many new dimensions to your workstation. For one thing, it's plush and luxurious enough to serve as a guest chair. For another, it gives your gaming chair the same functionality as a La-Z-Boy recliner.
To browse more accessories beyond the gaming chair (monitors, TV stands, etc), check out our dedicated Accessories section: