Gaming chair floor mats are a luxury, not a necessity. But having one to your workstation adds a lot. They have floor-gripping rubber undersides on the bottom. Up top are a range of water-resistant styles. Some designs are plain. Others are vibrant. They look good, protect hard floors, and keep your feet warm. Check out some of the most attractive gaming chair floor mats now available.
Here at ChairsFX HQ, I use a (not available) Captain America floor mat over ceramic floors. This mat protects my nervous landlord's floors. It also lets me work with bare feet.
Aesthetically, it adds a nice visual boundary around my 'productivity zone'. Having a soft circle of fabric around my chair gives visual and tactile sensations that better help me to 'switch on'. After a 20 or 25-minute blast of work, I stand up and step away from the mat perimeter. That snaps me out of the 'zone' to stretch, relax, or walk around before another go.
Science backs the idea of working in 25-minute bursts. It helps to make people sharper and more productive. In my experience, a mat marking boundaries helps to better switch on, or off when needing a break.
Best gaming chair floor mats
The best place to buy gaming chair floor mats is on Amazon. These days, there are only a handful of brands selling good-quality floor mats. Most are for hard floors only, although some work on carpeted floors as well.
Cleaning is easy. Swab down with a damp mop every so often. SOme models are also machine-washable (in cold water).
Conclusion
This article presents a range of gaming chair floor mat options. These are for people who feel the need to add more to their ergonomic workstation.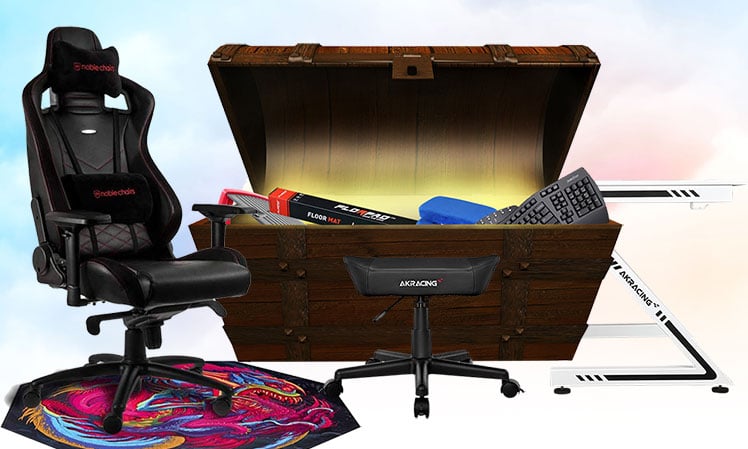 A good floor mat is a cheap and effective luxury upgrade for your computing workstation. It marks out your productivity zone, protects your floors, and keeps your feet warm. Once you get accustomed to using one, it's hard to go without.
To browse other accessories that can enhance your gaming chair, check out this feature: