Gaming chair floor mats are a luxury, not a necessity. But having one to your workstation adds a lot. They have floor-gripping rubber undersides on the bottom. Up top are a range of water-resistant styles. Some designs are plain. Others are vibrant. They look good, protect hard floors, and keep your feet warm. Check out some of the most attractive gaming chair floor mats now available.
Here at ChairsFX HQ, I use a (not available) Captain America floor mat over ceramic floors. This mat protects my nervous landlord's floors. It also lets me work with bare feet.
Aesthetically, it adds a nice visual boundary around my 'productivity zone'. Having a soft circle of fabric around my chair gives visual and tactile sensations that better help me to 'switch on'. After a 20 or 25-minute blast of work, I stand up and step away from the mat perimeter. That snaps me out of the 'zone' to stretch, relax, or walk around before another go.
Science backs the idea of working in 25-minute bursts. It helps to make people sharper and more productive. In my experience, a mat marking boundaries helps to better switch on, or off when needing a break.
Gaming chair floor mat advantages
The gaming chair floor mats listed in this guide share a few qualities. First, all are made from tough material with rubberized, non-slip undersides. All are around half as thick as a yoga mat.
On Amazon, most top-rated office chair floor mats are boring transparent squares. They're tough, but with the sterile aesthetics of a doctor's office. In contrast, gaming chair floor mats are colorful and pleasant against bare feet.
There are a handful of more colorful office-style floor mats on Amazon, but most have plenty of negative reviews. In general, many complain that many models are too thin, and not grippy enough. Without the proper grip, cheap mats will often get caught in your chair's caster wheels.
There are three advantages of gaming chair floor mats. First, they stay in place. Second, the edges don't curl. Third, they're easy to keep clean with a quick mop-over.
Best gaming chair floor mats
The best place to buy gaming chair floor mats is on Amazon. These days, there are only a handful of brands selling good-quality floor mats. Most are for hard floors only, although some work on carpeted floors as well.
Cleaning is easy. Swab down with a damp mop every so often. Some models are also machine-washable (in cold water).
GTRacing floor mats
GTRacing makes some of the best cheap gaming chairs on the market. Recently, the company added five gaming chair floor mat designs. All are available on Amazon.
All are only for hard, non-carpeted floors. They work well on vinyl, concrete, laminate, and hardwood. The undersides have an anti-slip coating, while the surface is easy to clean with a damp cloth or mop.
Rectangular gaming mats
The collection includes rectangular mats sized 43″ (W) x 35″ (D) (110 cm x 90 cm). There's a blue color-accent version, and a red one.
Black mat with red trim $29.99 | Black mat with blue trim $29.99 on Amazon
Rectangular office mats
These are a bit larger than the gaming mats, measuring 47″ (W) x 35″ (D) (119 cm x 90 cm). There's a plain black version, and a grey one.
The extra-large rectangular shape of this mat is the best mat coverage you'll find. It covers the entire chair, with plenty of coverage behind and in front of the chair as well.
GTRacing black office mat $27.99 | GTRacing grey office mat $29.99 on Amazon
Sharks floor mat
This circular mat features teal accents against a navy base and a 3D shark cartoon design. The dimensions are 43″ x 35.4.
GTRacing Sharks floor mat on Amazon $29.99
Black Bullseye mat
This 39×39″ mat comes in sleek black with 'bullseye' accents. Based on the color scheme, it looks like a perfect pairing with a GTRacing Pro Series Classic Red chair.
GTRacing Bullseye floor mat on Amazon $29.99
Arozzi Floor Mats
Price: $46.75
Popular chair maker Arozzi makes floor mats in three color variants. The red, green, and blue variants all measure 45.7″ x 45.7″.
All variants come with a velvet-like polyester surface. That protects floors and dampens the noise of rolling chair wheels.
Arozzi Red Gaming Mat on Amazon $46.75
Arozzi floor mats are also available on Amazon in black with green, blue, or white color accents for the same price.
Floortex Floor Mats
Price: $46.50
Floortex Floor Mats come in a choice of neon pink or deep blue. Both measure 38″ x 39″ and work on both hard floors and carpets.
These models are water-resistant and machine washable. Made out of polycarbonate, they are also very tough and durable.
Areia floor mat
Price: $75.99
The Areia floor mat is pricier than competing models, but has some nice qualities. It's a 120×120 cm octagon (47×47 inches) designed for hardwood floors only.
The mat is 4mm thick with an anti-slip rubber bottom and a microfiber purple galaxy design. Clean with a damp cloth or mop. You can also machine-wash this mat in cold water.
Nautus Vincere Floor Mat (NaVi)
Price: Price not available
Based out of Ukraine, Natus Vincere is the 10th most successful esports team of all time. The Natus Vincere floor mat comes with the team's iconic logo on the front in vivid yellow.
It has a rubber-grip underside like the other mats. On the top is an Advanced Matrix Cloth Weaving Surface. That is the same material used to make combat diving suits.
Weiguard floor mats
Price: Price not available
These 45x 45″ octagon-shaped mats come in brilliant blue or red designs. Built for hard floors, they have rubberized, waterproof undersides for non-slip stability.
These mats are tough, easy to clean, and aesthetically delightful. They come with a 1-year warranty, but feel likely to last much longer.
Conclusion
This article presents a range of gaming chair floor mat options. These are for people who feel the need to add more to their ergonomic workstation.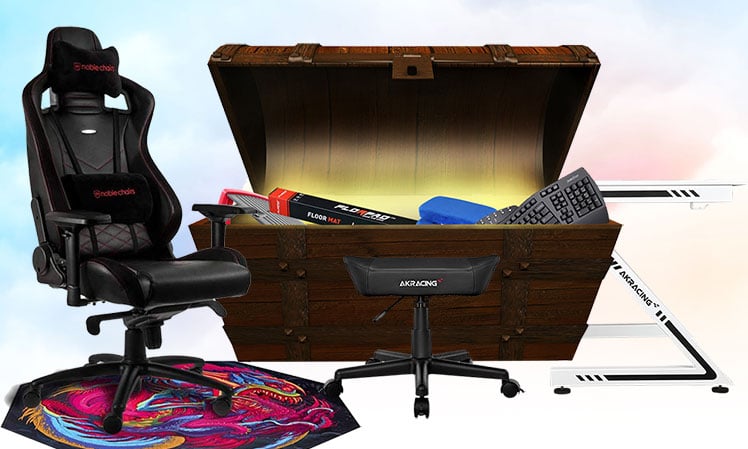 A good floor mat is a cheap and effective luxury upgrade for your computing workstation. It marks out your productivity zone, protects your floors, and keeps your feet warm. Once you get accustomed to using one, it's hard to go without.
To browse other accessories that can enhance your gaming chair, check out this feature: