Here's a review about the GTRacing 47 x 39″ gaming chair floor mat. It's a non-slip mat designed to fit under a gaming chair. You don't need a gaming chair floor mat. But if you use one with a gaming chair, you might find it hard to go without one. If you're a sucker for gaming chair floor mats (like I am), this GTRacing version is worth a look.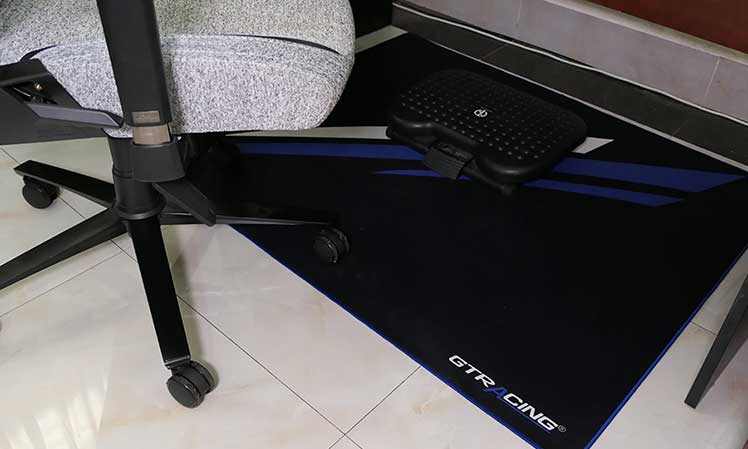 It's hard to hype a gaming chair floor mat. It's a mat. Floor mat makers hype them as protective. Supposedly, they 'protect' floors against gaming chair wheels and Mountain Dew spills. In reality, unless your floor is made of chocolate, it won't need protection from either.
At first, I enjoyed using a floor mat as an alternative to wearing socks. Over time, I also got hooked on the visual aspect. While working at a computer, I often catch a glimpse of my mat. Those are the boundaries of my high-performance cocoon.
That's my sweet-spot computing zone. In that tiny perimeter, I'm attuned to crisp posture on a high-end chair. That primes me to bang out my best ideas on a high-end PC — in triple-screen glory. The rug ties the whole room together.
GTRacing 47 x 39″ Gaming Mat on Amazon $37.99
A Floor Mat Should Last 1-2 Years
Many available gaming chair floor mats don't come with guaranteed durability. But most have the same polyester top with grippy rubberized bottom as my Captain America version. I got two years of use from mine, with 6 machine washings. My sixth washing disintegrated the grippy bottom.
I decided to trash the mat and tried to move on. However, after using a floor mat for so long, my workspace felt naked without one.
As well, against bare tile, my footrest kept moving under my feet. Feeling naked and frustrated, I gave in to my floor mat addiction and bought a new mat.
GTRacing 47 x 39″ Floor Mat Review
The GTRacing Gaming Chair Mat For Hardwood Floors is a rectangular 47″ x 39″. It comes rolled up in a box with a velcro strap keeping the circle wrap snug. Unrolled, mine lay smooth and flat right away.
What's To Like
This is a high-quality mat worthy of the GTRacing name. When I unboxed and unrolled it, the mat lay smooth and flat right away. I like the look of it, and especially the massive size.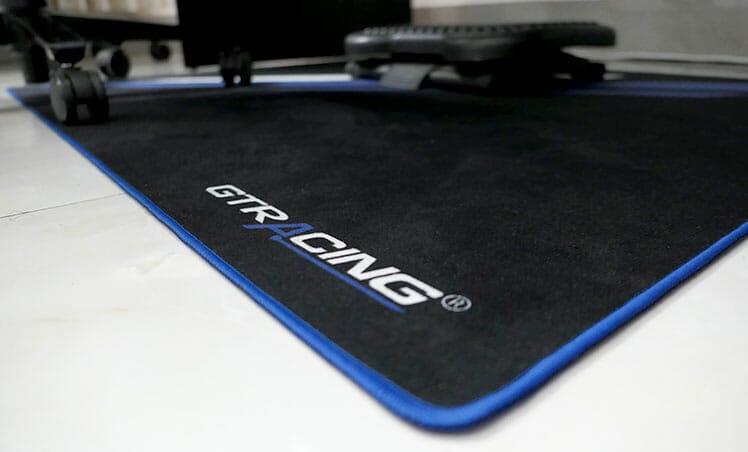 So far, it's been easy to keep clean. If spots of discoloration set in, it's easy to scrub out with a household cleaning solution and a cloth.
GTRacing 47 x 39″ Gaming Mat on Amazon $37.99
What To Dislike
I have two quibbles with this mat. First, the underside has a flower pattern with grippy bits designed to hug wood floors. On ceramic tile, it feels less grippy than my old generic floor mat.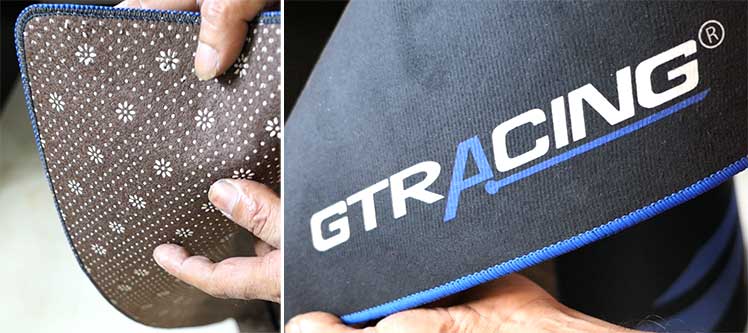 Second, for best results, proper positioning is key. If the mat extends too far out from your desk, it will snag the rear wheels of your chair every time you sit down.
To avoid that, pull that mat forward enough that it never touches the back of your chair's wheels.
How To Clean
GTRacing doesn't include clear cleaning instructions with this mat. Based on my experience with floor mats, I suggest this routine:
Sweep to remove daily dust.
Spot-clean using a household cleaning spray and a cloth.
Mop with a (non-bleach) floor cleaning solution every week or so.
Every few months, wash the mat in your washing machine in cold water. Then hang dry. However, you should try to limit washings — each one will further break down the grippy underside.
GTRacing Floor Mat Alternatives
Some floor mats are made by generic brands that only exist on Amazon. A few others come from brands with proven quality records. The best chair brand mats competing with GTRacing come from Arozzi.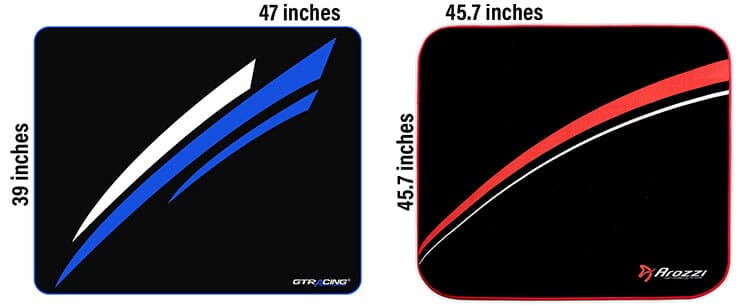 Like GTRacing mats, they have grippy undersides and racing-style top covers. The main difference is the size. The GTRacing mat is horizontally longer. Meanwhile, the Arozzi one is a massive 6.7″ longer vertically. On Amazon, Arozzi mats cost $41.82.
Most other top options are circular with 39 x 39″ dimensions. For comparisons, check out this review:
Recommended Addon: Ergonomic Footrest
The GTRacing Floor Mat feels wonderful against bare feet! Sadly, I'm not able to enjoy that aspect because I use a footrest.
To sit with good posture in a gaming chair, it's important to keep your feet planted. That provides the power to hold your spine upright. If not providing power with your feet, your spine must do the heavy lifting instead.
The problem is that most desks are a standard 28″ or higher. Most people 5'10" or shorter won't find good sync between their chair and desk.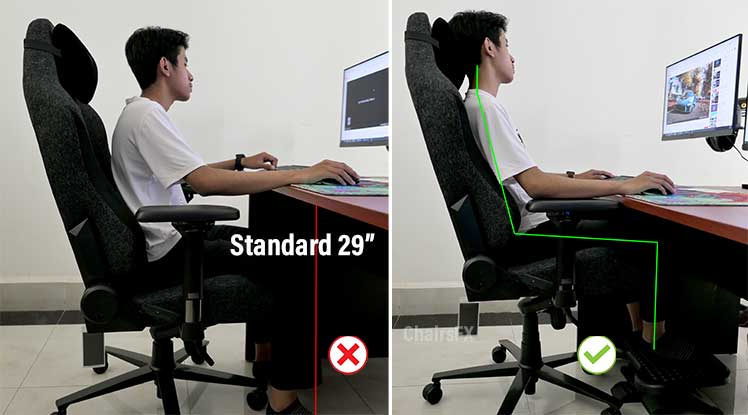 An ergonomic footrest lets you sit taller in a chair. As a result, short people can make use of standard-sized desks.
On top of that, an ergonomic footrest lets you move your feet while sitting. That helps boost circulation and muscle activity while you sit.
The model used in this review is the Mind Reader Ergonomic Footrest ($26.99 on Amazon). Learn more about its benefits (and some good footrest alternatives):
Conclusion: Addictive But Unnecessary
If you've never used a gaming chair floor mat before, let's be clear: you don't need one! Some people wear headbands while playing basketball. A percentage of weightlifters wear gloves to prevent calluses.
A gaming chair floor mat is a nice luxury to have if you sit full-time at a desk. Visually, it leaves a nice little zone around your workspace.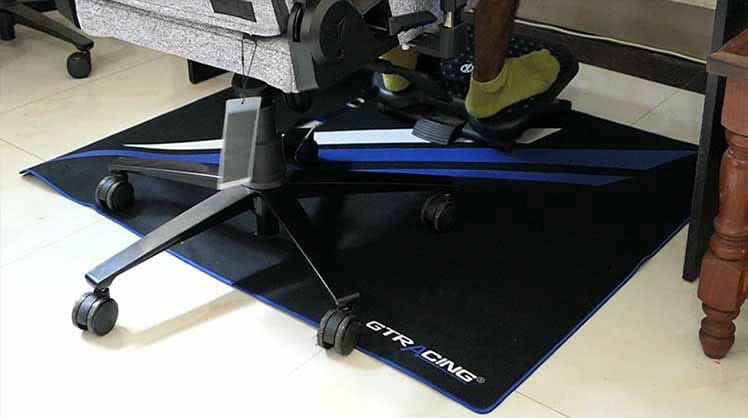 On a practical level, it works like a normal mat — with extra-grippy qualities. Without grippiness, the mat will bunch up under your chair wheels, driving you insane.
Held in place, it provides a comfy place for your feet. If you use an ergonomic footrest, a mat will also add a better grip to keep it in place.
I'm happy with this mat so far. I love the size and the styling. On the downside, my chair's rear wheels often get caught in the back of the mat.
Beyond that quibble, I'm glad I bought a GTRacing 47 x 39-inch floor mat. If you're into floor mats, this is one of the best.