Working from home can a challenge — or an opportunity. Many people count on the stimuli in their office to keep them alert and focused. A hasty home office setup can leave you feeling disconnected, unhealthy and distracted. Learn about framing a healthy workspace. Then, set up a home office that supports health, vitality, and productivity.
Making the switch to working from home can crush your productivity or supercharge it. In America, studies show that the majority of office workers suffer from back pain, lethargy and worse. This article summarizes modern workstation issues, then lays out a strategy to resolve those.
Chronic fatigue in America
In American workplaces, chronic fatigue is so common that many accept it as normal. In 2018, the NSC surveyed 160 million American workers. They found 107 million of them suffering from occupational fatigue. That term describes chronic feelings of lethargy and tiredness while at work. They also found poor sleep patterns and monotonous tasks as two of the main causes.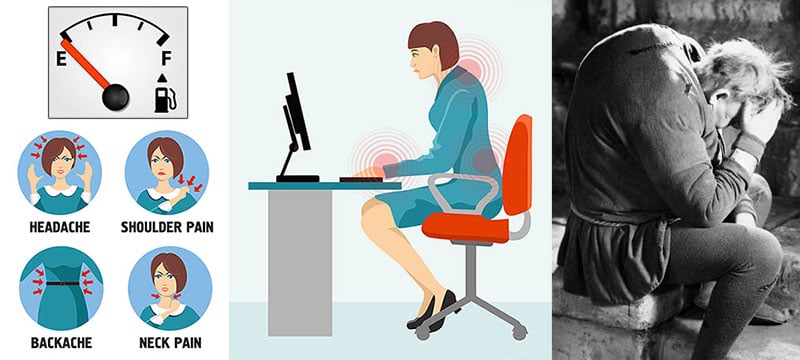 This study supports those claims, asserting two main drivers of occupational fatigue. Sleep deprivation and a distracting work environment are the main culprits. In the workplace, imbalanced noise, vibrations, and temperatures all have a draining effect.
In the short-term, chronic fatigue causes cognitive and physical degradation. Some people refer to this as "brain fog". Over the long term, chronic fatigue consequences include physical breakdown, illness, and depression.
Think about your workstation in the office. Is it clean, or cluttered? How often do you clean your mouse and keyboard? Do you sit with good posture or a slouch? Whatever bad habits you developed in the office, leave them there.
Switching to working from home presents the opportunity to revamp your workspace – and your habits.
Using ergonomics to boost performance
Ergonomics is the science of fitting a workplace to the user's needs. The point is to reduce discomfort, thereby increasing efficiency and productivity.
At the center of an ergonomic computer workstation is an ergonomic chair. Supporting ergonomic components can include a mouse, keyboard and computer monitors.
With the right equipment, your workstation will adjust to you. Use the chair to align your body with the height of the desk. Adjust the monitor angles to give you an optimal view of the screens. Adjustable chair armrests absorb the weight of your arms. Resting on the armrests will also position your hands closer to the mouse and keyboard.
That's the optimal formula. It supports an ideal sitting posture with very little strain on the back, upper body or limbs. It keeps your eyes centered on the screen. With your arms rested, your hands need little energy to control the mouse and keyboard.
So instead of your muscles holding your body up against gravity, the chair does the work for you.
How do comfortable people perform when sat at a computer with lots of energy? Most often, they increase their production with greater efficiency and enthusiasm.
Home office setup guide
This guide walks through the steps of building a simple ergonomic home office setup. If you're looking for a designer home office setup to showcase in a magazine, hire a designer. If you want a simple home office to support your productivity, follow these steps.
Pick a dedicated working spot
Framing is a mental structure built upon personal beliefs. It explains why people react to the context of a stimulus, more than the thing itself. Humans use framing to adapt their behaviors to suit social settings.
For example, a person raised in a religious household will show reverence when in a place of worship. In contrast, somebody raised in an atheist household might only perceive a building.
Framing also happens in the workplace. When you walk into your office, you dress and act a certain way. You put your game face on and focus on the job.
Take advantage of this when working from home. Instead of floating from couch to kitchen table to your bed, pick a dedicated spot to work. Use that only as your working space. After a few days of practice, once you step behind the desk, your "work mode" framing will activate.
Choose a desk
Working from home since 2015, I've lived in four places with four different home office setups. I started with a big, heavy desk that I soon got rid of. It was hard to move around, hard to keep clean and a big, clunky eyesore in my living room.
Ever since I've used plain wooden desks with wide surfaces and no shelves. These desks have a few advantages for people working from home. First, they're cheap. Second, the minimalist design is easier to keep clean. Third, they are light enough to move around, in case you change your dedicated spot.
Buying a cheap desk
On Amazon, the Coleshome 47″ Simple Style Desk for Home Office is a popular pick. This model is now on sale.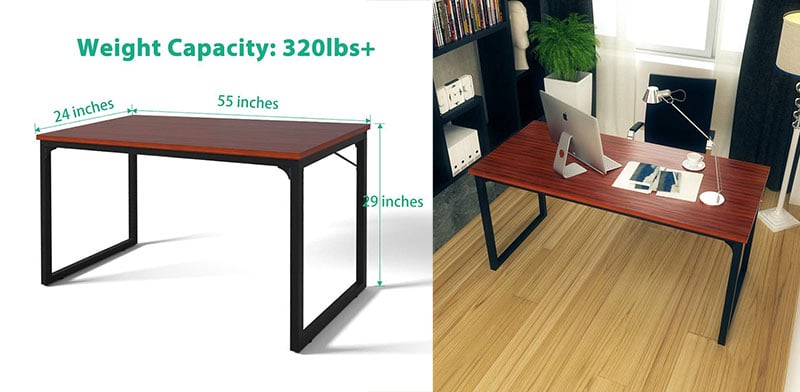 The Coleshome desk has an open-concept design and clean aesthetic. Wide enough for a laptop, peripherals, and monitor, it comes with a scratch-resistant laminate finish. That protects the desk's surface from daily wear and tear. Underneath, the metal frame and track-style legs ensure robust stability.
List Price: $169.99
Current Price: $119.99
You save: $50.00
Percentage saved: 29%
SHW 48-Inch Computer Desk
Another popular minimalist option is the SHW Mission Collectible Desk. It's a very simple design. It has a steel frame and smooth black finish. It's cheap, easy to assemble, easy to maintain and attractive.

Given a choice between this desk and a gaming desk at four times the price, we would choose this model 100% of the time. If you have a good gaming chair, a simple desk like the SHW Mission Collectible is all you need.
Decide on a monitor configuration
Most modern laptops come with an HDMI cable port. Using that, connect an HDMI cable from your laptop to your monitor and turn. Switch on the monitor on and you now have two screens to work with. That turns your laptop into a desktop PC.
Using two screens isn't only for power users or hard-core pros. Everyone can benefit by spreading out their apps and multitasking like a pro. Doing so will make you more efficient and productive.
Multi-tasking: having two screens will alter the way that you work, for the better. Writers can use one screen to write, and the second to do web research. Conferencers can speak to associates over one screen, and share data on the other. Programmers can write code on one screen and reference documents on the other.
Improved data processing: most laptop screens are between 13 and 15 inches. At that size, they can display around 15 columns by 25 rows of data. For larger documents, laptop users have to scroll up and down, taking more time to complete tasks. With dual screens, there are two options. You can deploy "clone view" to mirror the document on both screens. In separate view, each monitor acts as its own workspace. Both options will help you to process data with greater efficiency.
The ideal monitor setup
Ove the past five years, I've tried single, double, and triple-screen systems. I've worked with external monitors ranging from 15″ to 27″ wide.
My personal favorite is a dual-screen setup. With three screens, I found my attention split too many ways to work efficiently. Using two screens is a lot simpler. Use the large screen for your main work, and the smaller one for supplementary work.
As for sizing, my sweet spot is a 15″ laptop paired with a 23″ external 1080p monitor. Place the monitor in front of your chair to serve as the main screen. Put the laptop off to the side. Use that for supplementary information, watching videos, managing music or other lesser tasks.
These days, I'm using the Asus VA249HE 23.8″ monitor as my main screen. It's a 23.8″ Full HD (1920 x 1080) screen with a 178° viewing angle and super slim profile. It connects to your computer with an HDMI or VGA port. It has a non-glare screen, LED-backlit WLED, and a blue light filter to reduce eye fatigue.
Asus VA249HE 23.8″ monitor on Amazon $117.99
To make the dual-screen setup optimal, add a laptop stand. For example, the Nulaxy Laptop Stand is compatible with all laptops between 10″-15.6″. Use it to raise your laptop screen to match your external monitor.
Finish off the dual monitor setup with a Bluetooth mouse and keyboard. For instance, the Logitech MK345 Wireless Combo gives you a full-sized keyboard and wireless mouse for just $34.99.
Choose an ergonomic chair
After you buy your desk and set up your workstation, start with whatever chair you have around the house. Whether it's a wood kitchen chair or cheap office chair, you can count on a sore back after a few days. Our gaming chair versus office chair comparison explains in detail why.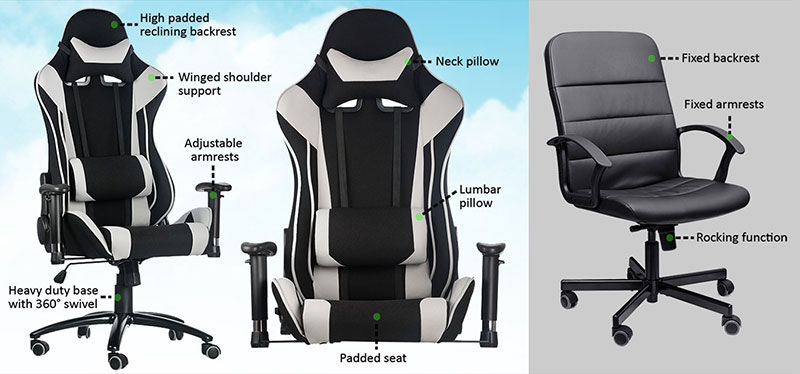 In brief, humans are not designed for sitting. With a fixed backrest and armrests, office chairs force the body to contort to the shape of the chair. At the start of a workday, many people can sit up straight. But as the day wears on, the back tires and wilts.
Slouching places undue strain on the back, neck, and shoulders. With chronic strain comes stiffness, poor circulation, shallower breathing, and even depression.
Test and refine with accessories
At this point, you should have a dedicated workspace, an ergonomic chair and possibly a dual-screen monitor setup. When you start using the new configuration, prepare for an adjustment period.
If you added a second monitor, getting used to working in a dual-screen configuration should take a few days. Most ergonomic chairs take a week or two to break in. It also takes around that long to learn how to use one.
Broadly, give your new setup around two to four weeks to settle. After that, if anything feels lacking, browse our top workstation accessories to fill the gaps.
Best home office chairs
ChairsFX.com is an ergonomic chair website. We use gaming chairs for full-time computer work. We're passionate about gaming chairs because of how well they work.
We also love ergonomic task chairs. Those offer more precise ergonomics than gaming chairs, but cost a lot more money.
Based on our preferences, below is a summary of the best work from home office chairs. Choose any one of those to serve as the core of your new work-from-home setup.
Note: both of the chairs mentioned below are now sold out. Right now, the demand for ergonomic office chairs is high. But we are keeping these chairs listed. They still are useful to show what the best ergonomic office chairs can offer.
Best office chairs
The best office chair in the world is the Herman Miller Aeron ergonomic task chair (Amazon link). It currently sells on Amazon for $1,395.00.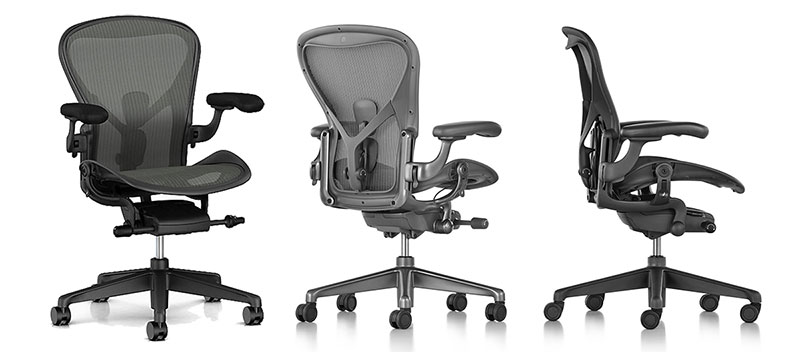 This chair comes loaded with superb ergonomic features:
Height adjustment: raise until your feet lie flat on the floor.
Tilt limiter: increase or decrease the range that the chair tilts.
Tilt tension: adjust the seat rockback tension when you push off the ground with your feet.
3D armrests: adjust up, down and side-to-side.
Posture-fit lumbar: increase or decrease depth to small of the back; adjust up and down.
Forward tilt: set the chair to tilt forward while keyboarding. This prevents computer users from hunching over.
Aeron Chair on Amazon $1,918.94
A cheaper option to the Aeron is the Sidiz T80 task chair.
This is the same model used by famous streamer Dr. Disrespect. Ergonomic features include adjustable lumbar, armrests, seat depth and neck support. It also comes with an impressive 10-year warranty.
Both of the above chairs have already sold out. But there are other options still available.
The best ergonomic office chairs? Those include both ergonomic office chairs and PC gaming chairs. Are you up for paying a premium? Browse the very best posture and productivity support chairs:
Best ergonomic office chairs in 2020
Best pro esports gaming chairs
Pro esports gaming chairs are the same models used by the world's top esports teams. Pro esports players need to stay sharp for long periods of game play. That's why they rely on high-end gaming chairs. These models keep them comfortable, aligned and engaged.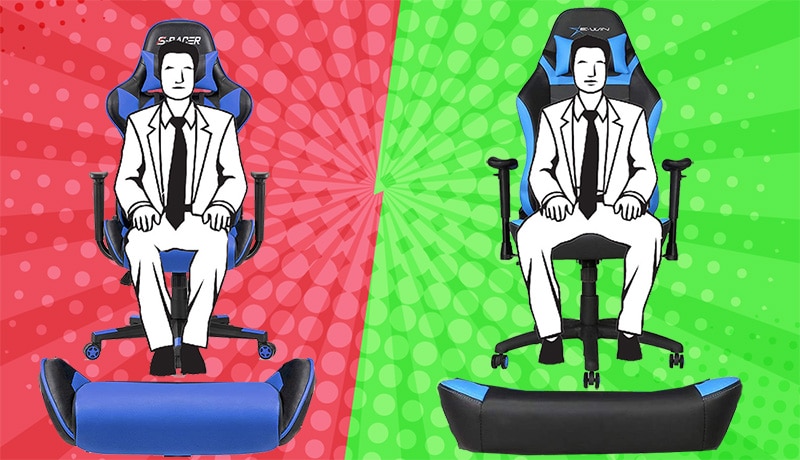 In our review of the world's best pro esports chairs, we identified two types of pro models. First are large gaming chairs with flat, wide seats. These provide solid ergonomics with plenty of legroom.
Second, there are compact chairs. Those models have ridged edges along the seat to keep the legs together. Doing so uses the legs like a tripod to offset some of the body's weight.
Our #1-rated wide and narrow models both come from Secretlab. These chairs serve seven pro esports teams and several of the world's biggest esports tournaments. Many big names in the industry rave about their quality.
Best wide seat model: Secretlab Titan
The Secretlab Titan is our top-rated luxury gaming chair. It comes in a choice of PU leather, genuine leather, or SoftWeave mesh fabric. At present, there are 24 different variants in a range of styles.
Features are top-notch across the board. Both Titan and Omega chairs come with a 3-year warranty that's extendable to five years.
Functionality: integrated lumbar support; 4D armrests; recline to 165°, multi-angle tilt-lock.
Upholstery: choice of premium PU leather, genuine NAPA leather or Softweave Fabric.
Padding: patent-pending cold cure foam.
Support: carbon steel frame; Class 4 KGS gas lift; aluminium base; XL PU caster wheels.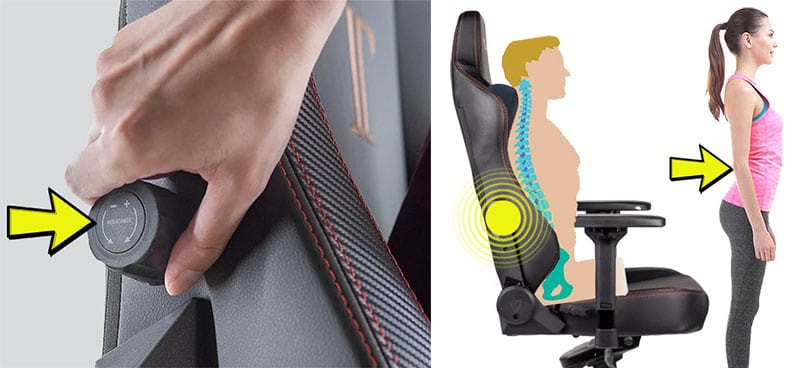 Our favorite feature on the Titan is the internal lumbar support. Turn a knob on the side of the backrest to expand or deflate the lumbar curve. Once you find your sweet spot, set, forget and focus on your work.
Best narrow seat model: Secretlab Omega
The Secretlab Omega is a compact version of the Titan. Along the seat edges are ridges that keep your legs together. The Omega also uses a traditional (extra-large) lumbar pillow, instead of an internal system. Beyond that, it shares the exact same features as the Titan.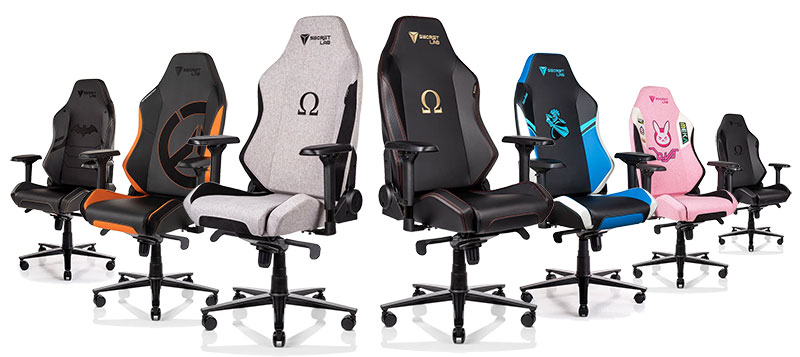 Best cheap gaming chairs
A solid minimalist desk costs less than $100. Adding a nice 23″ computer monitor will cost around $120. If you get the monitor, you'll also need a laptop stand and mouse/keyboard combo (around $60 for everything). That adds up to $280.
If you need to cut corners on the chair, the BestOffice Office chair is one of Amazon's top-selling office chairs. It costs Price not available on Amazon. It's popular because of the price. But its "ergonomic" features that adjust to the user are limited. In fact, there are only two:
Are you willing to sacrifice your health and productivity to save a few dollars? Even on a tight budget, there are much better ergonomic options to consider.
Homall Classic gaming chair
Current price: $149.98
Homall is the #1 selling gaming chair on Amazon. At the time of writing, the Homall Classic has over 8,500 reviews and an average 4.5-star rating.
This chair is so popular for two reasons. First, it gives you the same level of posture support as more expensive chairs. Second, it costs less than $150. If you want the cheapest option that's good for your back, choose this model.
Features are entry-level:
Functionality: fixed armrests; recline to 180°; rocking function with lock.
Comfort: high density foam padding; neck and lumbar pillows.
Warranty: one year on parts; 30 days return policy.
Detailed Homall Classic Review
Buy the Homall Classic White on Amazon for $149.98.
GTRacing Classic gaming chair
Amazon price: $159.98
The GTRacing Classic GT099-RED is the second-best-selling gaming chair on Amazon. Compared to the Homall, the GTRacing Classic has larger dimensions, better features, and an extended warranty option.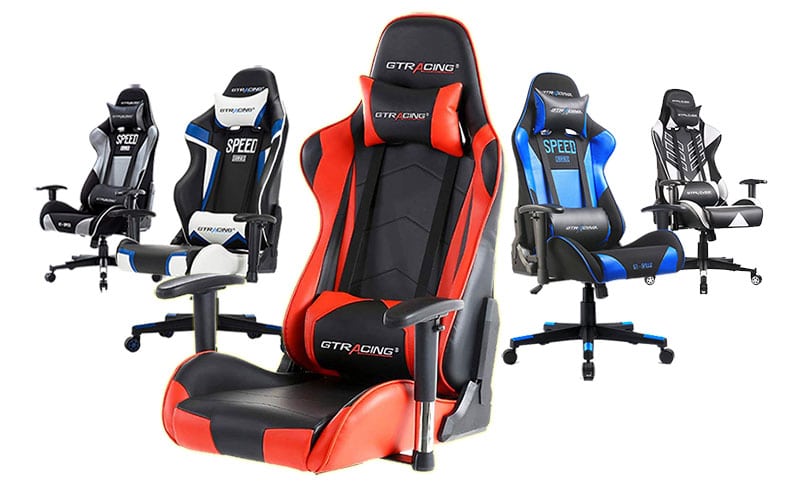 Compared to the Homall, the GTRacing model has 2D armrests instead of fixed ones. It also supports more weight. Buying from Amazon gets you a 1-year warranty. When you buy direct from GTRacing, you get an extended 2-year warranty.
Functionality: 2D armrests; recline to 170°; rocking function with lock.
Comfort: high density foam padding; neck and lumbar pillows.
Warranty: one year on parts; 30 days return policy. Buy direct from GTRacing and get an extended 2-year warranty.
If you like the features of the GT099 but not the colors, there are many other models to choose from. The best ones are laid out in our GTRacing Pro Series Review.
Check Classic prices on GTRACING
Also available on Amazon for $159.98 with a 1-year warranty. Buy direct from GTRacing for extended 2-year warranty.
Optimizing a home office environment
Smart home office design is a valuable business investment. To finish off your home office setup, refer to the WELL Building Standard.
That is an international standard for creating productive and comfortable working environments. At the core of these standards are seven principles that you can apply to your own home office setup.
Air: this study found an 11% increase in workspaces with clean, fresh air. In your home office, work to reduce pollutants and increase fresh air.
Water: our brains are 73% water. Keep a water flask at your desk to stay hydrated throughout the day. Try to limit (or abstain from) coffee, energy drinks, and sugary sodas.
Nourishment: avoid junk food and alcohol. Eat clean food.
Light: a Cornell study found that sitting within 10 feet of a window has a positive effect. The study found an 84% reduction in eyestrain, headaches, and blurred vision symptoms.
Fitness: esports players sit full-time for 10-12 hours every day. But they also compete for millions in prizes at global esports tournaments. They need to stay sharp. Take inspiration from pro esports players. Give yourself an edge with regular exercise.
Comfort: your office space should be a comfort zone. Using the right chair is the key. That will reduce muscle fatigue and increase productivity.
Nature: this study found that adding nature to a workspace caused a 15% wellness boost. Add some houseplants or a small fish tank to get your groove on.
Conclusion
This article shows how optimizing your home office setup can yield many benefits. With simple prep, working from home can influence your health, wellbeing, and performance.
In summary:
Choose a dedicated space in your home for working.
Add a desk.
Buy an ergonomic chair.
Add a computer monitor, laptop stand, keyboard and mouse (optional).
Test for a few weeks. Add accessories is anything is lacking.
Once your workplace is set up, switch focus to the WELL building standards. Use those to optimize the environment around your workstation.