Working from home (WFH) puts you in control of your production environment and deskwork routine. Failing to take advantage can be disastrous. Working full-time on a wooden dining chair will render you stiff, disconnected, and distracted. In contrast, using an ergonomic home workstation can supercharge health, happiness, and productivity. This WFH setup guide explains how to turn your home workstation into a productivity powerhouse.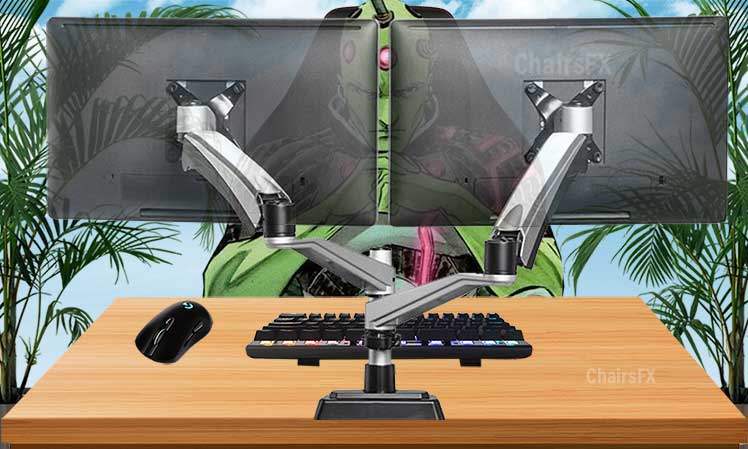 During the 2020 lockdowns, many office workers struggled to work from home (WFH). Part of the reason: many employers also had no idea how to equip them.
A U. of Cincinnati study surveyed faculty sent to WFH in the spring of 2020. The school sent 85% of them home with only a laptop.
Only 45% worked from home using a chair with adjustable armrests. Many of the rest used dining chairs or makeshift desks (knees, pillows, sofa arms, etc).
Based on this information, the surveyors sent out a siren call. They warned staff that sloppy WFH habits can cause pain — and cripple productivity. They also offered suggestions:
Work from home at a proper desk.
Use a chair with adjustable arms.
Connect your laptop to an external monitor. Then, use an external mouse and keyboard.
Around 50% of Staff Failed To Adapt
Five months later, another survey was sent out. It found that around half of all staff stuck to their unhealthy habits. As a result, pain reports were off the charts.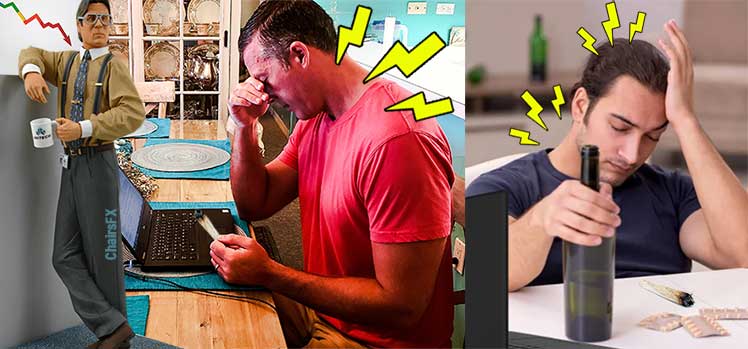 49% reported neck pain or headaches. 45% complained of lower back pain. A whopping 62% suffered moderate to severe upper back pain.
The survey team then presented two conclusions(1) relevant to all corporate HR teams:
Companies should equip staff properly if they're assigned to work from home.
Since many staff (especially older ones) are clueless, ergonomic equipment should also come with ergonomic training.
Legally, these recommendations are OSHA-compliant(2). Companies are obligated to provide safe working environments. Working from home full-time using a wooden dining chair is not safe.
Luckily, if your company refuses to adhere to OSHA safety standards, you can do it yourself. Healthy WFH solutions are cheap and easy to deploy DIY.
Key Concepts For WFH Beginners
A popular idea in modern physical therapy is that poor posture comes from muscular ignorance. Many people adopt sloppy habits so early in life that they forget what healthy ones are!
In all cases, the solution to ignorance is education. In fact, when given clear ergonomic targets to strive for, people adapt easily. That's mainly because simple biomechanical guidance awakens your body's innate grasp of optimal mechanics.
To realize these benefits, start by getting your head around these core WFH concepts:
Ergonomic chair: this is the centerpiece of a WFH setup.
Neutral posture habits: you need to adapt to these to get the best out of your chair.
Sizing matters: you need a well-fitting chair that's properly synced with your desk.
Based on these factors, this section ends with a complete WFH starter kit. Build a complete ergonomic workstation for under $400!
Advanced WFH Setup For Power Users
Sedentary computing habits are on the rise worldwide. An emerging Internet of Things (IoT) will curb active lifestyles even further. Meanwhile, the average person now spends around 3 hours each day using mobile devices. Most do so with a sharp forward head tilt.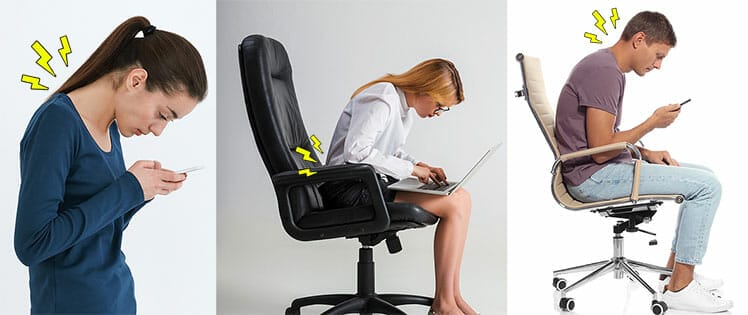 The Handbook of Human Factors and Ergonomics documents institutional design standards. Its 2012 edition pushed good back support for desk workers as the focus. Its 2021 update rolled out a major shift in priorities for the multi-device computing era.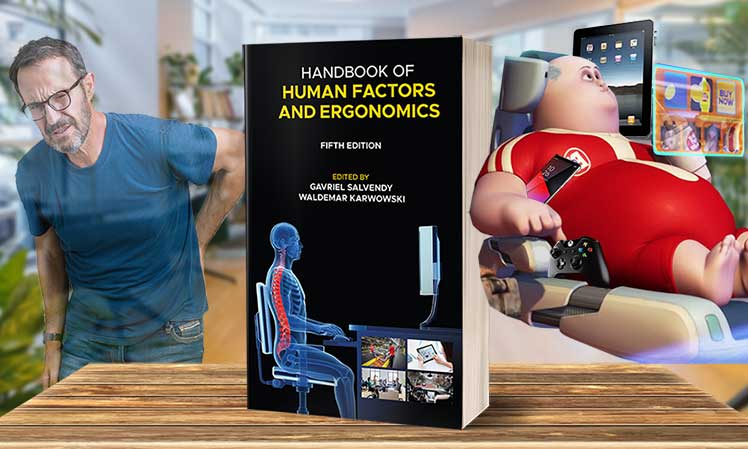 First, multi-device computing demands support for the back and neck. Second, to address sedentary health problems, modern workstations must also encourage movement.
Here's the Secretlab Magnus Pro standing desk filling all modern requirements with panache:
From a modern, multi-device ergonomic perspective, an advanced work-from-home setup will include the following:
Home Office Setup Basics
Once you have your workstation pieces picked out, follow these steps for an optimal setup:
Desk positioning: use feng shui basics to calculate the best spot in a room to put your desk.
Fresh air: stale air stifles; fresh air energizes and motivates.
Use Wi-fi LEDs: blue light overload causes headaches and poor sleep. Mix things up by syncing your lighting with the sun's daily arc.
Workstation User Tips
Assembling the pieces for a healthy home office is a great start. After that, proper usage will ensure the best results. This section suggests long-term focus on three aspects:
Cleanliness: a clean home office improves mood and concentration. A sloppy one yields the opposite effect.
Habitualized neutral postures: owning an ergonomic chair has no impact unless you adopt neutral sitting as a long-term habit.
Frequent breaks: keep your muscles, circulation, and brainpower on-point by taking sporadic movement breaks.
Boost Health, Wellness, Productivity
This article covers everything you need to know to set up a healthy home workstation. The point of this endeavor is to improve your health, happiness, and productivity at a desk.
Once you have the tools, the next logical step is to use them correctly. Doing so will align your spine and optimize your posture. That will give you more energy, plus enhanced awareness of your body and its surroundings.
Then, opportunities to further sharpen health, happiness, and productivity will emerge.
Take your time mastering each step before moving forward. As you do, the next step will logically and intuitively emerge at the appropriate time. To see how all steps flow together, check this article:
6-Step Work-From-Home Supercharge Guide
Footnotes
Gerding, Thomas, et al. 'An assessment of ergonomic issues in the home offices of university employees sent home due to the COVID-19 pandemic'. 1 Jan. 2021 : 981 – 992. DOI: 10.3233/WOR-205294, (accessed 19 May 2022).
Osha.gov. 'Employer Responsibilities'. OSHA Worker Rights and Protections, https://www.osha.gov/workers/employer-responsibilities, (accessed 19 May 2022).
Prof. Richard Ryan. 'Spending Time in Nature Makes People Feel More Alive, Study Shows'. University of Rochester, http://www.rochester.edu/news/show.php?id=3639, (accessed 19 May 2022).
Michael H Smolensky, et al. 'Circadian disruption: New clinical perspective of disease pathology and basis for chronotherapeutic intervention'. Chronobiol Int. Epub 2016 Jun 16. https://pubmed.ncbi.nlm.nih.gov/27308960/, (accessed 19 May 2022).
Daniel Carlin. 'Blue light concerns for gamers'. January 15, 2021. https://esportshealthcare.com/blue-light/ (accessed 19 May 2022).
Libby Sander. 'The Case for Finally Cleaning Your Desk'. Stress Management, Harvard Business Review, March 25, 2019. January 15, 2021. https://hbr.org/2019/03/the-case-for-finally-cleaning-your-desk (accessed June 11 2022).
Elizabeth Bacharach. 'How Cleaning and Organizing Can Benefit Your Mind and Body'. Health and Wellness, April 7, 2022. https://www.shape.com/lifestyle/mind-and-body/physical-mental-health-benefits-cleaning-organizing (accessed June 11 2022).
Edward R. Laskowski, M.D. 'What are the risks of sitting too much?' Adult Health, August 21, 2020. https://www.mayoclinic.org/healthy-lifestyle/adult-health/expert-answers/sitting/faq-20058005 (accessed June 11 2022).
International WELL Building Institute. 'WELL Building Standard'. https://standard.wellcertified.com/well (accessed June 11 2022).