What's the difference between a gaming and an ergonomic office chair? From a back support perspective, both qualify as 'ergonomic'. Adjustable lumbar support aligns the spine. Adjustable arms provide extra bracing to hold the torso upright. A tilt-lock backrest recline lets you customize angles. Combined, these support healthy neutral sitting postures. But regardless of chair type, proper usage is essential for best results. So let's compare actual neutral postures in gaming vs office chairs.
Sitting in neutral postures minimizes musculoskeletal stress while sitting. As a result, users are able to sit comfortably for longer periods — without overworking back muscles.
In contrast, sitting unsupported forces back muscles to work overtime. That explains why a long day in a non-ergonomic chair (or car, plane, or train seat) leaves people exhausted.

Getting the hang of neutral sitting postures is easy — in any ergonomic chair with adjustable lumbar support + arms.

First, adjust the lumbar so it fits just above your beltline. Then, adjust the seat to an appropriate height. Once the chair is configured, follow these steps:
Tuck your hips deep into the seat.
Plant your feet firmly on the floor.
With your lower back curve supported, sitting straight should be easy.
Use the armrests as extra bracing to hold your spine upright.
Neutral Sitting Posture Definition
In 1973, NASA researchers observed astronauts working in zero gravity aboard the Skylab Space Station. While working, the astronauts often fell into the same neutral body postures (NBP).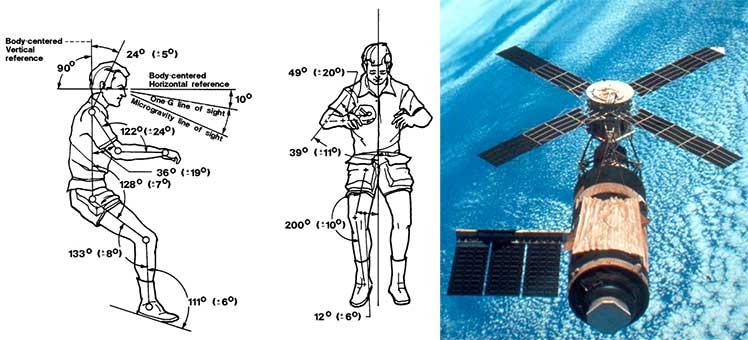 These positions reduce the body's need to exert against gravity's pull. That offloads musculoskeletal stress, reducing massive pressure on the spine. In the 1990s, NBP made its way into the office seating industry.

This(1) comprehensive literature review (1999) neatly summarizes the key points:
A seated recline of 100-120° — with a supported lumbar curve — exerts the least spinal disc pressure.
Lumbar support applied above the beltline to a depth of around 4 cm is ideal (with a 100-120° recline angle).
Electromyography readings show that adding armrests reduces disc pressure even more.
Most leading ergonomic guidelines (OSHA, BIFMA, Cornell Ergonomics, etc) support these findings.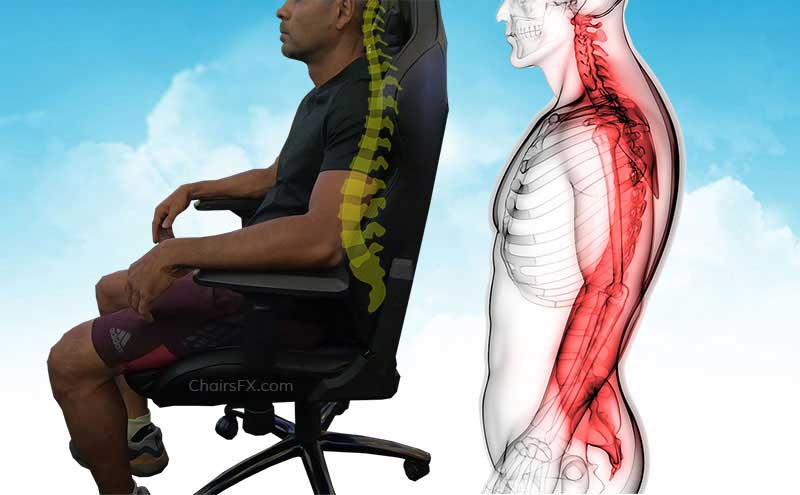 Sitting with planted feet and an aligned spine in fluid neutral positions is the healthiest way to sit for long periods.
Ergonomic Seating Definition From BIFMA, OSHA Etc.
Neutral Postures In Various Chairs
Here at ChairsFX HQ, I've been using a (Secretlab-provided) workstation for several months. My Secretlab Titan Evo 2022 has been in play for almost 2 years. Several months ago, Secretlab completed my kit with a Magnus Pro standing desk.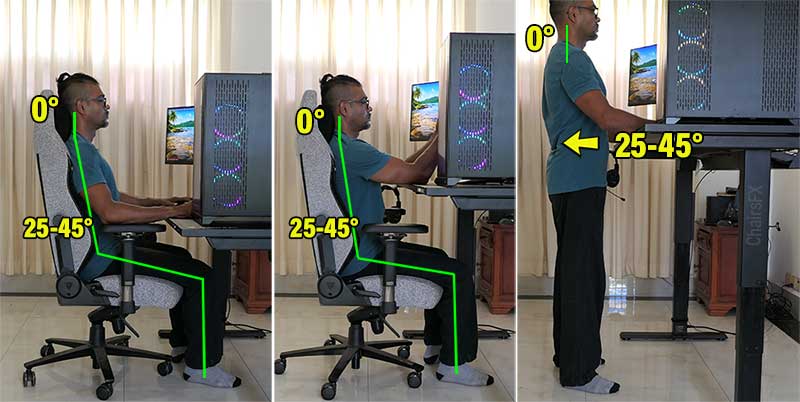 To properly gauge benefits, I've been using the kit with a boilerplate esports performance model:
Frequent breaks to stand up and move.
Resistance and cardio training at the gym 4 x per week.
Clean eating and stable sleep habits.
With solid computing posture habits in place, I decided to revisit the world's best ergonomic office chairs for a fresh investigation:
What's the difference between neutral postures in a mid-back chair vs a full-back one?
Which matters more: the type of chair, or method of usage?
Which chairs objectively deliver better back support than others?
Demystified Office Chair Sell Points
Many office chair hypemen market their wares as medical-grade engineering marvels. Most peddle the concept that spending more buys you 'better' back support.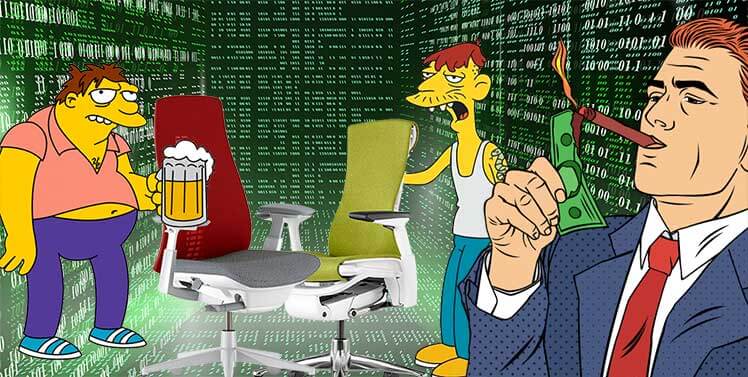 This section cuts through that hype. In fact, all models (excluding the Embody) use adjustable lumbar + arms + reclining backrest to support neutral postures.
Beyond overhyping the 'quality' of cookie-cutter back support concepts are other curiously overhyped sell points.
Physical Vs Psychological Comfort
Our neutral posture tests of gaming vs office chairs posed three questions. Here are the answers:
Q1. What's the difference between neutral postures in a mid-back chair vs a full-back one?
Answer: no difference. In both cases, you must tuck your hips, support your lumbar curve, and prop yourself up using armrests (within a 100-120° recline angle).
Q2. Which matters more: the type of chair, or method of usage?
Answer: the latter. Regardless of the chair, you must tuck your hips, plant your feet, and put effort into sitting up straight.
Q3. Which chairs objectively deliver better back support than others?
Answer: the Herman Miller Embody's upper back support concept beats them all. The rest all use the cookie-cutter formula: lumbar support + adjustable armrest + recline = neutral posture support.
Bottom line: any chair with the requisite adjustable features can support healthy neutral postures.
The 'Best' Type Of Seating Is Subjective
My hands-on tests found no type of ergonomic seating (except for the Embody) is objectively 'better' than the other. Reason: the Embody's unique back support system makes it easier to maintain perfect postures than when using other chairs.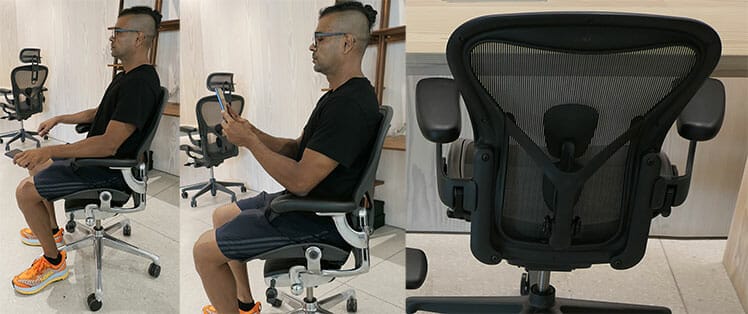 After the Embody, I found the Aeron chair most subjectively impressive. Reason: the psychological appeal of its world-class mesh is superb. Sitting in 8Z Pellicle Mesh will make you feel inspired and glorious.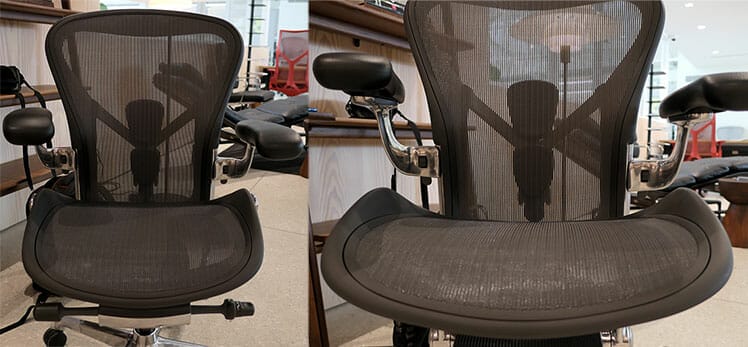 For some people, that thrill is worth the $1700+ price tag. Others may deem spending that much on unnecessary luxury as frivolous.
Both arguments have merits. Choosing whatever feels right for your needs is a good strategy.
Regardless of the chair, proper usage yields the best results. Maintain semi-neutral postures while sitting. Take breaks to stretch your legs. Hit the gym to iron out the kinks.
Then, whichever type of chair you choose has the potential to be the absolute 'best'. Learn more:
Seated Comfort Factors: Physical Vs Psychological Vs Usage
Footnotes
D D Harrison, et al. 'Sitting biomechanics part I: review of the literature', J Manipulative Physiol Ther. 1999 Nov-Dec;22(9):594-609. https://pubmed.ncbi.nlm.nih.gov/10626703/, (accessed 8 March 2022).
Herman Miller Press Release. 'Herman Miller and Logitech G Introduce Vantum, a Modern Gaming Chair', October 6, 2022. Vantum Gaming Chair Press Release, (accessed Oct. 7, 2022)