The DXRacer Craft Series has arrived. It's a luxury gaming chair with integrated lumbar support designed for small sizes. The launch arrives with seven colorful embroidered designs. This DXRacer Craft Series review tests the Craft Series America edition hands-on.
DXRacer released the world's first gaming chair in 2006. In 2015, they released the Drifting Series – the first gaming chair for office workers. That model stood out with firmer padding and executive-style designs.
DXRacer ended the D-Series line in 2021. In 2022, it resurfaces as the Craft Series. Like the original, it has firmer padding than other DXRacer chairs. It exceeds the original with premium features, integrated lumbar support, and embroidered designs.
DXRacer Craft Series Review (America Edition)
For this review, I picked up a Craft Series America edition. It has a blue PU leather base with white wings overlaid with red candy stripes. The rear side has a large embroidered Americana star. Three vertical stars on the front mark out your spinal sweet spot.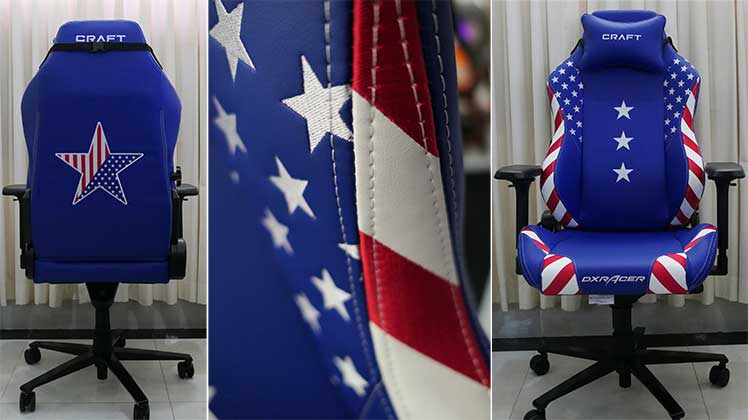 After poring over every detail of this chair, I found plenty to like. There's also a minor technical drawback to quibble about.
Craft America Chair From DXRacer $479
DXRacer Craft on Amazon Price not available
Ergonomic Features
The Craft Series is a cheaper, more compact version of DXRacer's flagship Master Chair. Both come with integrated lumbar support systems. The DXRacer Master has squishier padding, a chunkier base, and a rail-mounted sliding headrest unit.

The Craft Series differs with smaller dimensions, firmer padding, and a memory foam headrest on straps. I find the Craft Series headrest a much better fit than the awkward Master Series one. In fact, it's one of the best headrest pillow fits I've seen!
Summary of Features
Lumbar support: integrated system with depth-adjustability
Headrest: memory foam pillow with cooling gel inset; advanced strap system with 8″ adjustment range.
Armrests: 4D armrests (2.7″ height range)
Tilt: multifunction (rock, lock, or lock at angles)
Backrest recline: 90-135°
Warranty: 2 years on parts, lifetime on the frame.
Chair Dimensions
It has a narrow tapered seat style (13″ at the base vs 15″ at the lip) with splayed seat edges. There's plenty of space there for short, slim figures.
My 5'9″ size is the upper limit of the chair. The short 31.5″ backrest won't be usable for anyone 5'10" or taller.
Seat width: 22.8″ outer width; 15″ inner width
Seat depth: 22″
Backrest: 20.8″ (widest point) x 31.5″ (H)
Seat height: 18-21″
Armrest height range: 26-29″
Size rating: 5'2″ to 5'7″; 200-pound weight capacity
America Edition Design
This stunning tribute to Old Glory is bright, colorful, and inspiring. Red and white candy stripes down the side wings light up the room. Embroidered stars on the shoulder wings add a dynamic feel.
Set against a rich blue base, the whole thing comes together in a pleasing dose of pure Americana.
Other Craft Series Designs
At present, the Craft Series comes in seven styles. There's the America edition, a classic all-black version, and five vibrant, wacky designs.
For instance, 'Rabbit in Dino' is a brilliant yellow chair. There's a happy rabbit embroidered on the front and an angry one (wearing a dino costume) on the back.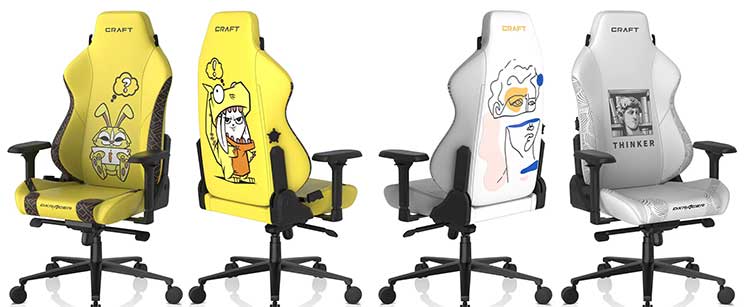 The 'Thinker' shows off Rodin's bronze sculpture — in front of a bookshelf. On the back, he's portrayed through a Picasso-esque abstract lens.
There's also a pink chair done in the classic Asian off-brand knock-off style. Continent-wide, you can drink Sunbucks Coffee, eat at KFG, and wear Adadas shoes. In that spirit, making an official Hello Kitty chair needs a fat licensing fee. Someone at DXRacer said 'screw it — let's make one anyway!'
Behold the Hello Kitty Human Cat gaming chair. It's the perfect spot to watch the Revengers movie (starring the Incredible Fella).
Pros and Cons
I find plenty to love plus one quibble with my Craft Series chair:
Pros
Impressive design
Firm, comfortable seat
Excellent headrest fit
Cons
Lumbar support isn't height-adjustable
Cheap 2-year warranty despite a premium price
Pros
Compared to the (more expensive) DXRacer Master, the Craft Series feels more comfortable. That's because it has firmer padding and a better headrest fit.
DXRacer has also perfected the Craft Series headrest-with-straps system. The headrest attaches to the chair with a pair of loops on the shoulder wings.
You can angle the loops up for a higher headrest position. Angle them down and the headrest can adjust as low as anyone needs!
Cons
My gripe with the Craft Series is its lumbar support system. It uses the same mechanism as the DXRacer Master. That version has a depth-adjustable lumbar dial. But you can adjust the height manually if needed. Simply flip up the seat cover, grab some tools, and tinker.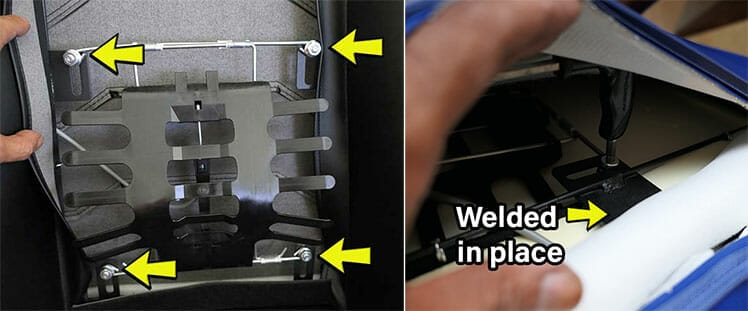 My 5'9″ size is slightly taller than DXRacer's recommended 5'7″ max height. As a result, the lumbar support hits me a bit too low. Under the hood, the Craft Series has the same mechanism as the Master chair. However, it's welded in place, negating the height-adjustable option.
Craft Series Alternatives
There are two places to look for good Craft Series chair alternatives:
DXRacer Master Series
DXRacer has re-tooled its 2022 chair lineup. This year, the Master Series stands out as a medium-sized luxury chair with executive styling. It has similar features as the Craft Series, larger dimensions, and softer, squishier padding.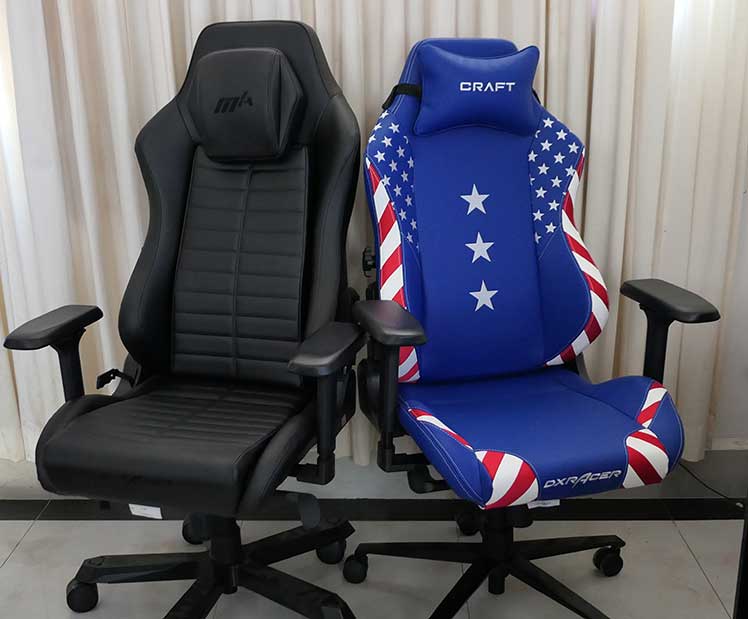 Beyond these chairs, there's a full mesh variation of the Master called the DXRacer Air. As well, several classic racing-style chairs also exist. All models have a 2-year warranty with prices between $329-$499.
Other (Premium) Small Gaming Chairs
The 2022 lineup of gaming chairs for short people is stacked. It includes seven premium chairs catering to sizes 5'9″ or shorter. Among these, the DXRacer Craft Series ranks third.
The Craft Series pulls ahead of competitors with a nice blend of function and style. Its main drawback compared to others is the short 2-year warranty. In comparison, the top-rated Herman Miller Aeron comes guaranteed for twelve years.
The second-ranked Secretlab Titan 2022 Series has a 5-year warranty. For a full comparison of all options, see this feature:
Conclusion
The Craft Series is a new collection of DXRacer gaming chairs. Key features include integrated lumbar support, compact dimensions, and richly embroidered designs.
There are only minor downsides. Adding height-adjustability to the lumbar support would let taller sizes use this chair. As well, when paying a premium $400+ price, it would be nice to get a premium 5-year warranty.
Overall, the Craft Series is an impressive new collection for small sizes. The build quality is to DXRacer's typically high standards. There are seven embroidered styles including colorful, weird, and funny ones. All are comfortable and supportive, with adjustable features tailored for small sizes.