The DXRacer Master is the most innovative gaming chair release of 2021. It's the world's first modular gaming chair. That means you can stack on extra functionality. It also boasts the world's most advanced integrated lumbar system. On top of that, it has a clean executive look that redefines the 'gaming' chair concept. This DXRacer Master gaming chair review breaks down its pros and cons.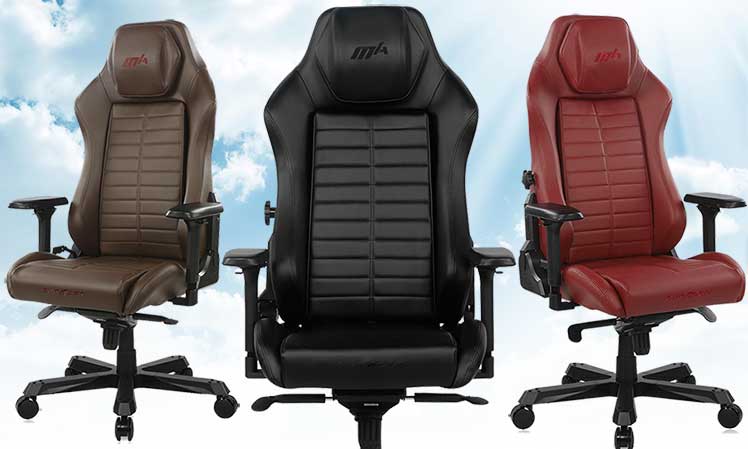 DXRacer released the world's first gaming chair in 2006. For over a decade, it sat atop the industry as the most innovative and dominant brand.
However, the gaming chair industry is ultra-competitive. In recent years, DXRacer has lost ground to several hungrier and more innovative gaming chair brands.
The release of the Master chair marks DXRacer's return to form as an industry-leading trend-setter.
DXRacer Master Gaming Chair Review
The DXRacer is an executive-style gaming chair with modular capability. That means you can add on a footrest, laptop holder, cup holder, or mesh seat pan.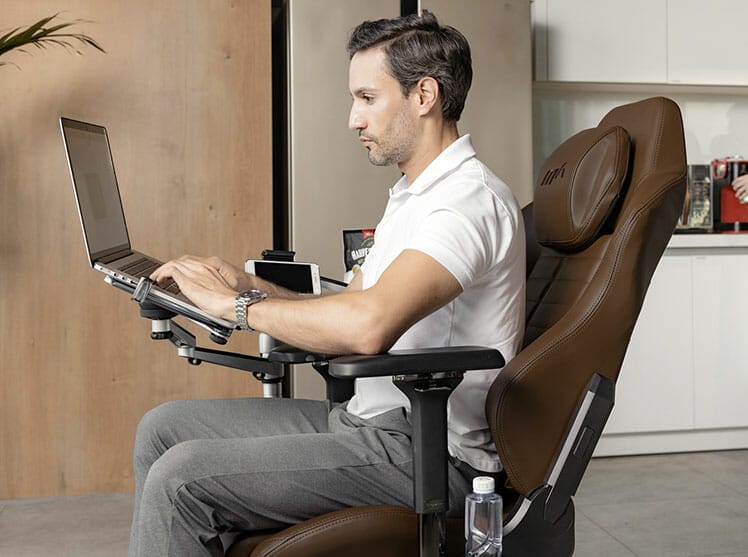 The modules make this versatile work-from-home option. With the footrest, you can use this chair as a La-Z-Boy-style recliner.
Adding the laptop stand will enable desk-free computing. If you live in tropical areas, swap in the full mesh seat for ultra-breathability. Unlike other gaming chairs, the DXRacer gives you plenty of customization options.
The DXRacer Master is also available on Amazon for Price not available. At present, extendable modules are only available from DXRacer.com.
DXRacer Master Features
Beyond the modules, the DXRacer Master chair itself comes stacked with innovative features. Here are the highlights:
Integrated Lumbar Support
The DXRacer Master chair's star is an integrated lumbar support system. Many other chairs offer this functionality. Turn a dial on the side of the chair to increase or decrease the depth of support.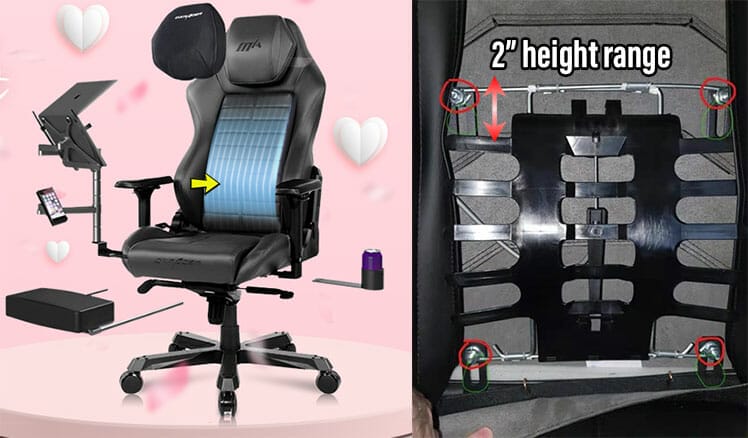 The Master chair's version is unique. It's the only integrated lumbar system on the market that is both depth and height-adjustable.
Rail-Mounted Headrest
This chair also debuts a new rail-mounted headrest concept. Instead of a traditional pillow, the headrest is affixed to a rail mount.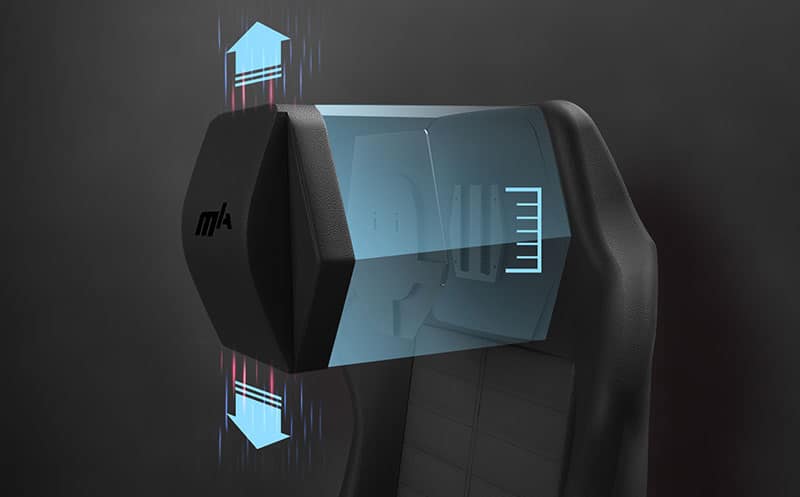 Slide the unit up or down until you find your sweet spot, then lock it into place. Unlike a pillow, it will provide static, consistent support until you decide to change it.
Summary of Features
Functionality: 4D armrests; recline to 155 degrees; multifunction tilt-lock.
Support: resilient foam padding; integrated lumbar support; rail-mounted headrest.
Upholstery: luxurious microfibre PU leather in black, maroon, or brown.
Warranty: two years.
Dimensions
DXRacer has done a great job making this chair usable for a range of sizes. The integrated lumbar support has a 2″ height adjustment range. That makes this chair usable for short, average, and tall users.
Even so, like most DXRacer chairs, the seat is slim-fit. If you have thick legs or wide hips, this chair might not be for you.
Seat width x depth: 15″ (W, excluding seat edges) x 19.5″ (D)
Backrest width x height: 22″(W) x 33 (H)
Floor to seat range: 19.75-22.75″
Size rating: 5'7″ to 6'6″; 275-pound weight capacity
Master Series Modules
The modular chair system is an introductory concept. Assuming it catches on, new add-ons are possible.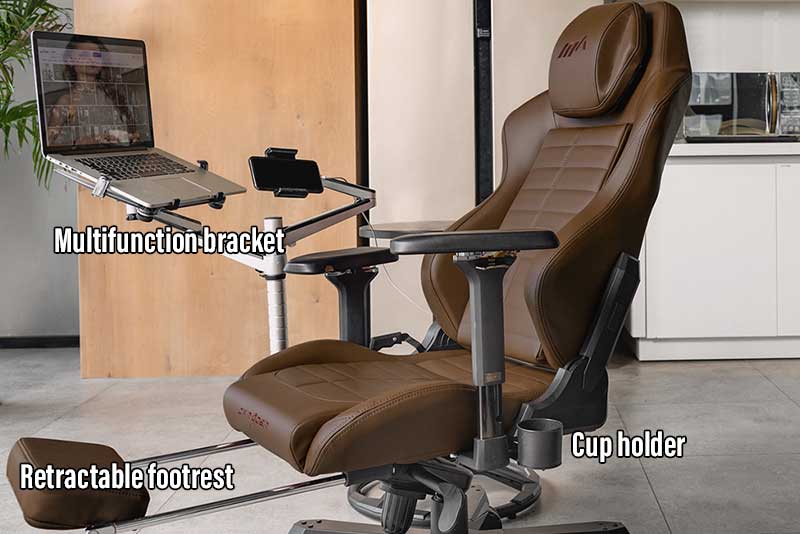 At present, three modules are available in the DXRacer store. A new mesh seat replacement is slated for release later this summer.
Here's what's currently available:
Retractable footrest: $59
Laptop/ mobile device holder: $169
Cupholder: $19
Pros and cons
Reviewed without the modules, the DXRacer Master is an intriguing new premium gaming chair. Its executive design is sharp, contemporary, and unique. Under the hood, its integrated lumbar and rail-mounted headrest also stand out.
Stacking on modules takes this gaming chair to an even higher level. The downside of such wizardry is cost. The chair itself is pricey. Adding on modules can set you back over $700.
Pros
Striking and Unique Executive Design
Advanced Integrated Lumbar
Modular Extendability
Cons
Expensive compared to competitors
Only comes with a 2-year warranty
Based on our in-house DXRacer tests, these gaming chairs will last beyond the warranty period when used full-time. Even so, other premium gaming chair brands like Secretlab and GTRacing offer 5-year warranties with cheaper chair prices.
Conclusion
The DXRacer is an exciting new product that takes gaming chair innovation to a higher level. With its modular functionality, it makes a versatile addition to any home office.
You can use this model upright as a luxurious desk chair. When it's time to relax, pop in the footrest for some zero-gravity reclining.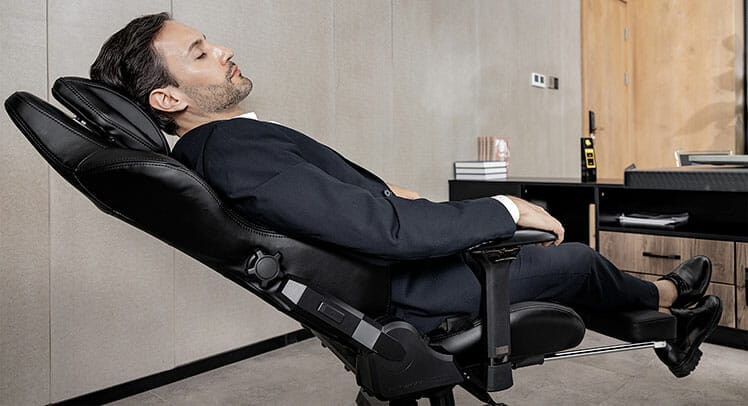 If you only need to do light computing, hook up the laptop stand to do desk-free office work from your living room.
The possibilities are endless, but also expensive. At present, the biggest issue is the paltry 2-year warranty.
If DXRacer beefed up the Master chair to 5-year durability, this model is well worth the investment. As is, the short warranty might scare off the budget-minded, leaving this as a niche item for luxury-seekers.
Master Series from DXRacer for $499
The DXRacer Master is also available on Amazon for Price not available. At present, extendable modules are only available from DXRacer.com.
Related Articles