Most gaming chairs come with a height-adjustable lumbar support pillow. Secretlab's Titan chair replaced the pillow with an internal lumbar. That provides more precise, customizable lower back support. As a result, many other brands now make similar chairs. Here, we review the best gaming chairs with internal lumbar support systems.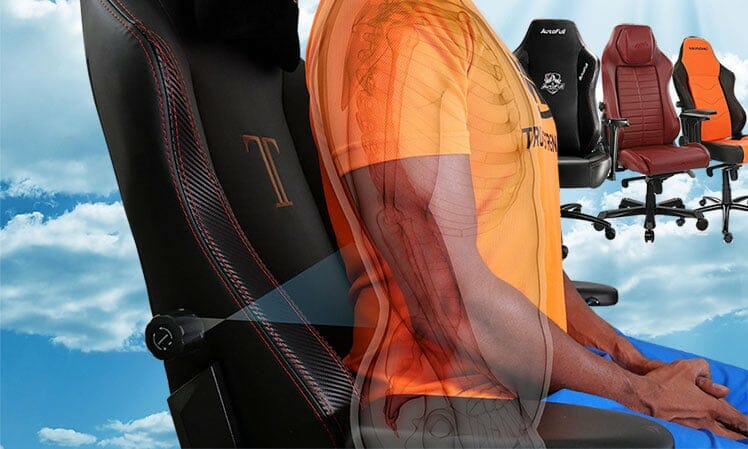 Adjustable lumbar support is the most important ergonomic component in any chair. Gaming chairs with integrated lumbar replace traditional pillows. These provide a cleaner look and the advantage of precise depth control.
Integrated lumbar vs pillow
Traditional lumbar pillows are height but not depth-adjustable. The problem with many new gaming chairs is that the lumbar pillow is too fat.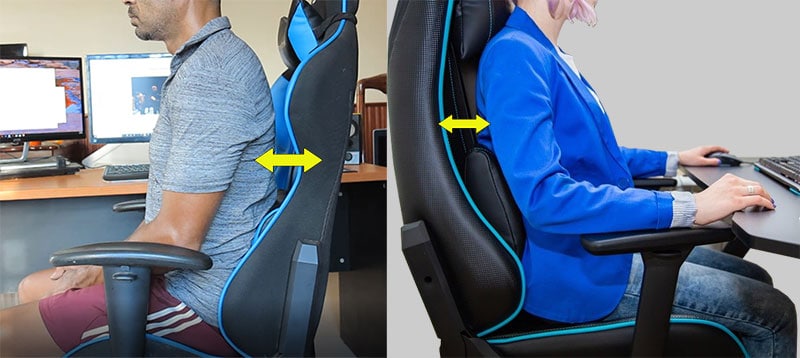 Until it flattens, the pillow's depth will cause a gap between your back and the backrest. Gaming chairs with internal lumbar systems allow the opposite — you can control depth, but not height.
That lets you press your entire spine against the backrest. It's a lot more supportive and comfortable than a traditional pillow by far.
The downside is that you need to meet a chair's sizing specs to use the lumbar. If it's too short, it won't fit. The upside is that depth-adjustable lumbar support gives much better support than a pillow.
Gold Standard: Secretlab Titan 2022 Series
The Titan 2022 Series has the best integrated lumbar support system in the world. It's the only gaming chair lumbar support offering both depth and height adjustability.
Secretlab calls this a 4-Way L-ADAPT Lumbar Support System. Turn the dial on the left side of the chair to toggle the height. Play around until it meets the center of your lower back curve (around 5-7 inches higher than the seat).
Then, turn the dial on the right side of the chair to adjust the depth to your liking. Once you find your sweet spot, there's a bonus. Laid over the lumbar support unit is a matrix made out of 63 adaptive hinges.
As you move in the chair, the hinges respond by flexing left or right. That provides adaptive support no matter how you choose to sit.
Titan 2022 Series chairs come in three sizes with over 30 styles to choose from.
Available from Secretlab in America, Canada, the UK, Europe, Australia, New Zealand, Singapore, and Malaysia. Learn more in this Titan EVO 2022 Series review.
Other Integrated Lumbar Gaming Chairs
Only one other chair comes with both depth and height-adjustable support. Beyond the DXRacer Master, the rest are depth-adjustable only.
DXRacer Master Series
$499 from DXRacer
Rated #2
The DXRacer Master Series is a chair for those who like to tinker. It's a modular concept that lets you add extra functionality (footrest, cupholder, etc). It also comes with integrated lumbar support via a single knob that lets you adjust the depth.
However, there's also a manual hack that you can use to adjust the height. Pop open the backrest to reveal the lumbar unit underneath.
Using a 13″ wrench and al Allen key, loosen the four screws and reposition the unit up or down. It's a solid piece of machinery not likely to break. Play around with different heights, then sit down to test.
Note that finding the perfect height for your needs can be tricky. I set and reset my unit several times before finding my groove.
DXRacer Master Features
Features are good. Chairs are available in black, maroon, or brown faux leather.
Ergonomic highlights: 4D armrests; recline from 90-155 degrees; multifunction tilt-lock.
Lumbar support: depth-adjustable.
Size rating: 5'7″ to 6'6″ (175-198 cm); weight capacity 275 pounds
Warranty: two years.
Advice
The Master Series is an intriguing product stacked with innovative features. Like the Titan 2022 Series, it lets you adjust your lumbar support's depth and height.
However, it costs more than the medium-sized Titan, and only comes with a 2-year warranty. Spreading the cost over the length of the warranty reveals less value for money:
| | | |
| --- | --- | --- |
| | Titan 2022 Series | DXRacer Master |
| Price | $449 | $499 |
| Warranty | 5 years | 2 years |
| Price per year | $79.80 | $249.50 |
That aside, it's the world's first modular gaming chair. You can extend this chair's functionality with a footrest to enjoy La-Z-Boy-style reclining. For desk-free computing, attach the laptop holder. If you sweat excessively, swap out the padded leather seat for a mesh one.
Pros
Unique executive design
Modular functionality
Lumbar is also height-adjustable
Cons
Costlier than the Titan
Non-premium 2-year warranty
Even so, DXRacer sweetens the deal with plenty of extras. That makes it easier to accept the high price and short warranty. On top of that, the Master Series is the only model in this review that isn't a shameless Titan knockoff.
Instead, it offers a fresh new design and inspired new concepts tailored for work-from-home executives.
DXRacer Master $499 from DXRacer.com
To learn more, read this Master Series Modular Gaming Chair Review.
Secretlab Titan 2020 Series
$399-$459 from Secretlab
Rated #3
The former top-ranked integrated lumbar chair falls all the way to #3! The Secretlab Titan 2020 Series popularized the integrated lumbar support concept. Today, it still serves as the blueprint that other brands strive to match.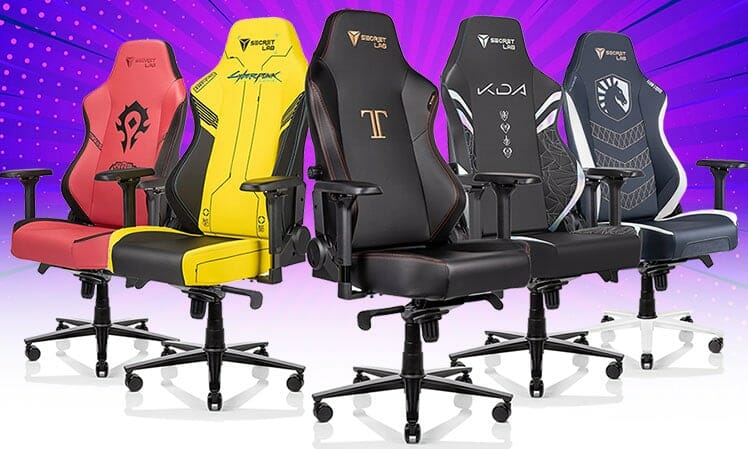 While the 2022 Series takes over the top spot, 2020 Series Titan chairs are still available until the end of the year. It offers a revered style that made Secretlab a household name.
The iconic aspects include its internal lumbar, flat seat pan, and 5-year warranty. On top of that, there's a huge range of designs to choose from. flat, wide seat.
Summary of features
The standout feature is the depth-adjustable internal lumbar support. For users taller than 5'9″, it offers more comfortable and precise support than a pillow. But since it's not height-adjustable, users shorter than 5'9″ will be too short to make use of it.
Other notables include rich tilting functionality and a patented blend of cold-cured foam padding. As well, Titan chairs come with a 5-year warranty. All other chairs in this review come with a 2-year warranty or less.
Ergonomic highlights: 4D armrests; recline from 85-165 degrees; multifunction tilt-lock.
Lumbar support: depth-adjustable.
Size rating: 5'9″ to 6'7″ (175-200 cm)
Warranty: three years (extendable to five years with a social share).
Advice
This used to be the gold standard of internal lumbar support gaming chairs. While the new Titan 2022 Series beats it, few others measure up.
Pros
The original integrated lumbar design
38 design styles
5-year warranty
Cheaper than its imitators
Cons
Only fits sizes 5'9″ and up
To learn more, check this comprehensive Titan 2020 Series review.
Titan 2020 Series from Secretlab $399-$459
Available from Secretlab in North America, Europe, the UK, Australia, New Zealand, Singapore, and Malaysia.
Arozzi Primo
$408.09 on Amazon
Rated #4
Arozzi's new flagship chair looks almost exactly like the Secretlab Titan 2020 Series. It has the same flat, wide seat and integrated lumbar support system.
Summary of features
Primo chairs have a smaller recline range than Titan chairs. Beyond that, features are the same:
Functionality: 4D armrests; recline to 145 degrees; multifunction tilt-lock.
Comfort: resilient foam padding (70kg/m³); lumbar support and headrest cushions.
Upholstery: premium synthetic woven fabric.
Warranty: two years.
Primo dimensions also resemble the Titan's:
| | Primo | Titan |
| --- | --- | --- |
| Seat width x depth | 20.5" (W) x 20.5" (D) | 20.5" (W) x 19.7" (D) |
| Backrest width x height | 21.25" (W) x 32.75" (H) | 21.7" (W) x 33" (H) |
| Floor to seat range | 18.75 to 22.75" | 18.7" to 22.4" |
| Size rating | 5'11" to 6'10"; 390 pounds | 5'9" to 6'7"; 290 pounds |
Advice
The Arozzi Primo is every bit as attractive and luxurious as the Secretlab Titan. It also comes in plain designs ideal for both the bedroom and the boardroom.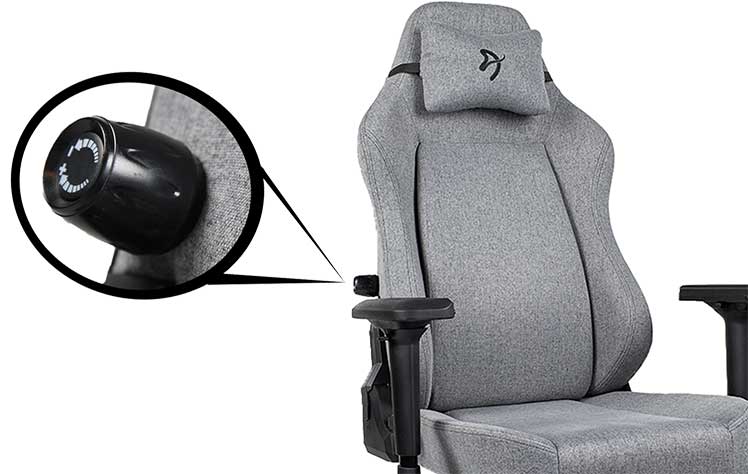 On the downside, there's nothing original to see here. It's basically a well-done copy of another brand's idea.
Pros
Attractive minimalist designs
Fabric and PU leather options
Cons
Offers nothing original
More expensive than the Titan
Budget-class 2-year warranty
If you're looking for the most luxurious Titan clone, the Arozzi Primo is it. With a higher price and shorter warranty, it offers worse value for money. On the upside, it delivers a similar level of comfort and adjustability, with its own unique style.
To learn more, check out this Arozzi Primo Gaming Chair Review.
Primo WF-BKGY Fabric Chair from Amazon $408.09
The Primo PU leather edition is also available from Amazon for $415.09.
Maxnomic Office Comfort (OFC)
Check Amazon prices
Rated #5
The Maxnomic OFC (short for 'Office Comfort') has the same features as the Titan 2020 Series. Both have an internal lumbar, 4D armrests, and a 5-degree forward-leaning backrest.
OFC chairs fall behind the Titan in two ways. First, compared to the 5-year Secretlab warranty, Maxnomic chairs only come with meager 2-year protection.
Second, while Titan chairs are easy to order worldwide, Maxnomic OFC chairs are often out of stock.
Summary of features
Beyond the quibbles, the Maxnomic OFC is one of the best high-end gaming chairs on the market. Like Titan chairs, OFC models have flat, wide seats and internal lumbar supports. Expect spacious comfort with precise support.
There are a few extras worth mentioning. The first is finger indents on the armrest caps. Those little slots let your fingers rest as you sit.
Another aspect that Maxnomic likes to promote is the ultra-firm cold-foam padding. The point of this stuff is extended comfort and durability. No matter how long you sit, the foam will retain its original shape.
However, despite having top-of-the-line padding, Maxnomic chairs only come with a 2-year warranty. Circa 2021, that is very short protection for premium-priced chairs.
Ergonomic highlights: 4D armrests; recline from 83-139 degrees; multifunction tilt-lock.
Lumbar support: depth-adjustable.
Size rating: 6'2″ to 6'5″ (187-195 cm)
Warranty: two years.
Note the limited size range. This chair is for tall users only. Users shorter than 6'2″ won't be able to make use of the (fixed-height) lumbar.
Advice
On paper, OFC chairs rank among the best in the world. In reality, they're often out of stock. The warranty is also shorter than what other brands offer.
If you can live with those quibbles, OFC chairs are comfortable, supportive, and well-built.
Check OFC chair availability on Amazon
To learn more, check out our review of the Maxnomic Office Comfort gaming chair collection.
Noblechairs Hero
Check Amazon prices
Rated #6
The Hero has similar features as the preceding chairs, with a cleaner, more office-style design. Like Maxnomic chairs, Hero chairs have a 2-year warranty. Also, like Maxnomic models, they are very often out of stock.
Summary of features
Like all chairs in this review, the Hero has depth-adjustable internal lumbar support.

Noblechairs padding density is 60 kg/m³. That's a bit softer than Secretlab and Maxnomic chairs. In a quick test, the soft padding feels a bit more fluffy and comfortable. However, over longer periods, firmer padding holds up better.
Ergonomic highlights: 4D armrests; recline from 125 degrees; multifunction tilt-lock.
Lumbar support: depth-adjustable.
Size rating: 5'5″ to 6'2″ (165-187 cm)
Warranty: two years.
Advice
Noblechairs Hero chairs are comfortable and attractive. They also come in a diverse (and growing) range of styles.
On the downside, they're expensive, and only guaranteed for 2 years. If you don't mind the quibbles, the Hero boasts one of the most elegant designs in this review.
Check Hero prices on Amazon (often out of stock)
Check out our Noblechairs Hero review to learn more about this chair.
Why is seated lumbar support important?
The human body is not designed for sitting. When standing, the lower back has a healthy lumbar curve.
In a seated position, the curve flattens. That misaligns the spine and promotes slouching.
Ergonomic science explains how to reverse this effect. Light pressure in the lower back curve reflexively straightens the upper spine.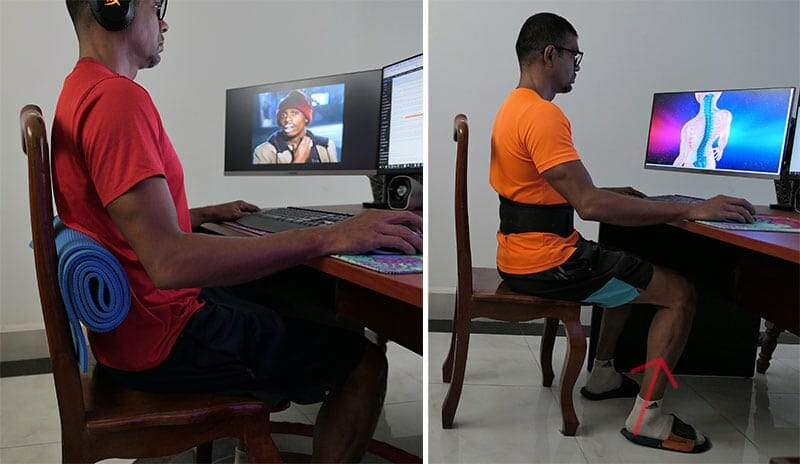 You can test this principle for yourself using a yoga mat or weightlifter's belt. To learn more about lumbar support principles, check this:
Conclusion
Gaming chairs with depth-adjustable lumbar supports have a few advantages. First, since you can control the depth, they provide firmer, more precise support than lumbar pillows.
As well, new lumbar pillows tend to force a gap between the spine and the backrest. In contrast, a depth-adjustable lumbar chair lets you press your back firmly into the backrest. That yields better, more consistent support over long periods of sitting.
Related Articles