Testing a chair in a showroom can only tell you so much. To really understand its qualities, you need to use it. For the past eight months, I've been using a DXRacer Racing Series Pro Series edition. This review concludes my usage with a usability report.
There were a few reasons I chose to spend time with this model. First, DXRacer is the original gaming chair brand. If DXRacer didn't exist, there wouldn't be a gaming chair industry. Its early designs provided a blueprint that every brand in the industry has followed.
For many years, the Racing Series Pro RV131 was one of DXRacer's flagship models. That is the blueprint of what ChairsFX now refers to for a "pro esports gaming chair". It has 4D armrests, cold-foam padding, and a multifunction tilt-lock.
This was in fact one of the earliest models to deploy a multifunction tilt mechanism. That provided another incentive to test this chair as the basis of our multifunction tilt lock explainer guide.
Pro Series review after 8 months of use
Eight months ago, I bought a Pro Series RV131 to use as my work-from-home centerpiece. On average, I spent around 70 hours each week using it.
No further tests are necessary. The Pro Series RV131 is a superb pro-caliber gaming chair.
Racing PRO Series RV131 on Amazon $399.00
The DXRacer Racing PRO Series RV131 is also available from DXRacer for USD $399.
Features
A few things define this chair as "pro-quality". First is the cold-foam padding. After eight months of full-time use, the padding still works like new. Every time I get out of the chair, it springs back into its original shape.
DXRacer guarantees its premium padding to last for two years. Based on my durability tests with a Formula Series model, you can expect it to last even longer than the warranty period.
Signs of wear and tear are few. There's a small crease in the leather on the seat. You can also see sweat stains showing through the white embroidered DXRacer logos on the pillows.
Tilt-lock
Another feature I really enjoyed was the multifunction tilt-lock. Using it provides extra opportunities to move while sitting. Taking a standing break every 20 minutes or so is ideal. However, during deadlines or special cases, having a multifunction tilt-lock comes in really handy.

The 4D armrests also performed well. They offer a decent range of motion, soft top pads, and crisp performance. After eight months of heavy use, they still look and perform like new.
Summary of features
4D adjustable armrests: can move up and down; side-to-side; forward/ back; at angles.
Cold foam padding: the premier padding choice in the furniture industry. It provides consistent resistance for years. That ensures a seat that looks and works like new.
Premium PU leather: stain-proof, more breathable, easy to clean, durable.
Multifunction tilt-lock: a standard mechanism only lets you rock or lock the seat. A multifunction variant also lets you tilt the seat and lock it at angles.
Support: aluminum base; Class 4 gas lift; 3″ PU casters.
Warranty: 2-year warranty on parts, excluding normal wear and tear.
This feature set is the premium tier of the DXRacer Racing Series collection. For a technical review of all Racing Series models, check out our Racing Series review. That summarizes the features and dimensions of every Racing Series chair in the collection.
Dimensions and sizing
In the Racing Series collection, consumer-class models are smaller. Pro variants are a bit more spacious. Sizing specs of both:
| | Formula Series | Racing Series |
| --- | --- | --- |
| Seat width & Depth | 15.1" (W, excluding seat edges) x 18" (D) | 20" (W) x 18.5" (D) |
| Backrest width x height | 22.5"(W) x 33 (H) | 21" (W) x 34" (H) |
| Floor to Seat Range | 16-20" | 15" to 18" |
| Size rating | 5'3" to 5'8"; 200-pound weight capacity | 5'7" to 6'0"; 225-pound weight capacity |
| Height support | 5'5" to 5'8" | 5'7" to 6'0" |
DXRacer rates Racing PRO Series chairs to fit users between 5'7″ to 6″ (170 to 182 cm). I stand 5'9″ (177 cm) and found it a perfect fit.
I also tested it with a couple of teenagers standing 5'5″ (165 cm) each. Although the backrest was higher than ideal for both of them, almost everything else worked well. Both support pillows fit into their spinal curves, while the armrests adjusted to sync them with a desk.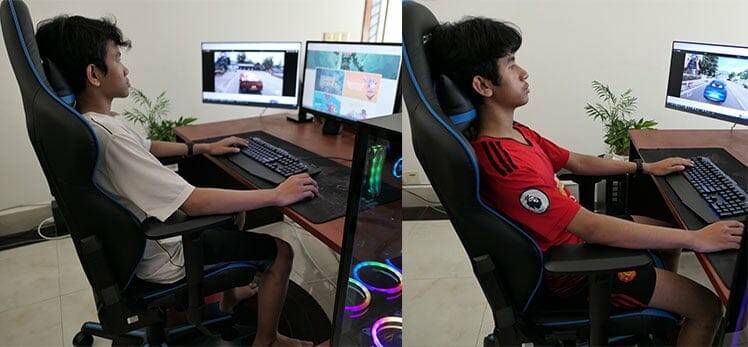 However, the kid in the red shirt didn't feel comfortable with his feet planted on the floor. With the seat at the right height for the desk, his feet dangled off the floor. Given this information, DXRacer's size rating for this chair looks to be spot on. Users between 5'7″ to 6″ (170 to 182 cm) will find a great fit in this chair.
For smaller sizes (like the kid in the red shirt) who don't feel right, add a footrest. For instance, the Mind Reader Ergonomic Footrest costs $22.79 on Amazon and adds four inches of height under the user's feet. Learn more in this report:
Likes and dislikes
I like almost everything about this chair, but I have some quibbles. Here is a summary:
Likes
A pro esports gaming chair gives the most opportunities to move while sitting. At the same time, pro chairs using cold foam padding offer firm, consistent, comfortable support. The Racing PRO Series RV131 delivered on both fronts.
The faux leather upholstery also impressed. It never got sticky, even in hot summer temperatures. It was also easy to keep clean with a general-purpose cleaner and a towel. After eight months, signs of use were minimal.
There was a slight crease in the leather on the seat. The white embroidered DXRacer logos on the pillows also shows signs of sweat discoloration. Given such minor damage after eight months, I could imagine this chair handling three years of full-time use. After that, I'd expect the padding to flatten and the leather to show signs of degrading.
Dislikes
My only complaint about this chair is the narrow dimensions. That is actually by design. Winged edges on the seat and backrest cocoon the user to better support good posture. That works very well. However, sitting in a cocoon-like state all the time gets annoying.
Over longer periods of sitting, the narrow dimensions especially bother me along the side wings. The tapered wings sometimes dig into my armpits and force my shoulders into a slightly awkward position.
I also have a love-hate relationship with the ridged seat edges. They "force" you to sit with your legs close together. That ensures great posture while sitting, but it can also feel restrictive. For working at a desk, this configuration is perfect. But for casual gaming or watching movies, a couch feels more comfortable. Without the ridged edges, this chair would be ideal for both work and casual relaxing.
How to buy DXRacer gaming chairs
Ever since my first Formula Series chair, the DXRacer gaming chair brand has been one of my favorites. Even so, ChairsFX has only written a few DXRacer articles this year. That is because, for most of 2020, DXRacer chairs have been out of stock.
Luckily, that seems to be changing. The DXRacer USA website is now filled with in-stock products. As well, the DXRacer Amazon USA store is also well-stocked.
On Amazon, Racing PRO RV131 Series chairs are currently available in black with red, blue, or white trim.
Conclusion
I could have happily kept my PRO Series RV131 as my main workstation chair for another few years. However, to keep ChairsFX on the cutting-edge, it's important to keep learning.
Next up, I'll be plunging into heavy use of a 3-pack of Secretlab gaming chairs. I gifted my beloved Racing Series chair to Red Shirt and his brother. She served me well, and I feel a bit sad to see her move on.
However, her new owners are just getting into esports and are sure to push her to the limits. Looking for a similar high-quality ergonomic experience? Consider buying one for yourself:
Racing PRO Series RV131 on Amazon $399.00
The DXRacer Racing PRO Series RV131 is also available from DXRacer for USD $399.