Pro esports and chess players battle for fame and cash prizes — not on a field or court, but while sitting at a desk. Elite competitors in both arenas have mastered strategies to ensure optimal computing performance. These strategies can also be applied by the hundreds of millions globally who also work from a desk. Don't settle for stress, mediocre wages, lethargy, and musculoskeletal disorders. Instead, develop your habits into those of a high-caliber computing professional. The journey begins by emulating the best. Join us as we delve into the four pillars of computing performance (from esports and chess perspectives).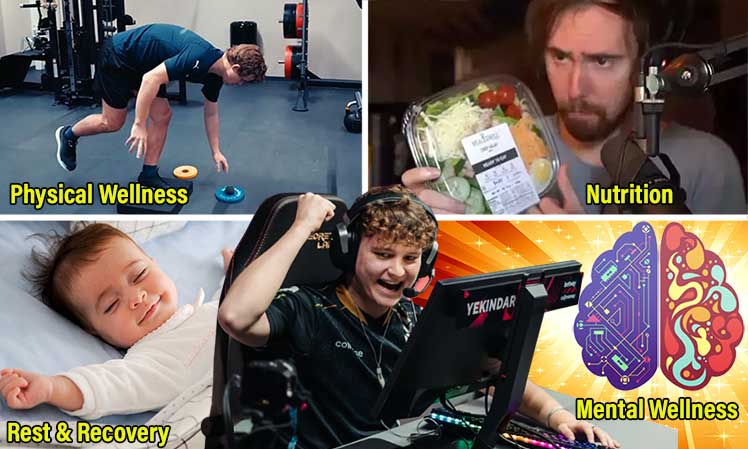 Back in the 1980s, pro chess players used to play hard and party harder. Then, the advent of computers revolutionized how chess was played and taught. That forced human competitors to learn new strategies — or risk falling behind.
1982: microcomputer chess programs could evaluate up to 1,500 moves a second.
1990: the Mephisto M68030 computer defeated former world champ Anatoly Karpov.
2018: AlphaZero leveraged AI to 'master' all aspects of chess. Its insights altered Magnus Carlsen's approach while winning that year's World Chess Championship.
Unhealthy video gamers of the 90s also saw their worlds transformed. The rise of streaming, esports and fat cash prizes raised the performance bar.
Like their chess counterparts, esports pros faced an ultimatum: evolve or become obsolete. ChairsFX already outlined the standard recipe for success in esports.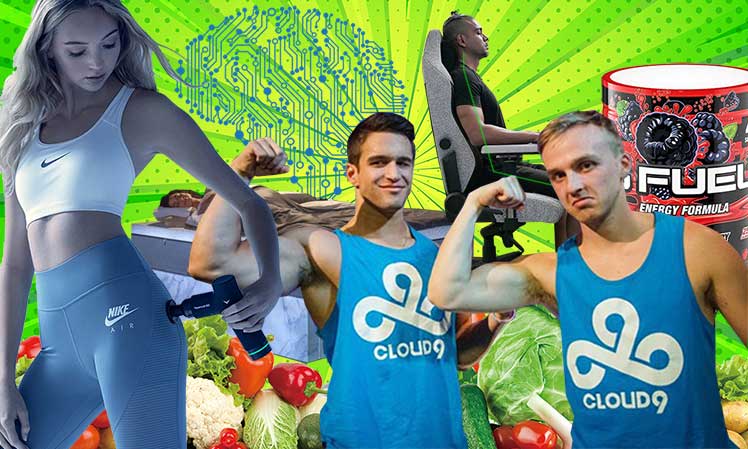 It's a straightforward equation: rest + nutrition + fitness + ergonomic desk chair = optimal computing performance .
Comprehending these factors is easy. Applying them is not. You'll need active effort, discipline, and practice to internalize the whole stack.
This article provides a starting point. It simplifies desk work performance optimization with relatable pro esports and chess examples — accessible and actionable for beginners.
4 Pillars Of Computing Performance
Healthy, rested, ergonomically supported players perform better at a computer. Esports performance coach Taylor Johnson(1) says his field is about 'influencing' players.
The primary objectives are to enhance your overall performance, health and wellness, reducing the risk of injury and extending game longevity.​
Taylor Johnson
That's easy to grasp, but tricky to apply — especially for health and fitness beginners. To make it more comprehensible, Johnson boiled this formula down to four performance pillars(2):
Recently, ChairsFX wrote about Magnus Carlsen's chess performance boosters. Around the same time, Team Liquid (top-earning esports team of all time) released their Gamer's Guide to Health(3).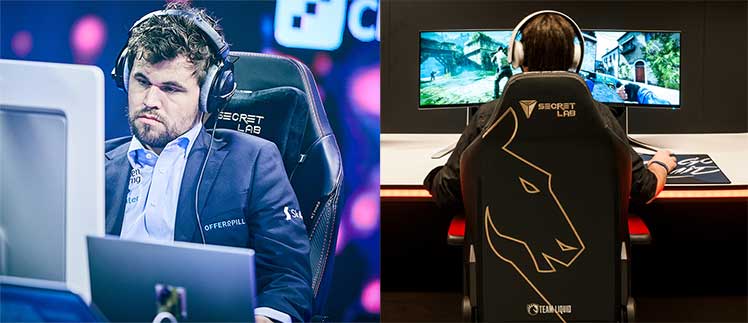 Below, we summarize each pillar, using Team Liquid & Magnus' methods as references.
Performance Pillar 1: Nutrition
In this podcast(4), Taylor Johnson outlines the nutrition pillar:
The lowest hanging fruit is nutrition… that's where we really start the conversation… just understanding how to
manage insulin and cortisol
because those are directly related. So having foundational foods, understanding supplements… ​
Taylor Johnson
Diet-wise, the old grain-heavy government food pyramid was retired in 2011(5). In its place, many have leaned towards a reversed, keto-style food pyramid.
For instance, Magnus Carlsen and Team Liquid both eat low-carb, keto-style diets. That helps them to regulate blood sugars, nourish the brain, and consistently perform better.
Magnus Carlsen: Blood Sugar Regulation
Back in 2016, Magnus Carlsen used to sip orange juice during tournaments. But then he started feeling sluggish during matches. The orange juice was the culprit.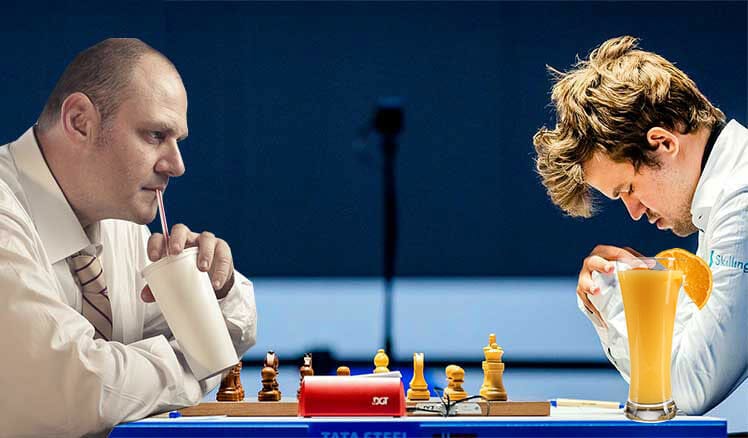 As he got older, his body became less efficient at breaking down the juice sugars. That caused sugar crashes during matches. Switching to diluted chocolate milk solved his problem.
Circa 2021, sugar regulation is his primary dietary goal:
Team Liquid: Clean Food + Supplements
Esports club Team Liquid employs chefs at its training facilities to prepare meals for players.
Heidi Miranda-Marsh is the head chef at Team Liquid's Alienware Facility in LA. She serves up common sense fundamentals:
I try to make sure that I have a variety of proteins that are high in iron… complex carbohydrates… a variety of leafy greens and vegetables…
Heidi Miranda-Marsh, Team Liquid Chef
Team Liquid Recommended Supplements
On top of a clean menu, Team Liquid uses Thorne supplements. Because they push themselves to such extremes, gamers are susceptible to certain deficiencies:
With esports,
every
piece of information,
every
reaction — that uses nutrients… you need to make sure you have enough both beforehand and after. What a gamer needs is different than what a linebacker needs.
Joel Totoro, Thorne Sports Science Director
One of the most commonly used team supplements is Thorne's Vitamin D-1000 supplement ($11.00 on Amazon). Many gamers don't get enough sunlight (a primary source of vitamin D). When deficient, they're susceptible to fatigue and mood swings.
Other supplements endorsed by(3) Team Liquid:
Thorne Sleep Plus: blends melatonin, chamomile, and theanine to help gamers sleep soundly ($32.90 on Amazon).
Thorne Collagen Plus: promotes glowing skin & healthy hair, reduces wrinkles and signs of aging ($60.00 on Amazon).
Pillar 2: Recovery (with 8 hours sleep)
Cortisol is a hormone that regulates inflammation, blood pressure, blood sugar — and your body's stress response. When under stress, the body releases more cortisol.
Recovery is all about managing cortisol. With cortisol, you're going to have decreased DHEA, memory loss, cravings, fatigue… ​
Taylor Johnson
Johnson's simple workaround: get more sleep(4). "Think more clearly, improve your reaction time, clear up the mental fog. How do we do that? Sleep a little bit better, eat a little bit better…"
Magnus Carlsen: Energy Conservation
Mangus tries to sleep for eight hours every night, but he's not obsessed about it. With less sleep, he finds his play more creative — but also more prone to mistakes:
He also tries to conserve energy during tournaments. Instead of exercising, he tries to relax as much as possible between matches.
Team Liquid: Balanced Brain Focus
In its Resilience Meta article(6), Team Liquid shared advice from CLG esports coach Bobby. He touts a balance between focused and unfocused (aka 'diffuse mode') activities: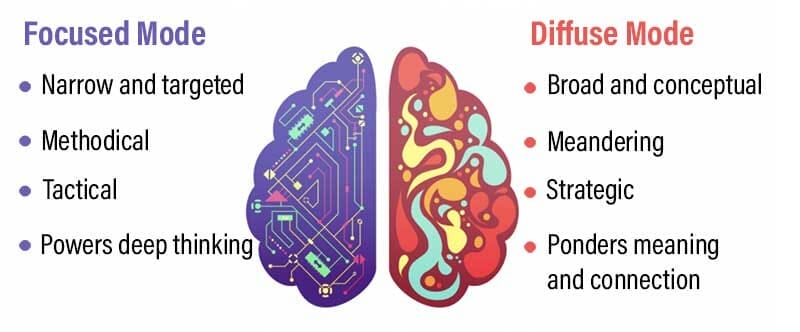 When you have focus time, you also need unfocused time… do something that is antagonistic to that high-focus time — like going on bike rides, or for a walk. ​
Coach Bobby, CLG Esports
He also emphasizes a solid 8 hours of sleep. "For every hour of sleep you miss, your cognitive function goes down by like 12 percent."
Pillar 3: Physical Health
The human body is not designed to sit for long periods. Taylor Johnson's fitness programs are specifically built around mitigating that harm:(4)
Players
sit down for long periods
of time. They typically have upper and lower cross syndromes. So
forward head position
, rounded shoulders, their hips are super gummed down and tight. Some of them experience
low back pain
, the glutes are shut off. So it's addressing that from a movement standpoint… ​
Taylor Johnson
Magnus Carlsen and Team Liquid fitness programs are also designed with the same end. That is: to mitigate the physical harm caused by long periods of sitting.
Magnus Carlsen: Core Exercises
In this Twitter video, Magnus' coach Bror Carlson outlined his fitness routine. Long periods of sitting weakens the core. To help him develop stronger core muscles, Bror emphasizes cardio and balance exercises.
Magnus was also hindered by the forward-leaning postures used by typical chess players. Leaning forward 45° increases stress on the neck by around 50 pounds. That's a massive energy-drainer.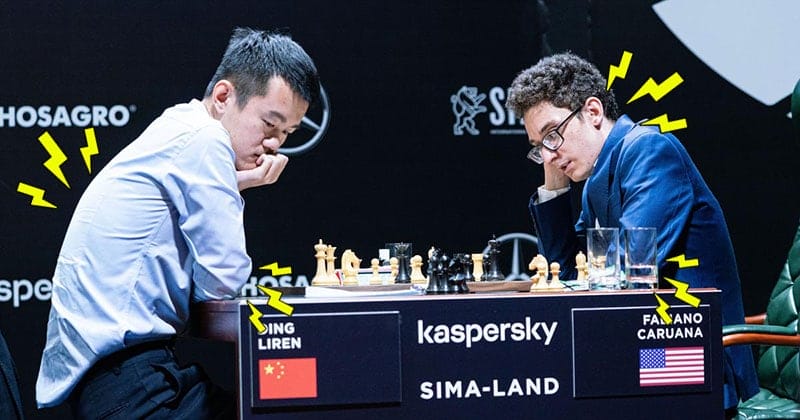 A forward neck posture forces back and neck muscles to work harder. Beyond sapping energy, that causes headaches, soreness, and irregular breathing. It also reduces oxygen to the brain by around 30%.
To address that, Magnus uses a Secretlab Titan Evo 2022. Secretlab is also the Official Chair Partner of the (online) Meltwater Champions Chess Tour. You can see Magnus competing at Meltwater in this video:
One thing you'll notice in the video is that Magnus is constantly moving around in his chair. That's actually a baked-in Titan feature: it supports good posture — while encouraging movement.
While sitting with good posture aligns the spine, any fixed posture will strain muscles. To avoid that, do like Magnus at the Meltwater:
Maintain a neutral posture as your default position.
Move frequently to boost blood flow and engage muscles.
Team Liquid: Stretches + Core Exercises
Alex Cascone is a physical therapist who worked closely with Team Liquid's League of Legends team(3). He says anyone engaged in "prolonged and repetitive activities" is "prone to certain musculoskeletal pathologies."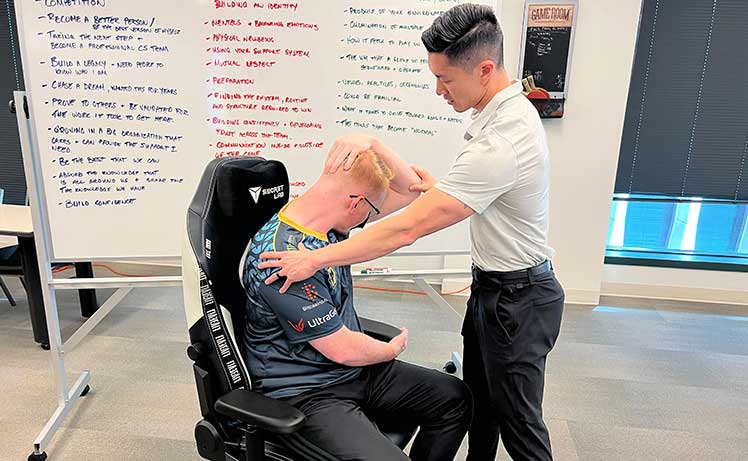 Like many esports physical therapists, Cascone recommends stretching as the main way to 'prep' your muscles. Doing a few before and after gaming sessions can minimize potential aches, pains, and injuries.
Team Liquid X Secretlab Chairs
Team Liquid also equips its players with Secretlab gaming chairs. But having any type of fully-ergonomic chair is just a start.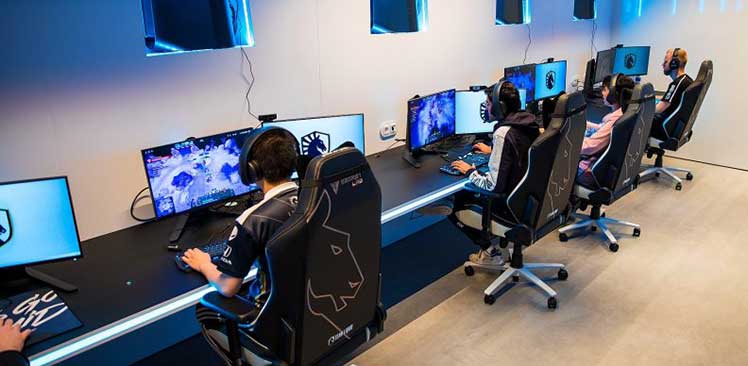 Once you've got a good chair, you also need to use it properly.
If you're
curled up like a shrimp
in your Secret Lab chair, you'll strain your spine and strain your muscles and joints no matter the ergonomics.​
Alex Cascone
To help Team Liquid players get the most out of their Secretlab chairs, Cascone focuses on core muscle work.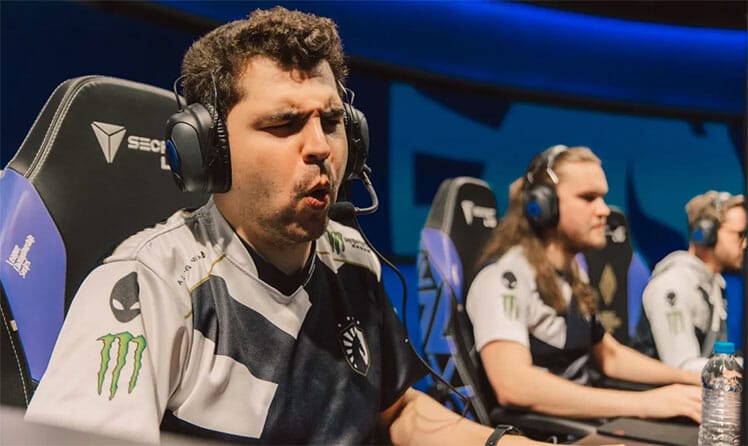 "Strong postural muscles provide gamers with improved body control, balance, and stability, enhancing overall gaming performance."
In this clip, Team Liquid legend Doublelift shares the impact fitness had on his life:
The Team Liquid edition has a navy leatherette base color. The front features golden-threaded herringbone embroidery and the team's logo.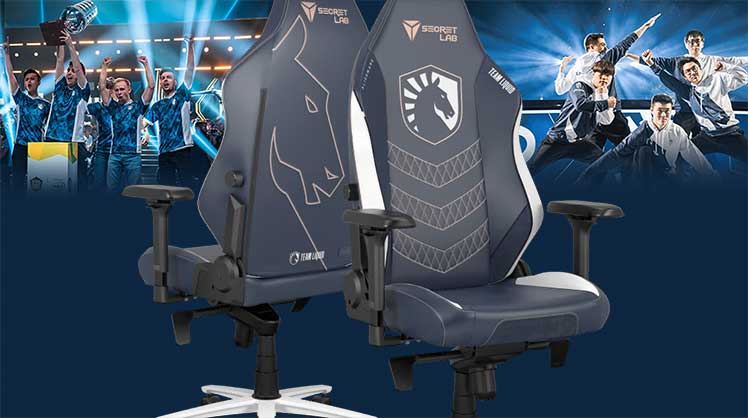 It's the only Secretlab Titan chair with a white-colored wheelbase. It's available from Secretlab in small & medium sizes ($624), and also XL ($674).
TItan Team Liquid $624-$674 from Secretlab
Pillar 4: Psychological Health
Mental health is the most important pillar of all. Says Taylor Johnson: "Your brain is your money-maker. Everything is geared towards cognitive performance. Think more clearly, improve your reaction time, clear up the mental fog."(4)

Mental fatigue and burnout are the dangers. Most esports players are between 17-26 years old. The average length of career is about 2-4 years
Johnson says (2), they are at "the age where disorders tend to manifest. Having experts on staff who can deal with depression and other disorders… is critical."
He strives to help players develop Zen-like balance under the massive pressure they endure. "Part of a healthy routine is being able to handle smaller challenges and everyday life, especially when you're under the spotlight."
From a psychological standpoint, the more
emotionally reserved
and controlled they are will lead to
less mistakes
and potentially more games won. ​
Taylor Johnson
Magnus Carlsen: Liquor & Angst
Magnus Carlsen doesn't have a clear-cut mental health routine. Even so, he shared several mental health insights in a 2021 episode of the Wolfgang Wee Uncut podcast(7) (in Norwegian, with English subtitles).
Much of the discussion focused on 'fast chess'. That's a blitz-style variant in which each player has less time to consider their moves. At present, Carlsen is the world's top-ranked rapid chess player in the open section(8).
Fast chess & alcohol: in classic chess, players rely heavily on intuition and technique. But drinking alcohol works well when playing fast chess (less time allowed per move).
Exhausted creativity: when worn down physically, "I am most creative because I stop thinking and am not logical in the same way."
Fast chess overthinking: thinking too much is counterproductive and exhausting. "I play better if I listen to music, because then I relax more and I stop thinking."
Young people play like computers: they do odd moves by noticing patterns and making rapid, computer-like calculations. "It really annoys me. I just have to accept that I'm not as fast in my head."
Coping with losses: "I go straight to anger, right away. Anger and depression. I especially felt it during the World Championship in 2016."
Team Liquid: Forged Resilience
Team Liquid takes a more structured, non-alcoholic approach to keeping players mentally fit. By giving players structure, they're able to manage anxiety while performing at a high level.
In the team's Resilience Meta(6), CLG Coach Bobby gave these tips to manage esports players' mental health:
Find your flow state: achieving the right balance of mental arousal vs cognitive anxiety.
Ease physical anxiety: when people are stressed, they physically tense up. Massage loosens them.
Cardio conditioning: helps a body maintain a high heart rate for longer periods.
Set routines: use pre-game and in-game routines to control physical anxiety.
Envision adversity: instead of visualizing things going right, imagine they go wrong — but you still succeed.
Ergonomic Chair: Trojan Horse Kickstart
Taylor Johnson sees esports performance coaching as a way to take health & wellness mainstream(4).
We have a phenomenal opportunity to present health and wellness to millions of people, worldwide, through gaming. A lot of people would love to be a pro gamer. Or at least improve their performance. It's a Trojan Horse.
Taylor Johnson
The four pillars are nutrition, recovery; physical fitness, and psychological health. The most accessible entry point to get a program started: use an ergonomic chair. Keep reading to learn why.
Neutral Posture: Fast Energy Supercharge
NASA discovered the science of healthy sitting while observing Skylab astronauts in 1973. Its researchers noticed astronauts always fell into neutral postures while working or relaxing.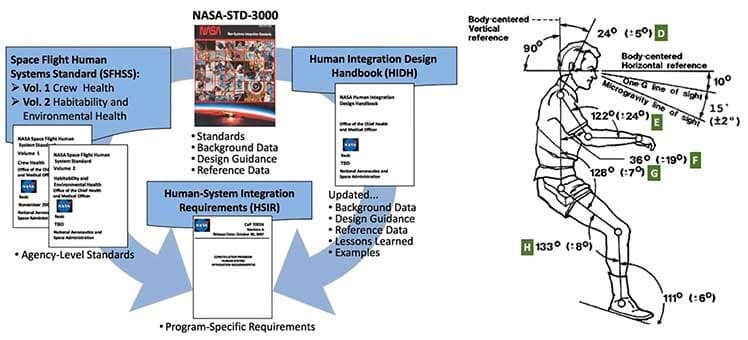 Further study found that these align the spine to efficiently hold itself upright. That eliminates musculoskeletal strain, letting astronauts relax comfortably for long periods.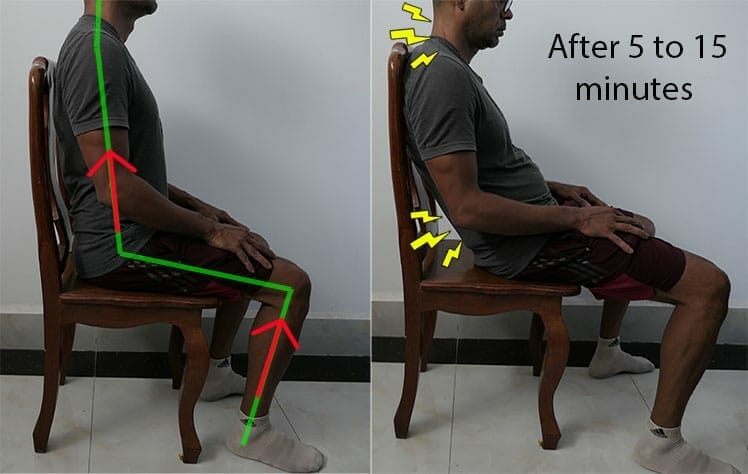 The problem on earth: a stronger gravitational pull. To sit upright (without support), the back muscles have to work harder. Once the back muscles tire, the lower back curve will flatten.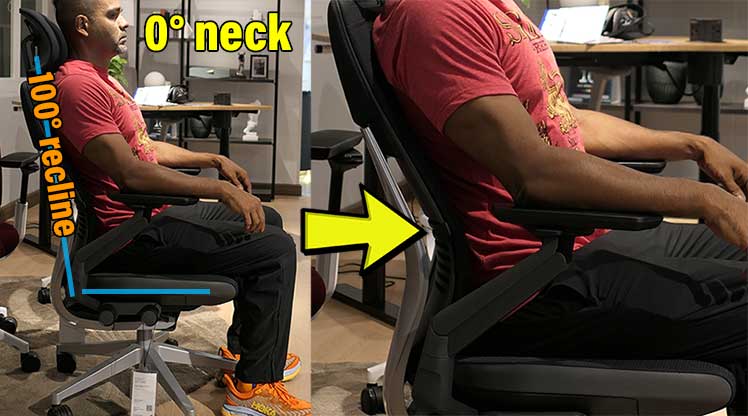 Ergonomic seating solves this problem by supporting the lower back curve while you sit. By preventing that from flattening, the spine aligns as if in a healthy standing position.
As a result of developing a neutral sitting habit, people can sit for longer periods without muscle strain.
Energy Supercharge
After just a few days of neutral sitting, a life-changing benefit will kick in: a massive energy supercharge. I discovered this after buying my first gaming chair back in 2017.

After adjusting to neutral sitting habits, a massive surge of energy kicked in. At first, that powered longer periods of razor-sharp focus while computing.

But after a while, having so much excess energy started making me jittery. To burn some of it, I started hitting the gym. That led me directly down a path towards the four pillars: nutrition, recovery; physical fitness, and psychological health.
Gaming Versus Office Chairs
There are physical and psychological comfort perspectives. The former is simply an absence of bodily discomfort. The latter has to do with aesthetics, upholstery, and other sensory factors.
There's only one way to avoid discomfort over long periods: sit in neutral positions. It doesn't matter whether you use a gaming chair or an ergonomic office chair.
Regardless of type, a chair needs three adjustable components to qualify as ergonomic — buy supporting neutral postures.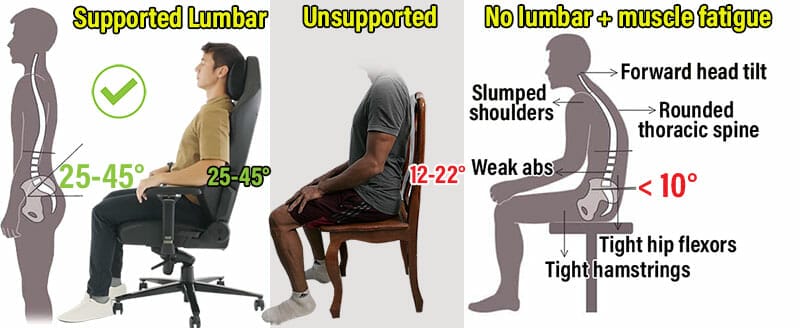 Adjustable lumbar support aligns the spine. Adjustable arms provide extra bracing to hold the torso up against gravity. A reclining backrest lets seated bodies move.

The end result looks the same, regardless of chair type. The method of achieving neutral postures is also the same.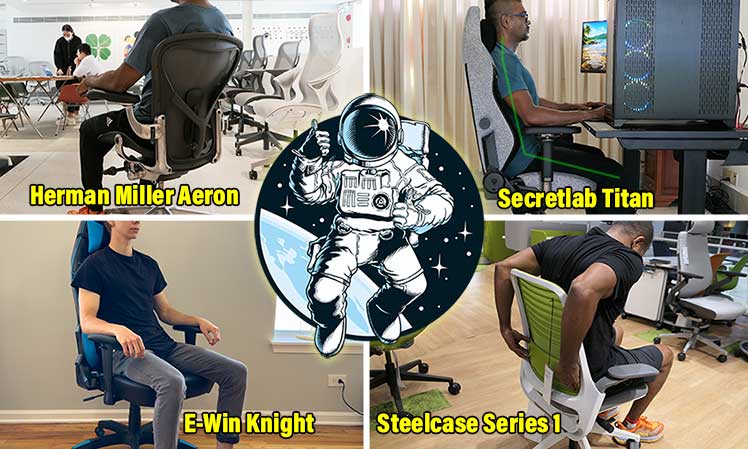 In all cases, you need to plant your feet, tuck your hips deep into the seat, support your lumbar curve, and brace your arms.
How To Sit: Gaming / Ergonomic Office Chair Neutral Posture
Gaming Vs Office Chair Advice
Over the past five years, I've tested most of the world's top gaming and ergonomic office chairs. I'm very happy using a Secretlab Titan gaming chair. Even so, I could easily settle for an ergonomic office chair if I had to.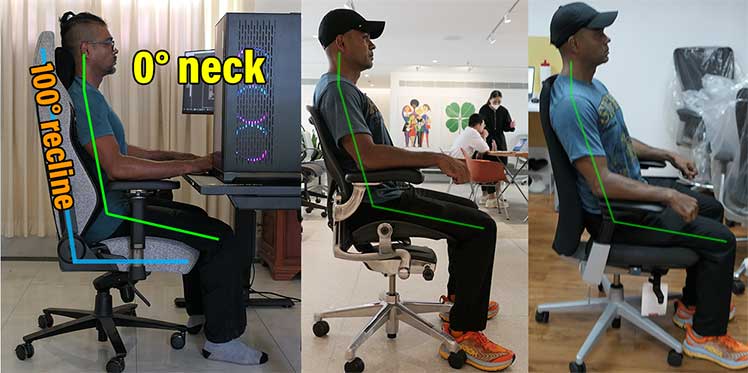 Here's my advice for first-time ergonomic chair users:
Go with your instinct: choose whichever type makes you happiest. As long as it has the

adjustable lumbar + arms + recline

triad, it's equipped to support neutral postures.
Don't overthink it: some people lose sight of the neutral posture end goal. Then, it's possible to get lost in a sea of fancy ergonomic features — yet never finding comfort.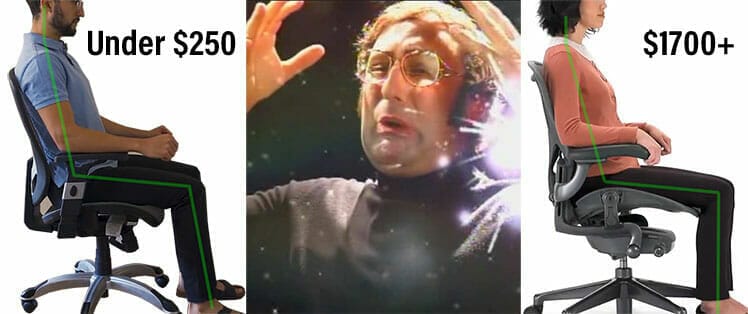 Start with a cheaper chair: regardless of price, ergonomic chairs do the same thing. When you spend more, you get more complex features. However, it's easier to internalize neutral sitting habits in cheaper chairs with more basic adjustments.
Emerging Standing Desk Benefits
Another reason not to overthink your chair choice: the emergence of sit-to-stand desks. As mobile computing times rise, so do sedentary times. Sit-to-stand desks support desktop and mobile computing – while supercharging movement.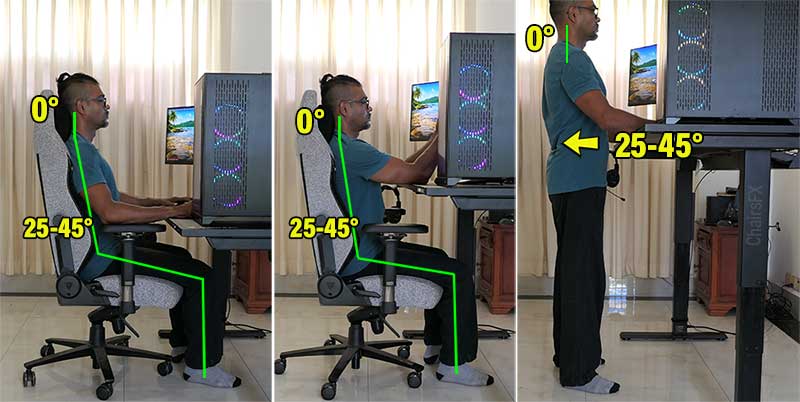 As a multi-device Internet of Things (IoT) emerges, the need for pure desktop computing chairs will wane. Then, the standing desk is likely to emerge as the new centerpiece of a workstation.
Here at ChairsFX, I stack my Titan gaming chair with a Secretlab Magnus Pro desk. I've had it for around 9 months now. It's been an incredible experience.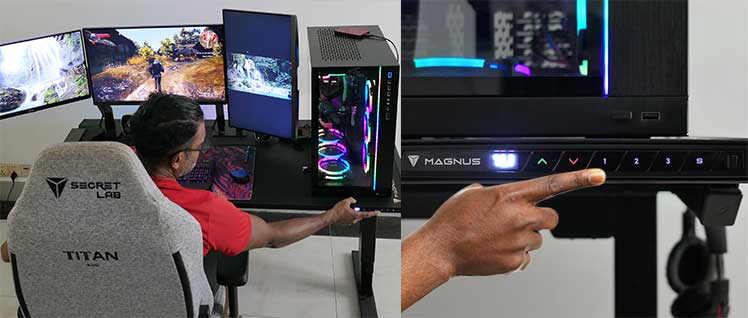 Switching between sitting and standing over an 8-hour workday keeps you alert. In shorter chunks, it's also easier to maintain good posture while sitting and standing.
Are Standing Desks Worth It?
Standing desks are worth buying — with caveats. Learning to switch seamlessly between sitting and standing modes is not easy! Studies show that many people simply forget to use the standing functions after a while. I did the same!
In fact, it took me around eight months of clumsy practice to get my sit-to-standing transition habits locked down. In hindsight, it was well worth the effort — but wasn't easy!
Bottom line: make sure you know the real risks (non-usage is the main one) and actual rewards before investing your money on a standing desk. Learn more:
Recap: Esports & Chess Pro Performance
As technology encroaches into our lives, it forces our brains to work harder — or get left behind. In chess, Magnus Carlsen adapted by shoring up his fitness, nutrition, and ergonomic seating.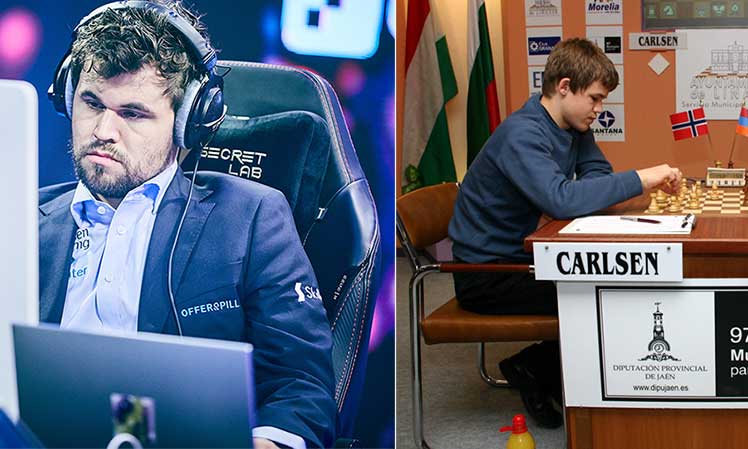 In esports, players already need elite speed, precision, aim, and hand-eye-coordination. Some games demand up to 400 actions (decisions or clicks) per minute. But like chess, AI is now creeping in to raise esports skill levels.
For instance, League of Legends Co-Op AI now lets players learn the game while training with AI bots(9). To keep pace, top clubs like Team Liquid rely heavily on the 4 pillars of computing performance:
4 Pillars: nutrition, recovery; psychological health; physical fitness.
Performance Pillars For IoT Desk Workers
Beyond chess and esports, AI-powered technologies are raising the bar in many professions. Actors, writers, programmers and many other professions are also feeling the pinch. This is part of a long-planned 4th Industrial Revolution.
That refers to an in-progress global grid called the Internet of Things (IoT). Today, the average person consumes around 19.5 GB of data per day. In the IoT era, that number will skyrocket.
The 'revolution' predicts that this data surge will cause massive social upheaval. On the upswing will be agile 'prosumers' able to adapt to change and thrive in a new economy.
Trending downwards will be pure consumers. Unable to keep up with rapid change, they'll have nothing to contribute. As a result, they'll fall down to a 'useless, unemployable' class.
IoT Era Will Force Big Sedentary to Active Lifestyle Shift
The ability to process large amounts of data — while maintaining your sanity — looks to be the difference-maker. That brings up back to the for pillars of computing performance:
We have a phenomenal opportunity to present health and wellness to millions of people, worldwide, through gaming. A lot of people would love to be a pro gamer. Or at least improve their performance. It's a Trojan Horse.
Taylor Johnson
DIY Desk Worker Performance Pillars
4 Performance Pillars: nutrition; recovery; physical fitness; psychological health
Adopting a 4-pillar performance optimization makeover requires knowledge and discipline. Esports pros and chess stars like Magnus Carlsen have coaches, nutritionists, and professional teams helping them.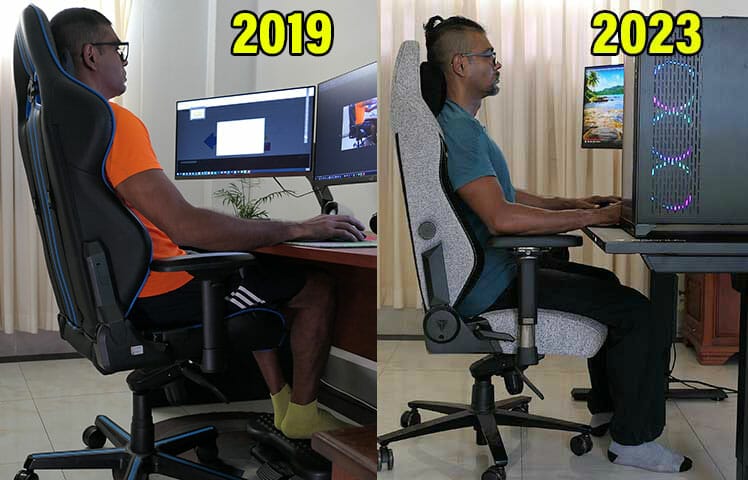 Doing it yourself is also achievable. ChairsFX suggests using an ergonomic chair as a Trojan horse starting point. Taylor Johnson advises(2) a strategic approach:
The primary objectives are to enhance your overall performance, health and wellness, reducing the risk of injury… Once you have those basics down, it's time to move onto something a little more difficult…
Taylor Johnson
This article is the 2nd of a 3-part exploration. The first part compared esports performance optimization versus corporate methods. This article breaks performance optimization down to 4 actionable pillars.
The third part of the series breaks down the four pillars — done by yourself — without coaches or expert support. It documents my own 5-year journey: testing out chairs while producing ChairsFX. Key milestones:
Neutral postures: start by mastering neutral postures in a gaming or ergonomic office chair.
Energy boost: a neutral sitting habit will yield a massive focus and energy boost.
Fitness: you'll eventually need a way to cope with having too much energy. Then, hit the gym. Hire a trainer for a few weeks if you're a beginner.
Nutrition: seeing gym gains will boost your motivation. Parlay that into cleaning up your diet. Intermittent fasting with a food scale and Myfitnesspal calorie tracking is a great way to start.
Mental health: a work in progress. I focus on mindfulness, visualizations, frequent deskwork breaks, and lots of sunshine every day.
My DIY approach is stable not perfect. Rather, it's a constant process of learning and adapting. My progress is proof that anyone can develop 4-pillar lifestyle habits that stick.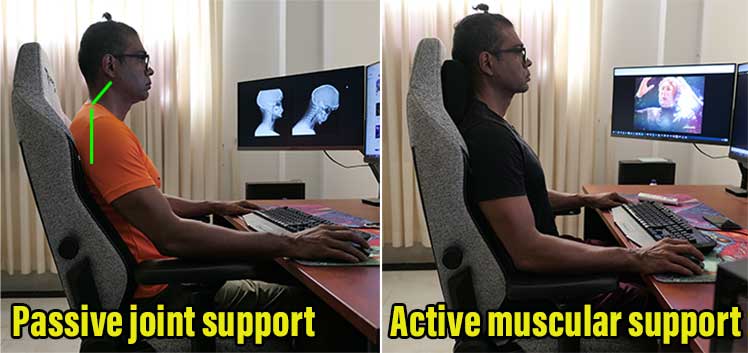 Then, you don't need performance optimization coaches. Instead, learn and adapt while doing it yourself.
Do It Yourself (DIY) Computing Performance Pillars Checklist
Footnotes