Reddit's r/OfficeChairs and r/HermanMiller are teeming with ergonomic office chair addicts. They buy multiple high-end chairs in pursuit of undefined 'good ergonomics' — but never find satisfaction. This is unnecessary and counter-productive. Learn about high-end office chair addictions — and the psychological compulsions that power them. Then, discover how to break through these to easily find perfect comfort in any fully-ergonomic chair.
All ergonomic chairs have the same end goal: to hrlp users sit in neutral sitting postures. To support those, all ergonomic chairs come with three adjustable features. Adjustable lumbar support aligns the lower spine.

Adjustable armrests provide extra bracing to hold the torso up against gravity. A reclining backrest lets a seated body move. Adjusted to suit your size, these support neutral sitting postures.
I've tested hundreds of different gaming chairs and office chairs using my 5'9″ size. Assuming the right chair fit — and the necessary trio of components — I can enjoy good back support in any ergonomic chair. Here's an example:
In the first image, I'm using a Steelcase Series 1 without making the proper chair adjustments — my posture looks awful! But instead of blaming the chair, I adjusted the seat height, armrests, and lumbar support. You can see the result in the second picture.
How To Sit In An Ergonomic Chair: Step-By-Step For Beginners
Other ergonomic chair users handle postural issues differently. Instead of fine-tuning their sitting methods, they ditch the chair, buy a new one, and try their luck again. Keep reading if you'd like to avoid that happening to yourself.
Reddit Office Chair Addict Examples
Most people don't know that 'comfort' includes both physical and psychological factors. The former is an absence of discomfort. The latter is a wide array of glittery trappings that appeal to the psyche. These include headrests, fancy tilt functions, and flashy chair skins.
Some people get so lost in the lights of psychological gimmicks that they lose sight of the original back support purpose. For example, Reddit's r/OfficeChairs and r/HermanMiller forums are popular among hard-core office chair addicts.
Many buy multiple high-end chairs costing thousands of dollars — but never find satisfaction. Find below two office chair addiction cases culled from those forums:
Ergonomic Seating Realities
The biggest mistake that ergo office chair fanatics make is lack of a clear objective. In reality, all ergonomic chairs are designed to do the exact same thing: support neutral postures.
Do you know how it feels to sit in a neutral posture for long periods? If yes, you can assess the potential of a chair objectively.
Without internalizing neutral postures (with practice), office chair addicts set themselves up for failure. They seek 'ergonomic' perfection — with no understanding of what that entails.
Here are the fundamentals that every ergonomic chair buyer should know:
Neutral posture objective: the end goal, regardless of chair. Mastering this technique makes ANY chair usable.
Components trio: all ergo chairs support neutral postures using the same 3 components (it's not complicated).
Cheap chairs for beginners: don't overspend on complex chairs until you know what you're doing. Cheap, simple chairs work well for first-time ergo chair users.
Pain isn't chair-related: improper usage is typically the cause — not the chair. Buying more chairs won't help.
What Fuels Office Chair Addictions?
Why do some people buy multiple high-end chairs — but never find satisfaction? It's possible that some simply enjoy collecting office chairs the way others collect Barbie dolls.
But it's also possible that there are underlying psychological reasons. Here are three to consider:
Dopamine addiction: trained monkey tests shed light on the thrill of buying a high-end chair.
Chaos addiction: neutral postures eliminate physical & mental distractions (chaos addict crutches).
Pressure anxiety: without distractions, your workload burden can spark jarring anxiety.
ChairsFX Advice: Get Equipped Quickly!
Sitting with a neutral posture is easy in any type of ergonomic chair. Plant your feet, tuck your hips, and adjust your chair to support your size.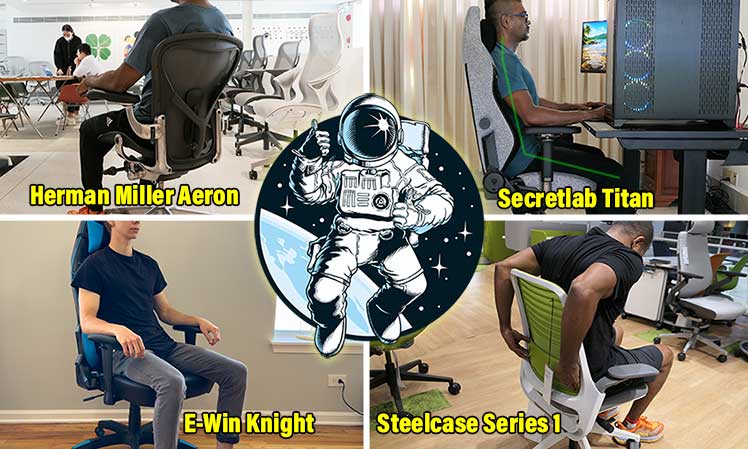 It doesn't matter if you use a pricey chair or cheap one. Gaming and office styles also don't matter: they all provide the same neutral sitting posture support.
Even so, hordes of posters on Reddit's r/OfficeChairs and r/HermanMiller buy multiple chairs — yet find none of them usable.
Meanwhile, the world is shifting rapidly from an industrial to AI-powered Internet of Things. In less than a year, we've seen copywriting, graphic design, narration, social media marketing, and many other industries be rendered irrelevant.
Instead of scrambling from one pricey office chair to the next, break your addiction with reality:
Once you've mastered neutral postures, expect a surge of excess energy as an early reward. Instead of wasting that buying more chairs, you're physically and mentally equipped for more lucrative challenges.
As the fast-emerging Internet of Things, you'll have more energy, sharper focus, and greater flexibility. While other addicts buy more chairs, you'll break free to seize great opportunities.
IoT Era Will Force Big Sedentary to Active Lifestyle Shift
Footnotes
Susan Weinschenk Ph.D. 'Shopping, Dopamine, and Anticipation'. Psychology Today, October 22, 2015. https://www.psychologytoday.com/us/blog/brain-wise/201510/shopping-dopamine-and-anticipation, (accessed 10 July, 2023).
Mark D. Griffiths Ph.D. 'Are You 'Addicted' to Chaos?' Addiction, March 17, 2016. https://www.psychologytoday.com/us/blog/in-excess/201603/are-you-addicted-to-chaos, (accessed 10 July, 2023).
Hendrie Weisinger Ph.D. 'Pressure Anxiety: A Contemporary Plague'. Anxiety, March 29, 2015. https://www.psychologytoday.com/intl/blog/thicken-your-skin/201503/pressure-anxiety-a-contemporary-plague, (accessed 10 July, 2023).